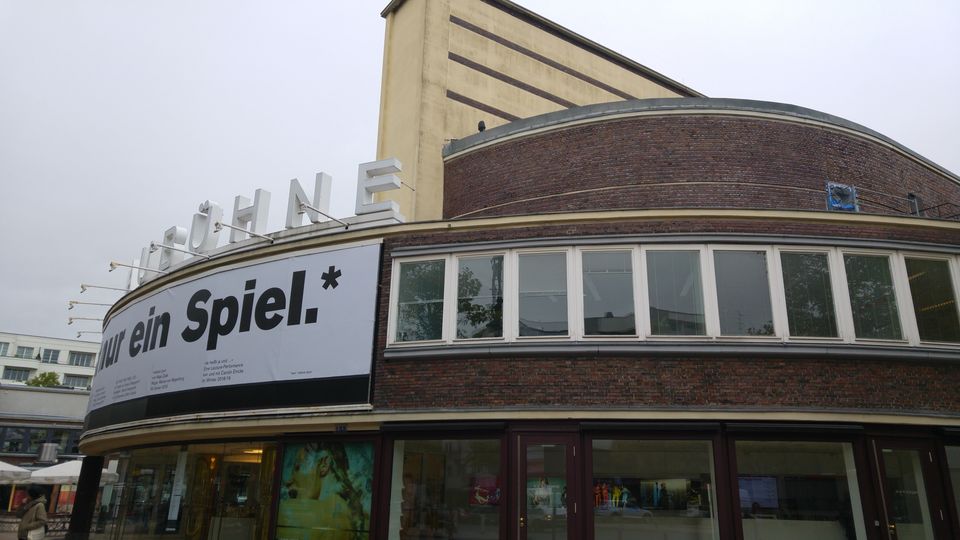 Most young people go to Berlin for its vibrant club scene. And that's how I ended up there, too. But I kinda fell in love with this town. And on my second visit I wanted to learn a bit about the history of it. That's why I asked my friend Roberta to show me around. She's been living in Berlin for many years now and she really knows her way around. I thought, we'd go see the Berlin Wall or some scary stuff from the nazi past. But Roberta took me to tot he heart oft he old West-Berlin.
Before the wall came down in 1989, the western part of town was surround by the communist Eastern German GDR, a soviet satelite state. West Berliners felt like they were inhabitants of an island. You can still see a lot of traces of that time when you visit the the former "City West". The legendary boulevard Kurfürstendamm was the artery of West Berlin. Locals call it "Ku'damm". That's the place where the people used to go for window shopping and fun. In other words, they went "bummeln", which means something like rambling around or wandering in German.
The future of the past, past of the future
We started our bummeln at Rathenauplatz. On the traffic island at ist centre there's a piece of art: "Beton Cadillacs" by Wolf Vostell. It consists of two American cars and a lot of concrete. When he created it in 1987, the artist wanted to protest against too many cars in modern cities. But soon he had to face protests himself, because many residents simply thought his masterpiece was ugly.
Ku'damm boulevard doesn't look very glamorous at this end. A bridge crosses the tracks of the "S-Bahn", the city railway. However, after a while you can spot quite an interesting building on the right. The "Schaubühne" was built by architect Erich Mendelsohn in 1928 in the then-famous style of "New Objectivity". It was a new kind of cinema and ist builder made architecture history. The entrance hall is a smoothly rounded construction with a large – and kinda weird – tower in the middle. The whole thing is part of larger ensemble with a two-storey shop ring, two small streets and appartements around it. Today this retro-modernistic microcosm is home to a very famous theatre that's well-known all over Europe.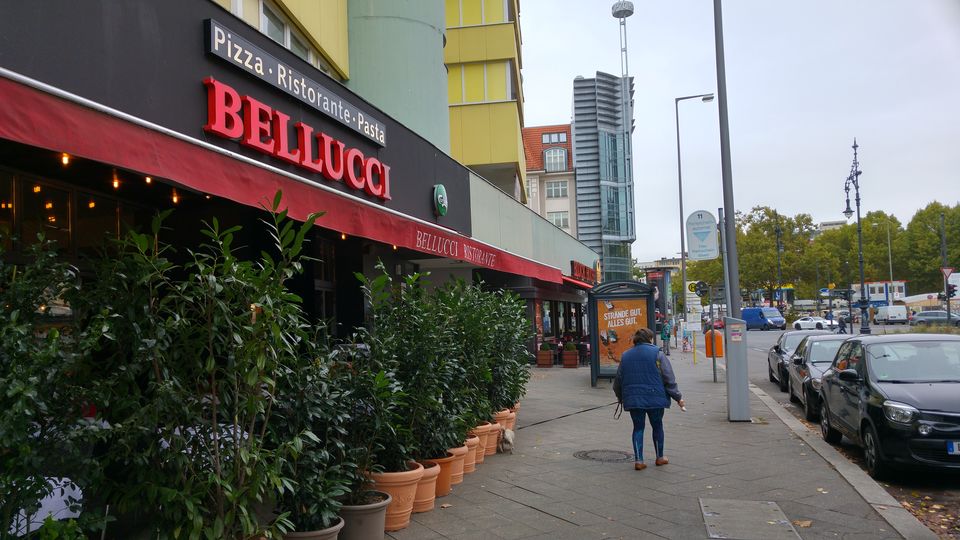 You can find many steak houses on Ku'damm. In fact, I've never seen that many steak houses in one place or maybe in my whole life. The people in these parts apparantly really like a good steak. However, we were not really in the mood for that. My experienced guide recommended a small restaurant named Bellucci (https://belluccis.de/) near U-Bahn (metro) station Adenauerplatz. I had some really awesome Tagliatelle there and Roberta's pizza also tasted great when I stole a slice. (Actually, I found only one Italian restaurant in Berlin that was even better than Belucci: the Calice d´Oro - https://calicedoro.de/ - in Mitte.)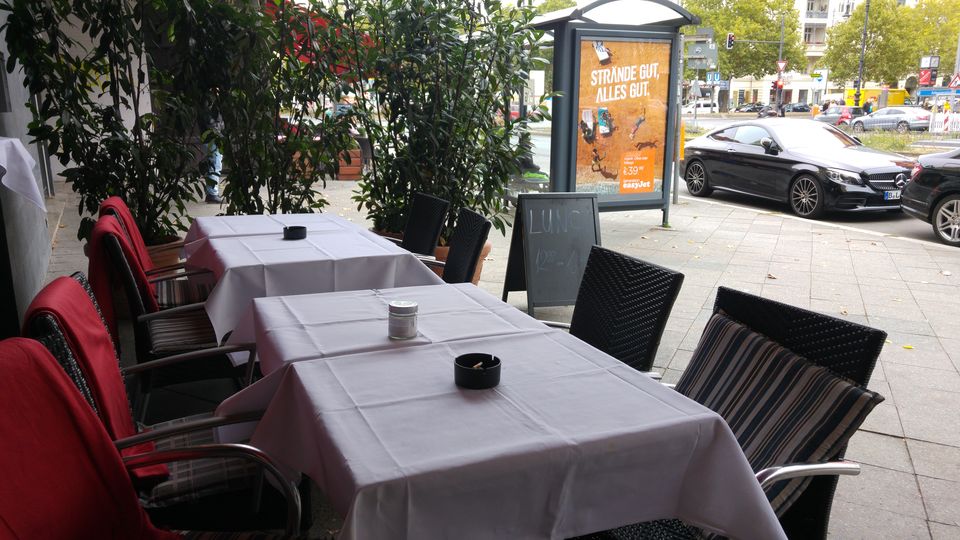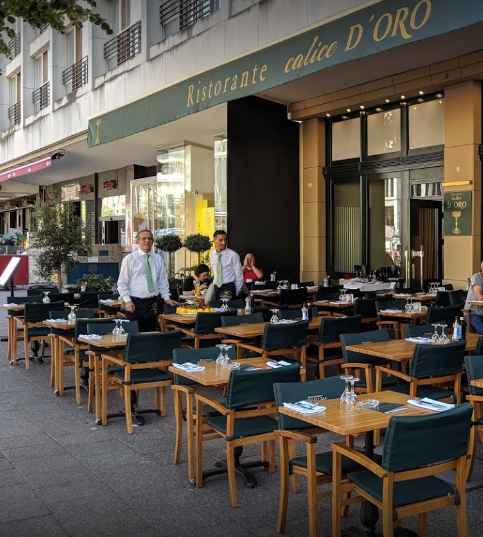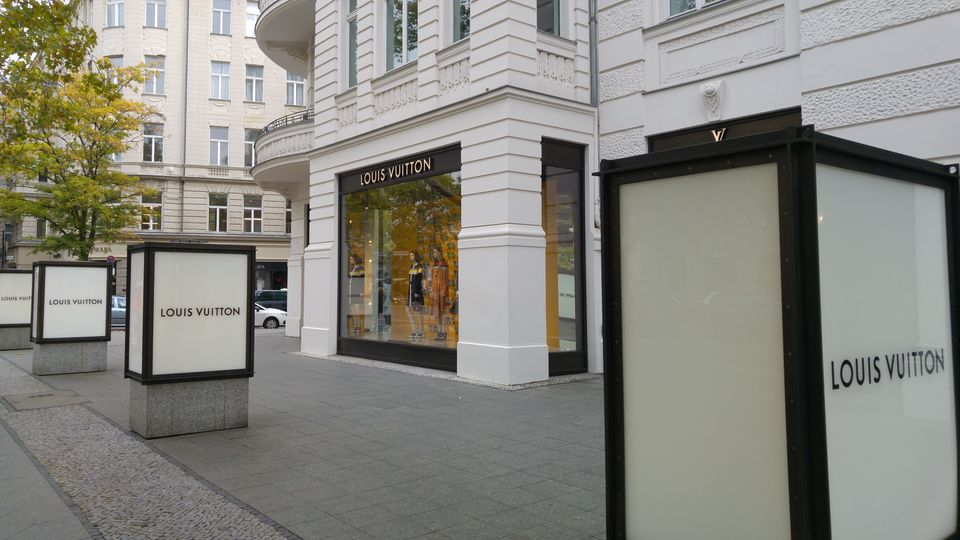 Meet your friends Prada, Chanel and Gucci
With a full stomach we continued our "bummel" along the broad sidewalks of Ku'damm. Luxury cars like Porsche or Maybach are parked in front of elegant storefronts. There are flagship stores of all the famous luxury brands in the world like Luis Vitton, Prada, Chanel, Gucci or Rolex. We decided for window-shopping since we didn't want to spend a fortune. Maybe next time… The "Cinema Paris" is a large cinema where you can watch European arthouse movies. There's also a fine brasserie with authentic French food. We had some great apple pie there.
The pride of the West
If you prefer something more traditionally German, the "Café Kranzler" is the place for you. This coffeehouse is situated an iconic building with a rotunde on it's roof. The Kranzler used be a major tourist attraction during the Wirtschaftswunder years of the 1950s and 60s. Back then Germany managed to rebuild itself economically after the total destruction in World War II. However, today it's basically a shopping centre with a small café.
The Ku'damm ends at Breitscheidplatz where you can visit the Kaiser-Friedrich-Gedächtniskirche. This Protestant church was destroyed by bombs during World War II and never rebuild. There you can also find the "Europa-Center", a shopping mall with a high-rise that used to be the highest building of Berlin back in the day. The iconic Mercedes star at the roof was a symbol of Western wealth and consumer culture during the Cold War since it was visible from the Eastern part of town.
Even more shopping at Tauentzienstraße
Did I mention that there is a lot of shopping going on in City West? Tauentzienstraße is a boulevard in Parisian style. It's way busier than Ku'damm. Here you can find flagship stores of more affordable fashion brands for younger people like Jack & Jones, Esprit, adidas, Benetton or Mango. The "Bikini Berlin" is the perfect shopping place for hipsters. This self-proclaimed "concept mall" is home to many designer brands and small food places.
The "Kaufhaus des Westens" is the exact opposite: a living tradition. It exists since 1907 and is the second largest department store in Europe after Harrods in London. The or "KaDeWe" has eight floors. If you haven't bought enough luxury products already, you can do it here. There's Dior, Hermè, Bulgari, Longchamp, Yves Saint Laurent and many others. And there's also Germany's biggest luxury shoe department. On the sixth floor you can find fine foods and pastry. I pretty much enjoyed the view from the large windows.
City West used to have a crazy nightlife in the 1970s and 80s. Today you can't really find a decent club here. So of after our trip tot he past we went to train station Zoologischer Garten, called "Bahnhof Zoo", and took a train back to Friedrichshain.