Frankfurt is the fifth-largest city of Germany, and one of the leading financial centers globally. Its popularity with tourists owes not so much to its history, as it does to the fact that a lot of international flights route through Frankfurt Airport. Many foreign visitors stop here either for business meetings or at a layover on a connecting flight.
This article covers the top things to do in Frankfurt when all you have is a day. Keep reading for more!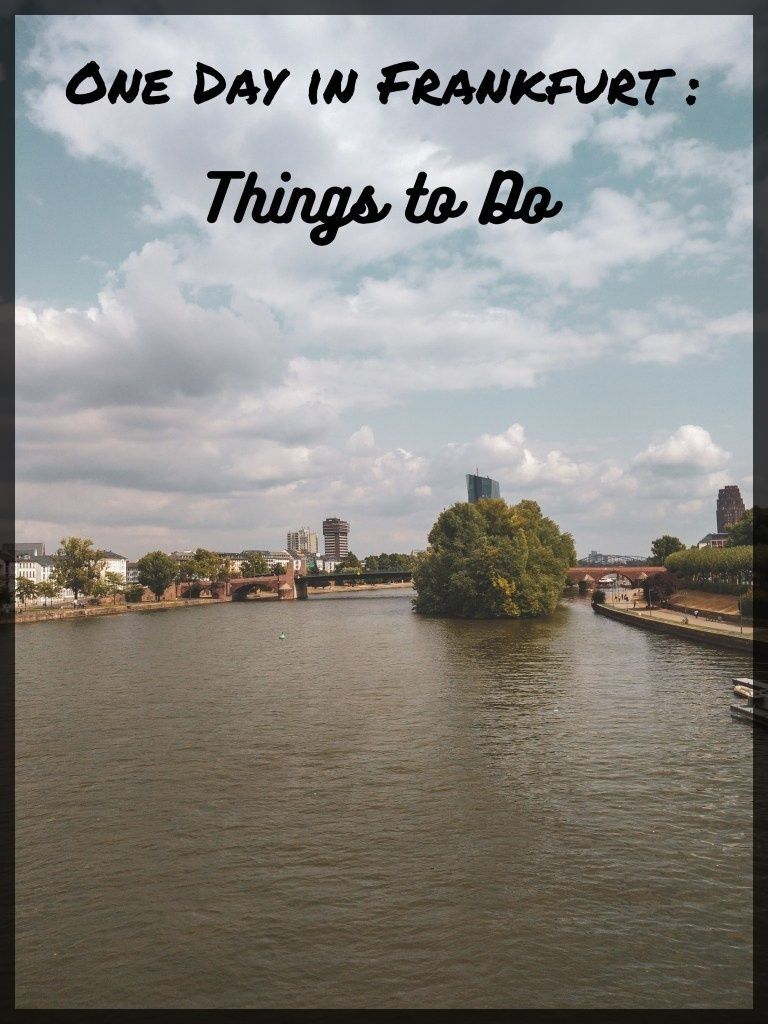 Protips:
- Frankfurt, like the rest of Germany, has Sundays off and you won't find any supermarkets or shopping centers open. However, most cafes and restaurants operate on Sundays as usual.
- Frankfurt has a terrific tram and underground train network. If you are traveling with more people, it is ideal to get the group ticket which accommodates up to 5 people, and can be bought at ticket machines across the city.
- Getting to the city from the airport: Frankfurt Airport is upwards of 12 km from the main city, and taxi fares are generally pretty steep. Hence the best way to get to the city center is to take the S-Bahn or ICE trains, which have a good airport connection and will cost you much less.
Things to Do in Frankfurt in a Day
1. Take in the View from Eiserner Steg (Iron Bridge)
The Eiserner Steg is a hundred year old footbridge made of wrought iron, and it spans River Main in the city center. The river divides Frankfurt into north and south zones. The Old Town or Altstadt is primarily north of the river.

The bridge offers a zoomed out view of the city, and you can see the transition from the old to the new. There are low-rises boasting of quintessential German architecture and modern skyscrapers, as you move your gaze from left to right.
As in any European city, there are tons of love locks fastened to different brackets of the bridge, and the glint and color of the locks add to the beauty of the river flowing below. Winds are fervent and the bridge is always bustling with passersby, or people taking photos.


The road off the river, to the north, is lined with restaurants where you can eat lunch or grab a coffee and enjoy the view.
2. Click photos at Römerberg Square (Public Square)
As you walk further up from the River Main, you'll find yourself in this quiet albeit picturesque square. The Römerberg Square houses the city administration buildings, and is a site for many markets and fairs.
A characteristic landmark here is the Gerechtigkeitsbrunnen (the Fountain of Justice), and you cannot miss the Römer which is the City Hall ( Rathaus) building.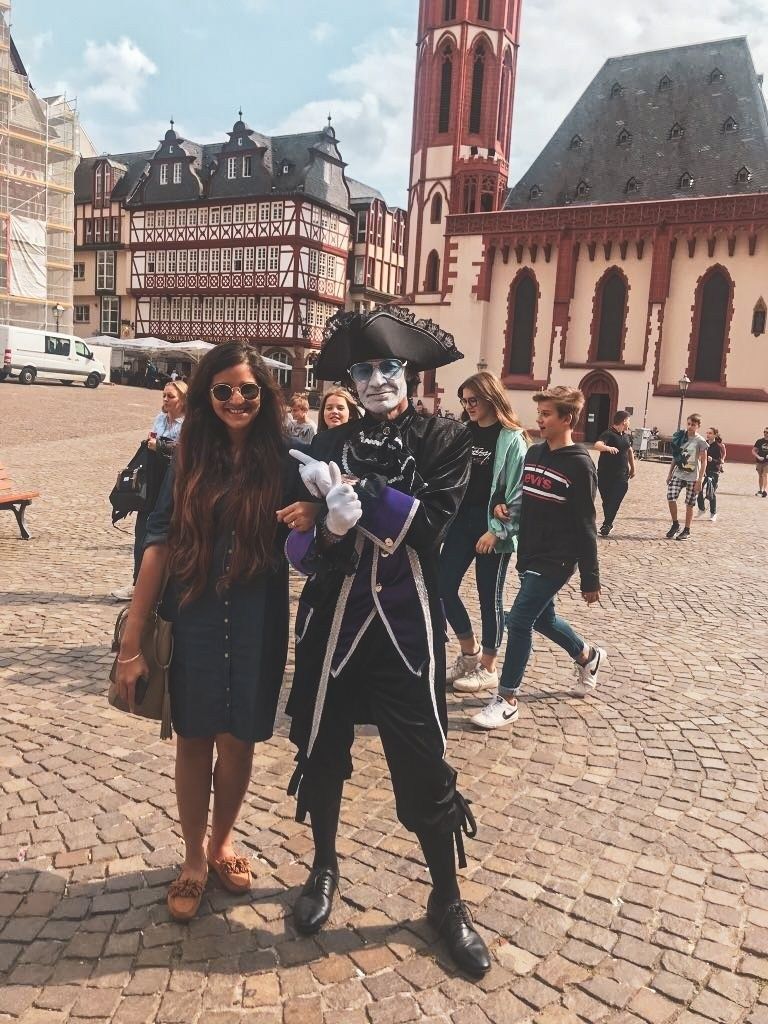 You will also find a row of six beautiful half-timbered houses stacked together, collectively called the Ostzeile. All these buildings have strategic significance and have important offices.
3. Stop by at The Maggi Kochstudio
They legit have a Maggi studio here!! I've come to learn there are such studios in other parts of the world too, but this was a first for me.

They have a wide selection of items to choose from, also there's a weekly menu with dishes made from Maggi products. You can sign up for cooking classes, as well, or even get recipes from the chefs to attempt in the comfort of your kitchen.
4. Visit Hauptwasche (Main Square)
Hauptwasche is the hub of Frankfurt, and is enclosed by tall buildings with intricate Baroque architecture. The iconic Hauptwasche building operated as a prison in the late medieval period, and a police station later. Thereafter it was converted to a café, and runs as one to this day.


There are plenty of eating options here, including standalone places and international food chains. On its East, the square is connected to Zeil, the High Street of Frankfurt.
Hauptwasche has one of the busiest train stations in Frankfurt, and is the easiest way to get right into the heart of the city from anywhere.
5. Shop Yourself Silly at Zeil
Zeil is the central shopping street in Frankfurt, and home to an array of premium and luxury brands. There is a shopping mall called MyZeil, which has plenty of places to shop from, and if you're lucky you might grab some great deals too.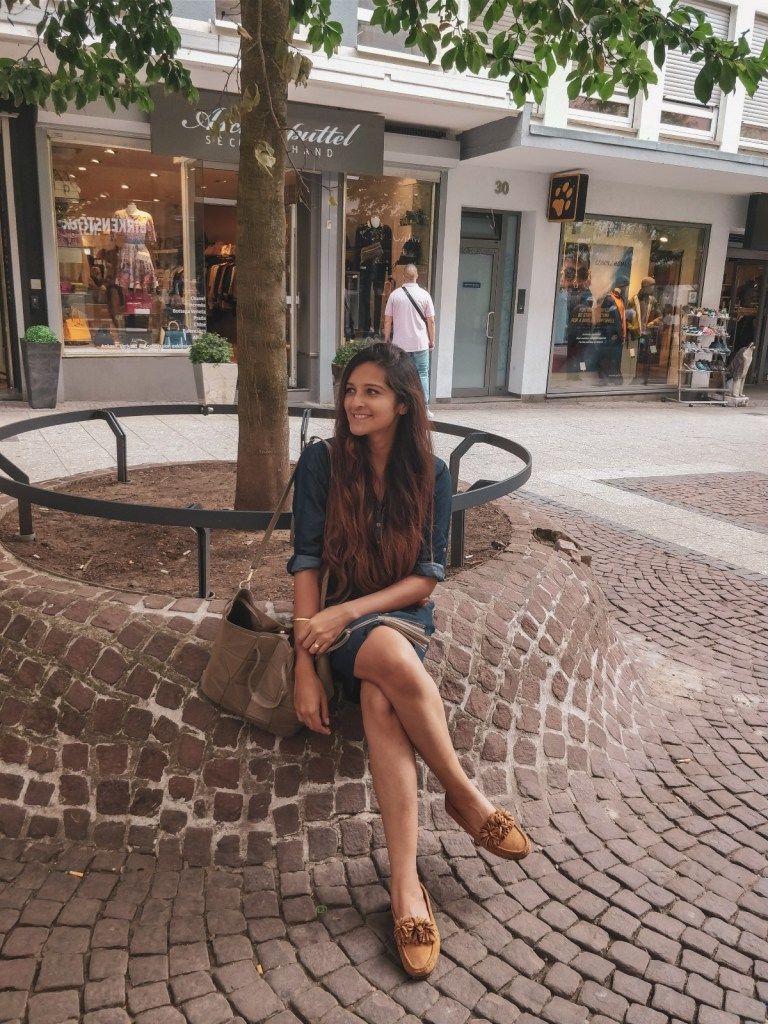 Off MyZeil is a cute café called Weidenhof, where you can get some well-deserved food and drinks after a strenuous day of shopping!
6. Grab a Cuppa at The Holy Cross Brewing Society

This café is a 10 minute walk away from Zeil, and has specialty coffee blends that are not to be missed. I just got a special cold brew, but I've heard they serve the nicest and freshest pastries. Much recommended!
7. Have German Beer
When in Germany, drink beer! If you're traveling from outside of Europe, I can't not recommend trying the bazillion kinds of beer available everywhere - from cafes and supermarkets to fuel stations.
Get your fill and try a Pretzel, or perhaps some Spatzle, Schnitzel or Sauerkraut to go with it!
Frankfurt is a small city and these are the main spots that you can comfortably cover in a day. If you'd like to see a small slice of life south of the River Main, get on the Iron Bridge and walk over to the other side to Sachsenhausen. This is where most people in Frankfurt live, and it offers great pub scenes and vibrant nightlife.