The Indian food is known for the aroma and strong flavor that comes from spices. What better place to learn about Spices than the Spice plantation itself. I had visited Spice plantation in Munnar (Kerala) where the guide focused on Spices and their medical properties. Since I enjoyed the Munnar spice plantation visit, I thought of visiting the Goan Spice plantation to understand spices used in Goan culinary.
There are many spice plantations in Panjim - Tropical Spice Plantation, Savoi Plantation, Pascoal Spice Village, Rustic Plantation, Sahakar Spice Farm, Sai Herbarium and Parvati Madav Park Plantation. Savoi offers a tour to a cashew factory, Sahakar offers elephant ride, Sai Herbarium gives you an insight into organic farming; every farm has its own specialty. Almost every plantation offers a guided spice plantation tour and a lunch.
After reading reviews on few websites, we decided to visit Tropical Spice Plantation.
Our Tour - Dabolim to Ponda drive -> Spice Plantation Entrance -> Welcome Drink -> Spice Plantation Tour -> Lunch -> Buy Spices -> Back to Guest House
On our way to Ponda
A drive to Ponda is a good 45 km one side trip from Dabolim. We were a group of 6 people and had rented a Toyota Innova. The road to Tropical Spice plantation was a beauty with Mandovi River on one side and the colorful Goan houses and coconut trees on the other. I am a great admirer of the Goan houses. Their architecture is inspired by the Portuguese culture - tiled roof, bright and startling exterior colors, white painted arches and pillars give these houses a unique look.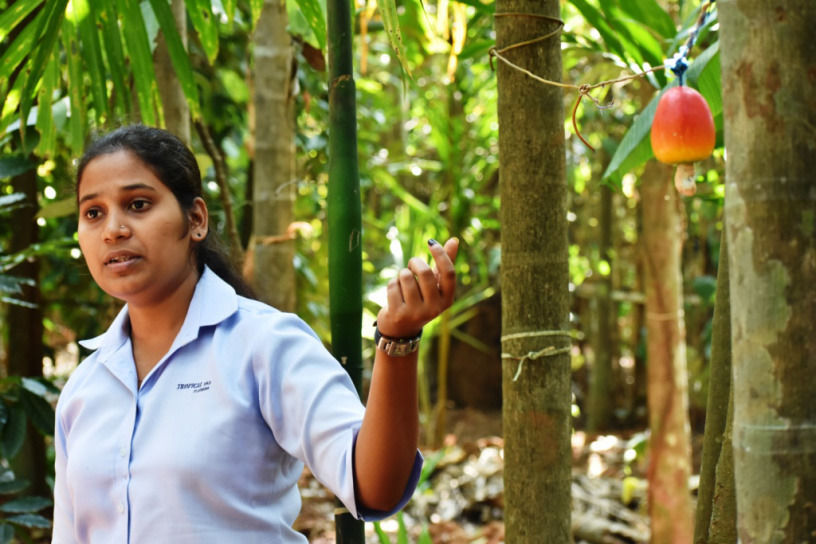 It was a 70 minute drive from Dabolim to Tropical spice plantation. I would recommend you to reach the farm by 10:30 am, so that you can finish the tour in an hour and head towards the buffet before noon.
Parking and Spice Plantation Entrance
The area surrounding the plantation was a dense forest with narrow roads. You enter the plantation through a small rustic gate which is not visible at a first glance. Drive through the gate and you will find ample parking area. You feel that you have just entered a wonderful oasis away from the crowded North Goa beaches.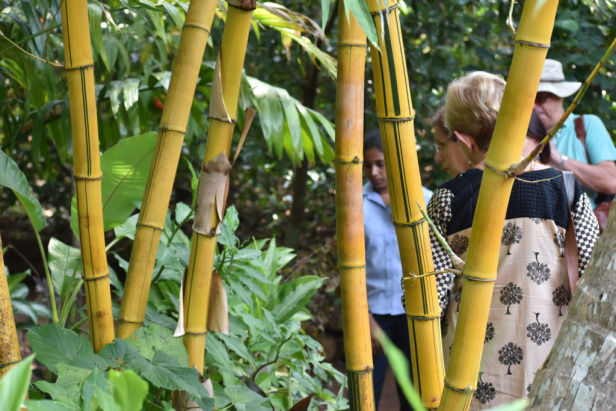 Park the vehicle and walk down few stairs to reach the ticket counter. Per person ticket to Tropical Spice plantation costs Rs. 400 ($6). Guided tour and buffet lunch is included in the ticket.
Enter the spice plantation by walking on the bridge built over a beautiful lake. As soon as you enter the farm, you will be greeted with a garland and teeka. Relax for sometime at the food court and enjoy the refreshing herbal tea served as a welcome drink.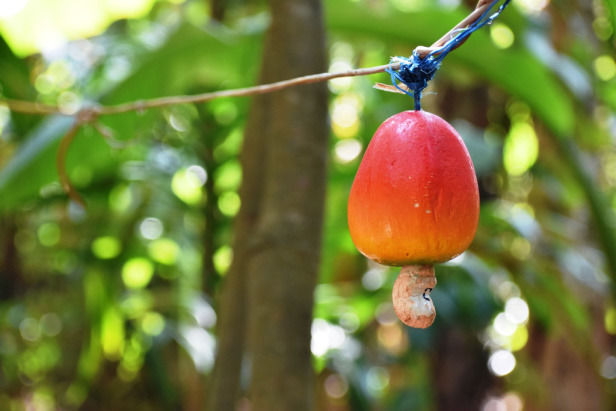 Spice Plantation Tour
Usually there are 15-20 people per tour. The tour is guided in English language. Few staff members can also speak French and Spanish. The guide takes you around a small area of the farm, showing specimens of the freshly plucked leaves and barks. She asks you to smell and identify the herb/ spices and later explains their qualities and uses. She also talks about the country of origin of the spices, how seasonal changes impact the growth of the plants and how they are processed and sold to people across India.'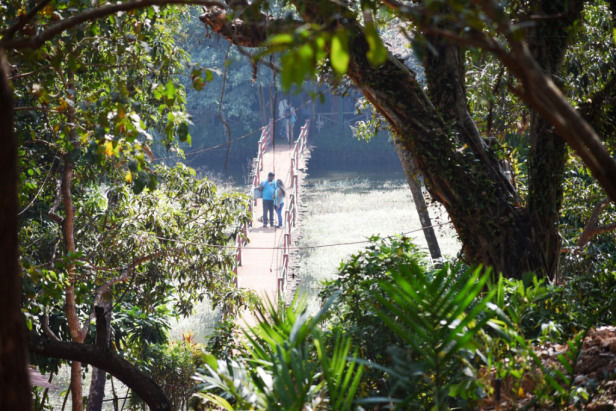 The guide talked about cashew nuts, Coconut, bamboo apart from some popular spices like nutmeg, 5 spices (All spices), Cinnamon, coriander, cumin, vanilla, nutmeg, mace etc. Most of the Indians would be well aware of the spices shown in the farm, but still you get some nice insights from the tour. For example - I came to know that Vanilla originated in Mexico and is the 2 nd most expensive spice in the world after saffron. Vanilla is a parasite and takes nutrients from other plants. Cinnamon is originally from Sri Lanka and you can peel it from the tree after the tree is more than 10 year old. 5 spices (all spice tree) is a Jamaican pepper and it gives you berries every year only after it is 15 year old. Overall it was a good multi-sensory educational tour.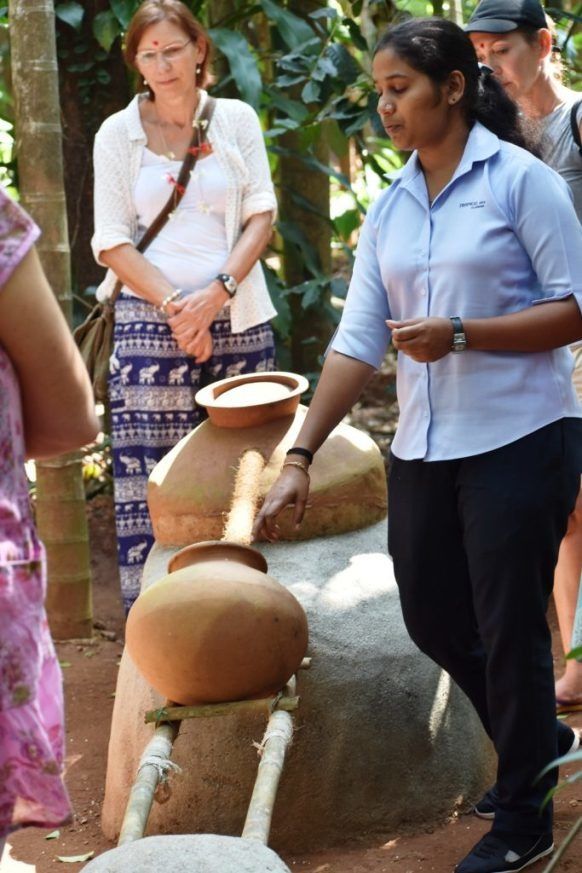 The red colored Cashew fruit is used to prepare the famous Goan Feni. The cashew is sent to factory where it is processed and packed for selling.
India has three seasons - summer, winter and rainy. The trunk of the tree grows by 4 segment every year. That's how they find out the age of the tree.
That's the famous Peri-Peri Chili. Peri-Peri was first discovered in South Africa. The chilies can grow up to 2 cm. They are extremely spicy. All species of spicy chilies comes in upward direction (as can be seen in the image) whereas the not so spicy ones grow in downward direction
The plates prepared from the Betel nut palm leaves are a better replacement of Anti-Environment plastics or polymers. These are sturdy and can be reused.
Brazilian Bamboo - It is a yellow colored bamboo. It grows 10 cm per day. Bamboo is the latest grass in the world followed by banana and sugarcane. The Indian bamboo (not in the picture) is green in color and stronger compared to the Brazilian one.
Once you are done with the tour, the guide splashes a little lavender flavored cold water down your neck. It is done for relaxation. You can enjoy your lunch and buy spices & some locally grown items. The spices here are very expensive compared to what you get in a local grocery store.
Lunch
The seating arrangement for lunch is basic with wooden tables and benches.The fresh perfectly ripe yellow bananas in the food court were a delight. It just melts in the mouth. The buffet was freshly prepared by the locals and has a Goan taste to it. The buffet included chicken curry, prawns curry, 2 vegetable curries along with rice and bread.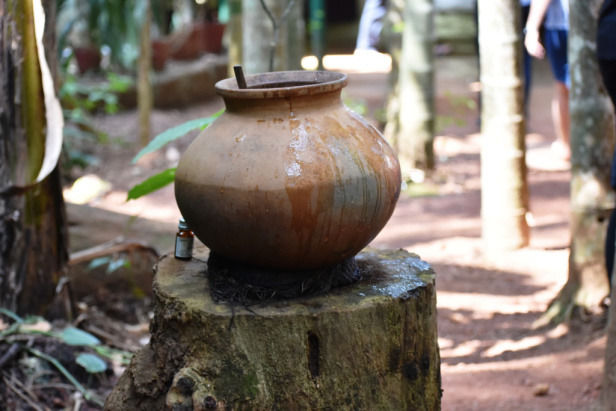 I would rate the food as mediocre. This being a spice plantation, I was expecting a burst of flavor of various spices in the curries. To my surprise, I was disappointed with the quality of food served.
They also serve you locally produced Feni in a coconut shell cup along with the lunch. You can also purchase Beer, cold drinks and mineral water.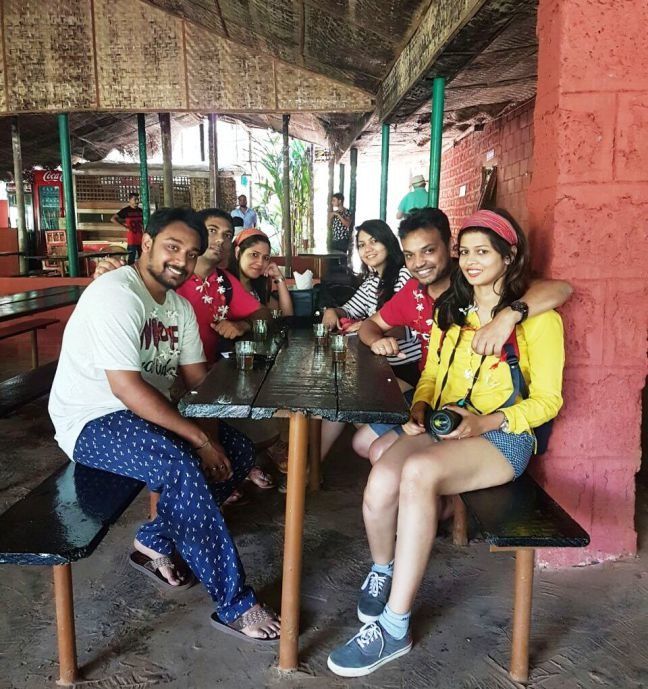 Tour Cost: For a group of 6 people
Rented Innova: Rs. 2200 per day
Ticket: Rs. 2400
Fuel: Approximately Rs. 500 (I was shocked to see Petrol cheaper than Diesel)
This post was originally published on Happily Tanned.