#SwipeRightToTravel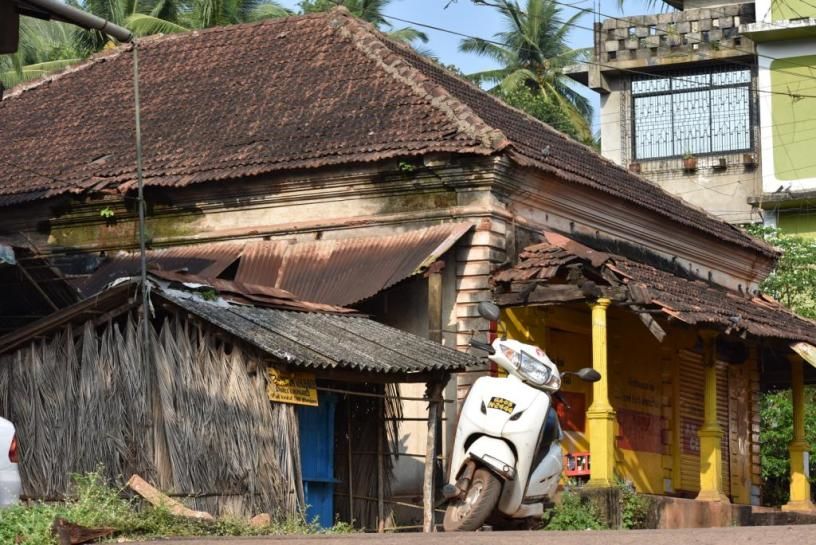 Goa is a place which everybody visits at least once a year. I have been to North Goa multiple times and have explored the beaches and shacks. This October (2016) I got a chance to visit Goa for a bachelorette party; I decided to arrive a day earlier than my friends and explore areas near Panjim on my own. I had already done my research and finalized my itinerary before arriving in Goa. I will reach the guesthouse at Calungute early morning, freshen up, have some breakfast and set out to explore the not so popular but beautiful places near Panjim.
My planned itinerary for a day in Goa
Have brunch in an authentic Goan restaurant in Panjim ->Visit the UNESCO World Heritage sites in Old Goa -> Take a ferry to Divar Island -> Visit Piedado village and Church of Our Lady of Compassion -> Enjoy the sunset and the river view at Vitorzen Jetty or go for a river cruise at Mandovi River.
How I actually spent my day
Venite Restaurant, Panjim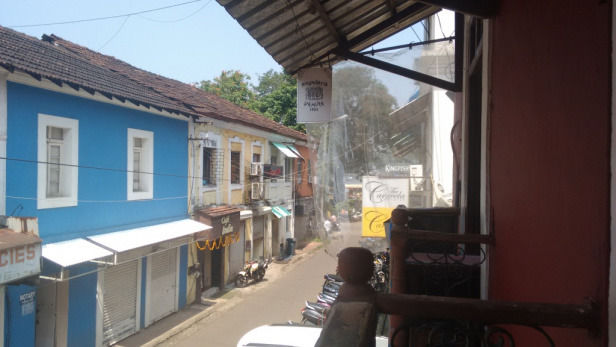 As planned, I started towards Panjim. Calungute to Panjim was an easy ride. The road signs were enough to guide me in the right direction. After reaching Panjim, I searched for some popular restaurants on Zomato mobile app and finally decided to have lunch at Venite. The moment I entered this place, I felt like I was in the 1950s.The Portuguese décor, vintage architecture, wooden flooring and graffiti on the walls make this place aesthetically pleasing. I chose a balcony seat and ordered Calamari fish with rice and fruit punch. The food is mouth watering. The calamari fish was a bit rubbery but loved the Goan red gravy in which it was cooked.
After a sumptuous meal, I asked Mr. Alex (he served me the delicious food) for directions to Old Goa. Mr. Louis (the owner of the restaurant), who was reading Newspaper in the balcony was listening to our conversation and he came to my rescue. He is a very friendly and knowledgeable person who has spent his entire life in Goa. Born in Divar Island (Goa), he currently runs one of the most popular restaurant in Panjim (Venite Restaurant) and plans to settle down in one of the Goan villages and live the rest of his life as his grandparents did....away from the hustle and bustle of the city life.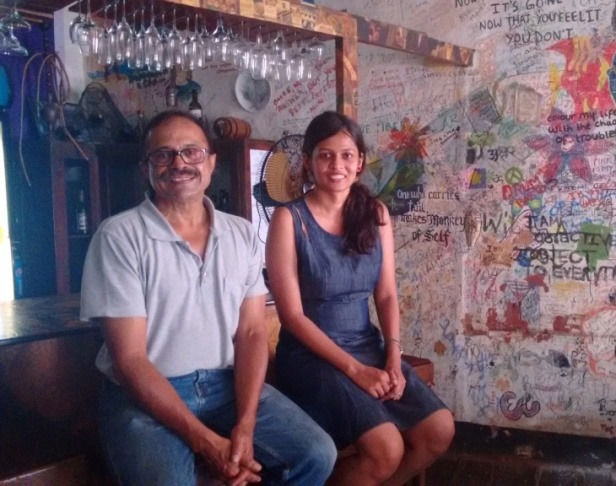 After I told Louis about my plans of exploring the unexplored Goa, he took a pen and paper and started drawing a map about what are the best places in Goa from his perspective. I thanked him for his hospitality, took the map, cancelled my previous plan and started off to explore the not so touristy places in Goa.
.
Old Goa
There are two roads from Panjim to Old Goa - Old Goa road or highway. Take the scenic and beautiful Old Goa road. Drive down 7-8km straight to visit the UNESCO world heritage site.
Basilica of Bom Jesus, Se Cathedral, Church of St Cajetan, Archaeological Museum, Church of St Francis Xavier, Church of St Francis of Assisi, Church of Our Lady of the Rosary and Viceroy's Arch are some of the popular and not so crowded places to see in Old Goa.
After exploring the beautiful Churches and monuments in Old Goa, I followed the map drawn by Louis and drove towards a roundabout with Mahatma Gandhi Statue. I took second left turn from the roundabout and drove towards Do Monte Chapel of Mount Mary.
Church of Our Lady of the Mount
Do Monte Chapel or Church of Our Lady of the Mount is a beautiful church on top of Mount Mary. Pristine and serene - the two perfect words to describe this place. The church was locked but the view from the top of the hill was breathtaking. I reached here in the afternoon and the weather was extremely hot, so could not stay here for long. But I recommend visiting this place in the evening to watch the beautiful sunset. Untouched and raw, this is a place for anybody who is looking for a break from the crowded beaches.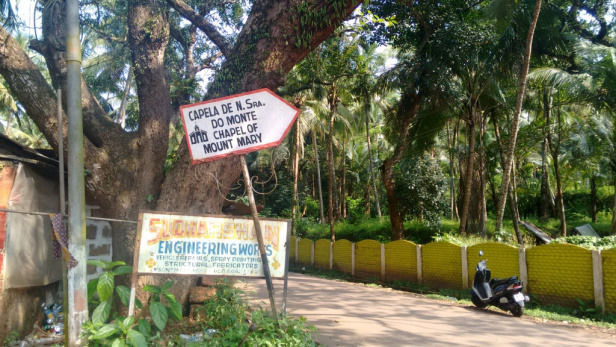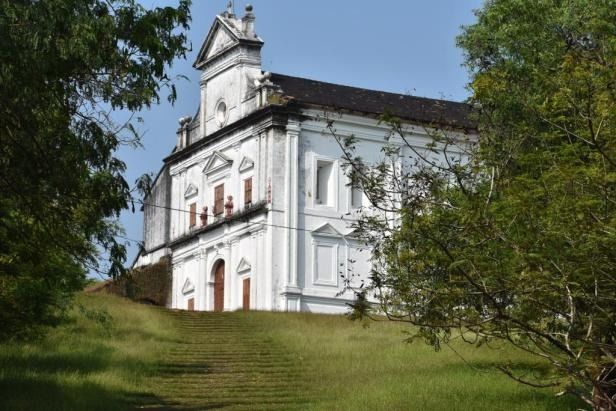 Cumbarjua Village
After spending some quality time at the Do Monte Chapel, I started towards the Cumbarjua village. Its history dates back to the 15th century. It is a beautiful green village which will teach you some great things about everyday life of a local. What I learnt from my ride in the Goan Villages:
In most of the Indian cities, you will find tea stalls (Chai tapri) everywhere you go. Similarly, you will find liquor shops and bars anywhere you go in Goa.
The Goan Villas are extremely beautiful. They are usually colored bright with a Persian flavor to it. They reflect several decades of old Indian and Portuguese architectural heritage.
I saw many people reading newspapers and spending a quality time with their family even on Friday afternoon.
It was fun to load the bike on a ferry and enjoy a free ride through the beautiful rivers in Panjim.
You will find 'No smoking' boards even in Grocery shops in Goa
.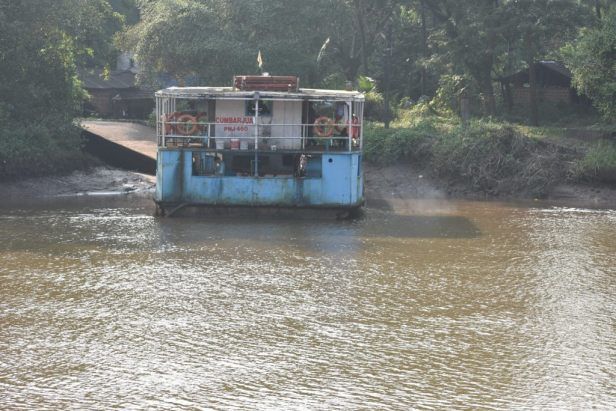 St. Estevam Church
St. Estevam Church, also known as St Stephens Church is a beautiful church on top of the hillock. The church was first built in 1575 and was burnt down twice. The current structure was erected in 1759. The view from the fort is very scenic. I feel that sunset.
Miramar Beach
After exploring Goa using a map drawn by Mr. Louis (My first Goan friend), I started towards Miramar Beach. I was tired of riding a bike on a hot day in Goa. I parked my bike and sat on Miramar beach for more than an hour, appreciating the beautiful sunset and the prefect day.
Happily Tanned in Goa!
This blog was originally published on 'Happily Tanned'
Frequent Searches Leading To This Page:-
Best Tour Packages for Goa, Places to Visit in Goa, Goa tourism, Top Goa tour packages with price, Goa Tour Package for Couple, Best Travel Packages for Goa, Best Goa Trip Packages, Goa Holiday Tour Packages, Top Goa Packages for Family, Goa Honeymoon Packages from Delhi