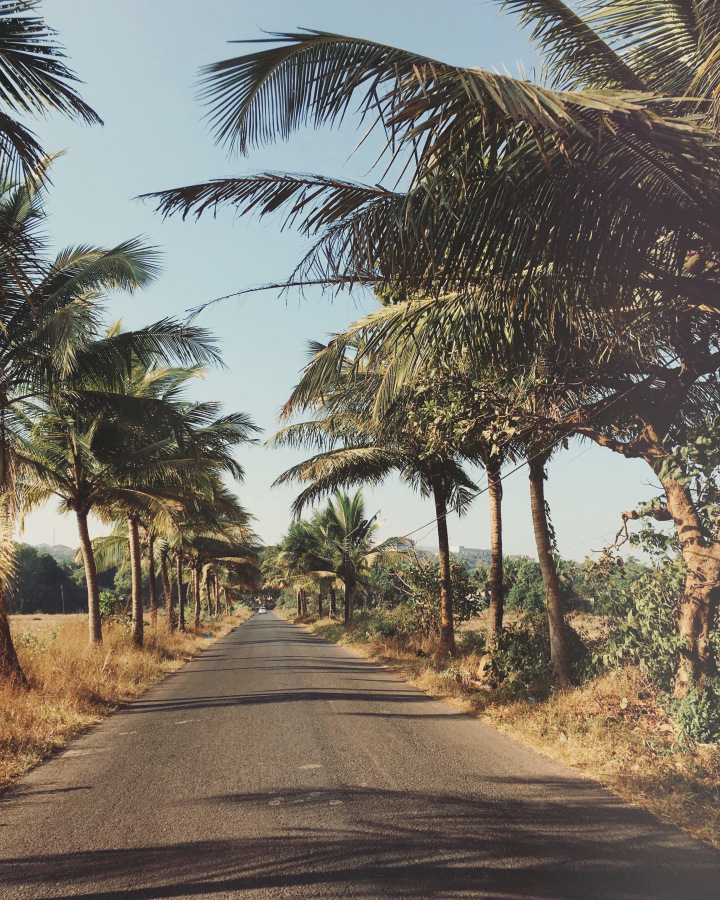 Goa, the place where I reborn and most likely I have some past connection 😀 A never ending adventure and exploration. It's been 2 years since I am exploring Goa and realized, Goa is only a tiny land on a map. In real, Goa is mystery land with lush greens and blue ocean. Goa is more than a cheap booze, sea food and casinos. Goa is more than scam drugs and Russians. Goa is more than a loud music and all night club parties. Goa is one of the little paradise on earth which every 5 kms the language changes. Goa is full of mystery, history and mind blowing architectures. Goan Spices is something we never talk about. Goa's list of beaches comprises of 54 beautiful beaches. Goa is more than Calangute, Baga, Vagator, Anjuna, Miramar, Colva, Palolem and Arambol beaches. Start explore Goa like never before!! Take the ferry ride, go to other island, eat local, travel in bus, shop at local fish market, take a train from Madgaon to Karmali, go fishing at Baga River, and much much more. In past 2 years, I manage to find around 50+ Hidden Gems in Goa (still need to tick off many!) including some cute hideout places you never thought existed, where you can be grateful of being alive. Spend some quality time with your best pals, your family. Be close to nature. Chill out. Eat grilled fish; have chilled beer. Witness magical sunset every day. Wash away your problems. Start afresh 🙂
By now you must be know about Taj Aguda, Aguada Fort, Chapora Fort (once abandoned and now famous because of movie Dil Chahta hai), Thallasa, Anjuna Saturday and Wednesday market, Palolem Beach and some more. Let's explore other parts of Goa, the mystery land 🙂 Also, if you don't get lost in Goa at least once in a day even after following Google map, you are not a true Gypsy (Just Kidding!).
Insider tip: Besides best fresh sea-food and dirt cheap beer, Goa also have delicious pani-puri, chaat and chicken sharwana ❤ (Delhi comes second!).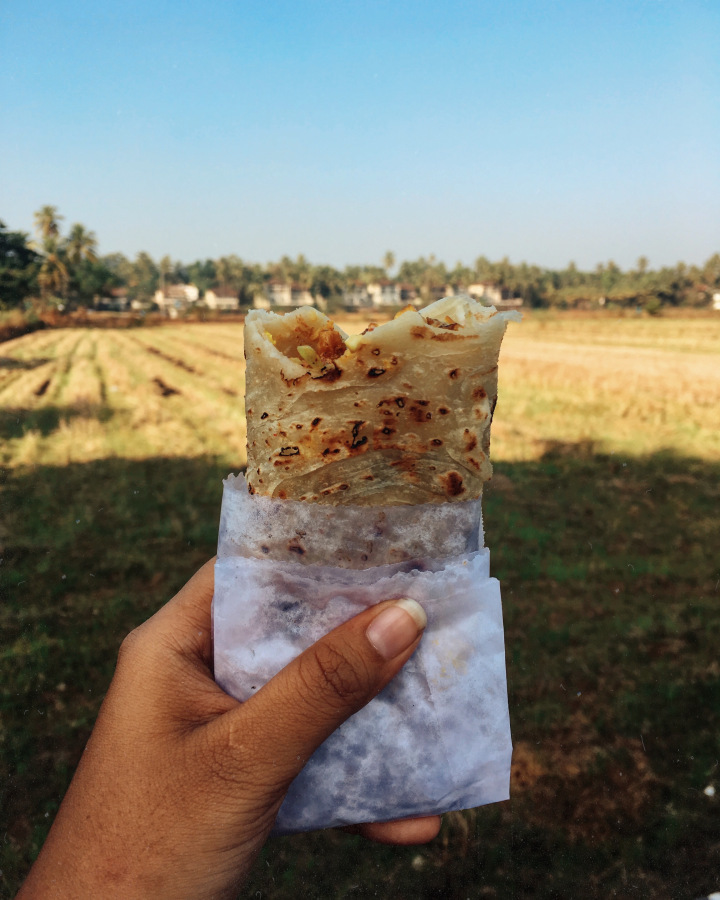 If you have been to Goa, you must be aware the high cost of renting taxi to/from Airport/Railway Station. During peak season it cost twice and sometimes five times more than it should be. Goa remains one of the few Indian states - and probably the only major tourist destination - that doesn't allow Uber and Ola cabs. However, the state government of Goa recently launched a new app-based taxi service called GoaMiles. Run by a local company called Frotamiles, the GoaMiles app also has the backing of the Goa Tourism Development Corporation (GTDC).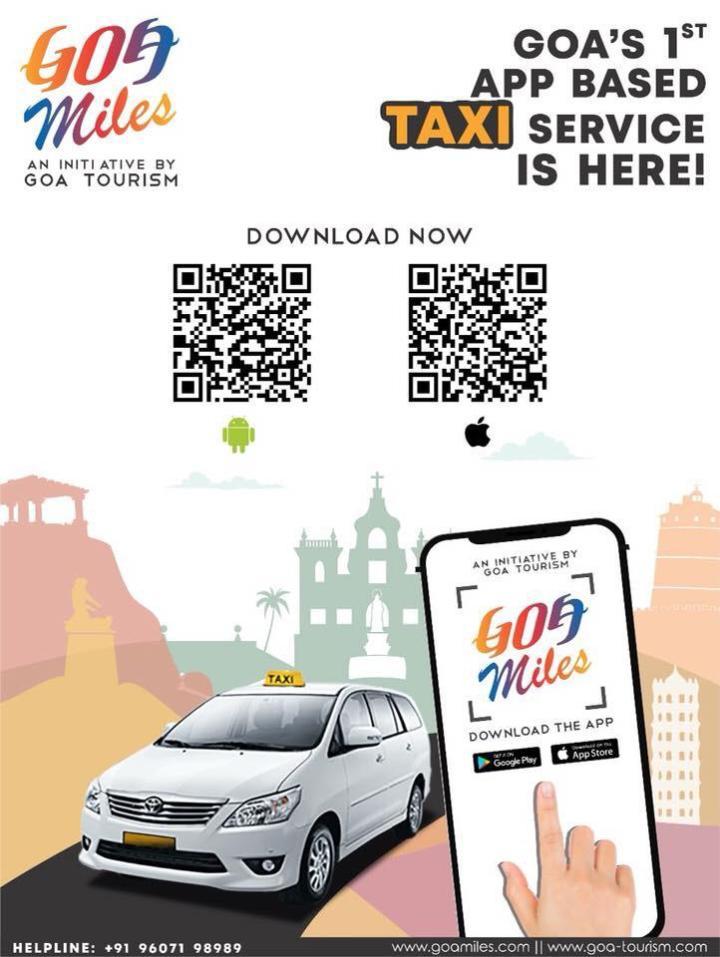 On August 6, 2018, GTDC Launched GoaMiles and now you can easily book a cab on the GoaMiles app (available on ios and android) as well online, exactly like you book a cab on Ola or Uber app. A few taps and you're good to go!! On the GoaMiles app, you also have the option of booking services such as a rapid city transfer, booking a tour, airport transfer and women-only taxi services and have hatchbacks, sedans and SUVs. You can track your taxi in real time as you wait for your driver to arrive. You can pay for your ride with cash or online, using a debit/credit card or by adding money into your GoaMiles balance. Like other app-based taxi services, the GoaMiles taxi also has a emergency button to ensure the safety of passengers and to avail help in emergency scenarios.
Last year on Christmas Eve noon, I was visiting Kala Academy with my mother and found a hide spot exactly behind the academy, the light house area where you can sit and have some 'me' time, close to nature.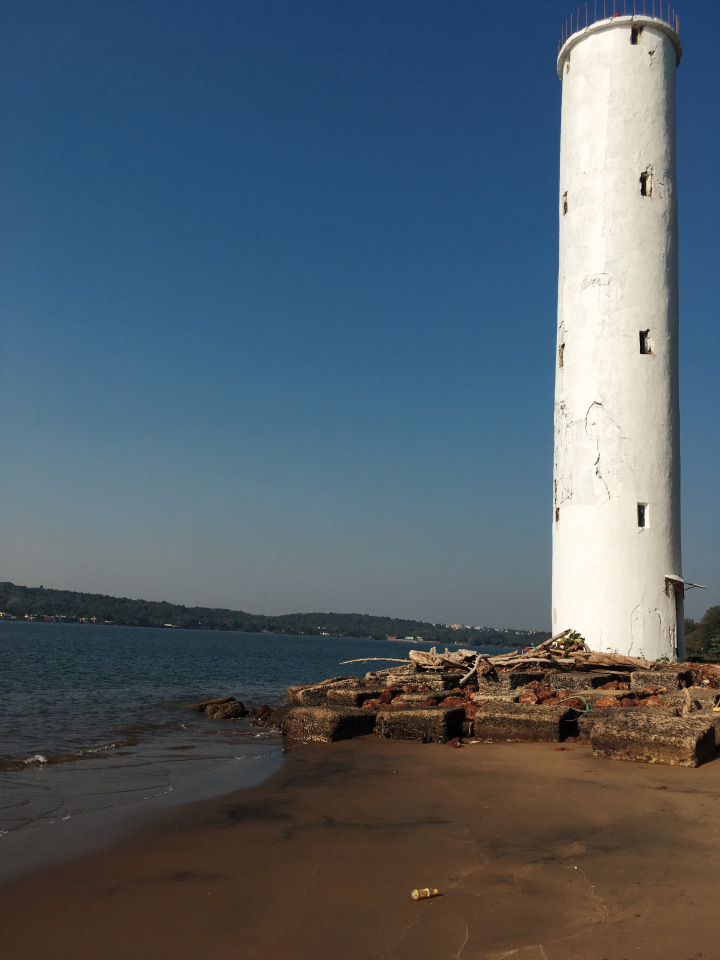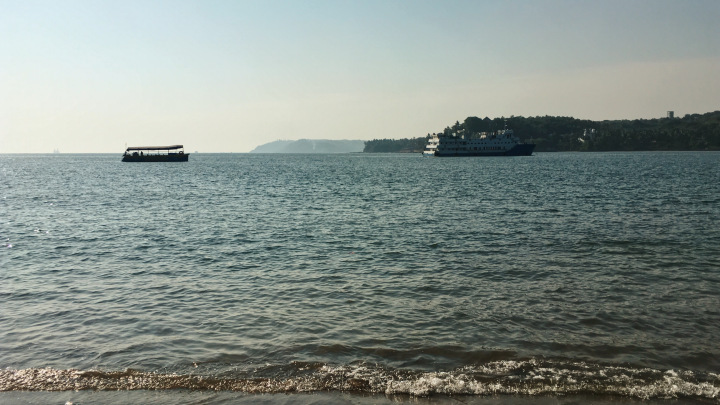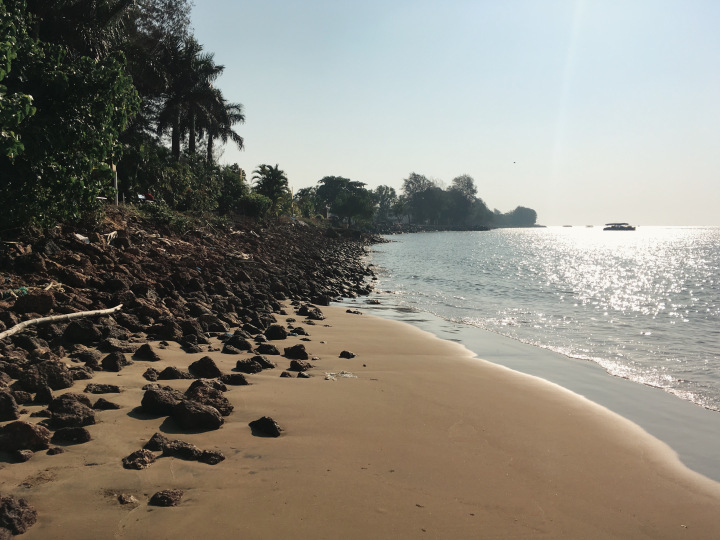 While searching places nearby on google map, I spot Reis Magos Fort which is exactly opposite to Kala Academy across the Mandovi River. Quickly read about it, totally loved it and on-the-spot decided to visit. It was 04:00 PM and reaching there was a task because the Fort last entry time is at 05:00 PM. The Fort closes at 05:30 PM. I took a ferry from Panjim to Betim instead of crossing the Mandovi Bridge. From Betim Ferry Terminal to Reis Magos Fort was around 3 kms ride (appx 10-12 mins) and I manage to reach there in 20 mins. Still grateful for that day! They offer an open jeep ride specially for senior citizens (the perks of traveling with mom :D). Entry fee is INR 50 per person.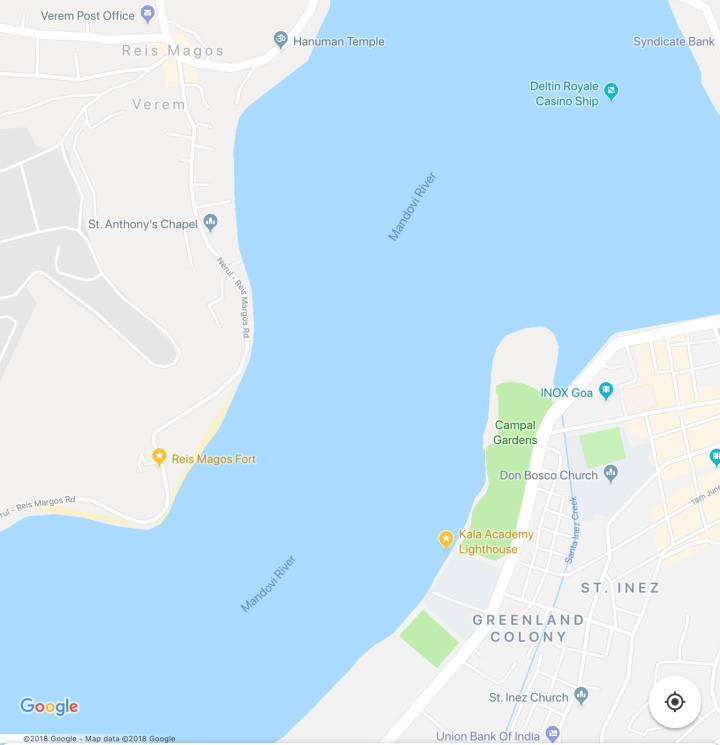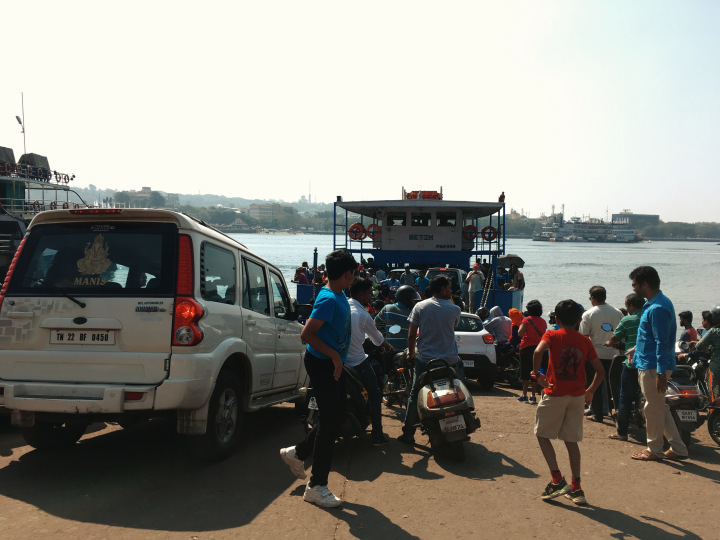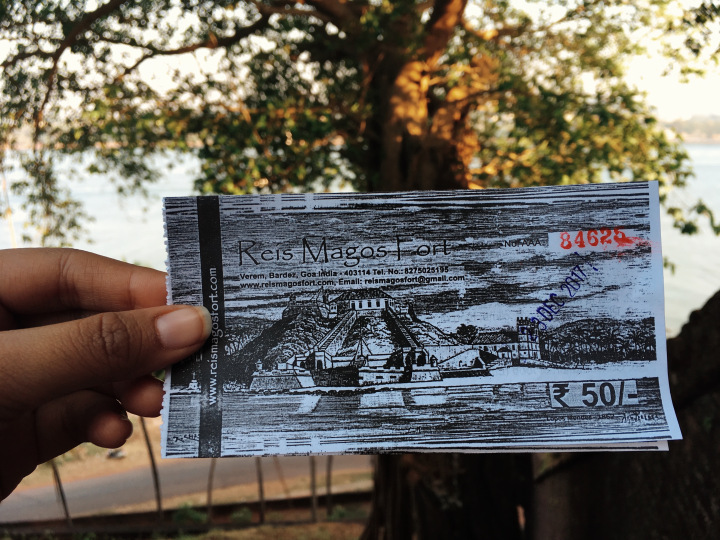 Goa's oldest fort build in 16th Century still stand absolutely stunning. The sea view from the fort is mesmerizing. Exactly next to the fort is Reis Magos Church which was the first Church in Bardez area.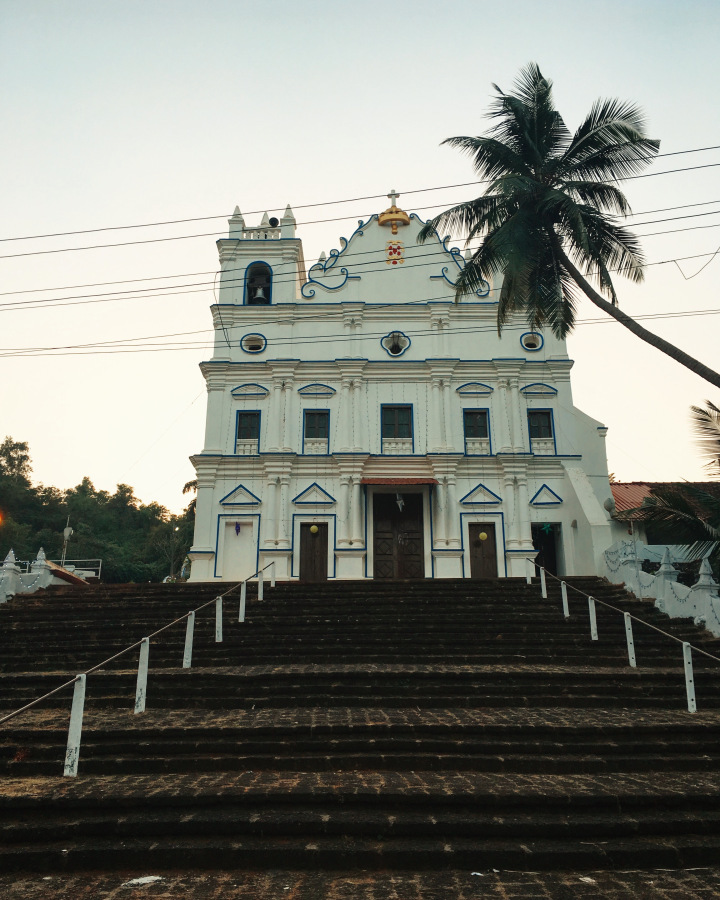 Reis Magos is the Portuguese name for the 'The Wise Men' from the Bible.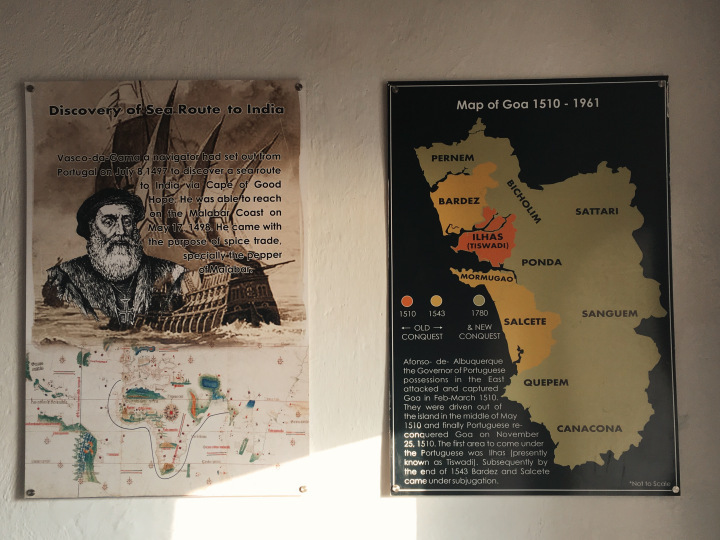 There was a guy named Prashant Edwin who had an open air live performance at Reis Magos Fort that day. His voice was soulful. He is a songwriter and singer too.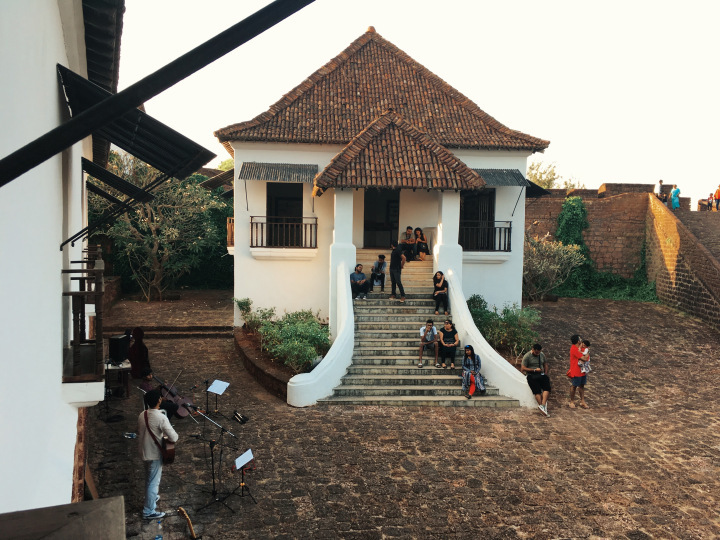 I cannot describe in words how much beautiful it was. The pictures speaks more 🙂 Sunset here was absolutely stunning!! I just can't get over it still. This is a must go place if you are in Goa.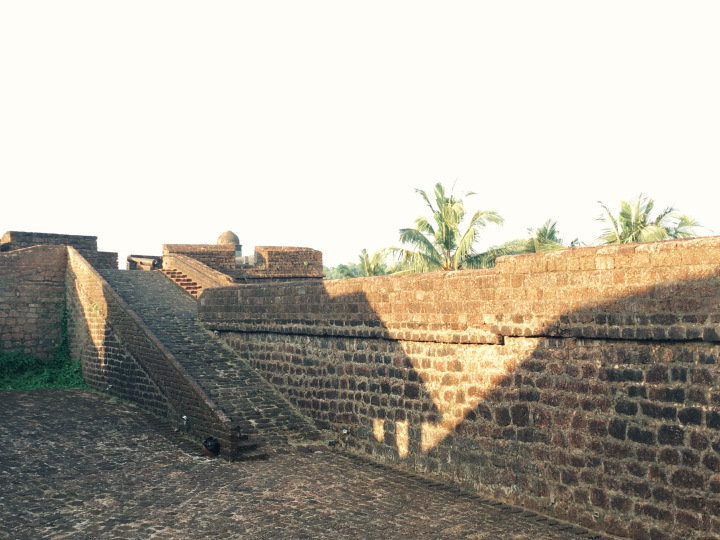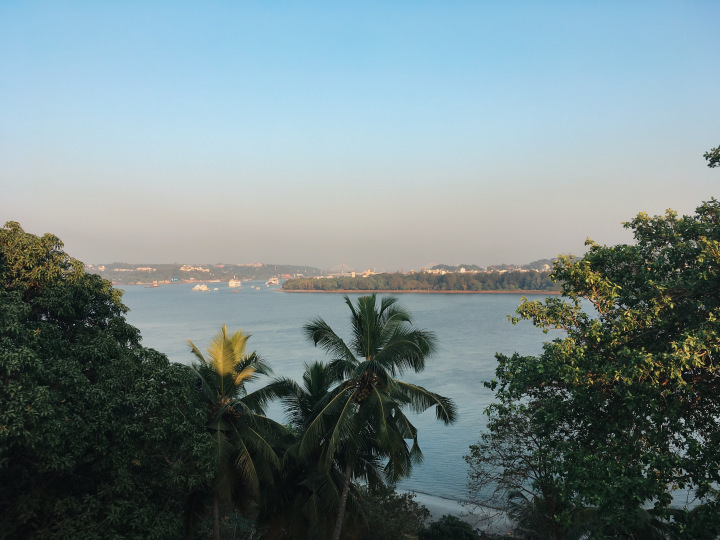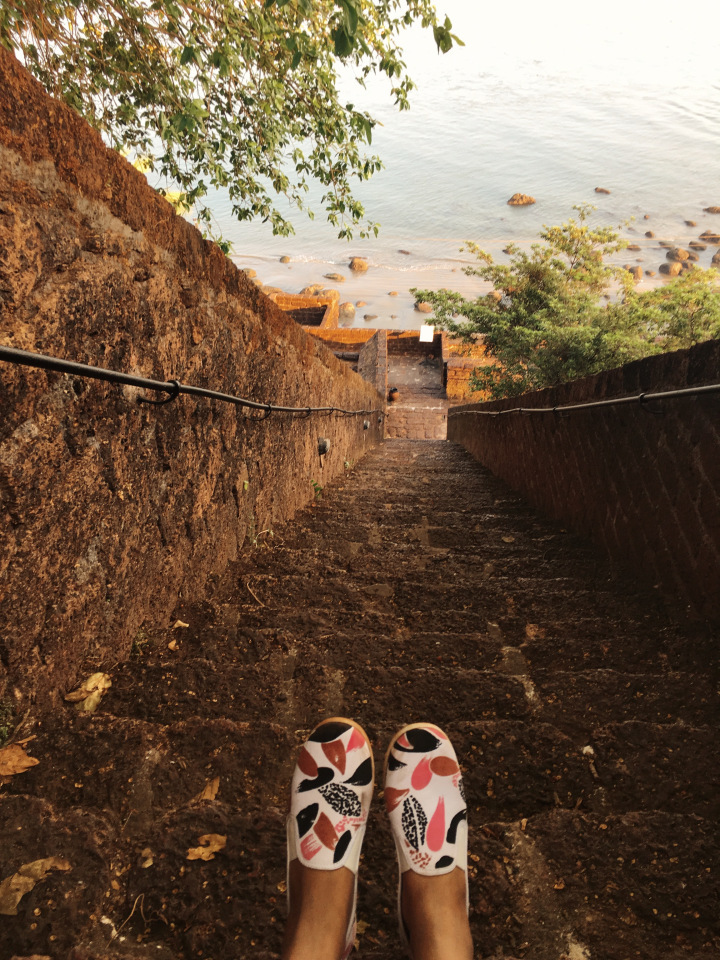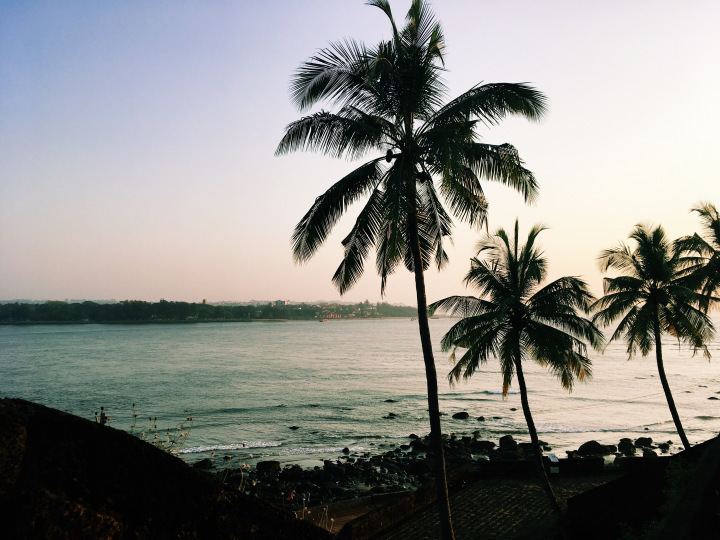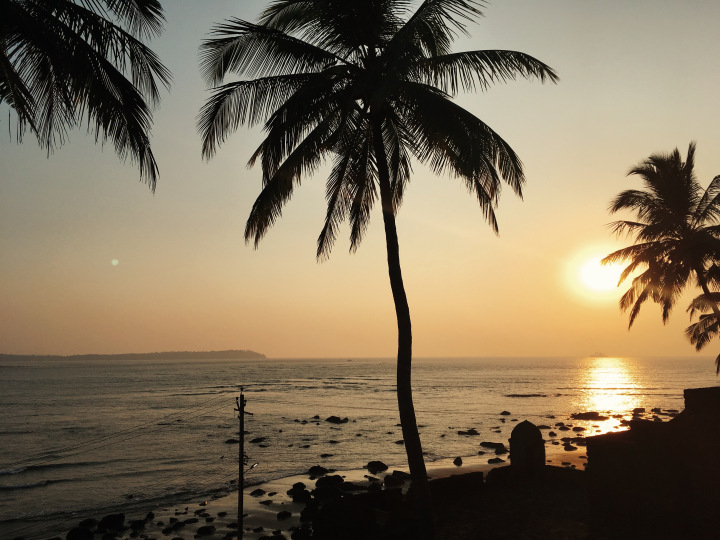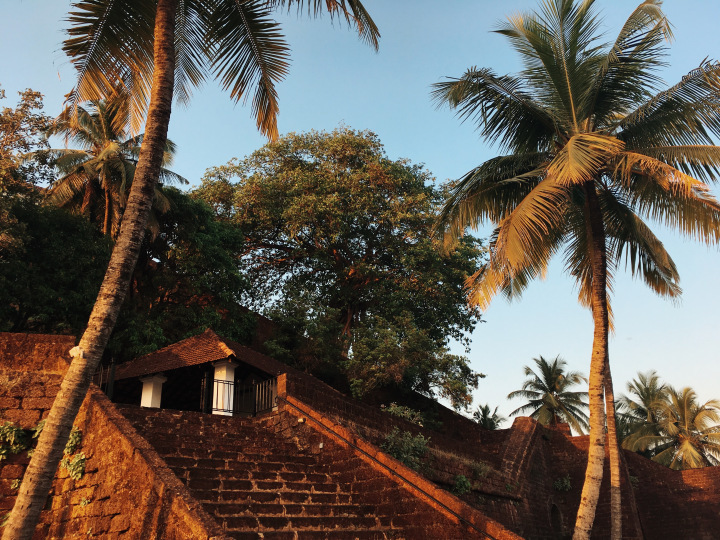 Exactly opposite to the Reis Magos Fort you will find a quite river side (spot the Kala Academy Light House) and best escape if you want to enjoy in a peace. Often you will find a lady on scooty who comes here for fishing. Stay here a little while and watch the sun goes down 🙂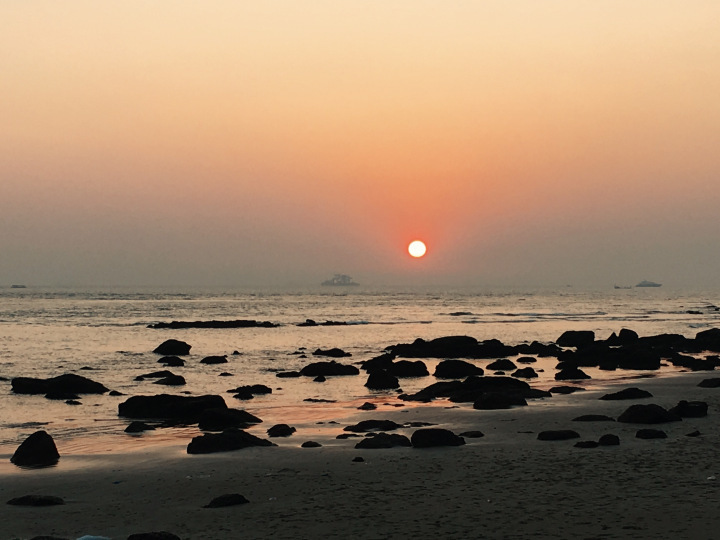 ADIL SHAH PALACE, PANJIM
Hosting Serendipity Arts Festival since 2016 (I got the first ever invitation from Goa that year. Grateful! You can read about it here) this place is no more hidden, but yet not many know about this. Panjim is Goa's heart. Stunning architectures, heritage buildings, Latin quarter, and much more, Panjim is so different. Panjim is gorgeous. You have to stay in Panjim at least for a week to feel it completely (I know almost the lanes now. Shhh..).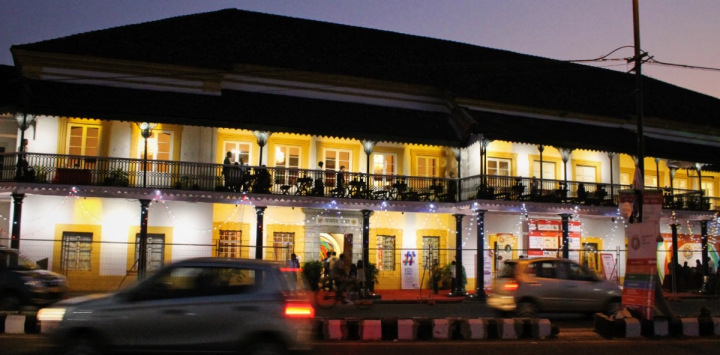 Panjim's oldest surviving building. With its sloping tiled roofs, carved stone coats of arms and wooden verandahs, the stalwart secretariat looks typically colonial. It was originally The Summer Palace of Goa's 16th century Muslim ruler, Adil Shah. Later, the Portuguese converted it into a temporary rest house for the territory's Governors and then a residence for the Viceroy. For a long time it served as the Secretariat/Legislature of the State of Goa. Currently it is stated to be a museum after the legislature was moved to Porvorim.
Location: Exactly opposite to Deltin Casino Entry.
Walking around in Fontainhas, the Latin Quarter of Panjim is a curious time travel experience in itself (also known as 31st January Road). Panjim have all my heart since Dec 2012 where I visited Goa for the first time with my cousins and felt I have some past connection in Goa. This area is exactly 5-10 mins walk from famous Panjim Church - Our Lady of the Immaculate Conception. If you want to stay here and have a good budget, La Maison Fontainhas should be your choice. There is another one, the Afonso Guest House run by Panaji's reputed Afonso family and it is exactly opposite to La Maison Fountainhas. Stunning Portuguese House 🙂 (I am eyeing since forever. Just!!)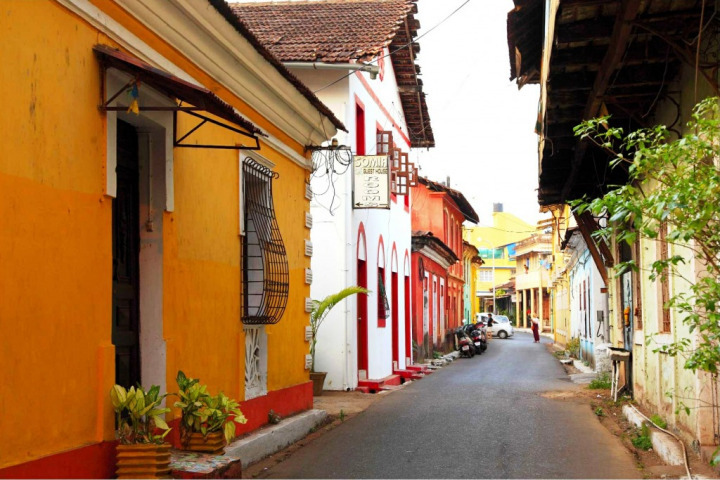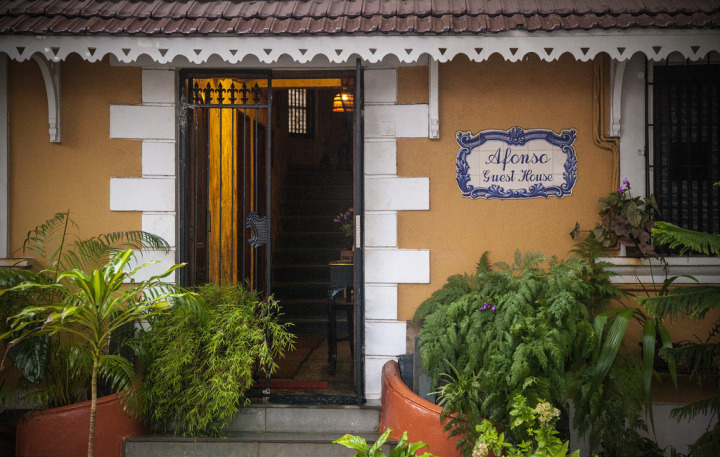 Another one is Welcome Heritage Panjim Inn - Goa's first classified heritage hotel, 130 yrs old Family Mansion with 24 rooms, The Catholic Home turned to Panjim Inn owned and managed by the original Family (built by Francis Assis D'Silveira, a Landed Gentleman and Successful Businessman and has been owned by the same family over 5 generations. Amazing!) and now a part of WelcomHeritage - A joint venture between ITC WELCOMGROUP and H.H The Maharaja of JODHPUR. Still protecting Goan culture strongly. Even the standard room here looks like a big cozy room like how mansions have 🙂 Oh! the tour is definitely needed.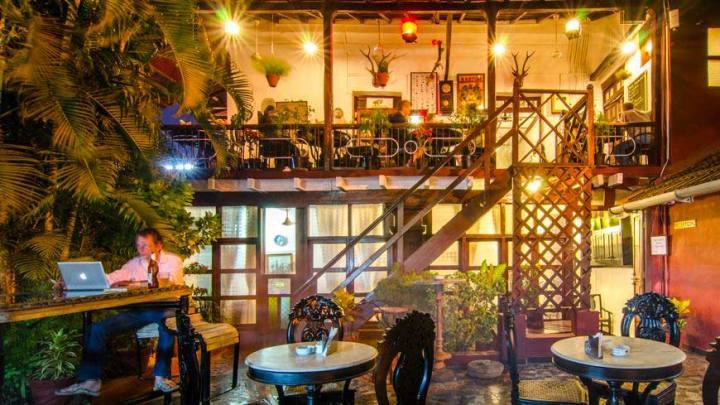 Insider Tip: If you are visiting Panjim Church, do not miss the pani-puri/gol-gappa street hawkers near Azad Maidan. It's 2 mins walking distance. Thank me later 😀 (also send me blessings!).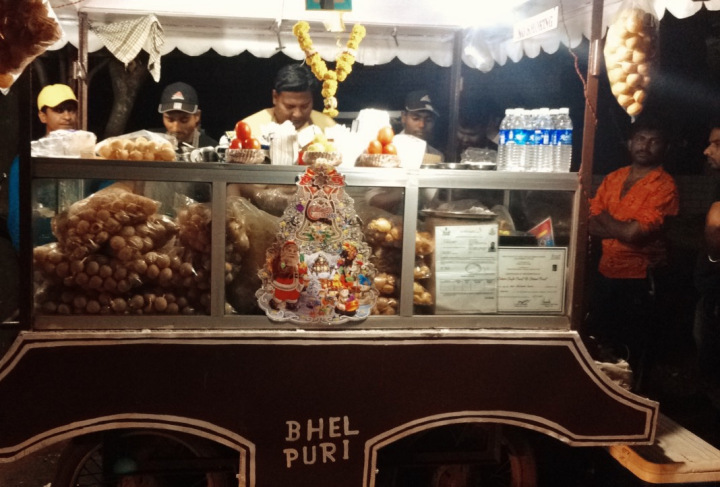 It was Saturday morning, after visited St. Andrew's Church and quick lunch at Vasco Square, where I had best squid lately. An old house turned to a restaurant with non-ac seating and high brick ceiling. We decided to go to Baina Beach which was appx 2 kms distance. I have had read about the Baina Beach on some blog last year. Located less than a kilometer distance from the city and merely 5 kms from Dabolim Airport.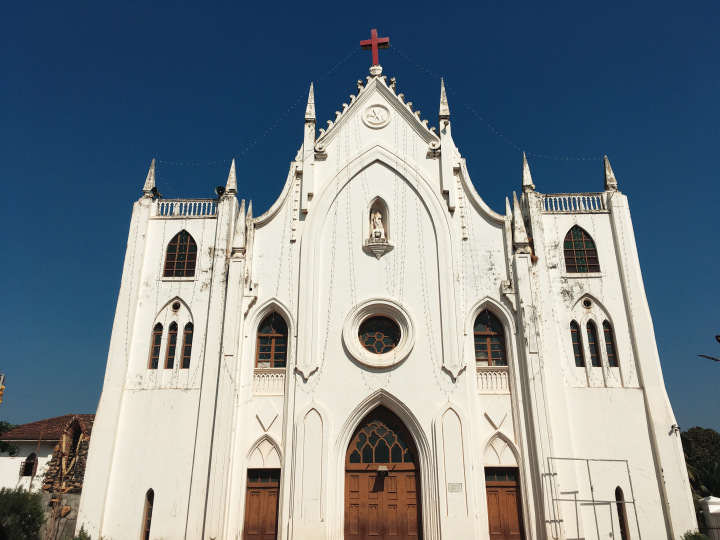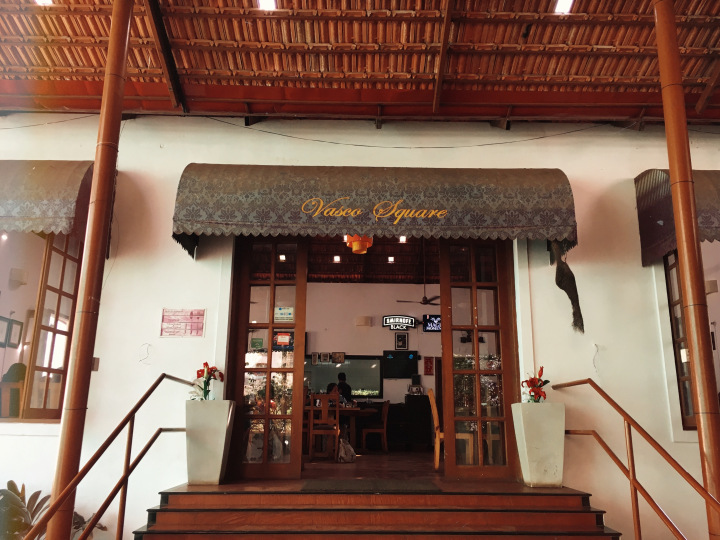 Earlier for last 40 years Baina was a Red Light area. But it was a Historic day on June 14th, 2004 when acting on the orders of High Court the then Chief Minister Shri Manohar Parrikar gave orders to eliminate the area and accordingly the administraton - The Police, The Mamlatdar, The Collector acted boldly and cleared the area giving relief the good citizens around, the Red Light area was a BLACK spot for the people of Baina, Vasco and the entire Goa. Before and after clearing the area amply opportunity was given of rehabilitation. Now Baina Beach is a Tourist Spot with water sports activities and one of the hub for the Cultural Programs. As well early in this year they have started with AC Ferry from Vasco to Panjim and Old Goa. Making it easier for budget travelers or backpackers or other travelers who want to explore more and reach Panjim in a cheaper way. I cannot wait to go back to Goa now. Sigh!!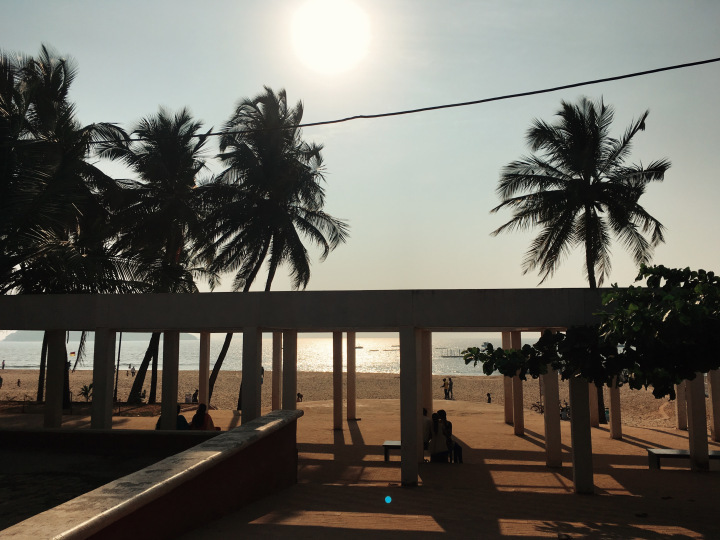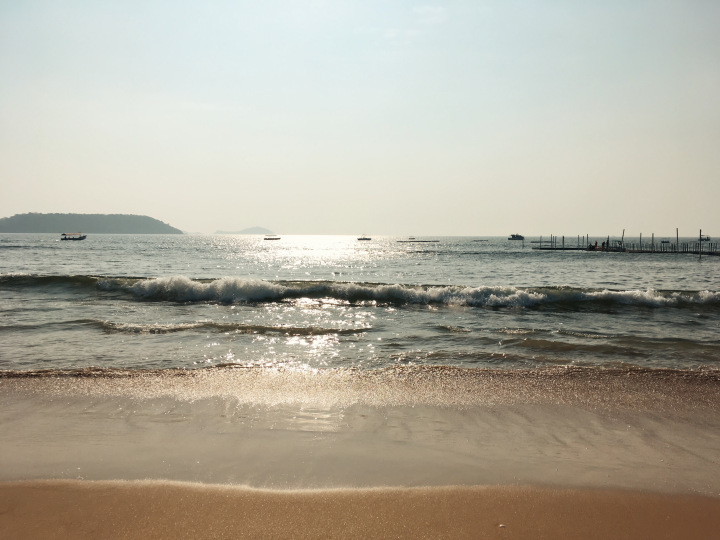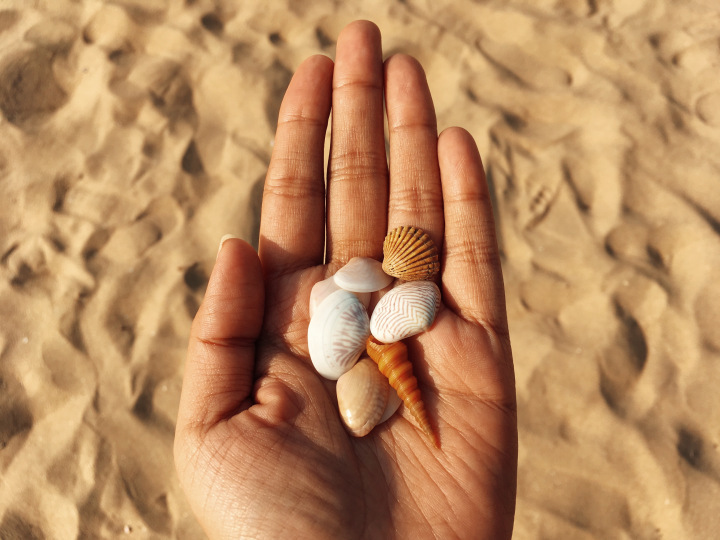 GRAND MOTHER'S HOLE BEACH, VASCO
While playing with sand at Baina Beach, a kid around 5-6 yrs joined me. He was teaching me how to make a sand house (oh buoy,! he was better than me). After a few minutes, I was back on searching area nearby on google map and the kid father asked me, where I want to go. I told him I am just exploring Goa with my mother and in search of some places nearby which I have never been to. Something classic. He quickly asked me to visit the Japanese Garden nearby around 3 kms and do a little trek down to the beach. The beach name is Grand Mother's Hole. The garden is more popular because nearby senior citizens to go for a walk.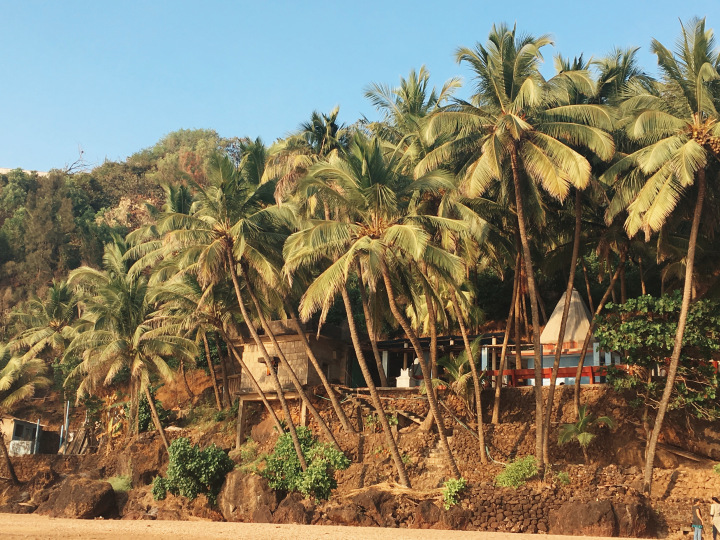 I quickly googled the place and found it interesting. Me and my mom were so excited until the google map started to go haywire (for the 10000th time) and we took a wrong turn. Instead of Garden, it was a Government Employees colony (hahahaha.....). Ask couple of people there and they guide us. We reached there and voila! hidden gem of Goa. Picture postcard <3. My mom couldn't trek down, she was sitting in the garden accompanied by some other senior citizens.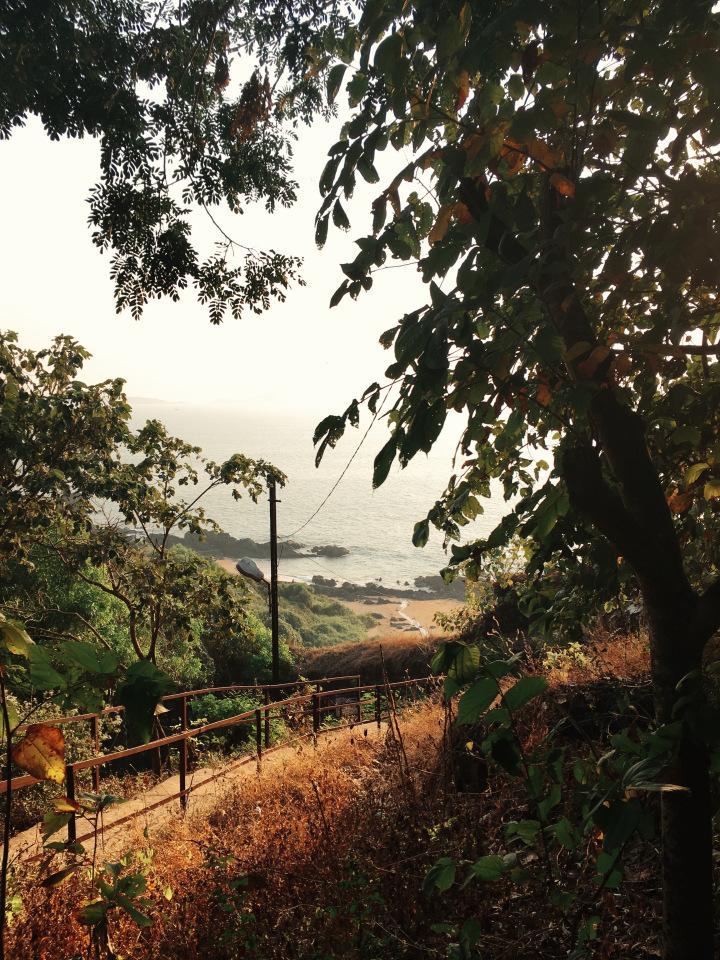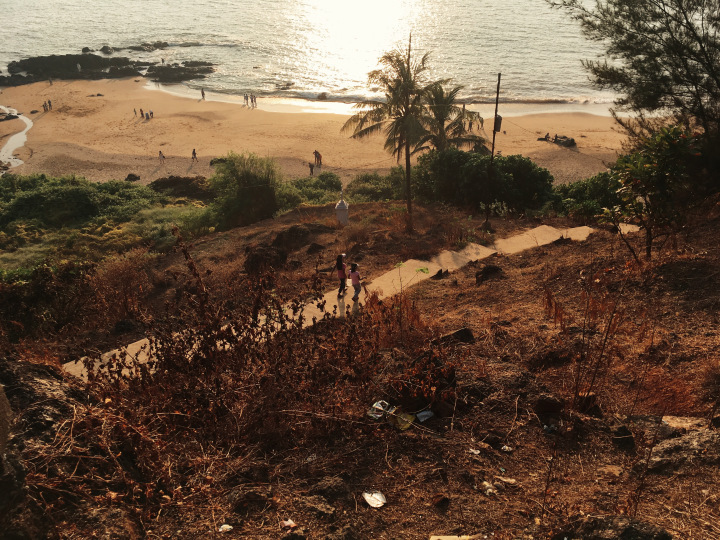 Here is the story: the name, Grandmothers Hole Beach derives from a folklore that a grandmother used to sit at this hole waiting for her sons to come back from the sea. Sweet 🙂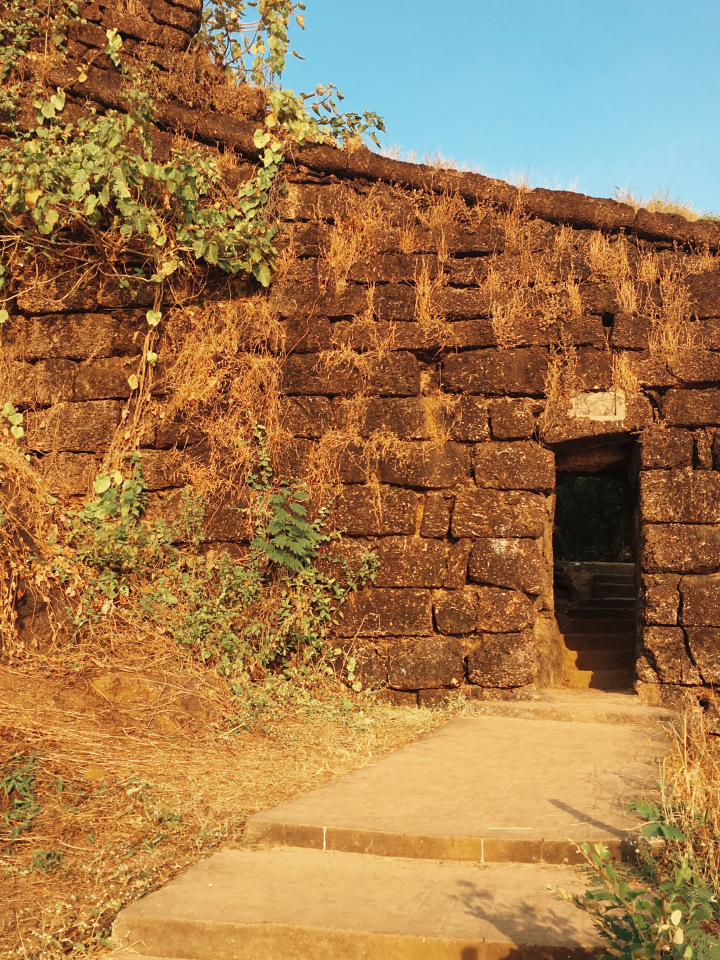 So grateful to find this place. Stunning beauty!! Blessed. Though the beach was a little crowded but I managed to climb up rocks at the beach and sat there for some time watching old souls collecting shells together. I quickly clicked their picture. Wished I could send them this 🙂 also wished could have stayed for a little longer to witness sunset but we had to head back Panjim on two wheeler, so left before golden hour. (Vasco to Panjim is appx 32 kms and yes I rode activa around 80-85 kms that day :D)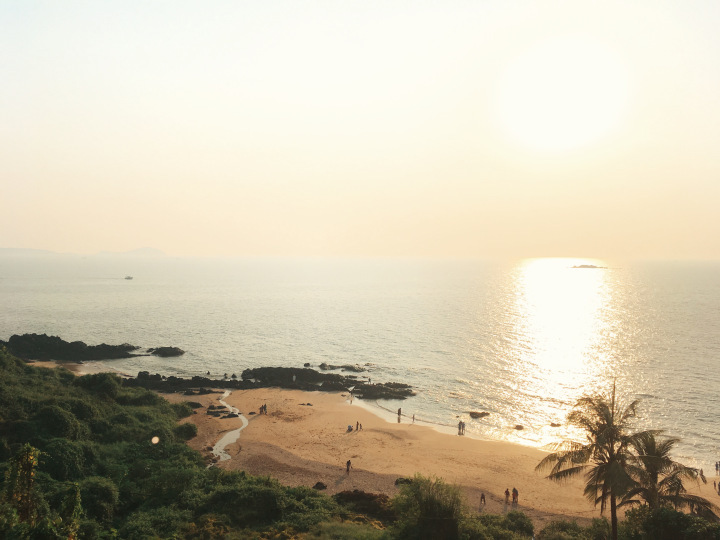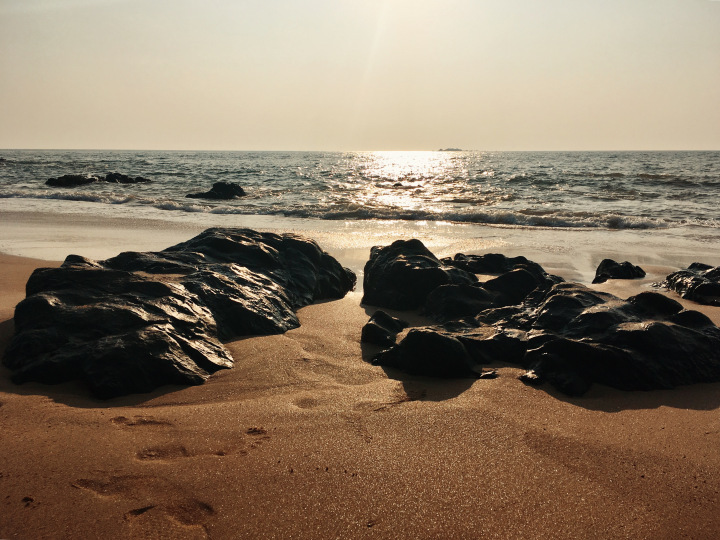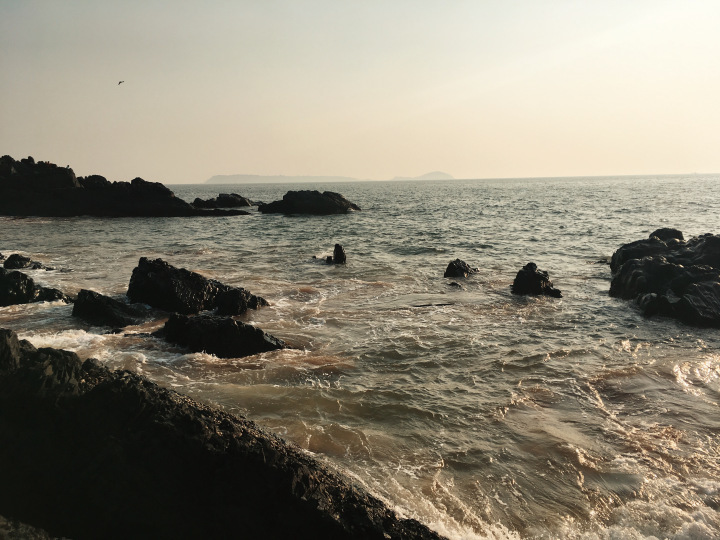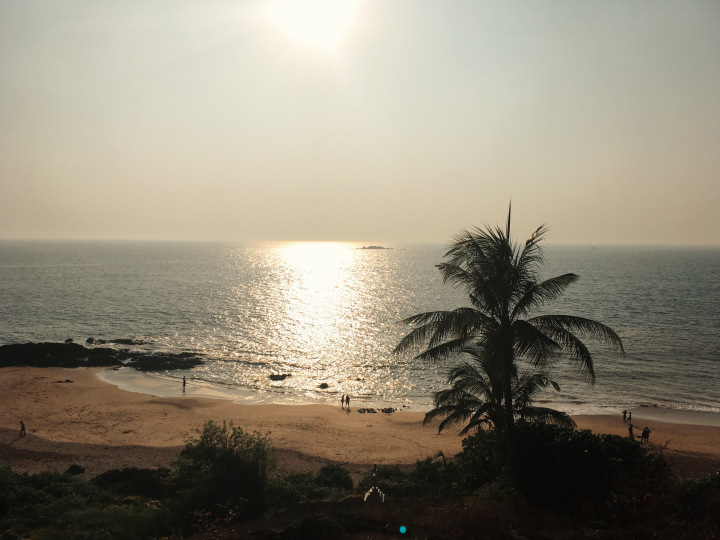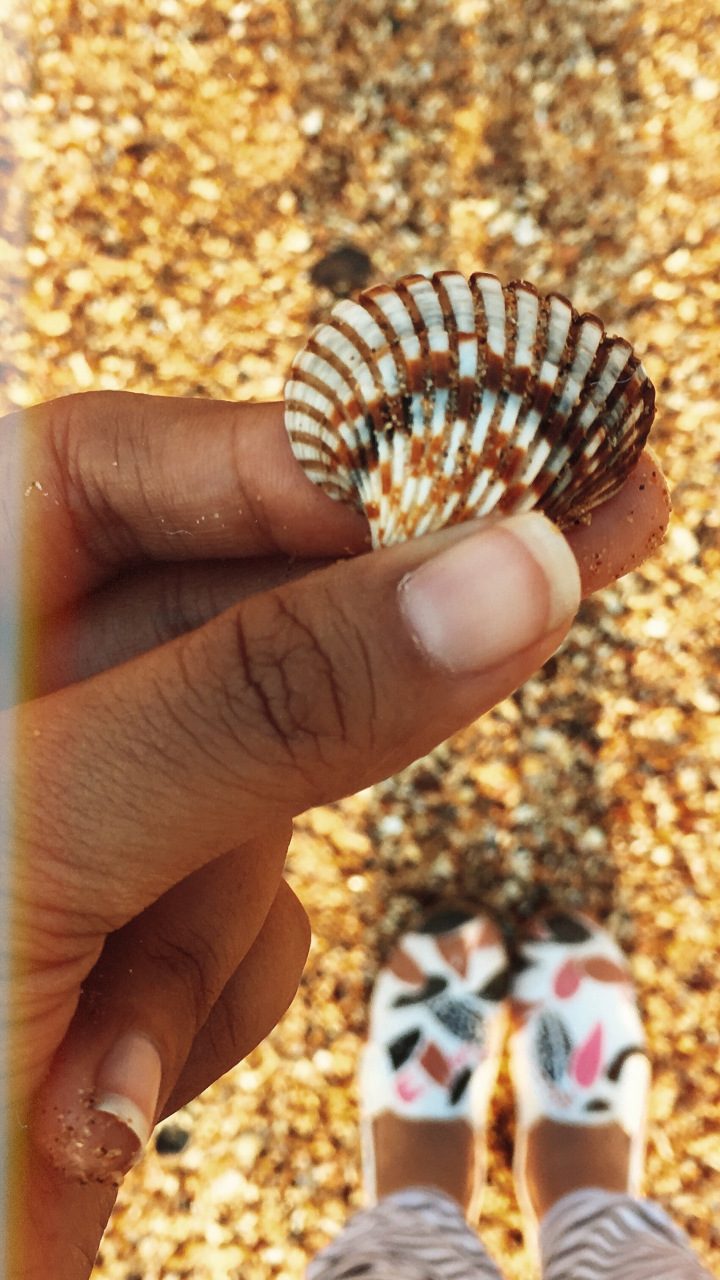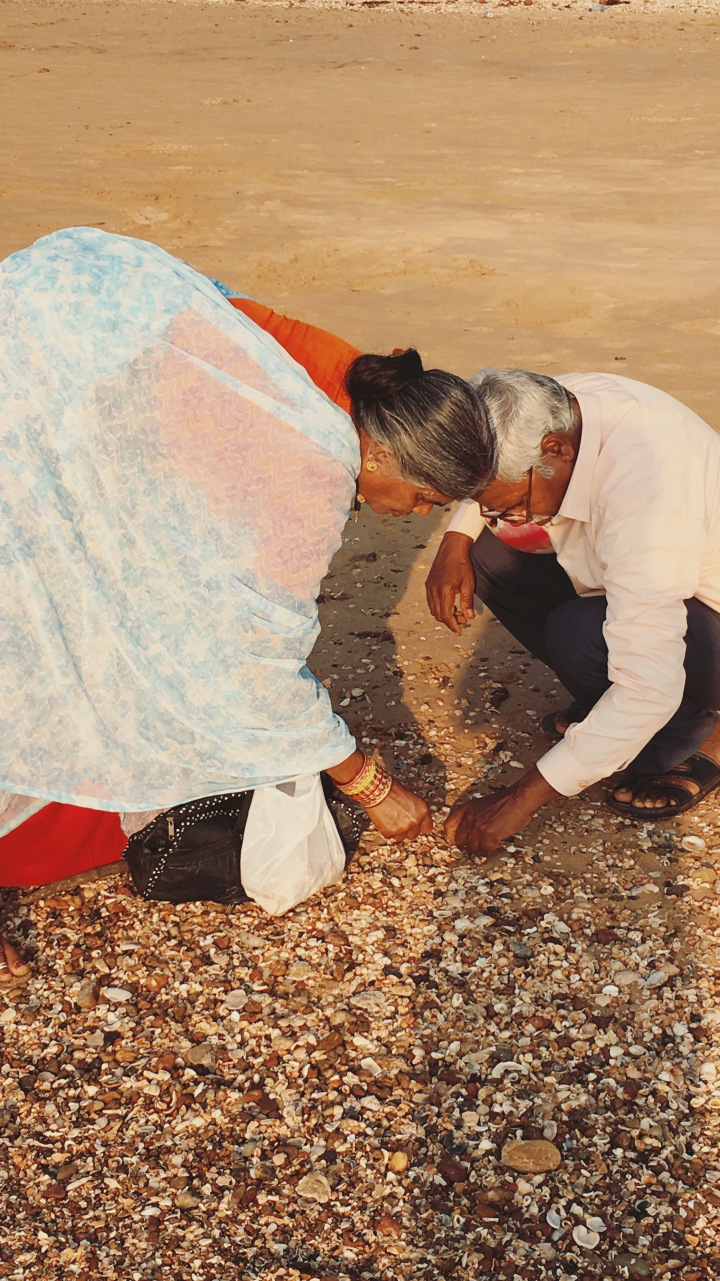 It's been around 4 years since I am following one of the best blogger of India, Siddharth Joshi. He wrote about Divar Island on his blog ( read here). I did few more reading and play with google map. Found another interesting part of Goa. Totally unexplored. Asked Panjim Ferry guard and he told me to reach Divar Island, I need to take ferry from Ribander or Old Goa. Nearest will be Ribander from Panjim.
Note: There are 2 ferry terminals at Ribander. The first Ferry Terminal you spot will be for Churao Island. Go straight for around 1.5 km and you will find another Ferry Terminal. This will take you to Divar Island. (Always confirm first).
Waking up early and get ready before 09:00 AM is seems so easy when I am on vacay. Took ferry from Ribander to Divar Island and thought is this a part of Goa?? Really?? So different, totally deserted (maybe because it was Sunday). Mobile reception was low and thanked Lord that I did downloaded Divar Island offline map.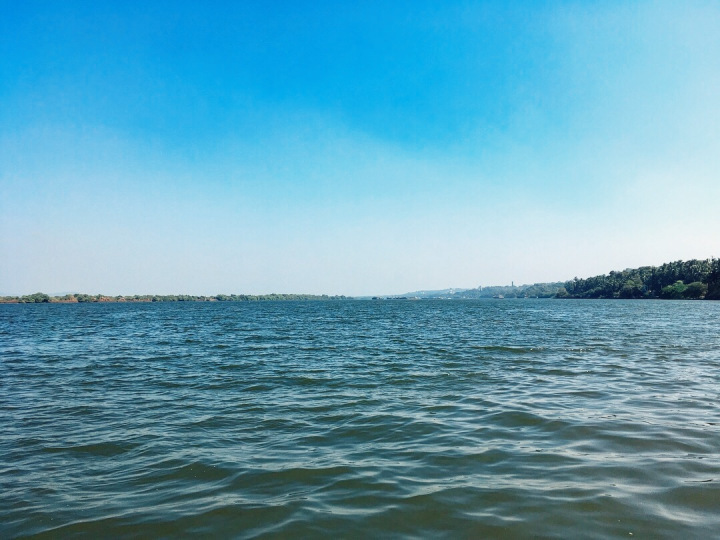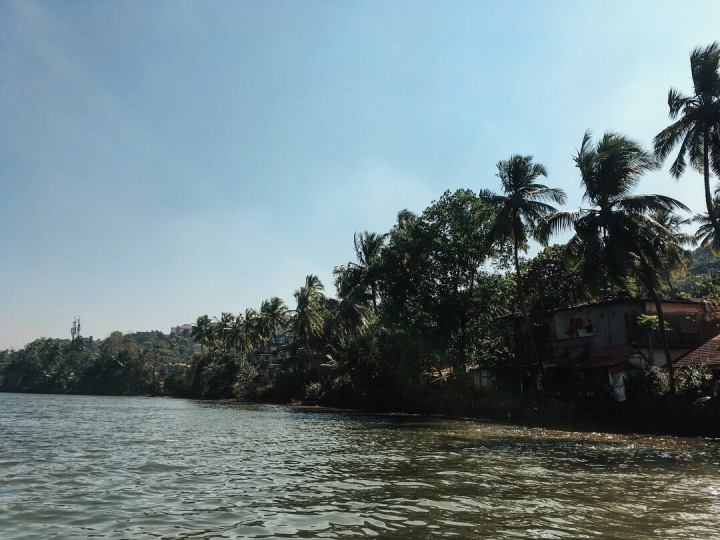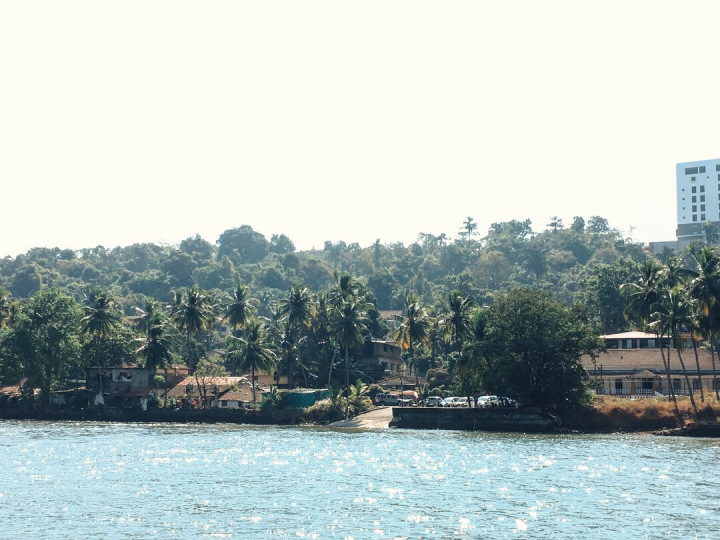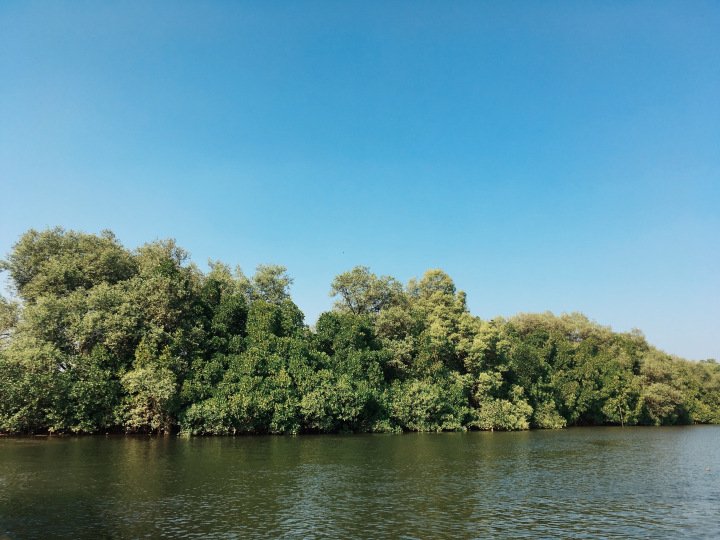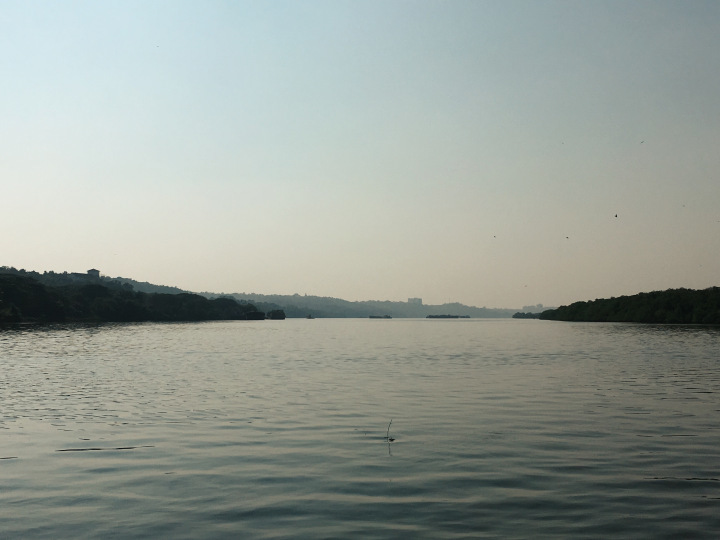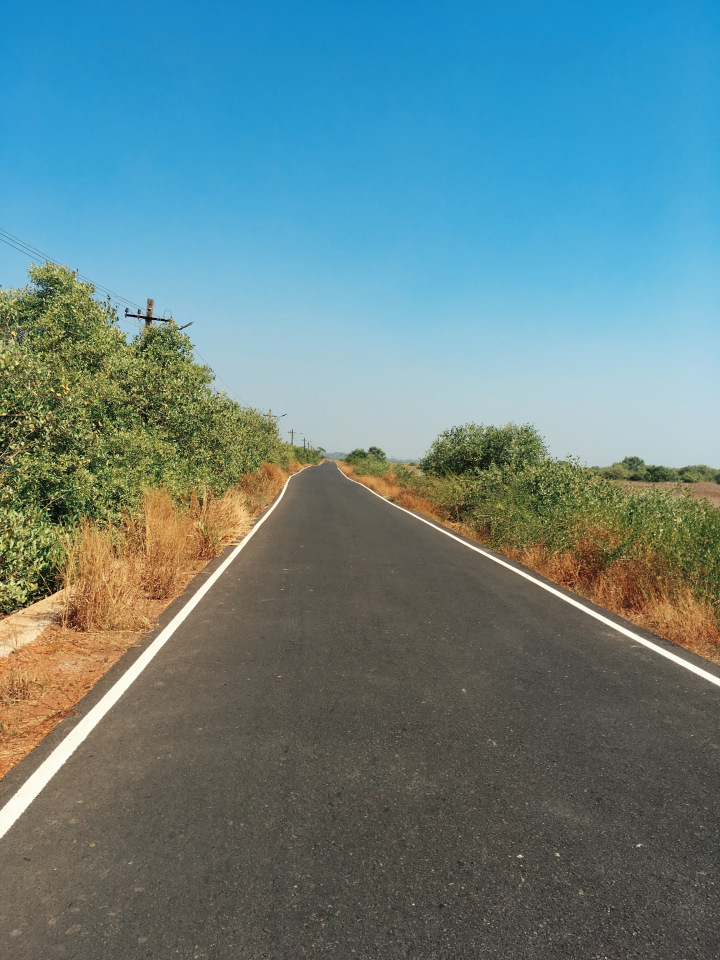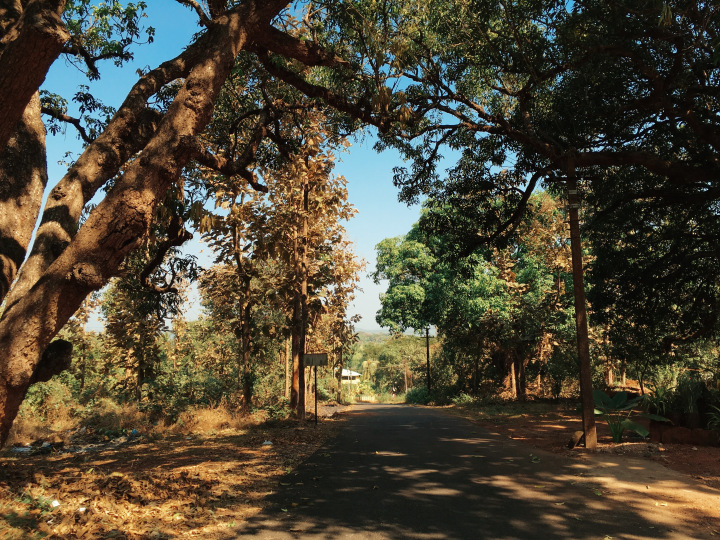 We had a home made Sea Food Fried Rice at Bradlee's. I found him thru google map. He runs restaurant at his home only. He told us more about Divar island and it is village area and people go to Panjim everyday thru ferry to work. That's the only way they can go to other side of area, by ferry. And when it's rain, it is scary but soothing too. Bradlee uncle also has a homestay 🙂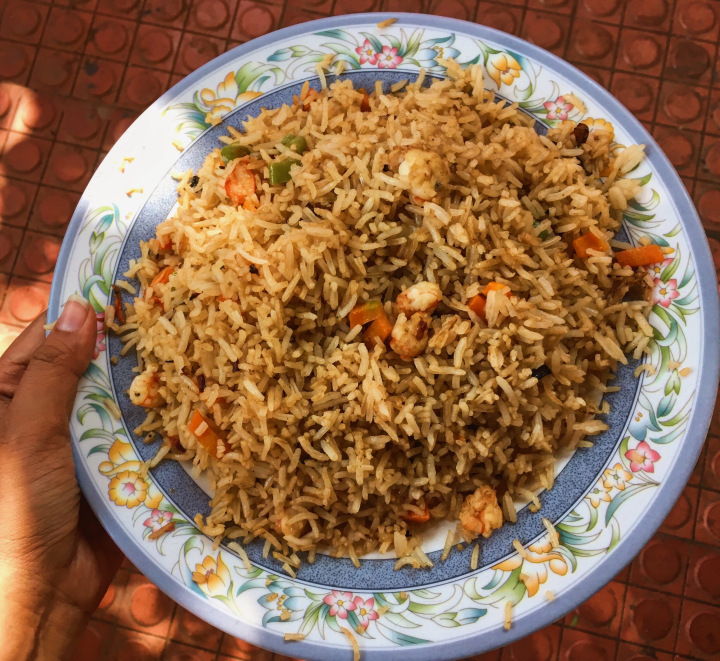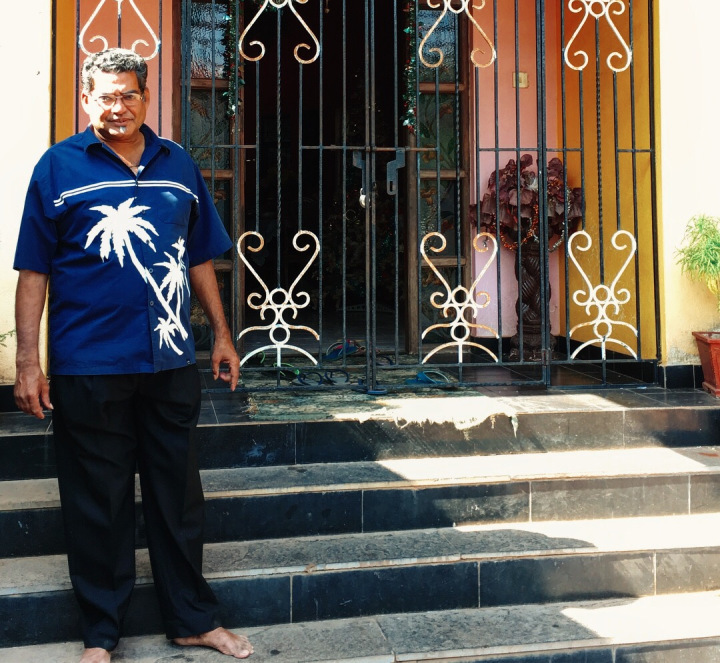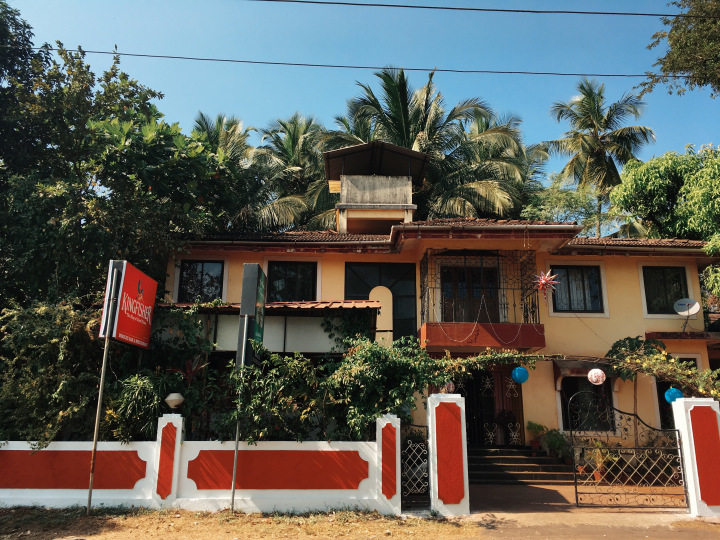 After that we did a 2 to 2.5 hours island tour following google map and it finished. Wow! Such a tiny place but really peaceful. No honking zone.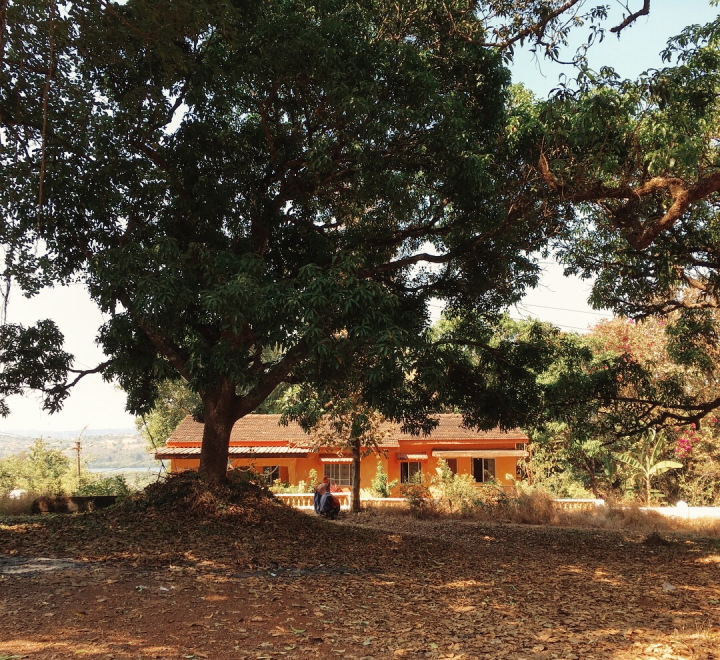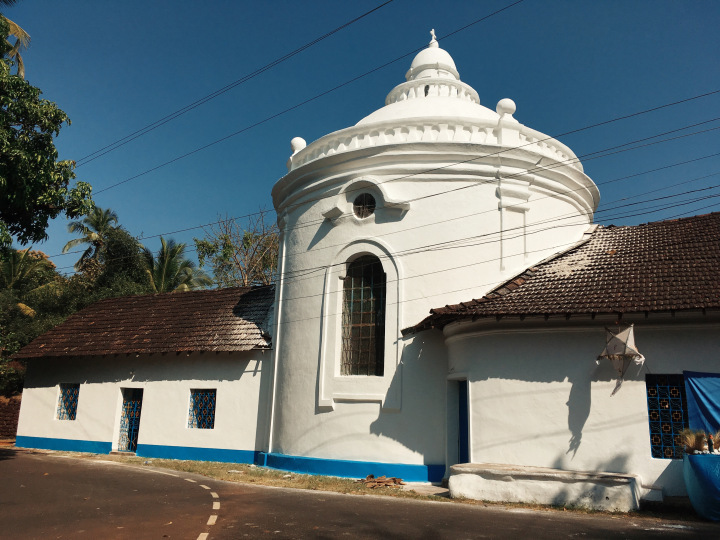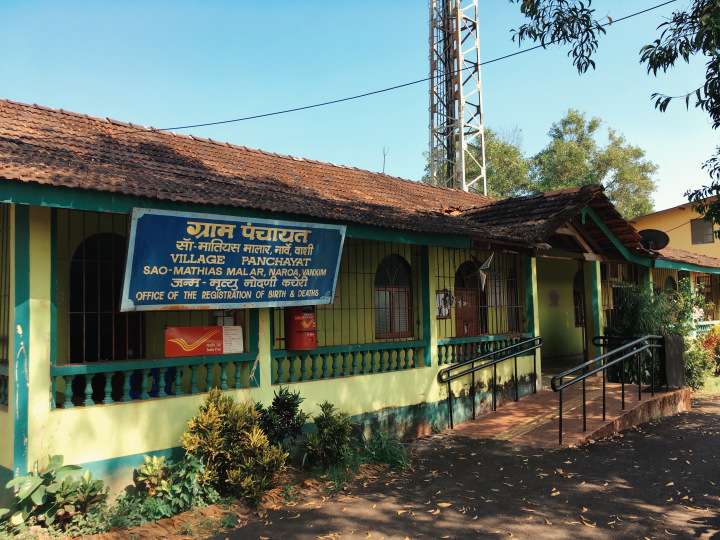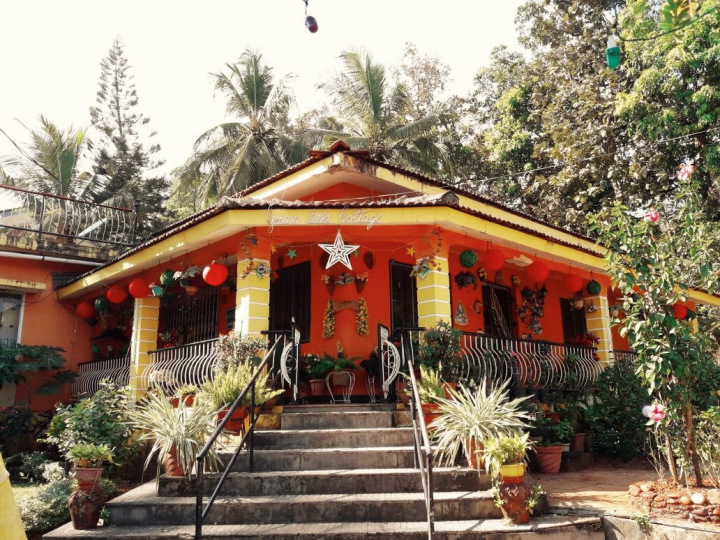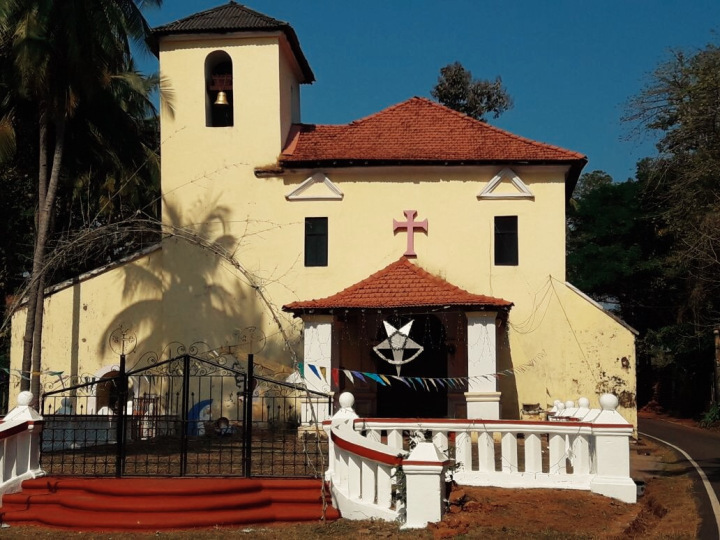 There are other nearby islands too 🙂 Vanxim Island, the tiniest island of Goa and Chorao Island (largest among other 17 islands of Goa), home of Salim Ali Bird Sanctuary and appx 10 kms from Mapusa City.
Ribander area is another Gem of Goa. Cute house overlooking Mandovi River. Go for a drive on two wheeler. Sit near river side and watch sun goes down 🙂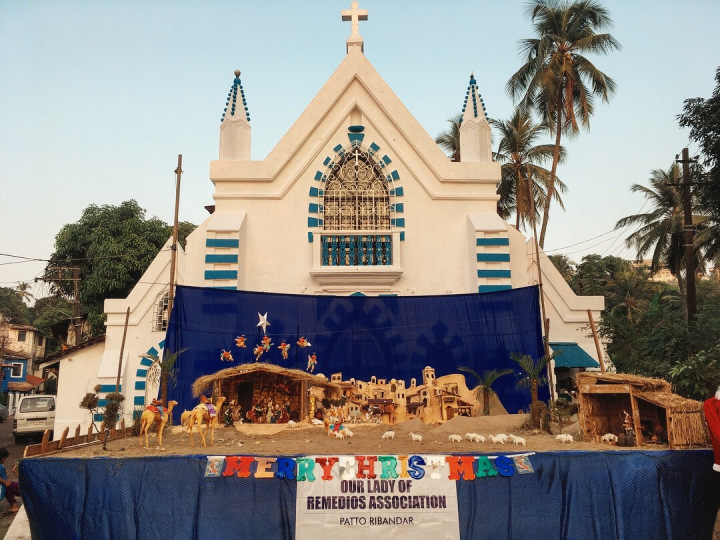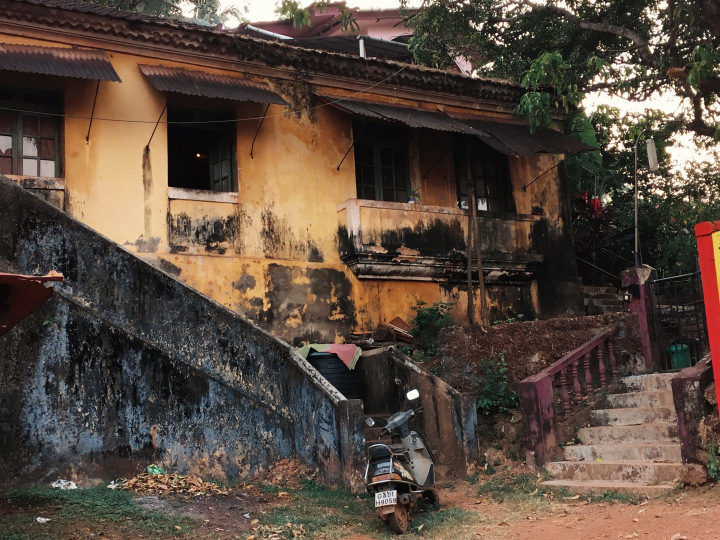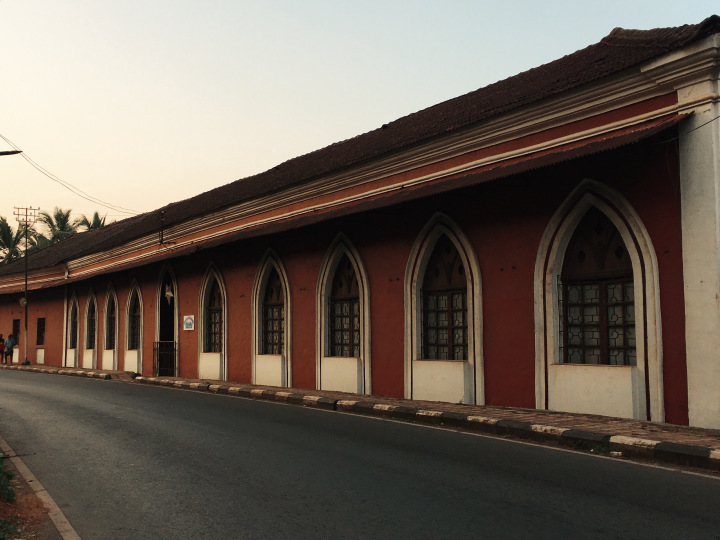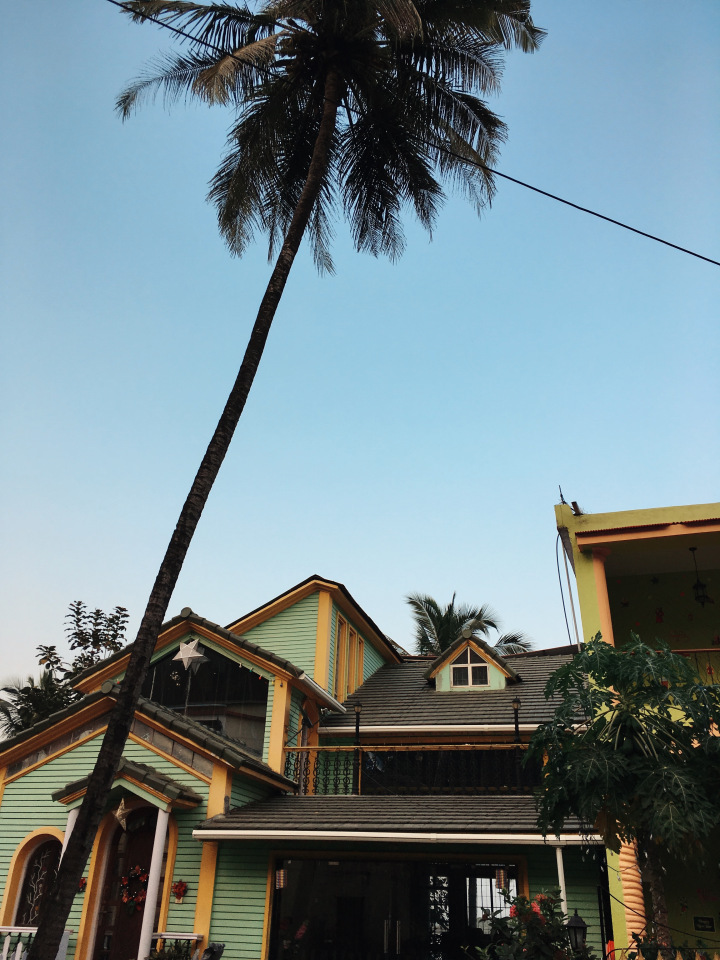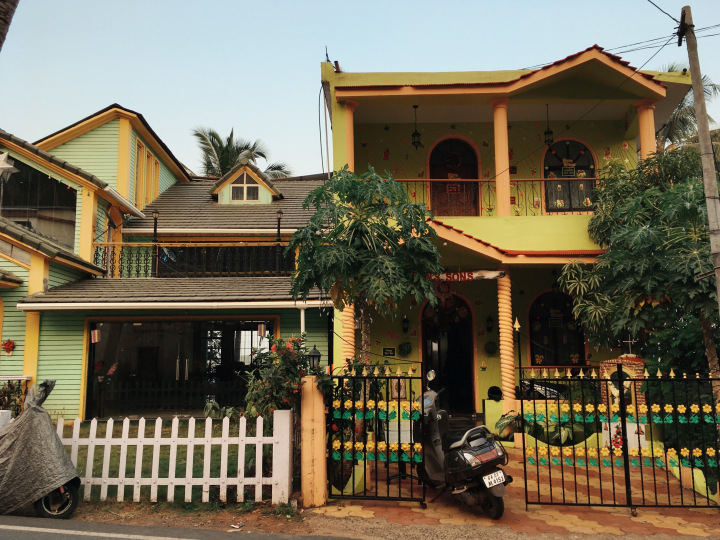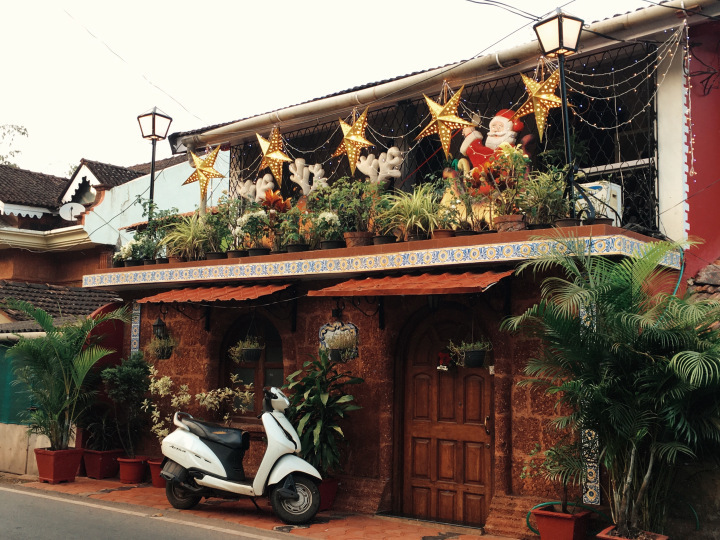 Old Goa, also called Velha Goa, is beside the Mandovi River in the western Indian state of Goa. The former capital of Portuguese India, it's known for colonial-era monuments like the Basilica of Bom Jesus, with the remains of St. Francis Xavier, and the domed Church of St. Cajetan, inspired by St. Peter's in Rome. Nearby, the vast Se Cathedral, built in the 16th-17th centuries, has ornate chapels and a bell tower.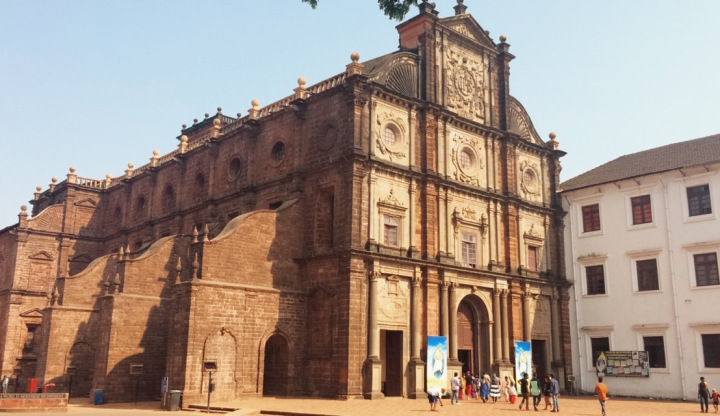 SOLAR SOUTO MAIOR, OLD GOA
Solar Saouto Maior is Old Goa's only surviving Palace restored as rare exhibit museum of vintage items. Found this by chance. While coming back from Divar Island, I took ferry which dropped me at Old Goa (instead of Ribander). It was such a surprise! I have already explore that place twice for the whole day. Here you will find the famous Vice Roy's Arch.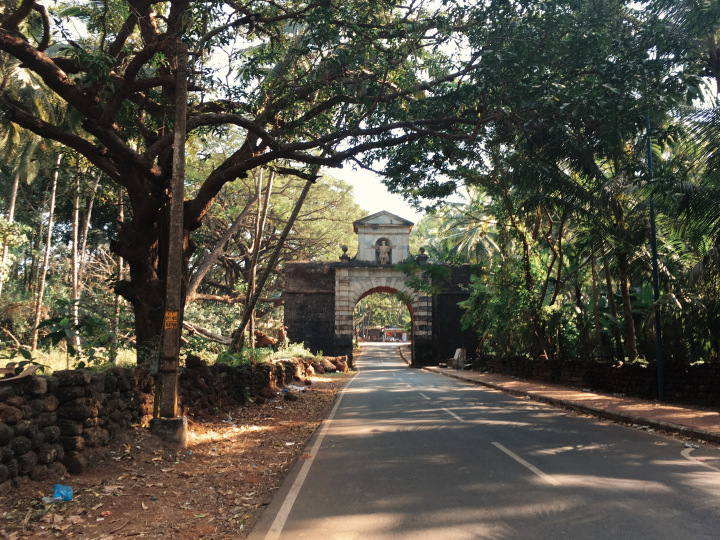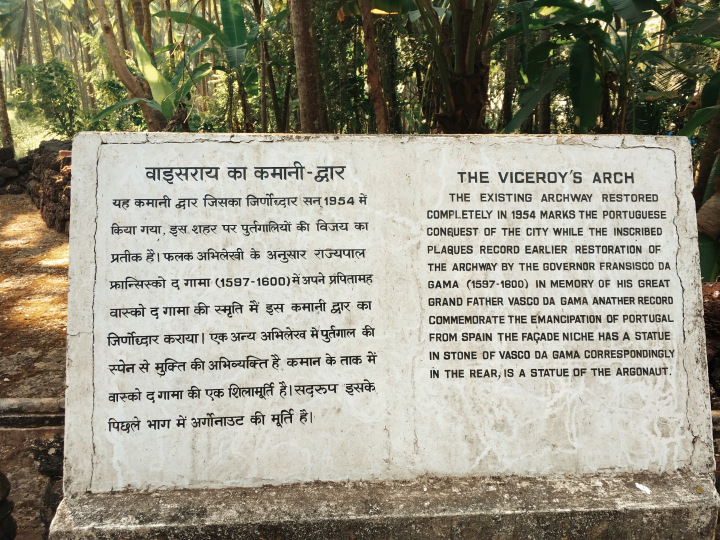 While driving back to Panjim, saw the cute small board written "Garden Cafe" on left of the road and thought to make quick tea snacks stops.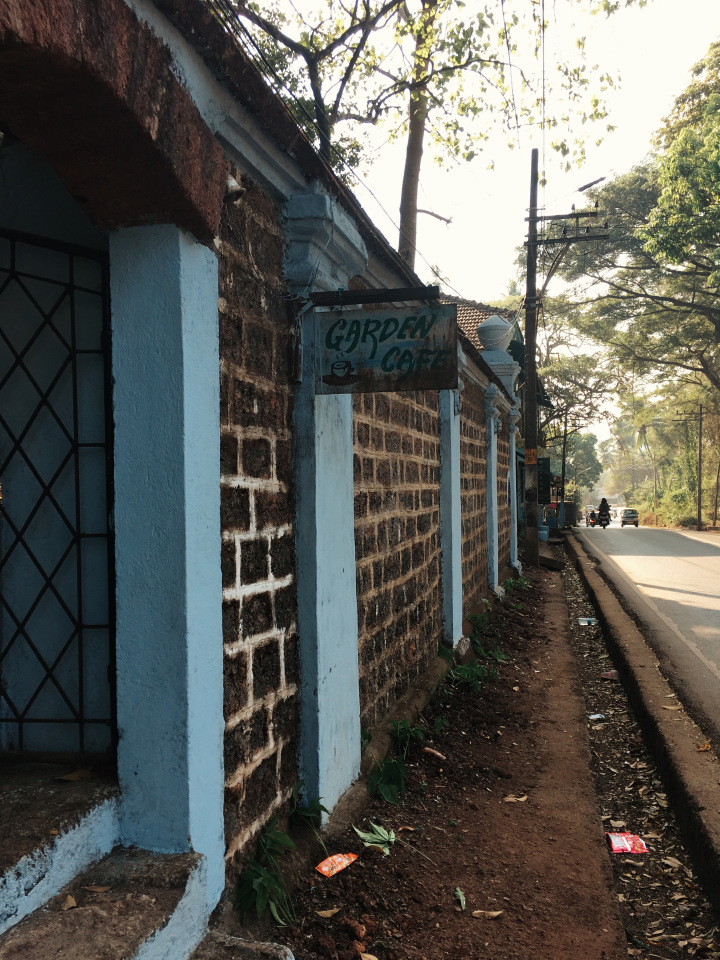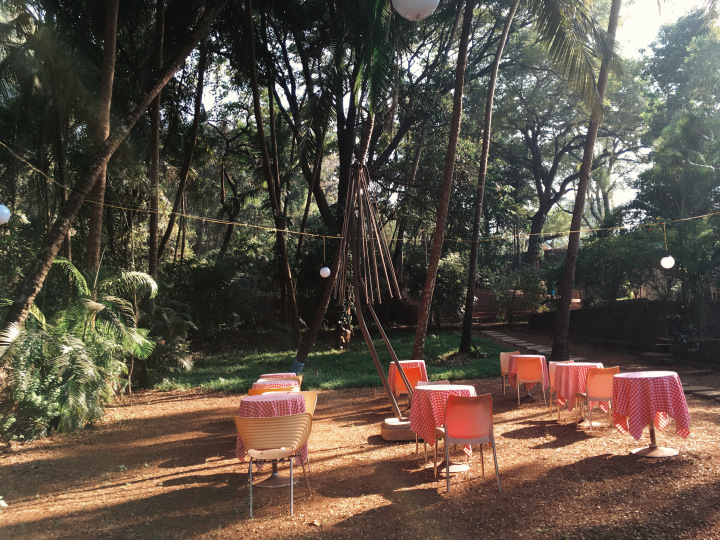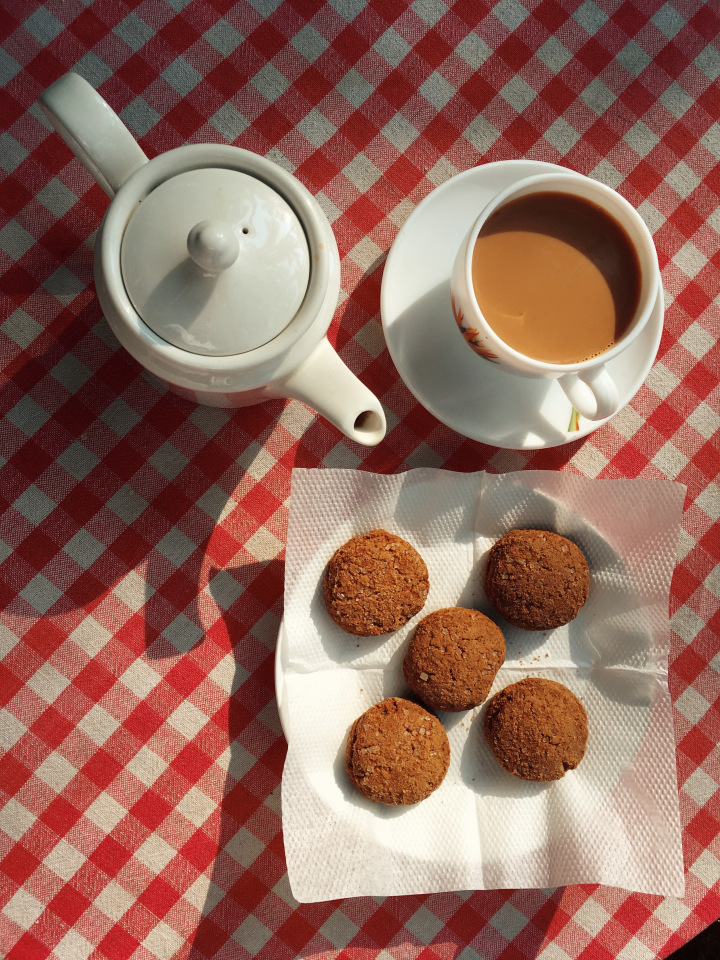 Greeted by a man, he looks in his 40's. The Garden was actually cute. He asked if we are not late, we can just explore the inside museum and we said yes. Voila!! Another surprise, this museum is actually a rare exhibit of vintage items and some handmade stuff. I still remember, I was down with cold, barely could talk and don't know from where I did gather the energy (thank you Lord!) and actually start clicking picture and we got living room pillow cover, bed sheet and a small Kashmiri akhtar. Must visit place in Goa if you want shop some unique antique stuff. Explore the complete Museum Gallery pictures here.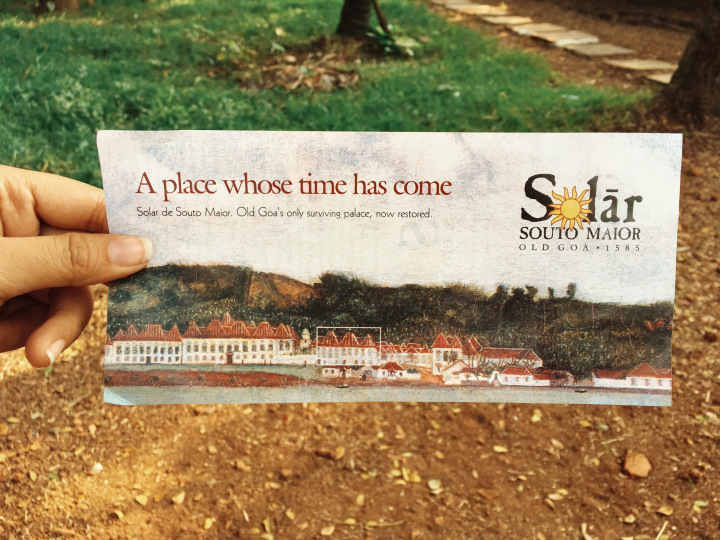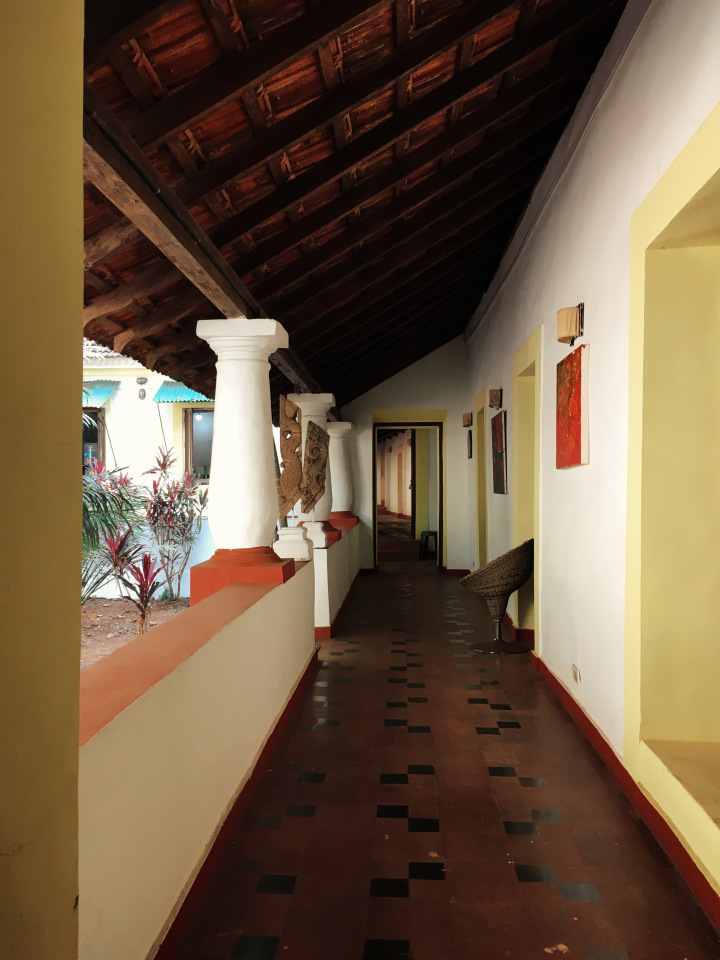 Solar de Souto Maior Museum team members: If I am not wrong then the person who greeted us, his name is Mr. Halim and he is standing second from the left. The lady name is Mrs. Mridula Behl and she is from Delhi and one of the care taker of the Museum and the Cafe. If you happen to visit them, give them my regards 🙂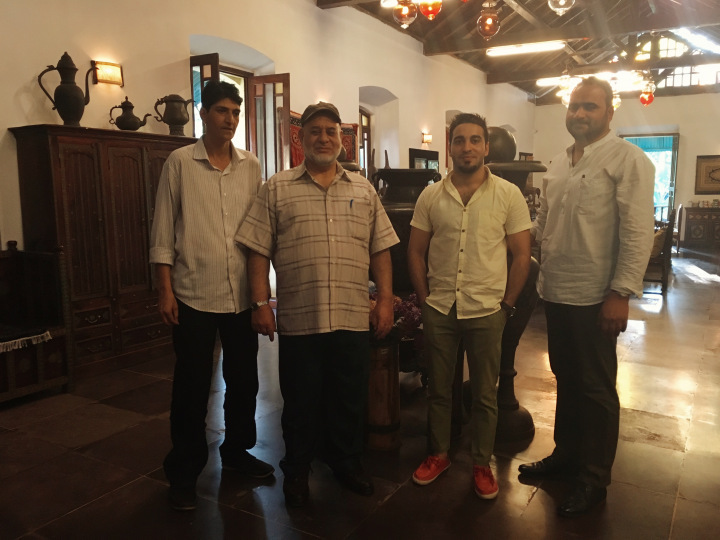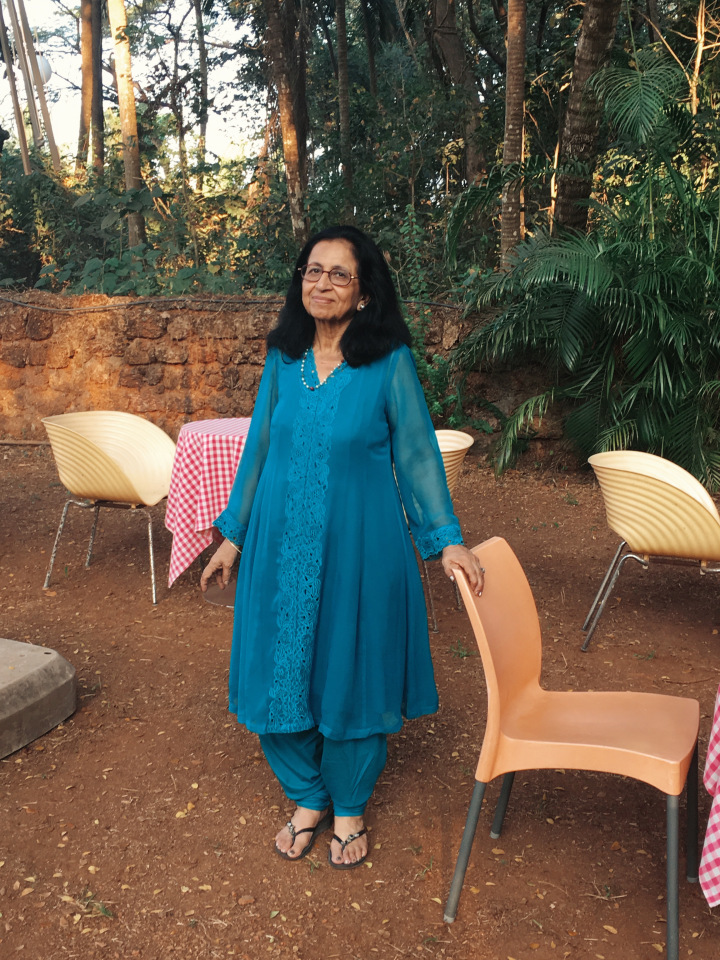 I found a cute hide-spot here too 🙂 Just exactly opposite to Museum First entry (the blue building) there is an open space, you need to drive/walk for less than 2 mins. Here is the spot!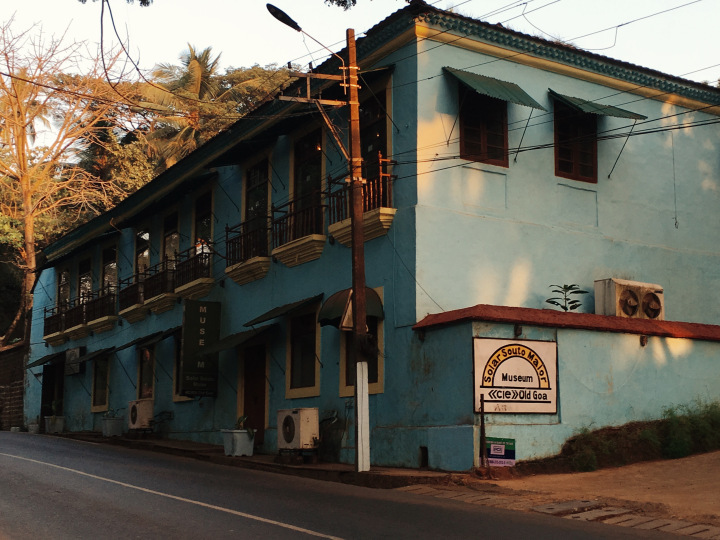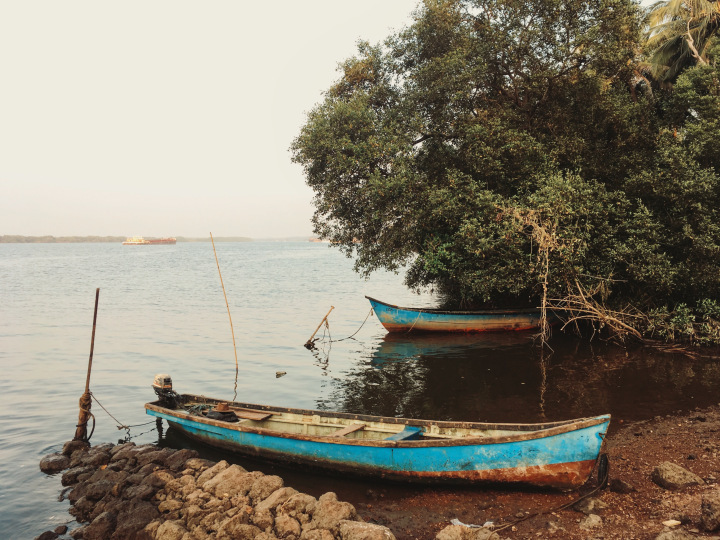 Did you know, Goa is the biggest exporter of iron ore, majority of which is shipped to China?? The main rivers Mandovi and Zuari both flowing into the Arabian sea are navigable by barges used for transporting the ore such as Iron, Manganese and Bauxite. However in March 15th, all mining activity in Goa, involving iron ore extraction, came to a halt for the second time in nearly two years. This follows the Supreme Court's order on February 7, cancelling 88 iron ore mining leases in the State that were renewed by the government in 2014-2015 just before the Mines and Minerals (Regulation and Development) Act mandated the auction of leases.
Reason: Goa's much-highlighted opencast iron-ore mining has resulted in significant destruction of tree cover in the iron ore belts, where all vegetation is shaved off to scoop out top soil from hills and access the ore. The destruction left in its wake is well documented.
This picture of ship (barge) carrying iron ore on the Mandovi River. You must have seen this very often from the Mandovi Bridge. The Cumbarjuem Canal, which links both rivers, has made the interiors of the Mandovi accessible to ships carrying iron ore.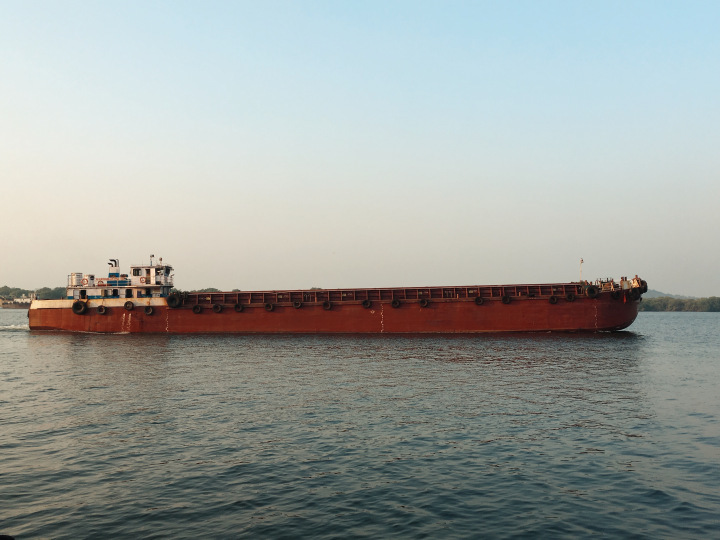 ANCESTRAL GOA / BIG FOOT, LOUTOLIM
Loutolim is more well known as the ancestral village of noted Goan cartoonist Mario de Miranda. This place is another Gem in Goa. I had cover the entire journey on VSCO Jounal a long time ago and writing about it now. Situated appx 10 kms from Margao, Ancestral Goa is a miniature Goan village set up to recreate the rural life of old days. There will be an auto Hindi and English guide. Just a take walk and follow the audio guide. Get lost in 19th century of Goa.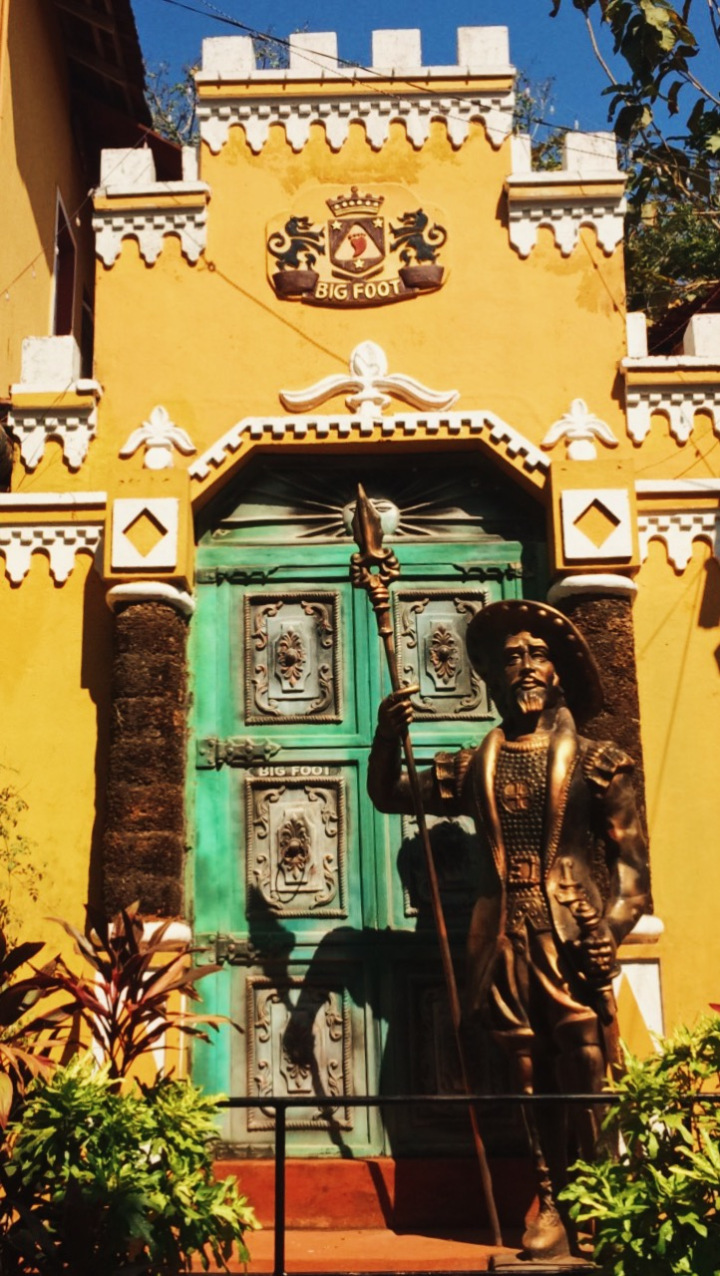 Ancestral Goa is also known as "Big Foot" owing to the existence of impressions of a persons feet in the ground that locals believe belonged to a holy man. The associated myth states that the holy man ascended into heaven while meditating on the rock leaving his foot impression. You can watch the whole story here.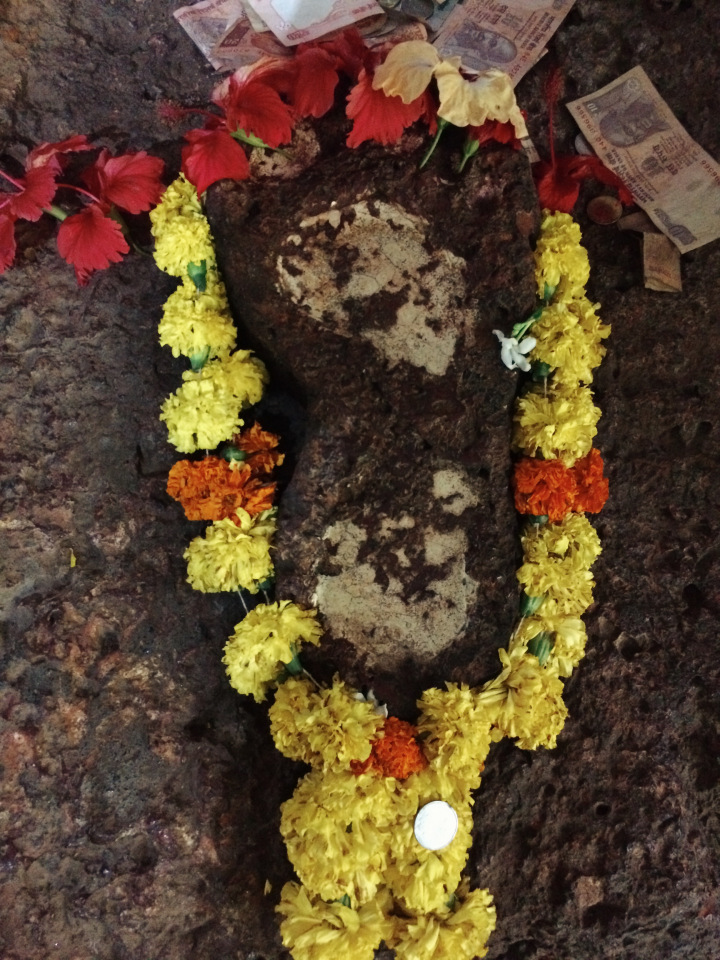 Ancestral Goa also has the largest laterite sculpture in India, that of . It has been carved by Maendra J. Alvares using hand held tools.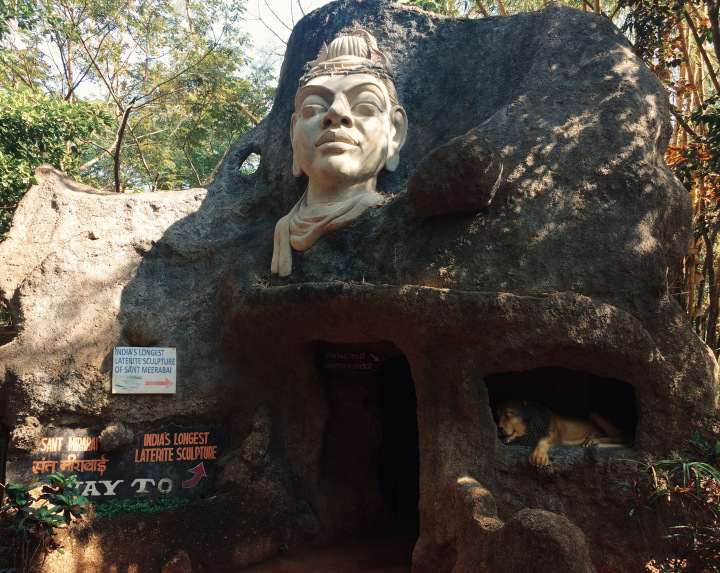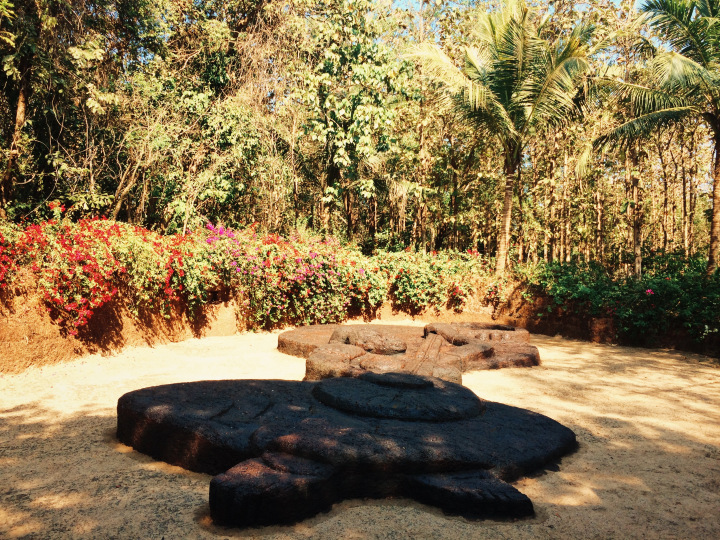 CASA ARAUJO ALVARES, LOUTOLIM
Loutolim hosts a number of impressive Portuguese mansions but just one, Casa Araujo Alvares, a 18th-century Portuguese mansion with antiques on display. It is exactly opposite to Big Boot - Ancestral Goa, is officially open to the public. They do have & an automated sound & light tour (in Hindi and English only). Let me refresh your memory 🙂 Some parts of famous Bollywood movie Singham were shoot here.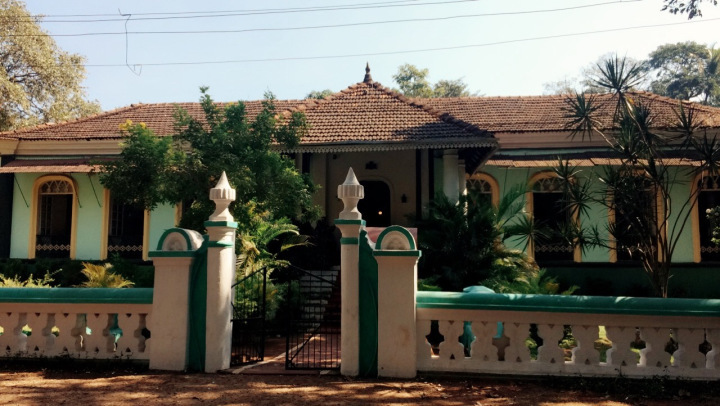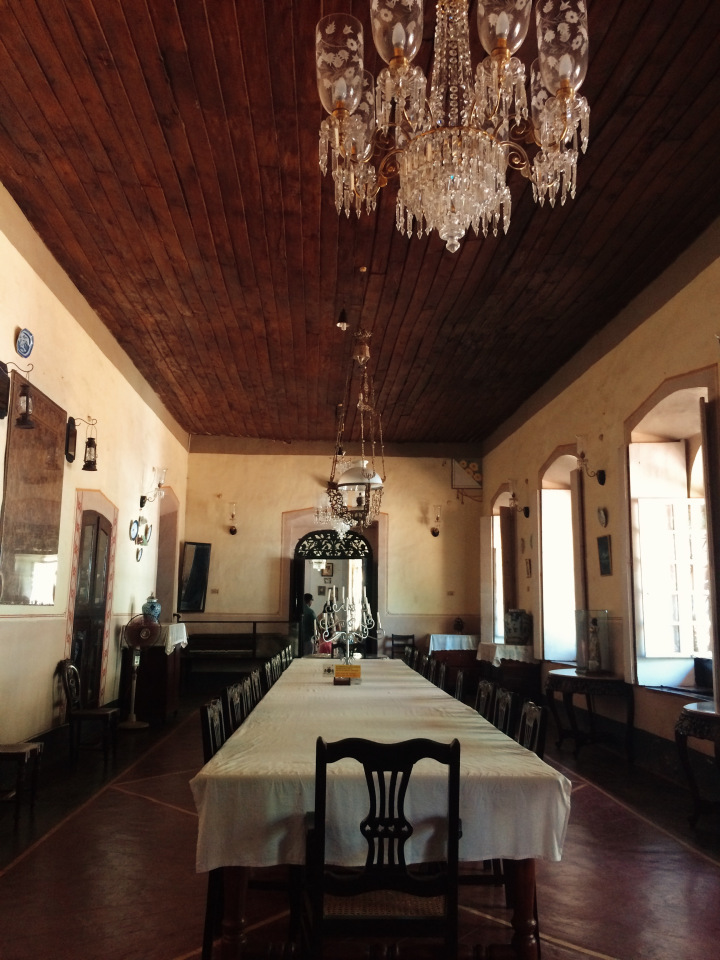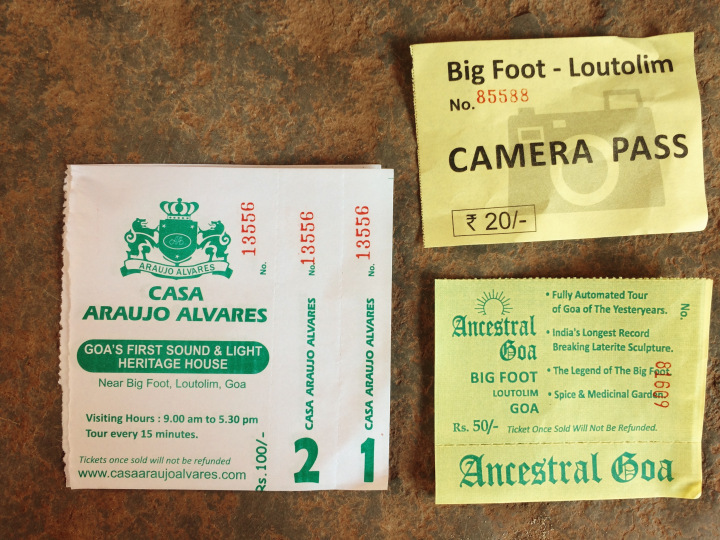 Goa have a lot of cozy places to dine-in but I have selected these 5 to share with y'all because they are gem I found without searching on zomato or google. Though later I found out they are actually famous one and definitely diamonds. As well you cannot miss St. Anthony and Brittos Shack in Baga and Curries at Anjuna 🙂
I have heard and read about Souza Lobo at Calangute, one of the oldest restaurant serving Goan traditional food in Goa since 1932. I shall visit soon!
1) MUM'S KITCHEN, PANJIM
Blessed to have my Christmas lunch here last year. I always think to dine-in here every single time I go to Miramar Beach (because Mom's Kitchen is located on left if you are going to Miramar from Panjim). Traditional Goan cuisines cooked by Mom's of Goa. This place have a cute garden and a little fish pond.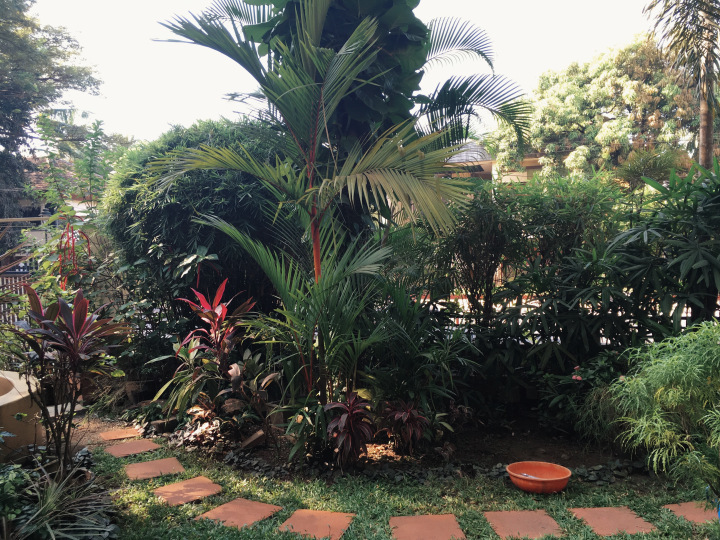 The secret of this amazing restaurant is: Madam Suzette started this in 1997 and 80% of the helper here are housewives. The Western World cuisine influences were damaging the real taste of Goan cuisine and to protect it, she started Mum's Kitchen.
- Canja De Galinha: It's basically a chicken clear soup with boil rice and serve with pav. A popular Portuguese Chicken Soup recipe. The Portuguese term "galinha" literally means "hen", but became the generic name for the species, much like chicken in English. The soup is famous for its lightness and simplicity.
- Prawns Mother Curry: One of their signature dish. This is one of the staple food of Goa prepare in coconut and local spices. Served with ukadem xitt (Goan boiled rice). Named "Mother Curry" because the mothers of Goa have prepared it with love 🙂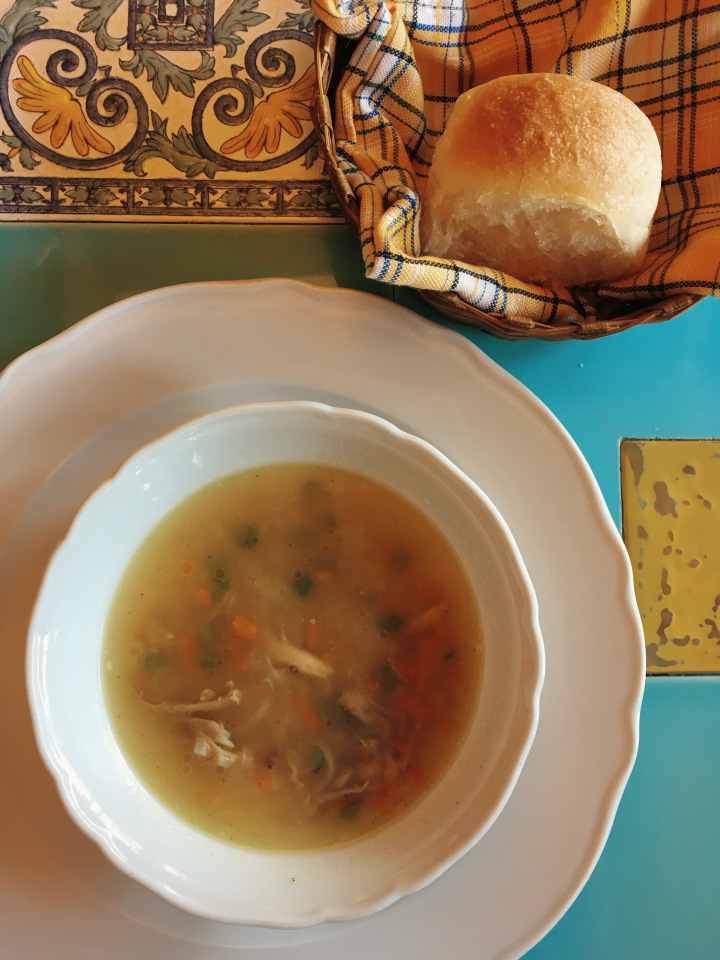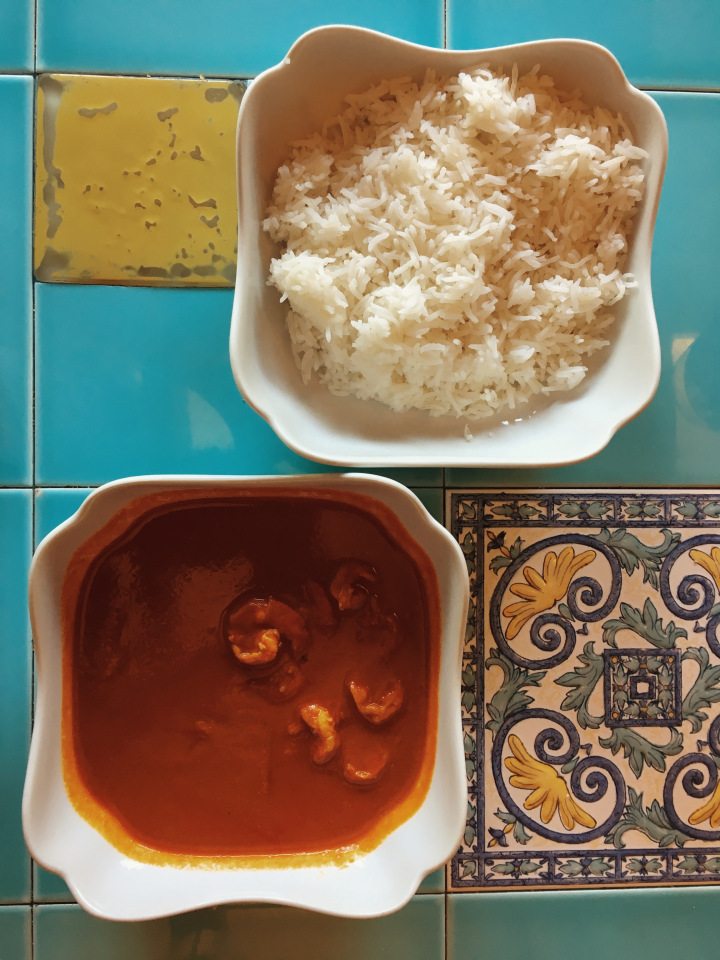 I have a secret to share 🙂 The website contents has been edited by me. I am truly blessed to work for Madam Suzette! (Thank you Jolaine!)
I had my 2016 Christmas Eve dinner here. That time I was staying at La Maison Fontainhas which is 5 mins walk from here. Tucked away in a tiny lane, Viva Panjim is an absolute gorgeous one. You will be lucky if you find Indians here 🙂 First impression: It's a Global Citizen meet. If you are dine-in alone of just 2 of you but seating on 4 pax table, you will be asked if it's okay other people join with you. This is such a great culture! You meet people from the different corners of the world. Listen to them, have a conversation, you will feel amaze that how small the world is. I meet so many travel bloggers here. Few were staying since past 4-6 months in Goa (they are blessed souls!).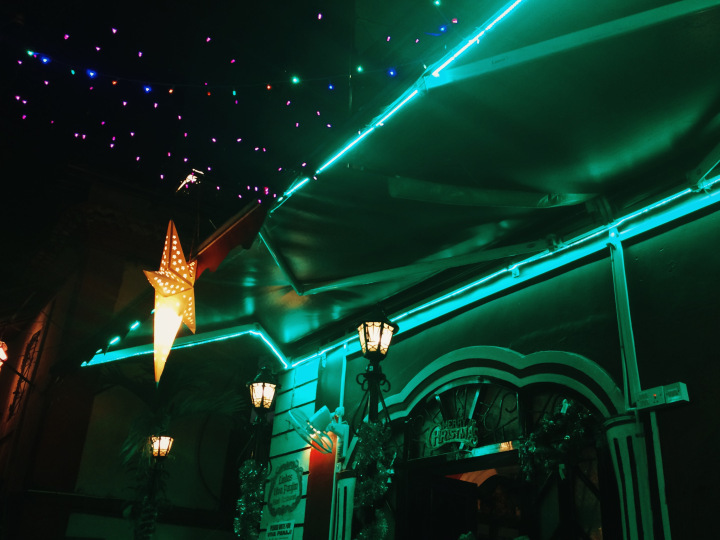 Rich traditional flavours meets classic colonial charm for an undeniably Goan experience. Converted into a restaurant from the 150 old ancestral home of owner Linda D'souza, it is designed and decorated in such a manner that constantly reminds you of just what it may have been like dinning in an era so long ago. The rich dim interiors can be a bit cramped during peak hours - after all, it used to be a living room once. Tables are also set on the little patio.
On my list since 2016, but this place is always packed! Located at Fountainhas lane, I found this while hunting for food in evening (Dec 2015). But it was closed already.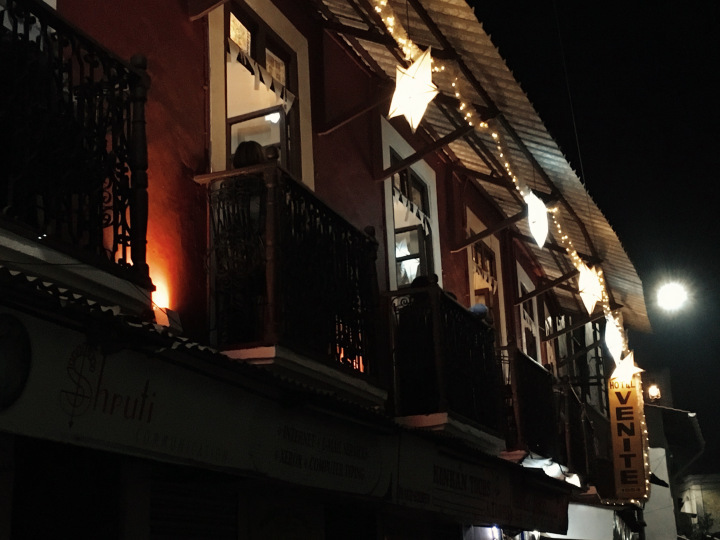 A 60 year old establishment perched in a 200 year old building with Indo-Portuguese architecture, this place was surely in my list that very moment. I read in google after that and come to know they have a wall where Hippy people did make graffiti here and some have wrote quotes. But I returned here exactly after a year 🙂 After exploring Divar Island, hit this place early at 07:30 PM and made 3 calls to make sure they are still holding the reservation.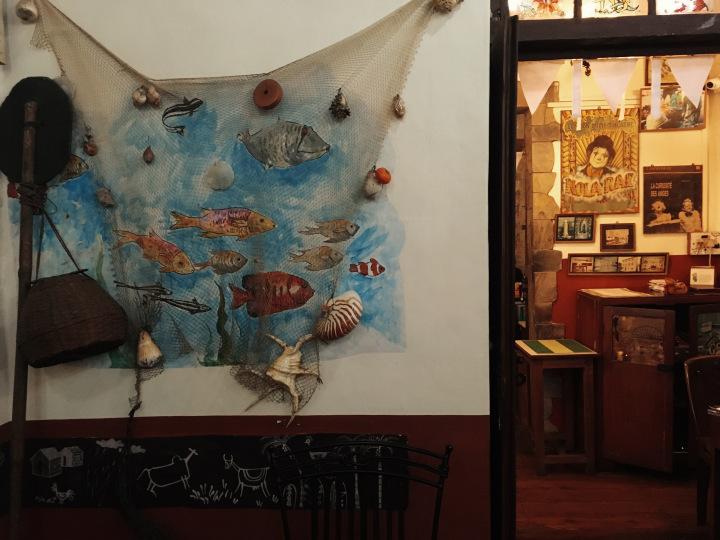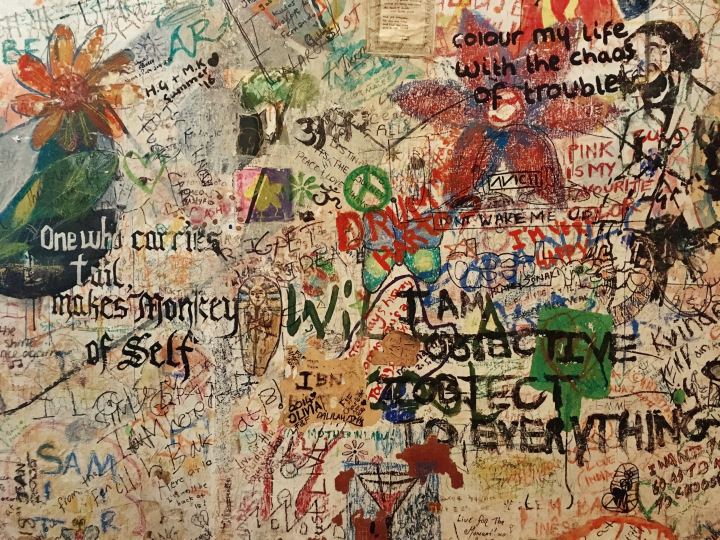 Met Louis the owner of the Venite, he was sharing all the old world of Goa. Venite comes from Latin, meaning 'welcome'. When it began in 1954, Venite was one of the first lodging and boarding establishments in Panjim - this was when Goa was still under the Portuguese rule. Around that time, it was a place frequented by officers, clergymen and administrators. With the eventual independence and the tourist boom in the past 30 odd years, Venite has become of the few restaurants that have stood the test of time and still serves to a loyal and ever increasing group of patrons. The entrance is all covered by sea shells which is truly a goal 🙂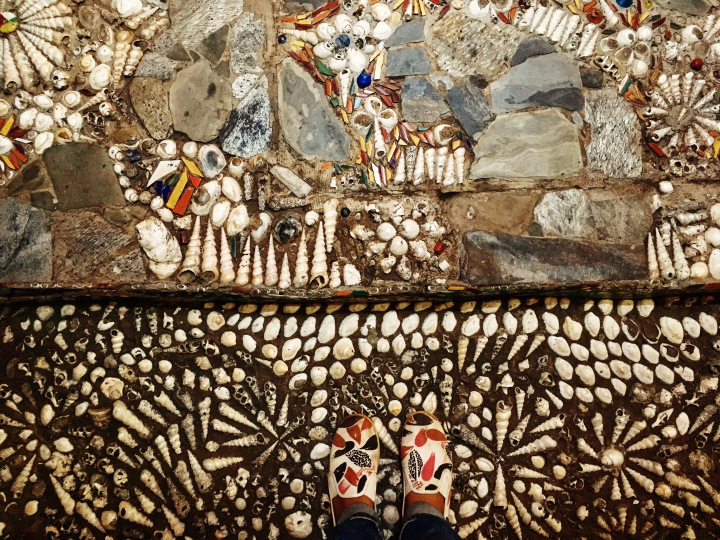 I found this place after being disappointed that Venite was closed and no nearby restaurants to found. After good 5 mins nearby tour, spotted Route 66 and thought to have some snacks here. Quite fancy name and lesser than I knew that time they serve best pizza (and chicken wings) in Goa. Met Savio Noronha (the owner) and got to know more about Goa. Couldn't stop and visited the place again in couple of days. I still don't know how did the hell I finished a full bucket of chicken wings with pizza and maybe 3 Corona beers even though I was. It was so bloody delicious!! (I am hella craving now!!!!!)
I love hopping one place to another when I am in Goa. Exploring places always. Found this place while I was staying in Colva Beach area last year and due to demonetization there were few places accepting card. I googled nearby place which accepting card and got this. Wow! that's what my first impression. A big super cute Christmas Tree 🙂 and because we were early, got the seat outside and could literally hear the ocean waves (Grateful!).
The food here is delicious. I dine-in for 3 nights straight, not just because they accept card payment, but because the food was finger licking and ambiance is lit here. You won't get space after 08:30 PM here. So always hit early 🙂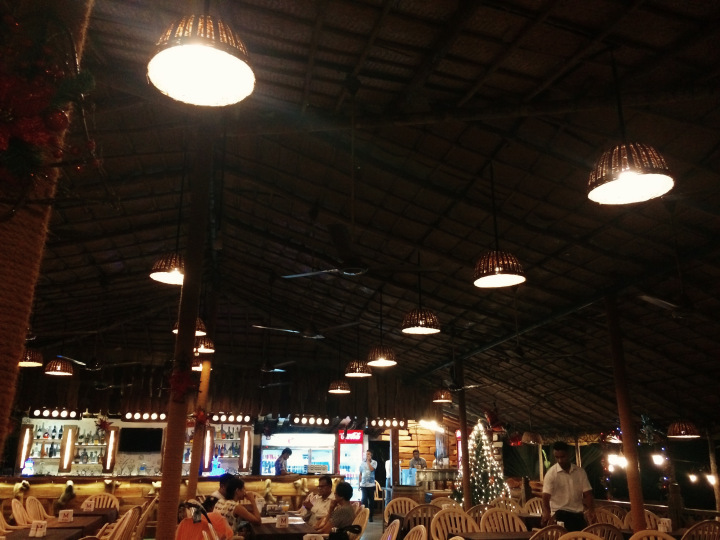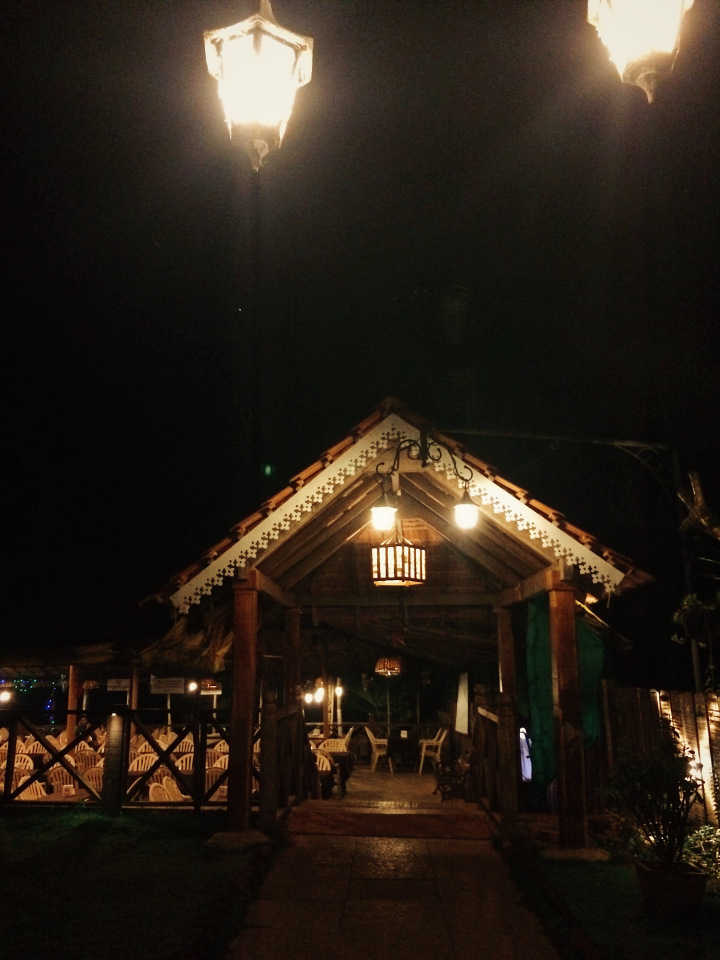 I have invested hours, weeks, months to read blogs, play with google maps, reading Goa Tourism twitter and exploring Goa thru Goan instagrammers every morning religiously and found out about these many places. Whoa!! I know that face buddy 😀 I was surprise too!! But as a matter of fact, yes! this is for real 🙂 Do let me know if you have been or planning to tick off any places before I do 🙂
1) Cabo de Rama Fort - Agonda Beach 2) Fort Titacol Heritage Resort (17th century Portuguese Fort) 3) Churao Island - Dr. Salim Ali Bird Sanctuary 4) Vanxim Island 5) Conco - Monkey Island 6) São Jacinto Island 7) Salaulim Dam and Botanical Garden 8) Mobor Beach 9) Monkey Beach 10) Morjim Beach / Tortoise Beach 11) Pequeno (Bat Island) near Baina Beach, Vasco 12) Kakolem Beach (Tiger Beach), 7kms from Agonda Beach 13) Querim Beach 14) Galgibaga Beach, Canacona 15) Hollant Beach (South Goa beach to witness spectacular Sunrise) 16) Cola Beach, Canacona (The lagoon here, nestled between the surrounding flora is a sight to watch). 17) Sal estuary - Sandwiched beautifully between the shores of the Cavelossim beach and Betul beach, 18) Butterfly Beach (The only way to reach Butterfly Island's beautiful beach is by boat from Agonda or Palolem beach). 19) Velsao Beach 20) Siridao Beach 21) Ashwem Beach 22) Scuba-diving to spot shipwrecks at the Mormugao Harbour 23) Bathe in the fresh water spring at Pomburpa 24) Rivona Cave (Pandava Caves/Buddhist Cave) 24) Lamgau Caves 25) Arvalem Caves 26) Chorla Ghat (north-eastern side of Goa-Karnataka-Maharashtra Border) - the Tropical Forest 27) Netravalli - Bubbling Lake, Sanguem 28) Carambolim Lake 29) Dudhsagar Falls 30) Harvalem Waterfall (isolated little waterfall and is great for spending some quiet time with the sound of water). 31) Bamanbudo Waterfalls, Canacona 32) Kesarwal Waterfall 33) Bhagwan Mahavir Wildlife Sanctuary 34) Cotigao Wildlife Sanctuary 35) Spend the night at Goa's smallest protected wildlife sanctuary, Bondla 36) Cumbarjua canal - crocodiles in the wild 37) Savoi Spice Gardens, Ponda 38) Casa Severina (commendable attempt to recreate the glories of the past and showcase the past splendor of vernacular heritage, culture, ethos and architecture) 39) Casa Severina, Portugese Villa 40) Cabo Raj Niwas (one of the palaces of historical and architectural significance and antiquity) 41) Betul lighthouse in Quitol 42) Sadolxem Bridge, Canacona - Connecting Canacona to Pionguinim, this two-decade old Bailey bridge is one of a kind in Goa. Wide enough only for one four-wheeler to pass at a time, the bridge is at an interesting focal point over the Talpona river, which makes for great viewing of the backwaters and mangrove vegetation). 43) Three Kings Church, Cansaulim, South Goa (15km from Velsao in South Goa is a holy sanctuary turned rogue. Local villagers say the church has been possessed by the spirits of the three kings. Numerous paranormal sightings have been recorded in and across the church walls) 44) Our Lady of the Mount Convent of Santa Monica and the Chapel of the Weeping Cross 46) Tambdi Surla Temple, Valpoi, South Goa
47) The Boca De Vaca sring next to Mahalaxmi temple (famous its unique name which means "the face of the cow"
48) The Cube Gallery, Moira
49) Naval Aviation Museum, Bogmalo
50) Astronomical Observatory, Panjim
51) Usgalimal Rock Carvings which date back to the Mesolithic Period.
I believe, there are more than this!! Can't wait to hit the Goa's road again. I promise to be back soon with more Hidden Gems of Goa post.
...until next time! 🙂
Happy reading and be adventurous!★