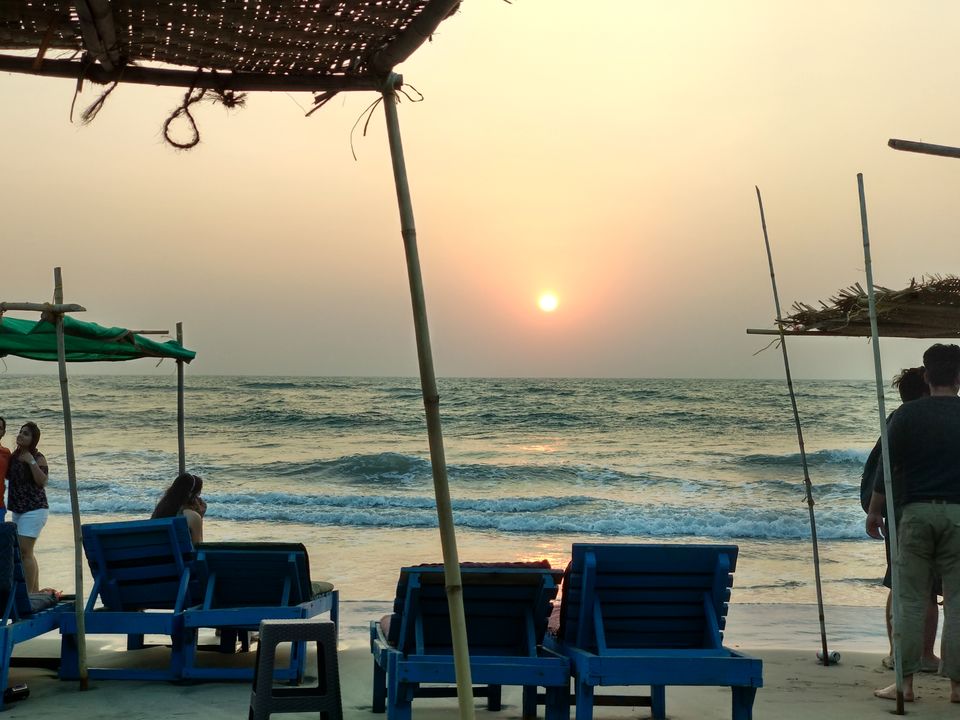 I went to GOA this January with a friend of mine and made this itinerary for ourselves. I am sharing it with you all, incase it can help you. If you are planning to travel GOA on any extended weekend, you can very well follow this itinerary to get a little taste of everything that GOA has to offer. I am putting things and places in short here because everything will not be useful to everyone. I will also add details of these places in other posts, so you can check the ones which are more relevant to you.
DAY 1
Places to visit:
Chapora Fort
Vagator Beach
Mapusa Market
Morjim Beach
Arambol Beach
Thalassa Restaurant
Curlies Beach Shack
Cafe Lilliput
You can start at 7 AM with the sunrise on chapora fort and morning bliss on vagator beach. In afternoon you can visit the market and cafes of vagator beach and also experience Mapusa market. Mapusa market is not for tourists but gives a sneak peek into Goan life. It's especially huge on thursdays and villagers from surrounding villages come to sell their products.
Around 2 PM you can head towards Morjim beach or Arambol Beach. You can see turtles on Morjim Beach while you will see hippies and travellers from all over the world singing and enjoying on the beach during sunset. I suggest you any one of these so that you don't end up rushing and running but it all depends on your style of travelling. You can return to your place around 8 PM and head to Pub life of goa. You can go to Thalassa nearby or curlies & Lilliput on Anjuna Beach.
Day 2
Places to visit:
Candolim Beach
Calangute & Baga
Water Sports
Infantaria
Tito's
Flea Market (Anjuna Flea market, Arpora Saturday Night Market)
Club Cubana
This day you can book your room near Calangute beach. We stayed in Zostel nearby. You can go to cafes near Candolim beach where the crowd is really good and enjoy the beach as well. All these beaches are close by namely Candolim, Calangute,& Baga. On Baga beach, we saw huge number of starfish which I totally loved, so good luck! You can enjoy your water sports around these beaches. You should get your package of all 5 or 6 sports in Rs 1500. After that you can go and eat in Infantaria bakery. It is close to calangute beach but they have really good pastries and quick bites. Now you can go back to your hotel and get ready for your night life. Tito's is a great place to eat and drink, everything there tastes delicious to me but some people may call it pricy. You can choose to go to Club cubana for excellent pub atmosphere. It is quite a dark place, over a hill, with a pool as well. You can choose to experience the Flea market as well which happens on wednesday near Anjuna and on Saturday in Arpora. I absolutely adore Saturday Night market of Arpora.
Day 3
Places to visit:
Panjim
Old Goa
Savoi Plantation
Fountainhas
Deltin Royale Casino
You can shift to a hotel in Panjim for this day or be there near Calangute and travel for an hour to reach Panjim. It totally depends on your travel style. Just take care to rent a scooty from Calangute itself because the scooty costs around Rs 400 in Calangute and Rs 800 in Panjim. My friend stayed in Old Quarter in Panjim but it did not look like a safe place to us. Around 10 AM you can go to south goa and visit church, museum to experience old Goan architecture and Goan vibes. In afternoon you can visit Savoi Plantations and take a quick walk to Fountainhas as well. There is a famous bakery named 31 Janerio in Fountainhas which is quite old and you should try. You can then head to experience casino at night and enjoy your last night in Goa.
This is pretty much enough to experience Goa in a nutshell and you can add or subtract places depending on whether you have been there before or not. Please note to get sound sleep while reaching Goa else it may spoil your entire itinerary. You can also watch my Goa videos on my youtube channel.
Now enjoy your trip and let me know if this itinerary helped you guys. Go Goa ! :)
Cover Pic Credits: the.pixie.hollow