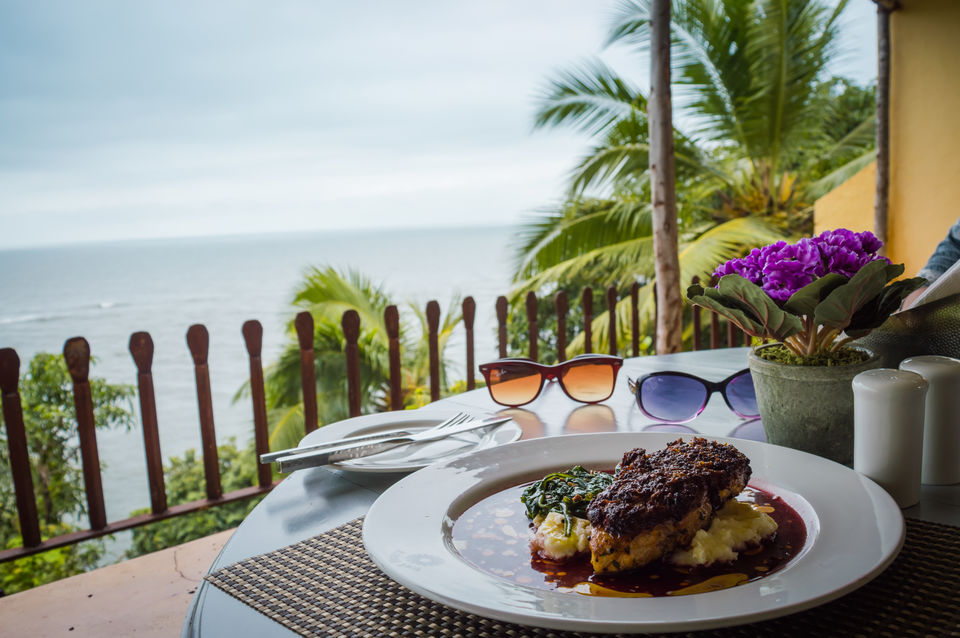 Technically this was our second day, but considering the fact that this article requires to mention offbeat places in Goa. Let's skip Calangute, Anjuna, Baga... and start our day at Mapusa. In the morning we headed out for breakfast and had some amazing Chicken Xacuti and pav. From there we started our journey towards Tiracol Fort. Since it had rained and the roads were extra green and scenic, we stopped at a lot of places. Lets give you a glimpse of those.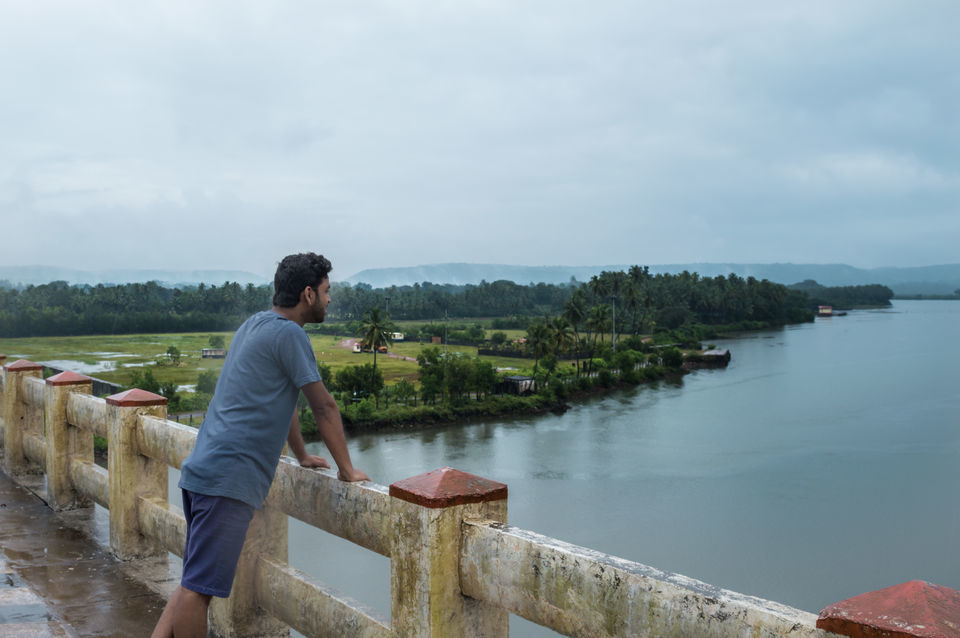 Moving forward we reached Querim. To reach the fort we had to cross the Terekhol river. Instead of taking the bridge and a longer route, we decided to take the ferry to cross the river. The Querim Ferry Terminal is beautiful in itself. The view of the silent river, the raging sea and the estuary where they meet is something I can't put into words.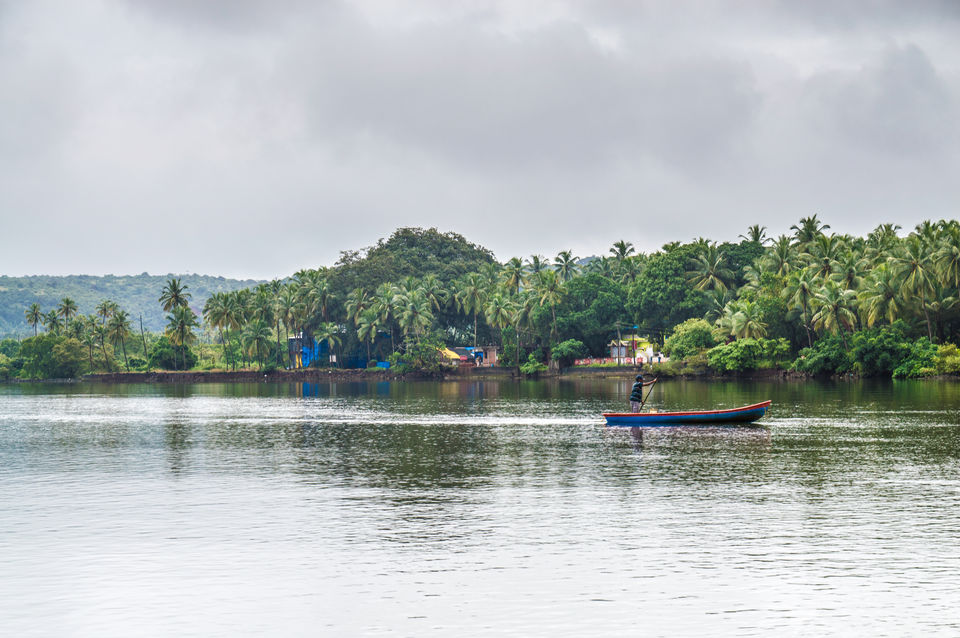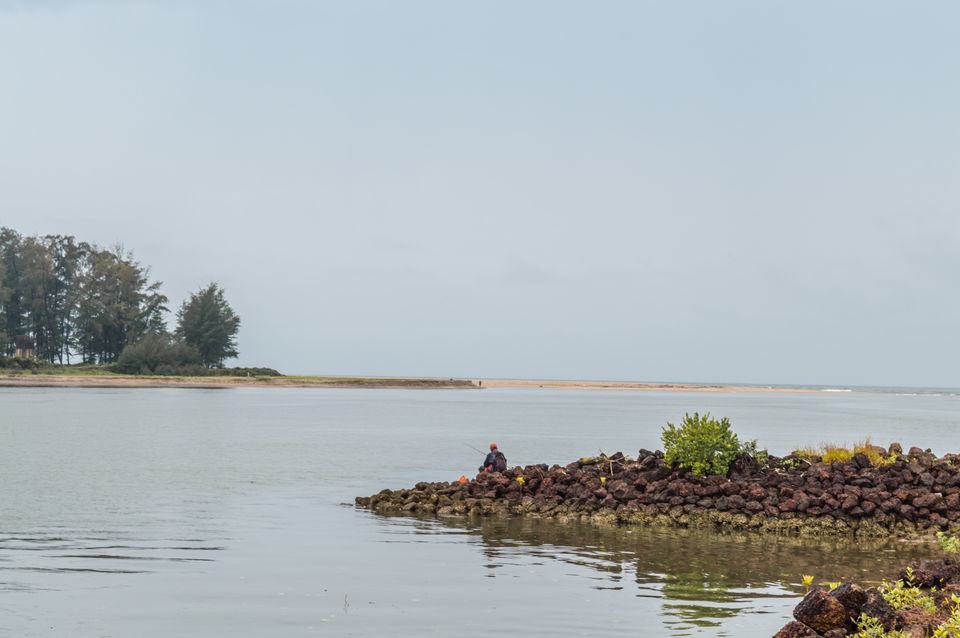 In the book "FORT OF TEREKHOL - DIAMOND AT THE HEAD OF GOA" - the author, Sanjeev V Sardesai describes the experience of crossing terekhol river as follows: "As one approaches this land across River Tiracol, the coarse golden sands of Keri Beach caress your feet as you wait for a quaint ferry to touch the jetty and ferry you across the small stretch of the River Tiracol to the terra firma across. During this short ride, skimming of waves of the river, the amazing site of the Goan landscapes literally hypnotizes the visitors, mesmerizing them to forget the travails of daily life. One can visually soak in the virgin nature, though dented in a few places due to passing of time."
Greenery on one side and the river on the other, is how the route from the jetty to the fort is. Once we reached the fort, we found an old banyan tree near to its perimeter, with the raindrops still lingering in its branches from the last shower.
The fort is small and quiet, built with a panorama of the surrounding land. Standing on a vantage point it gives commanding view of the Arabian sea. On entering the fort you will find an old church. The church is built in the Mannerist style, with Neo-Gothic features and has twin bell towers on its façade, with an antique tiled roof.
Other than seven luxury rooms and suites, it also has a restaurant, The Fort Tiracol "Tavern", dining room, verandah and bar. The menu consists of Portuguese cuisines with a modern touch that fuses Portuguese, Goan and Indian flavors.
We were seated in the verandah and ordered some fish cooked in red wine with mashed potatoes. The presentation and taste were spot on and the view made it far better.
After the soulful meal we headed back to Querim for some time on the beach. Its a clean, quite and quaint seascape.
For the sunset we headed towards the rocky shores and cliffs of Anjuna Beach.
Sitting on the cliff, we watched the yellow ball of fire change to hues of orange, and then almost tangerine. It merged with the sky, like colors dissolving in water. The clouds were cotton-candy, as though they blushed at the warm touch of the sun
And that was an end to one of the most interesting trips to Goa, away from the crowd, exclusive and untouched, to the Diamond at the head of Goa: Tiracol Fort