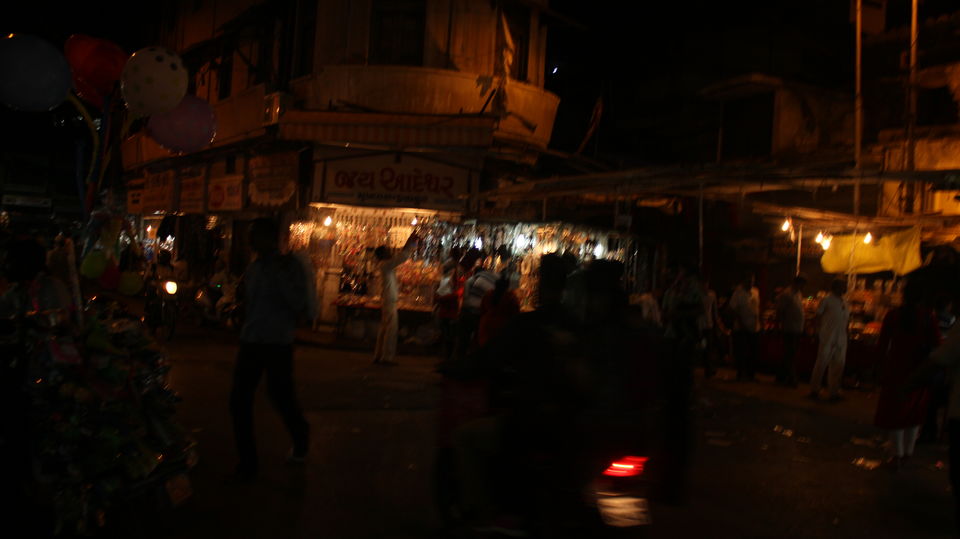 Manek Chowk - Ahmedabad - An Unique food Experience.
It was the usual day and i was in ahmedabad for some work. I like exploring the places during my after 6 official time whenever i travel to different parts of the country. Though i have visited ahmedabad several time and visited many places here, but this was not explored yet. I was fortunate to visit this place as one of my friends whose brother's house is here and he is quite familiar with the place and have spoken to me many times to visit Manek Chowk for the food Expidition.
Indeed it is one of the best food serving and most happening place on everynight in ahmedabad. The place is situated in old ahmedabad. It is basically a marked which has vegitable vendores in the morning, In noon it becomes bullion market and in night it becomes the food market.
So i was staying in a hotel at nehru bridge. I was accompanying by two more friends. Our friend picked us up from the hotel and it took 15 min to reach the Manek Chowk.
It was approx 10.30 pm when we entered in the market and it was full of flashy lights and so many food stalls. The food is little different here and you will find the never had and heared snacks ever.
The first strange and interesting snack was Choclolate Sandwich. It was made of Bread slices and filled with the chocolate inbetween.It had 2 slices. On one slice chocolate was there and the another one with butter. That was super awesome snacks. I had never thought of this kind of super crazy idea of making a chocolate sandwich.
Second Snack which we tried was grilled sandwich which was being made freshly. The green chilli sauce with the veg sandwich is a great combinaiton. There are many stalls which are common in the food market like you will get many stalls with the same kind of food.
There you will find some stalls which has so many jewellery and you will find the gujrati and rajasthani ornaments feel. We bought some of the things from there for family. The ornaments are on quiet lesser price and the quality and the look of them are ready good. If someone in your family likes that kind of rajasthani or gurjari jewellery then you should not miss buying those. I am sure they will like that.
You are in Gujrat and not trying mouth freshners, which is the speciality of gurjat and most of time you will get a chance to try the freshners in any restaurent or at any eatery. We found a stall there of Mouth freshners. that stall had approx 50+ variety of the mouth freshners. It was amazing to see so much variety of the freshners. I tied 3-4 varieties and bought some for the home. A must to buy from this stall.
To digest the stuff you can try the special butter milk(Chaas) their on several stalls.you can try plain butter milk and masala butter milk.The plain butter milk just has salt and in masala you will find the coriander, green chilli, Salt, Cumin Powder, Red chilli. You will feel the coriander and cumin taste in Masala Chaas. Its refreshing. In gujrat butter milk is famous. After every meal people likes to have Chaas or Masala Chaas. It says that its very good for digestion and to to keep coolyour stomach after a spicy meal. So try it for sure if you are visiting Manek chowk.
Now it was time to have some desserts. And there you will find many stalls of Kulfi (Indian Icecream ) which is available in many flavours. We had Kulfi at the stalls and it was simply awesome. Everyone should try it.
There were a group of approx 10-12 people who basicaly lives near by and this is routine for them to have the kulfi after the dinner. We spoke to them and they told us that this place is very much famous for foreigners also.
So it was a fantastics, yummy, something new and never forgetten visit to Manek Chowk.
folks, Mark my words and try this market whenever you are visiting Ahmedabad. you will simply love it and will enjoy the awesomest unique snacks in this market. Especially Chocolate Sandwich.
Stay tuned and keep watching the new post with the new food news.
Happy Travelling & Happy Eating.