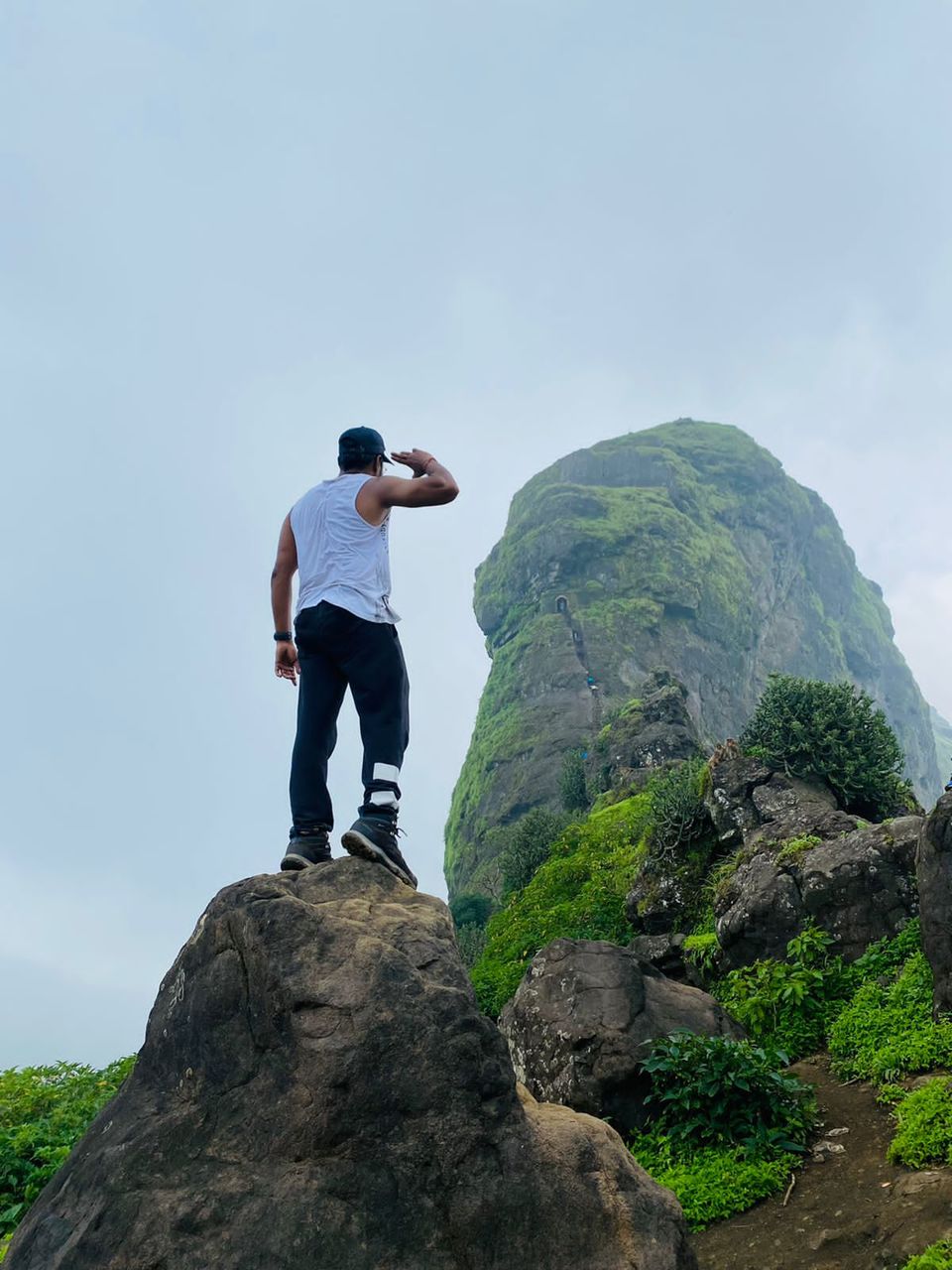 The destination is Harihar fort!!! 160 km to go...! All things are set Bike serviced mates are ready 😀, and route was finalized. Everything planned a week before!! Date finalise 31st August on auspicious day in Maharashtra Ganesh chaturthi!!
30th August a day before, fully excited for the next day! Taken early leave from the office for buying some things for the journey!! Started My bajaj pulsar NS 200 and left the office carrying a smile!!
After few minutes bike was missing firing I thought it is just lill water got inside tank .... nothing will happen coz i serviced it spending lot of money also bike is only 3 years old!!
And then suddenly it stopped!!
No firing! And no sound, battery got heated up!
I tried to start but no response 😕 !! Battery drained till last breath and bike stuck there as it is.
I thought I could solve the problem may be battery has issue but no ... After spending few km dragging few mechanics and they also could not find a problem
Already been 11 pm and i need to start journey by 3 am after few hours, I called my frienda and said I couldn't make it my bike broke down 😔.
But there was a guy he never loosen hope and said we will go anyhow!!!!
We again started to search options like train bus sharing taxi.... But at last we got a scooter from another friend he was willing to give it ...for the purpose....
After all hurdles, we went to sleep @ 1 am
Tring tring!!!!!! Tring tring !!! 3.07 am
Phone was ringing a friend called up to get ready 🤣!! I woke up and had nice hot water bath ..
Started picking up another friend and
@ 4:17 started the journey
After so much polluted NH3 we went towards kasara!
We already had mudbath while leaving Mumbai
After 1 hours we left mumbai and then our journey started with a green lush both side and the hills behind the clouds!! We experience this with a nice cup of tea!!
After mesmerizing views and breathtaking land landscapes, we reached near Village nad we had a nice morning breakfast there very fresh very testy and cheaper also!!! We had coffee in another shop where we found a kaka in his 80s preparing such nice coffee we totally went to the Nirvana after having such wonderful coffee!! He great us and given his blessings to succeed the fort!!!
We reached to the base village "Nirgudpada"
The village was small but beautiful surrounded by hills where those forts where created at te of chhatrapati shivaji maharaj era!
There we got one small hotel where we put all our luggage and ordered food for after descending hunger!
Now the trek started with beautiful rice paddy along the way..and some farmers enjoying there day!!
We climb little but then there was the maze
The paths are going everywhere and difficult to choose which way to go! Then we decided the path were most of rock and mud got compact with the foots.
But that was the wrong way... suddenly a guy cam from nowhere saying .... Rasta chukle tumhi...means you missed to route and helps us to the right direction he was with his cows there we thanked him and started again!! After an hour we reached to plateau from where the iconic 80 degree steps can be seen !!
If you are immature climber then it will be little bit difficult but you can climb if you decided already 😉
After going up there is a door which really old and then the steps carved in stones with railing and some technical thing for sounding purpose ..
We climbed up and have seen all the Beauty and had a nice dance moves at the top watching passing clouds
And the nature is above all
Lake where built there in the fort!!
A room which also temple which has no door no opening for ventilation just window to get in and after lighting mobile torch also you can not see anything at day time!
Food storage also was there filled with water!!
And plenty of storage at the top so group of people can survive at least 6 months with there forces.
While descending it was little tricky but there is enough place to hold hands and safe descending can be done
I would suggest please Don't go on Saturday Sunday coz there you will get rush and you can not enjoy the things
Better to make out one or two days in weekdays

Ok now while descending we were lucky to get rain ....and all the tiredness gone!! Within 5 minutes
We were totally wet after came down and the rain was heavy..
Village people already started catching fish in there nets
And all the hills where lighten up with series of waterfalls
Its allready 6 and we have to cover 150 km from the base village started the bike and enjoyed sunset for few minutes while returning
And had a same cup of coffee at the same shop from the morning coffee... We shared our experiance with the old man he was happy to see us..and he said come again while we are leaving!..
We crossed the kasara ghat in a ghostly silent and dark road and the again heavy rain started 😁 we pulled our wind cheaters up and paced the journey!!!

Now the roads full of potholes and and muddy water came so we realised we reached the City of potholes yes it's Mumbai the financial capital of India with potholes everywhere!!!
Finally Reached by 12 am after having 6 hours journey with unforgettable experience and unimaginable views !!!!
Thats it !
Thank you!!