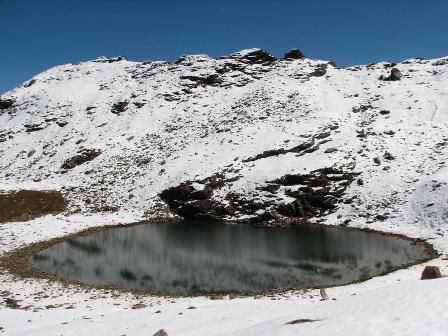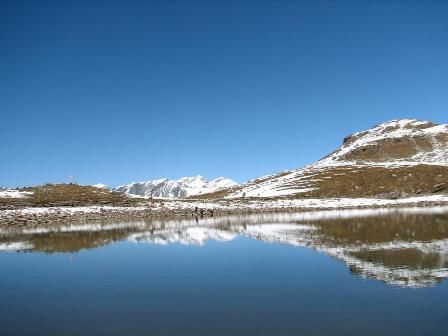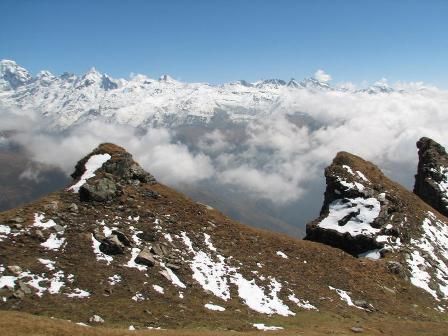 Himalayan Trek - Brighu Lake - [9th to 14th August 2014] - Registration is Open

Brighu Lake trek is close enough to habitation, yet in a secluded, lush green dale, the Bhirgu Lake is at an altitude of 4235 metres. It lies east of the Rohtang Pass and is about 6 km from the village of Gulaba. The shores of this clear water lake are visited regularly by the people of the area and are held sacred to 'rishi' Brighu.
Trip Details:
TypeHigh Altitude Trekking Altitude4235 metersMeeting pointManaliGradientModerately ChallengingEnding pointManali
Tentative Schedule:

Day 01 - 9th August 2014: The participants arrive in Manali.

Day 02 - 10th August 2014: Manali – Rohtang – 14 Mod (3250m)
The first day will be spent acclimatizing and visiting Rohtang Pass. On the way back, you will be dropped at the camp at 14 Mod, the starting point of the trek.

Day 03 - 11th August 2014: 14 Mod – Ravalikoli (3750m)
Duration: 5 hours
On the first day of the trek, the trail ascends gradually and will take you above the treeline with fabulous views of the entire Manali valley and peaks like Hanuman Tibba, Makarbeh, Shikharbeh among others.

Day 04 - 12th August 2014: Ravalikoli – Bhrigu Lake (4235m) – Theli (3500m)
Duration: 7 hours
The trail initially gradually ascends before a short steep climb to the lake. Early in the season, the path also has snow patches. Take time off at the lake to soak in the 360 degree view. Local customs do not allow for camps to set up at the lake, so you will descend down to the camp at Tehli, a gaddi campsite which is almost at treeline.

Day 05 - 13th August 2014: Theli – Vashisht (2600m)
Duration: 4 hours
The last day of the trek is a steep descent through pine forests into the village of Vashisht that is famous for its hot water springs, ideal for a bath after the trek. Head back to Manali by evening.
Day 06 - 14th August 2014: Manali
This will be your 'Rest day' after your trek. You are free to spend time resting or sight-seeing in Manali.
NOTE: Your Accommodation or any other expenses will borne by you. We will help and guide you with your stay in Manali. Alternately, you can also choose to leave Manali and head home on this day.
 
Participation fees: Rs.9000/- per person
Cost Includes:
- Camping Tents, Kitchen tents, Dining Tent and Sleeping bags (Holofill) and Carry mats.
- Nutritious, high calorie vegetarian food (Food cycle starts with breakfast on 10th August 2013 & ends with breakfast on 13th August 2014
- Guide, cook and camp helpers.
- Horses with horsemen to carry loads on the route. (Participant will only have to carry a small hiking day pack with their water bottle, some trail food and trail layers. Everything else will
   be carried on horses.) There is a 10 kg weight limit for your bags that will go on Horses.
- Tented accommodation (3 people in each tent)
Cost Excludes:
- Any expenses of personal nature like phone call etc
- Any air/train to reach Delhi and return from Delhi
- Travel from Delhi to Manali.
- Any hotel accommodation
- Your Accommodation or any other expenses on 14th August 2014.
- Extra food apart from mentioned above
- Anything not mentioned above
 Thing to carry:
- Backpack 35- 40 Liters (this will go on the horse. If you want to carry it on your back your welcome)
- Small Day pack 20 Liters (you can use this on the trail to carry your trail food, camera, water and trail layers.)
- Hiking pants/trousers and shirts
- Good walking/hiking shoes
- Flash light with extra batteries
- Sunglasses (optional)
- Suntan lotion and toiletries
- Camera (optional)
- Water bottle
- Warm jacket/pullover
- Warm gloves
- Warm socks
- Raincoat
- Prescribed medication (if any)
The Terms and conditions mentioned below shall apply for the event:
Maximum efforts are made to ensure the safety of the participant. However, BMC & their management or employees will not be responsible for injuries of any nature, mental or physical, whether caused directly or indirectly due to any adventure sports or their allied activities.
Every participant is required to fill a registration form and indemnity bond prior to the commencement of the trip.
Refund and cancellation:
- If you cancel 20 days before the trip begins, BMC will retain 20% of the trip cost.
- If you cancel 15 days before the trip begins, BMC will retain 50 % of the trip cost.
- If you cancel less than 14 days before the trip begins, or, are not present when the trip begins, there will be no refund.
BMC will take every care to ensure that itineraries are followed to the letter but circumstances beyond control may necessitate changes. In case of changes in routes and properties, BMC will accept no liability but make arrangements for substitution of equal.
BMC will accept no liability for any damage, losses and expenses suffered by any client as a result of sickness, quarantine, weather conditions, war, strikes, riots or any other cause outside our control.
Any damage, other than that attributable to fair wear and tear, to the equipments by the participants will be billed to you. Our decision on all such matters will be final and binding.
 
Read our Cancellation Policy, just in case you have to cancel participation
Read our Refund Policy, in case we are forced to cancel this event.