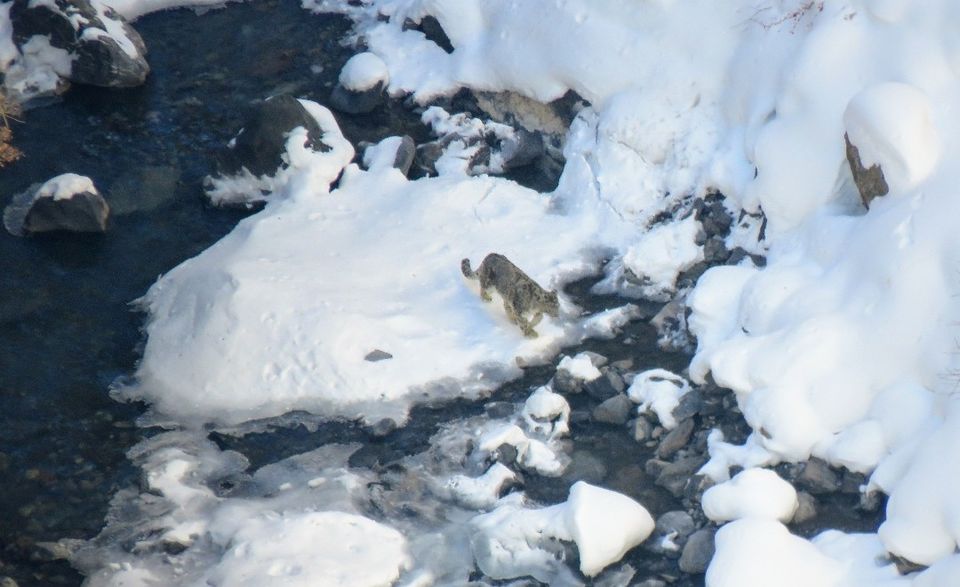 How it all started
My very first visit to Spiti Valley was during the summer of 2017. I was there for couple of weeks and had the opportunity to interact with the villagers residing there for decades. They would often tell me anecdotes about their everyday life, the breathtakingly cruel winters - how the whole landscape would transforms into a sea of white and its impact on their way of living. All of these tales ignited a sense of curiosity to visit and experience this wonder someday. The icing to the cake was when the villagers of Kibber mentioned about the sightings of the Snow Leopard during the cold days, I was left awestruck. I always had fascination towards this majestic ghost of the mountains and upon hearing about the actual possibility to see it in person completely overwhelmed me. I knew then, for sure, that I would come back to this wonderland at its very best.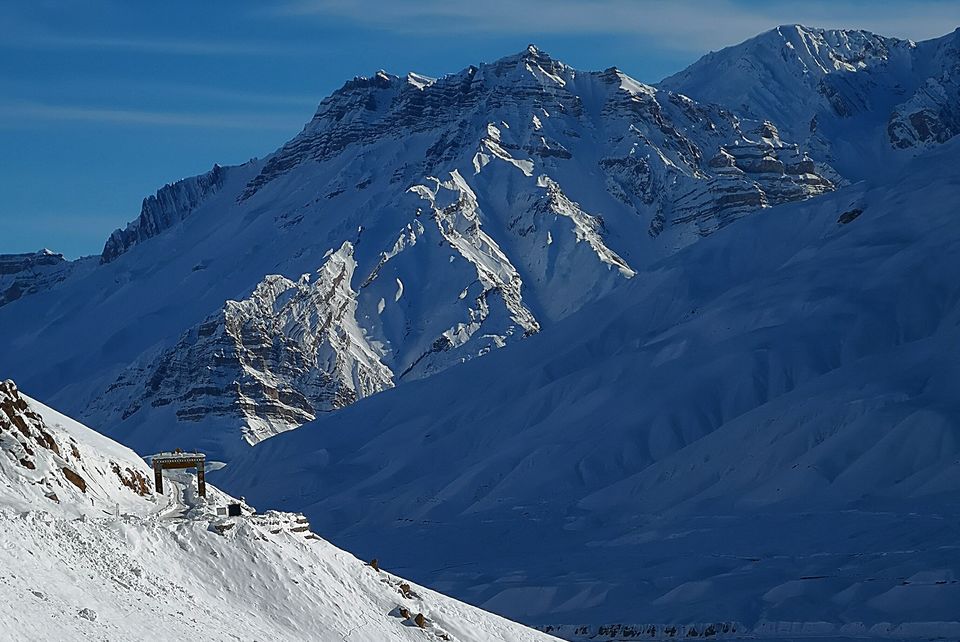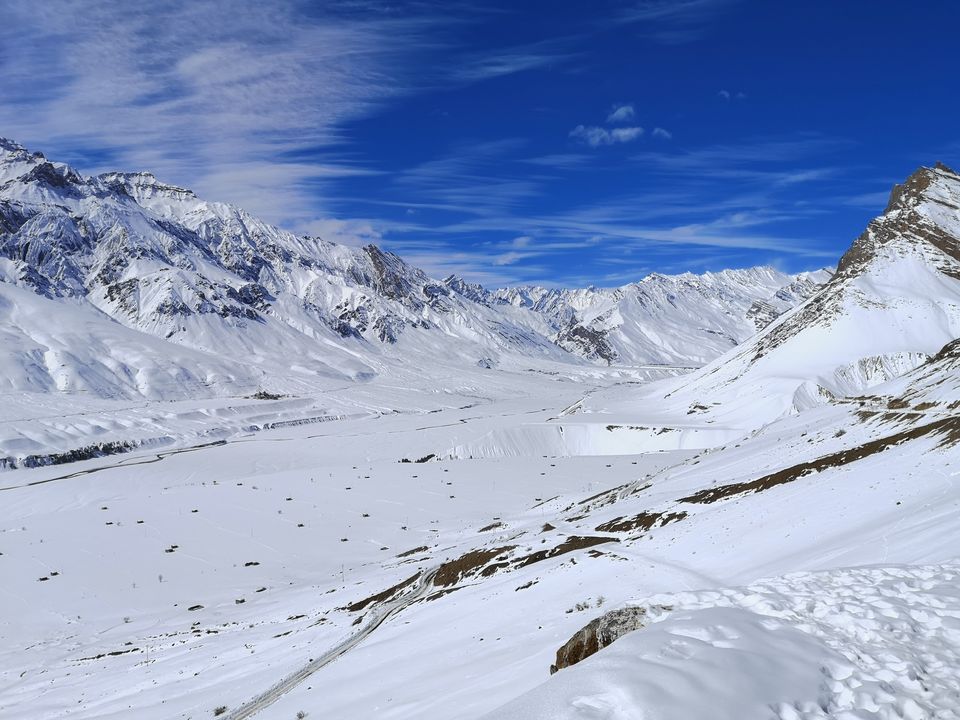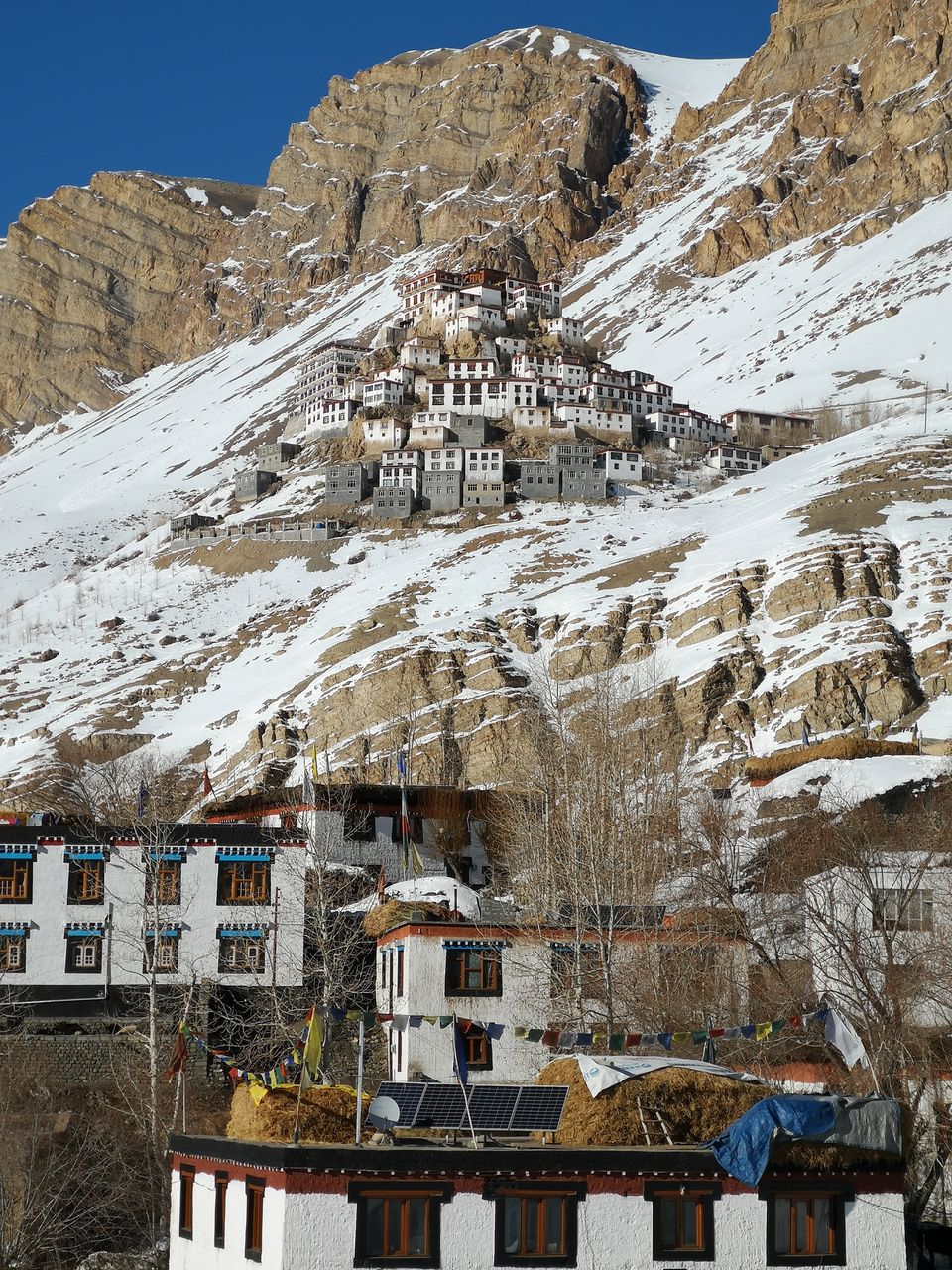 Reaching Spiti in winter
I planned my visit on the 2nd and 3rd week of February as the route to Kaza, Spiti Valley seemed relatively clear of landslides & avalanches during that time. I am a budget traveller so, I decided to do this whole trip by public transport. The only way to reach Spiti Valley during winters is via Shimla and Reckong Peo, with a night halt in Reckong Peo followed by getting on the 7:30 am bus to Kaza the next morning. Depending on the current weather, the bus could go all the way till Kaza or it could drop you midway in Sumdo, as it happened in my case. From Sumdo, I hitchhiked in a smaller vehicle of the locals travelling to Kaza.
Trip cost and itinerary related details are shared at the end of this post.
Day 1
After spending a night in Kaza, I headed straight for Kibber village which is part of a wildlife sanctuary, for my week long stay there in the hopes of catching a glimpse of the elusive Snow Leopard. I was staying with a wonderful family in their homestay. The hospitality and the sense of brotherhood you see among the villagers is one of a kind and it's something we all miss out on in our concrete jungles.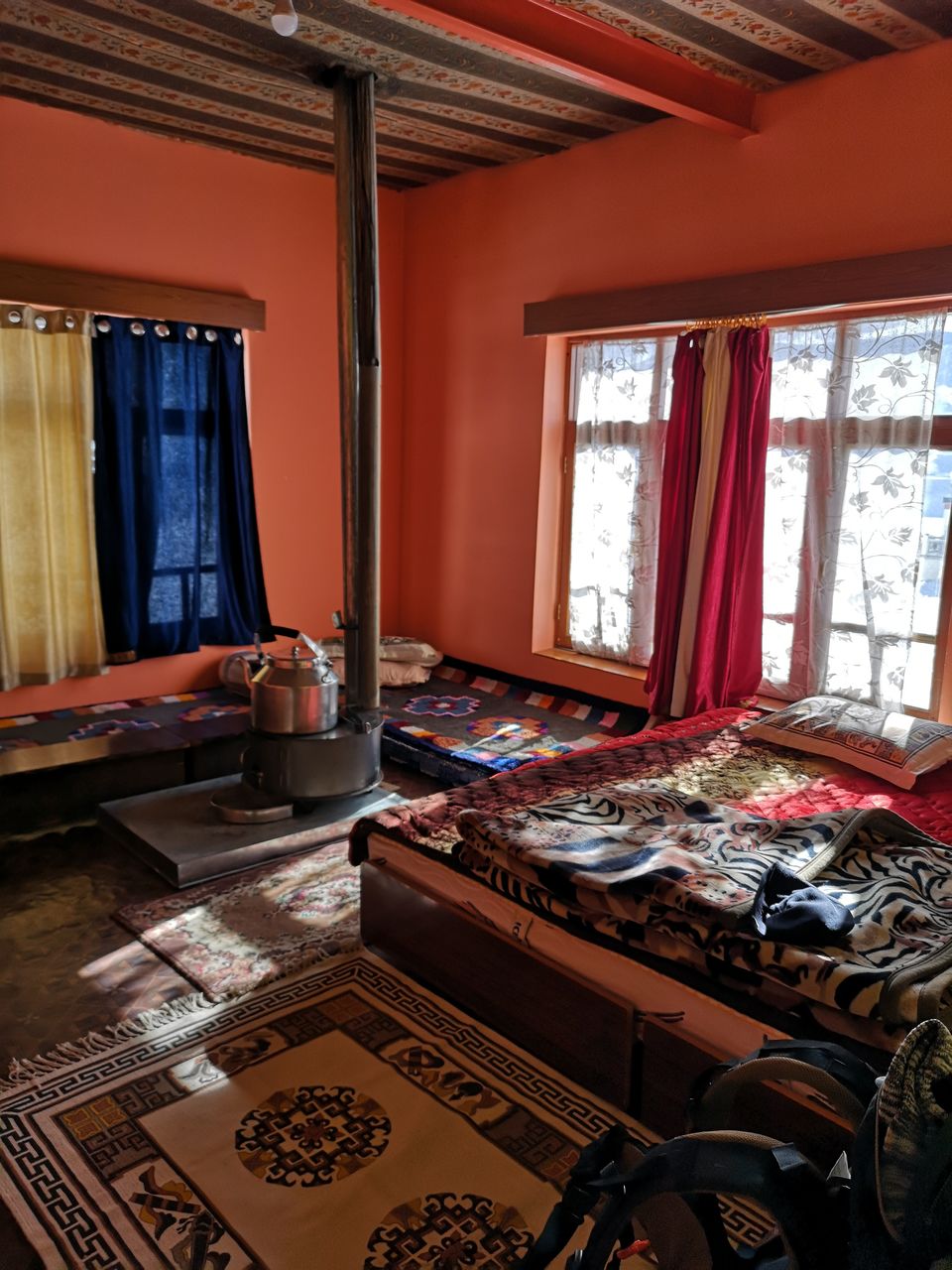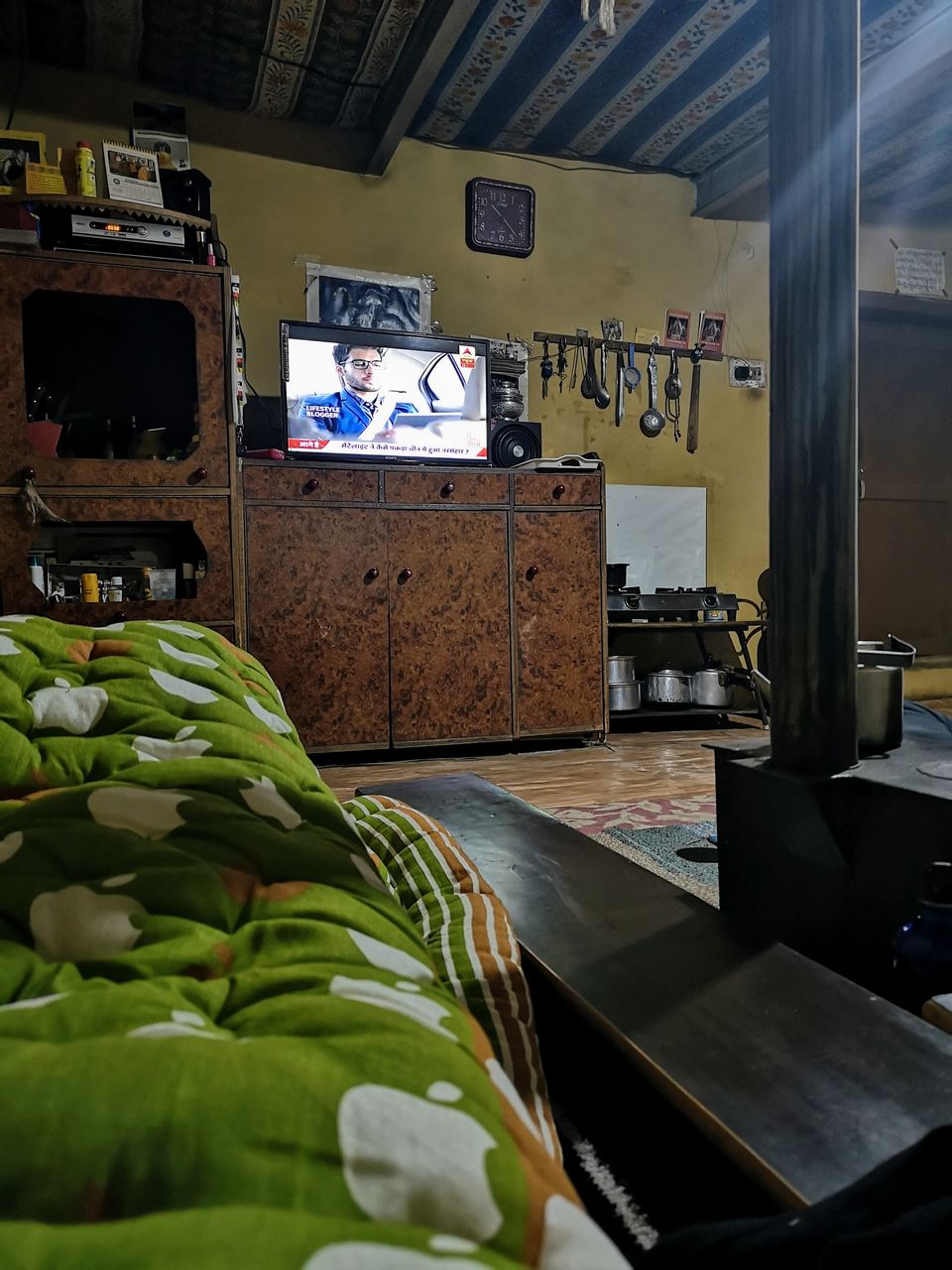 On my first day in Kibber, I met Lama Ji who was a monk in the Ki monastery and knew the whole of terrain inside out. I accompanied him for a casual walk till Chicham Bridge and ended up spotting more than half of the wildlife including the mighty Himalayan Ibex, Blue sheep and the Red fox, all of them are endangered. However, there was still no signs of Snow Leopard!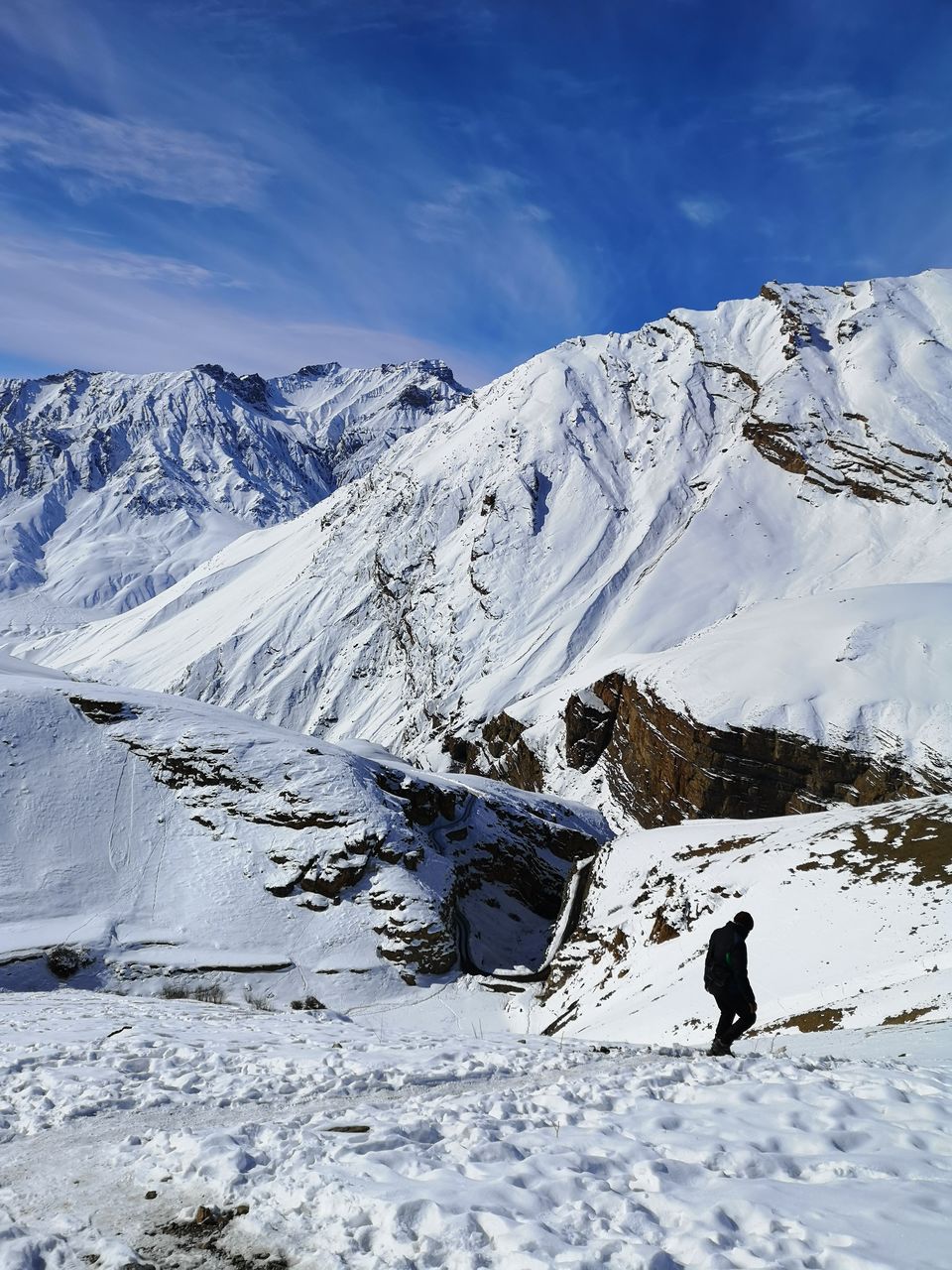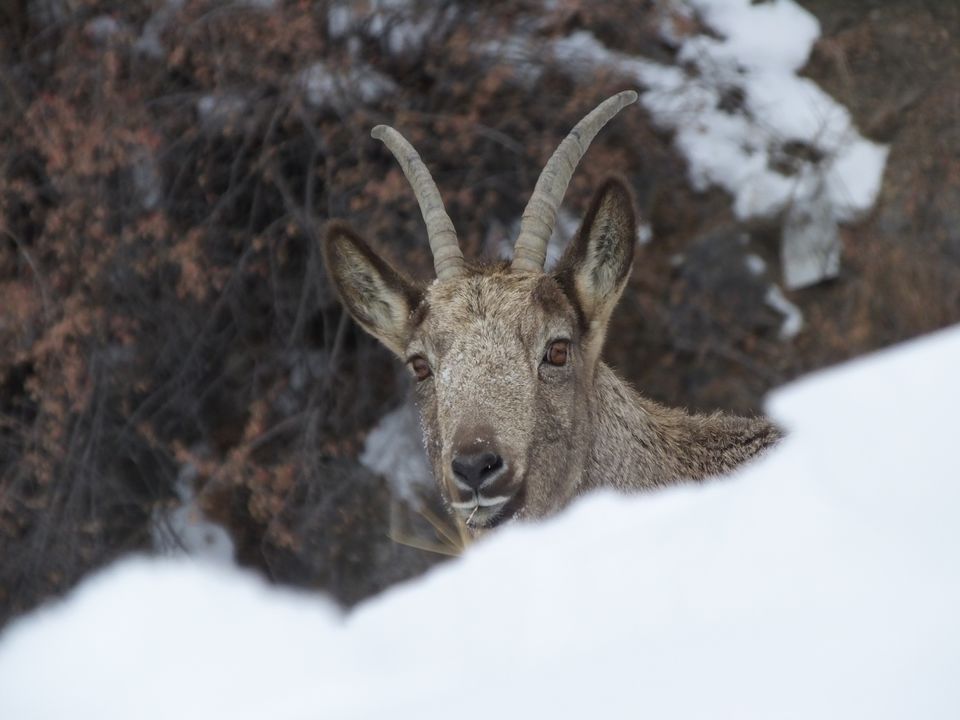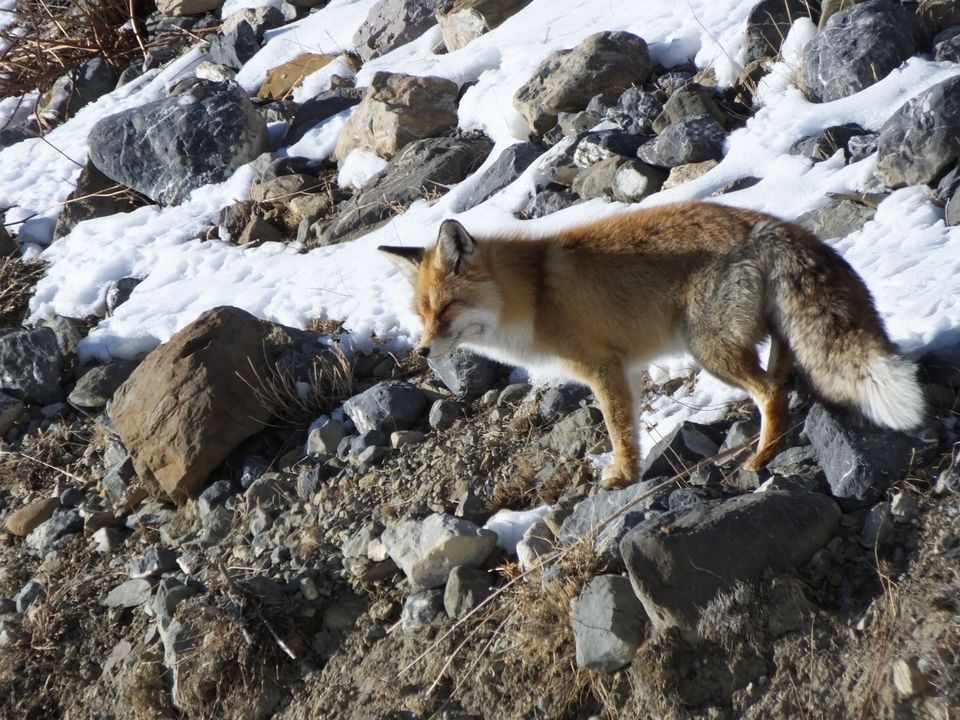 In the coming days, it became our routine to trek through the snow covered terrain of the sanctuary for hours trying to spot the elusive beast.
I started the day with tasty heavy breakfast from my Homestay and went on for a 6 km walk to the Ki Monastery as I got invited for lunch with Lama Ji and a few other monks from the monastery. I did visit the Monastery before on my previous trip, however, this time I got a better insight on the lives of monks as I was fortunate enough to enter Lama Ji's room which was right at the edge of the cliff and with a view to die for. After spending the entire afternoon there, I accompanied 3 other villagers I met in the monastery for my journey back home to Kibber with an intention of reaching the village before the sun sets and the temperature plummets below -20˚C.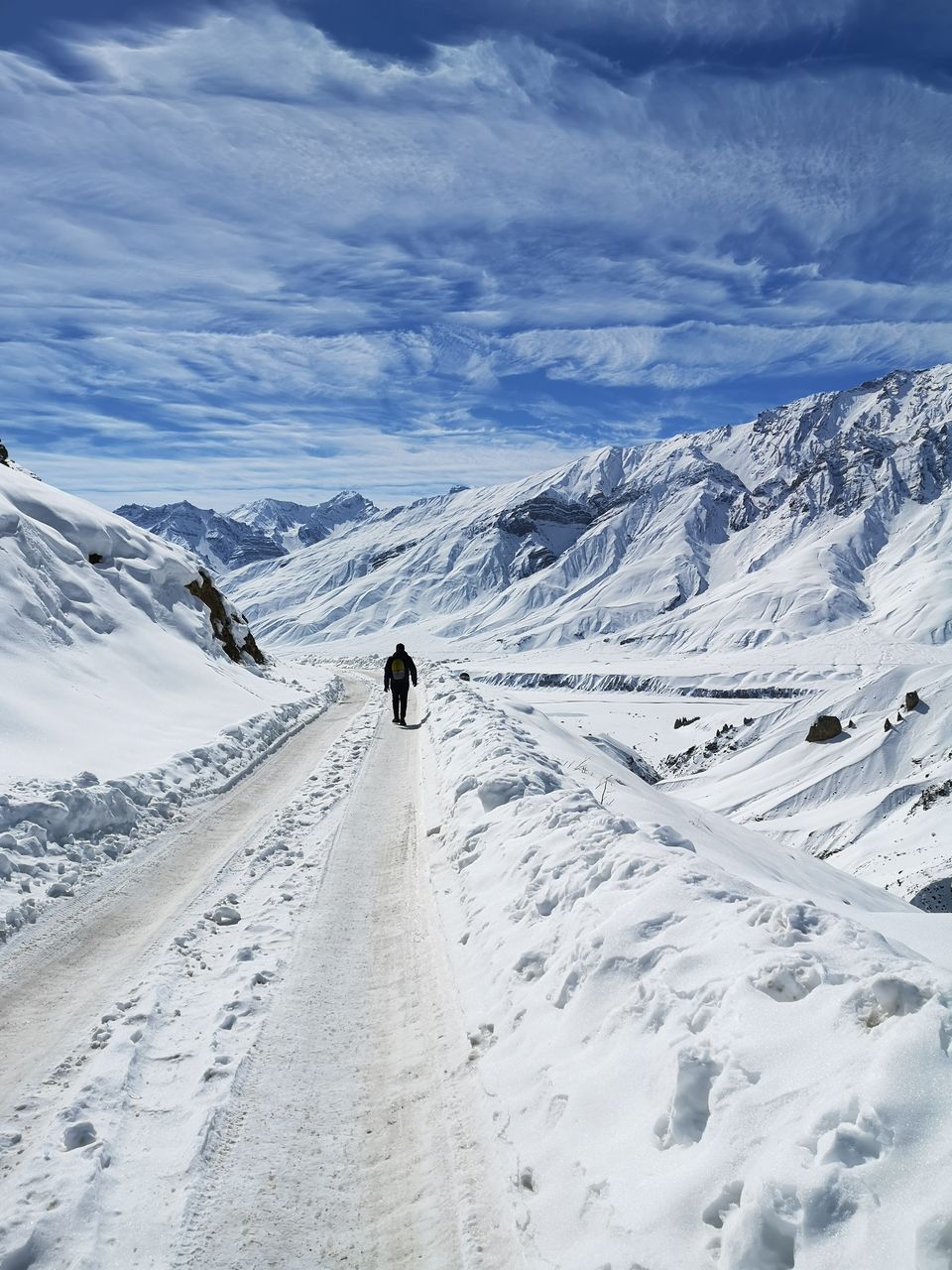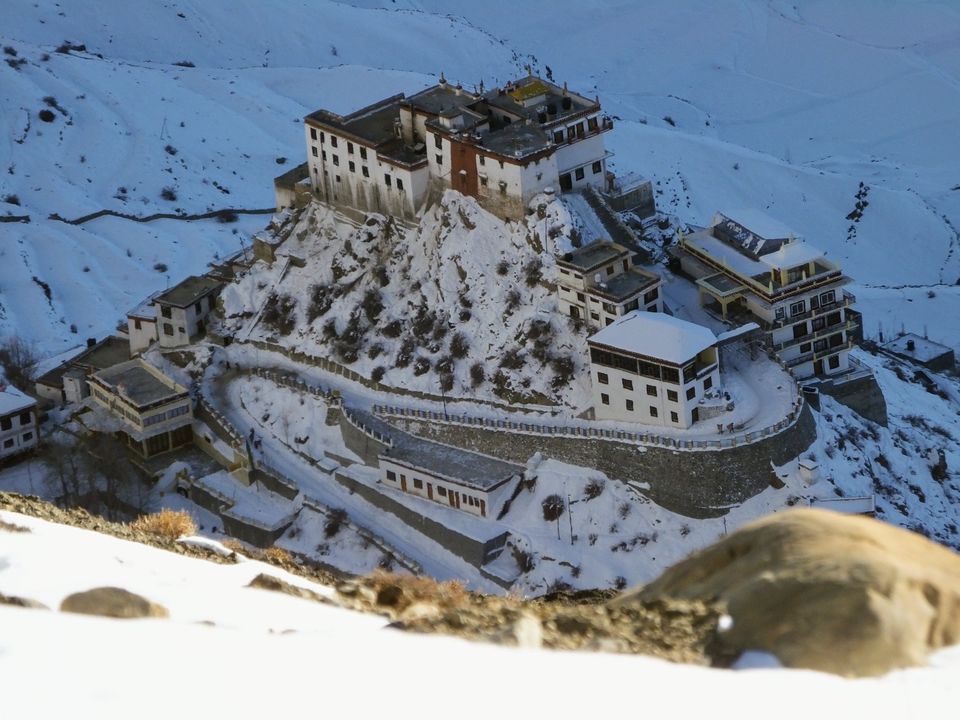 On our way back, we bumped into an old male Himalayan Ibex that meandered the Kibber wildlife sanctuary. Usually Ibex's are seen in small herds of 6 to 20 numbers or sometimes even 50 but this one was alone, always. One could easily spot this massive animal around the village grazing on the dried-up grass hidden beneath the snow and everyone was aware of the aggressive nature it possessed. A face to face encounter with a mammal of this stature and beauty has to be one of the most exhilarating experiences of my life. Luckily though, it didn't see us as threat and after glaring straight into our eyes for few seconds, it continued on its path and so did we.
Day 5
After four fruitless days of Snow Leopard spotting, on the fifth day, one of the villagers spread the word around of the presence of 4 Snow Leopards (mother & 3 cubs) higher up the mountains. So we took off again trekking 3-4 km further up the village in the hopes of finally spotting them. After a grueling 2 hour trek through the dense snow and constant battles with breathlessness due to the altitude, Lama Ji and I reached the spotting location. What came after was a feast for the eyes, 3 cubs and a mother Snow Leopard lying around on the steep slopes of the ridge over the other side of the valley. It's almost impossible to locate them with naked eye because of the perfection with which they blend in with the surroundings. Coming across not one, not two but 4 of them at the same spot is an experience on its own, an experience that's going to stay with me for life and one that genuinely filled my heart up with joy and a sense of serenity. After spending nearly 5 hours tracking them through binoculars and capturing their movements, we trekked back to the village.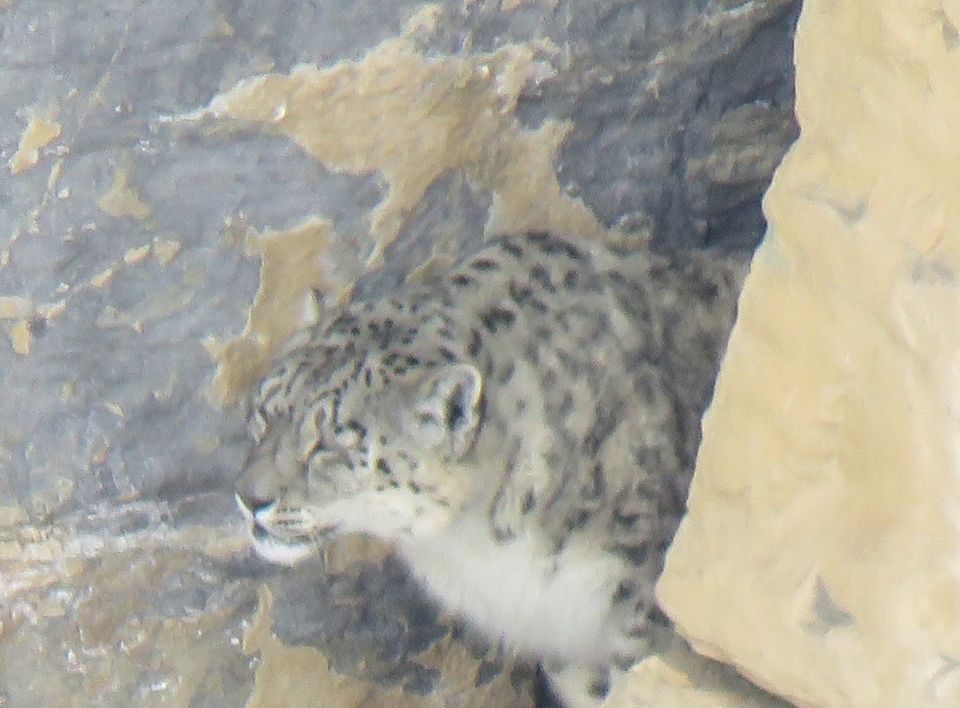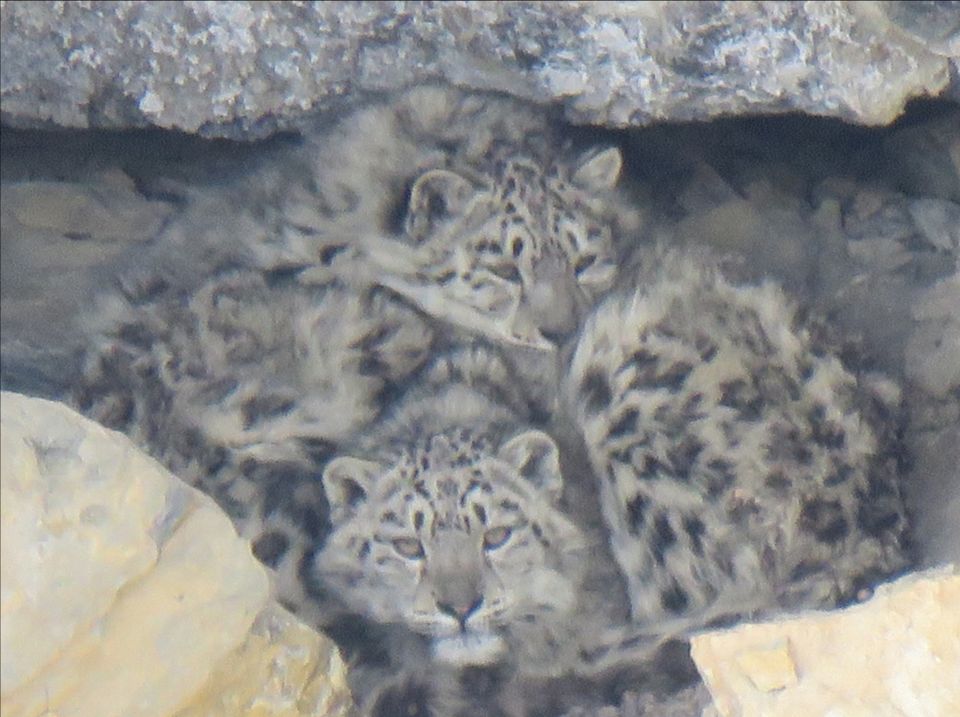 To celebrate the successful day we had, my home stay family cooked yak meat for dinner along with Chang (local alcoholic drink). Yak meat proved a little too tough for my city teeth to chew, somehow I managed to finish it with my one corner tooth almost dangling for its dear life (pun intended). Slightly drunk and extremely trilled by how the whole day panned out, I left for my room for my well-deserved night's sleep on a beautiful starry night. What a way to end the day!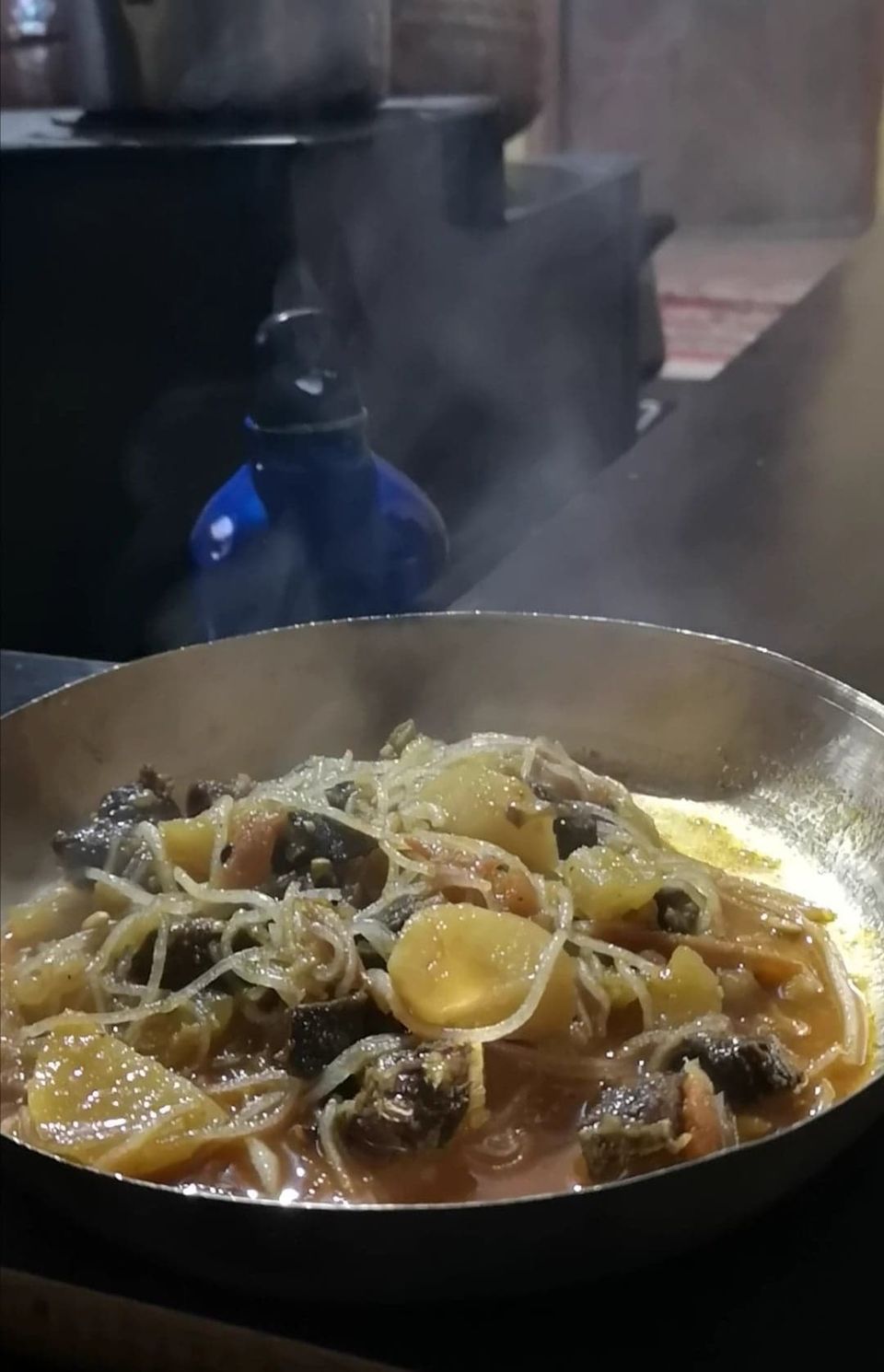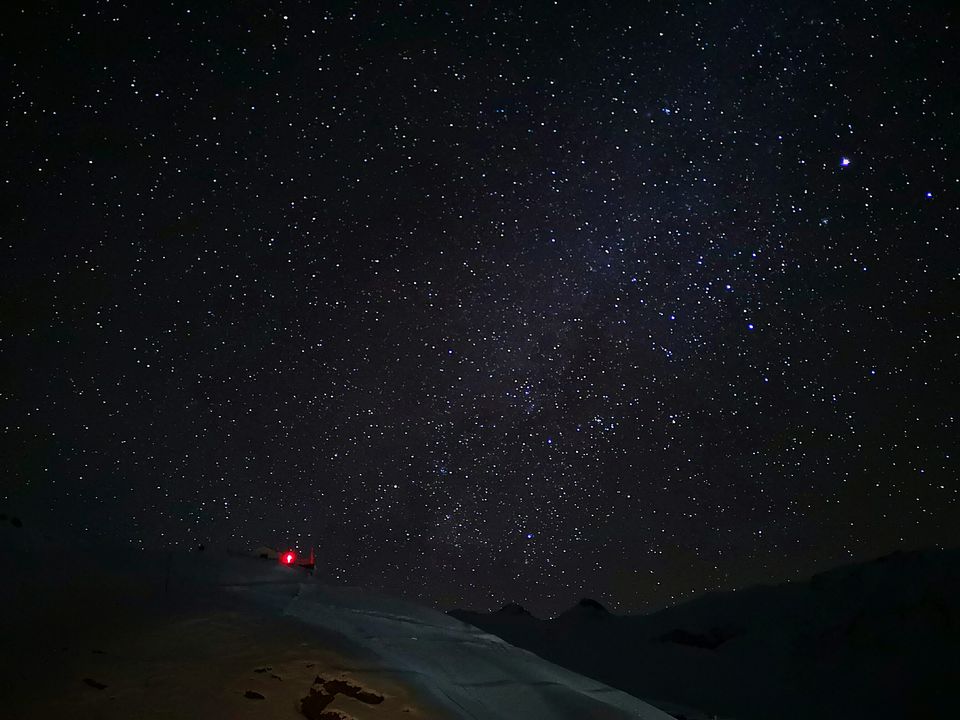 Day 6
The next day, I decided to go for a walk till Chicham village to kill some time and also soak in all the beauty of the untouched landscape before I leave for Kaza the following morning. Mid way through the journey, near the Chicham Bridge, I noticed some movement just 100 meters away from where I stood. And there it was, a Snow Leopard trying to cross the half frozen river underneath. It took me a minute to process the whole situation before I took my camera out and recorded its movement all along, one cannot get enough of the beauty of this majestic creature. I stood there looking as it slowly drifted into the snow covered steep ridges.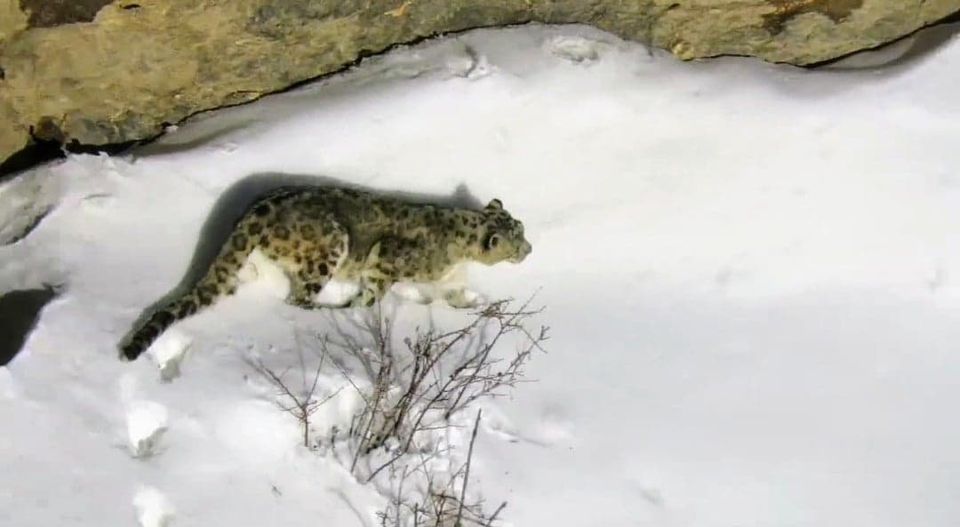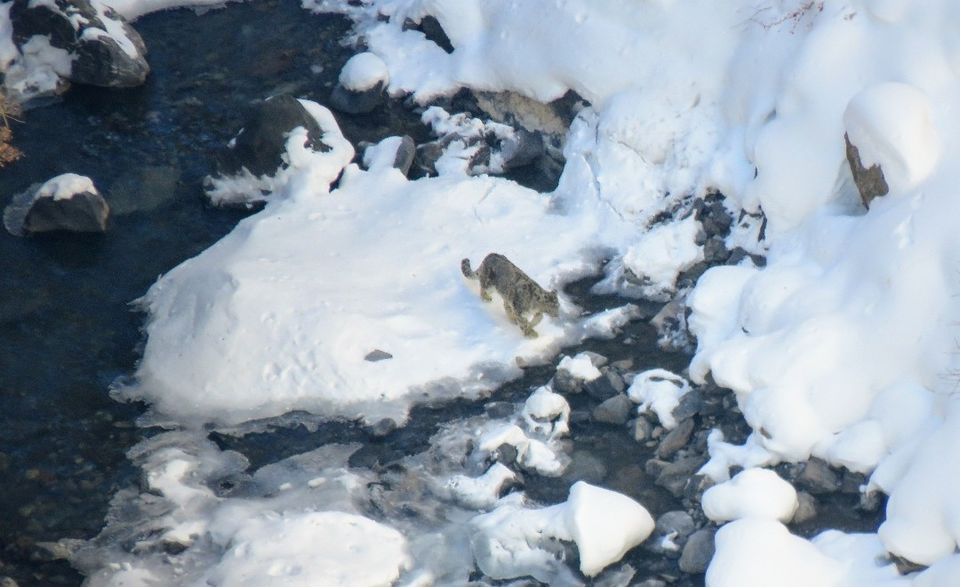 Still shook and in utter disbelief, I headed back to Kibber instead of continuing with my walk till Chicham. Walking back home, I couldn't help but wonder how amazing the mutual respect between the villagers and the wildlife here is and the ease with which all of it coexists. One more successful day of spotting meant one more day of yak meat and my teeth never felt any weaker.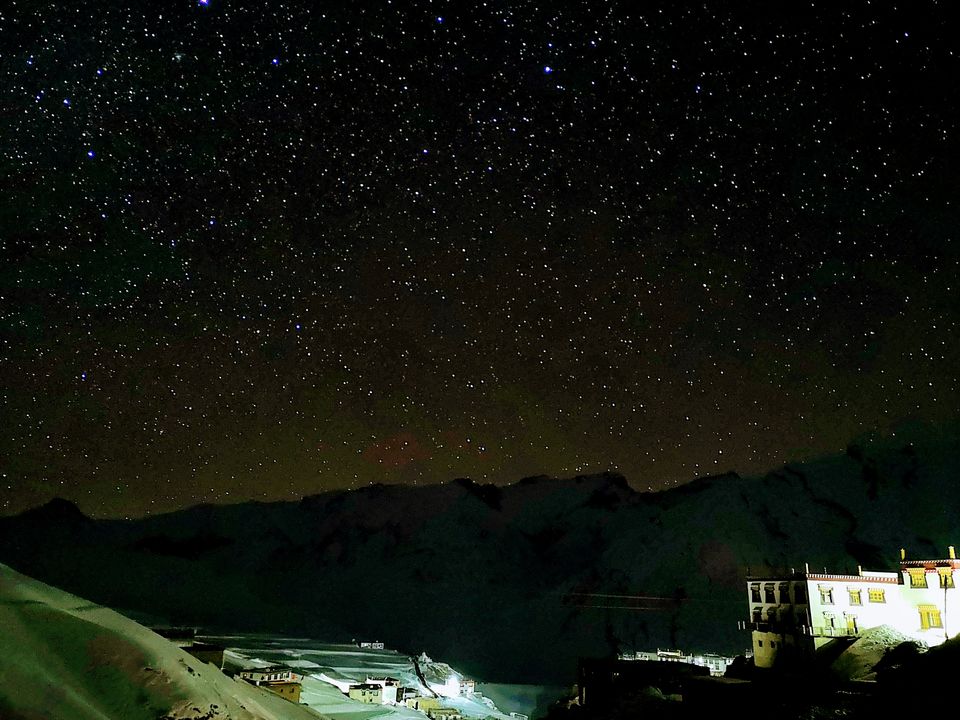 Back to base
After a week's stay in Kibber, it was time for me to say goodbye to the amazing people and the beautiful landscape. Heading back to Kaza and looking back at my days in Kibber, I realized how lucky I had been to have spotted all the wildlife there and to have had such close encounters with a few. I was a bit skeptical at the start of my trip about being able to catch a glimpse of at least one Snow Leopard, but the fact that I got to see 5 of them in total and on two different occasions has been nothing but a blessing.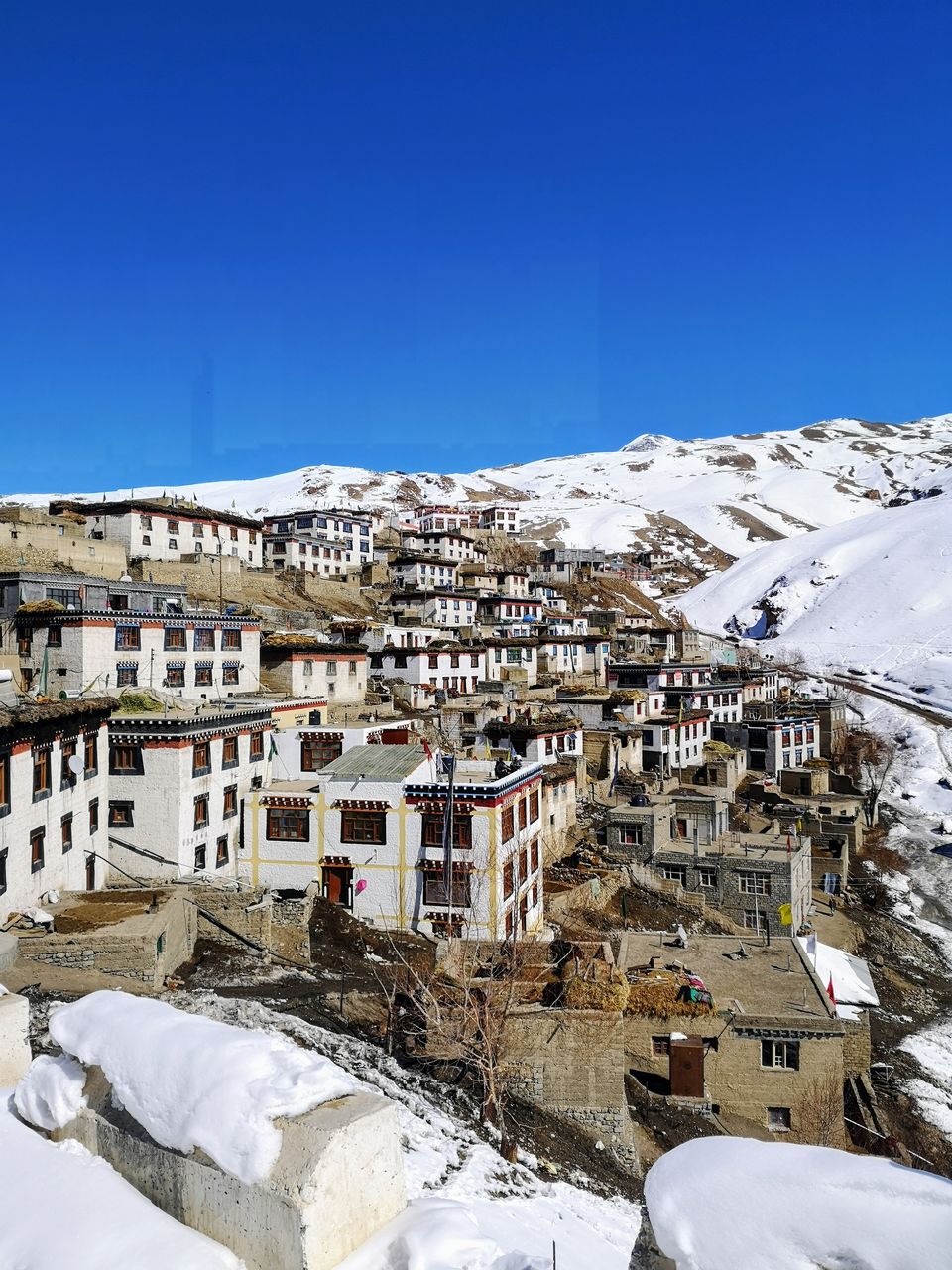 Finally, after spending one more week travelling to the other villages of Langza, Hikkim, Komic & Tabo of Spiti Valley, I started my journey back to Shimla and eventually Delhi with a pit stop in Kalpa.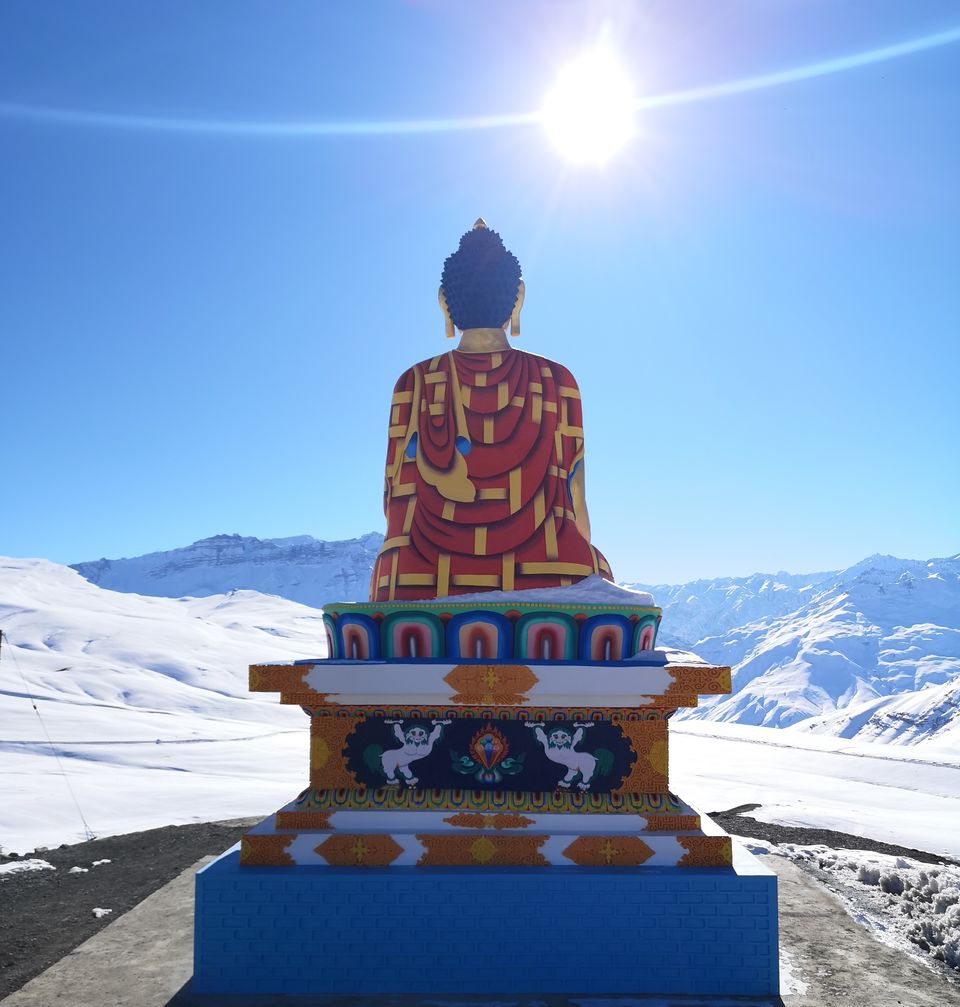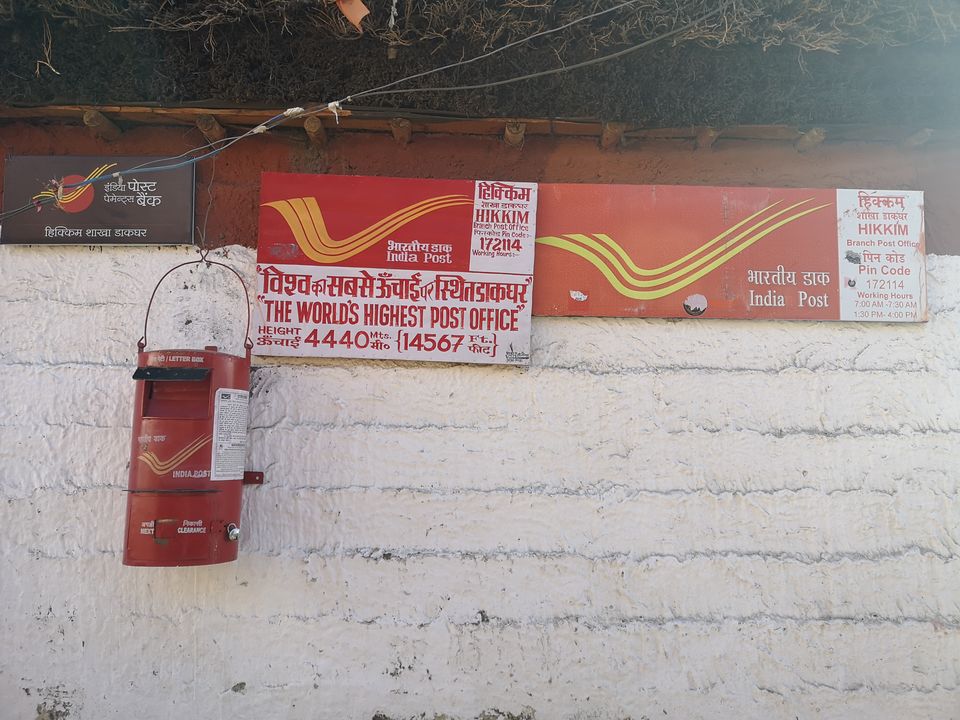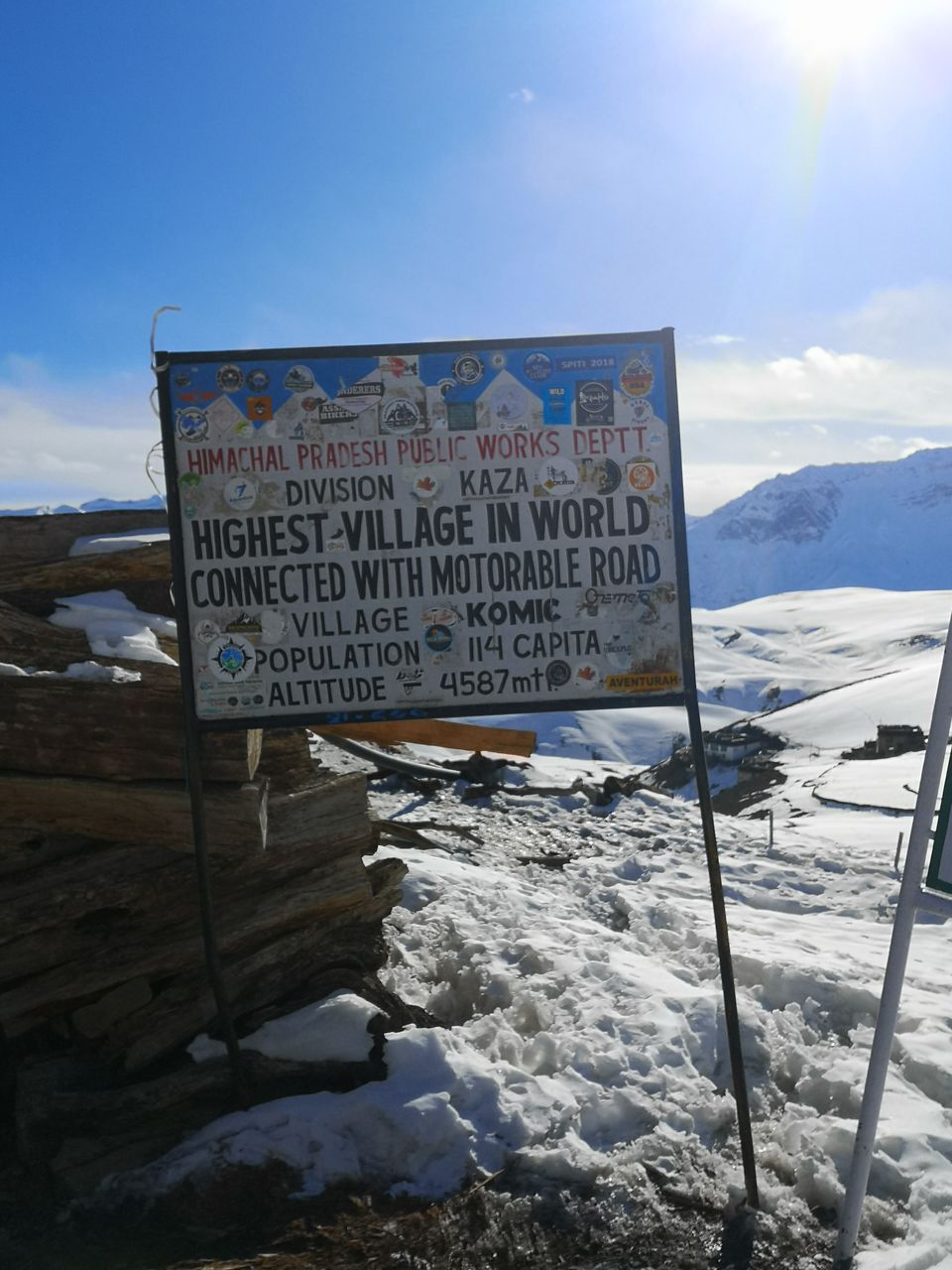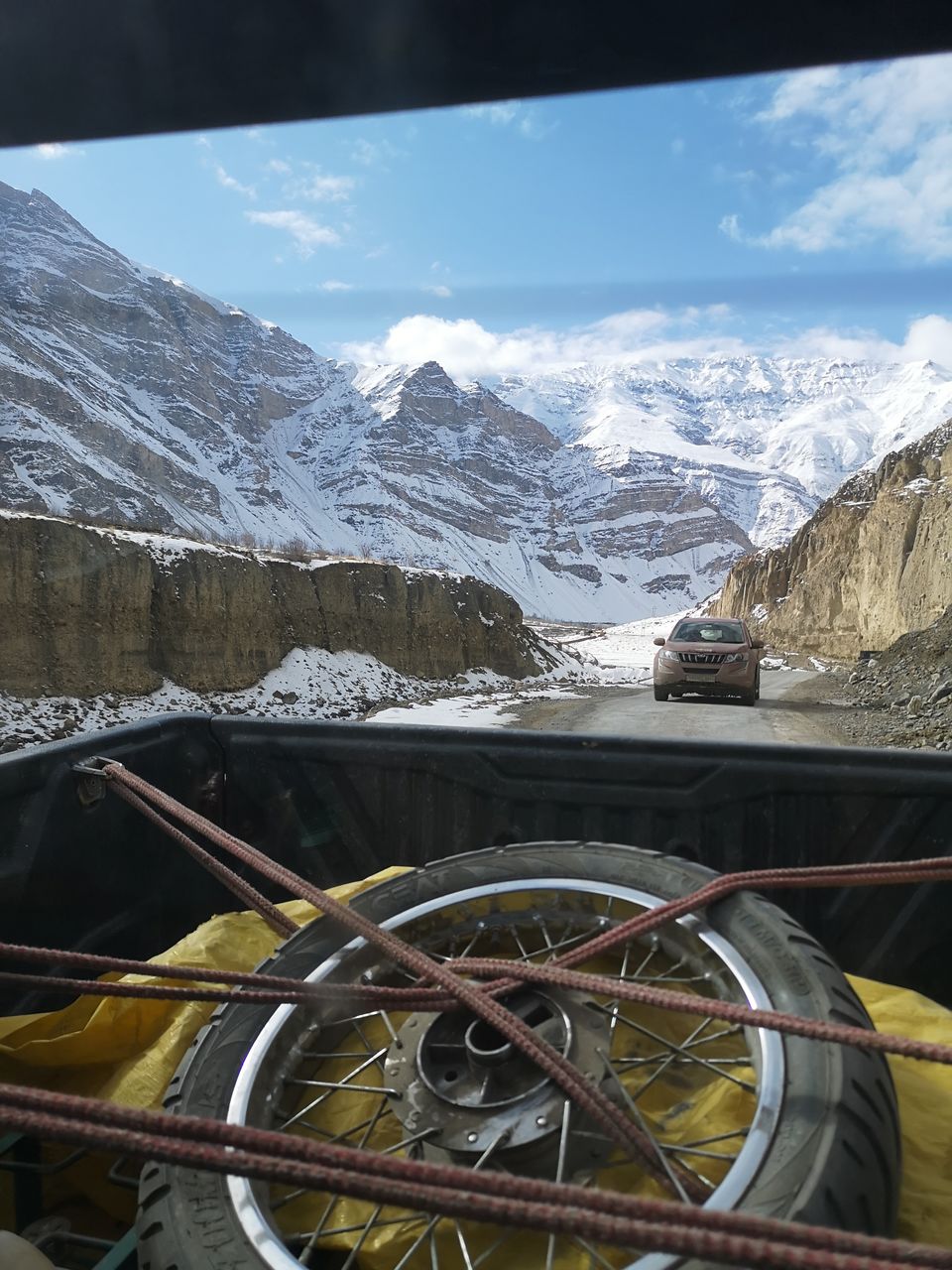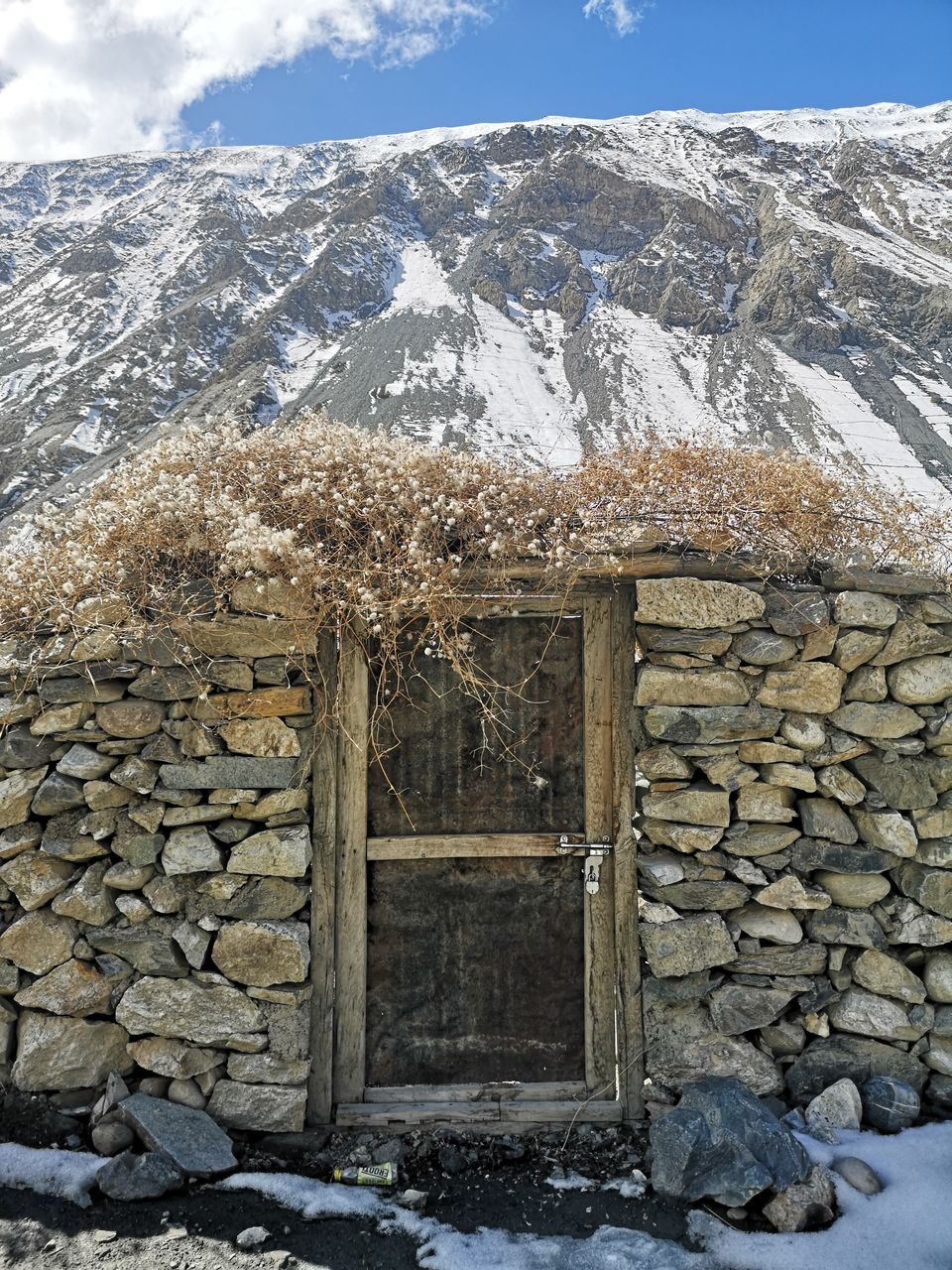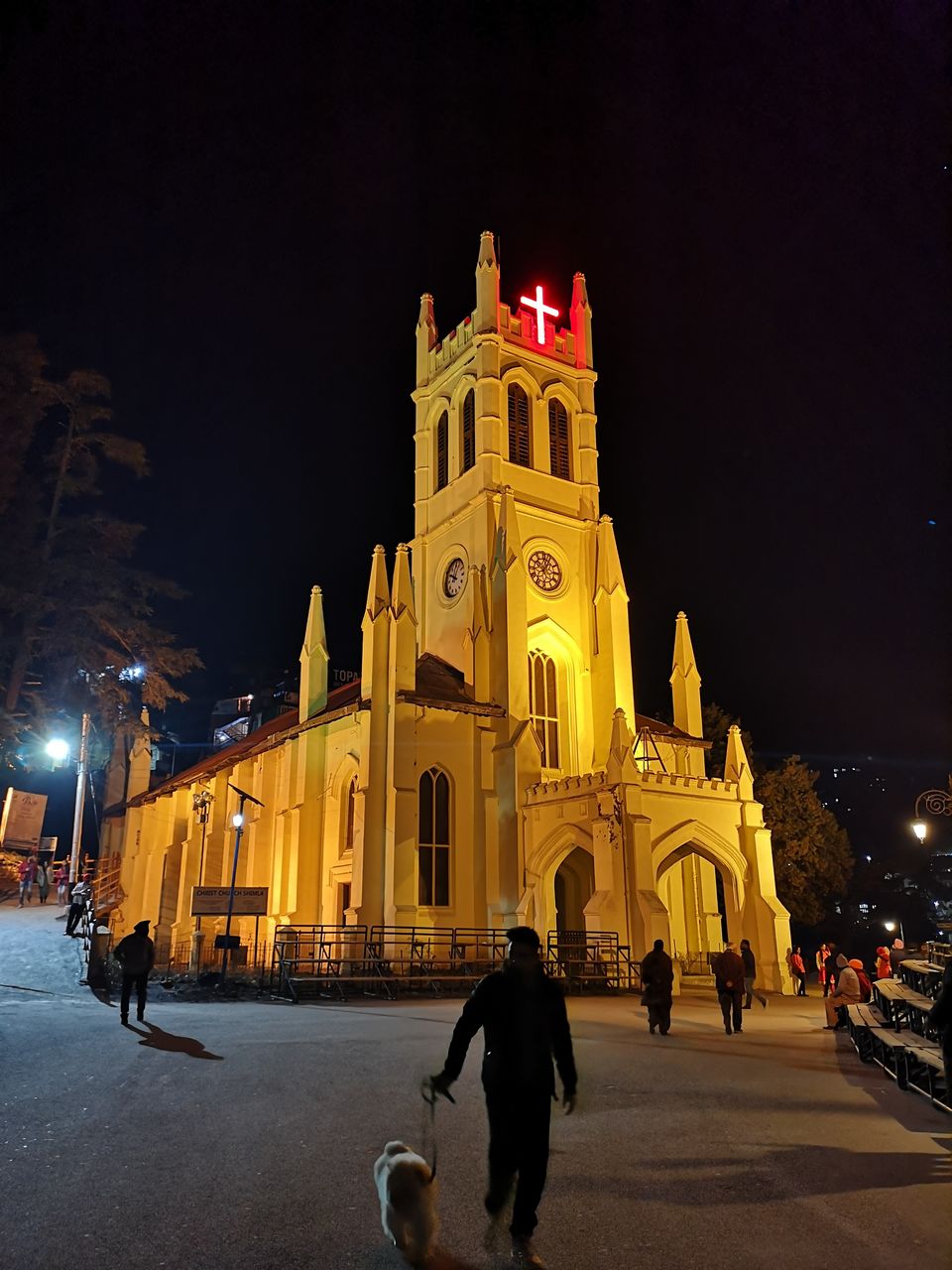 Trip details
Number of days required for the trip: 10 days (ideally)
Number of days required to be spent in Kibber for Snow Leopard spotting: 4 days (for a fair chance of spotting)
What to expect:
-More than 30 hours of bus ride (Delhi to Kaza)
-Temperature below -20°C
-Black ice at few stretches of the road
-Getting stuck for a day or two due to bad weather and landslides
-Scarce water (The pipelines freezes out in winter)
-No shower for the entire duration of your trip
-Dry toilets
-Jio 4G and BSNL 2G in Kaza (comes as a surprise but yes, Jio works fine in Kaza)
-Minimal or no mobile network in other parts of Spiti valley
-Almost all shops are closed during winters except for 1 or 2 in the market
What to carry:
-4 to 5 layers of warm clothing
-2 pair of thermal inners
-4 to 5 pairs of warm woolen socks
-Sturdy waterproof trek shoes
-Sunscreen, skin moisturizer & sunglasses
-Tissue papers & wet wipes
-2 pair of warm gloves, winter cap & face mask to protect yourself from the cold winds
-Cash (ATM's are not operational during winters)
-Medicines for altitude sickness, cold, fever etc.
-If you're into wildlife photography then a good camera and a minimum 55-200 mm lens.
Transportation and stay:
Onward Journey
-Delhi to Shimla (HRTC Volvo) : ₹971 (8 hours)
-Shimla to Reckong Peo (HRTC ordinary bus) : ₹427 (9 hours); overnight stay in a dormitory near Reckong Peo bus stand
-Reckong Peo to Kaza (HRTC ordinary bus) : ₹320 (10 hours); only one bus, leaves 7:30 am every morning
Stay in Spiti
-Average cost of home stay in Spiti Valley including all 3 meals : ₹1000 to ₹1200
-Renting a 4 seater vehicle for a day trip from Kaza-Kibber-Chicham-Kaza – ₹1200 to ₹1500
-Renting a 4 seater vehicle for a day trip Kaza-Langza-Hikkim-Komic-Kaza – ₹2000 to ₹2500
Return journey
Option 1 (Private vehicle)
-Kaza to Shimla (Force traveller) ; based on availability : ₹1700 (16 hours); leaves at 7:00 am; needs pre booking 2 days in advance; overnight stay in Shimla
-Shimla to Delhi (HRTC Volvo) : ₹971 (8 hours)
Option 2 (Private vehicle)
-Kaza to Rampur (Force traveller) ; every morning : ₹1200 (11 hours); leaves at 7:00 am; needs pre booking 2 days in advance; overnight stay in Rampur
-Rampur to Delhi (HRTC ordinary bus) : ₹683 (15 hours); leaves 1:30 pm
Option 3 (Government bus)
-Kaza to Reckong Peo (HRTC ordinary bus) : ₹320 (10 hours); overnight stay in Reckong Peo
-Reckong Peo to Shimla (HRTC ordinary bus) : ₹427 (9 hours)
-Shimla to Delhi (HRTC Volvo) : ₹971 (8 hours)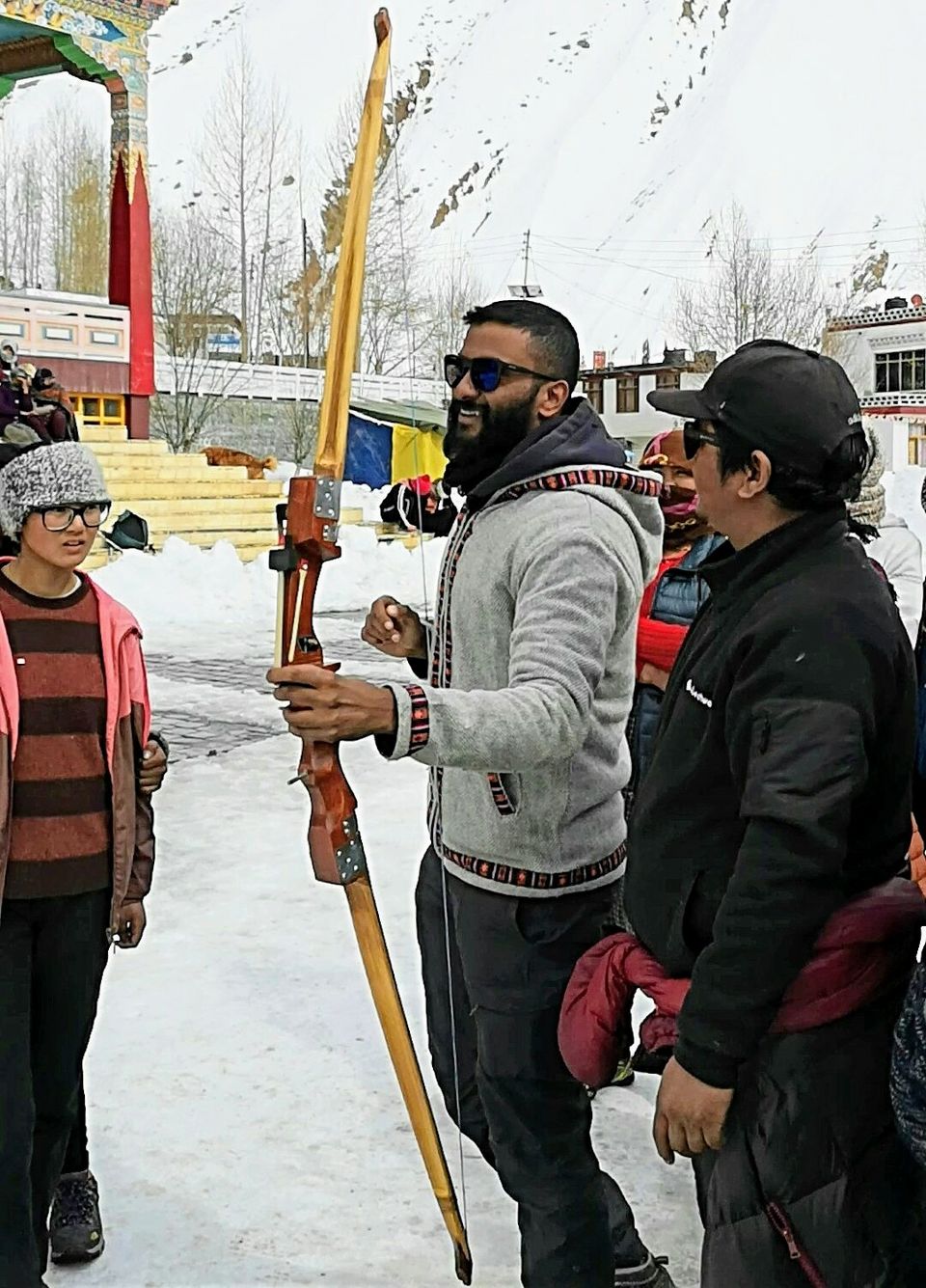 Every trip teaches you something and if there's anything that I have learnt from this trip, then that would be how easy it is for all of us to coexist in peace if we all choose to. There's plenty of room for everyone!
Instagram : ykaushiksarma