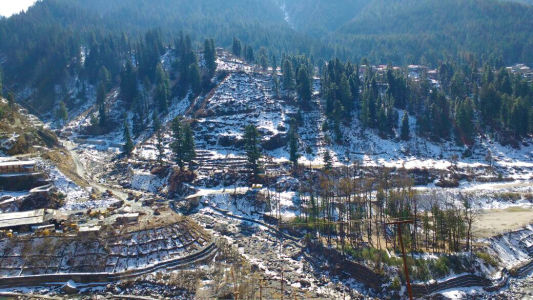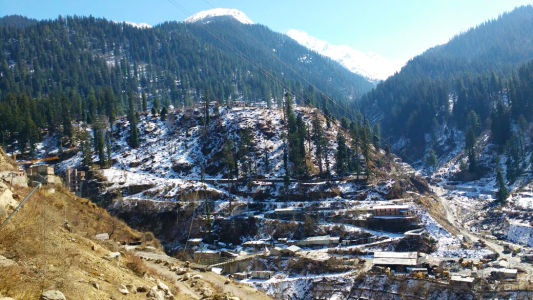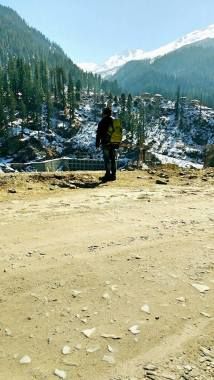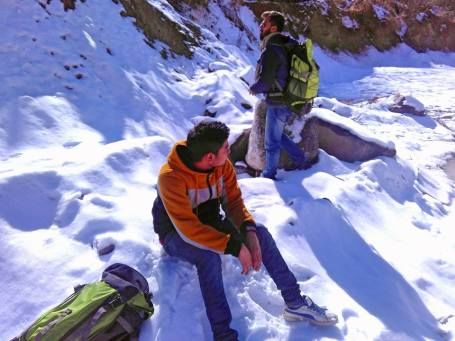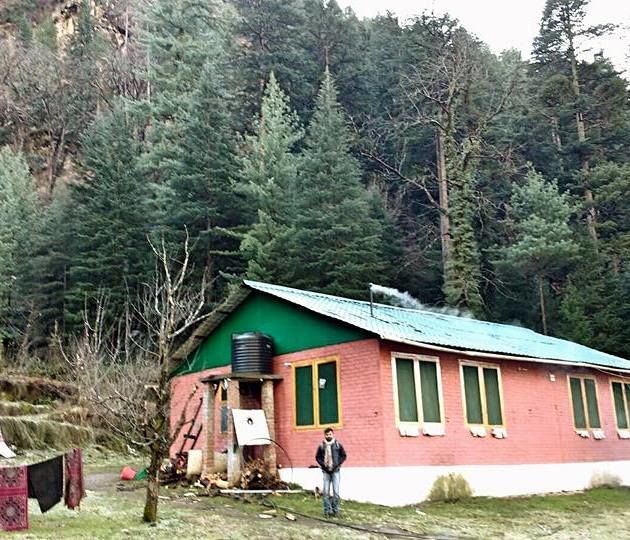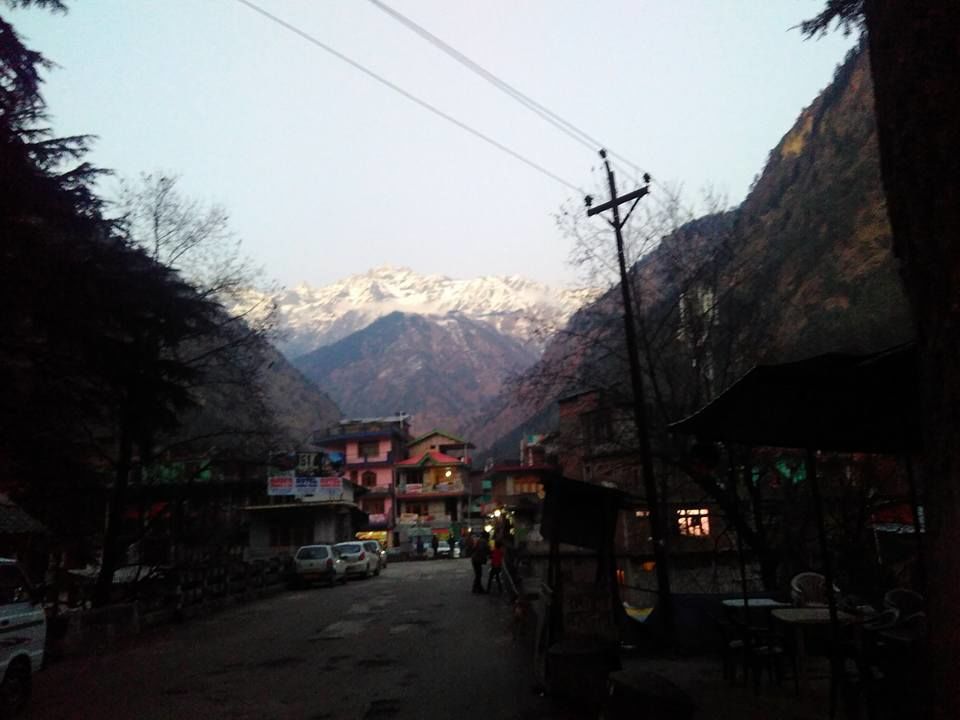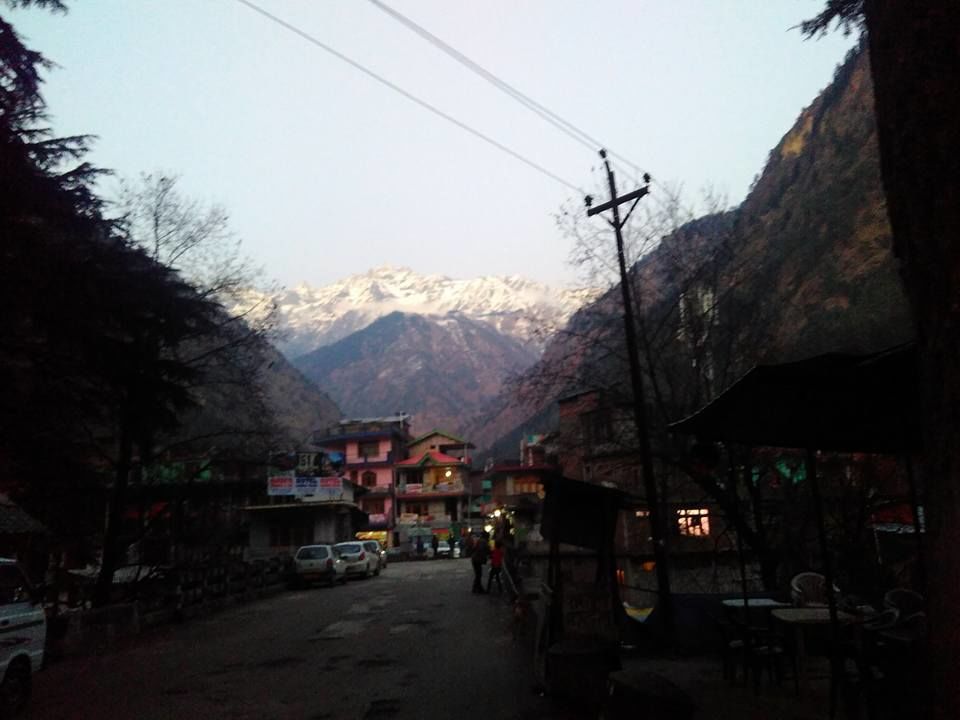 It was in early February when three of us friends decided to go to Kasol-Tosh and Kheerganga. We took a bus from going to Manali from ISBT kashmiri gate at 10:00 PM (Tickets for 540 each. Winters were almost at the verge of their end, so we were not expecting snow in Kasol. As soon as we crossed Chandigarh we started to freeze, we had to cover ourselves up in blanket in the bus to keep us warm. We were in the mountains when we got up (somehow we managed to get shuteye during the bumpy bus ride). The bus stopped at Mandi and when we got out we actually got to feel the real cold. It was overcast, looked like it might rain, the tea we had on that Mandi bus stand tasted like the best we have had till now(may be the mountains and the weather). In another one and a half hour we were at Bhuntar. We got down at Bhuntar, asked the locals for the bus stand and got into the bus going to Kasol (It charged us Rs.60 each). By 1:00 PM we reached Kasol, it was a little cloudy, but the last 2 hours of enchanted journey on a tiny road through the marvelous mountains made us ignore the weather totally.
Kasol
It was a small town; you can cover it in 200 steps (300 if you take tiny steps). We went into every direction of it as soon as we got down and we checked out the whole place in less than an hour. Many of the cafes were closed because of winter. So after getting on the farther end of Kasol and climbing up a hill we found an isolated but amazing place, Café Jim Morrison. Two kids were running the place, the owner, just like everyone else in Kasol was in Goa. So we got inside the perfect hippie abode it was. The painting on the wall, the smell of Hashish and a perfect view of snow capped mountain.
Cafe Jim Morrison
There was a projector inside which played movies, a couple of drums were lying inside and a guy was filling his Chillam with Hash. We sat in got comfortable, ordered food (we were starving by this time). So after filling ourselves with the food we talked to the guys at café and got ourselves a nice hut type accommodation with a wood heater cum fireplace (it was a bargain for Rs.500) in the middle of the woods. Although we were asked not to drink alcohol while in there however we can smoke up if we want (I found that strange).
Trail in the woods towards Cafe Morrison
We went out to discover more of the place, we roamed around a bit, talked to a few locals (everyone has interesting stories to tell us, about the history of the place and lot more). After few hours of roaming around by the river and into the woods, we sat down at a Tea shop. There was sitting a Baba rolling a joint with his single hand, he offered it to us as well. My friend without hesitation joined him, so he told us about his journies, about Malana village and how almost all the places are closed now because of snow. We cannot go to Malana and Kheerganga, there was more than 5 feet of snow on the way, were disappointed. We just explored the place for few more hours and went to the freedom café (another fine café in Kasol) and stuffed ourselves before calling it a day.
Trek to Tosh
We got up early next morning, the night was freezing (the temp went down till -9), we could see and tell that it snowed up in the mountains, they were all white. The sky was clear today, so we anyway decided to go to Tosh and Kheerganga. We took a bus to Barshani from Kasol, it went via Manikaran (where we stopped on our way back). As we moved ahead into the two hour journey we could see snow on both sides of the road and we felt the increase in the altitude. Barshani was a small village then Kasol, the bus stopped at a point beyond which there was no road.
From here it was 2 kms of trek to Tosh. Tosh was just like Kasol except for a few cafes rest all were closed. We stayed in Kasol for the night, next morning we decided to take up the Kheerganga trek. The locals told us it is cold but we can go up till a certain point. So we could only go trek for 1 hour and were into 2 feet of snow and we decided not to go ahead. Instead we came to Kalga, it's a village with a few wooden houses and a couple of shops. There is a dam construction going on just next to the village and you will constantly hear the sound of water crashing everywhere you go when around the river. We were still in a feet on snow but we found connection to nature and peace in that place. We stayed there for at least 3-4 hours (had a bit of rum we were carrying). On our way back we had some Yummy Momos at Barsheni, before catching our bus to way back (The last bus from Barsheni to Bhuntar leaves at 5)
Kalga : We were not able to go to Kheerganga as we planned half of Tosh and half of Kasol was closed yet we were not at all disappointed with this trip. We found peace and a connection with nature in these three days.
 
Itinerary
Day 0: Board the bus to Manali from ISBT Kashmiri Gate at 10:00 pm(Cost rs.540)
Day 1: Reach Bhuntar by 10:00 am. Catch bus leaving to Kasol (Cost rs.60) reach Kasol by 12:30 pm. Find a place to eat and look for accommodation (you will find many under rs.1000). Explore the place, go by the riverside.
Day 2: Get up early and explore the place a little more and leave for Tosh. Get in the bus to Barsheni by 11:00 am (You can stop at Manikaran if you want it will take only 1 hour there, cost rs.75). Reach Barsheni by 1:30, trek to tosh, explore the place and find accommodation for the night (you will find plenty under rs.1000).
Day3: Trek to Kalga, spend half a day there enjoy the peace. Start heading towards Barsheni and reach there before 4 to catch the last bus to way back home.
This post was originally published on 'Travel Beings'.