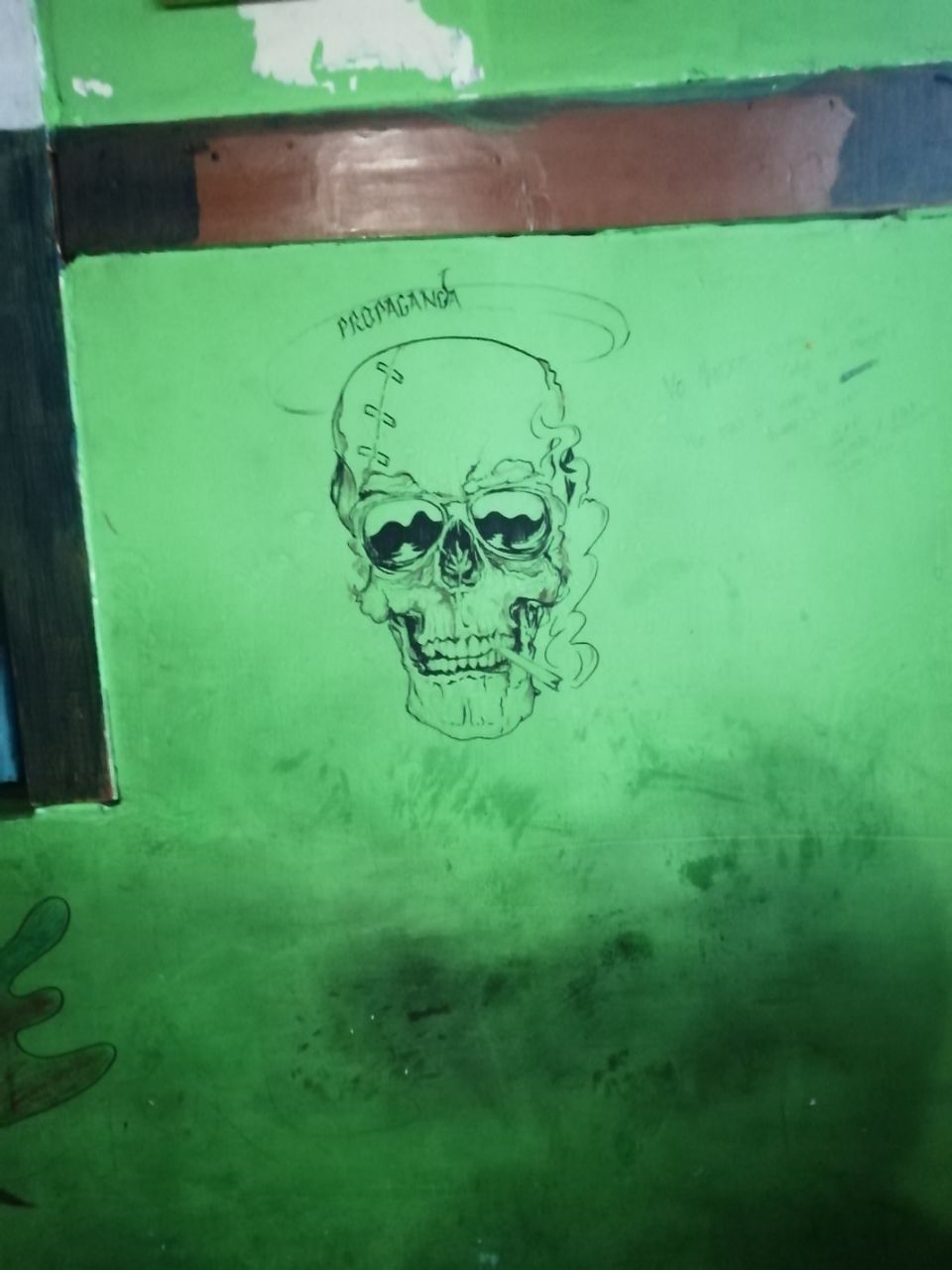 Life is not what it is supposed to be. And also, Life happens to you, me and everyone in unexpected ways. Each day of your Life, you desire something, you dream for something, you act/work for something, and then finally you achieve something.
Whenever, someone asks somebody, "How's Life going?".. in response we always receive, "Life's good / Everything is going great." Whether or not this response is really true or not, but this has become habitual for all of us to give that response, and to listen that too.
Life at my end was also going normally great too. Normal cuz' of all the daily routines going on, and great cuz' of the responses I was giving to the people around me. I was at my workplace, things were going normally boring, like they are usually. Neither my girl, nor I was feeling good at our workplaces. Maybe whatever happens, happens for a reason, and maybe things were supposed to happen the way they did, cuz' of all the great lessons they teach you.
Out of nowhere, I received a WhatsApp message from my girl, it was a screenshot of redbus app showing busses from Delhi to Bhuntar for today. Out of curiosity I called her back, and she said, "Nothing is going right, a trip is calling us badly, we must go." Listening those words, by this time, I was way too much a part of that, and wanted to go to a trip, straight to mountains. I gave some excuse at work to my manager, and left early for the day. By 6pm me and my girl, both were at home.
Both of us started searching for buses for Bhuntar, as our trip was for Kasol, and I heard it from a few friends of mine that for Kasol we first need to take bus for Bhuntar. (Tip: Buses directly from Delhi to Kasol are also available, so if you don't have any important work at Bhuntar, you can directly go for Kasol; most of the busses start from Majnu ka Tila). Exactly after devoting an hour and a half, we booked 2 tickets for Bhuntar, for 13th April' 19 at 10:50pm. In half an hour we did all our packing, got ready and left for the metro station. By 10:30pm both of us were at Majnu ka Tila, we called the bus driver, he told us the exact location, in next few minutes, we were in the bus, on our seats. The bus was a bit late as we were waiting for all the passengers, but by 11:30pm, we started with our journey.
The first meal-stop which the bus took was at 1:30am, it was a highway dhaba, and over there I met Jeeveshu Ahluwalia, a stand-up comedy artist. Had few words, he is a jolly great person, amazing personality, trip just started great.
After that meal-break, I went on my seat to rest and prepare myself for the adventures waiting for the next day.
At 8:30am in the morning, the bus halted for the next meal-break, and we were somewhere in the mountains, actually it was a place where we just left plains and entered mountains. The bus halted there for almost 30-45 minutes. After that we resumed our journey, and by 12pm we were at Bhuntar, HP.
From there we had to board a local bus for Kasol, I asked a local guy for the place from where we could board the bus, and in a walking distance was Bhuntar Bus Terminal. At 12:30pm was our bus, which dropped us at Kasol at 2:30pm. By this time both of us were starving, and we decided to head for Chirag Dhaba, at main market Kasol (just opposite the taxi booking centre). After gathering a bit of energy we headed in search for a place to stay and not very soon it started drizzling. I was getting in love with this place, amazing weather and good & positive vibes flowing & rushing everywhere.
We entered a house of a local and asked them for a place to stay (Tip: Instead of heading for a hotel, try finding a place to stay with the locals. Location is much more better than a hotel and comparatively cheaper stays). They offered us a room for Rs. 700/- per day, the view from the room was amazing. The snow-covered mountain peaks were clearly visible from that room. We rested for some while, stretched-out, got fresh, and left in the evening at 6pm to explore Kasol market area.
It was still drizzling, the weather was amazing. Both of us did some shopping at the local shops. Then we had chicken momos at a hawker. After that we decided to explore the area a bit more. We had our dinner at a cafe, people everywhere were very warm-hearted and welcoming.
The day ended on a good note, we headed back to our stay. Rested for the night, cuz' we had more adventures waiting for us for the next day.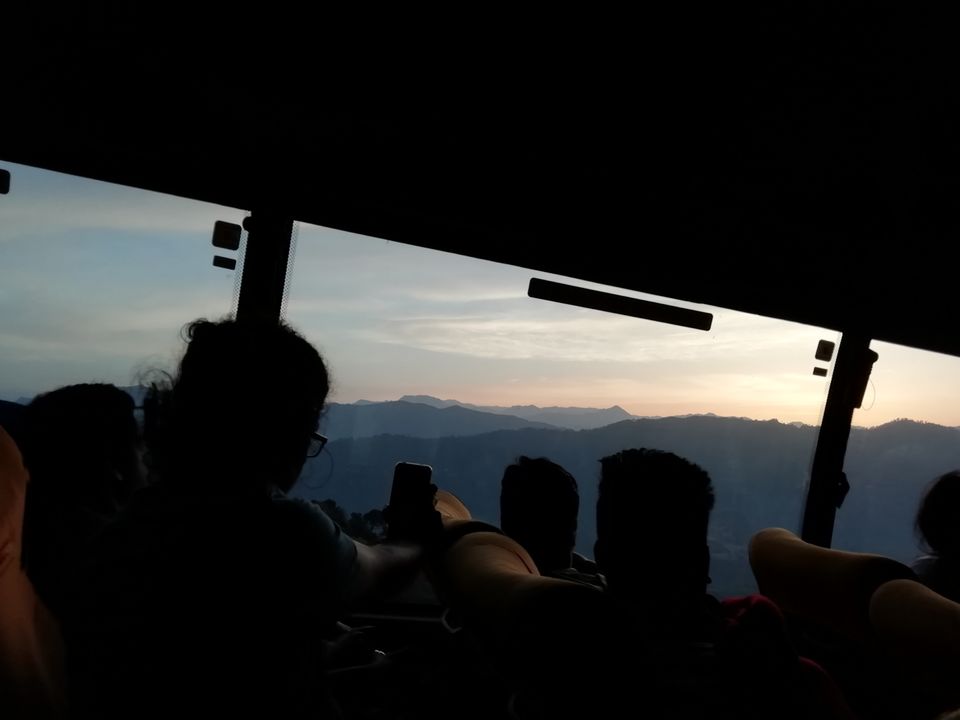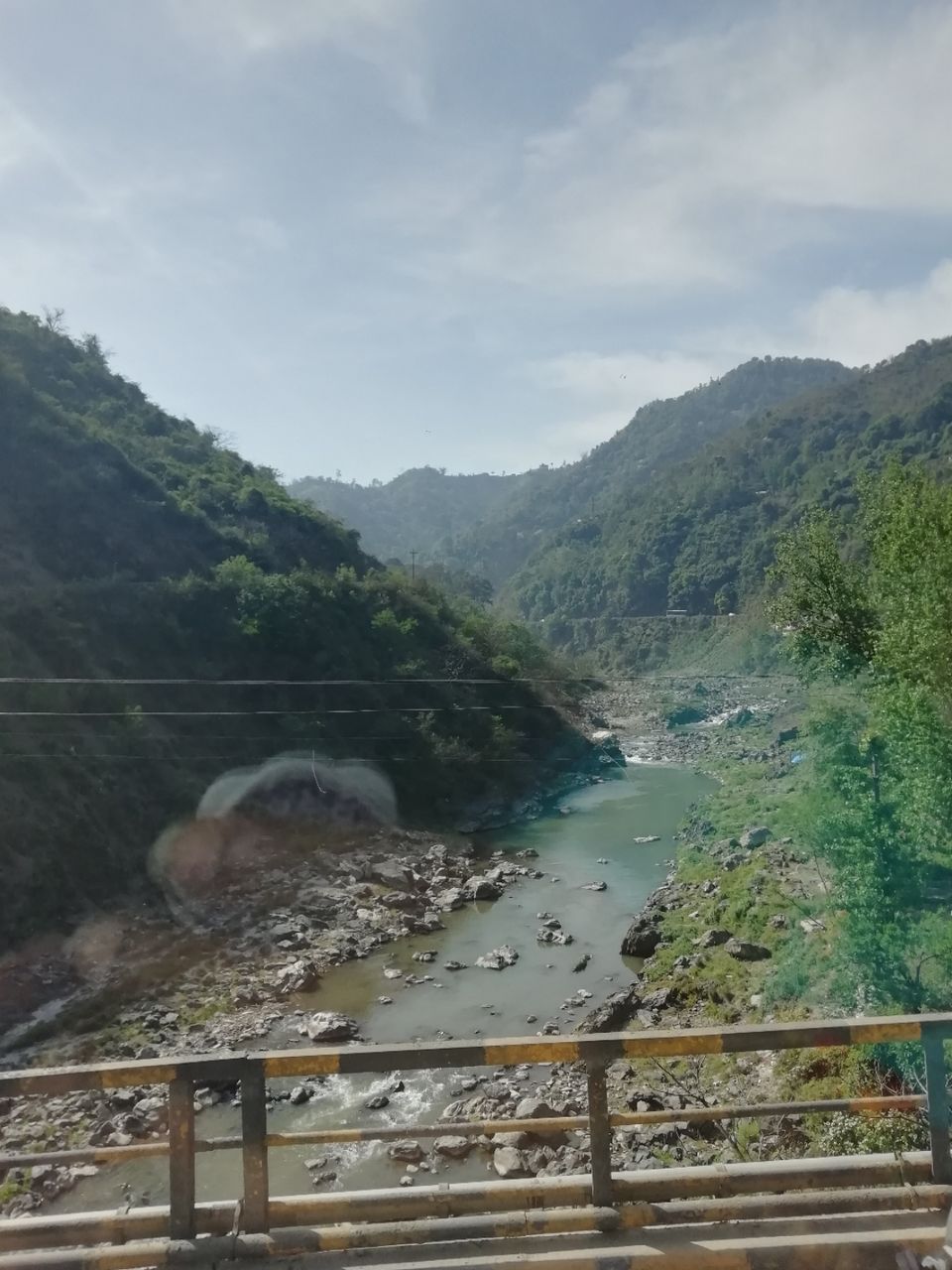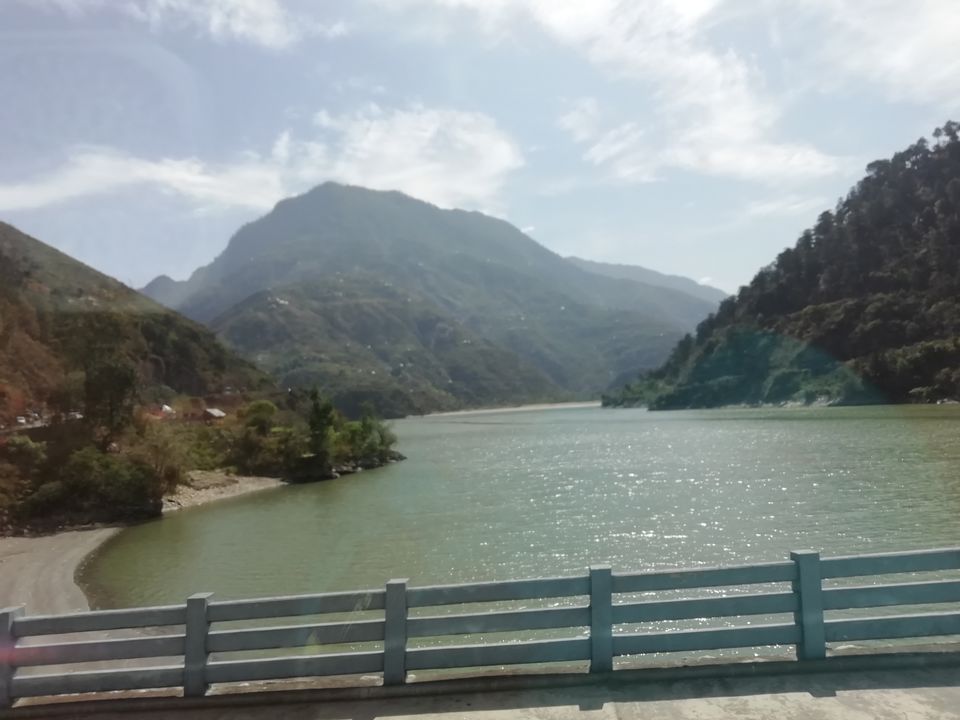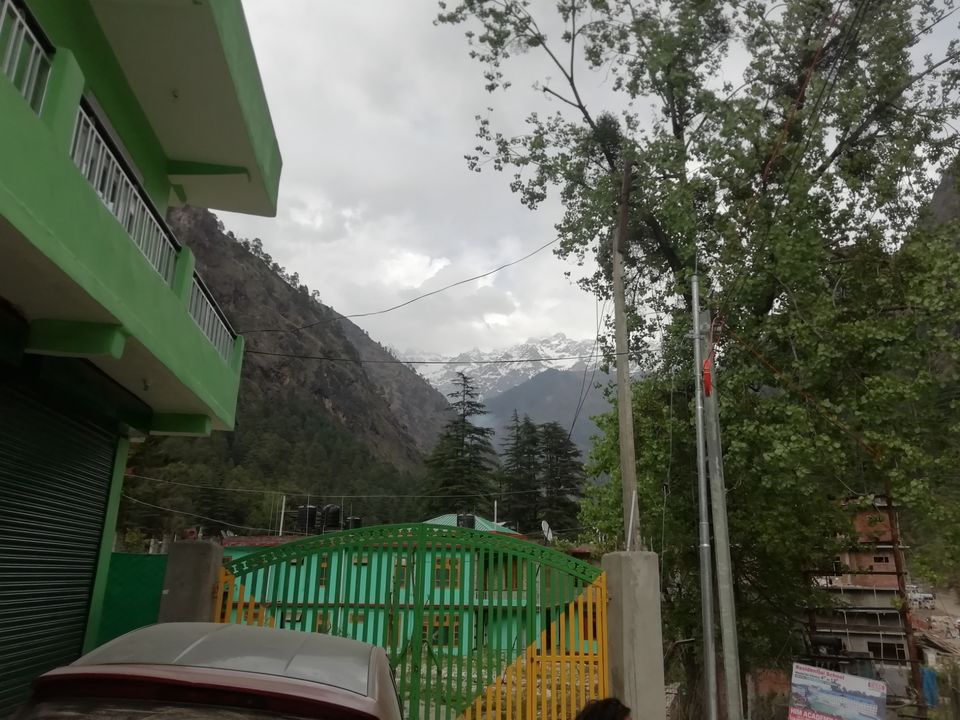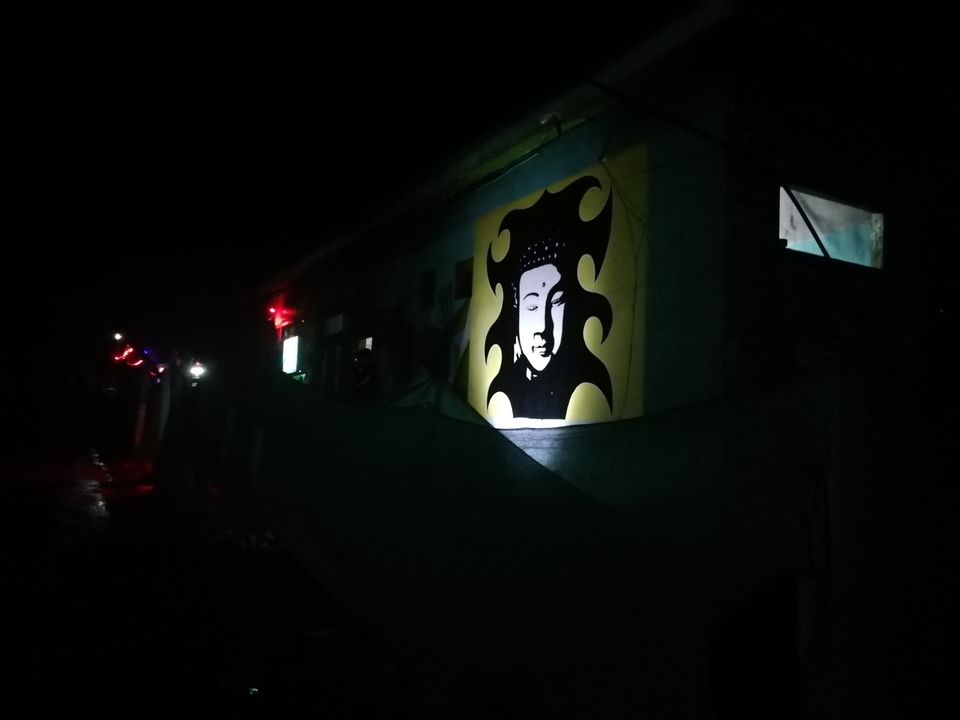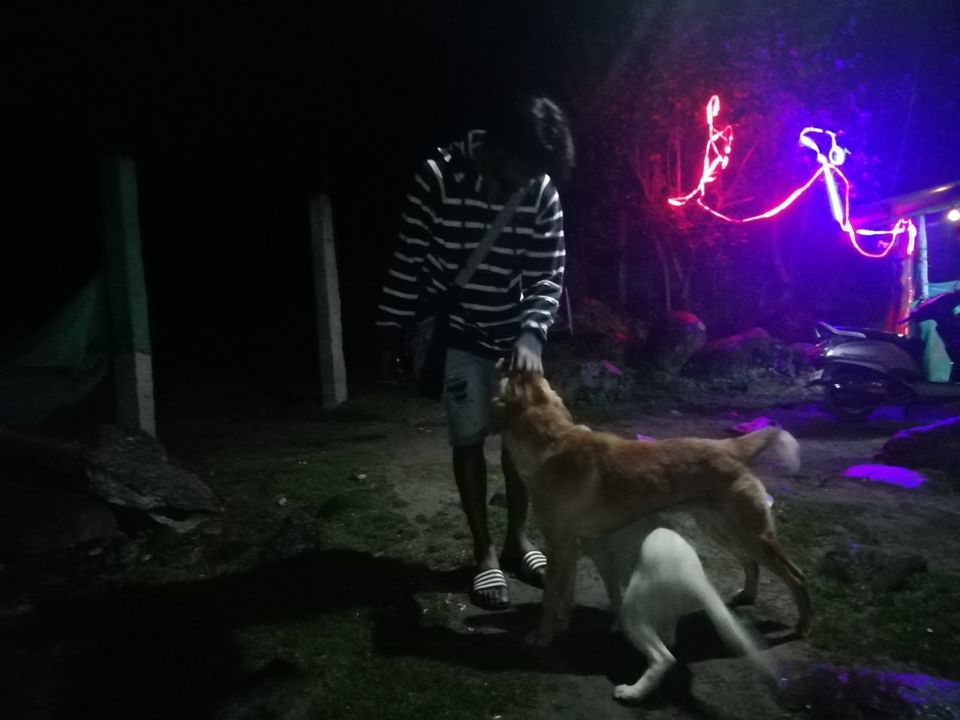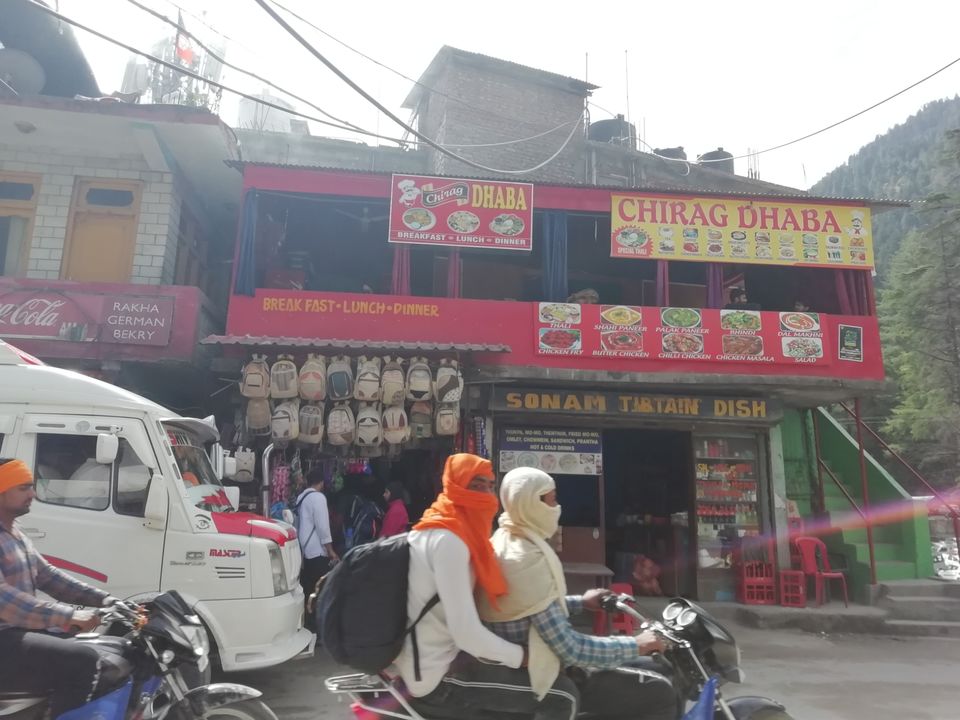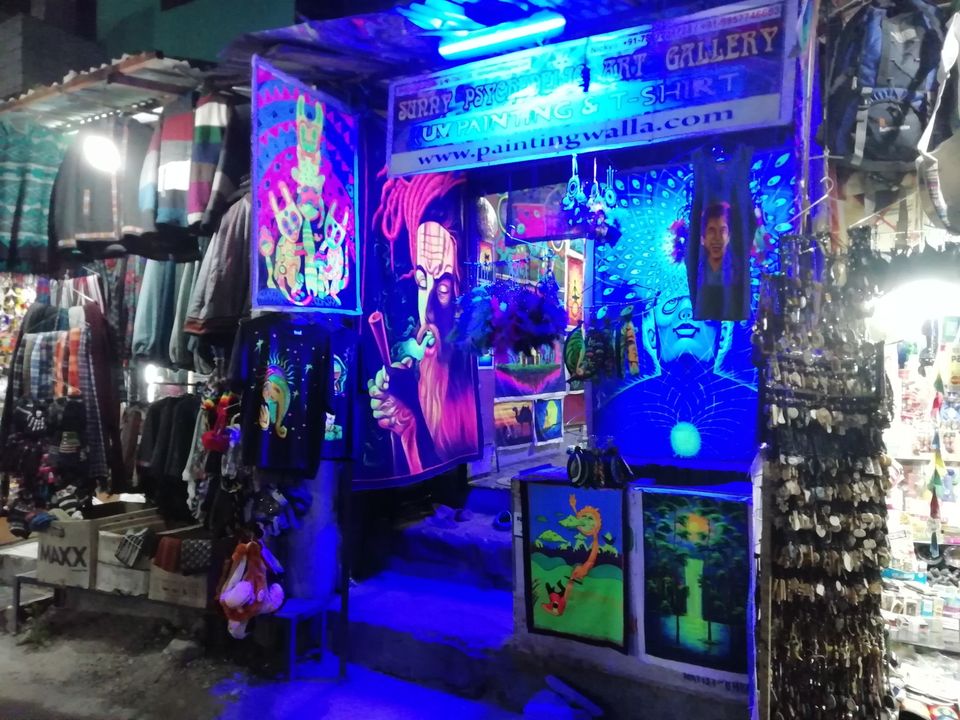 We woke up at 6am in the morning without the need of any alarm. Mountains are always calm, serene and peaceful. We got ready and decided to leave early cuz' we had a long day waiting for us. By 8am we left our stay, headed for the main market for breakfast. During breakfast only we interacted with some locals to get to know the way to reach Tosh. People told that we could either hire a taxi which would be faster and costlier and could drop us straight to Tosh. Then second option was to take a local bus till Barshaini, from there either a taxi till Tosh, else trek till Tosh. Both of us decided to go by the second option, so we waited for the bus.
At 10:30am was the bus which came till Barshaini, but as soon as some passengers deboarded the bus, more than triple people boarded back, and the bus got overly-crowded. We decided to leave this bus, and board the next one. At 11:30am the second bus came, both of us got seats it was going fine till now. After this happened something weird, there was a group of kids in the bus, one of them saw me and text-whispered it to all his friends that he follows me on some social networking site. I was able to hear things they were saying, the guy said he follows me and checks out on all my posts. Things started getting uncomfortably weird, but after a point of time, it really didn't mattered to me. Though the vibe around us at this moment was not too good, but both of us decided not to let that affect us, and we drew our attentions to the beauty of the place where we were.
By 1:30pm we landed at Barshaini, from the place where the bus dropped us, we could see 2 villages, Pulga & Tulga. From Barshaini, both of us decided to Trek till Tosh, it was approximately 1-1.5 hours walk. We had a cup of tea before starting our trek. By 2:45pm both of us were at Tosh, now hear again a weirdly mysterious thing happened. We could see different cafés and houses from a distance (exactly talking about the place where we have the paid parking spot), seeing one of a café my girl thought out to herself in her heart that she wishes to stay over there. Now she did not told me about this thing, neither was I aware of it in the slightest of chance.
We decided to head inside the village Tosh, crossing the bridge, and walking for about for 2-3 minutes we reached a local shop. I don't know how, I don't know why, a name came up in my mind, and without a second thought, I asked the shopkeeper for Boom Shiva Café. He guided the way, from that place a walk of just 5 minutes lead both of us, straight to the place which my girl wanted to go, it's name was Boom Shiva Café. Reaching there was just blissful, view were amazing, we were completely tired, but more than that both of us were contently happy of reaching that place.
After relaxing outside for a few while, we went inside the café. As soon as I opened the door, I saw a hippie guy with white dreads, he looked at me with a stoned smile and said, "Hello" (just the way Sadhguru says). I greeted him back and he welcomed us inside. Both of us thought of chilling outside as the café was crowded at this time. Shortly the people left, and that hippie guy came to us and had some words. I asked him his name, to which he replied, "My name is Mambo Uncle." Shortly Mambo Uncle and both of us were having chats and sharing laughs. We went inside, smoked countless jay's, played cards, and laughed loud without boundaries.
By this time both of us had made our minds to stay the night at Tosh. Brother Bragga (another caretaker at Boom Shiva) offered us a room for Rs. 500/- and a tent for Rs. 300/-. Both us decided to go with the tent and experience a different kindda stay at mountains.
Sleeping in a tent, amongst the nature, beneath a starry sky is one of its kind of experience and everyone should experience it every now and then. The snow-covered peaks radiantly sparkled and glowed excellent silvery white.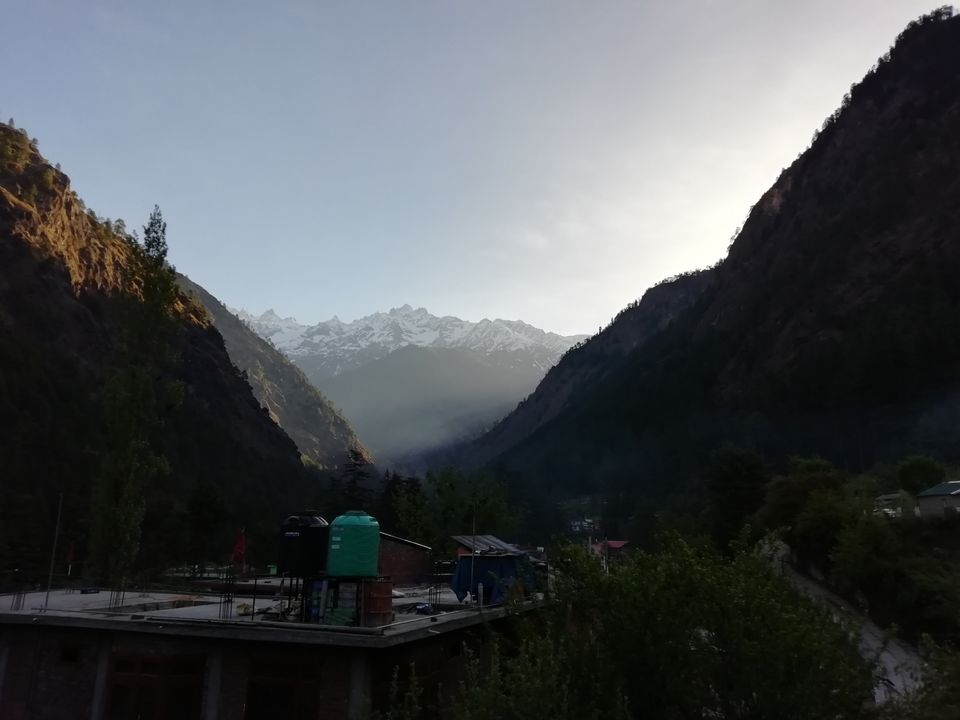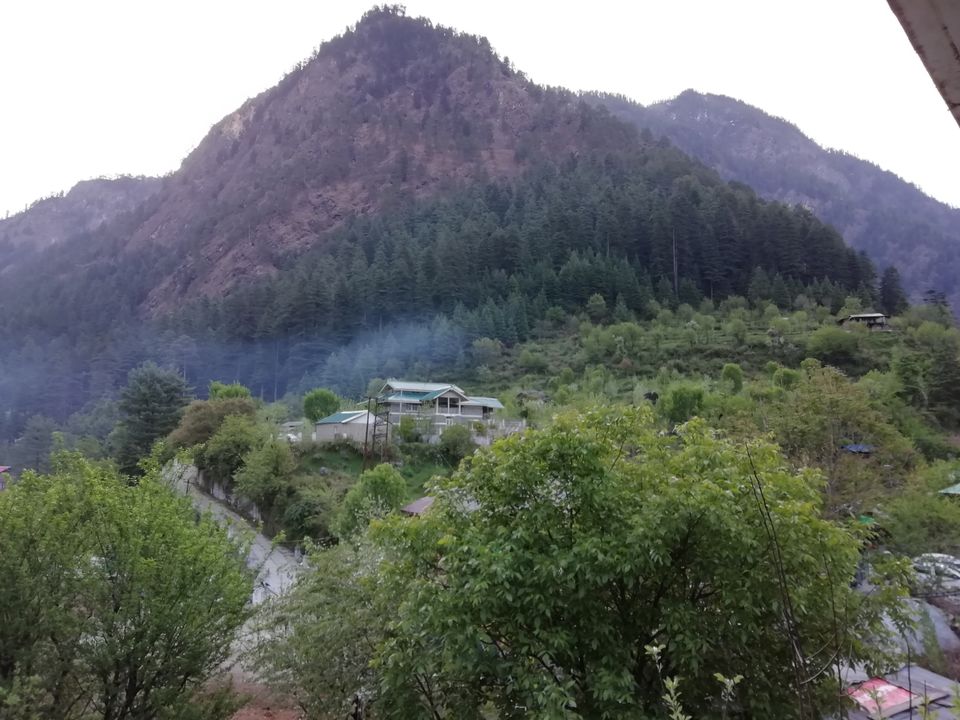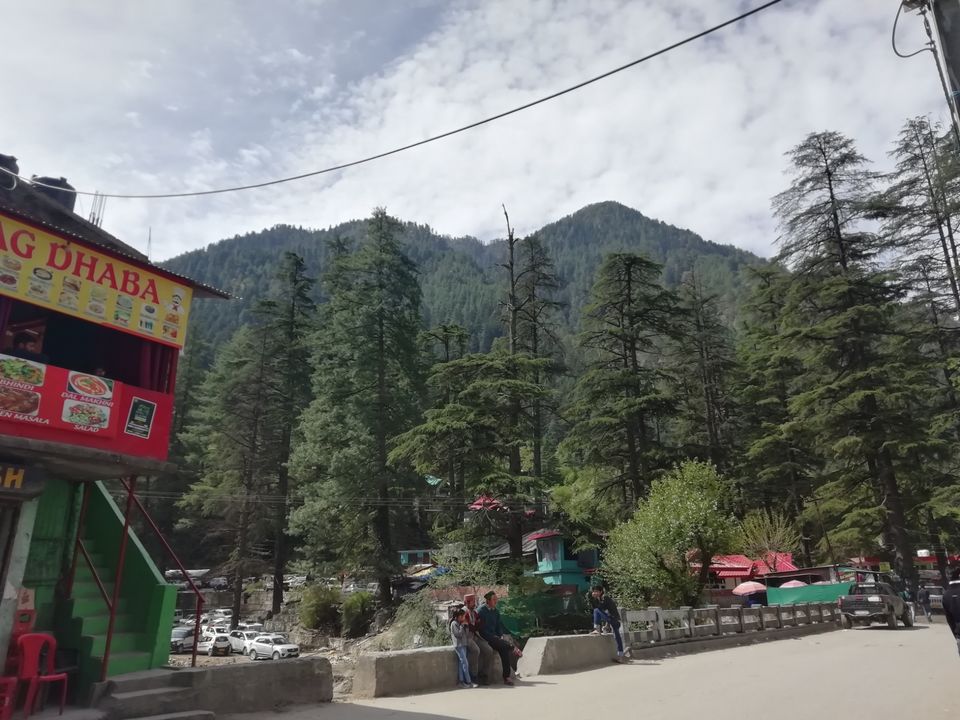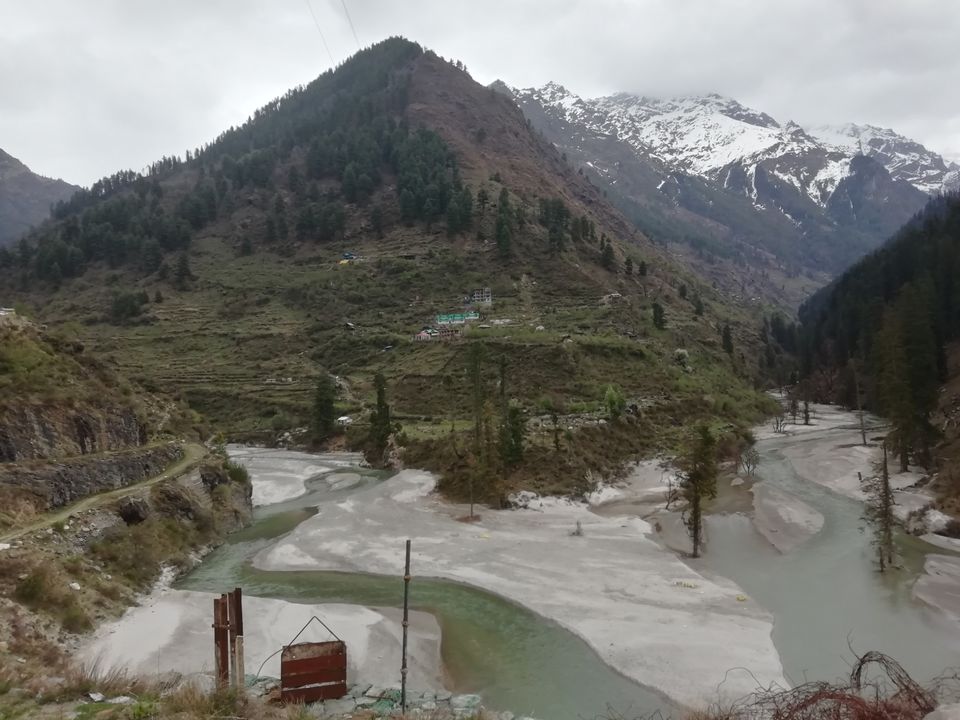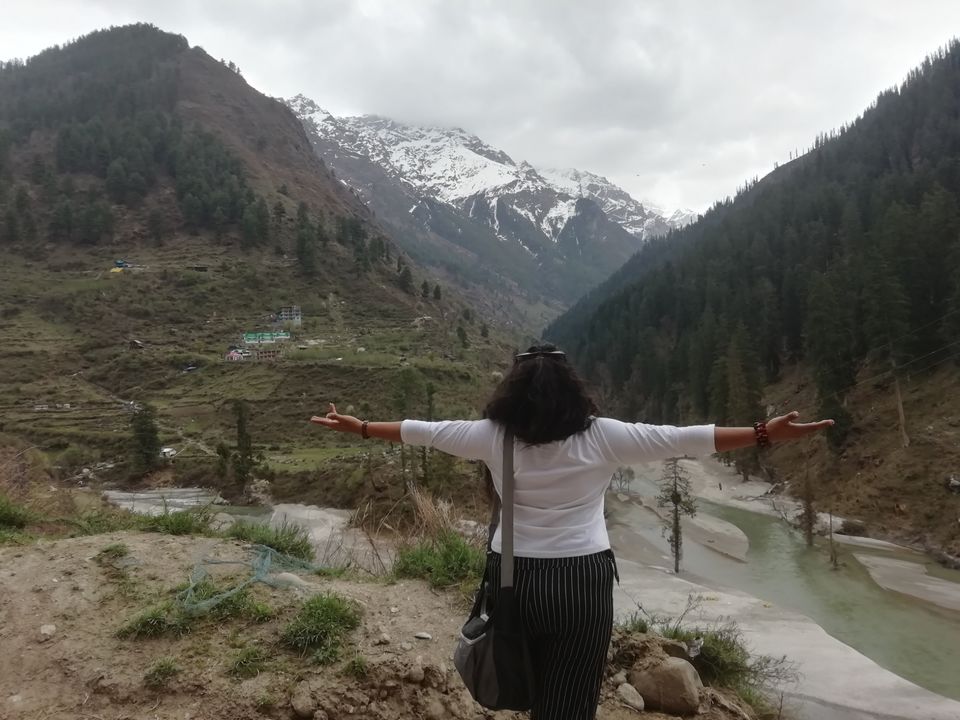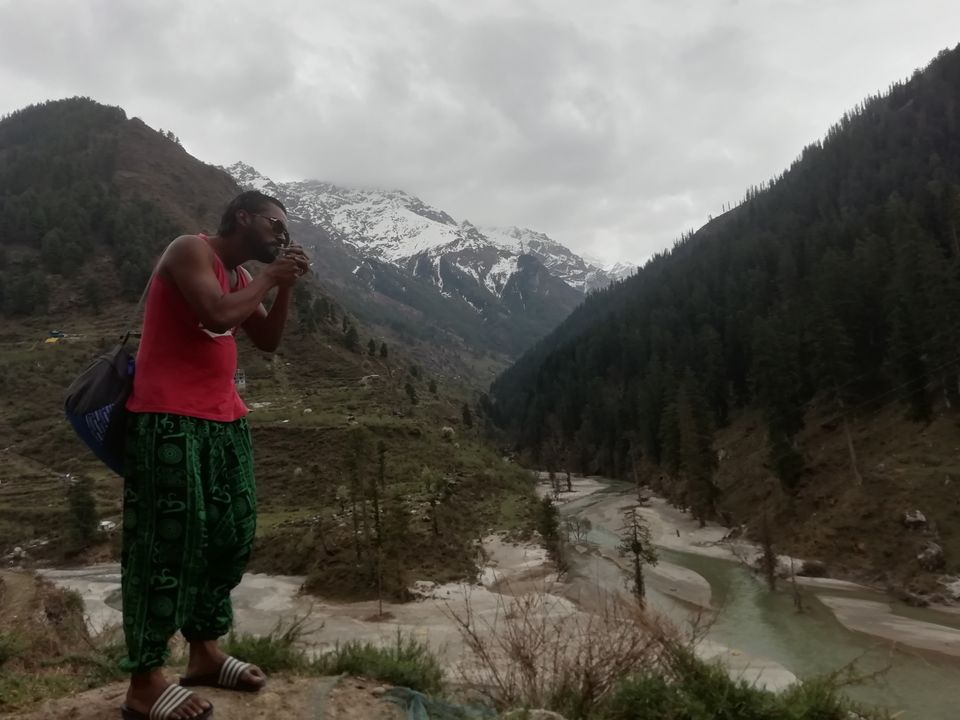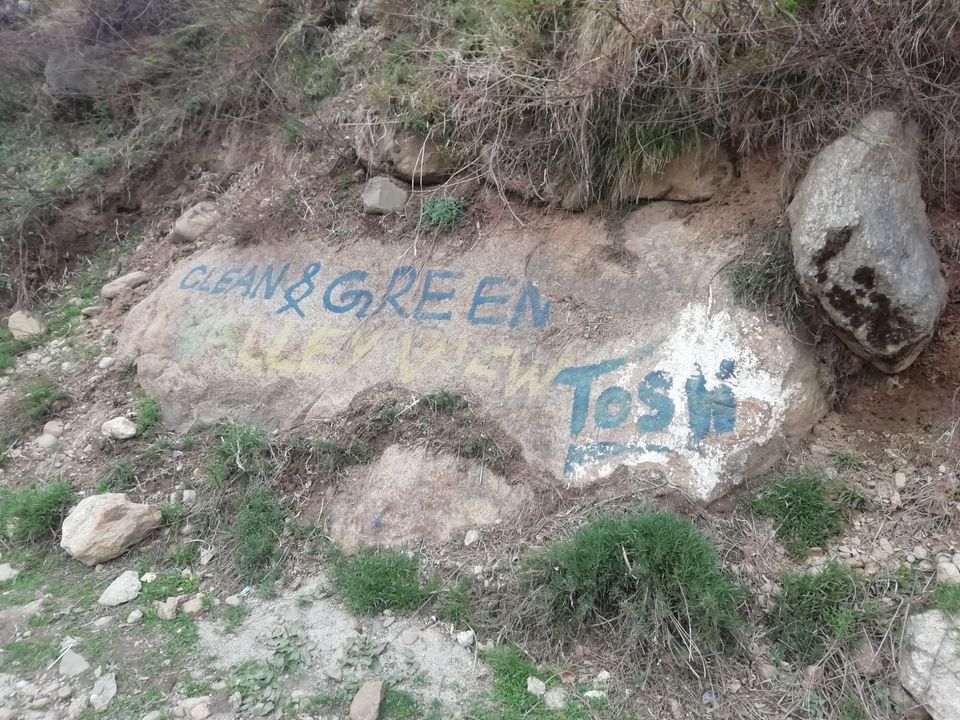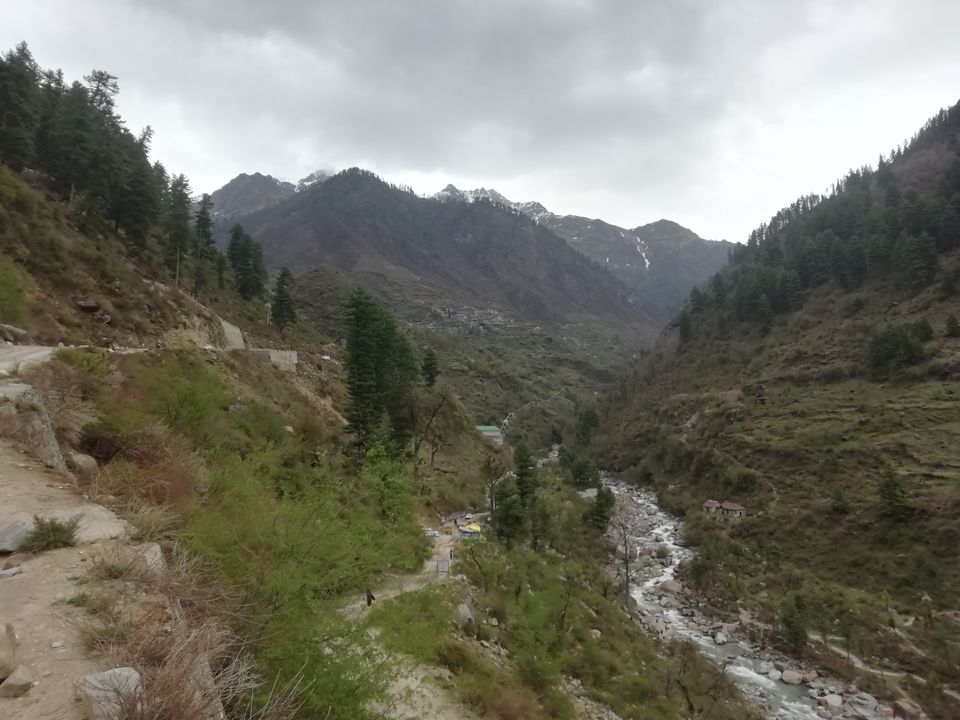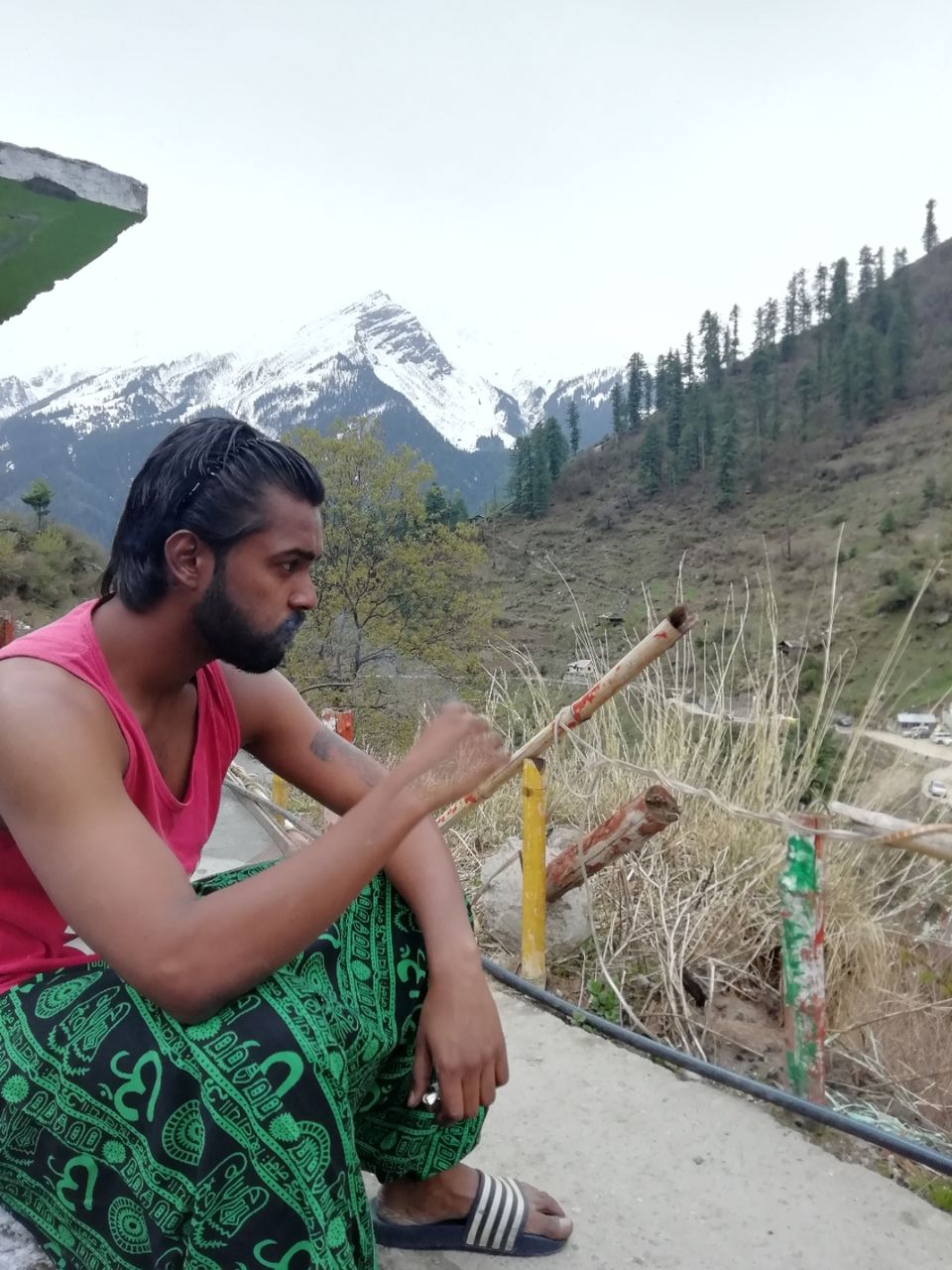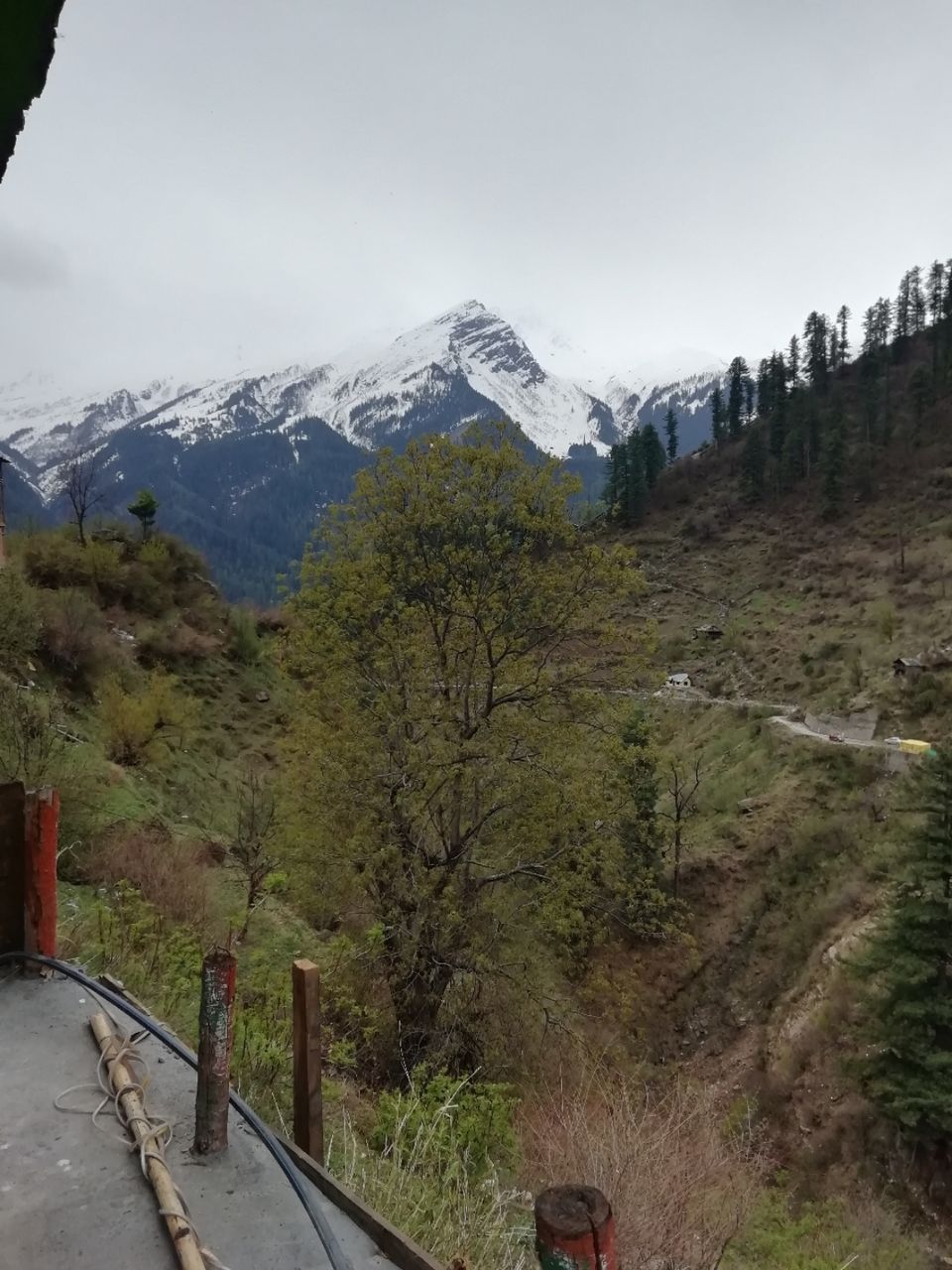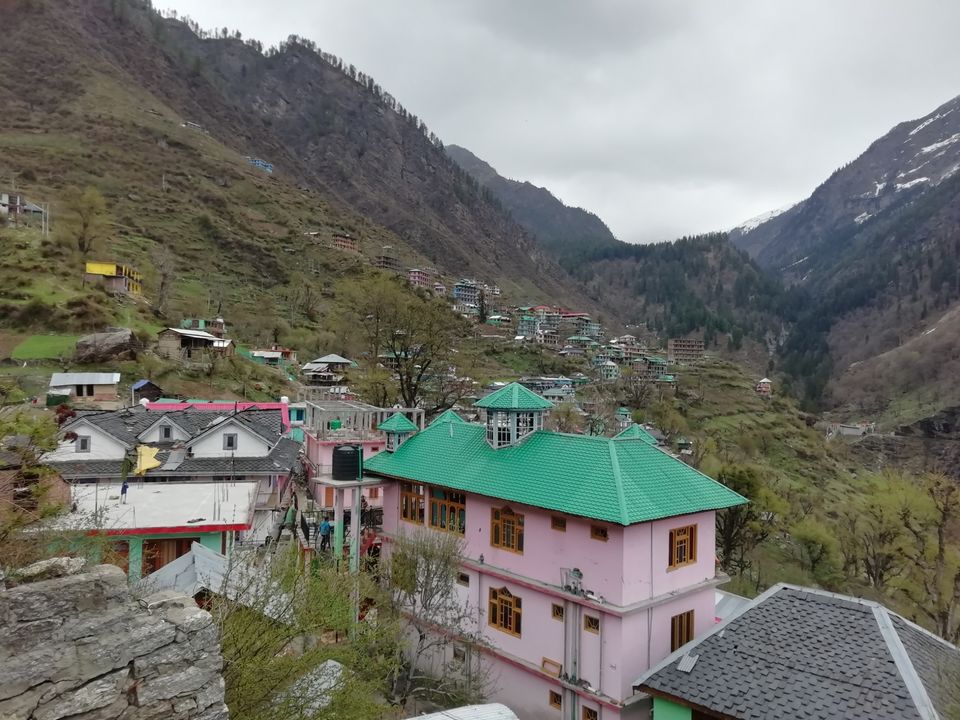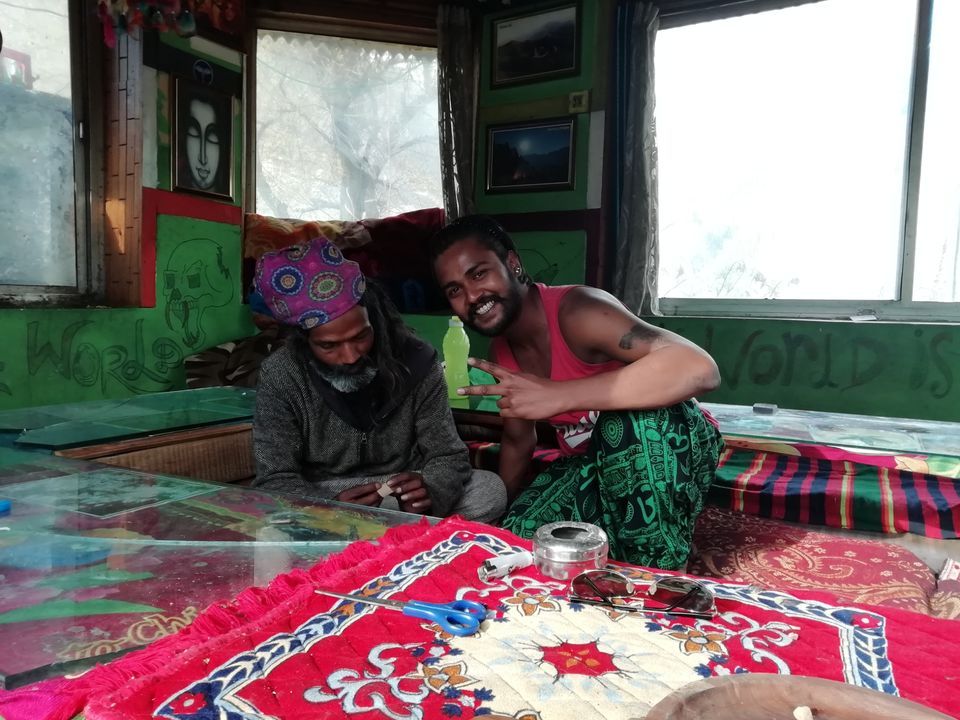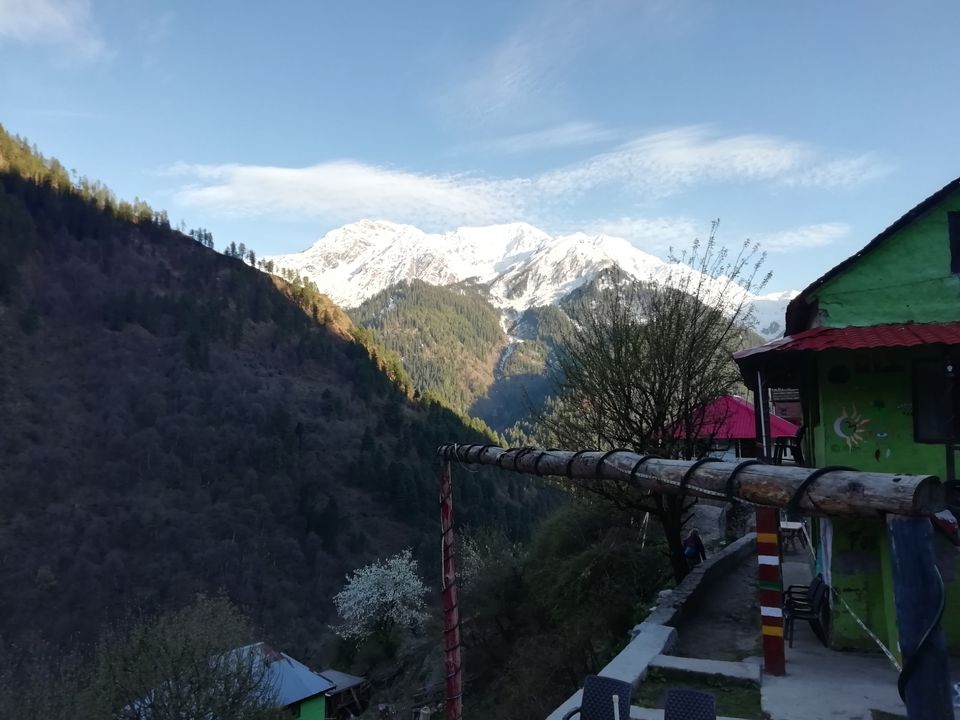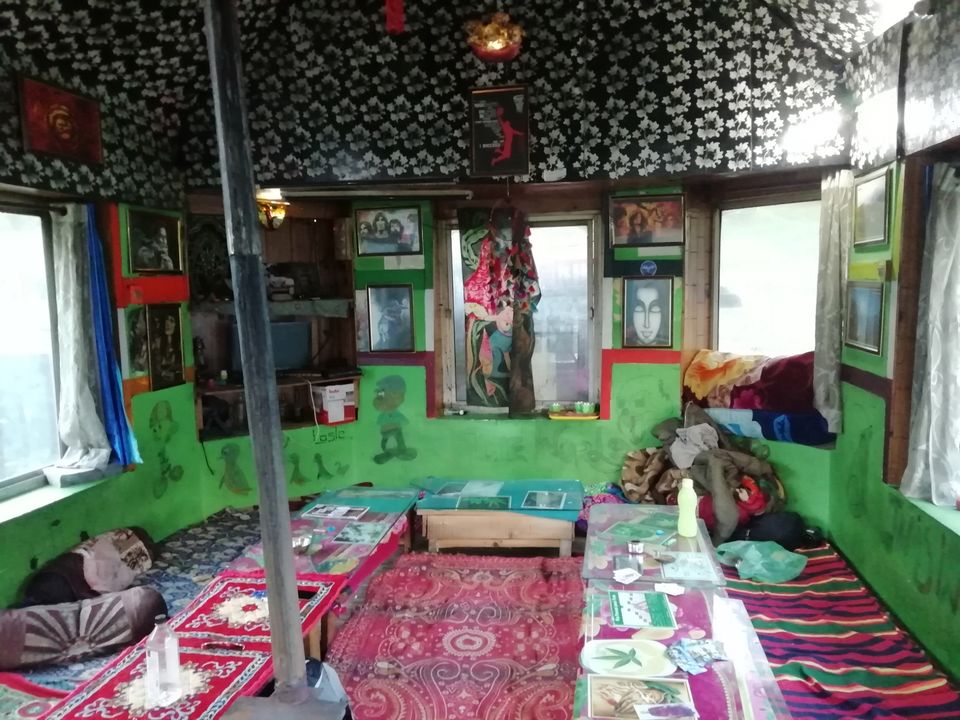 The beats of 'Technical Hitch - Mama India (Shantrip)' awakened me up. It was Mambo Uncle, smoking a Jay, and listening to that song on his Bluetooth portable speaker. I got out of the tent, saw a brilliantly glowing mountain peak in front of me. It was a great morning, I couldn't thank ALMIGHTY enough for everything. From morning itself, Mambo Uncle started up with Jay and chillum session. Shortly, my girl too woke up, she came near to me and softly whispered in my ears, "we need to leave today, right now, ASAP." (as we had already extended our trip by a day, since the original plan was only to visit Tosh and head back to Kasol by evening)
We started getting ready and fresh, I paid all the expenses to Bragga, total expenditure was Rs. 2800/- which included food, stay in tent, and miscellaneous. By 8:30am we left Boom Shiva and trekked all the way back till Barshaini. In less than an hour, approximately by 9:20am we were at Barshaini. Though we had walked all this way, but something remained. There were many things left unspoken, and many things were screaming loudly to be heard. Travel seriously changes you, but that happens when you let the experience of travelling explore yourself from within, and get to know what your true self is.
By 11am both of us were back to Kasol, now our very first task was to get bus tickets for today itself. From Rana Travels we got our tickets for Monday itself i.e. 22nd April'19 at 6:00pm from direct Kasol to Delhi.
After all this running and rushing, we got hungry, and headed straight for Sonam Tibetan Dish at Kasol Main Market. It was 12pm by now, and we had to spend another 6 hours before our bus starts. So we decided to head for Chalal and explore it a bit.
We spent some time nearby the riverside of The Parvati River. It was so peaceful and silent there. The silence of the nature, the chirping of the birds, the sound of the wind, everything seemed so united with each other, and I too felt being an integral part of it. Didn't wanted to come back, didn't wanted to leave that place, but that's how Life goes on. You need to leave something, to achieve something, and you cannot discover new oceans unless you have the courage to leave the sight of the shore.
Spending almost good 4-5hours over there, it was our time to leave, as the guy at Rana Travels asked us to reach office by 5:30pm. We reached there on time, after reaching we got to know that the bus is delayed by half an hour and now will start journey at 6:30am. We had another 1hr with us so decided to chill in a nearby café. We returned back to bus on time, but now again there was a delay as it was waiting for the remaining passengers. After waiting for almost half an hour more, we started our journey at 7pm.
Kasol had been a crazy experience. It showed me that sometimes Life can go from zero to hundred within a flip. All we need to be is faithful to ALMIGHTY and truthful to our own self. Every once in a while we should go to mountains, try live there like the locals, dwell amongst nature. Sometimes, it is necessary to get disconnected to find a connection.