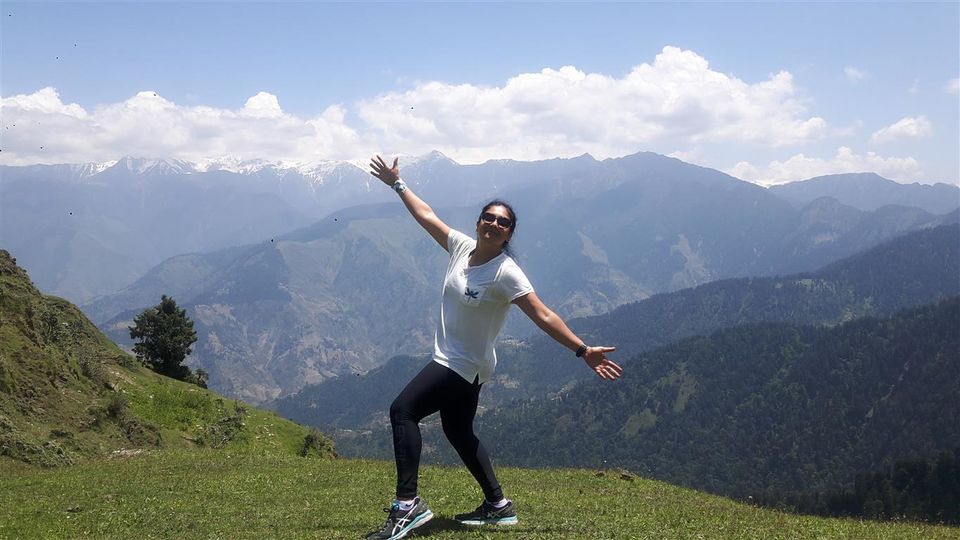 Story of my solo trek to the only cottage on a mountain village!
Finding a place which is less traveled by is a solace.
After canceling my Srinagar tickets due to the ongoing unrest in the Valley (I had plans to explore the scenic Gurez Valley), I was looking for a replacement in vicinity of Jammu, since I had up-down air tickets from here to my home in Pune. I was reluctant to do the Dalhousie-Kalatop-Khajjiar circuit, which is overcrowded during summers. So I made up my mind to explore the small villages of historically rich and culturally enchanting town of Chamba, Himachal Pradesh.
Fortunately, I found one of the best homestays I had ever been to – the Himalayan Orchard Hut of Shri. Prakash Dhami and family. The bungalow, perched atop a hill some 15 km away from Chamba town, is a traveler's delight. I have written separately about it here.
After a lip-smacking dinner and a refreshing sleep at HOH (a much-needed one especially after an overnight trek to Mata Vaishnav Devi Mandir in Katra), the next morning I started for my trek to Rulpuli.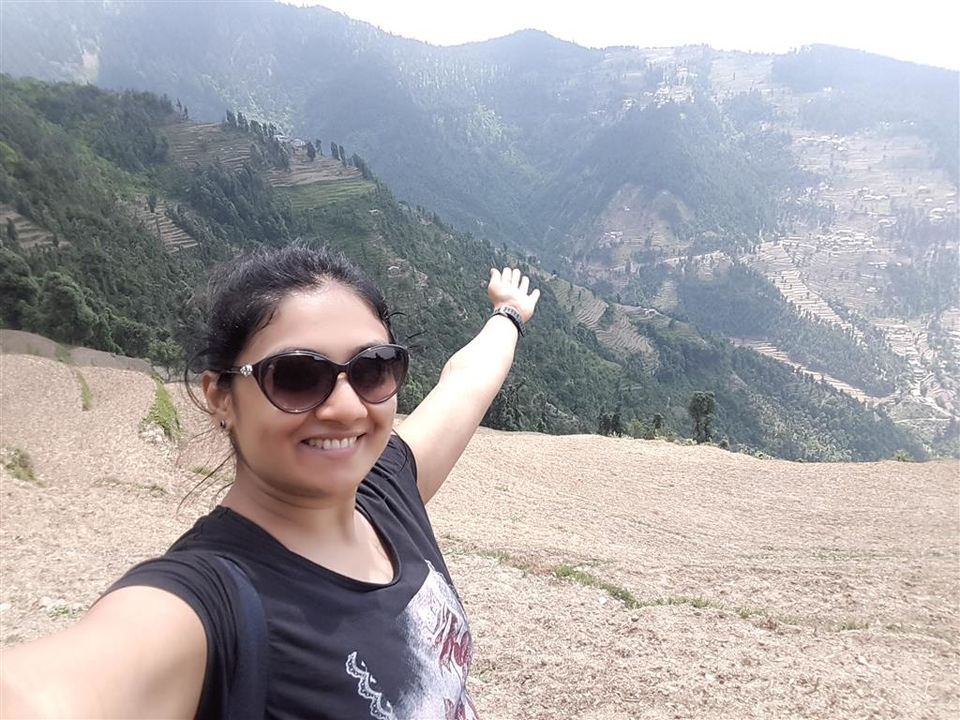 Rulpuli is a tiny hill village that houses only one cottage named "The Ridgemoore Cottage" and it takes some five hours to reach the destination from HOH. The total headcount of this village is zero, i.e. only the guide cum cook cum caretaker treks with you to this place, otherwise it is uninhabited! The ascent is of moderate level and the trek is aesthetically beautiful.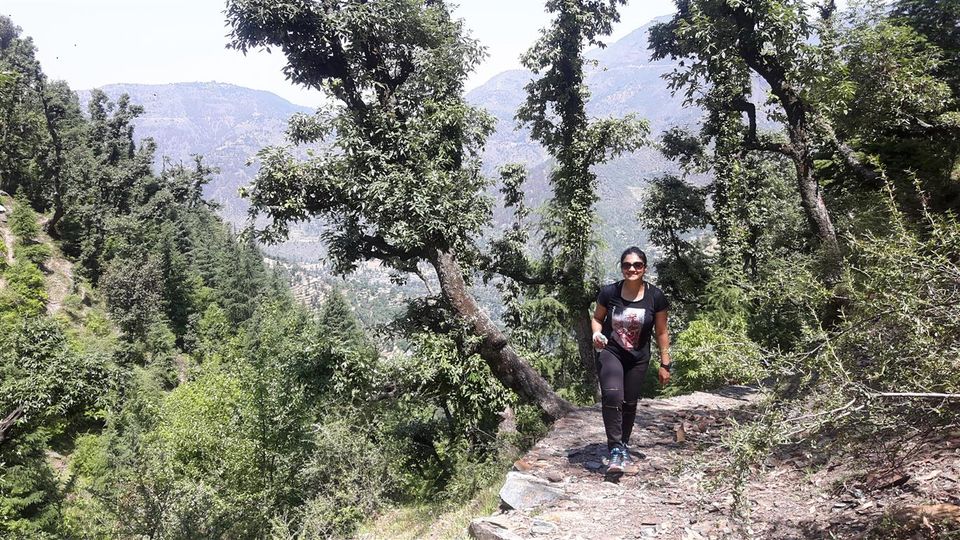 Walking up the trail, you see craggy mountains covered with majestic deodar trees. The valleys offer breath-taking views of terrace farms, sparsely populated scattered settlements, unending serpentine roads, fast-flying clouds, paradise birds gliding from tree to tree, the pure mountain breeze blowing from all possible directions and absolute silence barring the occasional chirping of birds or humming of honeybees - you get completely enamored by the beauty of nature.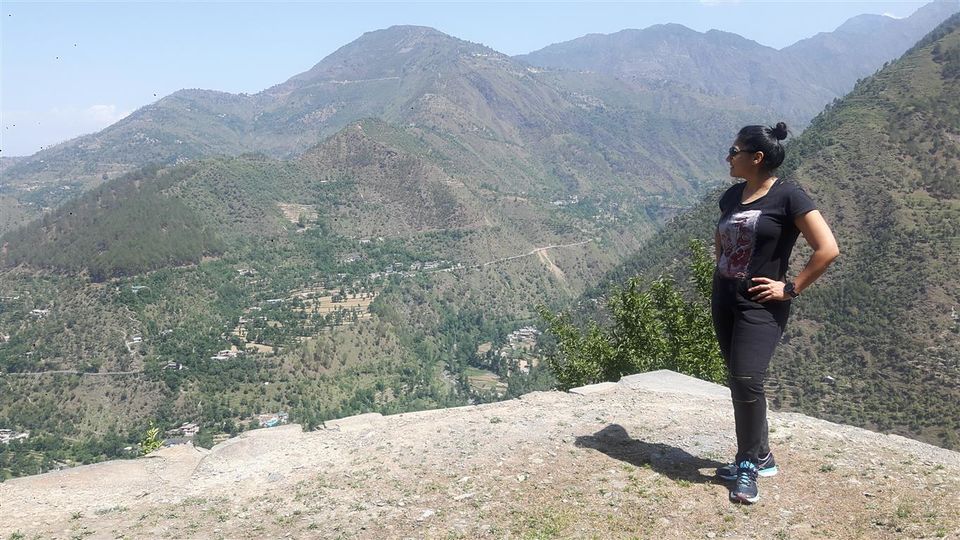 On trek you come across small villages. The houses in villages are supported by columns of asymmetrically-arranged stones, mud walls, wooden beams, and slanting slaty roofs, a typical Himachali or 'Pahadi' architecture. These houses not only sustain the heavy snowfall during the months of December-January but also protect people from natural hazards like hailstorms.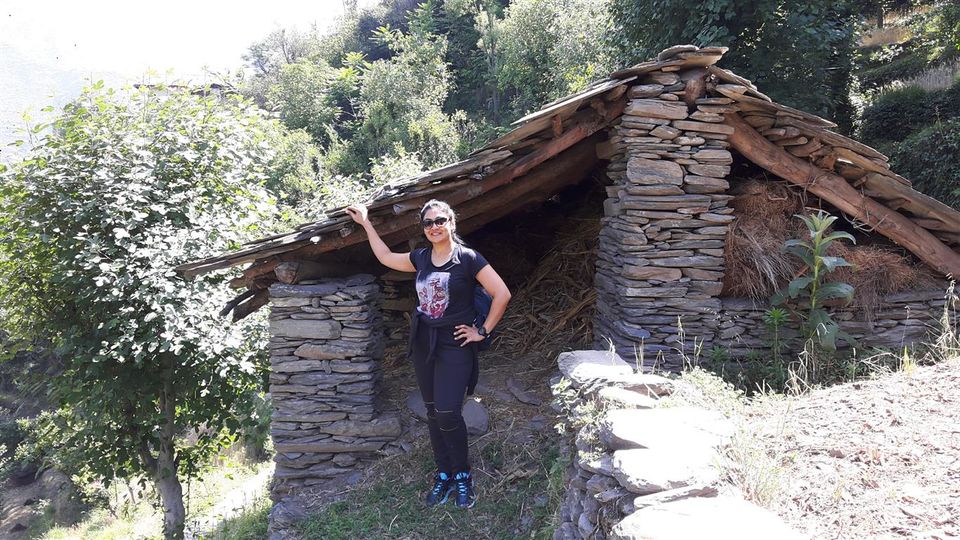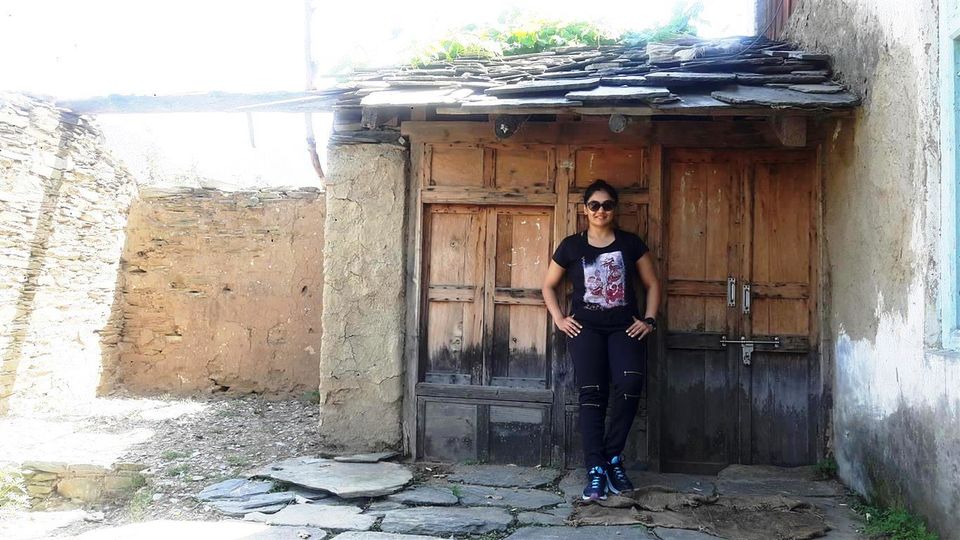 A common sight is of women working in the hills. The delicate-looking Himachali women are as strong and sturdy as the mountains they live upon. Their activities include taking care of family, working in the farms, grazing the cattle, and carrying firewood on their shoulders. Men find employment in the town.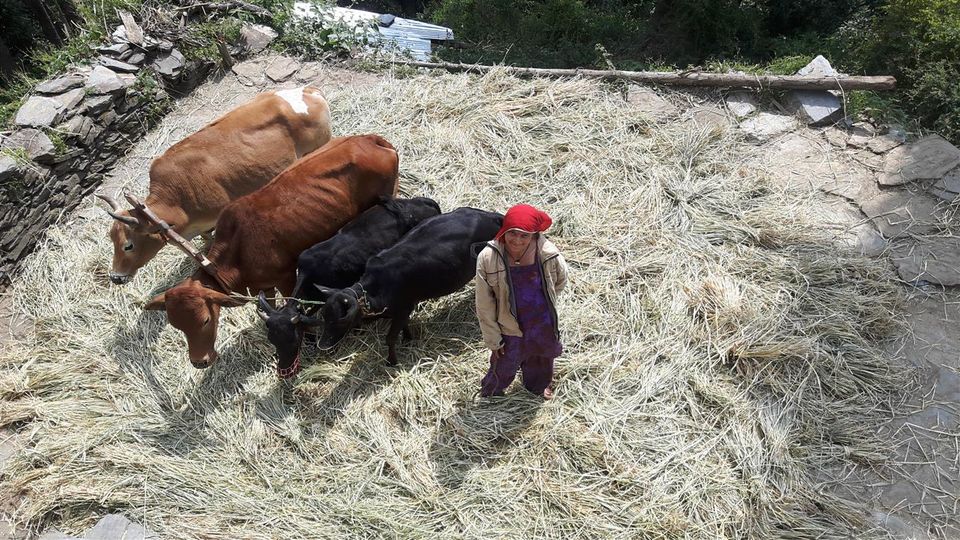 Village schools are fun. The apple-cheeked Himachali kids are quite curious to meet trekkers visiting their schools. A note here: Do not offer money to children, it may turn into a bad habit. Instead, you can always carry chocolates for them.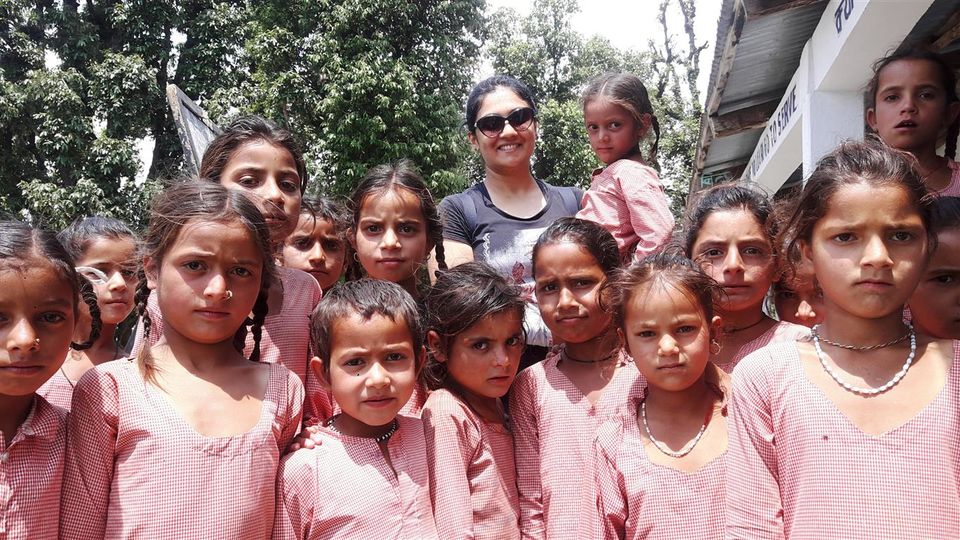 The trek is refreshing, not tiring. There are natural springs to quench your thirst. Sights of apple orchards are common, but they were lemon-sized as it was summer. They will ripe by winter to be sold in the markets as the famous Himachali apples! Another common sight during the trek is that of the temples; the presiding deity being the "Nag devta" (the snake God), which is revered highly by the locals. The associated folklores are interesting to hear.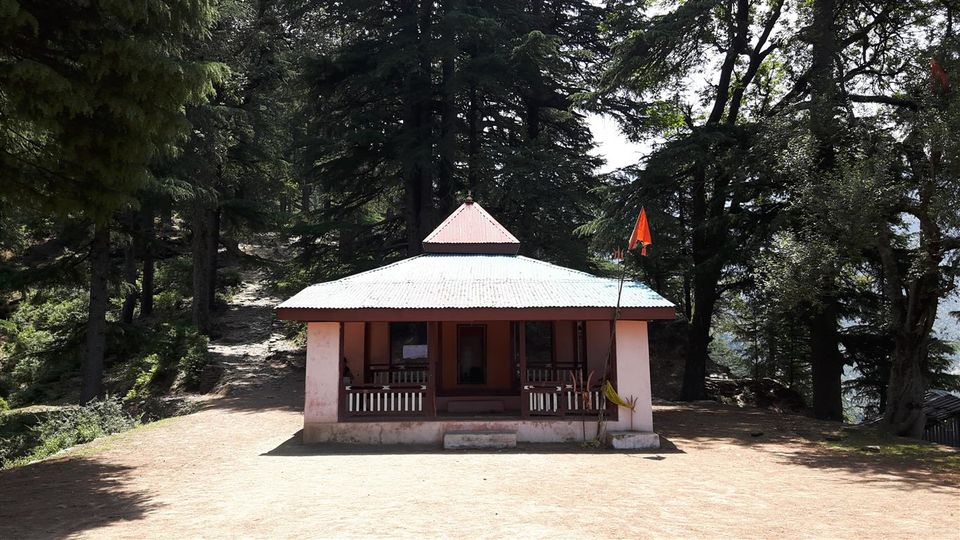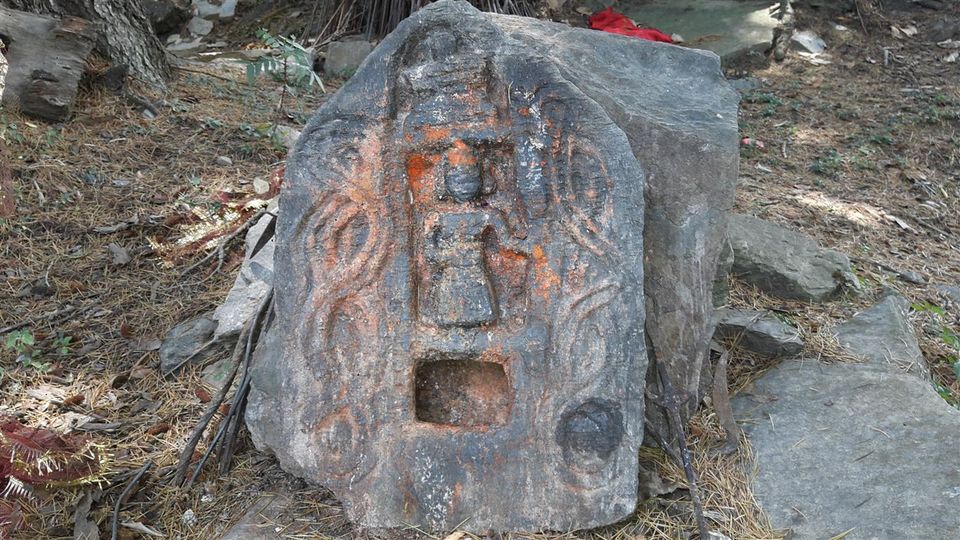 I had a packed lunch with me, which I was supposed to eat under the shade of this temple, but my guide asked me if I would love to try "Dham". This was something new to me. "Dham" is akin to "langar" a community feast to celebrate birthdays or marriages or inauguration of home. The family that hosts "dham" invites their relatives and the entire village since all the villagers are friends! Men are dressed in traditional kurta-pyajama and Himachali topi while women are seen in colorful salwar-suit.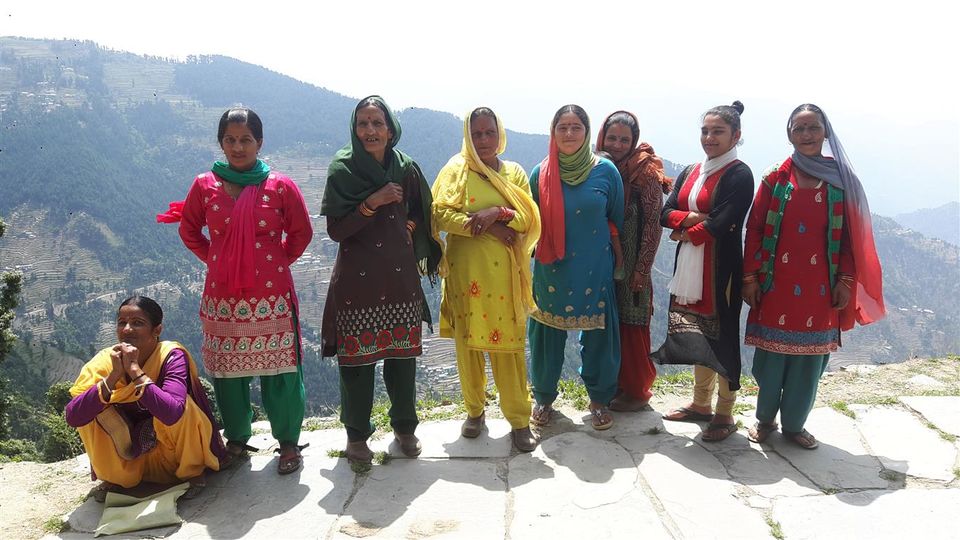 My guide's friend hosted "Dham" for his son's first birthday. The most important dish of "Dham" is the "Madhra", a rajmah (kidney bean) sabji prepared in Chamba style mixing ghee and curd. So madhra, boiled rice, and variety of dals make a delectable dish and eating it in company of villagers seated in the verandah overlooking the mountains is quite an experience!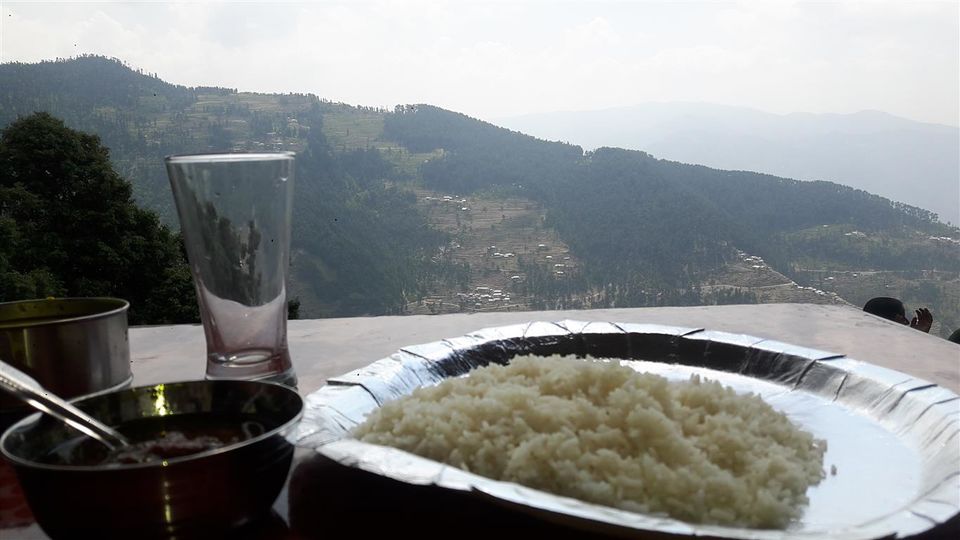 I was half-way from my destination – The Ridgemoore Cottage. The trek from here was steeper and the forest was denser. The stomach-full "Dham" slowed my speed! However, I paced up to reach Rulpuli before sunset. I completed the final lap and it was sheer pleasure to see the lonely Ridgemoore Cottage as if it was waiting for me!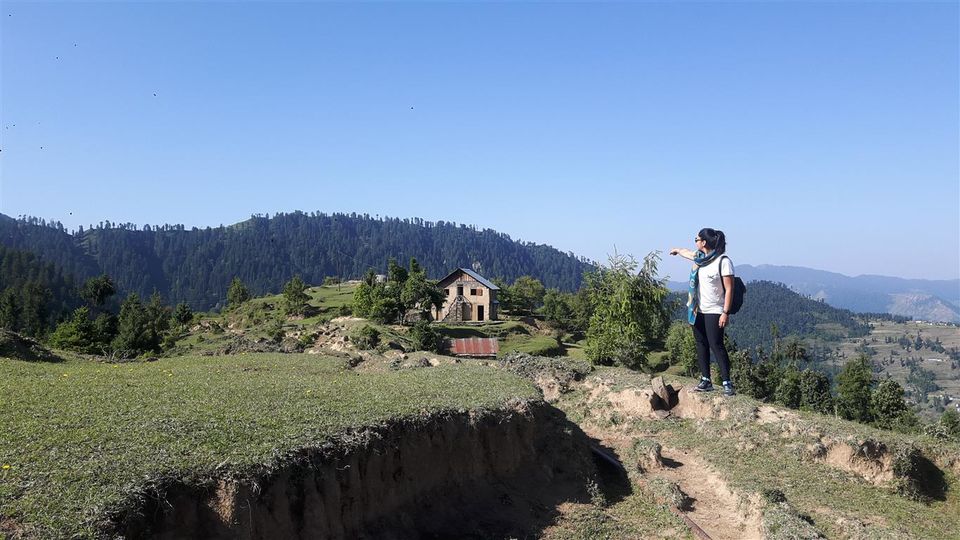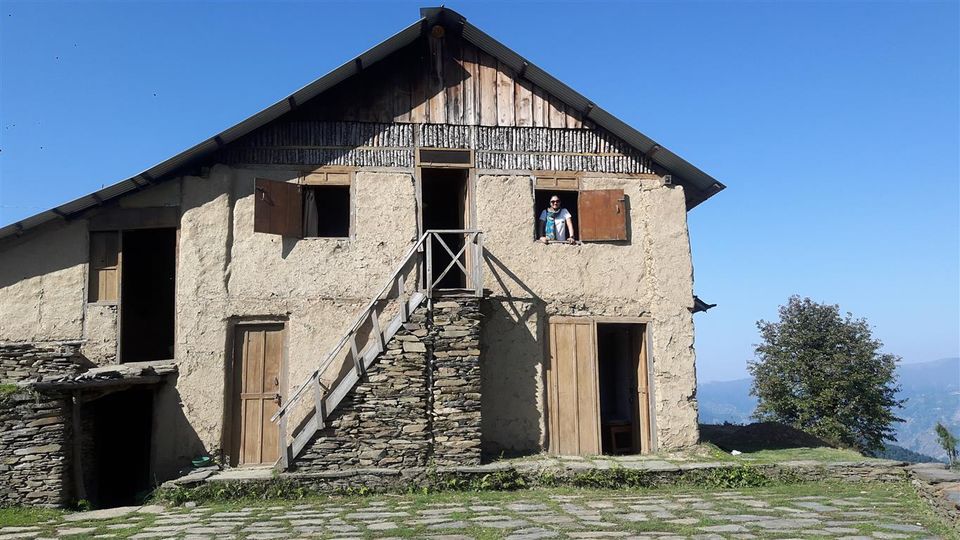 Voila, here it is! Am I the only person on this mountain? The view - in the east, the Pir Panjal ranges with snow-capped peaks; the west had the rugged Dhauladhar range; in the north a forest of deodars and rhododendron; and south had a meadow on this table top mountain. It was a sight to behold! A few herders belonging to Gaddi tribe were seen grazing their sheep in the meadows.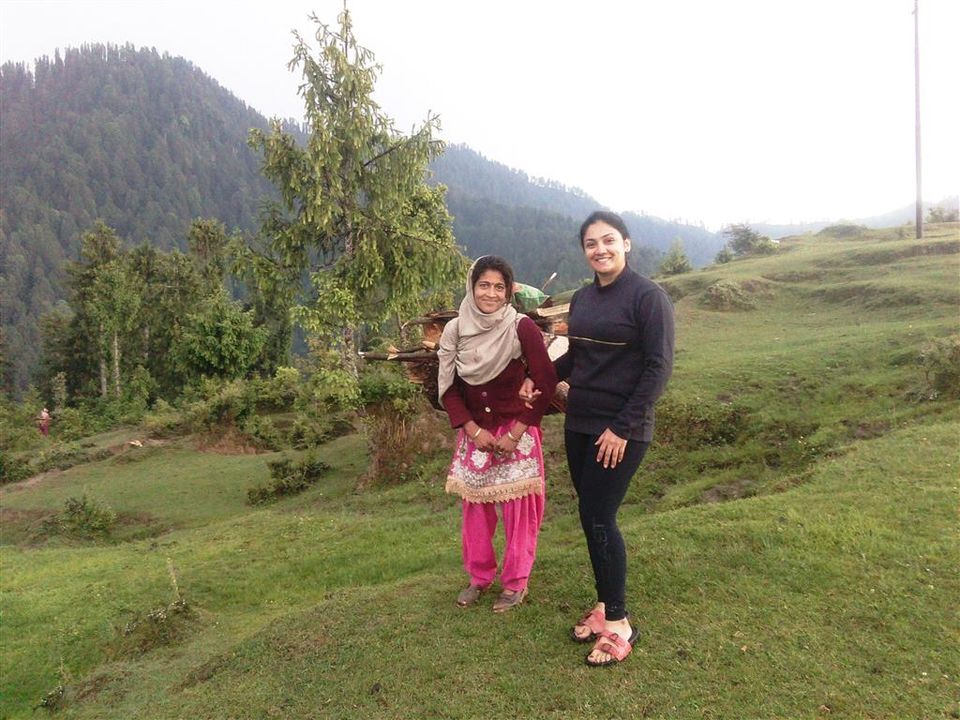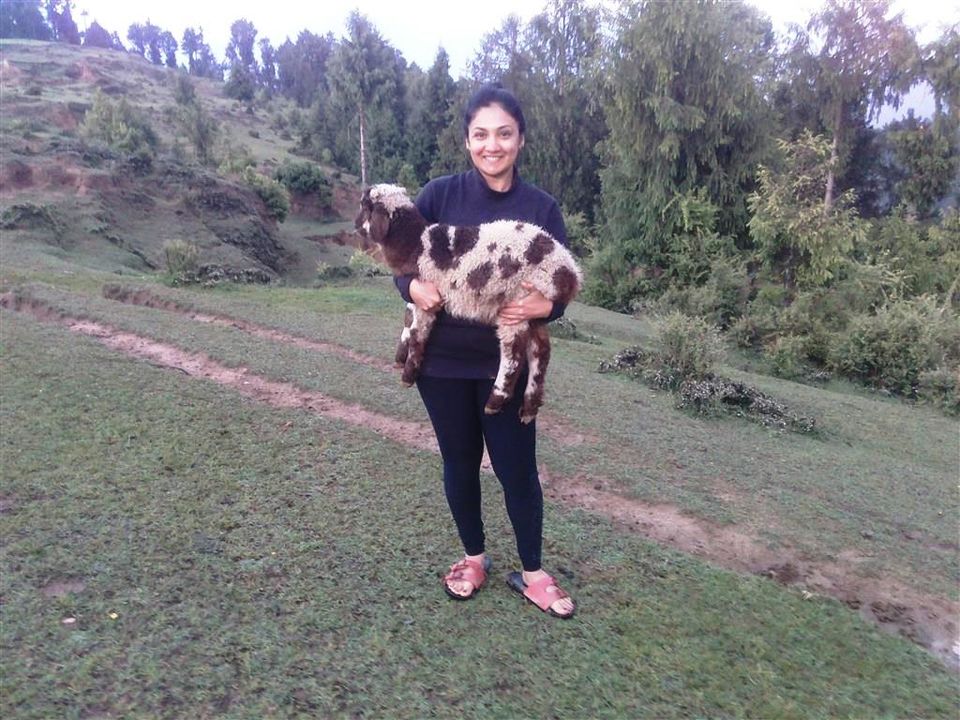 As a responsible traveler, I make sure that I plant a sapling wherever I go and I encourage others to do the same. Here I planted a rhododendron. It is a flowering plant that grows up to 25 ft and used as herb in pain medicines.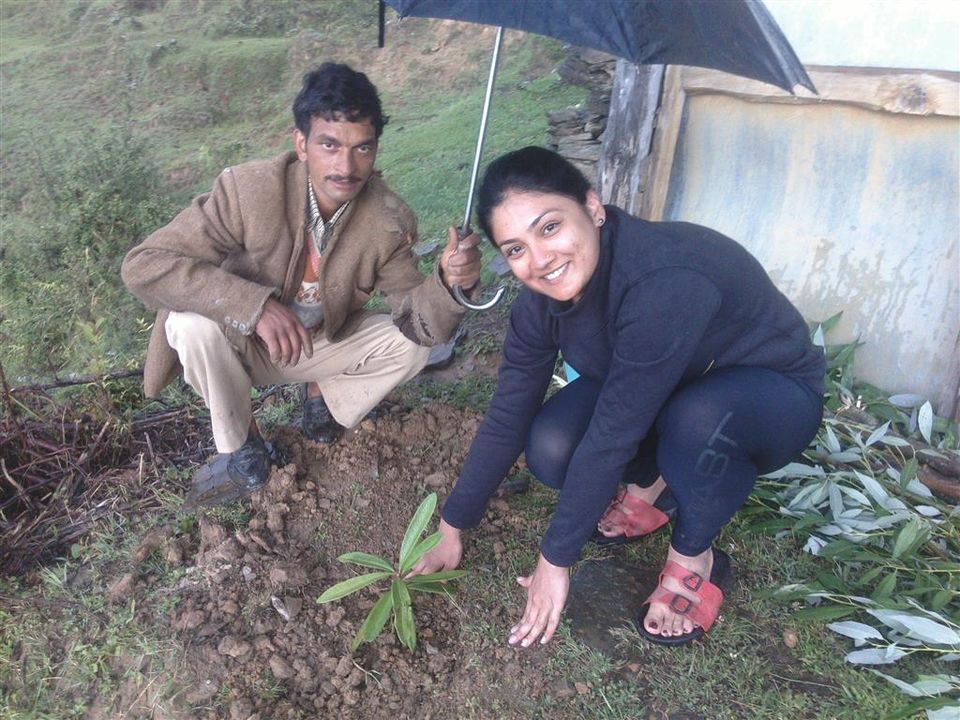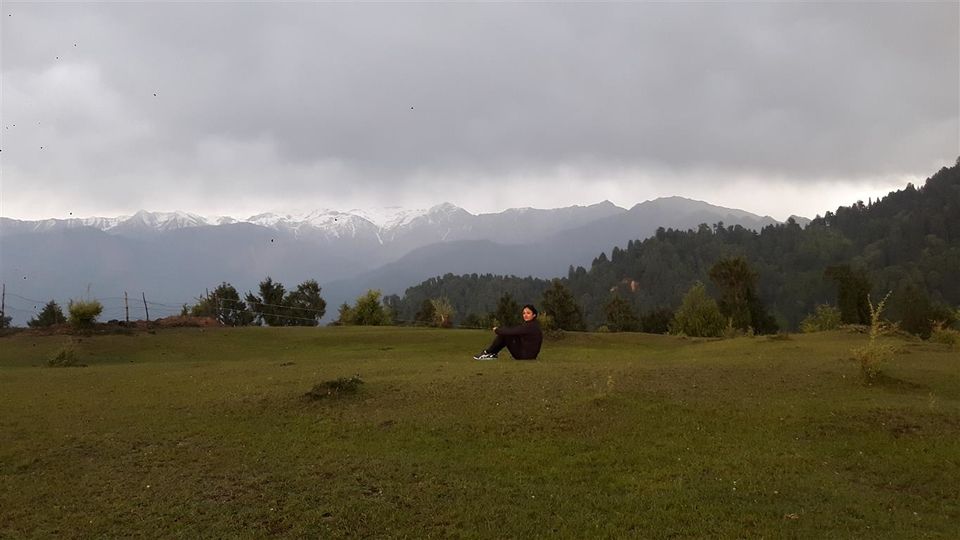 A sudden and quick hailstorm greeted me. The fresh snowfall draped the Pir Panjal ranges in white layer, true to its name – Himachal.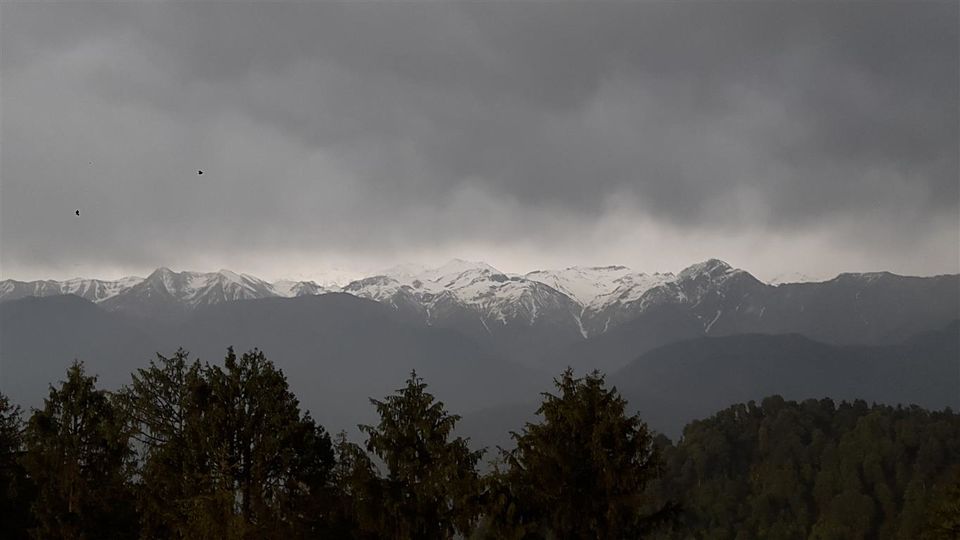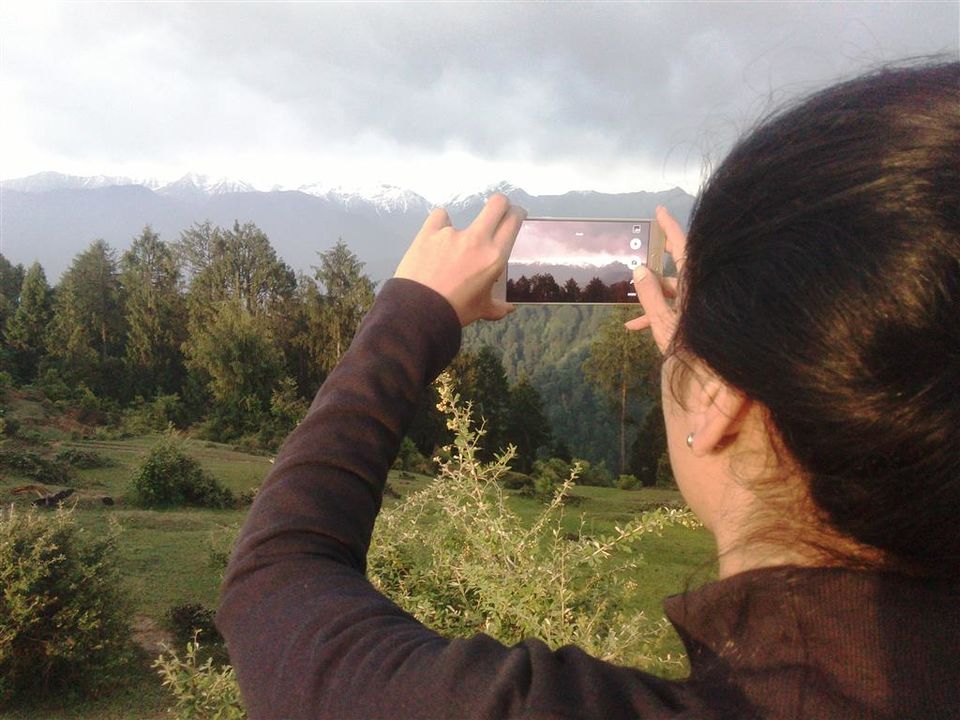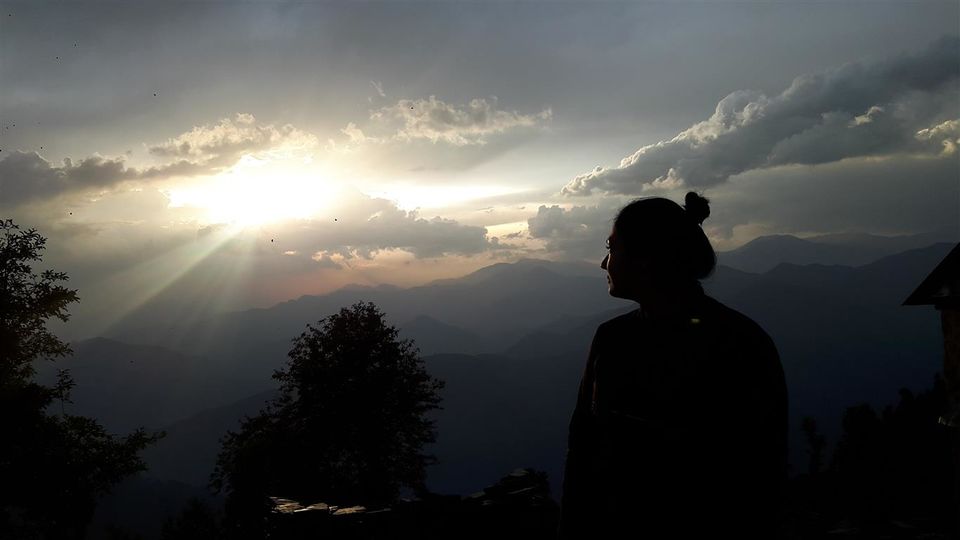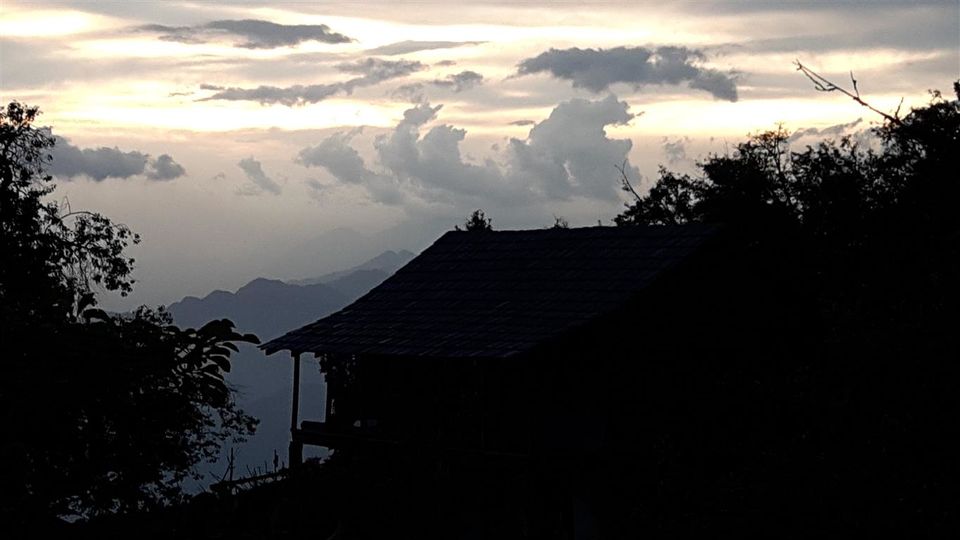 The weather became colder and what could be more satisfying than sipping a cup of hot tea in such an extraordinary setting watching the magnificent sunset. The beauty of sunset was beyond description!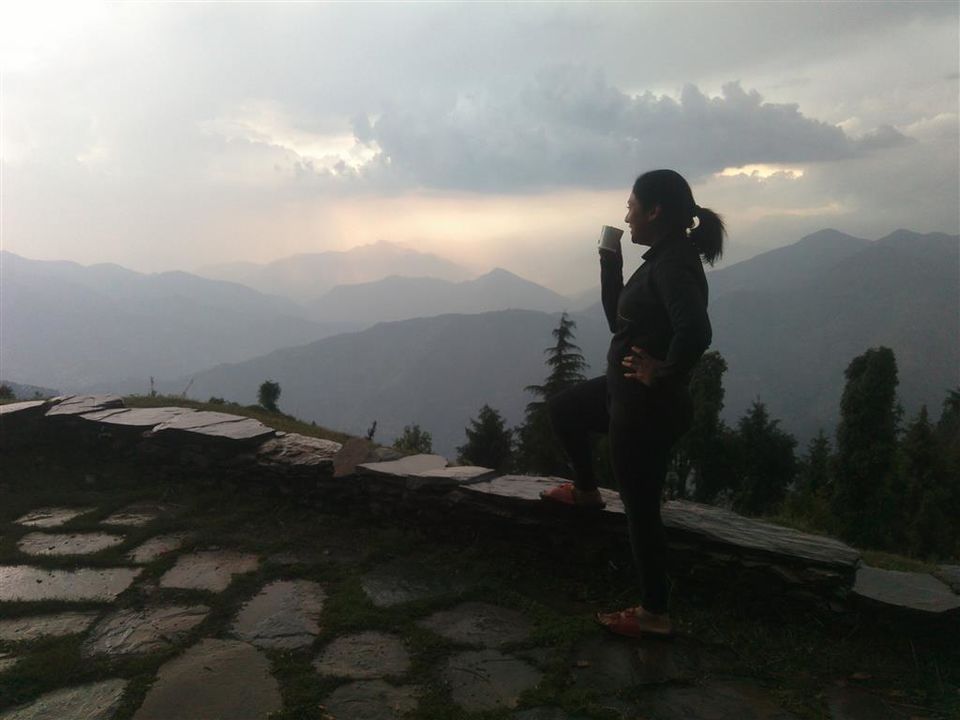 I took a stroll around the cottage towards the meadows in the peaceful ambience to feel the absolute tranquility, gaze at the panoramic vistas, and watch the game of colours the sky was playing - the sheer beauty of mother earth!
As the sun dipped down from the horizon, the villagers turned on the lights of their homes and it looked as if a constellation of stars had descended down in the valley.
A campfire is obvious – but this time it was more to protect myself from the cold than a customary camping activity. I had dinner sitting before the campfire. The joy of solo travel is that you find connection with yourself!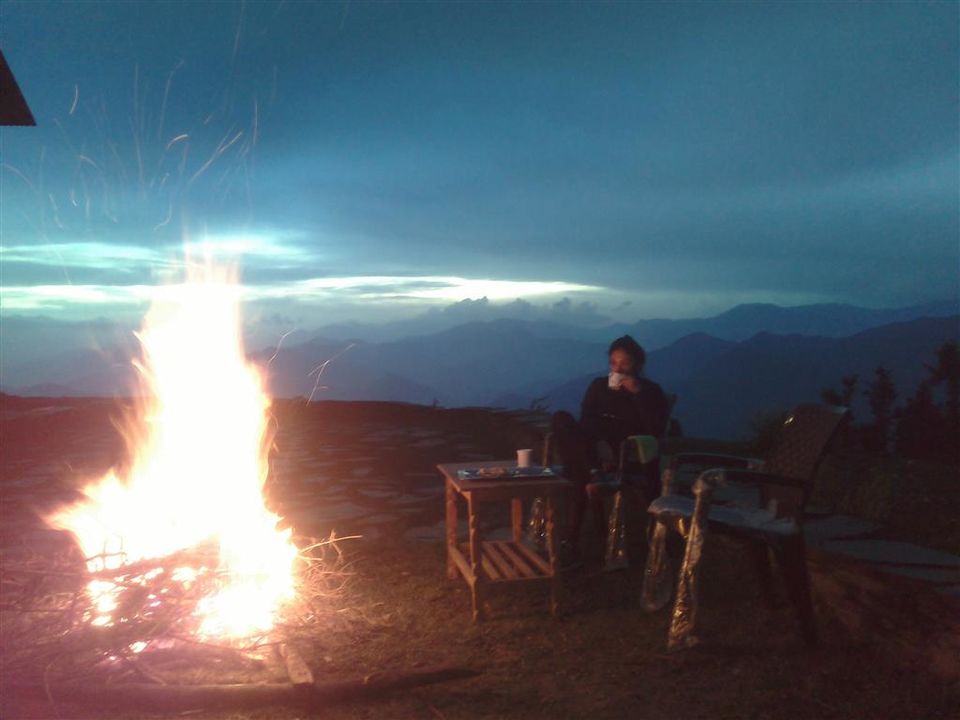 At around 7,200 ft above mean sea level, The Ridgemoore Cottage is well equipped with bedding, blankets, furniture, kitchen and all basic amenities like adequate water supply, proper toilets, electricity with charging points, and security. The place is designed with care for a comfortable stay keeping the natural sanctity intact. It has four rooms with double occupancy and a dormitory which can accommodate a group of 20 trekkers.
The stay, inclusive of meals and guide, comes in budget category. Your cellphone internet works here.
The place is visited by travelers, explorers, trekkers, writers, and those who want to get acclimatized to higher altitudes before climbing the Himalayan peaks. The place is meant for serious trekkers only as the nearest motorable road 20 km away - Agahar (click here for location on Google maps).
Star-gazing plan flopped due to clouds and me being tired after a full day trek.
The next morning was again a pleasant one. The meadows are too beautiful not to venture out. The only other companion is Sun! Offering a suryanamaskar was a wise idea.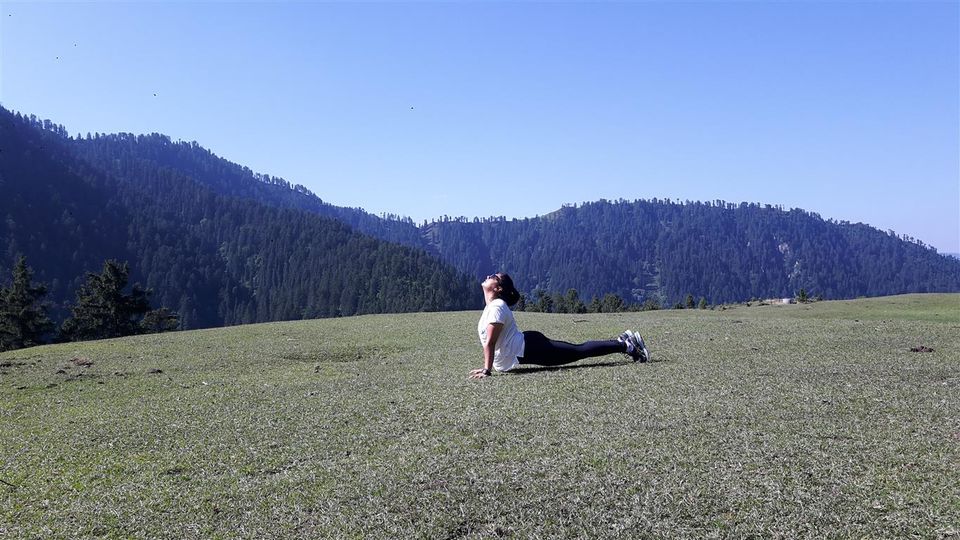 Helped my guide prepare breakfast on chullah (fireplace) and then had breakfast in the open. It was a sheer pleasure!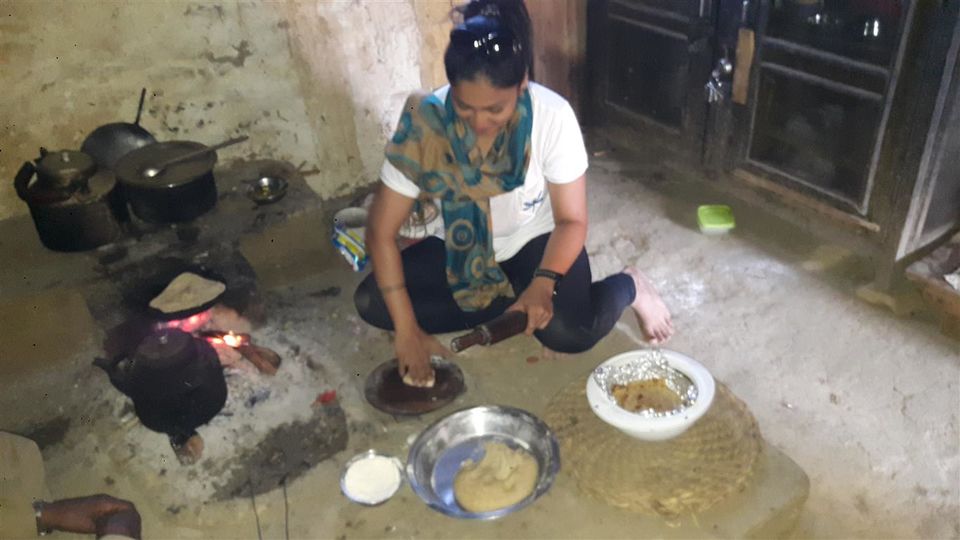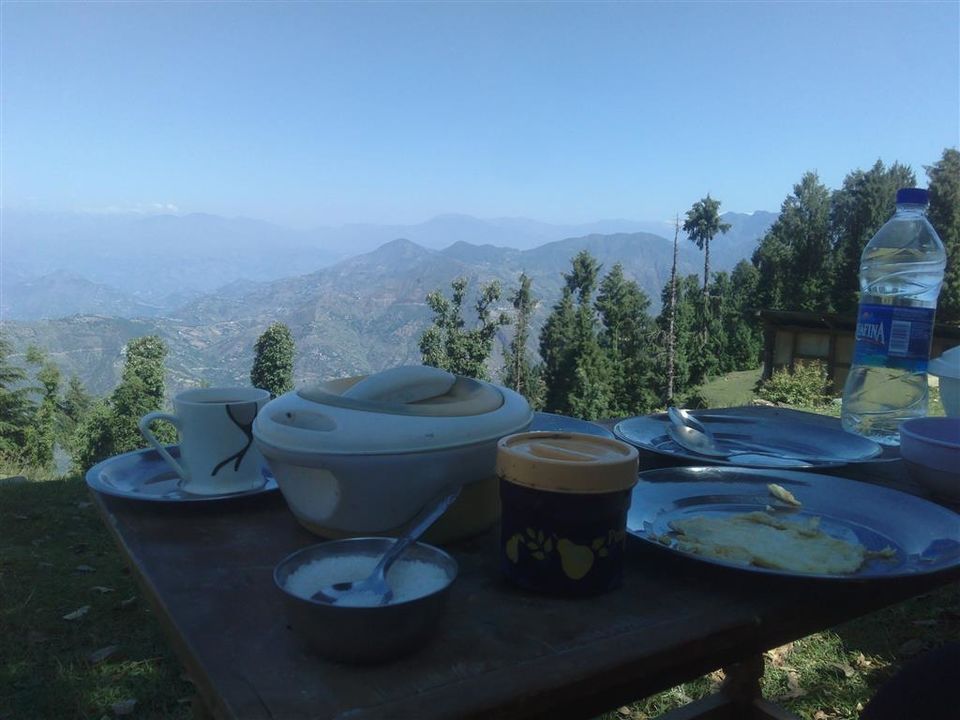 Another day, another trek! I bid adieu to Ridgemoore Cottage – a place that will remain in my memory forever. From here my guide took me towards "Badi Jhamwar" a beautiful meadow on the top of a mountain. The ascent was steeper and jungle was denser. Wild bears found in this jungle were into hibernation, so I heaved a sigh of relief. I'm okay with bears, so long as they are "Teddy bears" :)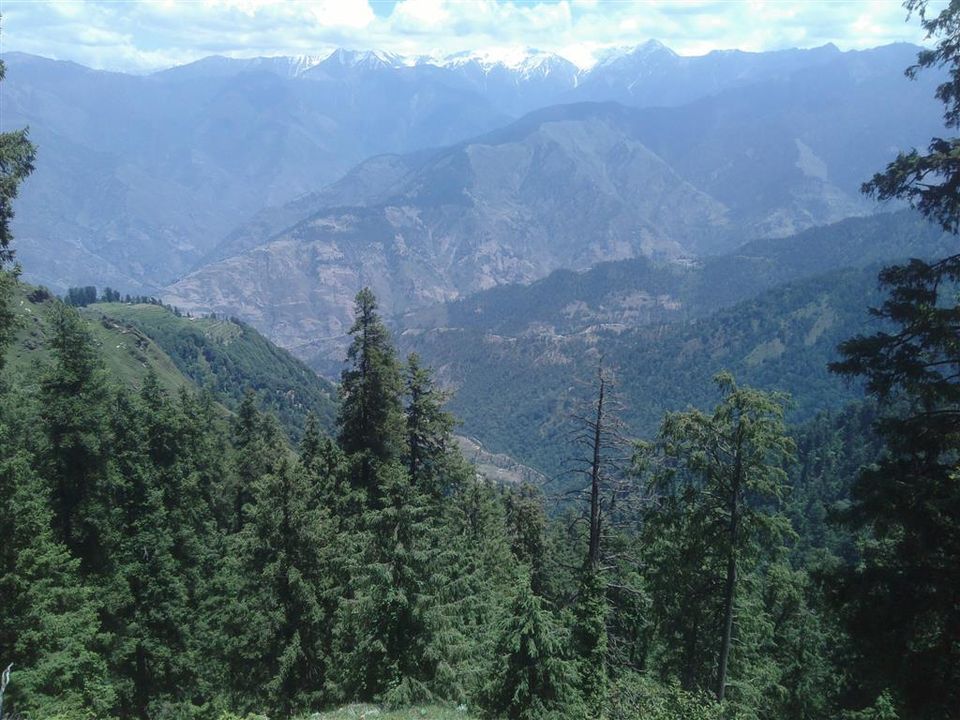 The most spectacular view from Badi Jhamwar is that of Mount Manimahesh, which is called mini Mt. Kailash (Lord Shiva's abode) by pilgrims who flock here during Manimahesh yatra. You can spend a good time at Badi Jhamwar as you are at the top and you get a picturesque 360 degree view. There is a small temple of snake god on this meadow.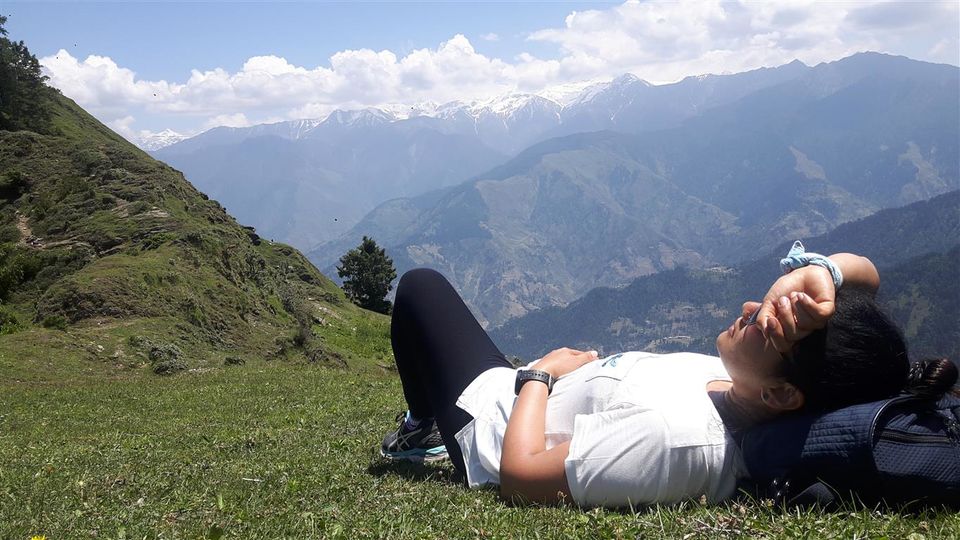 My guide plucked some herbs for me, which I took home. Close to "Badi Jhamwar" is a village "Chotti Jhamwar", famous as a place where Aishwarya Rai starrer "Taal" movie was shot. I decided to have lunch at Badi Jhamwar and skip Chotti Jhamwar.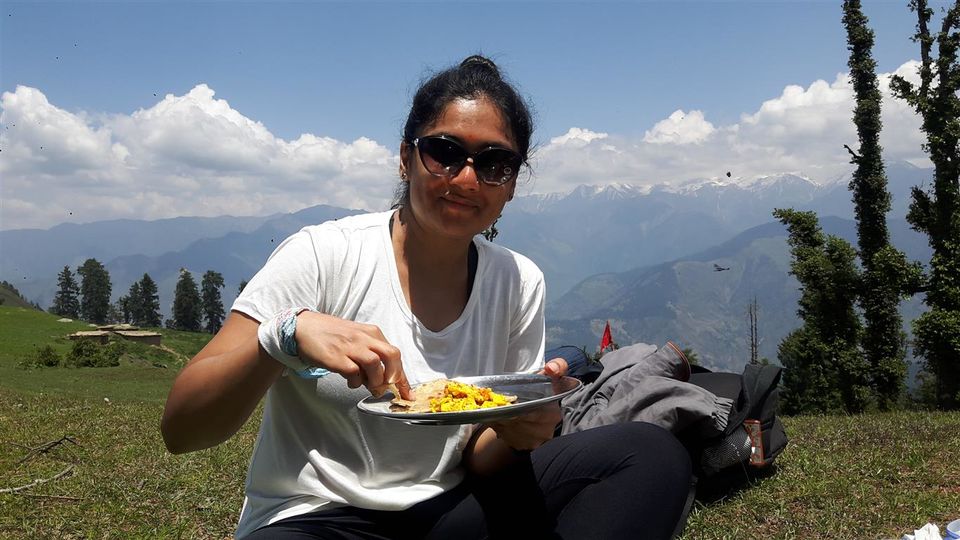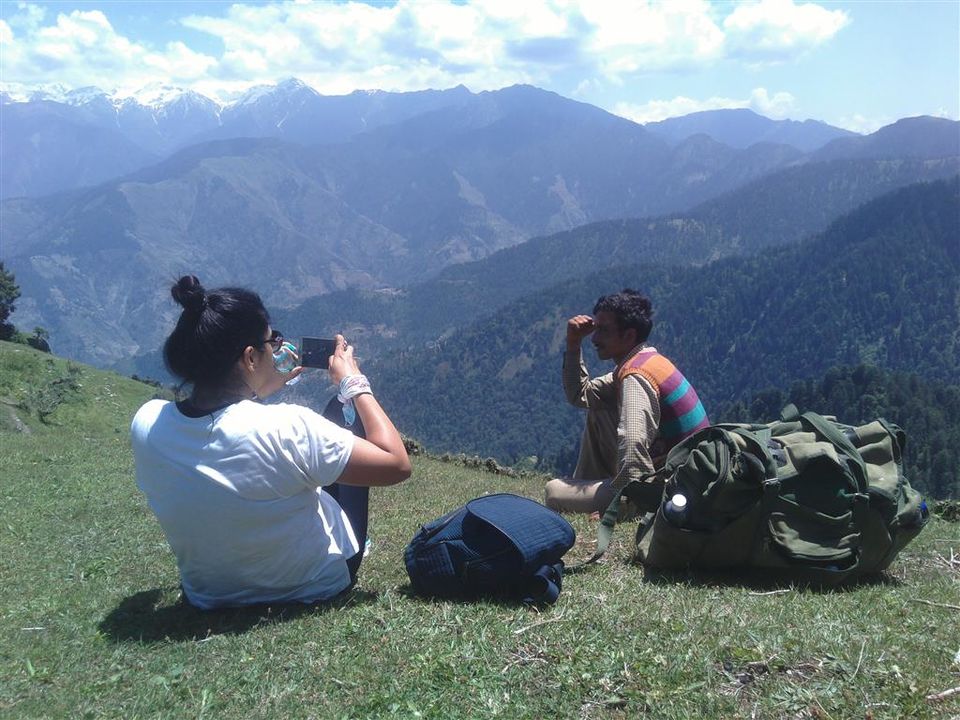 Descent is always difficult than ascent. A few kilometers down from Badi Jhamwar is a village Agahar (coordinates given above) from where I got a cab to Chamba town with a contentment that I took the road less traveled by!