Pune – Delhi – Shimla – Reckong Peo – Tabo – Dhankar – Kaza – Chicham Bridge – Kibber – Key – Hikkim – Komic – Langza – Kaza – Jeori – Kufri – Delhi – Pune
Budget travel means for some of us is: Travel on a bus instead of hiring a car, staying in a place which provides basic amenities instead of luxury….. That's exactly I did when I did my Solo Spiti trip last Nov.
09-11-2019
The journey started from Pune flew by the early morning flight 01:30 hrs and arrived in Delhi around 0400 hrs and met a friend for an early morning coffee and after that took the 1st metro from T3 to New Delhi railway station and then interchanged to yellow line and got into another metro which took me to Kashmere Gate ISBT. The HRTC Volvo started at 0650 hrs the ETA at Shimla was 1730 hrs. I to had board onward bus from Shimla to Reckong Peo(Peo) which was to leave from Shimla at 1830 hrs. Reached Shimla around 1745 hrs and then boarded the bus and arrived in Peo around 04:00 hrs. Too much of hopping right?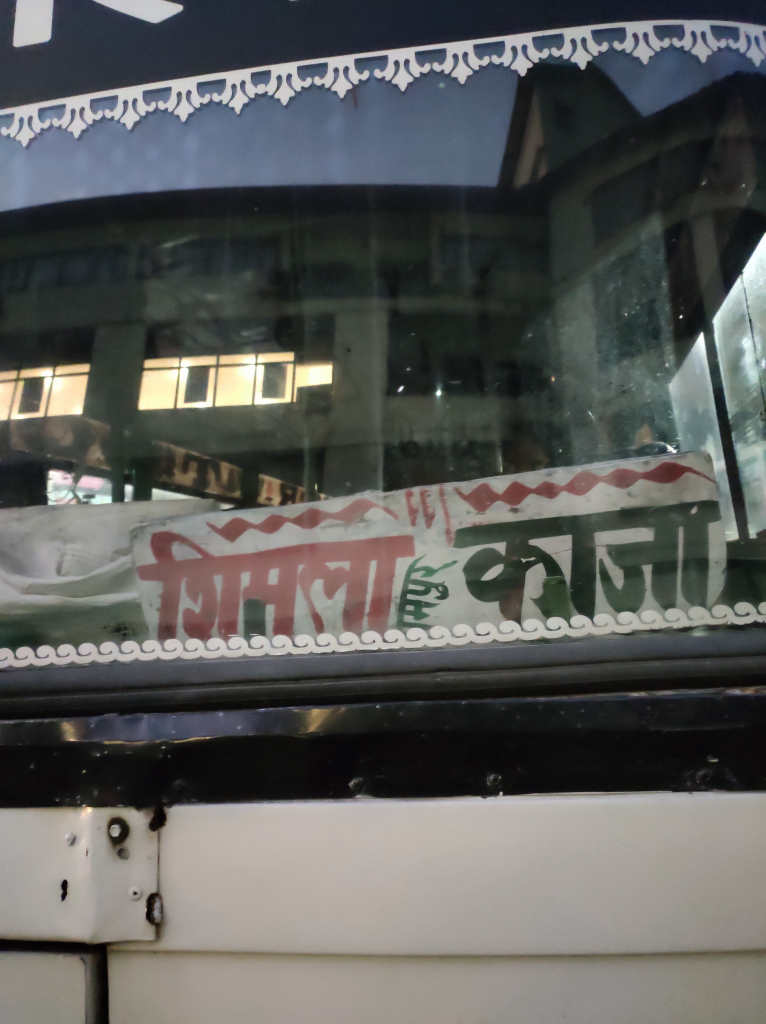 10-11-2019

I had been travelling for more than 24 hrs and yet my 1st destination (Tabo) was 8 hrs away however, I was feeling excited and happy and less exhausted for the fact that I would be in Spiti Valley in few hours and all credit goes to Bruce Springsteen new album "Western Stars" which kept me busy through my journey. Finally, the bus started at 06:00 hrs and reached Nako. I felt some relief, the view was awesome, the snow clad and the arid mountains. After 30 mins break the bus started and then finally I reached Tabo at 1300 hrs. Tabo Monastery is just a walking distance from the bus stand, I inquired for room with couple of homestay but finally I met a monk at the tabo monastery guest house who allocated a room with sharing bathroom for INR 300. I freshened up and then went around to explore the place. The peacefulness around the monastery and the mountains makes this one of the beautiful place to visit while on your trip to Spiti.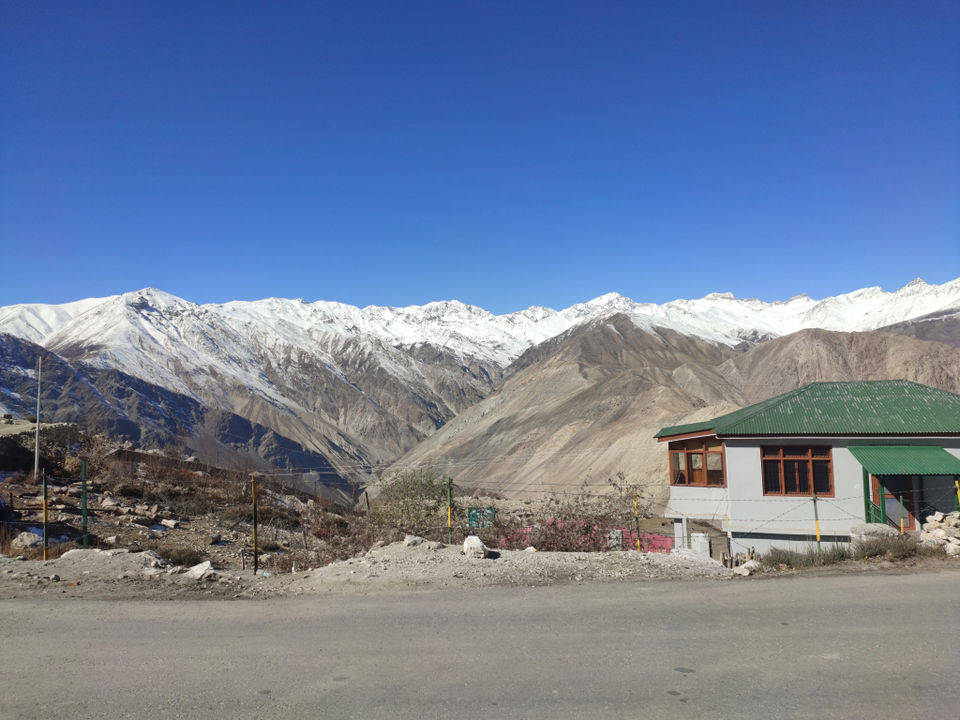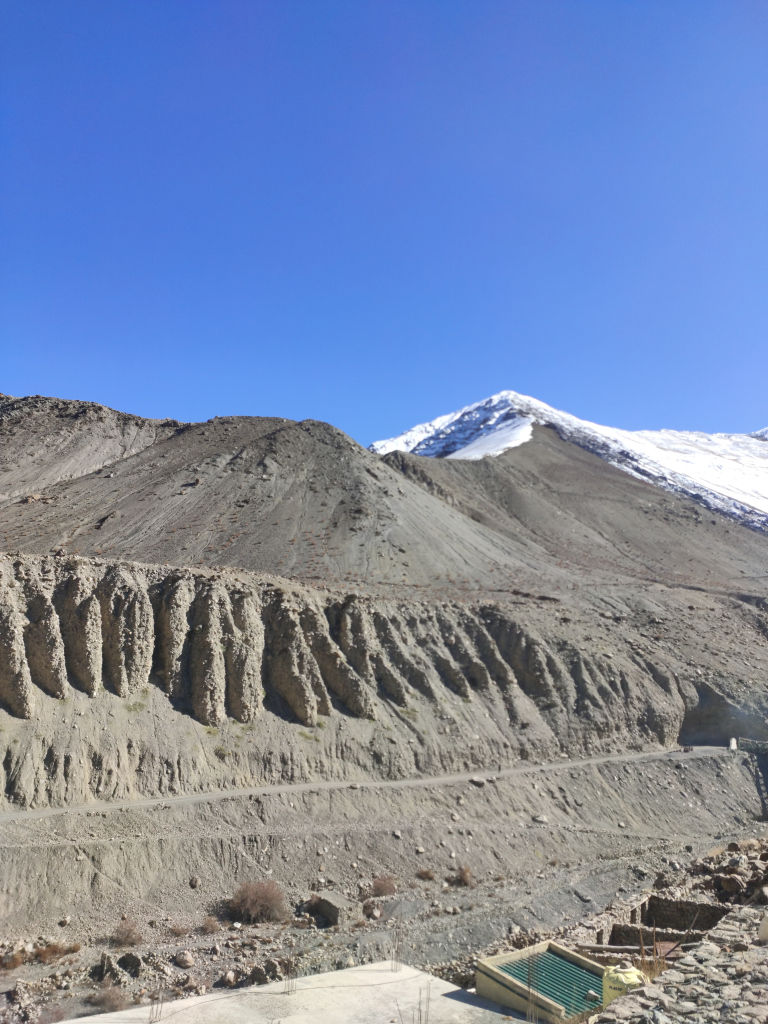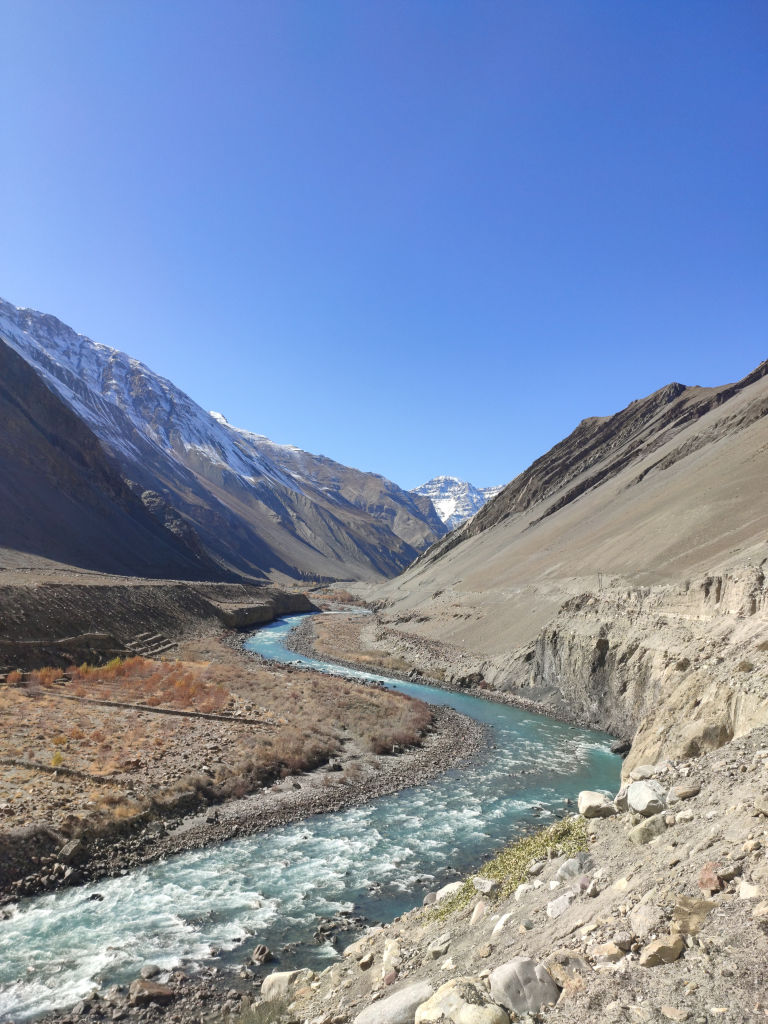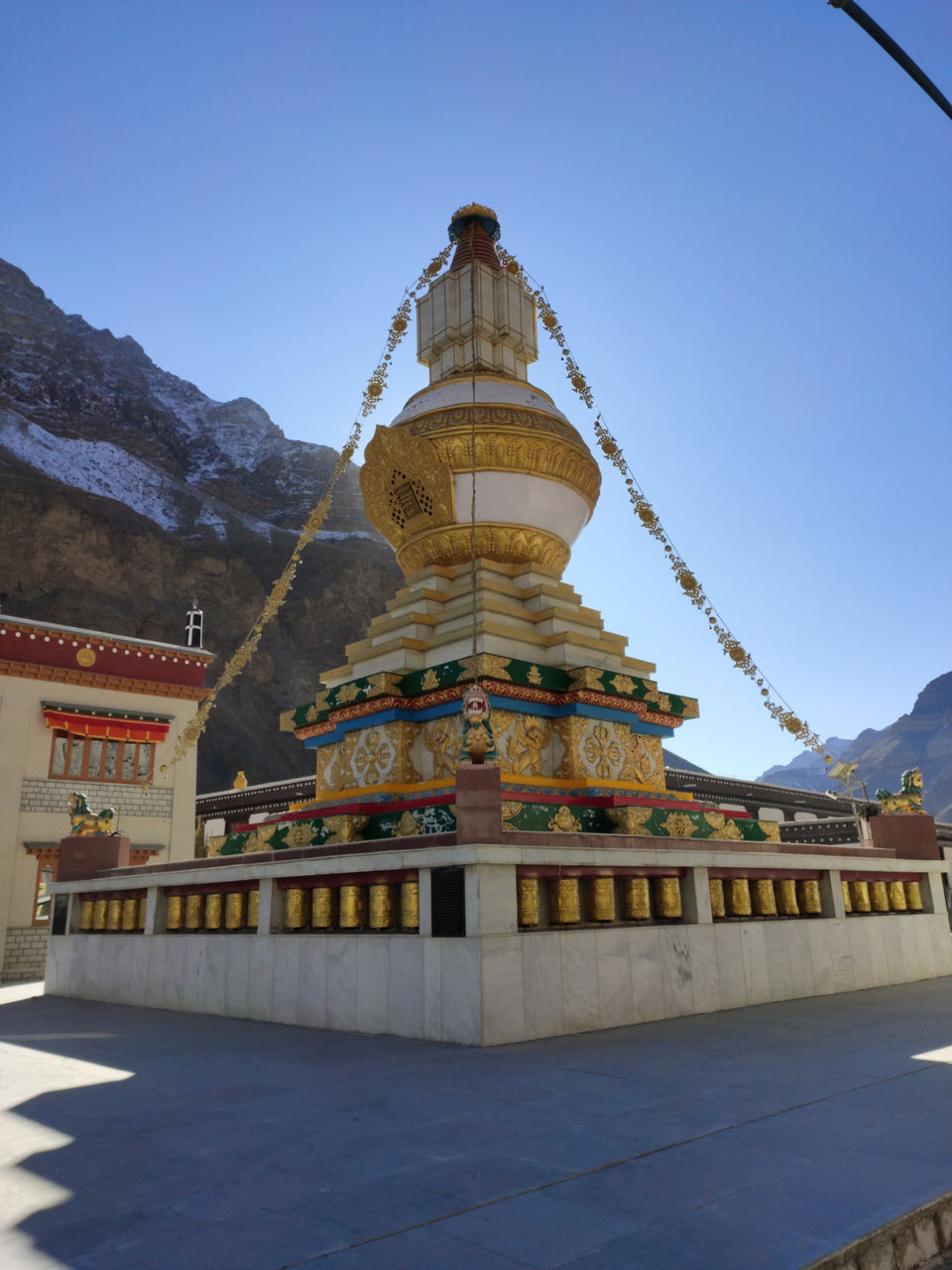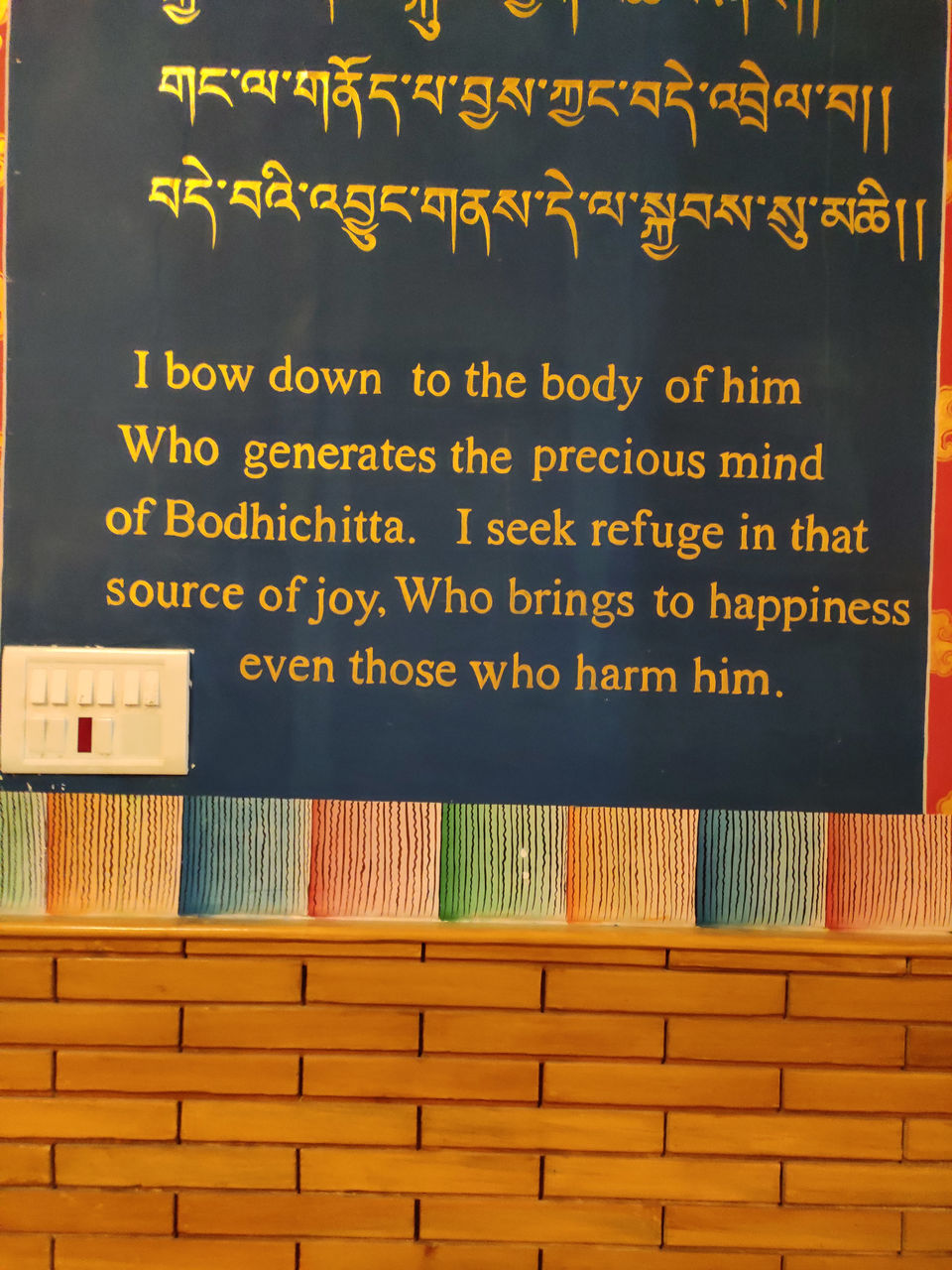 11-11-2019
Got up in the morning had breakfast at Amit Dhaba which is on the main road and then I waited for the bus outside the Dhaba, I was told the bus time is not fixed and there would be some delay, hence I tried my best to get some lift. However, after an hour wait and with no luck with the lift the bus finally arrived. I got down at Shichling a small village from here one road goes to Dhankar. I had read that sharing vehicle would be available so thought it won't be difficult, with me 3 more senior ladies got down and Shichling. I inquired and got to know that 2 of them were also proceeding to Dhankar and I quickly said I will join them. We all waited for the vehicle but after some time, the ladies decided to hike to Dhankar and I agreed to join them. The interesting part was that I was carrying 70ltr backpack and 30 ltr assuming that I would be travelling in a vehicle most of the places and it would be easy to carry them a few distances. But then I had no choice and had to move with 2 bags. We must have climbed 100 steps and then one of the lady requested me to join for tea at one of the relatives home which was on the way. We all got inside the house for me it was like I had met these ladies a couple of mins back and now I am here in their relative's places. I was offered nice hot tea with some local bread to eat with some namkeen and then after sometime butter-tea. Have been travelled to Ladakh couple of times and I did have butter-tea but this butter-tea was exceptional. Since I had nothing to speak much I enjoyed the tea and snacks and warmth of the cooking area. After 30 mins they served me lunch and post lunch thanked the family and started the climb (I learnt something more about the people living in the slopes that they will open up their hearts for a stranger and care like part of their family). The climb was bit steep and 2 bags made my climb bit difficult, I could see both the ladies always ahead of me and whenever I stopped I enjoyed the view of Spiti river and the mountains around it. After an hour and 30 mins hike, we finally arrived in the village. I got to know that one of the ladies that I was hiking was the mother of the home-stay owner. She invited me to her place and introduced to her son who runs the place. The home-stay is beside the Dhankar Monastery. I kept the bags and then visited the monastery where I met two monks who had come to offer prayer, with the due permission I sat with them for an hour prayer which was a bliss. After visiting the monastery I met a few more guys who were staying in the same home-stay and got to know they had come to Shoot Ford Endeavour vehicle motion for promotion. We exchanged couple of trek stories and they agreed to take me to Kaza the next day.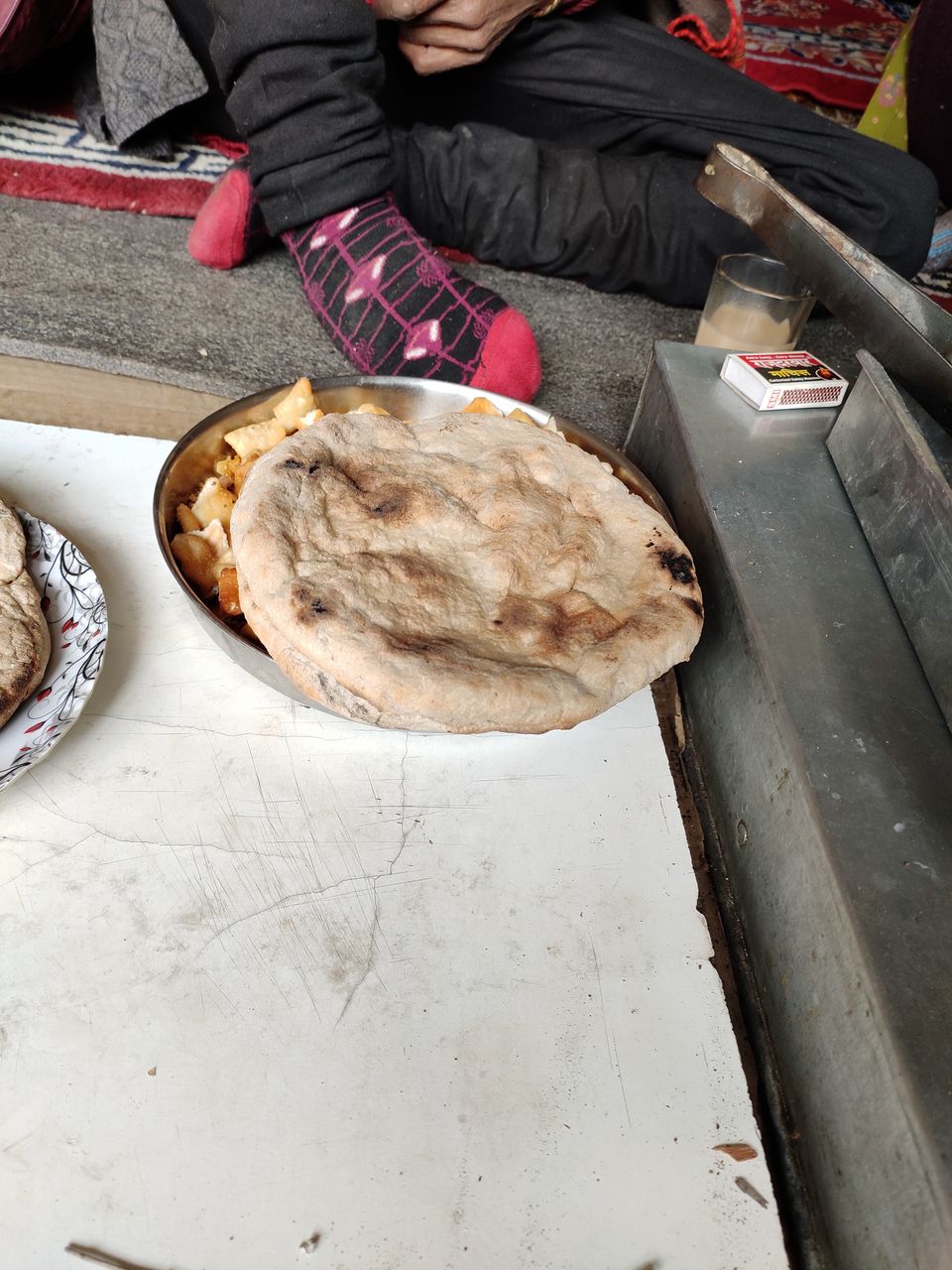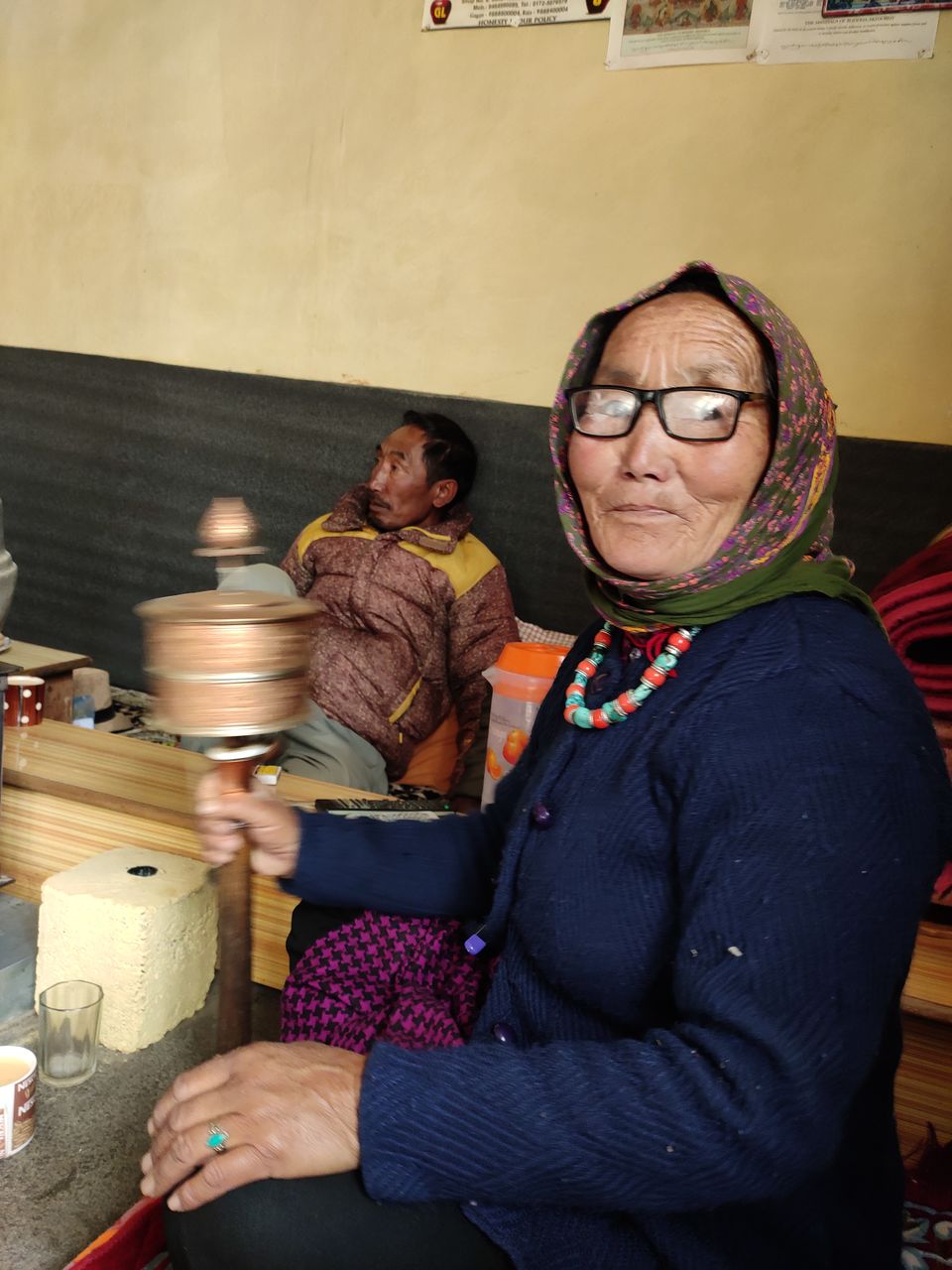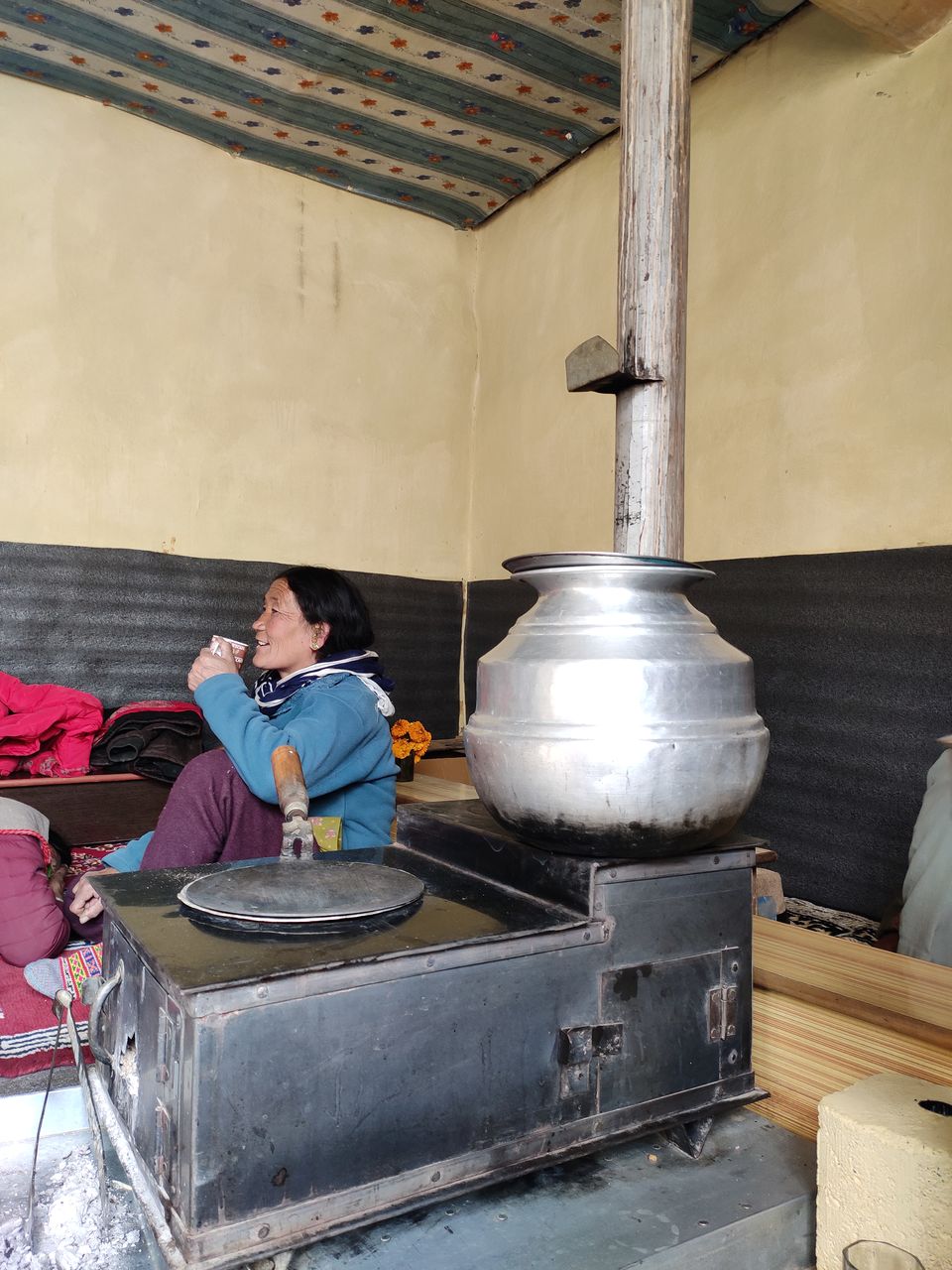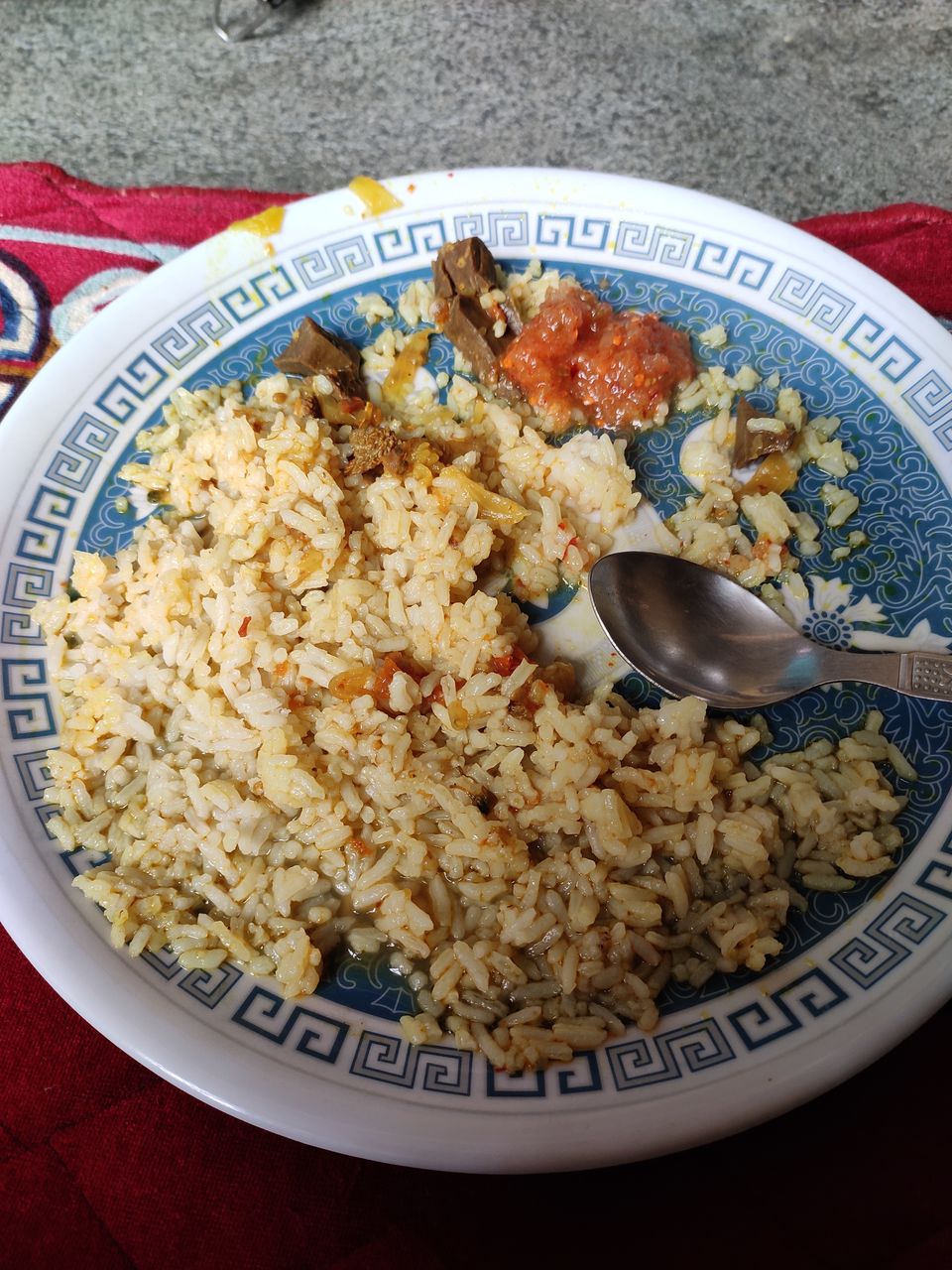 12-11-2019
In the morning with my new friends we headed to Kaza which is the midpoint to all places in Spiti, we had a chai and noodles at one of the hotels and then moved to the nearby place for the shoot. After spending some time shooting the video, we moved to bridge "Chicham Bridge", this bridge has its charm and beauty standing at an astonishing height of 13,000+ ft. The bridge connects two villages named Chicham and Kibber and it is also gateway to Chandratal Lake. We then moved to Kibber another village at an elevation of 14,200 ft. And after our visit, I requested my friends to drop me to Key Village. I contacted Mr Sonam of Yangkhil homestay who welcomed to stay at his place. Since it was already 7 pm I requested for chai and then I had nice roti sabji(made of locally grown potatoes) and then went to sleep.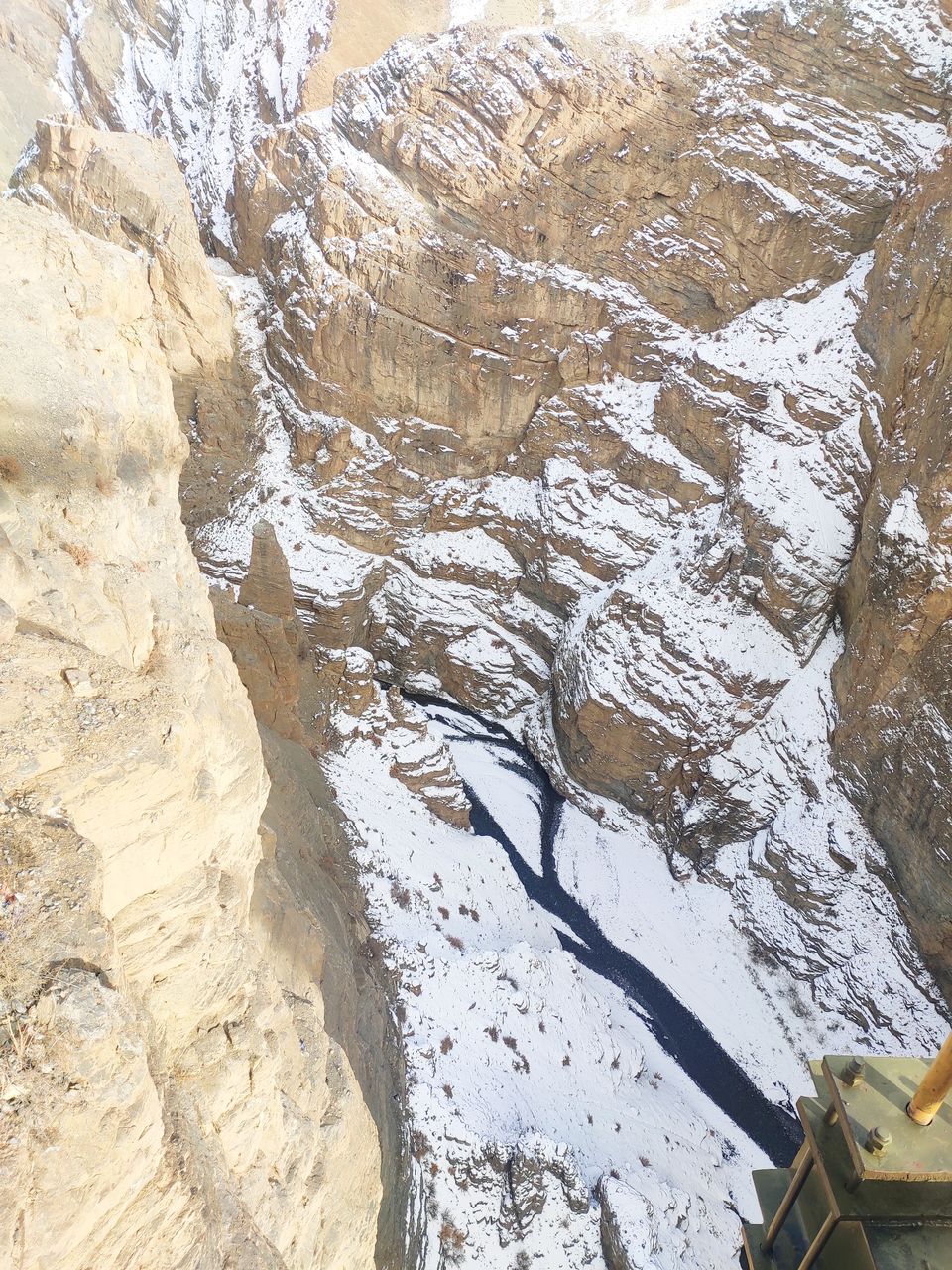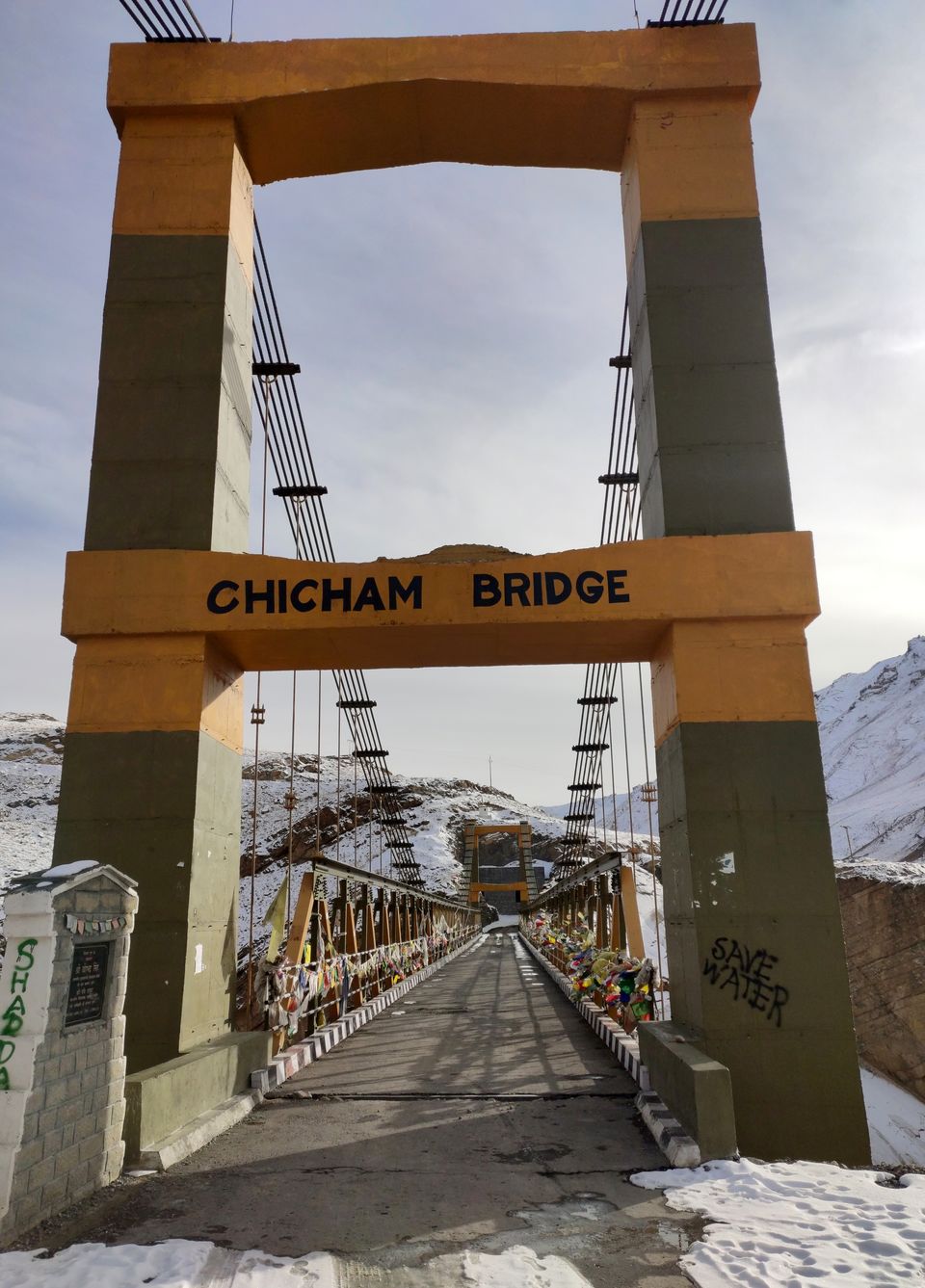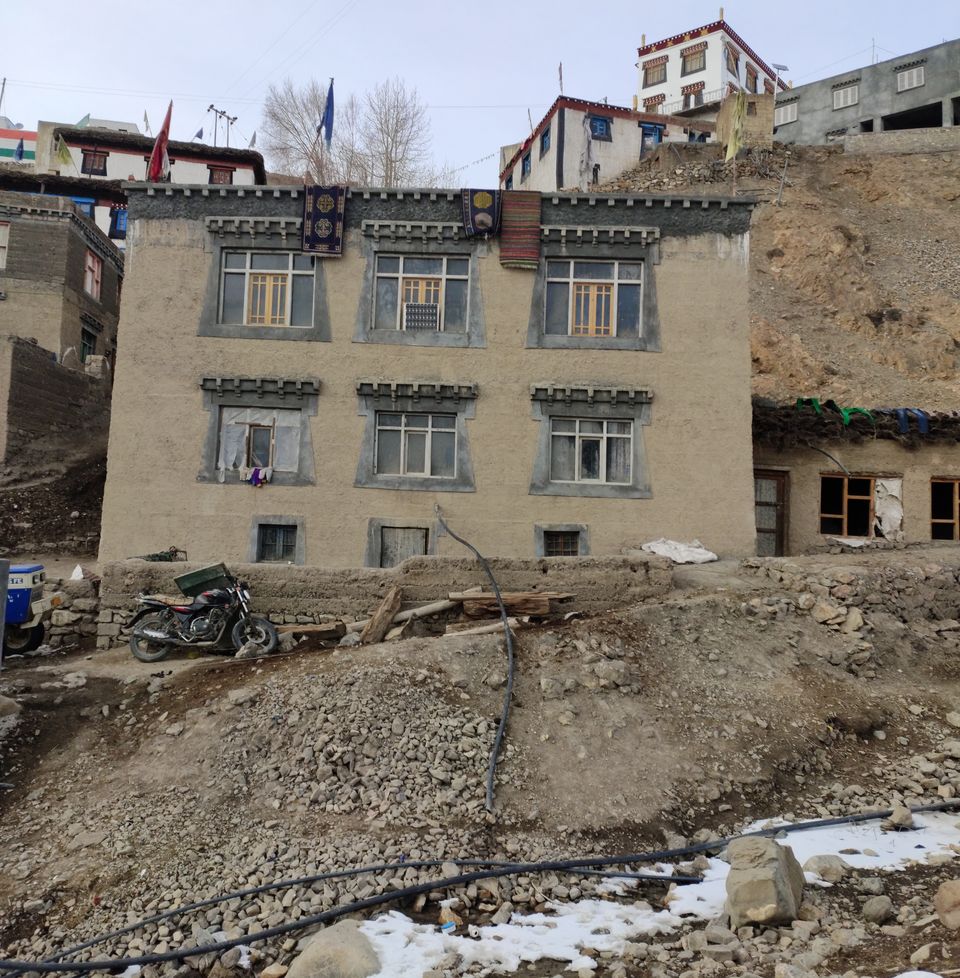 13-11-2019
Kye is a small village which is famous for its monastery which is one of the biggest and a religious centre for the Lamas. The view of the monastery from the village is breathtaking. I got up in the morning and Mr Sonam requested me to take his bike to visit the monastery. This was one of the wishes that wwas fulfilled. To ride a bike in the mountains is a different feeling all together though you gotta be careful. It was freaking cold but being a trekker I was very well covered up with multiple layers and hand gloves. The monastery is more than 7 km from the kye village. I reached the monastery and as I was heading to the main entrance I heard the morning prayer that was offered. I sat down with all the lama in the prayer and after the prayer was over I was offered butter tea. I stayed around for a while and also interacted with a couple of young monks who were staying in the monastery for training. I left from the monastery and reached by homestay, after the breakfast Mr Sonam got me a lift to Kaza. I reached Kaza and kept my big bag at one of his friend's place and then with a day pack I went to Kaza market. Bargained for a drop to Langza with a stop at Hikkim and Komic. The uncle who drove me from Kaza was a very simple person from Lallung village. We exchanged a couple of stories, the drive was all the thru snow on the side and we were gaining all altitude. Hikkim is a beautiful village situated at an elevation of 14000 ft and is well known for being the highest post office in the world. I visited the post office and met the person in charge, he offered me tea and I posted a few postcards. After spending some time we then moved to Komic. Visited Tangyud monastery, it is said to be the highest monastery in India. We then moved to our final stop Langza. Langza is a remote village at an altitude of 14500 ft and while you are about to reach from far away you are welcomed by the colourful statue of Lord Buddha. The statue is built on the elevation overlooking the spectacular mountains. We reached the village and the driver uncle left-back for Kaza. In Dhankar I was told to stay at Phandey Homestay in Langza, so I reached the place and met the owner and her daughter. They gave me room and asked me to join them for tea in the dining hall. I freshened up quickly and went to the dining hall, there were 4 monks seated and had been reading the scriptures. I was offered butter tea snacks and the prayer continued. After an hour I joined them for lunch and thereafter the prayers continued. In the noon I then left to explore the village. I visited the Buddha statue, the monastery and then I decided to hike a bit further. The entire place is so serene that you would not want to leave. After my hike, I was invited by a teacher for a cup of tea and chat. I met him and his friends we all had a small chat and enjoyed the time with tea and playing card. I then left for my homestay and had my dinner and went to bed.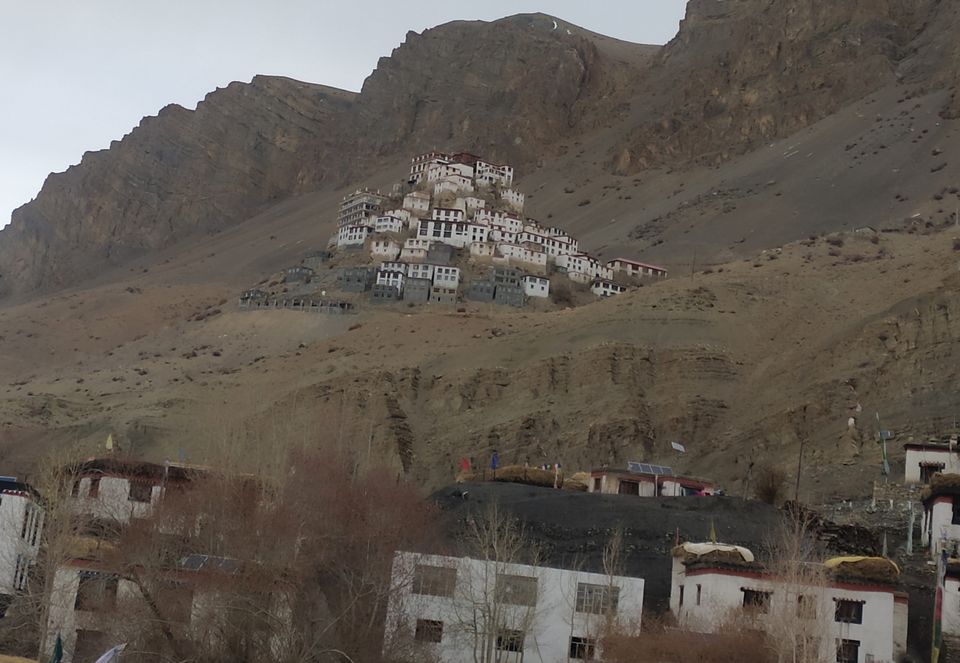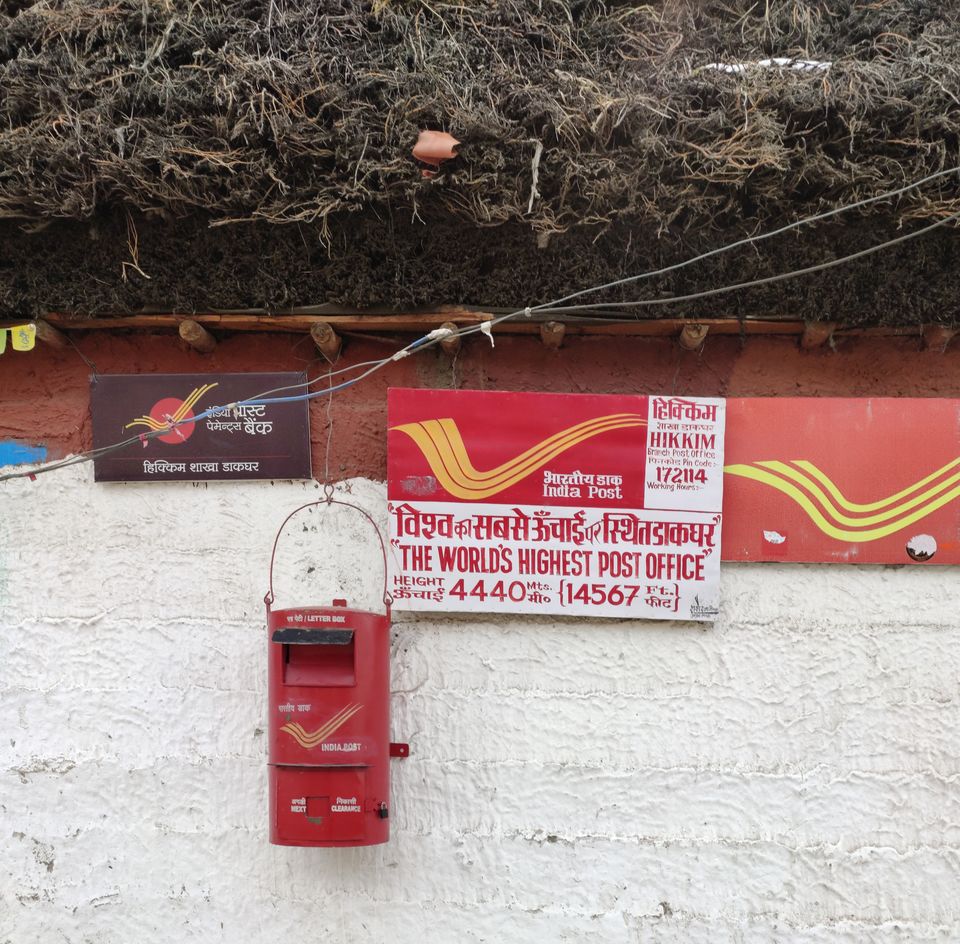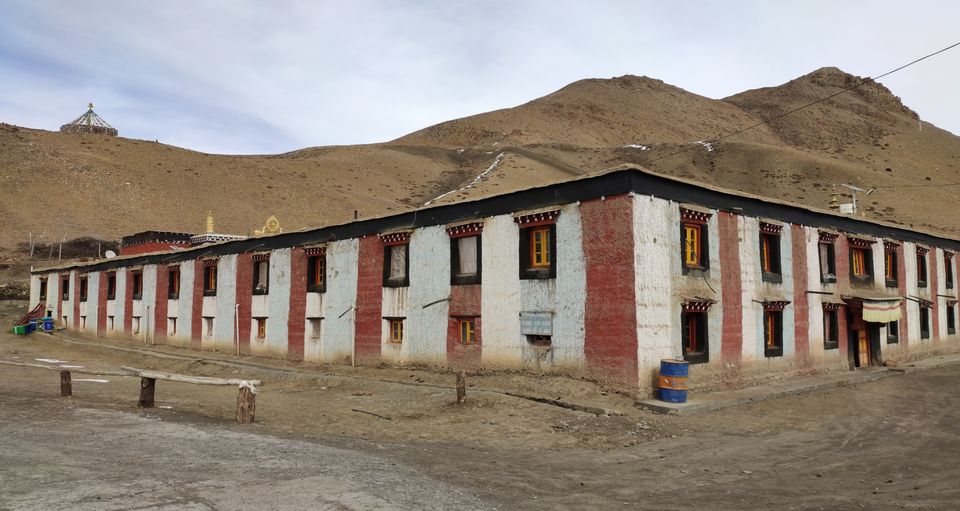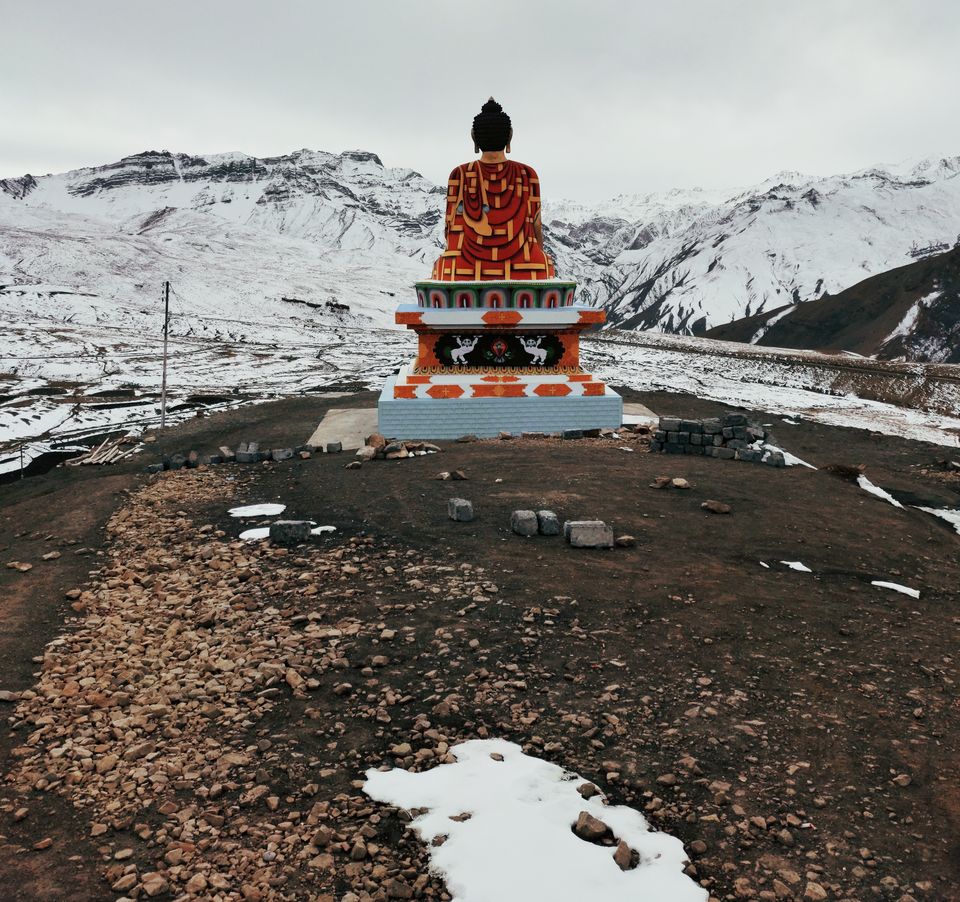 14-11-2019
Got up in the morning had a nice hearty locally made Thukpa and thanked the owner of the homestay and then started for Kaza in the sharing vehicle. After reaching Kaza I took a stroll around the Kaza town and visited the Monastery. Since there was nothing much to do, I stayed in Kaza for the night hoping to leave for Peo next day morning.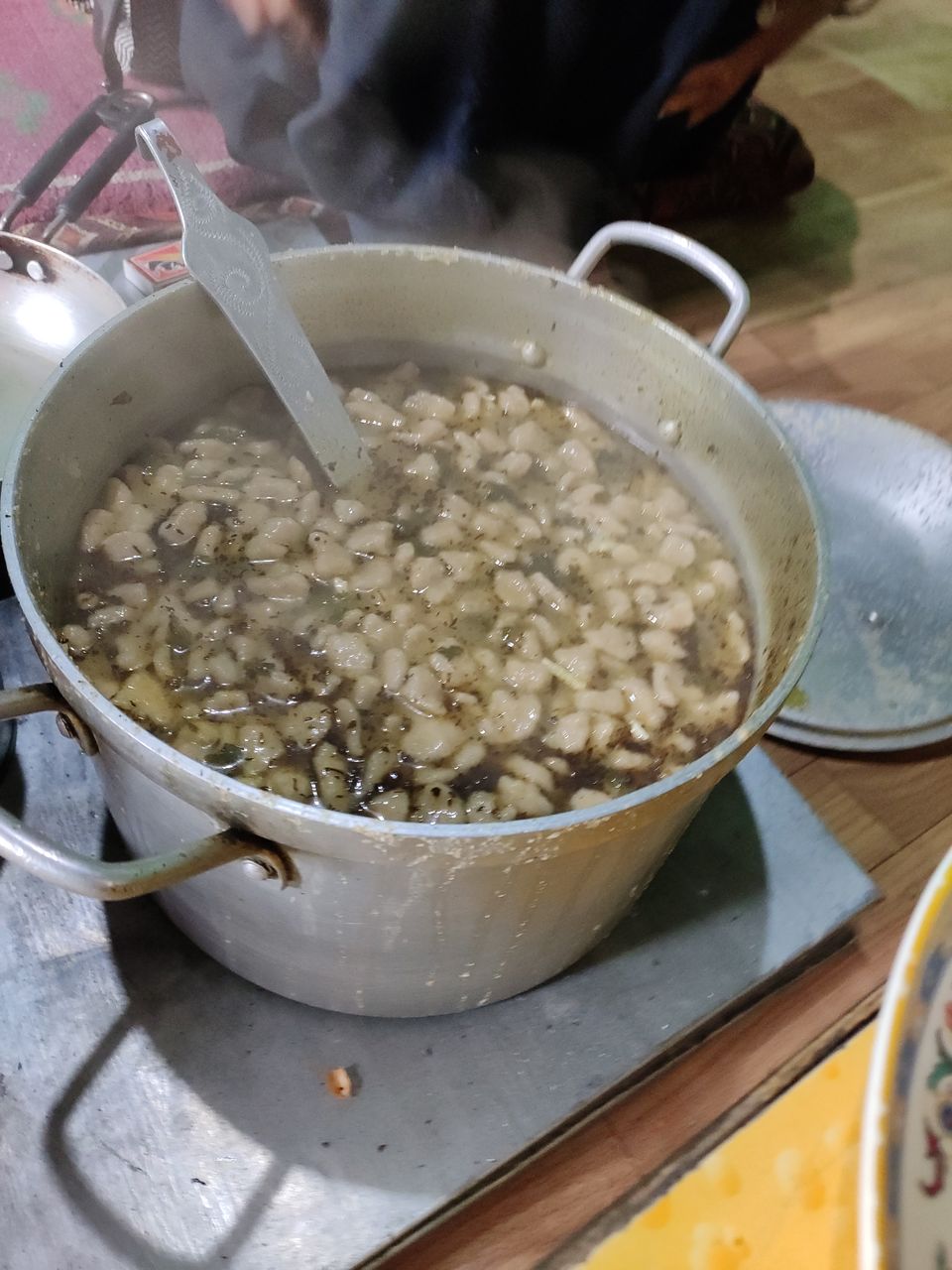 15-11-2019
Got up early morning assuming i would take the 1st bus to Peo from Kaza bus stand. The moment I opened the door I was welcomed by the snow fall. The mountains that looked dry the previous evening was covered with the blankets of snow. The entire surrounding looked so surreal and I can't express them in words. All I did is for a while stood outside and enjoyed the snowfall. I packed my bag and wore a Poncho and started towards the bus stand. Walked in the snow and reached Kaza bus stand and to my surprise, I got to know the bus won't be leaving today due to heavy snow ahead. You can't do much in such a situation, it is either you look for alternate arrangements and stay back and enjoy. Now since I had to get back to Delhi and catch a flight back home I did enquire with a couple of local operators if they would be going to Peo but then since the snow was heavy nobody was ready to take a chance. It was already 07:30 hrs and from then until 11:00 hrs I was trying my luck asking each vehicle that was heading towards Tabo but no luck and at around 11:30 hrs I managed a seat in the Tempo Traveler (the vehicle was heading from Key Monastery to Shimla and Kulla with lamas in it). The story does not end here, we reached the petrol pump to fuel and then got to know there was an issue with electricity and the machine was not pumping out fuel. We all got down had tea and snacks and finally, at 12:30 hrs the vehicle was fueled and we started. The journey was one of the best of my life, it was cold and all you can see the entire valley covered with snow. Finally reached Jeori in the night and took up accommodation for the night.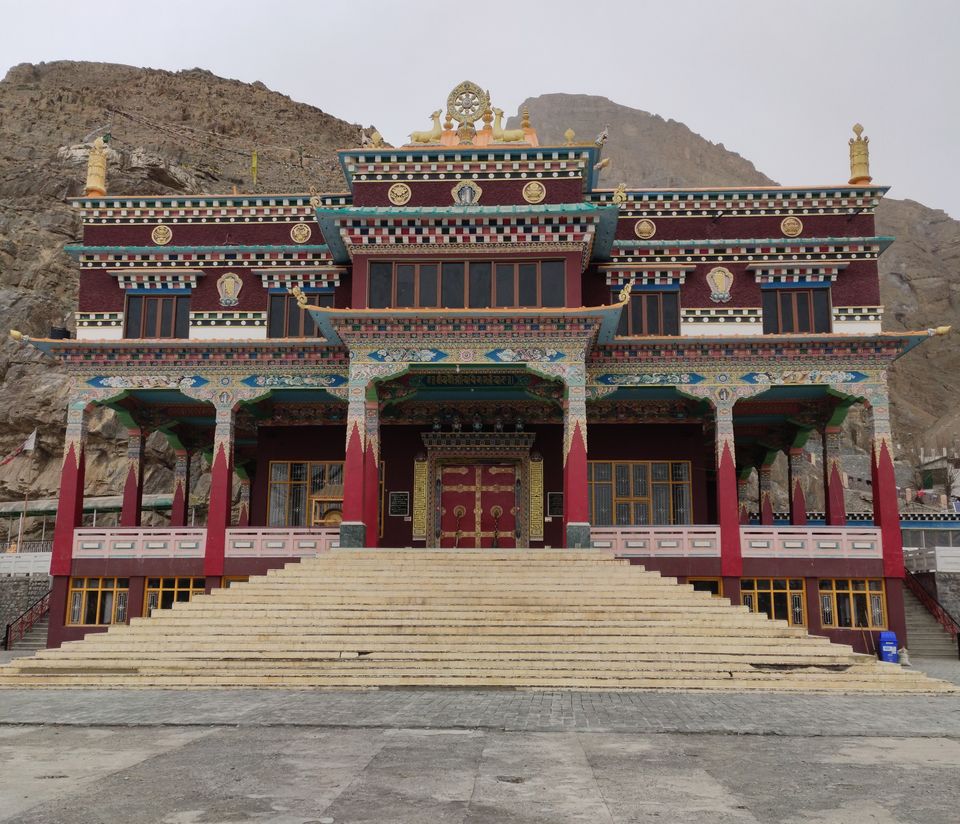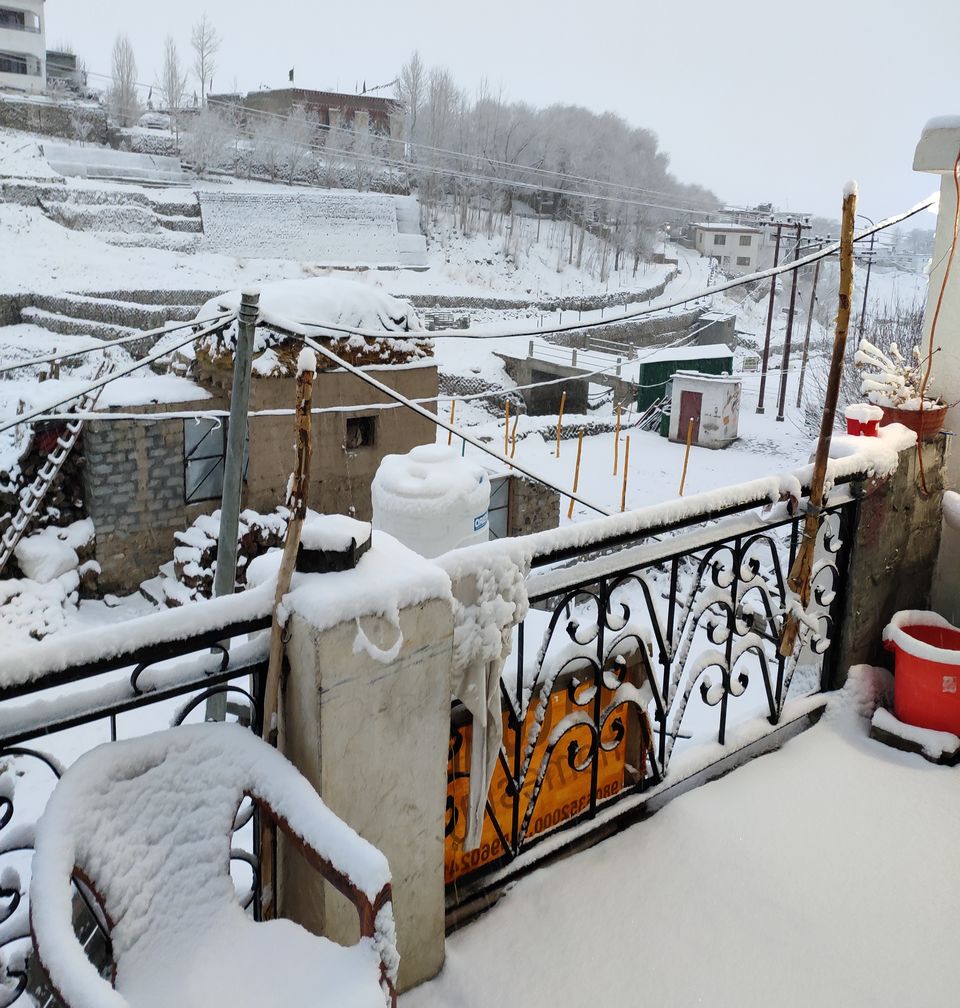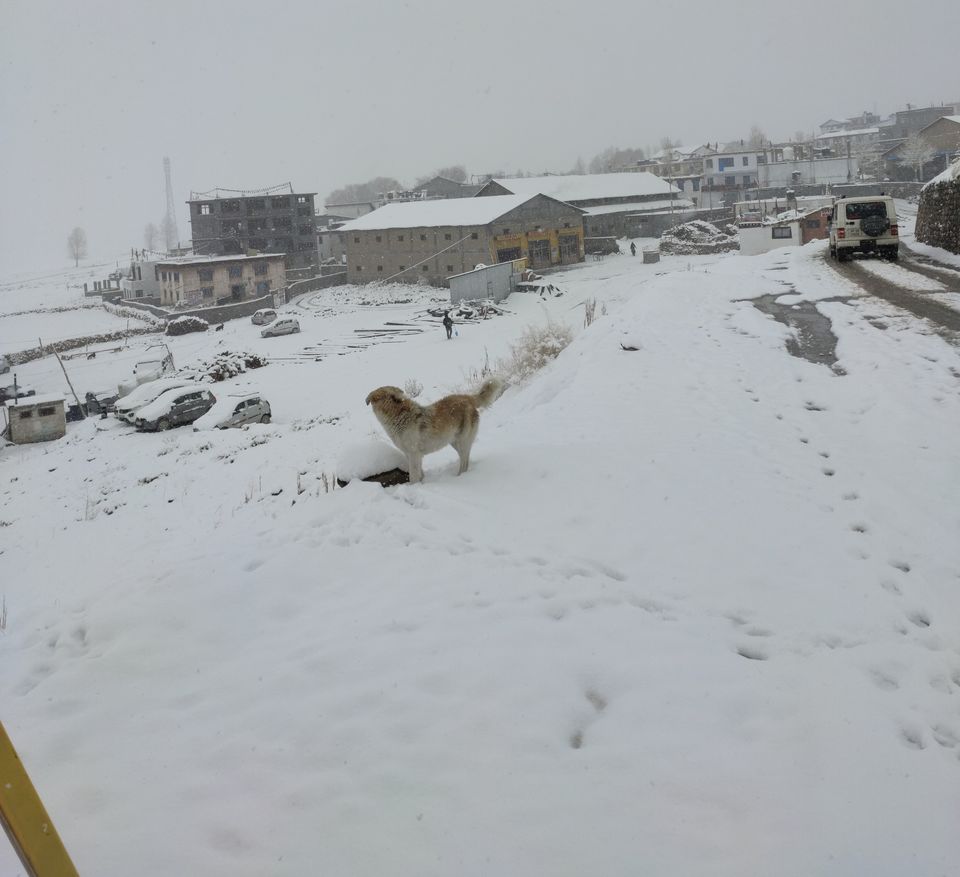 16-11-2019
Morning started from Jeori reached Rampur and then took a bus to Shimla and I got down in Kufri. Kufri is a small hill station in the Shimla district, it has a wildlife zoo and an alternate option to stay instead of the crowded Shimla. I stayed for the night and then proceeded next morning to Delhi via Shimla and after reaching delhi took my onward flight to Pune. Its been couple of months since i got back from Spiti, but i cant get over with the villages, the valley and the mountains and the people.
I shall go back...........