I first heard about Spiti valley in 2013 when my neighbors- biking enthusiasts visited the place and their description sounded like they had been to the heaven and back.
Spiti- the name itself is pretty intriguing. It doesn't sound like a place that could belong to Indian Himalayan region. Meaning revealed it to be a "Middle Land between Tibet and India". It caught my fascination and I weaved up images of cold barren landscape which is covered with snow, not accessible, is mysterious, full of folklore, mystical lakes, prayer flag.
After a couple of easy mountain trips and a mundane routine at work, we wanted to challenge our capabilities and decided to do a proper trek. But it didn't work out and due to monsoons and most of our options were ruled out. Then Spiti came to our mind. My better half being a biking enthusiast- bullet lover to be precise decided after some research that we bike from Manali to Kaza (headquarter of Spiti). I was just not prepared. Who would ride pillion on a bike for 12 hours on the most dangerous roads as they are called? We were not out of our minds. While my husband spent days researching and nights reading blogs and watching videos uploaded by travelers, I used to silently pray that the trip gets cancelled. I didn't want to show him that I was dying of fear of falling down the mountain off the bike!!
Anyway there were multiple iterations and discussions and research, intial plan was to take the full circuit, starting from Shimla to Narkanda to Chitkul to Kinnaur to Pooh to Kaza. But we didn't have enough days so we decided to take the Manali Kaza route. There were various considerations for this route which were
The cons-Altitude increases drastically on this route in a short time span so AMS setting in is a major problem. Shimla route does not have this problem
Road conditions are bad- infact, after Rohtang till Losar, there is no road!! How exciting could this become.
The pros were that this route took 12 hrs while the Simla route took 2days and extensive travelling. Also the Hindustan Tibet road is extremely dangerous, susceptible to landslide and falling rocks.
So we decided with the Manali route. The plan was to board an overnight bus to Manali, rent the bike from Vashist the next day, spend exploring Manali on bike to get comfortable riding and then start for Kaza the third day early morning.
We reached Manali on 11th July early morning (started from Delhi at 7 pm from Majnu ka tilla- most Himachal buses ply from there).
Day 1: Vashist:
Vashist is a village on the banks of Beas and can be reached from Manali by half an hr walk. We rode an auto directly from the bus stop to Vashisht for Rs. 150. Due to peak monsoons the tourist was less and locals desperate to make some money. Sad is the state of affairs in the mountains during the monsoons. We also heard that the road had become impassable wrecked due to cloud burst- in Kullu. Some hope of abandonment of the bike trip was building up in me now. We reached Bike rentals Manali (it is the most prominent shop in Vashist- most prominent and reliable one to rent motor bikes) and called the contact person. We already had correspondence with him on email and had transferred token money after mutual agreement on route and bike model. They are apparently more expensive than other bike rentals but in the end we realized they were most reliable. Abhinav was the man incharge. We explained our route and plan to him. It was Manali->Khoksar-> Kaza-> Dhankar-> Lalung-> Pin Valley-> Lhangza->Kibber and Ki->Kaza. Weather conditions had taken a very bad shape with cloud bursts and flood in Beas news all over the TV and Internet. Abhinav was worried that the route ahead of Rohtang was totally destroyed by rains and it would not be advisable to travel via that route. He suggested a different route, from Kasol—Sarahan and then hitting NH22 towards Kinnaur. He insisted too strongly and the little confidence left in me had shaken too.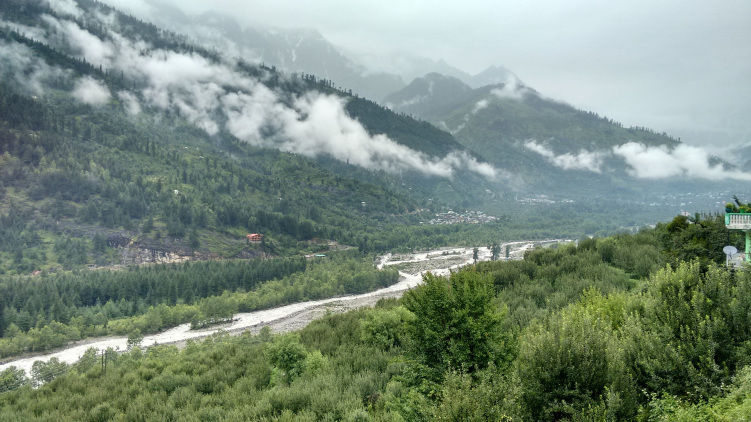 Kartik insisted that we got our permit for Rohtang anyways. It took him couple of hours leaving me to look after our luggage at the BRM shop. I roamed around the market for sometime, checked out the Vashisht temple, but it started raining and so I had to return back to the shop.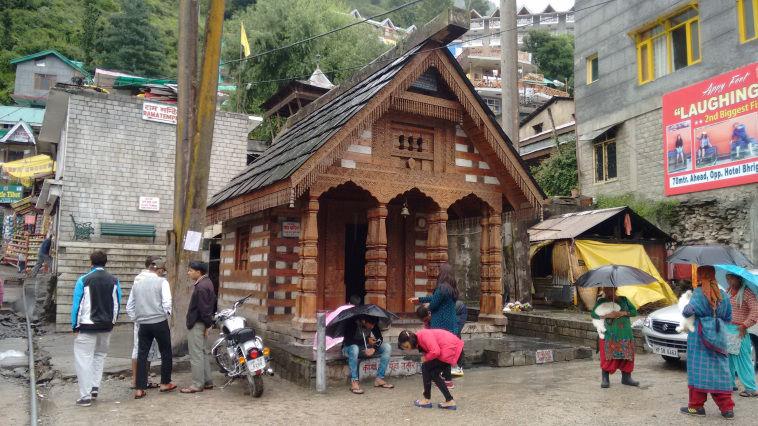 Most travelers were in for bike adventures, mostly for Leh ; very few for Spiti, due to horrible road conditions and lots of nullahs to be crossed. I was intently listening to their travel plans, suggestions given by Abhinav, registering important points in my mind.
Silently I was happy that we were eventually taking the route via Shimla again because of the road condition post Rohtang.
Kartike was back after 2 and a half hours and I was bored to death and tired. We spent another hour getting the bike tweaked. By the way we had requested for Royal Enfield Machismo because of Kartik's passion for bikes. It was a very unusual choice and intrigued the BRM guy. We got the carrier fixed, the brake and engine oil replenished, double checking everything else. The bike didn't have the side stand. But the guys insisted it wont be a problem. Little did we realize it would be one biggest factor that would drain out our energies, especially Kartik's.
We pushed for our hotel now 7 hours after arrival in Manali. Our stay was at Katoch Grand which is a new hotel. The hotel is towards the other side of Nehru Pul. Locating it was a bit of a trouble.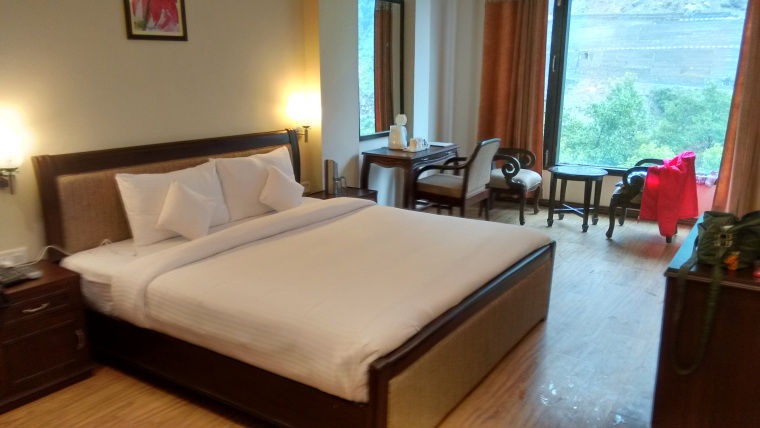 It was continuously raining and we were drenched, so it was the highest level of relief accessibility to a relaxing warm shower and ginger tea. We snoozed off for an hour or so but were restless because of the journey to be made next day. We decided to leave for market and prepare for the next day. But first it was time for pet pooja.
We hit our old friend- The Moondance Cafe in Old Manali and hanged around for couple of hours with beer, snacks, music and rain. It was the most beautiful evening I ahd seen for quite sometime now.
Then we shopped for rubber boots (to cross the nullahs, some ropes to tie our baggage, plastic covers, knife, consumables like shampoo pouches,matchboxes, candles, medicines,extra batteries etc. One should be prepared for any eventuality (God forbid) prepare your list exhaustively before embarking on an adventure like this.
Kartik was convinced of taking the Rohtang Route. His point was valid. ROhtang route would have bad roads slush etc. true but Simla route is prone to landslides and we didn't want any such trouble especially while we were alone. Also Rothang to Kaza would take 10-12 hours while going via Simla we would take 2 days to reach Kaza and our Spiti bookings would be affected. So we decided to go ahead with the Rohtang route as it was shorter and landslide proof.
Roaming around on bike in the rain gave us some confidence and comfort factor while gearing up for the next day. We reached home tired, happy and drenched, high on life due to adrenaline rush and beer and had a light dinner (complimentary). We slept early as we had to start early for the next day- halt at Koksar.