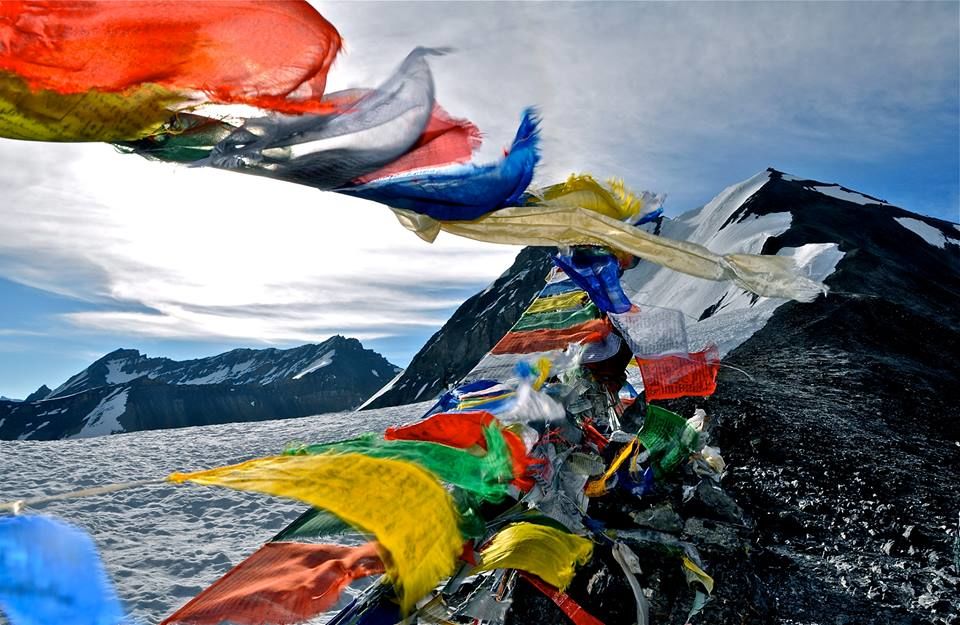 Spiti to Ladakh over Parang La (5578 mts)
12 days / 11 nights
"A long distance hiker, a breed set apart,
From the likes of the usual pack.
He'll shoulder his gear, be hittin' the trail;
Long gone, long 'fore he'll be back."
M.J.Eberhart
That being said, the long and winding trek from Spiti valley to Changthang (Ladakh) and then onto Tibet, is a Trans-Himalayan trek which retraces the ancient and renowned trade route.
Parang La is perched at an altitude of 5,600mts and connects the Spiti valley to Ladakh (High-Altitude Mountain Desert). On the Spitian side of Parang La, River Parilungbli meanders and the trail runs parallel to it and ascends up to the pass and opening in to Ladakh.
The trek through the High-Altitude Mountain Desert originates in Kibber in Spiti Valley – the highest inhabited village in the world and culminates at the village Karzok by the banks of the beautiful Tso Moriri, Ladakh. The meadows of Kibber are galore with sightings of some exotic wild life such as the Himalayan Snow leopard and the magnificent horses of Spiti. The trail cuts across a gorge that leads to Dulma. From Dulma, there is another steep route to the meadows of Thaltak.
Let me reiterate here, will power is the key. It is not an easy adventure, but then, what is the fun in doing something "adventurous" that you could have done without whining and praying….."God! I will do anything you want! Just get me through this." 
But then, the beauty of Thaltak is a reward enough when and if we camp here.
Now comes the time for some serious climbing.
And, to quote Terri Guillemets:
"You need special shoes for hiking – and a bit of a special soul as well."
It could not hold more water than now!
The texture of the trail now turns challenging as it arrow-heads on to Jagtha, which is at an altitude of 4,785 mts and finally, to Boroghlen, which is at an altitude of 5,182 mts.
Then, from Boroghlen a steep ascent leads to Parang La. Once on top of the pass, the majestic and cosmic Valley of Changthang lies ahead in its full glory.
Parang La is also the point of origin of River Pare Chu. What is unique about this river is that it is the only river that originates in India, flows onto Tibet and then re-enters India via Spiti and finally reaches Tso Moriri (a high-altitude lake at 15,000 ft).Tso Moriri is a lake whose beauty is unparalleled and best witnessed in all its glory. The lake runs almost 27 kms in length and 8 kms in width. During the mating season, the lake is a play ground for Brahmini ducks, black-necked crane and bar-headed geese to name a few.
Yoo Hoo! Time to celebrate! The Mountain Gods tend to get a bit more generous after the top of the pass. It feels like they are having a good laugh at the madness that is "Himalayan Keeda" and almost endorsing it.
We start our descent from the top of Parang La, heading on to the origin of River Pare Chu and are greeted with a radical change in topography. Across Parang La, we will trek on to the Rupshu plains of the Changthang Plateau, which also happens to be the eastern-most tip of the Tibetan Plateau. This region also enjoys a fairly large population of Kiangs or what are more commonly referred as, The Tibetan Wild Ass. The trek across the Changthang Plateau and Valley is unique and unparalleled in the sure-shot sightings of some rare Himalayan wildlife. (Pun intended)
The trail opens in to the Valley of Dak Karzok and is now, fairly easy. The trail meanders through Datang Yongma, Racholemo, Norbu Sumdo and then crosses over to Chumik Shilde. From here, following the trail, we will reach the southern bank of Tso Moriri. The trail runs alongside the shore of the lake and will finally end at Karzok.
Oh Yes! You did it 
You rule 
Duration of Trek: A 12 days / 11 nights expedition with 8 days of high altitude trekking.
Best Time: Mid-June to Mid Sep
Max. Altitude: Parang La (5578 m)
Grade: Challenging
Group Size: 4-6 (can be customized for more participants)
Fixed Departure: 1st September 2017
Cost: 59000 per person (10% tac)
Itinerary:
Day 0: Arrive in Manali.
Team Mountaineerz will be happy to welcome you at Manali and receive you at the air port/bus terminal. We will settle you in at dA Base-mountaineerz for the rest of the day. Unwind and take in the environs. Explore the ancient town of Kullu and the young town of Manali. Walk around and initiate the process of acclimatization in the Himalayas. Go through your check list and finish off last minute essential shopping for the trek. Though, it is advisable to trek light with special import on the clothing and gear.
Reach dA Base for "round the bon fire" conference with the other climbers and the team members of Mountaineerz who would be your guides on the expedition. Break the ice with some great dinner and chill with your fellow climbers.
Make sure you drill your guides and instructors with any questions or doubts you may have pertaining to the trek. They will be happy to answer your questions and share with you a few tricks of the trade and tips to make your adventure a happy and successful one.
Mountaineerz only has a few asks of you…
Please ensure, for your own trekking pleasure you pack light and only the absolute essentials.
We humbly ask of you, never ever argue with your guides and instructors while on the trek. Remember, they only have your best interest in mind and any decision they take is taken keeping your safety and the success of the expedition in mind. Any and all decisions taken by the guides and instructors will be deemed as final.
Be patient and respectful towards your fellow climbers. Remember, up there, you only have your wits and your fellow climbers.
Remember to get your camera along.
Day 01: Manali - Chandertaal (126 km / 8 hr. )
The beautiful and charming town of Manali will greet us in the morning and after a rich, high energy breakfast we will depart for The Moon Lake – Chandertaal. The drive to Chandertaal will take us over Rohtang La (3,980 mts) and Kunzum La (4,558 mts). It takes about 8 hours roller-coaster drive and finally we will arrive at the camping site, 5 km short of Chandertaal. Chandertaal gets its name from the crescent shape that it rests in. The reflection of the moon over the lake at night is a sight which cannot be put in to words. After a nice, warm and vegetarian dinner, we will retire for the day. We will camp in tents over night after spending time at the banks of Chandertaal and this will also offer us a chance at another day of acclimatization at a relatively high altitude of 14200 feet. Good for us .
Day 02: Chandertaal - Kaza (2-3 hr.)
If a night by the shores of Chandertaal cannot be described in words, then the sun rise is only too good to be real. Enjoy some yummy and high-nutrition breakfast to welcome the day. We will leave Chandertaal and drive up to Kaza. We will camp in Kaza for tonight. Kaza is a charming little township and is adorned with ancient monasteries. Depending on our time scale, we may get the rare opportunity to visit and explore the ancient Tabo monastery, Dhankar Monastery and Lalung Monastery. Another great day to get acclimatized to the high altitude Indian Himalayas!
Day 03: Kaza - Pin Valley - Kibber
Adventures of this day include exploring the Pin Valley and Kibber (4,205 mts) – the highest inhabitable village in the world. Enjoy a hearty breakfast and embark on your exploration of the ancient and famous Ki Monastery, Gungri monastery and Kibber Village. Once we arrive in Kibber, we will pitch our tents to camp here for the night. Imagine being perched at the highest village in the world and sipping yummy masala chai with Parle G. Now, that is something I can brag to my grand children about. Mingle around with the natives of Kibber and live a life that only a handful live, if only for a day.
Day 04: Kibber - Thalda (7 hr. trek)
The trail from the highest inhabited village in the world – Kibber, arrow-heads north and steeply drops in to the gorge of River Parilungbi. It moves on to a bridge and climbs through cultivated fields on to a carved rocky area. This path then leads to Thalda (4,875 mts) camping site. This is where we will pitch our tents for the day. Have some much deserved tasty dinner before snuggling into your sleeping bags.
Day 05: Thalda – Boroghlen (7 hr. trek)
Wake up and see. Just see the beauty that surrounds you while you munch on your breakfast. Pack up your bags and buckle up for another day of some amazing sights. The trail from Thalda is sandy in parts and descends on while crossing a moraine to the river gorge. Meandering on through to the gorge, the trail leads on to Jagtha. After this, the trail ascends and climbs steeply to a point where two glaciated valleys meet. We will take the opening facing north. After trekking for about a kilo meter, we will cross the moraine and will begin our descent to the camping site at Boroghlen (5180 m). Pitch your tents and turn in after dinner.
Day 06: Boroghlen - Parangla (5578 m) - Kharsa Gongma (8 hr. trek )
After breakfast and some high energy morning exercise, we start ascending the scree and snowy landscape. The trek here entails steep sections before we reach Parang La and so necessary care needs to be taken will negotiating the crevasses. From here, there is a clear view of Parilungbi (6160 m), Shilla (6111 m) and Gya peaks (6794 m). To the north, is a descent of 4 kms along the glacier, which leads to the origin of the River Pare Chu.
We will keep moving on to the right face of it and navigate our steps through boulders and scree and finally, on to the Pare Chu belt. This will lead on to the camping site at Karsha Gongam (5,150 mts). Chill here for the night after dinner.
Day 07: Kharsa Gongma - Thakote (5 hr.)
The trek to Thakote can be slow to negotiate as this stretch of about 12 Kms runs along slide the river and many side streams need to be navigated. After crossing Parang La, we will come across many small spots such as Dogpo Phirtse, Dotung and Dakarkuru. We will camp for the night at Thakote (4,900 mts).
Day 08: Thakote - Umdung (7 hr. trek )
We religiously follow the roller coaster trail which runs along parallel on the right side of the River Pare Chu. On the way, are many side inlets and it goes up & down a few times before it reaches Umdung (4,750 mts). This is where we will pitch our tents.
Day 09: Umdung - Chuntung - besides Tsomoriri Lake (8 hr. trek )
Leave Umdung and head on to Tso Moriri. A trek of few minute from Umdung, will lead the trail to ford the ferocious River Pare Chu and on to Narbu Sumdo (4,663 mts). Singe Namgyal built a fort here in the 17th century and its ruins stand even today. This is where one also gets to witness the first signs of human existence - the Drukpas with their yaks and thousands of sheep & pashmina goats. We will also see the hardcore tribal life style of the Changpa tribe with their rugged, woolen tents.
Welcome to the wilderness that is Rupshu valley. The trail will now suddenly move away from the river. It meanders along a smaller and secondary stream through a grassy meadow and finally arrives at the campsite at Chumiksthal.
From her, the trail moves on to Phirtse Phu and passes through an expansive valley to reach Chuntung village (4,542 mts) . This is where we get the first sightings of Tso Moriri. On the southern shores are some old and ruined houses. The lake is surrounded with snow capped mountains and has hues of a brilliant blue. We will camp here by the lake.
Day 10: Chungtung - Chakardung (5 hr trek)
Trek around and explore the surreal environs of the lake at your own pace. If you are lucky, you might even see some migratory birds. Trek on to Chakardung (4,542 mts) and pitch tents to camp.
Day 11: Chakaradung - Karzok (4 hr. trek)
Guess what! Another day in paradise. Trek alongside the river and reach the village of Karzok (4,540 mts). It is an extremely remote village and chiefly inhabited by nomads. Spending time here makes your connection with nature raw and pure. Visit the monastery and mingle with the nomads to feel the nomadic way of life. Camp here in the nomadic village and this brings us to the end of the trek but the adventure goes on…
Day 12: Karzok - Manali
We leave for Manali from Karzok in vehicles.
Trip can be customized to include Leh (221 km /10 hr.)
Day 13: Chill at the jungle retreat and departure:
Relax at this spectacular location or go angling (some nice spots near our base) the next day, before we part ways here to meet soon for our next adventure.