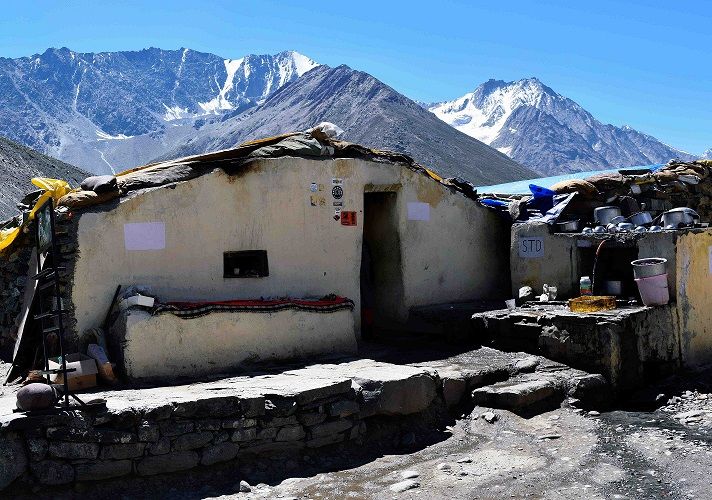 A non-place. That's what Batal is. Acres and acres of emptiness with the sudden interruption of a couple of encampments and a PWD guesthouse. This along with a steady population of five to six people. There you have it - Batal in its entirety. Welcome.
Once that rickety, green and white HRTC bus leaves with all its well fed passengers, clattering over the red metal bridge, the hills grow on you from all eight sides. The wind presses harder and urges you to climb down that step and stoop into Chacha Chachi's dhaba.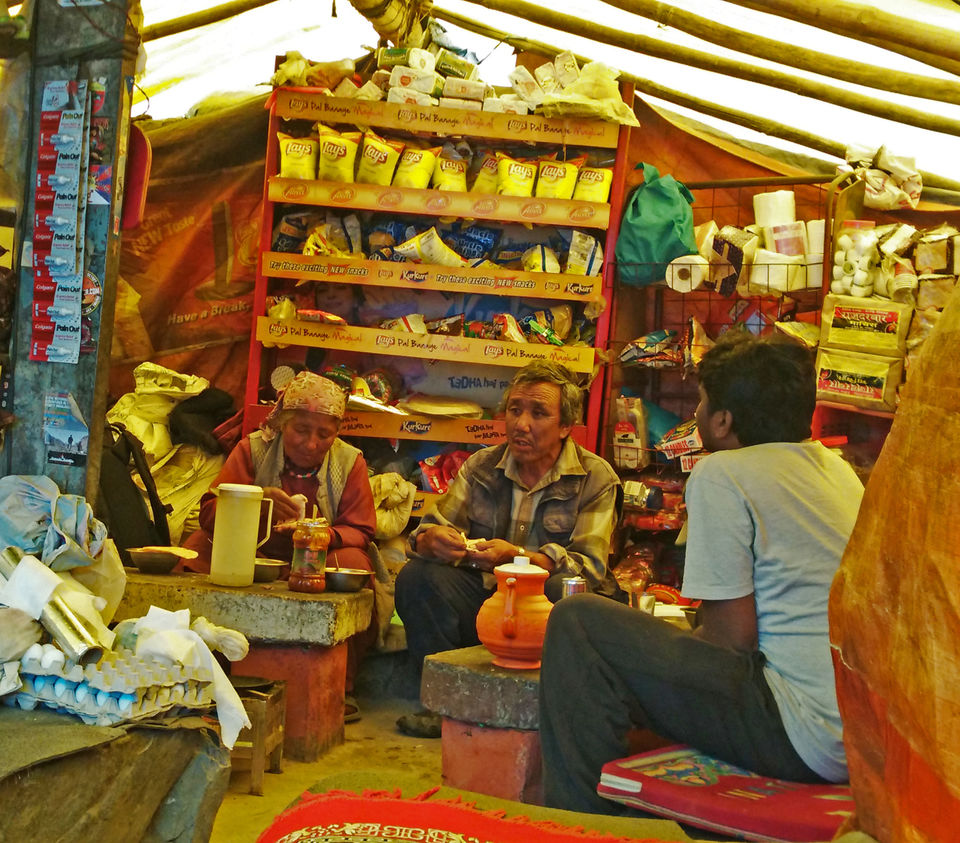 It's a cosier world indoors. The first thing I notice - the crazy wind has stopped. I'm grateful for the shelter. And then as my eyes adjust to the dim yellow light seeping in through the rainbow layers of plastic sheets on the roof, I spot the chacha and chachi.
Chacha behind the stove, slightly hazy behind the steam that rises from the kettle. His beloved Chomo (pronounced with an s) just settled down to rest her knees after dealing with the afternoon customers.
Each year Chacha and Chachi make their way to Batal from a village 5 km below Manali to hack away the snow that covers their dhaba around April. More than 40 years of cooking and catering to travellers who make their way to Kaza and beyond. It takes them about 9 days to uncover their shack from all the snow, says Chachiji as she puffs rotis at the back of the Dhaba partially hidden in the darkness.
Chacha with his wrinkle folded skin is a straight faced bugger who loves to mishear you.
"Chacha ek chai dena"
"Kya? 8 chai?"
"Chacha rehne ka kar do theek daam mein."
"Theek daam... Hazar? Do hazar?"
"Aapke lie nai chacha, mere lie."
Chachi is irked with him. They have their tiffs in the local language at the back of the dhaba. You can make out the dissatisfaction in her voice by the grunts. Chacha is late in serving dinner and not proactive enough to ask new guests what they want. Chachi near the stove at the back keeps a tab on all that's not going according to plan.
Chacha is always working. Giving out instructions to chhotu (the cheeky Nepali in their service) on how to clean the shelf better. A joke always on his lips.
"Chachaji 4 chai ka kitna hua?"
"400 dedo."

Traveller, shocked but pretending otherwise, starts pulling out the money when Chachaji intervenes. "Arey 40, bhai."
I have cooped up in a square stone shack with two layers of plastic sheets for roof. Yellow and orange. This room can accommodate up to four people. The narrow entrance guarded by a broken sheet of tin, opens up to a low floor stone slab on the right with four mattresses placed vertically one after the other. This then is covered with an off-white sheet. At the foot of the bed, is another stone slab (a continuation of the bed) that is used for storing an army of blankets all unique in their effectiveness to tackle the cold.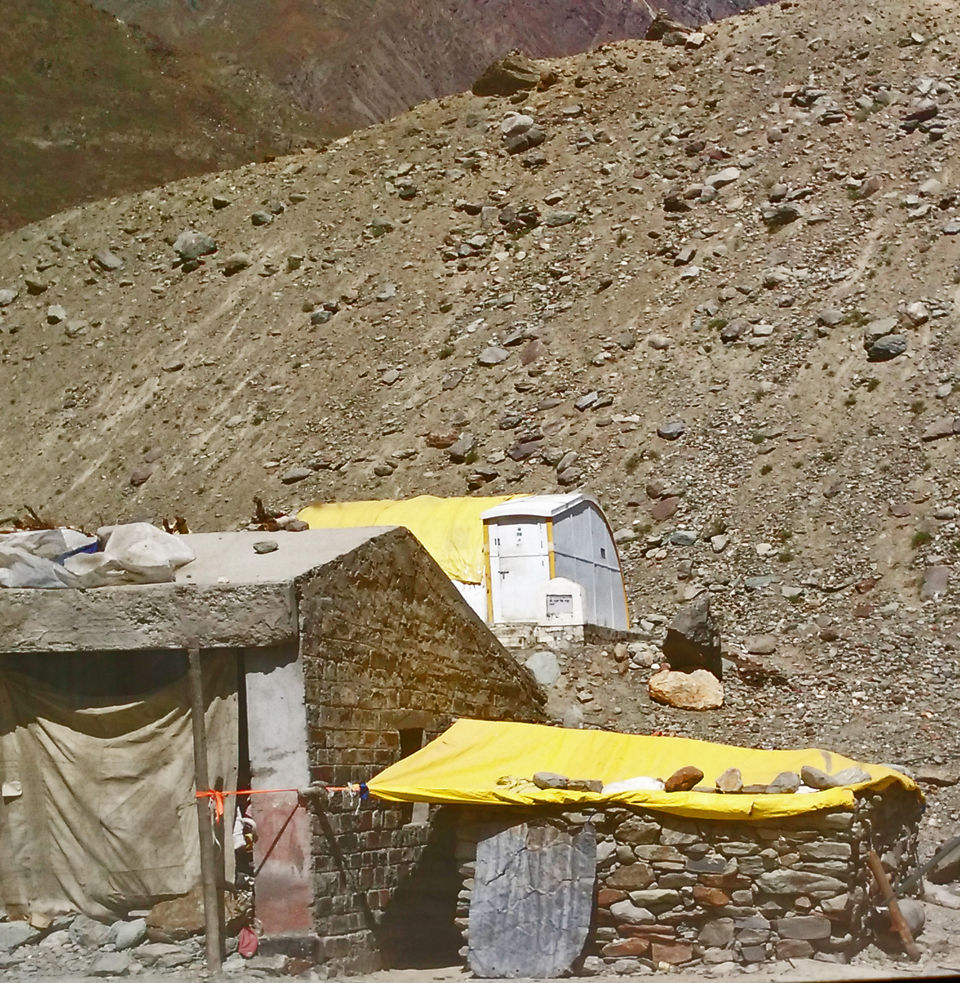 Later in the evening, I'm joined by Roe and Adi from Israel. They are both 21 years old and have just finished their army stint. In the evening we have a long chat about all kinds of things. About their lives back home, about the country they belong to, about the country they are travelling in and more. They are thrilled to see I scribble in English. They can't believe it and keep repeating it to each other for some time. They tell me how English is damn important in Israel too. They even tell me that they are not in India just for the hashish. In fact, they don't quite approve of those who come to such a beautiful place just for the drugs.
The three of us are being charged Rs. 200 each for one mattress in the stone shack. Plus there's dal, chawal, rajma and aloo beans sabzi for dinner. God's food. Warm and steaming. But I'll stay long enough to hate the menu and even discover a box of meat strategically stored above the shelf and secretly wish I could eat some of that. Mmm mutton. But I don't get any of it. Instead, there's some chhang to drown my sorrows.
The stoney roughness here is too overwhelming at times for a plains person like me with maach bhaat and other belly sagging delicacies on my table.
Life in Batal doesn't give you a belly. It gives you wrinkles. A roof of plastic sheets is a privilege here. Taking a bath in the PWD guest house in its freezing water is a privilege here. Knowing that a somewhat clean washroom lies safely behind locked doors in close vicinity is a privilege. Electricity would be but there is none. Just one dim solar light in Chandra Dhaba and a flickering candle in my stone cave flickering wildly in the wind at night.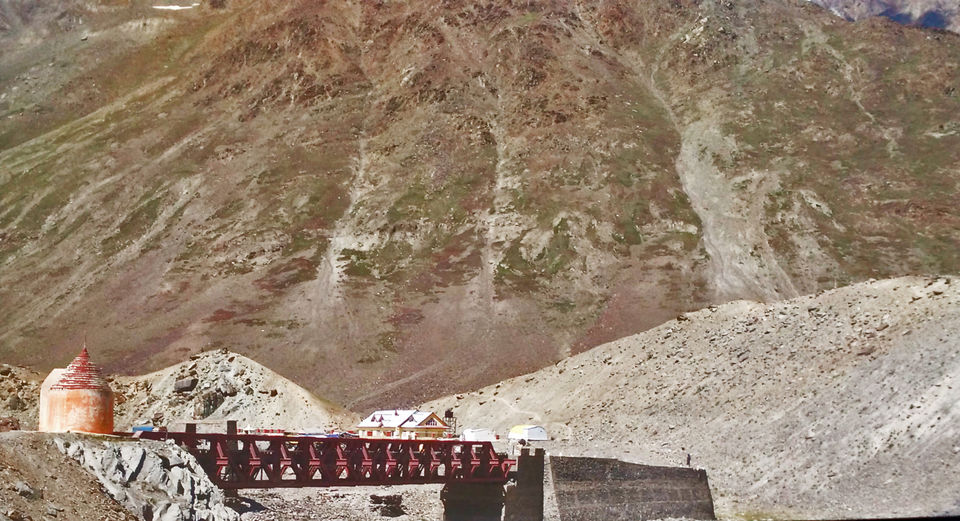 ***
The sparrows here are marked like the lose rocks that dot the hills around. Frail little things.
The crows here, black as can be with yellow beaks, don't really fly. They float. The wind won't allow them to flap their wings.
When you are in Chandra Dhaba, how can you not head to the Chandrataal next? Chacha and Chachi harp on about the beauties of the blue lake and almost every other set of tourist who stop at the dhaba are heading that way. Plenty of offers for hitchhiking/lifts. But looks like the wind of Batal has messed slightly with my sanity, otherwise why would I get such a radical idea?
Well about my Chandrataal adventures next time then.
Peace lovelies <3