I Declare my dreams of exploring Himalaya Range were on 2015, Since I Finally can feel the snow with my own hands with my own budgeting money in my pocket, that 1st time were at Himachal Pradesh India, to Shimla and Solang Valley , I am From Tropical country Indonesia and dreaming about touching the snow since I was a little girl , I made friends from some countries , join the bacpacker community on Facebook and some world chat community and also its related to increase my knowledge, my english and I want to be wider in having the conversation with all the people around the world.... and the big motivation beyond all are... because I wanna travelling the worlds.. that was my dreams since I was a litle child..
And... my first choice to see the snow at the first time was at .. India.. I found my Tenzing Norgay there.. He guide me to explore those Himalaya range until today.. so much Bless I met him in this life as these path of life always full of surprise and always feel so thankfull and gracefull..
And today want to share about my 4th trip of exploring Himalaya.. this time its also very magnificent and deepening my though and knowledge about Himalaya Peak's name.
Uttarakhand, this place are one of a district in north of India, which is the nearest city to reach from Delhi are Dehradun, Uttarakhand has a lot magnificent place for the mountain lover to trekking , Hiking and also exploring the River and the lakes, to entering the Himalaya range from Uttarakhand you should reach Risikesh, one of the Famous Places for Ganges River, Yoga Hub for the people around the world.. will breakdown my six days Journey from day 1 entering the Risikesh..
Day 1 , 24th of January 2018 - Risikesh
I entering Delhi almost Midnight on 23rd of January 2018, Received by my Tenzin Norgay of Himalaya, we directly heading to the Bus Station and leaving for Risikesh, its almost around 5 – 6 hours to reach Risikesh.
Waiting for the sunrise and drop our backpack at hotel, we start exploring the Ganges Rivers, the Rivers has green water color which is look so beautiful when you watching it between the Suspension bridge, and you can going down from the river bank with the white sandy beach near there and big stones you can step on it.. Well it's great to hunting some pose with your camera phone. Or… you can enjoying to swimming in the river.
this Place are famous for Yoga, its International Yoga Hub for all over the world , you can find the People around the world to entering the Ashram or Dormitory for taking a Yoga class, they can stay there weeks.. Even months for Yoga.
The weather are strongly cold each time the wind blow as its start of winter season in January would be between 13° - 15° Celsius degree at day time and can drop until 10° Celsius degree at night..
There are also many restaurant with delicious food, with very achievable price.
Risikesh is your gate to entering Himalaya, .. so.. you must pass this beautiful place before start your Journey to Himalaya range in Uttarakhand.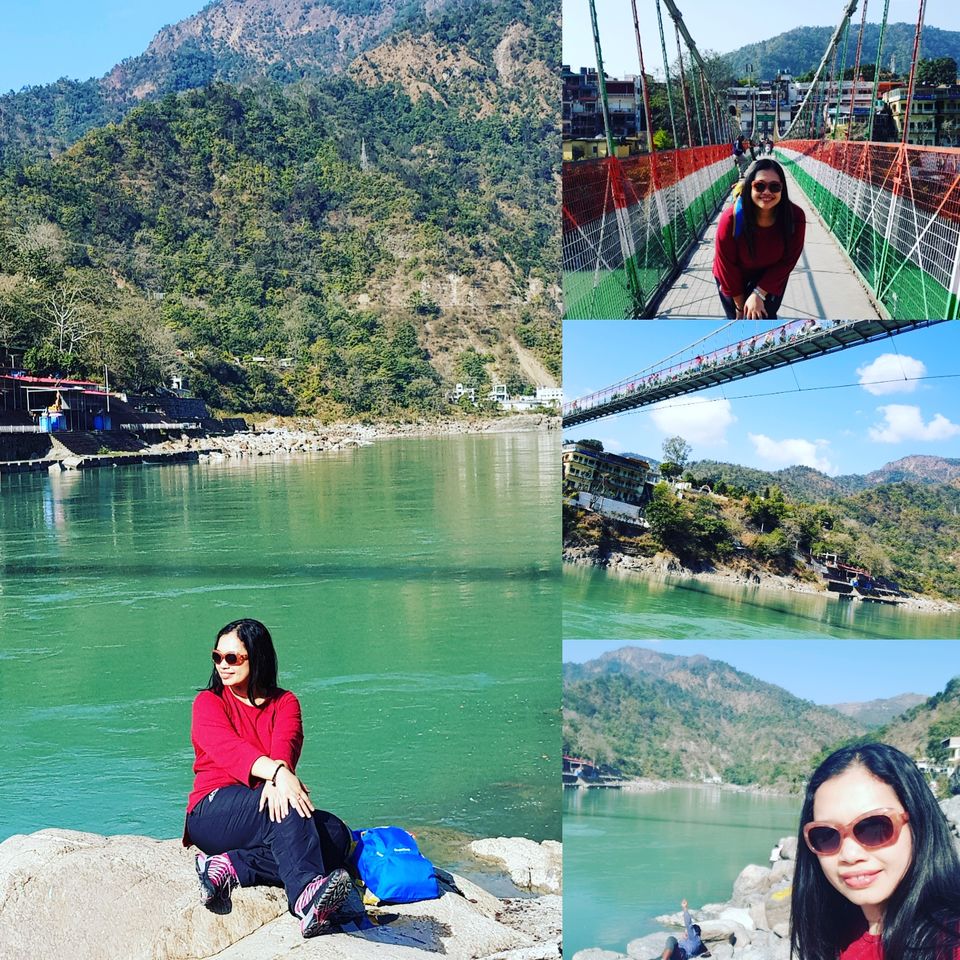 Day 2, 25th of January 2018 – Deoria tal
Early morning with the Taxi we rent until the next 2 days , we heading to the Place I never imagine before… it tooks around 6 hours to reach the Location , before you going up the reach the Lake.. And never hoping for Pony ride.. try it with your own foot to reach there
As a person with a lazy exercise.. I can't Believe I can going through into the Snowy and Climb up way trekking to the alpine lake of Deoriatal.. around 3 KM from the village heading up trekking it's the 1st time experience in my life ,, and huufhhh… ya you can guest.. im very slowy ..and slowly.. walk.. step by step.. Slippery sometime.. I Recommend you to using appropriate shoes for trekking.. as I also preparing it well, you will step on the Snowy road and slippery.,
And… yes Finally.. in the afternoon ..When the sunset down.. we reach the Place.. Yippy..
Never expecting to find a guest house, hotel or even a toilet… hehehe… be ready for that Ladies.. back to nature.. be eco-friendly… a Tent with a big sleeping bag and a small Lamp will acompany you tonight…. And… keep warm… the snow can falling in midnight for adding your sensational Freezing experience..
But.. for food.. some small food Stall near will prepare it for you.. don't worry , once again… be eco-friendly… back to nature.. Don't litter your garbage.. put it in the Garbage can.
Toilet? Oke.. this one too.. it will be prepared by the tent Builder.. a tent will become a function as the "Eco" toilet.. back to nature guys..
Amazing Good Morning!!" at Deoriatal Lake.. wont believe what you have in the morning in Deoriatal.. the Peak of Himalaya infront of you!! Its Chaukhamba peak the highest peak in Gangotry Area, and you can see the reflection of the peak inside the Lake of Deoriatal.. the sky is very clear and blue.. the first time in my life got this amazing moment.. the snow covered all the bank of the lake make the pictures of this nature are magnificent!. I cant Stop to hunting all the pose and the pictures of its beauty with my camera Phone , I will not and can not Miss it ! I Love it!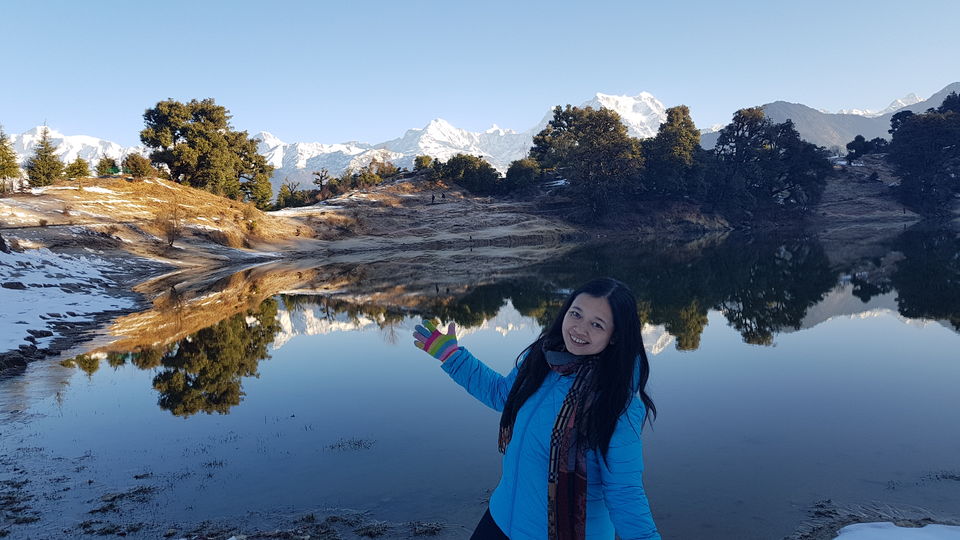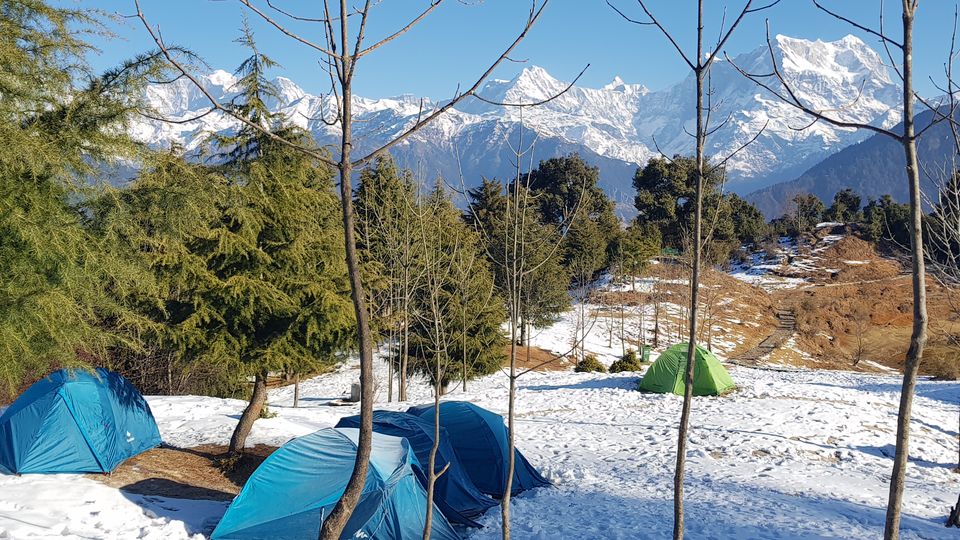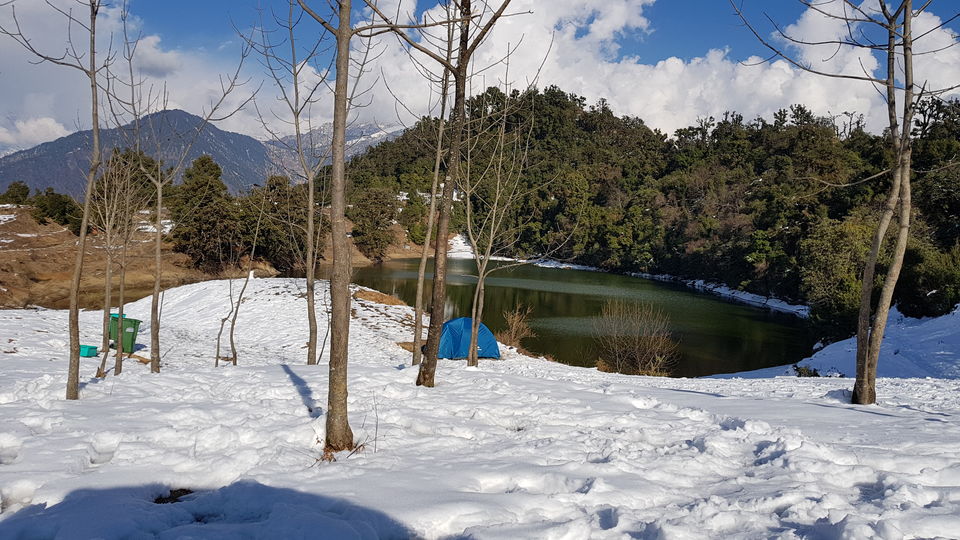 Day 3, 26th of January 2018 – Auli
Going down from Deoriatal Lake and continuing our trip to Auli, reach in the afternoon, and taking rest…
Yeyyy… Finally here.. Auli.. it's a Touristic Place .. and amazing one too.. its remembering me with Titlis Mountain in Switzerland, was visited Titilis the last 2 years ago and yes.. its amazing.. Snow everywhere.. reach the top with cable car and you can enjoying the view from the Top.
The diferent is about the infrastructure and the ticket system, we almost run out of the tickets we almost a half day to queue for the tickets.. and they don't provide it online, OMG.. I almost desperado at that moment.. as I also must chasing my time to visit other places..
With a bit Drama, finally we can reach Auli and enjoying the beautiful Peaks of Garhwal Himalaya- Uttarakhand from this Place, those peaks are :
1. Nanda Devi Peak 7817 m
2. Neelkanth Peak 6597 m
3. Ratan Van Parvat peak 6166 m
4. Rohti Peak 6065 m
5. Behtar toil Peak 6354 m
6. Trishuli Peak 7074 m
7. Man Peak 7279 m
8. Kamet peak 7756 m
9. Chaukamba Peak 7138 m ( we can saw it from Deoriatal reflection)
10. Hathi Godhi & Parvati Peak 6729 m and 6719 m
11. Dunagiri Parvati 7066 m
12. Barma peak 5813 m
13. Nanda Gnunti Peak 6309 m
Those 13's of Himalaya peak you can see all from Auli, isn't amazing!.
The International Winter Festival also will be held in Auli between January- March , as they are also provide artificial snow lake in the center of the resort and also some great Snowboarding and Skiing Area for the athletes.
After a whole day with Freezing cold weather -7° Celsius degree, finally we going down with the last Cable Car from the Top , and again with a bit drama with some of People from the Big City which is do not understand about the Queue and worrying cannot getting down from the Top, as its announce the last cable car to going down.. huft!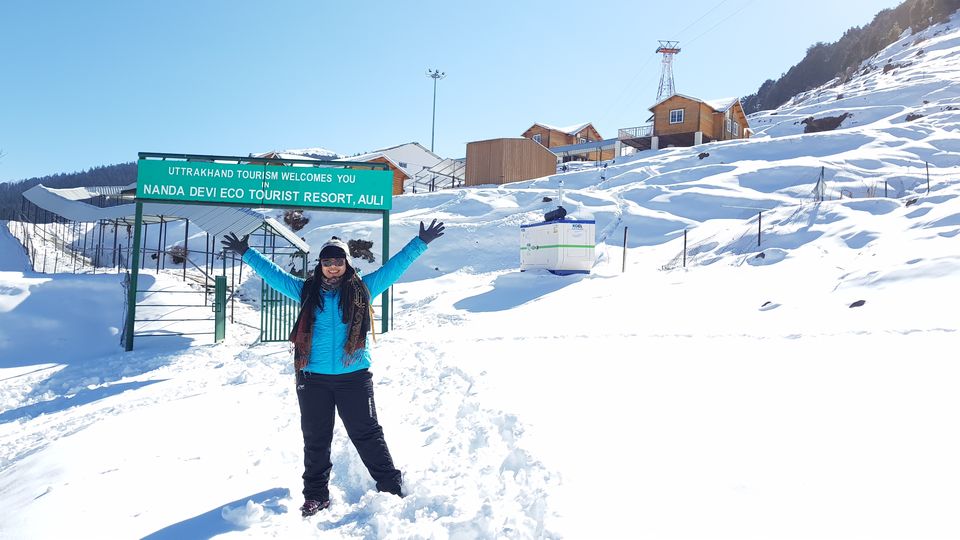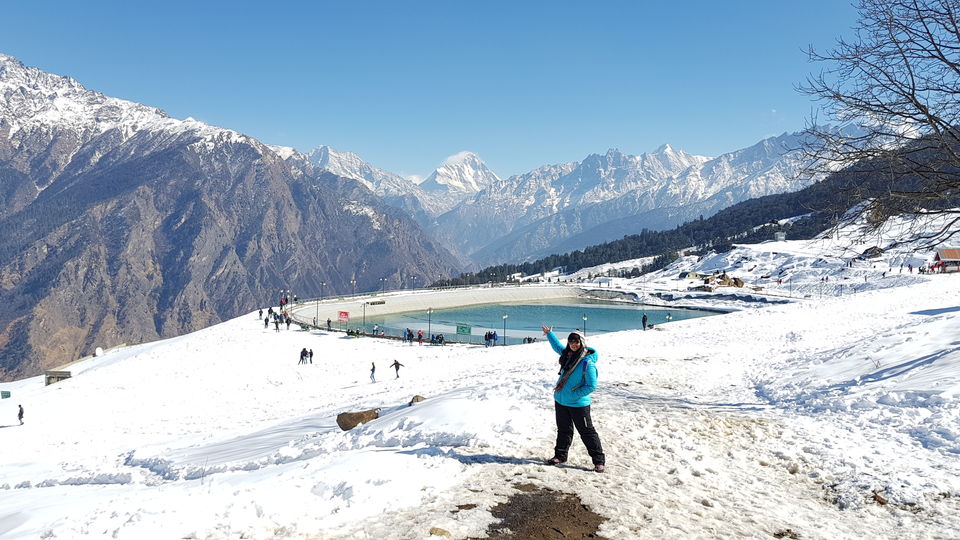 Day 4, 27th of January 2018 – going back to Rishikesh
In the early morning from Auli , half day of driving the Taxi we going back to Risikesh..
Hello Again to Rishikesh…
In the Morning we visited the Place of Yoga Ashram which is the Beatles were ever there to have Yoga and meditation the place were in renovation due to a big flood, but you can still roaming around the place, the place name is Chaurasi Kutiya, you can walk along the river bank around 2 KM to reach this Place, you can found some painting and gallery about The Beatles there and took the pictures of the building which is look like a small cave and it's a place for people to doing the meditation and also doing Yoga.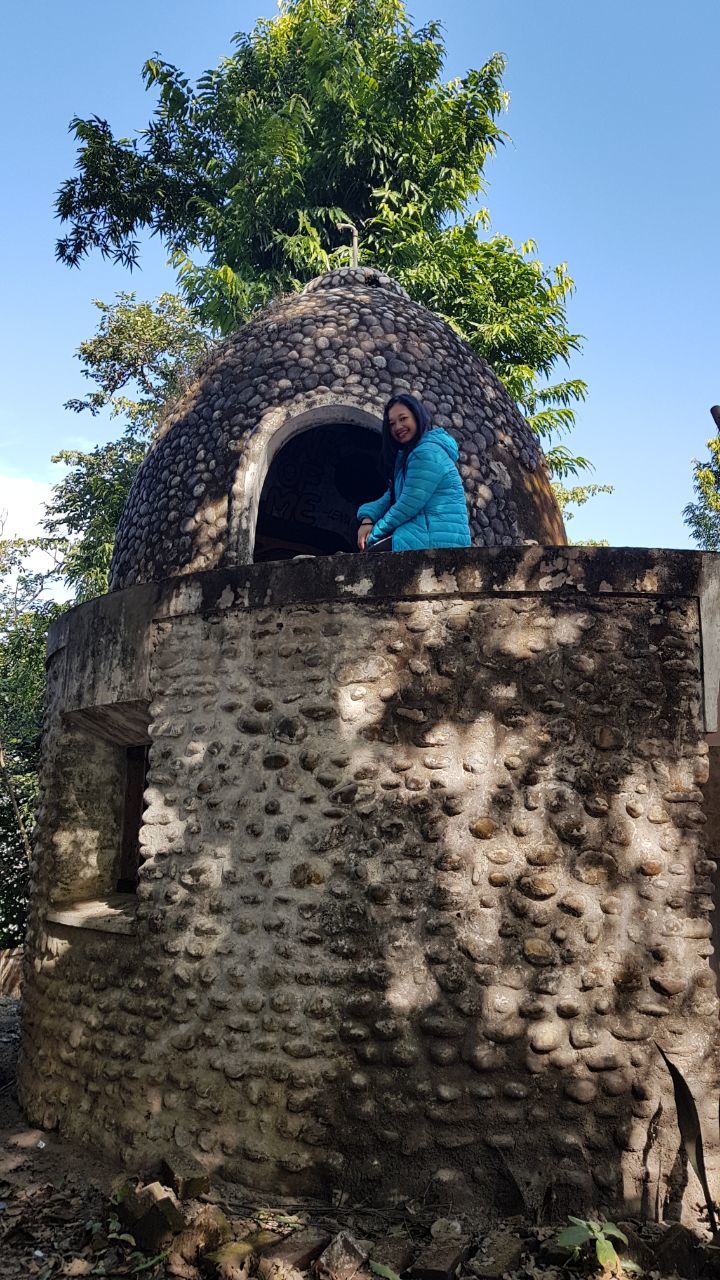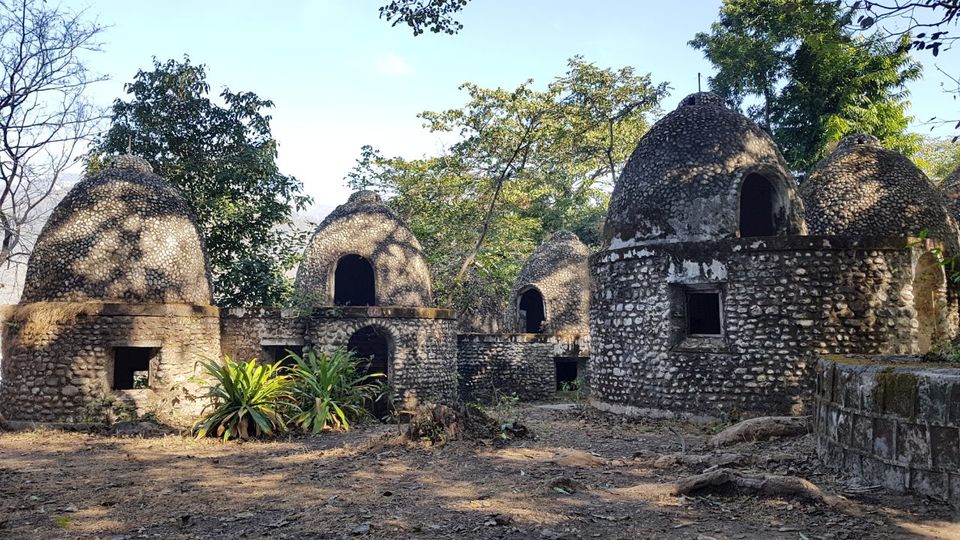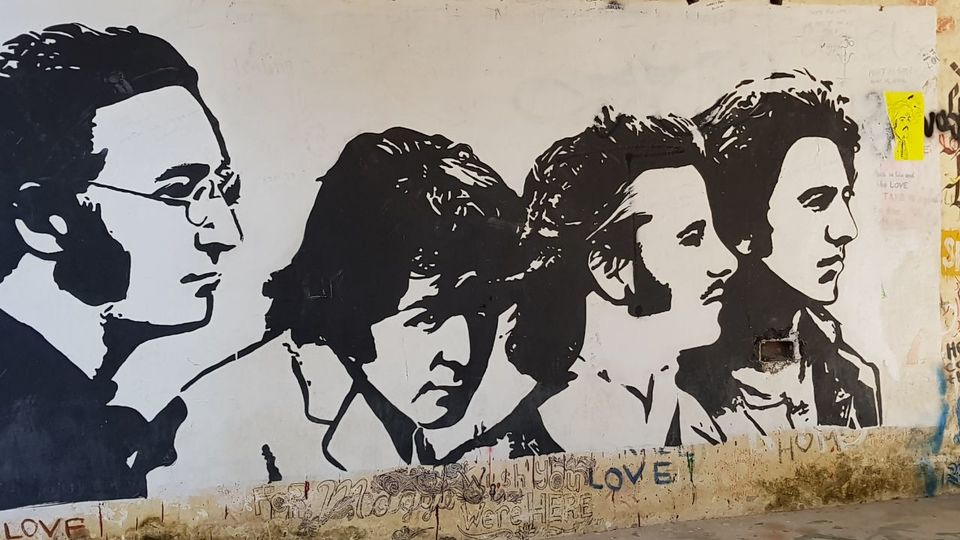 After 1 pm we going back and this time we go for Rafting! It's a must activity you must do in Risikesh.. oke ..3 hours Journey with your Big Rubber Boat Sailing the "Boom" with big wave between the big stones.. and be ready to swim and jump guys.. Those captain of your boat will make your boat upside down.. and let you flowing away around 1 or 2 KM to feeling the fresh of Ganges rivers water .. for me this is also the first time experience in doing the rafting outside my country.. and yes.. I love it!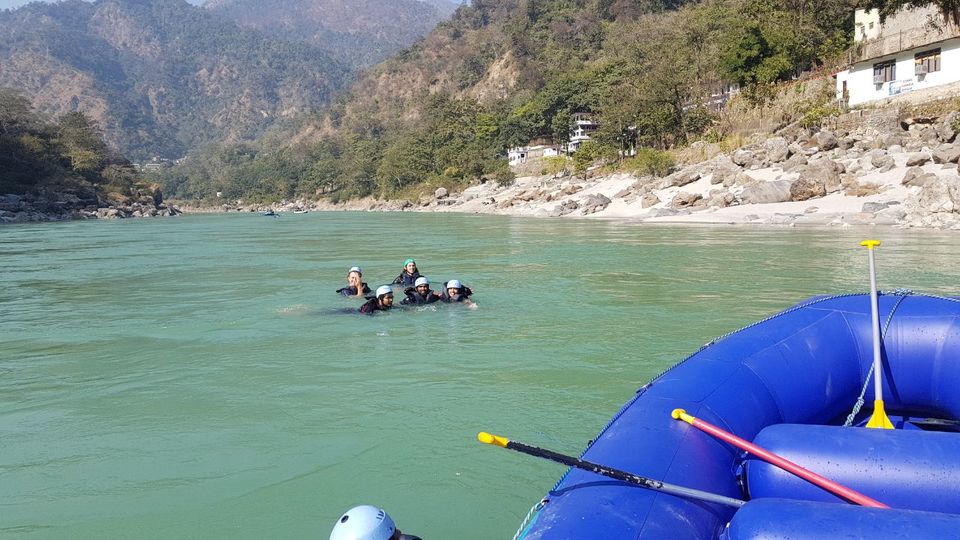 In the evening we went to the a place which is the ceremony of Praying in the temple along the river Ganges, this also very interesting attraction for tourist, its Evening Fire Puja on the Ganges River or Aarti ceremony. The light from the Fires, the Music.. and the praying sound its make you more interesting to following this ceremony till the end .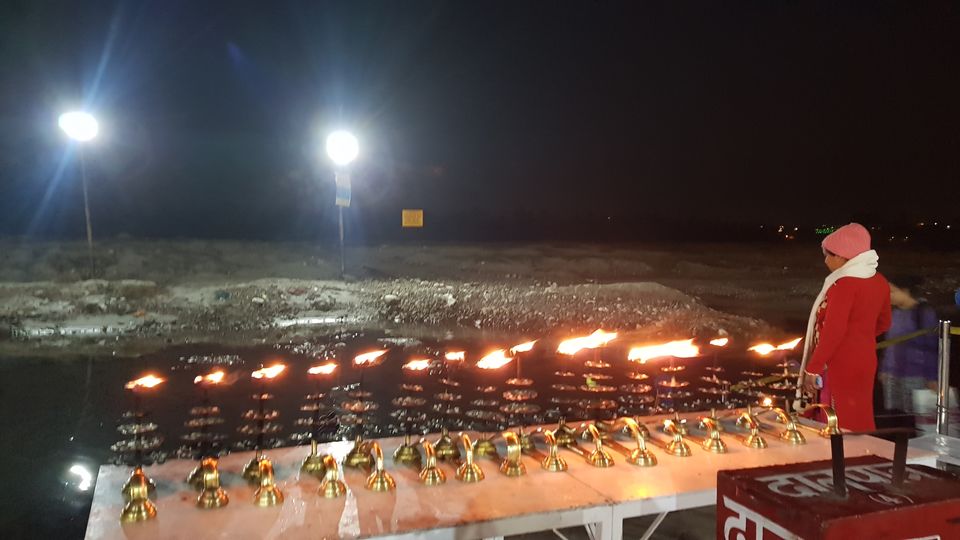 Day 5, 28th of January 2018 – Mussourie
Oke.. lets move into another part of Uttarakhand which is you can also visit.. it Moossourie.. it's the nearest touristic place for the people from the City of Dehradun, especially when you have hot summer season.. the weather are always chill here .. in this place you can found artificial park which is built from the british government long time ago, lots of beautiful flower inside the park name is The Company Garden Mussourie, you can also rent a traditional dress here and taking the pictures with it in the garden.. I always take a chance whenever I can using the traditional dress from the Place where I've visited..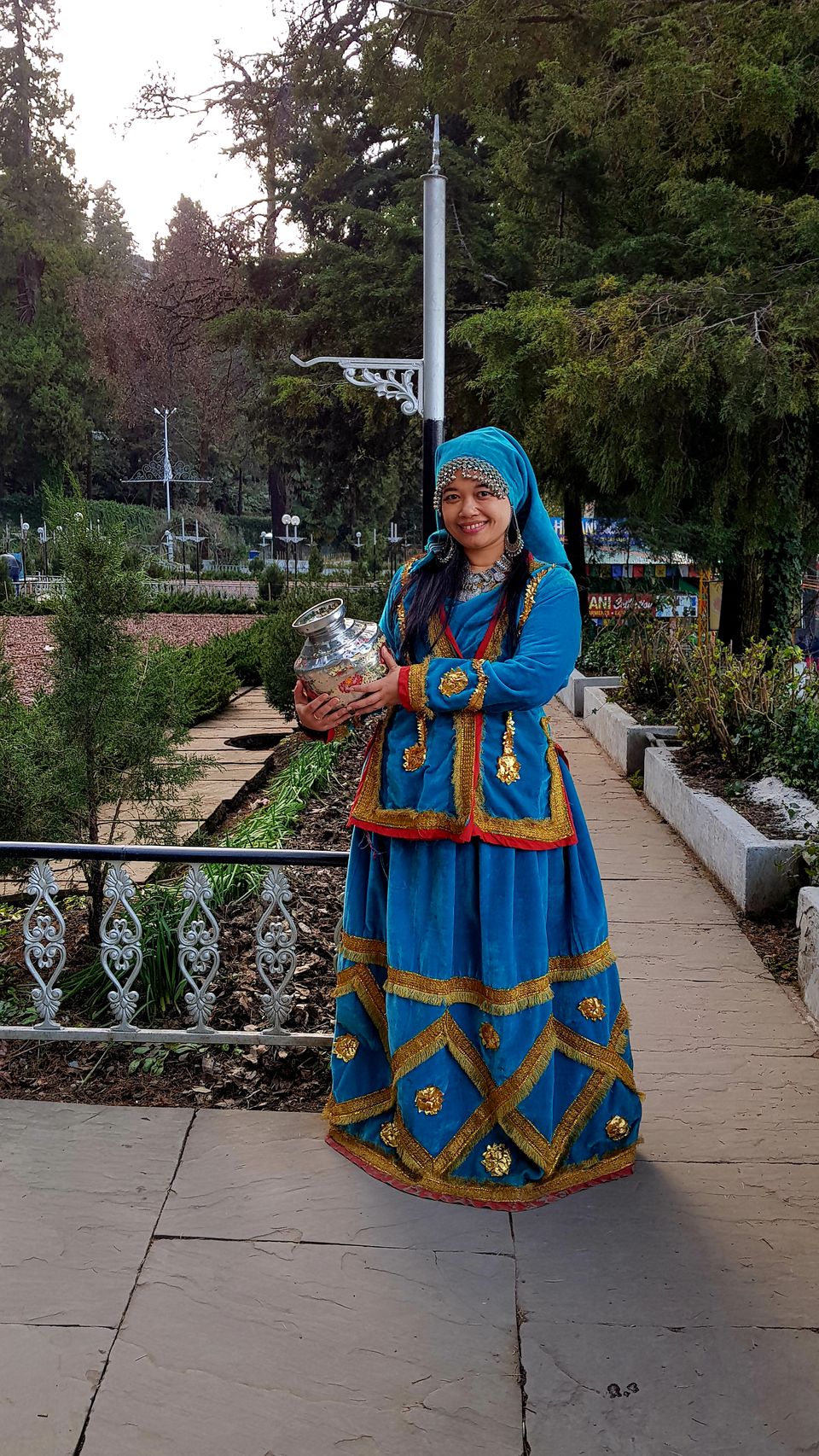 alots of Hotels and also a mall road which is you can found many small restaurant and food stall and enjoying the view of Dehradun city from the Top.. Friendly for family to visit and if you want to enjoy the movie you can found a cinema there.. :) at that time were the 1st playing of new movie Padmaavat in India.. so I don't want to miss it too..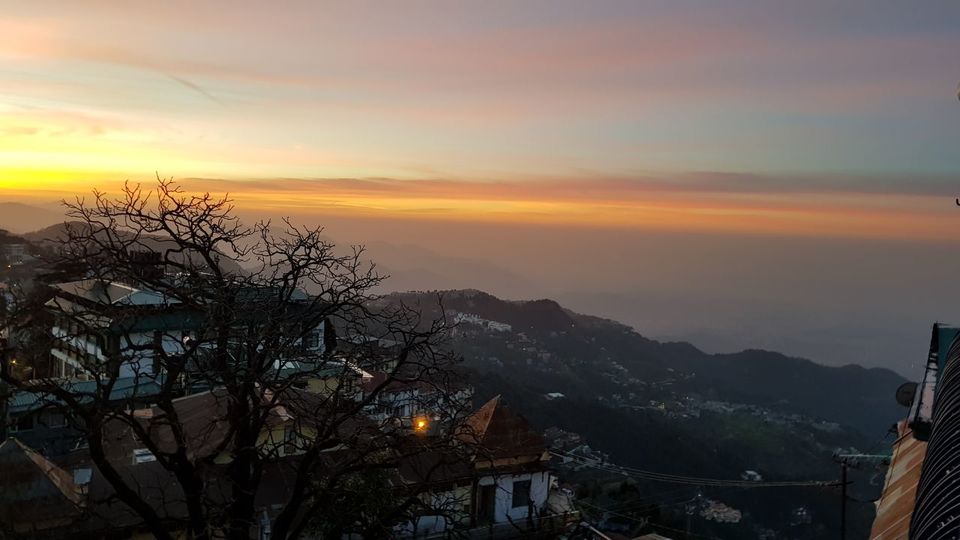 Day 6, 29th of January 2018 – going back to Delhi
In the Morning we heading to Dehradun airport and going back to Delhi.. we reach Delhi in the afternoon, and visited old Delhi to shopping a bit for my mom and my friend in Jakarta..Old Delhi always full of loud honking sound from the cars and very crowded area.. But always make you want to come there in searching the iconic stuff to bring it home and of course with very achievable price..
Day 7, 30th of January 2018 – Heading to Kuala Lumpur for next Trip to Myanmar
That's it,, my 6 days of Himalaya journey.. my 4th time.. and there must be my 5th , 6th, and the next.. to all the Himalaya range…always amazing, always falling in love with the Magic of Himalaya and its snow… I always feel Blessed to have all this opportunity..
#neverblamemetofallinginlovewithHimalaya# 
Finally I must going back to the IGI airport to chasing my midnight flight to Kuala Lumpur..and heading to my Next trip to Myanmar for the next 5 days… will write this Myamar trip too.. soo.. stay tune!! ;)
Thank you!
-Febby-
#IG @f3bbyfebby13
Frequent Searches Leading To This Page:-
Sunrise view point mussoorie uttarakhand, sunrise time today in mussoorie, unexplored places near mussoorie, places to visit in mussoorie and dhanaulti, places to visit in kumaon uttarakhand, uttarakhand hotel management institute, uttarakhand tourism hotel registration, uttarakhand trip sheet