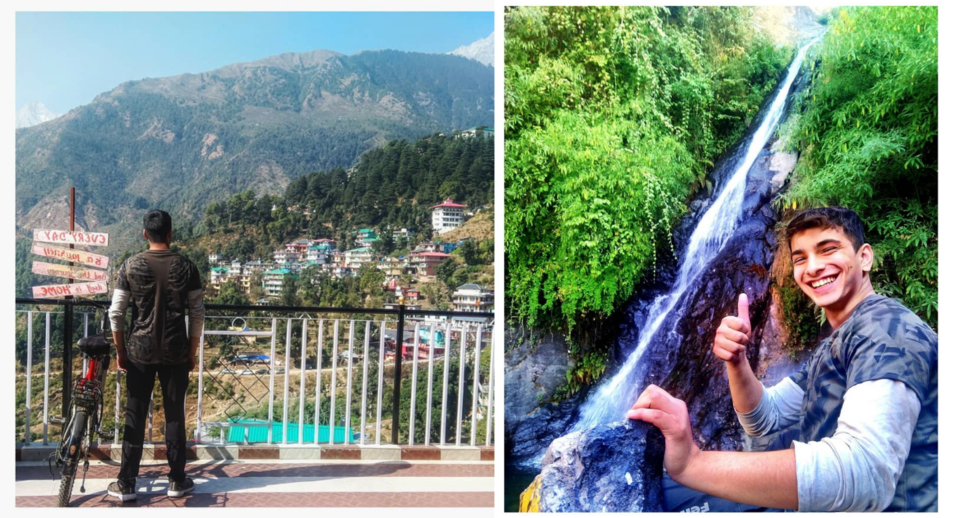 2020 is the year that many of us would consider 'Black Year' by fellow travelers. With quarantine and State Lockdowns, everyone almost lost the hope to travel again. But with every new month there was relaxation of travel rules and some of them started to travel again including Me too but of course with precautions. All I was thinking this whole year was to go to the mountains but it should be a memorable trip and not just a getaway.
So I planned to go to Mcleodganj on my Bicycle. Yes, 200 km distance I decided to cover on a cycle without thinking of the hardships that I had to face. I knew it wasn't easy but I was prepared mentally.
I waited for the right time of the year i.e early November so I wouldn't feel the heat of the Sun while cycling. It took me like 2 days to reach Mcleodganj but as I said it wasn't easy.
I tried to cover half the distance i.e 100 km to Pathankot in a single day but I wanted to do it before sunset because after sunset it would have been too risky on a cycle in dark. After hours of peddling, I started losing patience so then I took the help of momentum from motorbikes, tractors or autos, anything that could increase my speed and I did reach there before sunset.
Crossing Pathankot you officially enter Himachal which was a big victory for me. But due to my over-excitement, I had an accident. While riding, my cycle touched with a speeding Truck and I lost balance and I fell and got dragged like 10ft. By God's grace, nothing happened to me (just a few scratches) but my cycle's both brakes got loose and dropped out and its night light got lost too.
People from nearby came around & tried to help me and pointed me in the direction of the Bus Stand so I could continue the journey. I kept my backpack in the nearby shop so that I could try to get the cycle over the bus. I was so invested in getting the cycle over the top of the bus that I forgot about the backpack and just went in on the bus and moved on. Hence I lost all my essentials. But instead of looking back, I decided to continue the journey as I had my wallet and mobile with me all the time (the 2 most important things to lose). Got the cycle repaired and now the Mcleodganj was just 10 km away. I was already pretty much in shock by the accident and the uphill was killing me.
I stopped and waited for pick up trucks. I would stand in front of them and start shouting "Help, Help!". Not every one of them would stop but the one which did stop asked me about my problem and I proposed to pay them in return if they could help me and my cycle to reach Mcleodganj before sunset. He smiled and Agreed.
His smile said everything and helped me with the cycle to get on the truck and helped me cover the remaining distance.
And that's how we survived our bicycle trip to Mcleodganj, bought some fresh clothes, and let my bike to rest for the remaining days while we were there because we both had gone through some pretty rough time in just 2 days for a mere distance of 200km.