They say birds of a feather flock together. This couldn't be further from the truth when it comes to my best friend, Aparna, and I. We are complete opposites of each other. While she's impulsive, I need to plan everything to the T. She can't stop talking and I'm more of an observer. She likes the fast-paced city life and I love the solitude of mountains.
Our different personalities mean that our preferences too are starkly different. So, last week as I was planning a trip to Hamta, a secluded village in Himachal, I was met with disapproving eyes.
I decided to take this as a challenge and make a city girl fall in love with the mountains!
The beautiful village of Hamta aka Hampta
Situated 17km from Manali, Hamta is a small village perched on top of a mountain that towers over the town. It is almost like a sanctuary – a secluded getaway welcoming you with open arms.
The road to Hamta is adventurous, to say the least. As we made our way up, slowly leaving behind the chaos, I looked at Aparna. She was cribbing about the lack of internet but was grateful about the fresh air we were breathing. My first win, I thought and smiled to myself.
A few winding roads and several gasps of amazement later, we found ourselves at our accommodation, Glamp Eco. We were admiring the beautiful property when Lego and Suki, two glorious mountain dogs, came running to us. It truly felt like we had escaped the clutches of city life! Birds were chirping all around as the cool breeze played with our hair and the snow-capped mountains smiled down at us.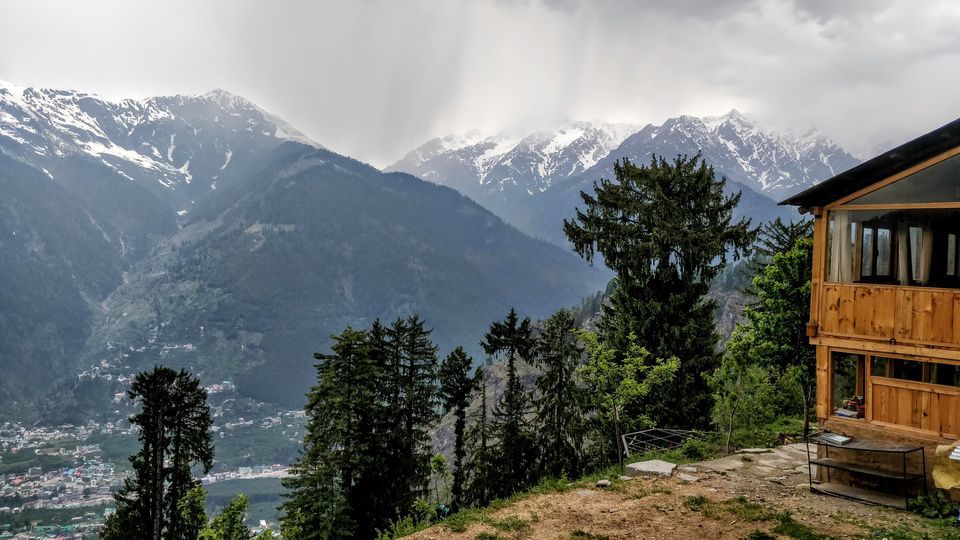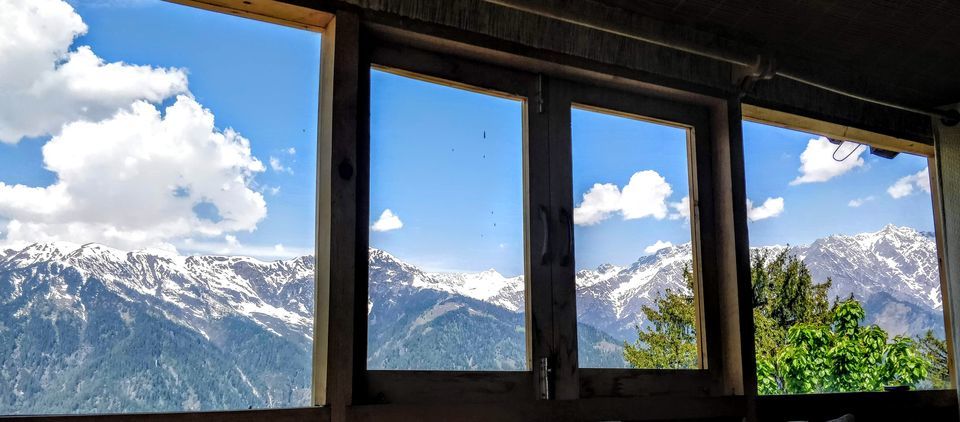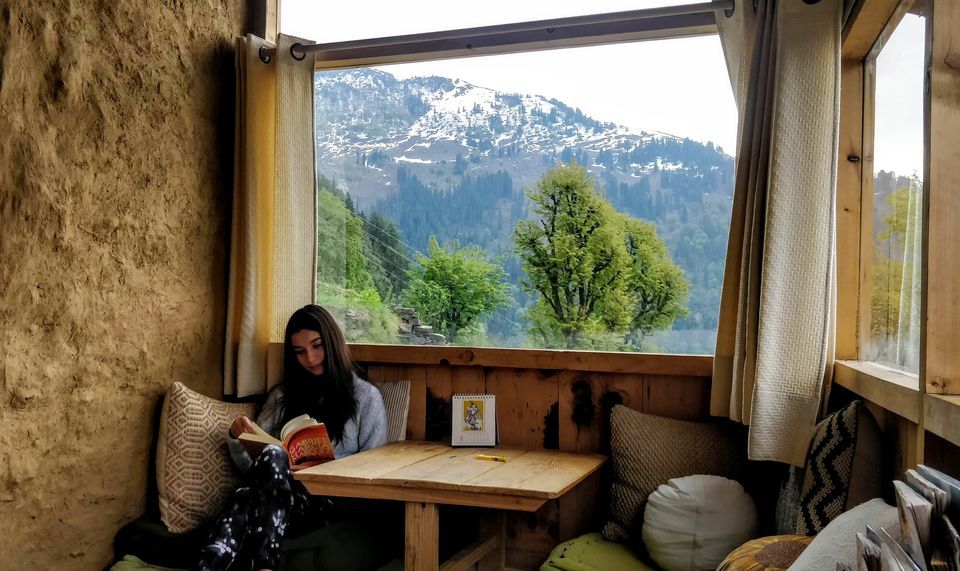 Our home for the weekend
The property, Glamp Eco, is the anti-thesis of a sprawling, luxurious city hotel. Quietly tucked amid verdant hills and apple orchards, it is an old Himachali chalet that has been revamped to provide an abode to travellers. And while it is not extravagant, its warmth reminds you of home. Our room was a mud house with a low ceiling that ensured we remained warm and snug throughout our stay.
The first thing Aparna did after checking in was inquire about popular cafes around. We found out that the nearest cafe was in Old Manali, which was 20km away! Both the host and I could see the disappointment in Aparna's eyes on hearing this because her life usually revolves around food and dessert. So on the recommendation of our host, we headed to Hamta's only dhaba.
Gorging on Himachali food and interacting with locals
At the dhaba, we got to try lip-smacking bhaturus, a pan-fried Himachali bread stuffed with potatoes that is served with chutney. Kalzan Uncle and Dolma Aunty, who own the dhaba, were extremely warm and friendly and ensured that we got an authentic flavour of Hamta during our short stay.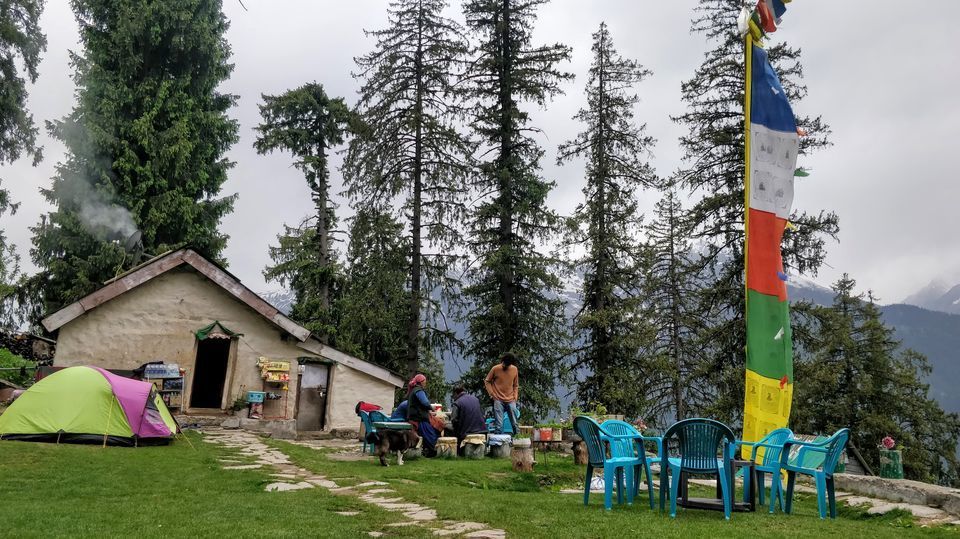 The next day, they spent all their time preparing siddu, a Himachali specialty that is essentially a steamed bread with a filling of walnuts. We ate our food sitting down, while we were served dollops of homemade ghee that came from their own cow. For someone who loves to visit chic cafes or party it up in clubs, it was a delight to watch Aparna devour the simple food and enjoy the company of locals.
Then came a challenge that most city folks abhor with all their might – walking! We were to head to Old Manali for shopping, however, due to the lack of cabs available, we had to walk down quite a bit. I was born and brought up in the mountains so this was well within my comfort zone, but it was hilarious to see Aparna struggle along the unpaved paths. Of course, she didn't magically start enjoying the whole prospect of hiking, but I clicked a million pictures of her to keep her appeased.
It took us three hours of hiking, a stretch of hitchhiking and one auto ride to finally reach Old Manali. We couldn't simply hop on a metro or book an Uber like we do in Delhi. And yet this adventure turned out to be one of the most memorable parts of our trip.
When in Old Manali, Aparna was visibly agitated at the noise and crowd. And that's when I knew I had successfully managed to make a city girl fall in love with the peace and quiet of the remote mountain villages.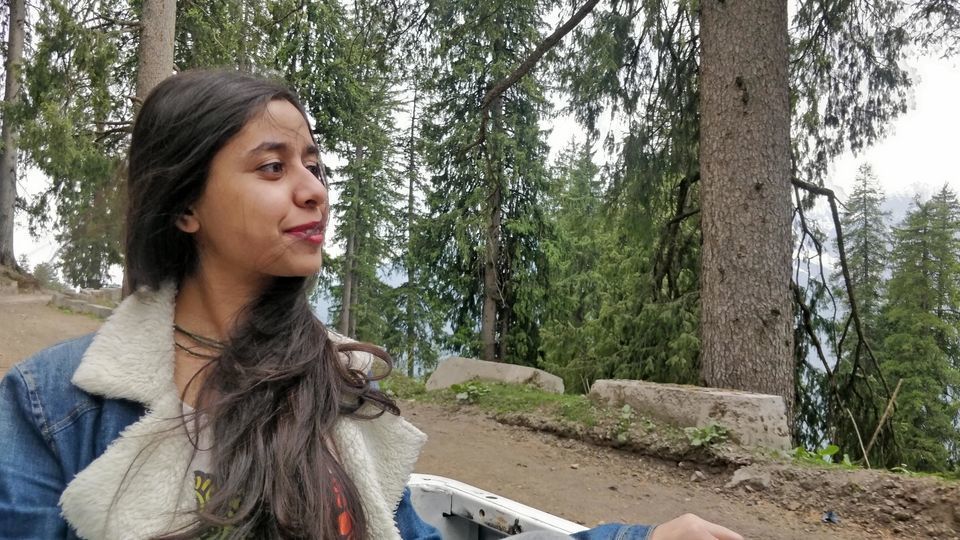 The next day we headed up to Sethan Village and travelled in the back of a jeep all the way to the beginning of the Hampta Pass trail. The terrain was rough and unforgiving, there was a slight drizzle and yet my city-loving friend and I had the time of our lives!
We explored stunning meadows, interacted with the women of Sethan and immersed in the beauty of Panduropa.
When Monday began approaching, unwelcoming as it always does, Aparna dreaded leaving Hamta and returning to Delhi. I couldn't help but feel a sense of achievement. I guess, no one can escape the magnificence of mountains. No matter how much you involve yourself in the chaos of life, it is only the hills that can compel you to pause for a moment, introspect and appreciate the little things that make life great.
We returned from the trip with a promise that we'll always help each other come out of our comfort zones. After all, life blooms right where comfort ends.
So this summer, the only way to truly chill is to challenge yourself. Plan a trip with your best friend and have a summer you will never forget.
Have stories from trips that you took with your friends? Create a blog and share your story on Tripoto here.
All pictures have been taken by the author and cannot be reproduced without permission. For more photos and stories from my trip to Hamta, you can head to my Instagram page here.