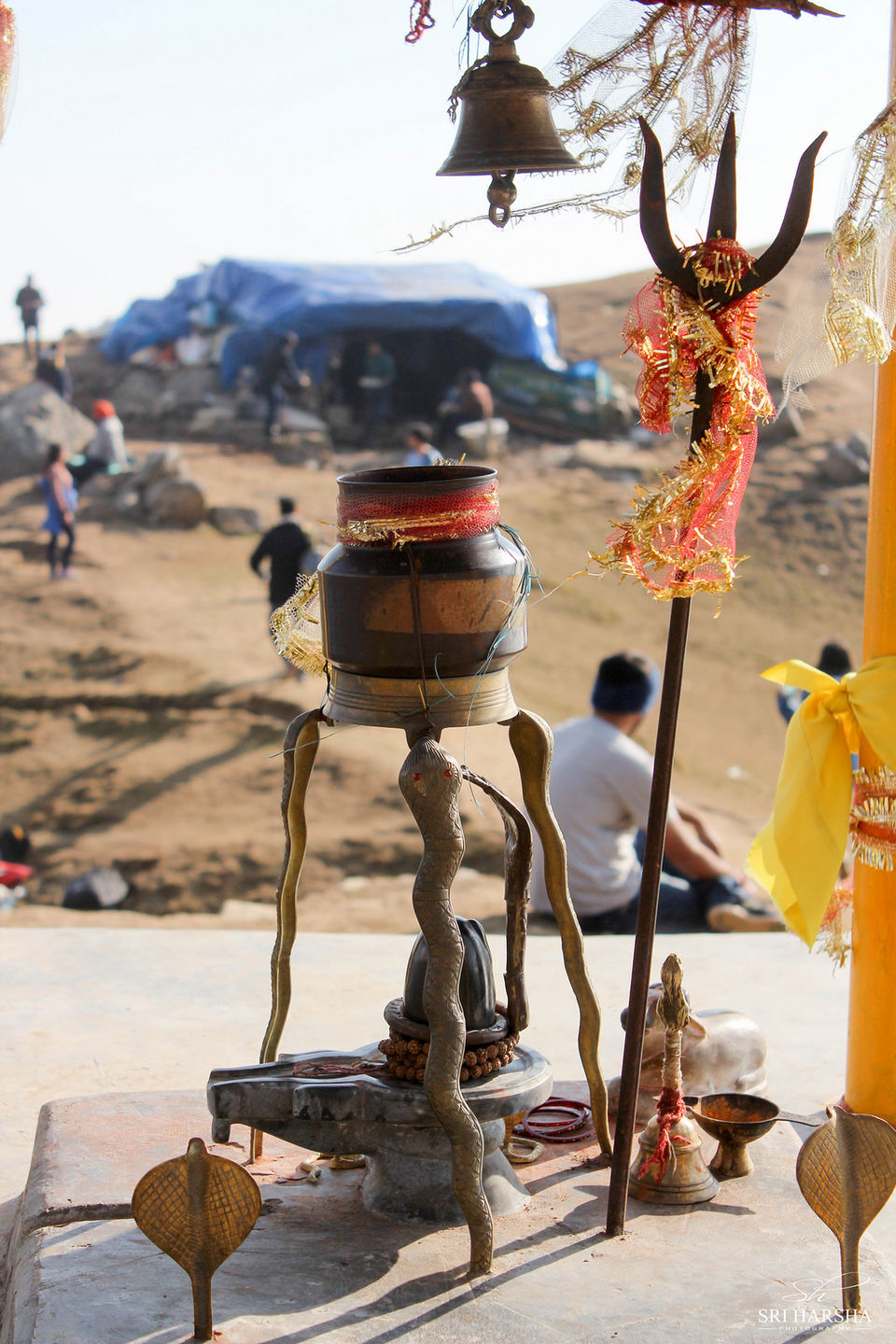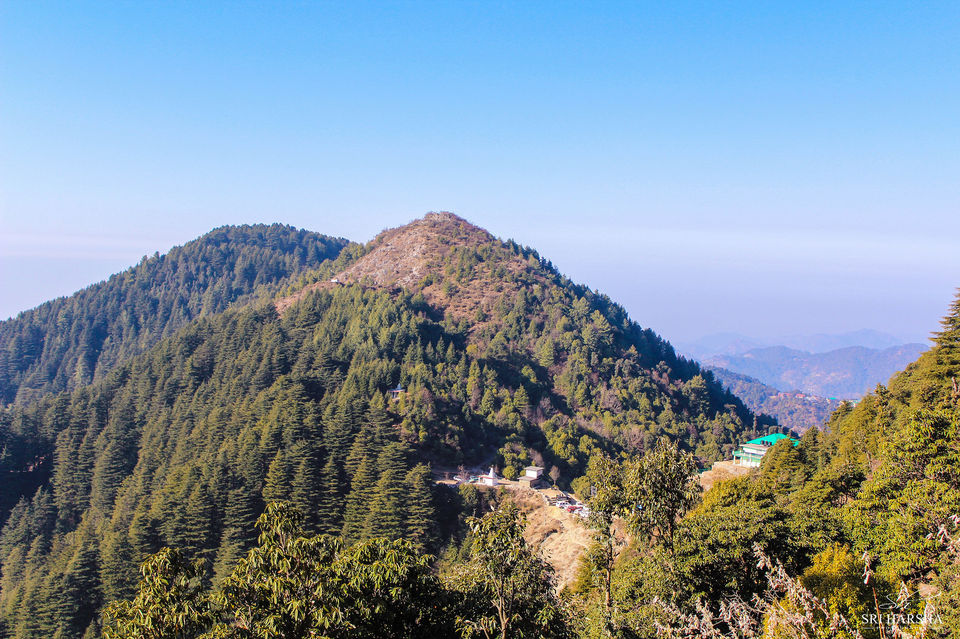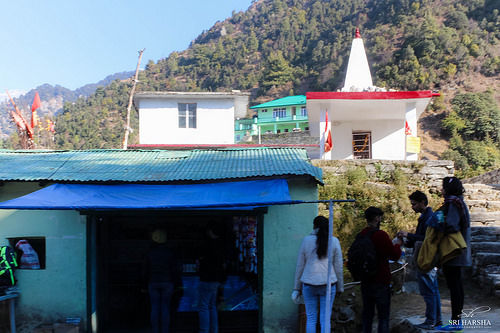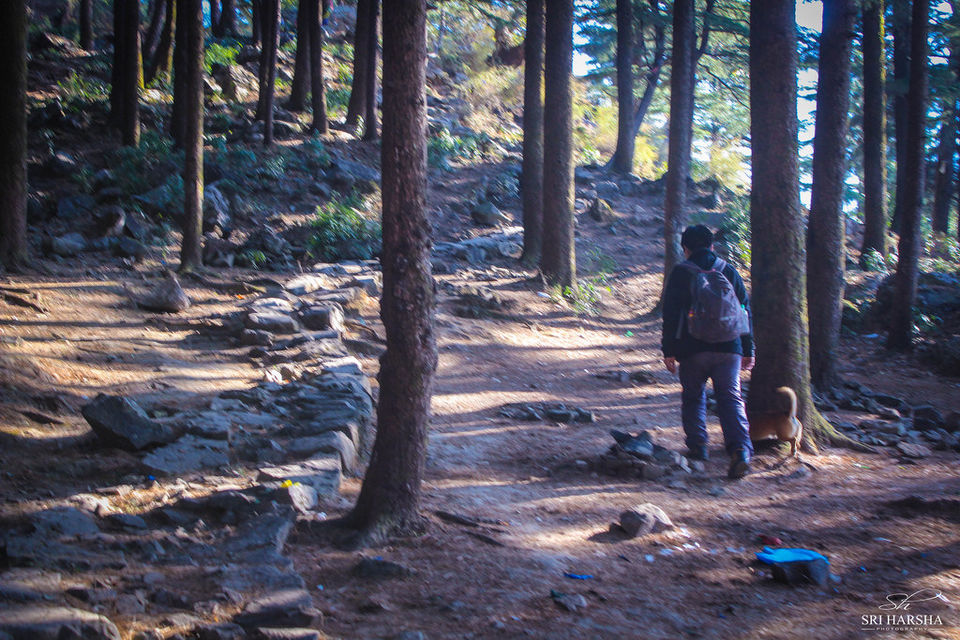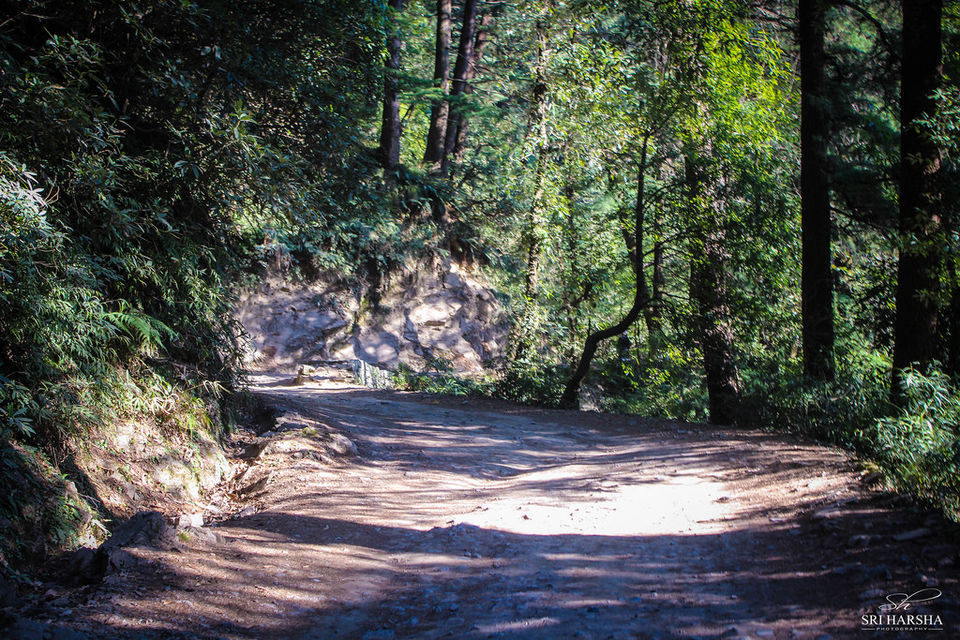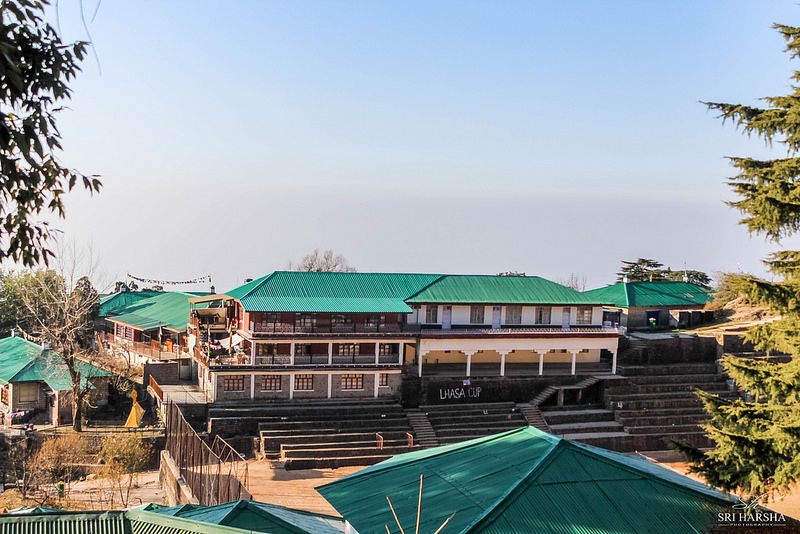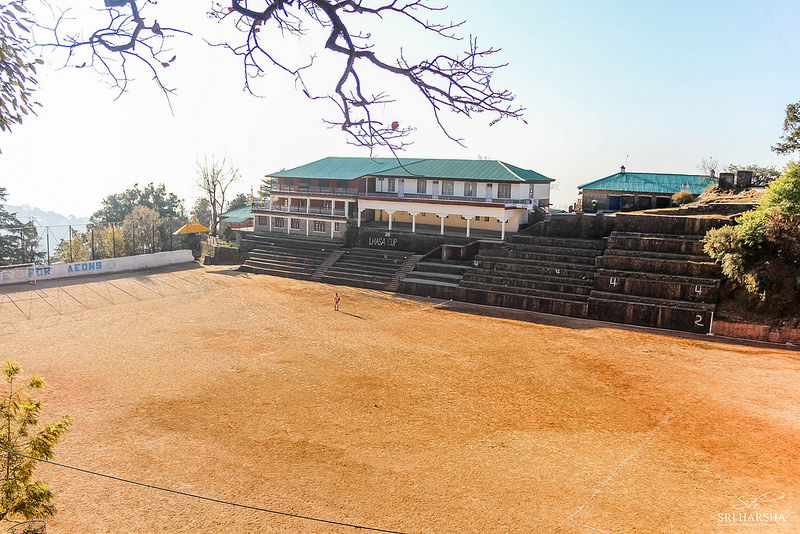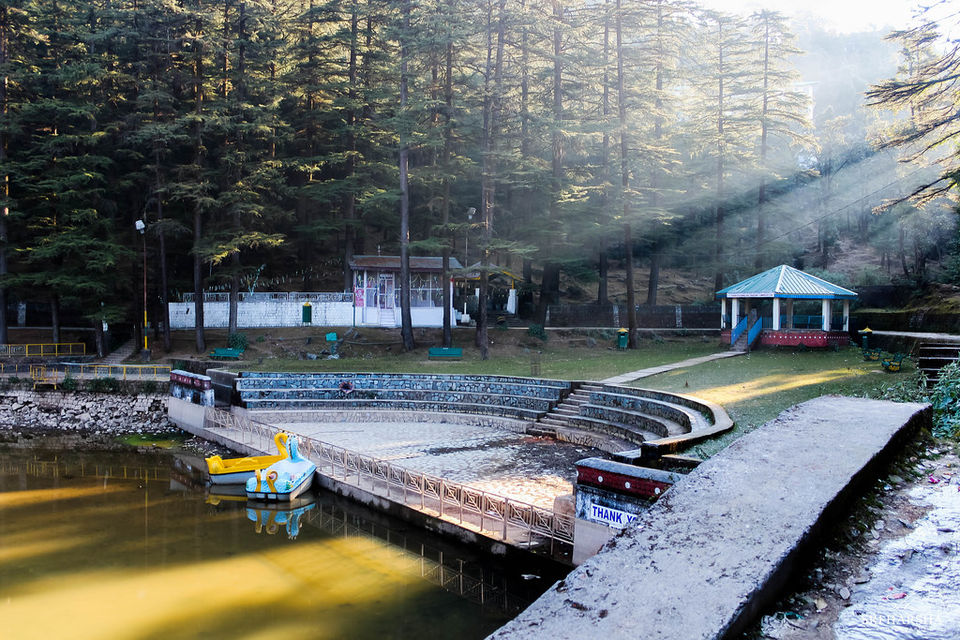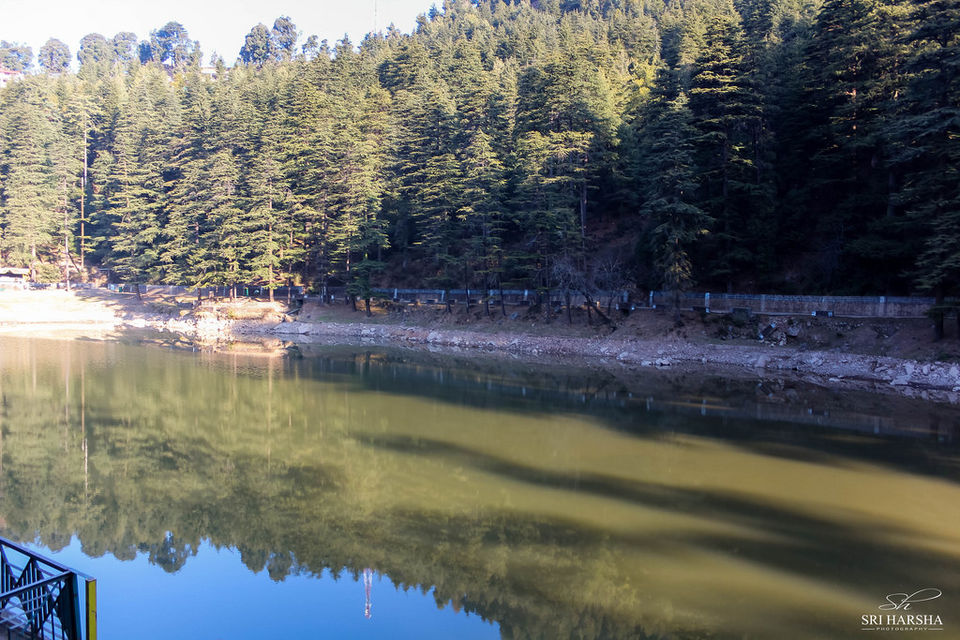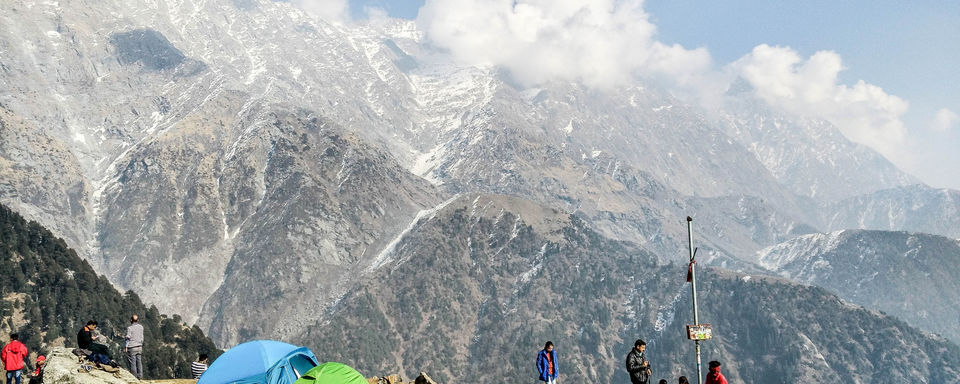 Travel can leave imprints not just in terms of memories but also in terms of what one sees away from the world that he comes from. That is exactly what I experienced at Triund.

Triund can be approached via a moderate 6 kilometer trek from Galu Maheshwari temple near Dharamkot. Various ways to reach Guna Devi Base are
Naddi Village –> Dharamkot –> Gallu Devi Temple (Can be covered on a car as well as on foot)
Mcleodganj & Bhagsunag –> Dharamkot –> Gallu Devi Temple (Can be covered on a car as well as on foot)
My route was McleodGanj – – > Dal Lake –> Tibetan Children's Village School – -> Gallu Devi Temple, since my friend Norbu Jinpa who accompanied with me in trek works at the school and stays near the Dal Lake
Dal Lake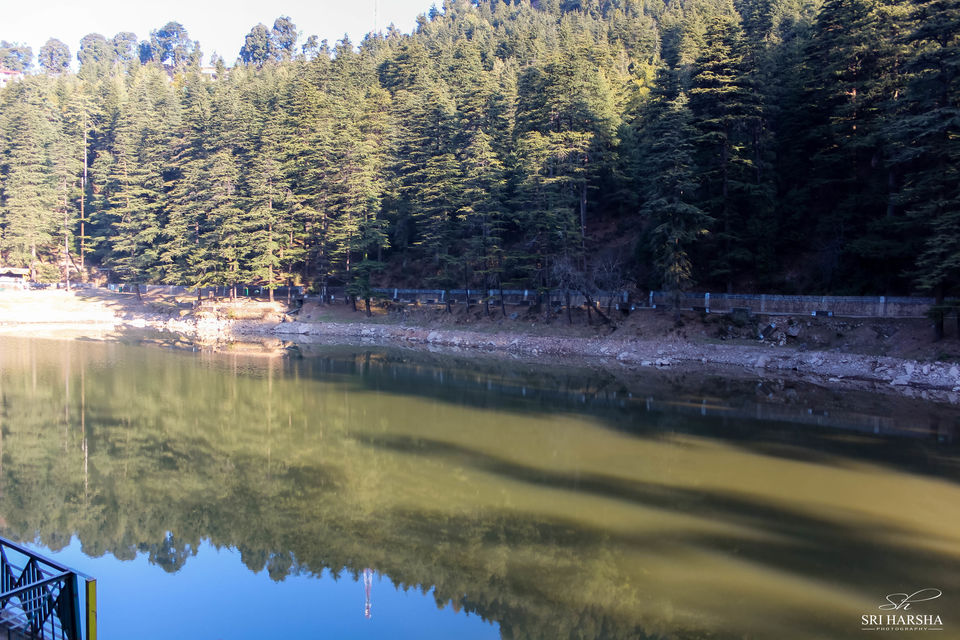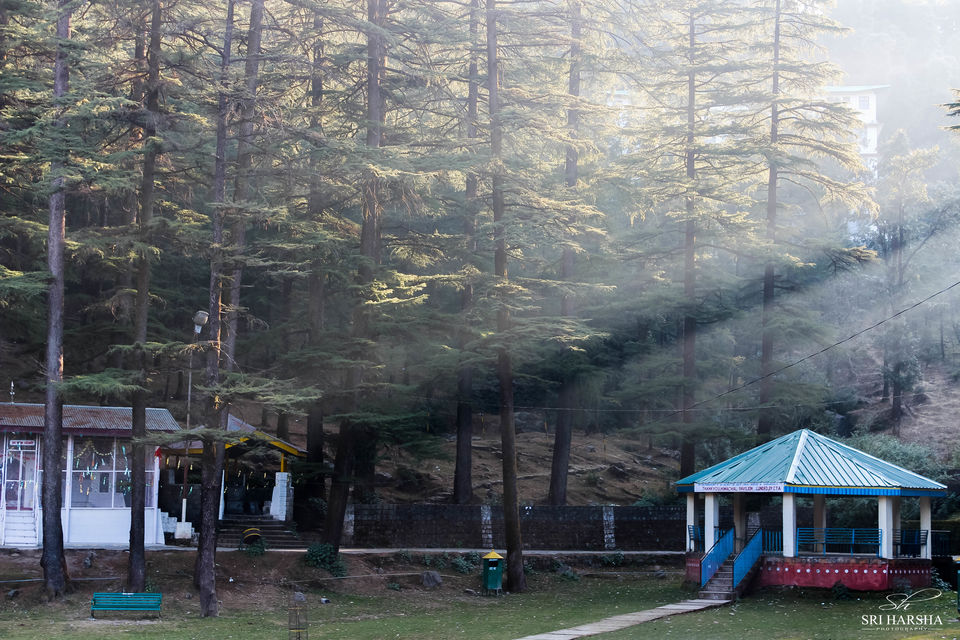 The famous Dal Lake is walking distance from Naddi, From Mcleodganj ,one can take an auto, a taxi, or local buses. There is a small Shiva mandir adjacent to the lake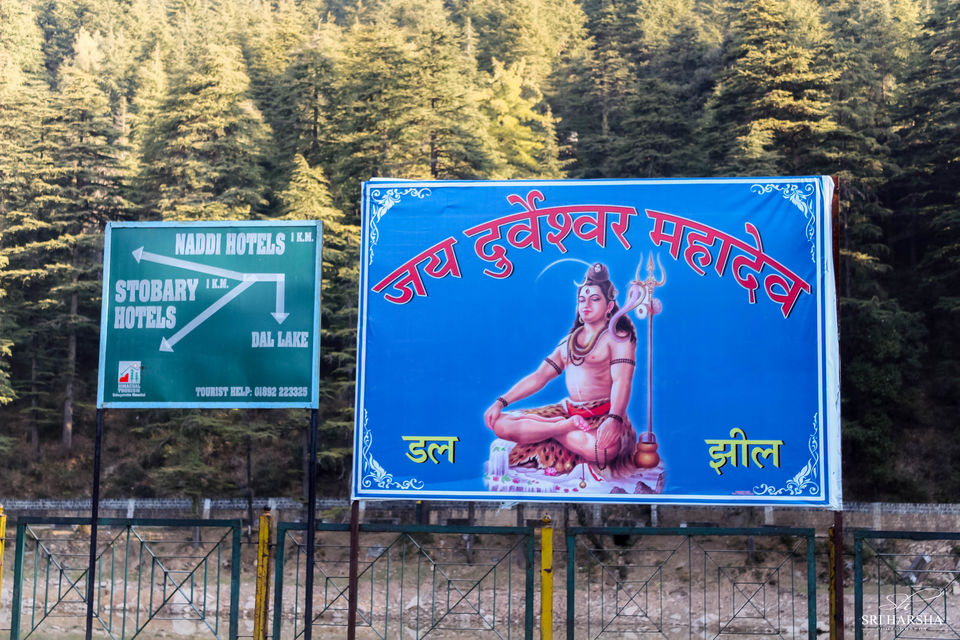 Tibetan Children's Village School: It's the Largest Tibetan school in India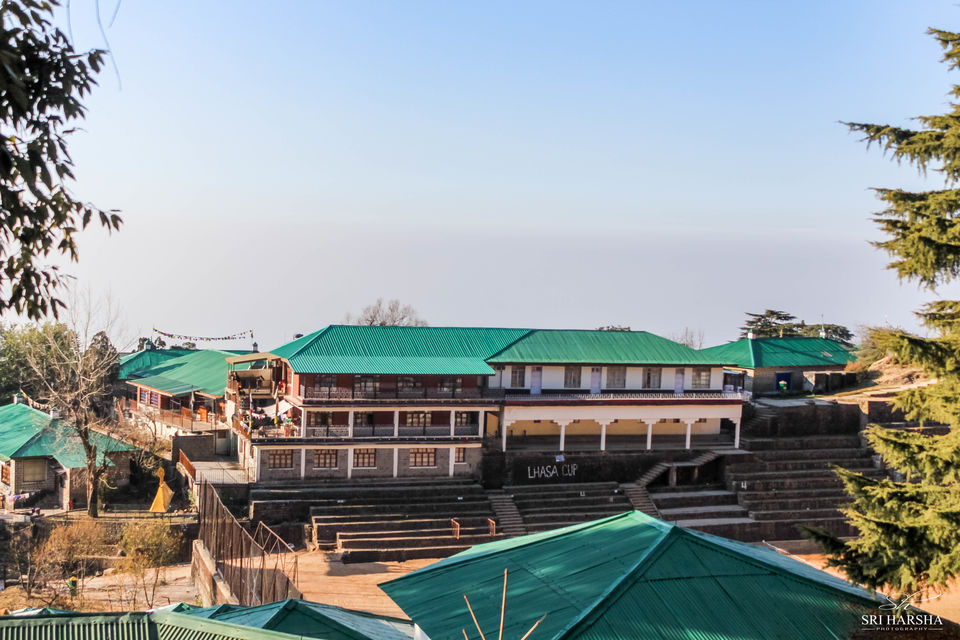 The walk from TCV School to Gallu Devi Temple is very scenic and casual. Its about 3 kms and took around 30 minutes, curvy roads with picturesque pine trees making the entire experience look beautiful.The walk from TCV School to Gallu Devi Temple is very scenic and casual. Its about 3 kms and took around 30 minutes, curvy roads with picturesque pine trees making the entire experience look beautiful.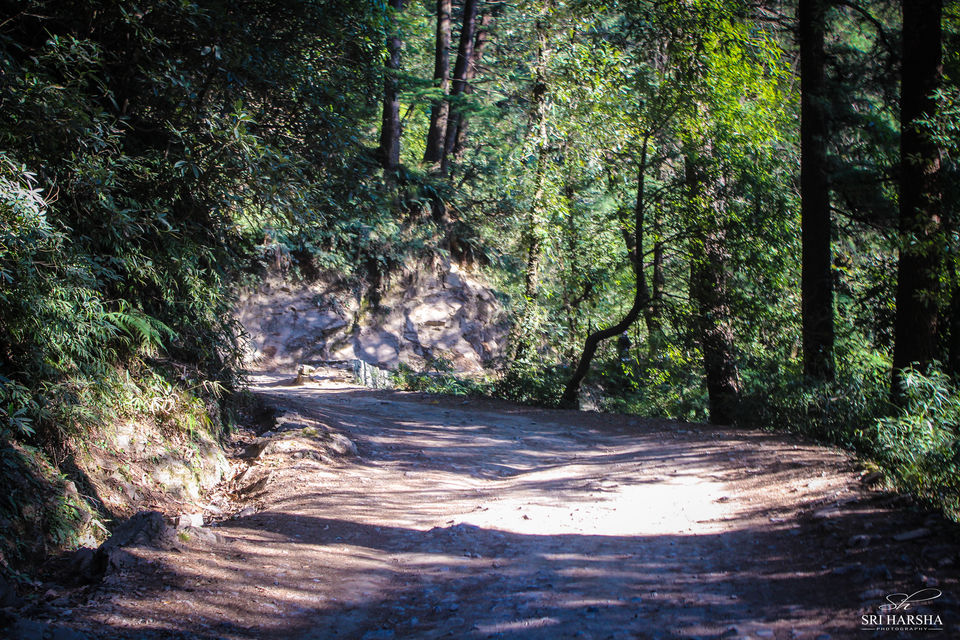 Meet Senge, a very enthusiastic pet of Norbu who was probably doing the Trek 8th time. His first trek was when he was 3 months old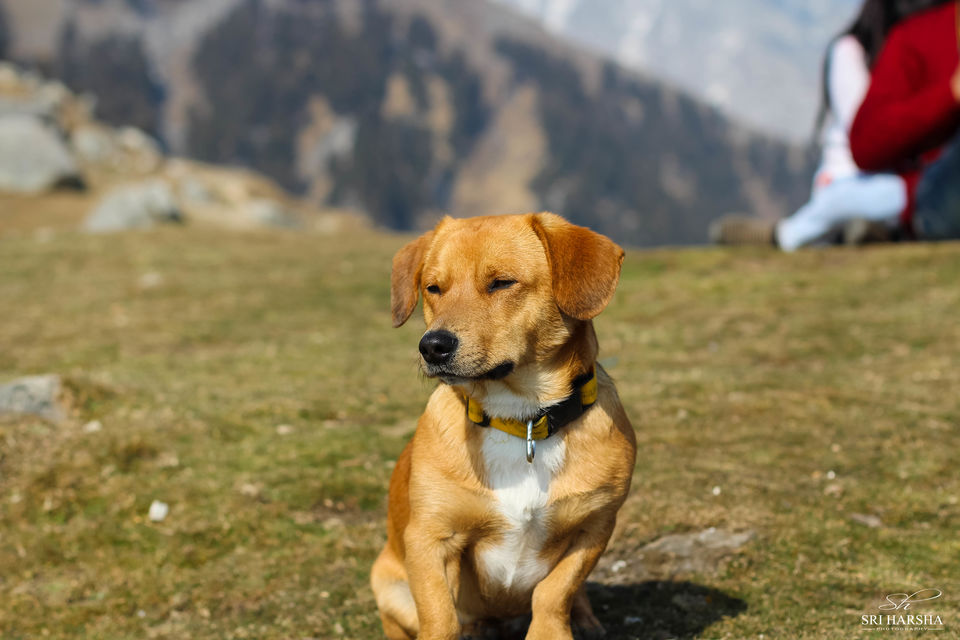 The trail starts with a gentle climb from Galu Maheshwari Temple till café Magic View. The trail is a wide, well-marked and well-known path and there are no bifurcation along the way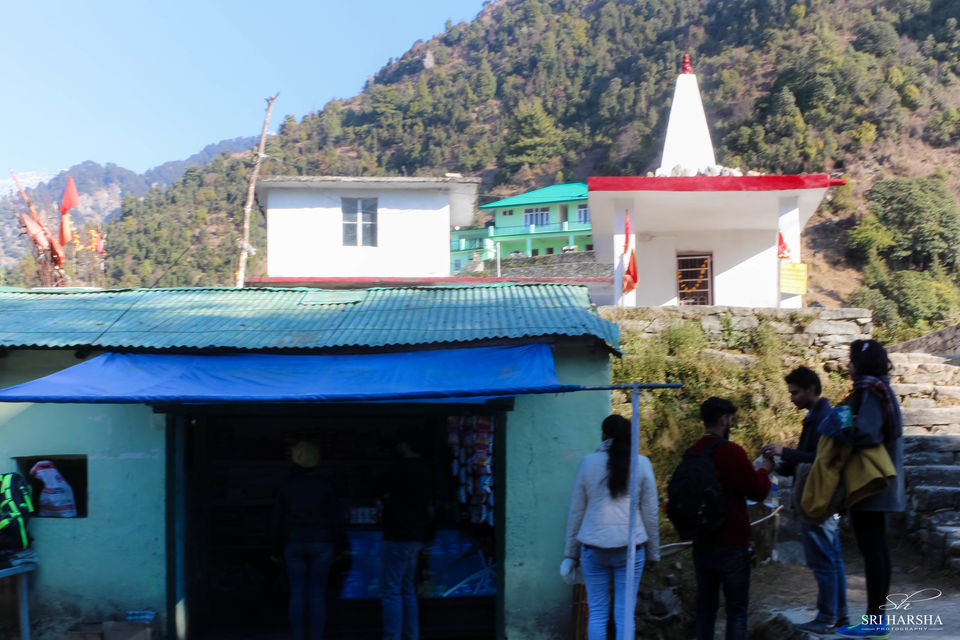 Triund is the best vantage point for Dhauladhar gazing and peering over the Kangra Valley
There are two cafes on the way, one of which is known as 'Magic view' cafe. it is known to be the oldest Chai Shop running since 1984. It is situated at a vantage point when Triund is almost 2kms away. One can sit, relax, and enjoy munchies along with breathtaking views of the entire Kangra valley.  This café is halfway in terms of distance but it is almost a third of the way in terms of effort.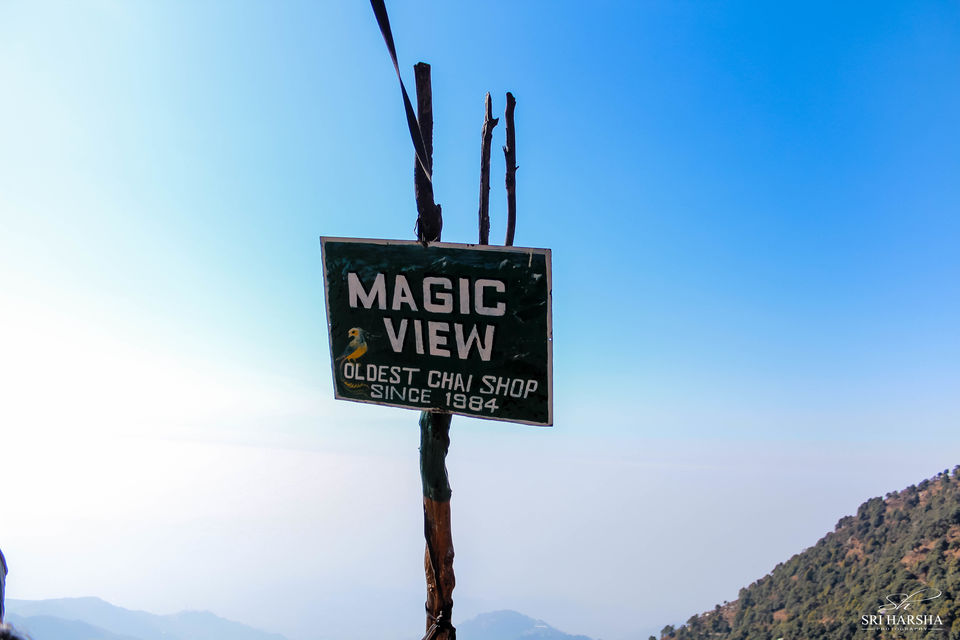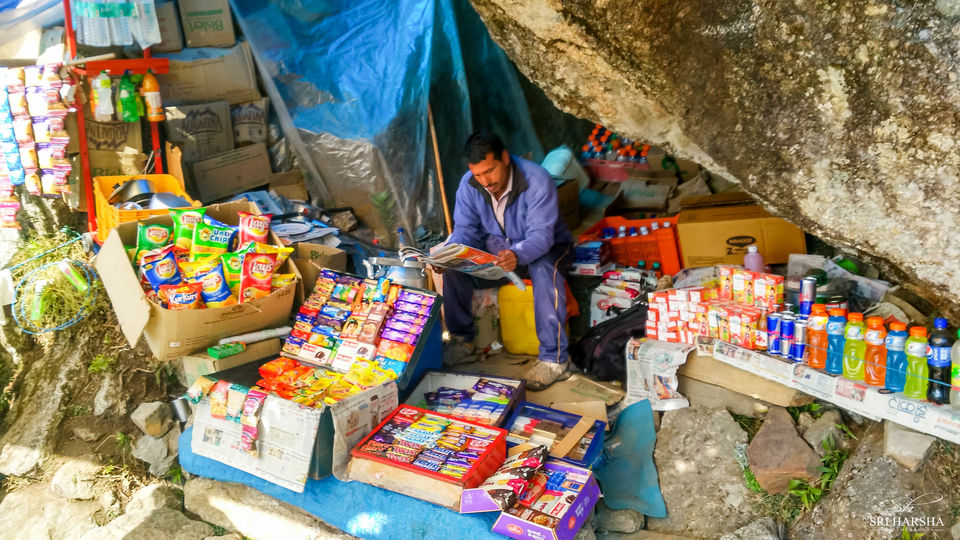 Throughout the trek I had amazing views, at some turns the whole Kullu Valley was visible and it was mesmerizing.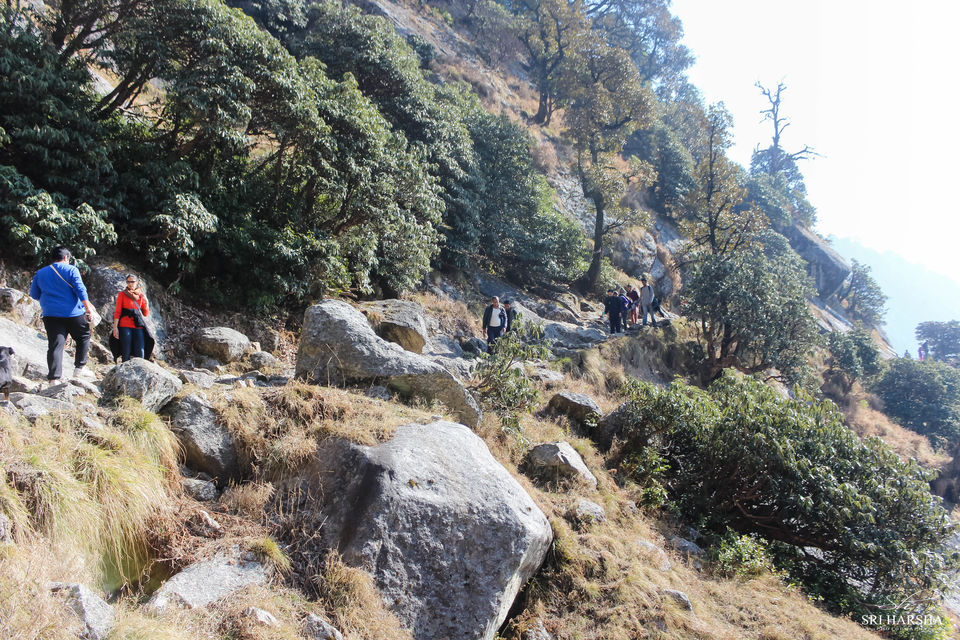 After Magic View café the ascent gets a tad steeper and it ends in a steep one kilometre stretch through a forest of Deodars and Rhododendron.
After this point, the trek starts to test your stamina. The elevation is still not much, but the number of points after which I wanted to catch my breath were increasing. Though, having a look at the view actually fills you with a lot of energy and happiness
This final stretch through the woods is known as 22-curves, because of the 22 switchbacks that one has to walk through to get to Triund. The last 1 hour stretch was probably the steepest and the path was little difficult. I was fully exhausted.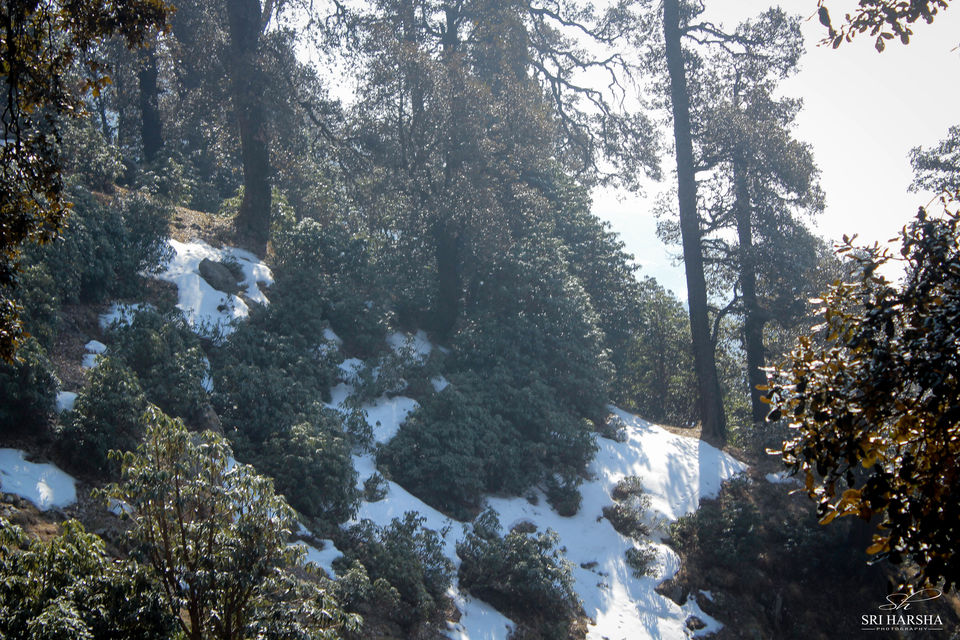 The views from the Triund Hill make you want for more. The mighty Dhauladhar range is not at a distance. It's right there so close to you that you cannot absorb the entire view in one look.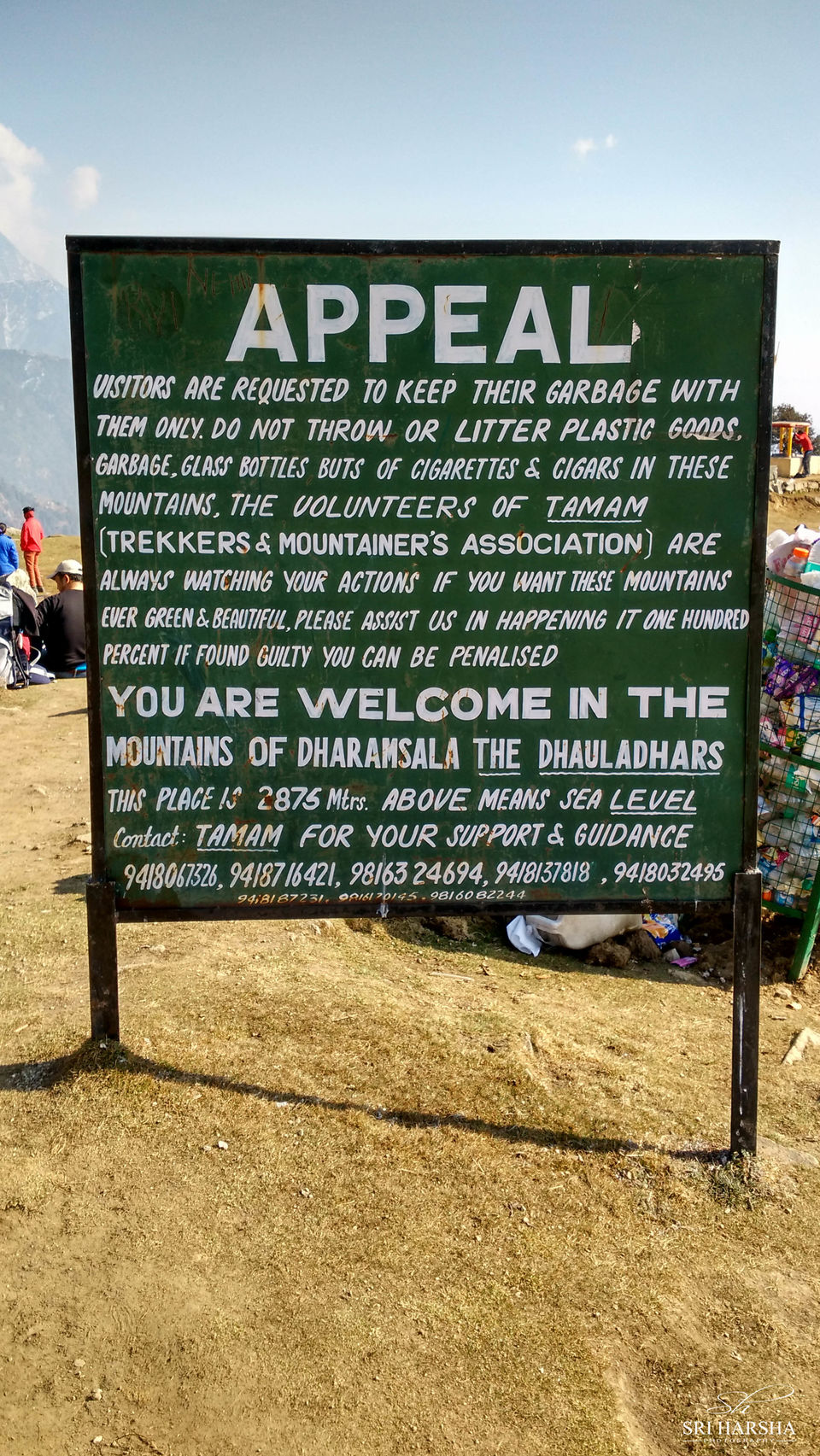 Be ready to shift your gaze as you let the panorama sink in. You can see 4 peaks namely Camel Peak, Indrahaar, Moon Peak and the Matterhorn.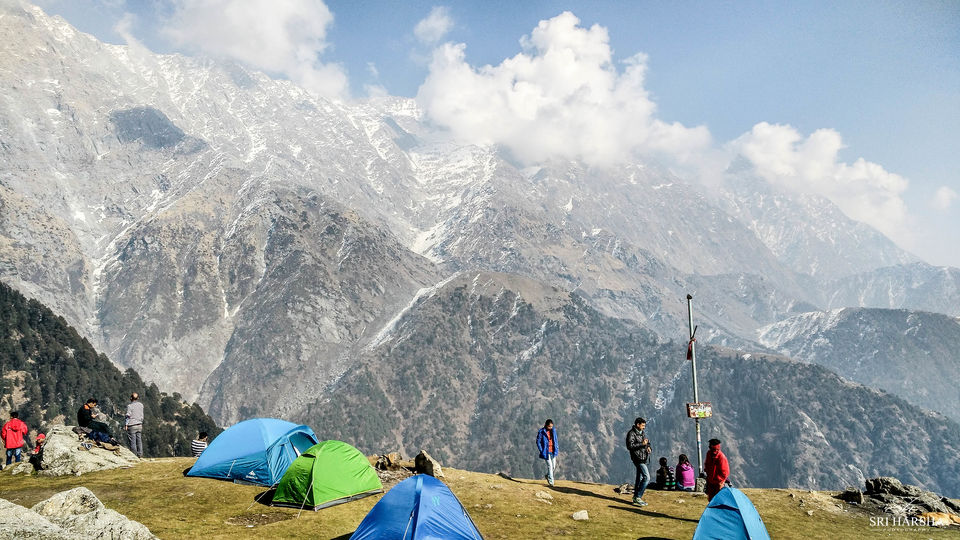 Accommodation is available in rest house of Forest Department which has only four rooms available. The forest resthouse needs to be booked at Dharamshala a day before itself before going to Triund. Tariffs are ₹500 per room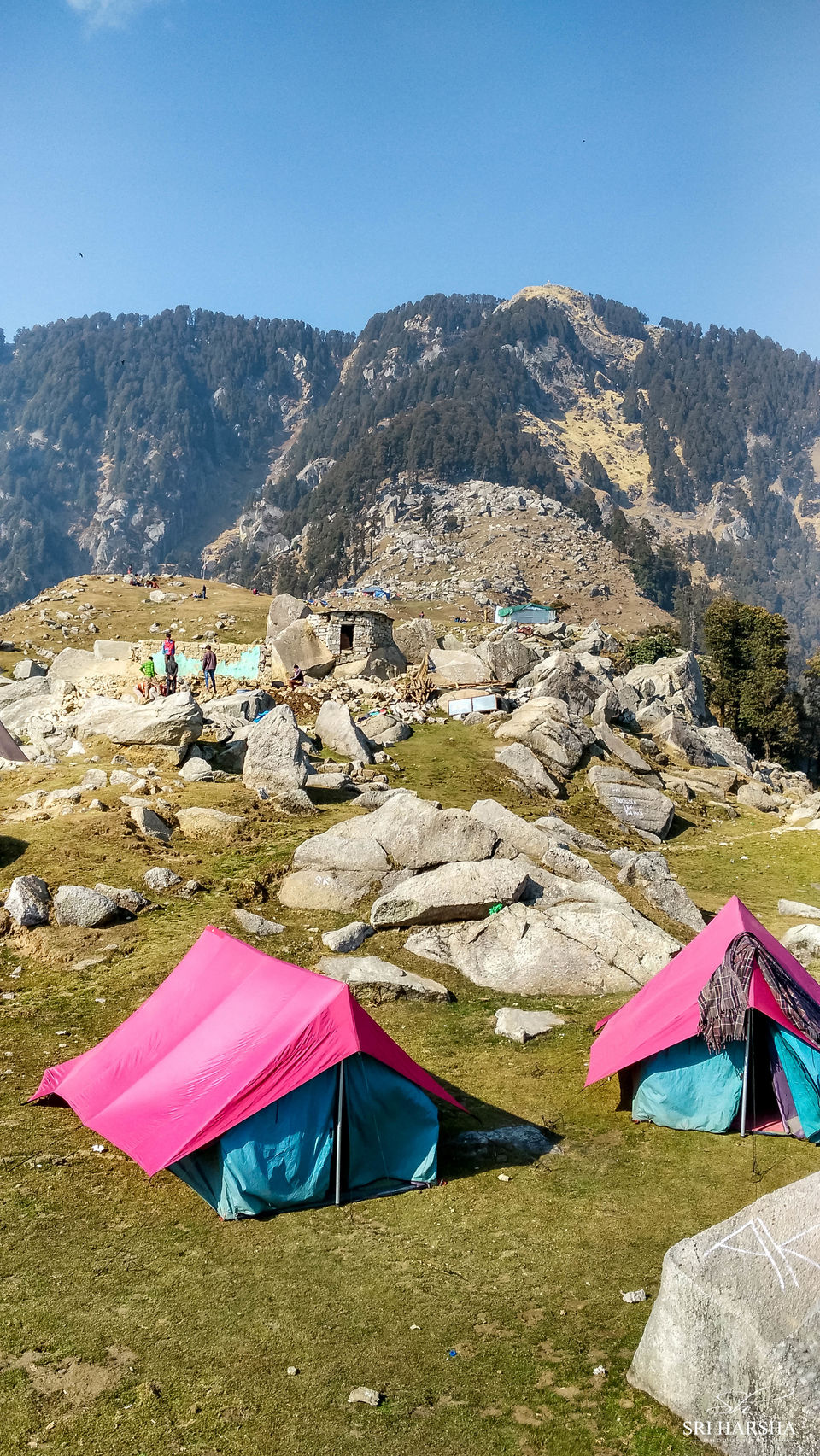 Several trekkers go beyond Triund to reach the Lahesh Caves and Indrahar Pass on the Dhauladhar mountain range. It is possible only if the weather  lets you otherwise it is a bad idea if you are without a guide.
Descent was much easier as expected. Took around 120 mins to walk down
TREK SUMMARY
DIFFICULTY
Easy to moderate
DURATION
4-5 hours ascent 1.5 – 2 hours descent (from Galu Temple). Add an extra 1.5 hours if starting from Mcleodganj Bus Stand.
DISTANCE
5.5 kilometers from Galu Temple, 10 kilometers from Mcleodganj bus stand
MAX. ELEVATION
2810 meters
START AND FINISH
Galu Maheshwari Temple near Dharamkot
GETTING THERE
Buses ply regularly to Mcleodganj from Dharamshala. From Mcleodganj one can make an easy walk to Galu Maheshwari Temple near Dharamkot. You can also rent a taxi / auto rickshaw at Mcleodganj bus stand to ferry you to Galu Temple. Taxi charges 200 to 400 rupees one way (2015) between Mcleodganj bus stand and Galu Temple
ACCOMMODATION
The stay options in Triund have increased recently. The oldest structure is a forest guest house which can be booked in Dharamsala. The booking office lies behind Park Restaurant opposite to Dharamsala Police Station and General Post Office. Another privately owned guest house with two rooms is run by a tea shop owner. A room at either of these guest houses cost around 500 rupees / night.
You can rent a tents and beddings at tea shops in Triund. If you are feeling adventurous, a couple of caves to the South end of the ridge offer free accommodation. However, this winter we recorded a minimum temperature of minus 5 degrees C at night (with windchill), so its better to keep an eye out for the weather and be prepared.
WEATHER
Pleasant during the day, if it is sunny. Below zero degree C at night in December and January. Could go as low as -9 with windchill.
WATER
No water source en-route or at Triund. The tea shops charge 50 rupees for a bottle of water. If you are on a limited budget its best to carry your own water and eatables.
TRIUND TEA SHOP MENU (2016 PRICES)
Bottled Water Rs. 40
Maggi Noodles Rs. 70
Maggi Noodles (with vegetables) Rs. 90
Rice with Dal Rs. 100
Rice with Dal and Roti Rs. 150


Tips to the travelers : (Specially first timers)
1. Carry atleast one water bottle per person and drink the minimum amount required.
2. Do not carry any extra baggage.
3. The trek takes about 4 hours uphill and 3 hours downhill. If you donot plan to stay for the night, I'd recommend you to be back before sunset (Camping at night is recomended)
4. There's no signal and medical station on the trek. If you are sick, scared of heights or likely to have breathing troubles, you should not take this trek
My Advice to First Timers: If you are planning for a Solo Trip, just take the leap of faith, take that very difficult and all important first step, it will all fall in place trust me, it usually is meant to.
This trip was originally published on 'Discover India'.