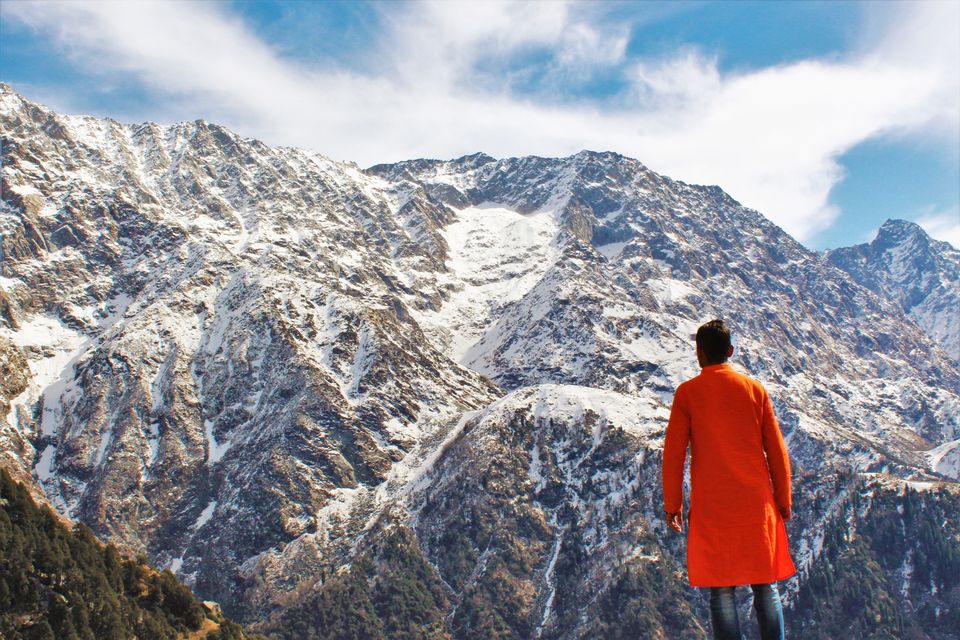 While searching some interesting things of Himalaya on Gmap accidentally I found Triund Trek.
After viewing some pics of Triund top & camping, that day I made a promise to myself to visit Triund.
So the plan was finalized to take a Trip to #Himachal_Pradesh
After a month long surfing & information gathering; Places & activities finalized.
Starting trip from Mumbai, take a Flight to Delhi, From there take a bus to Dharamshala roam around, Reach to #Mcleodganj for #Triund Trek.
After trekking, take a bus to #Bir billing for #Paragliding & move to Manali for some more adventure sports.
After the finalization of dates we booked Flight tickets, Trek & Hotels in Mcleodganj & Manali (Competition between on line site for cheaper rates really working well for us)
Morning Flight: Mumbai to Delhi.
Flight reached Delhi around 14.30.
Decided to do site seeing in Delhi till evening (Cannought place, Chandni Chowk, Paratha Galli etc)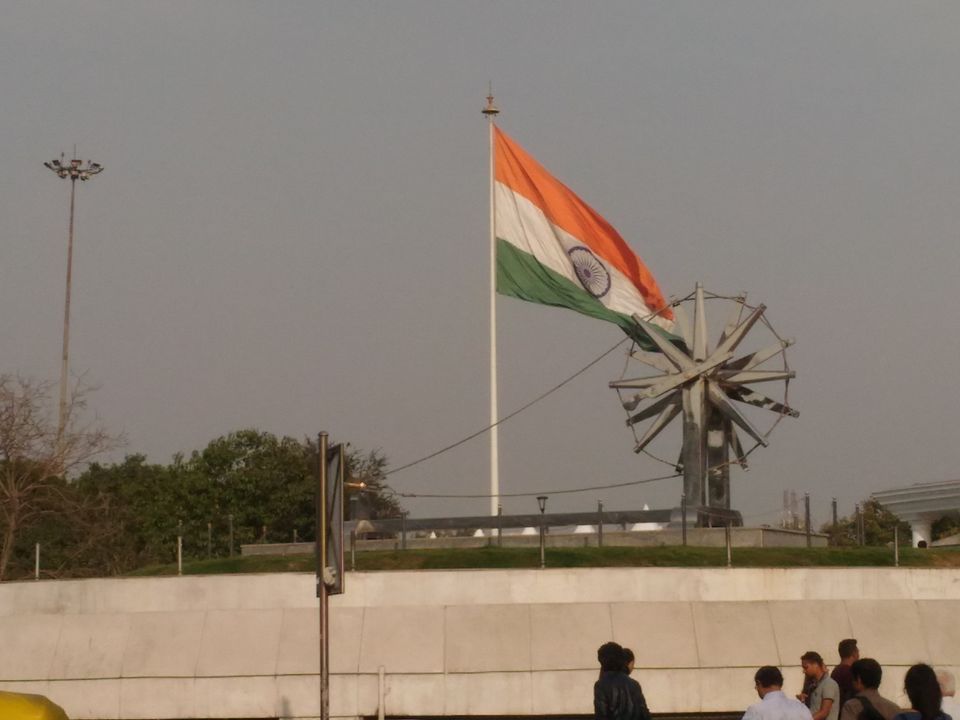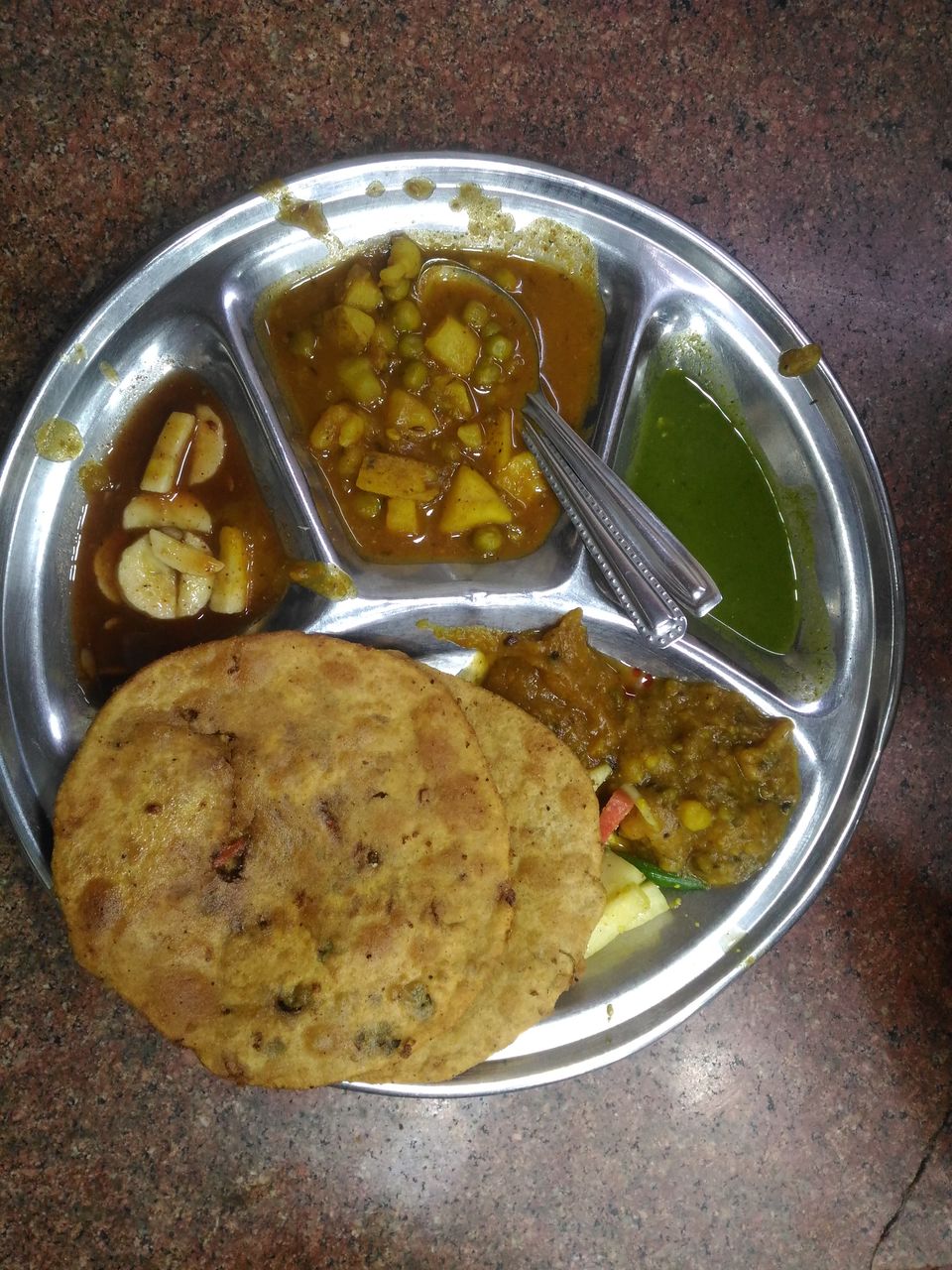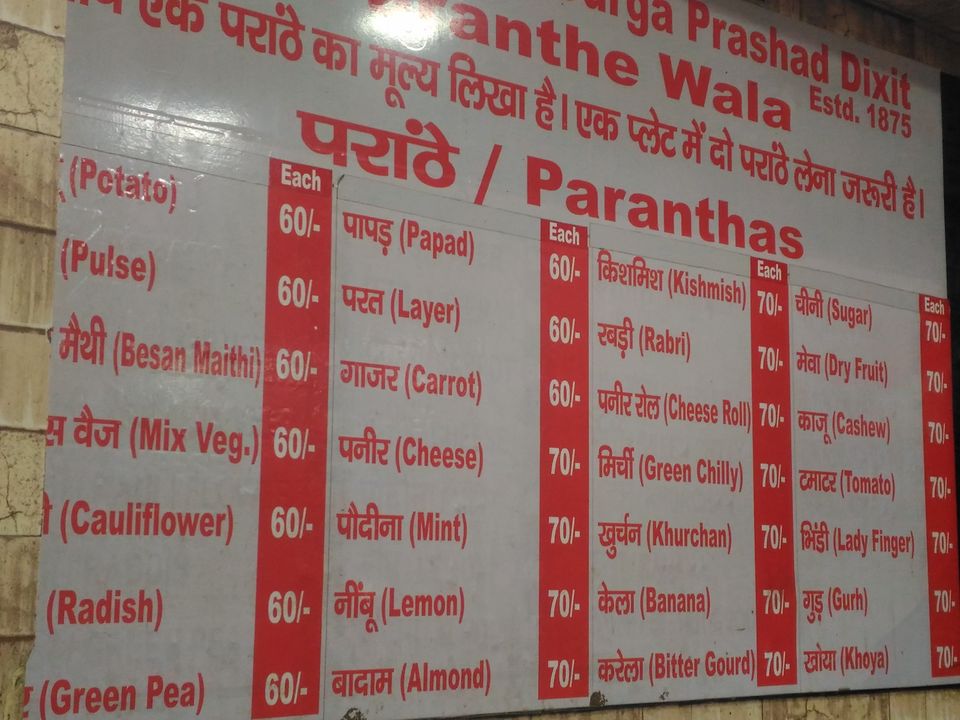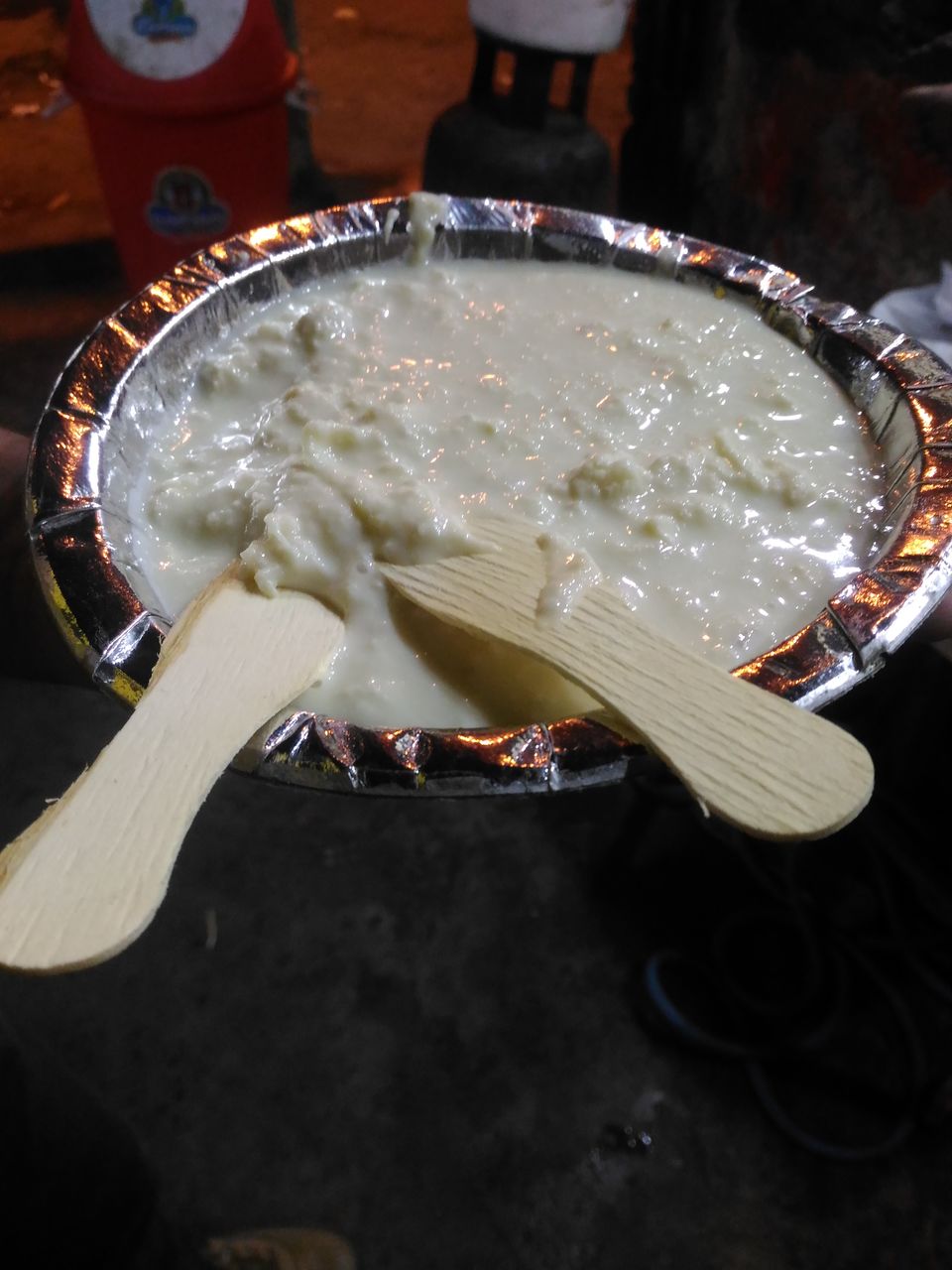 Reach to Kashmiri gate to catch the HRTC bus to Dharamshala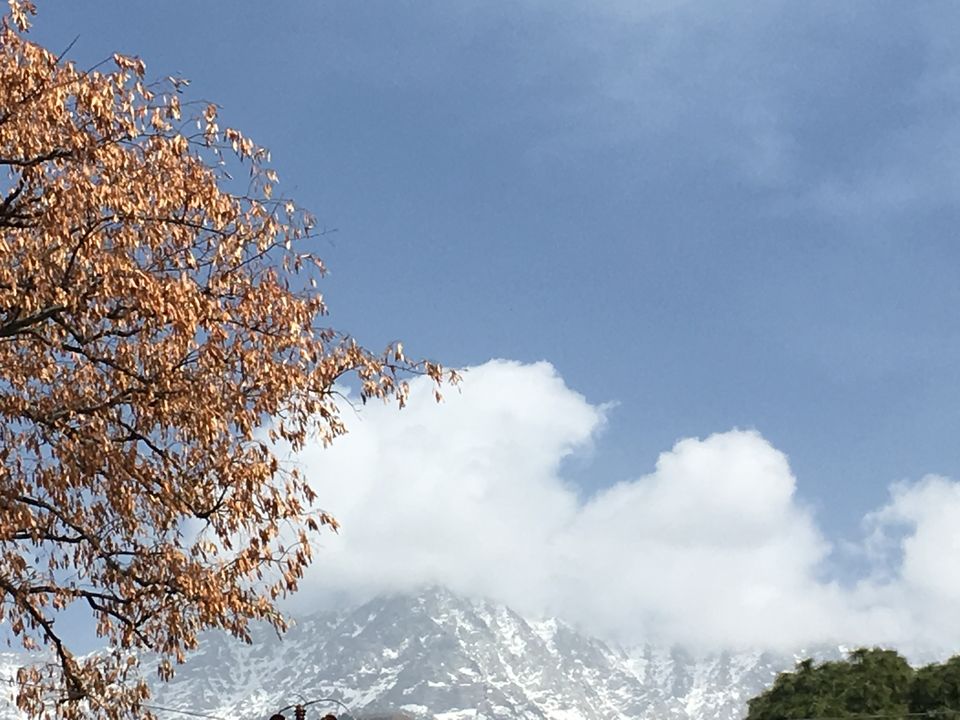 Overnight journey takes us to Dharamshala where the Dhauladar Range showing the glimpse of snow line on mountain.
We reached Dharamshala around 8.30 am & immediately got the local transport bus to Mcleodganj (20-25 min Journey)
The day was allocated to Site seeing in Dharamshala & Mcleodganj, so we hire a bike to complete the task
After reaching to hotel & getting freshen up we started our day's journey by visiting Dalai Lama Temple
From there we moved to HPCA stadium Dharamshala, one the most beautiful cricket ground in the world having snowy mountains at its background.
By visiting Bhagsunath temple & waterfall we moved to Naddi the sun set point in Mcleodganj. (Even Dal lake is on the way to Naddi)
All these places are within periphery of 20 km so in a single day you can cover them all.
An eventful day with lots of pictures & poses, comes to an end with the excitement of tomorrows Trek.
I got up early morning due to some annoying noise, it was raining heavily & plastic table outside our room was making noise.
"There is no chance we can trek to Triund, Heavy snow fall was happening there (Top of Triund) since last night & forecasted to be continue today …" got the information from our Trek coordinator.
Our morale drops as either we have to skip the trek or any of the upcoming activity.
After checking whether forecast & discussing with hotel owner (Who was Ex Professional Hiker for more than 20 years) we decided to continue with the trek by waiting one more day.
Due to rainfall it was turned out to be rest day in Mcleodganj.
We decided to take a round of market in evening for some shopping but 7 pm was too late for them as market was closed ( May be due to rainfall)
Situation became worse when it was started snowfall in Mcleodganj around 9 pm.
Small ray of hope was there as owner said that "It is hilly area & it takes only 15 min to change the weather condition.."
We went to Bed to bed with That Hope only…!!!
Sun rises with clear weather & we were all set to make a move towards Triund
Trek starts around 10.30 am from Shivshakti resort with a Guide & 17 Members.
Trek was around 10 km, 1st half of 5-6 km the trek was much easy.
Due to snow fall on previous day it was difficult to walk on the snow in the final part of the trek
Locations of 'Magic View Café' & 'Best view cafe' have some stunning views for photos.
You will feel somewhat exhausted while reaching top as it takes 4 to 6 hrs but once you reach at the peak, panoramic view of Glaciers will refreshed you for sure.
Experiencing a Sunset & Sunrise from the top is something Memorable.
If you are doing camping at Triund top don't forget
a) Keep sufficient worm clothe with you as night temperature may falls below 0 degree Celsius.
b) Get up early in morning to get Sunrise scenes
Shades of sky while sunrise & combination of white snow peaks turns Golden due to early sun rays is Life time experience.
Started to trek down from Triund
Reached down to Guna devi Temple within 2 hrs.
We hire a cab from Guna devi Temple which take us from our hotel (collecting baggage) to Indrunag (Paragliding place in Dharamshala) & from there to drop us to Bus stand for next journey.
It takes around 30 min each to do paragliding (10-15 min formalities & 15 min of flight)
Bir billing is better option for Paragliding if you have time (70 Km from the Dharamshala on the way Manali)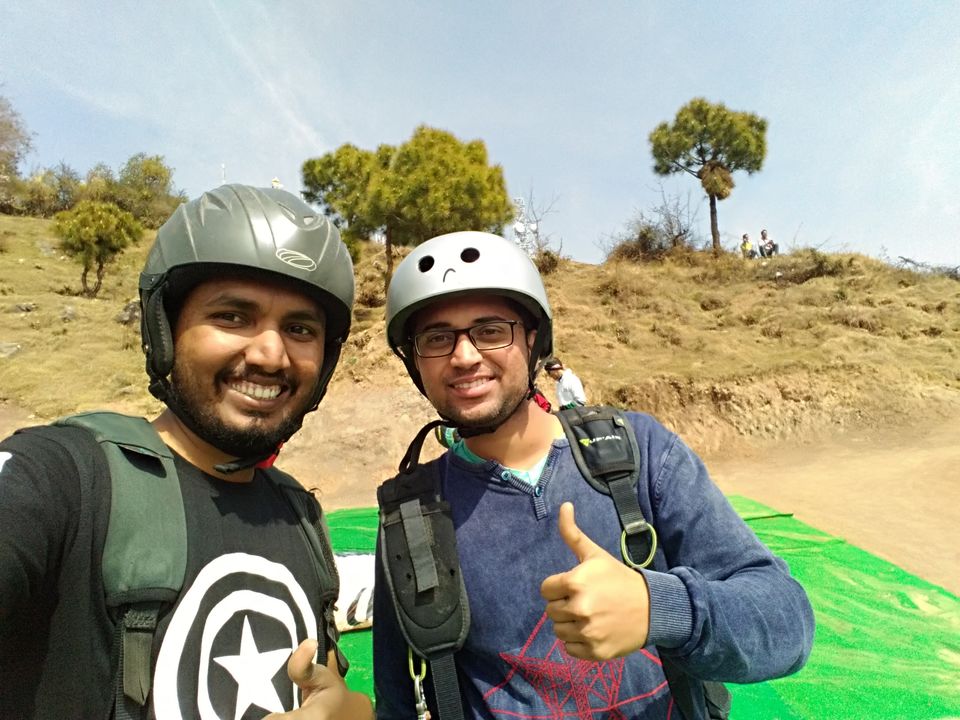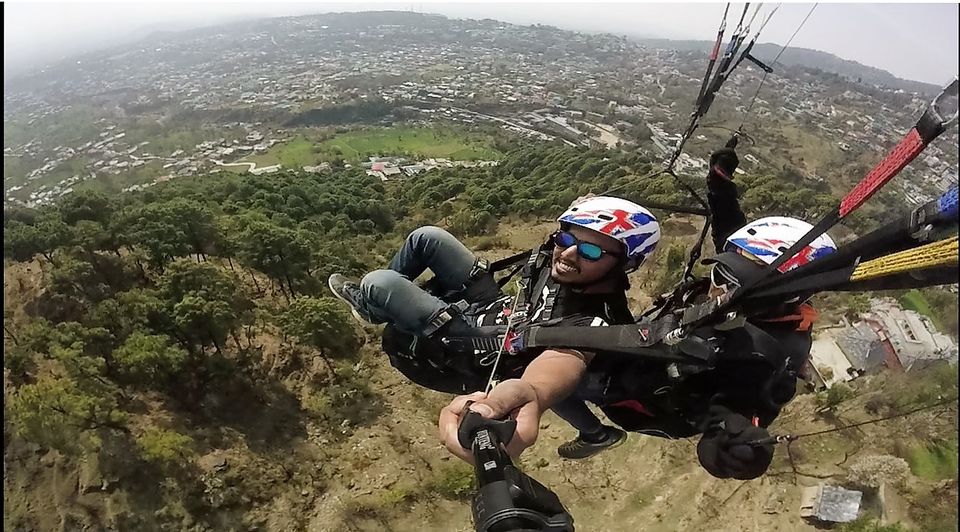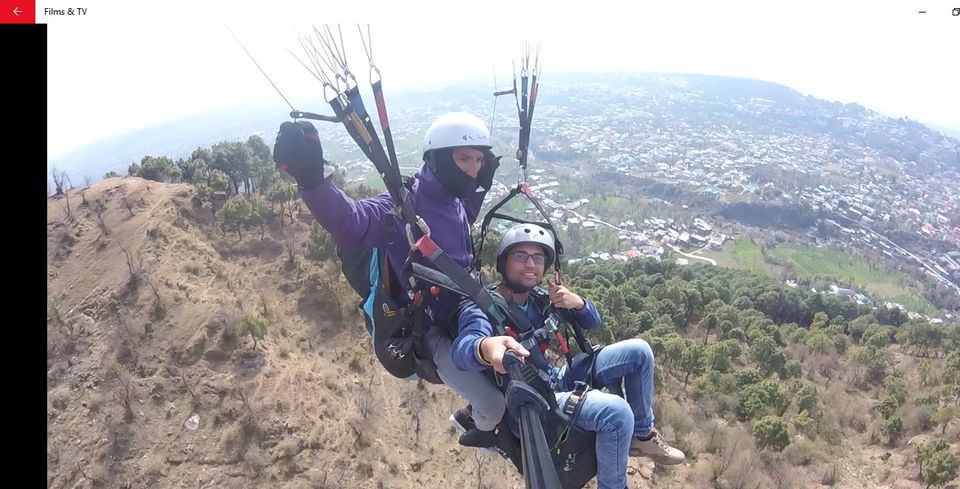 Thanks to cab driver & his information we started our journey towards Manali.Since no direct transport available from Dharamshala to Manali till evening, we choose to take stop journey Dharamshala > Palampur > Mandi > Manali.Highlights of Local Transport-
1) Local transport is very cheap compared to privet taxis (It will cost almost 1/10th of Taxi rates)
2) Every local transport bus has music system (& unlike UP they play Bollywood music of 80's & 90's)
3) These buses can stops at any where literally as per traveler request
&
4) That's why they just runs hardly at 20 -25 km/hr speed.
So keep this in mind while planning your trip.
It takes us more than 12 hrs to reach to Manali (hardly 230 Km)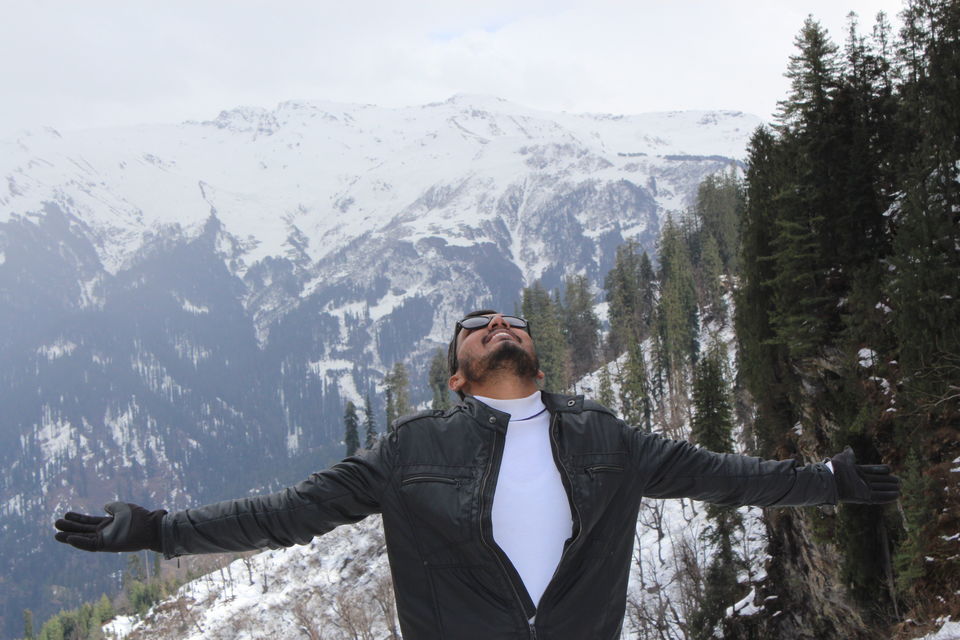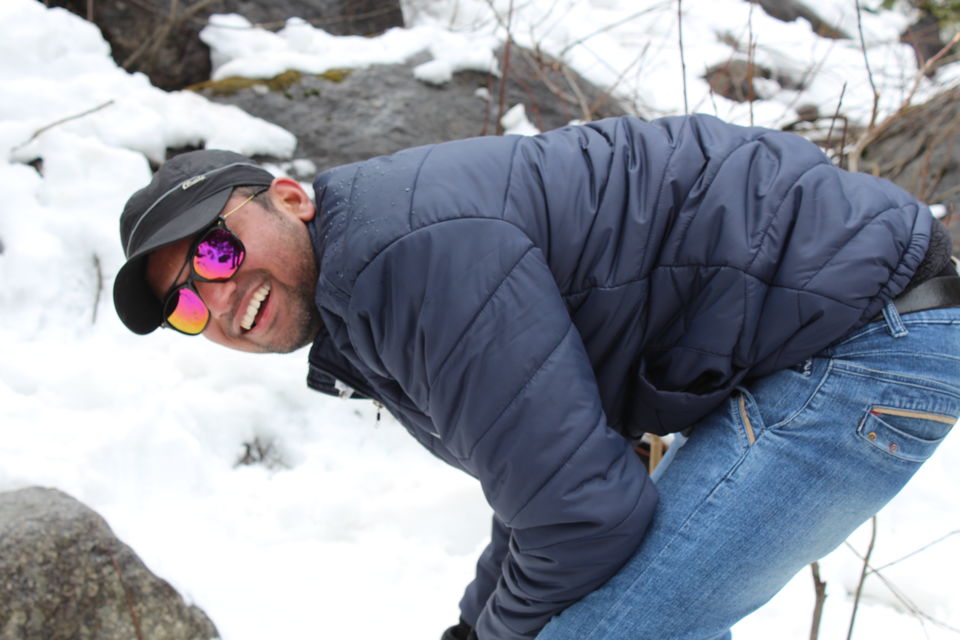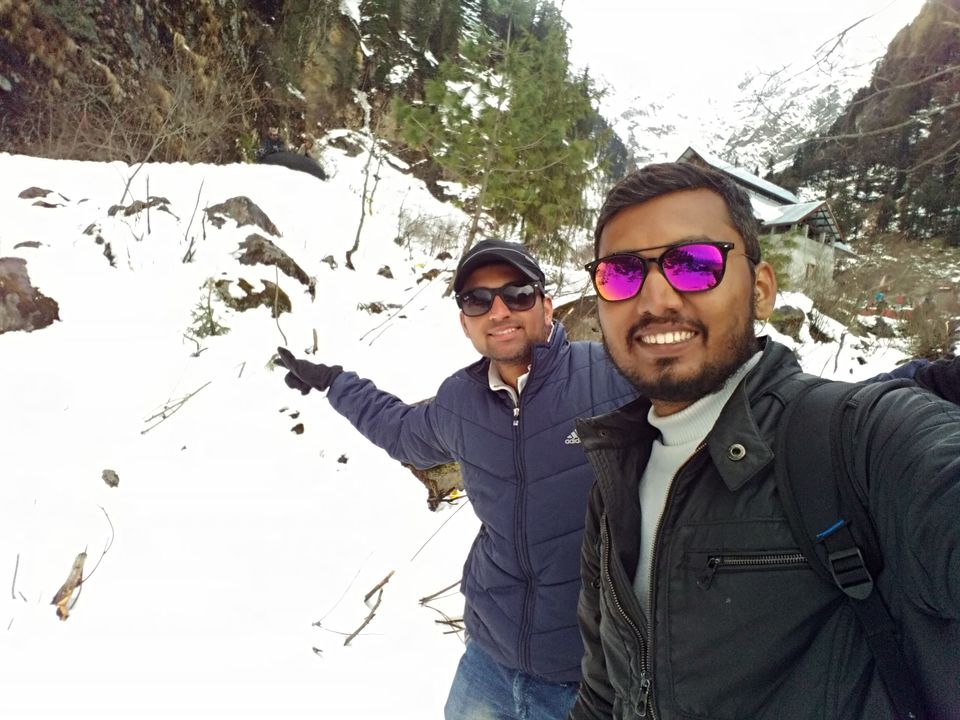 Hire a bike for site seeing in Manali.
We covered Hot water spring, Vashishatha rushi Temple, Hidimaba devi temple, Mall road & Solang Valley.
It was Good decision to hire a bike so as to cover all these locations & best of all Manali Leh high way to Solang valley.
We were lucky to experience the Snow fall at solang valley
If time permits River rafting is also 'must to do thing' in Manali.
Take a volvo from Manali to Delhi for overnight journey
Reached Delhi (around 8:00 am.)
Site seeing in Delhi: Red Fort, India Gate, Rashtrapati bhavan, Akshardham Temple, Lotus garden etc.
Return Flight to Mumbai in the evening
Expenses (in Rs)
Flight from Mumbai to Delhi : 4.5K return Journey
Delhi Dharamshala HTC Bus Rs 700
International Youth Club hotel: 800 for double room or you can avail Dormant with 300/Bed
Bike rent in Dharamshala 500 for Activa & 700-800 for Avenger
Trek can be pre booked in Rs 1500 with guide,2 breakfast, a Lunch & a dinner or you can avail Tent only @ Rs1000
Rates for Paragliding are around 1500 for flight of 15-20 min & 500 for video if you want.
Even a stop journey will take Rs 500(at max) to reach from Dharamshala to Manali (We have a dinner somewhere between Palampur & Mandi which cost us 60 for 2)
Manzana Woodlet resort cost us 800/room for Room having Snow Mountain facing room couple of view points at a walking distance
Bike rent in Manali 700 for Activa & 1000-1200 for Avenger/Royal Enfield
ATV ride to snow point at solang valley 500
Manali to Delhi AC Volvo bus 1200 (Non AC bus starts from 800)
Including Food & local conveyance, 7 day trip cost us 16K/person
May help you
# Pre plan your journey keeping in mind the vacations (Generally hotel rates & adventure activity rates increases considerably in vacations)
# Book you hotels & long journey tickets well in advance to avoid last minute rush.
# Follow the Hash Tags & social media pages of the places you are going to visit that will keep you update about the place, weather & other happening things around.
# Keep a day or half in spare as it is Hilly area & dynamic weather may block roads or halt the traffic(In our case heavy snowfall & rain forcefully make us stay in Mcleodganj for entire day 3 awaiting) which may leads to ruin plan or make you skip couple of activities, So keep a buffer while planning.