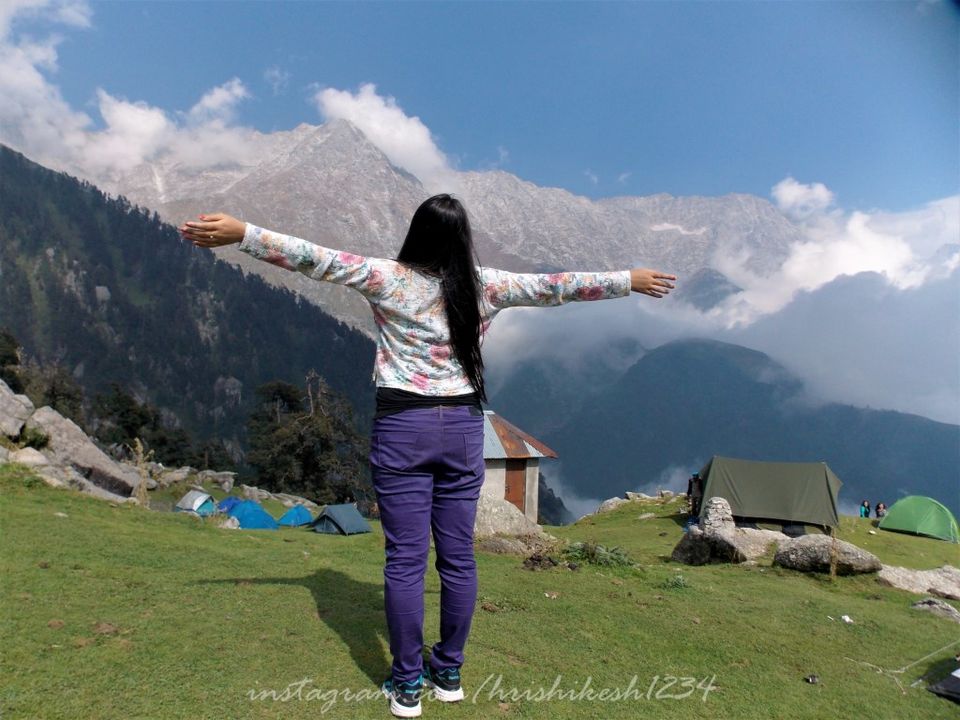 Triund can be classified as the window to the world of Himalayan trekking. Its not only a easy hike but also provides grand views of the mighty Dhauladhar range. People intending to step into the magical universe of trekking in the Himalayas can always consider Triund as a stepping stone. And why not, as a quick hike of 3 hours gives some jaw-dropping views of the snowy mountains. Which is why we decided to spend our day here, back in Nov 2017.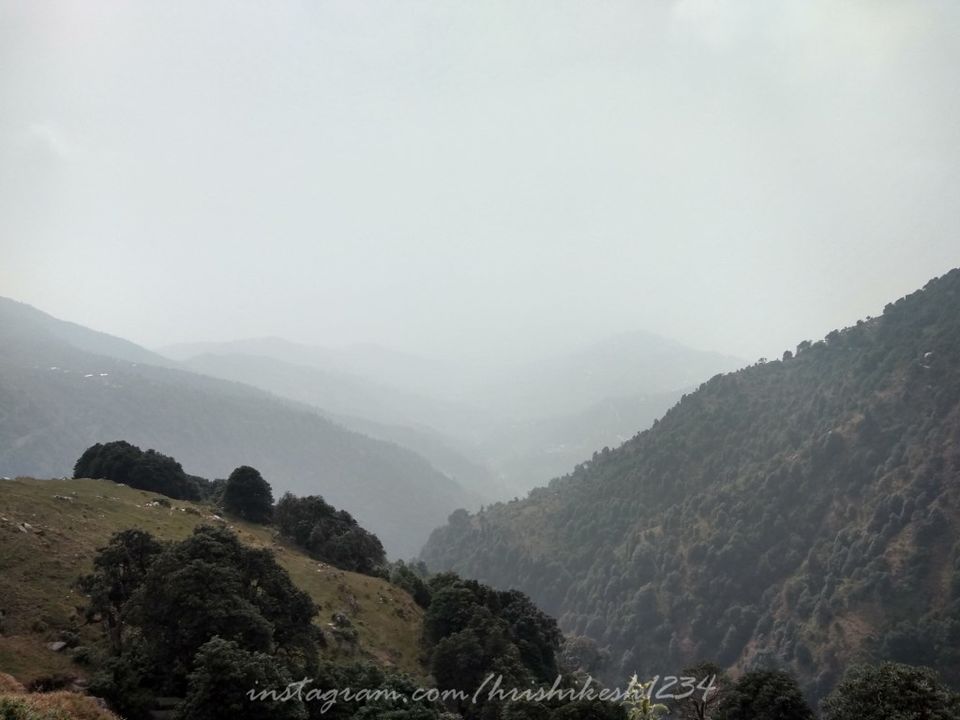 The ride till Gallu Devi temple soon passes through some beautiful dense pine forests. I wished we would've walked instead, though it would take much more time. But since we had started from McLeod only at 10:30 we dropped that idea. The road till the temple is in a horrible condition. Its a bright sunny day, and as such I was expecting crystal clear views from the top.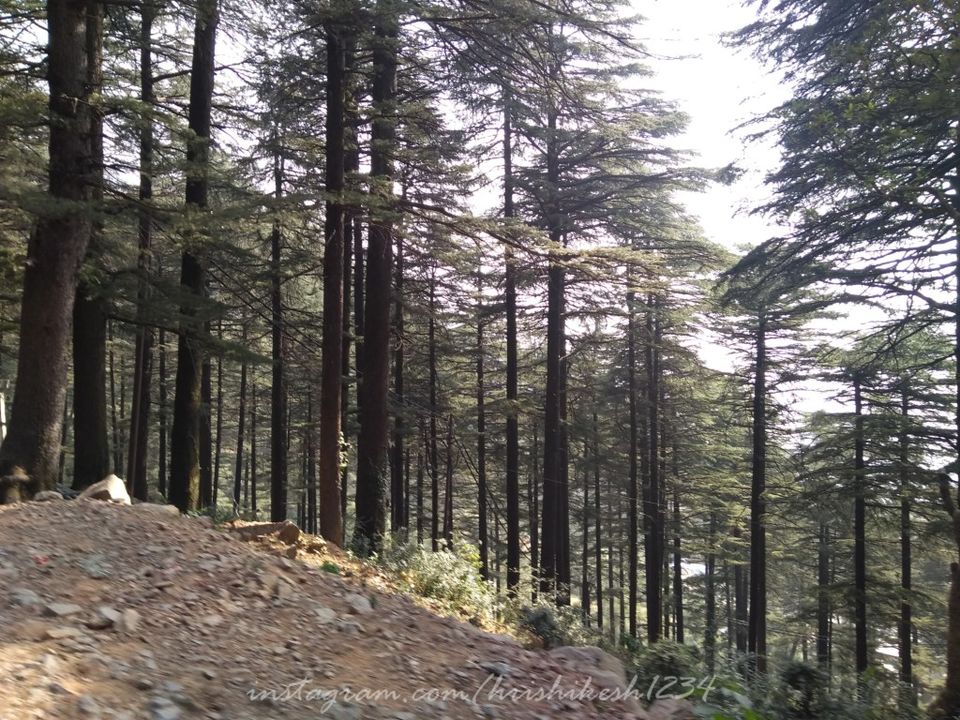 Of course you'll find countless articles on Triund on the internet. I will just share a quick itinerary along with few pictures to help narrate our experience. First thing to do is to reach McLeodganj. Take a overnight Volvo bus from Majnu ka Tila in Delhi. It may take anywhere between 12-14 hours to reach depending on the weather. Once at McLeodganj you can either take a cab or just walk till Gallu Devi temple. Travelling around Dharamshala and McLeodganj in auto or taxi is an expensive affair, keep that in mind. We had to haggle hard to convince the driver to take us for Rs. 300 till Gallu Devi temple.
Once you reach temple you can see the rocky trail that goes up. This is also where the motorable road ends. A police guy stationed there will record your name and contact information. Its almost 6 kms till Triund top and reaches a max altitude of around 10,000 ft.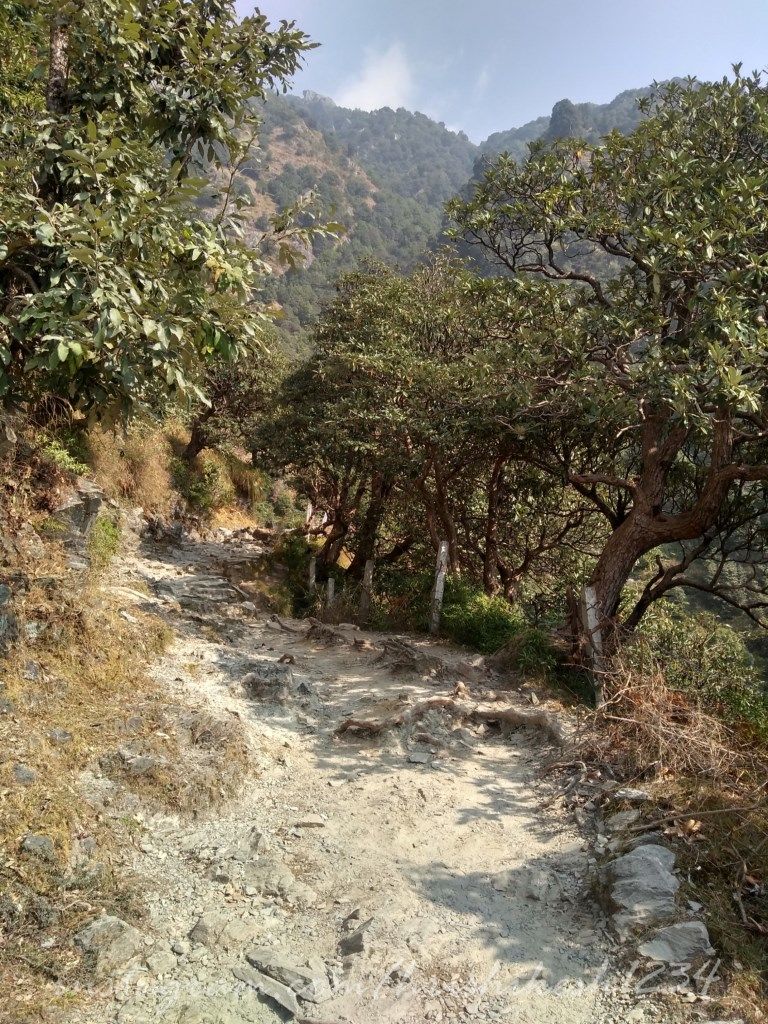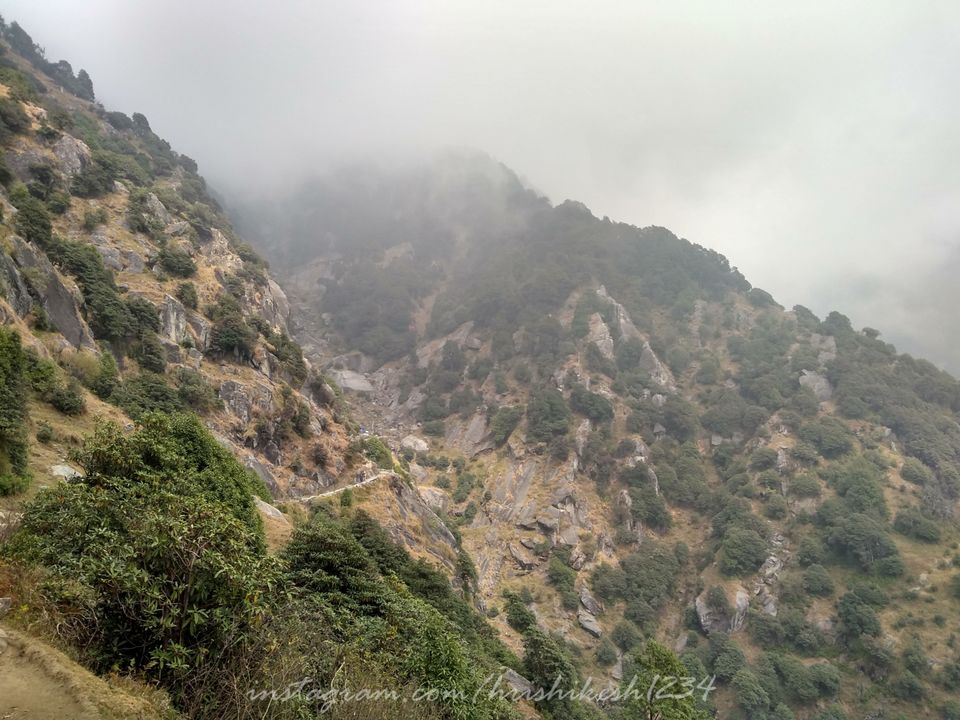 The good part is that the trail is pretty laid out and straightforward. Till the jungle point there is no chance of getting lost or getting deviated, lest you want to. Also, the altitude gain is gradual, so you get enough time to acclimatize and enjoy, rather than feel breathlessness immediately. Basic fitness is what is required here, just proceed at a slow pace. We started off at 11 am, and aimed to reach by 1 pm. Ideally, it takes anywhere between 3-4 hours at an above average pace to reach the top.
There are couple of shops near the temple just in case if you feel like buying any snacks or beverage. Do ensure to carry 2 Ltr of water atleast. The initial part of the trail takes off with aerial views of Kangra and McLeodganj. Then you start spotting make-shift shops selling chips, soft drink, juices, lime juice, Gatorade, biscuits among others. Be noted here the prices are more than MRP, considering the accessibility and logistics. Moreover, you'll see lot of people crossing you and then overtaking you.
We soon realized we won't be at the top by 1. Reached a place called Magic View point from wherein you get an amazing panoramic view of the valley. We rested here for like 15 mins, sipping on some refreshing tea. From hereon the trail is more rocky, and you have to climb or negotiate past boulders. Also, the dense jungle section starts and so does the steepness. And all of a sudden it became foggy. The forest bore a misty look, while we traverse them.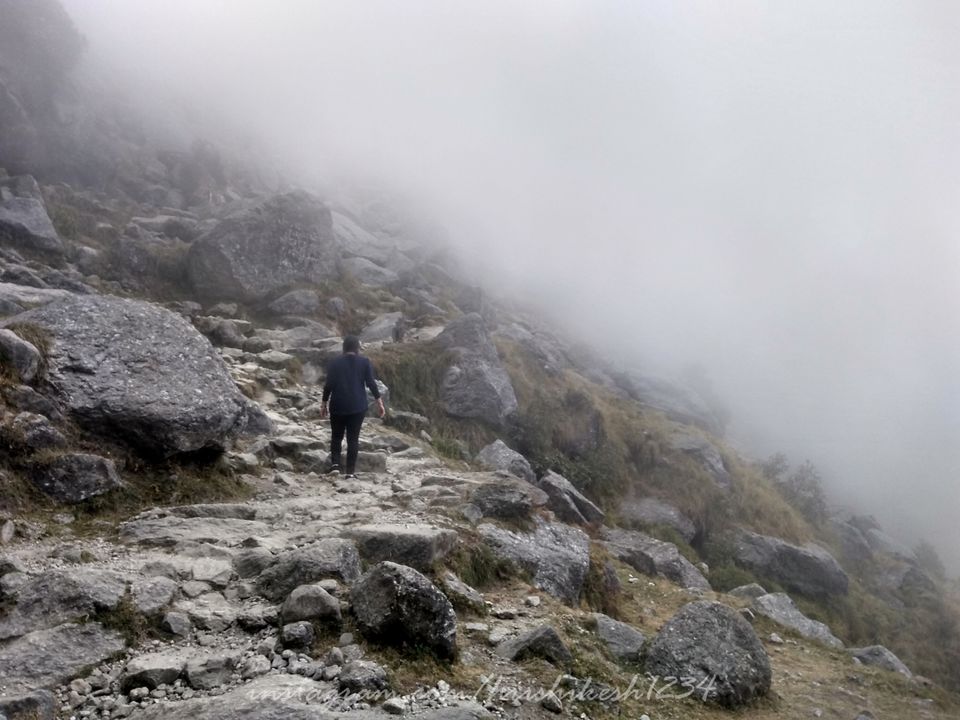 We finally managed to reach Triund top exactly at 2 pm. And we see lot of green and blue tents spread across. The horizon had managed to clear, and the Dhauladhar mountains are right in front. Within 15 mins the clouds had covered the entire valley, obscuring all the views. We were left with nothing but a campsite shrouded in clouds. We went to a small tent selling food, and ordered for Maggi and daal rice. Veg Maggi was retailed for 90 bucks, while a plate of daal rice will set you back by Rs. 150. Hearing the prices only ensured our tummies were full.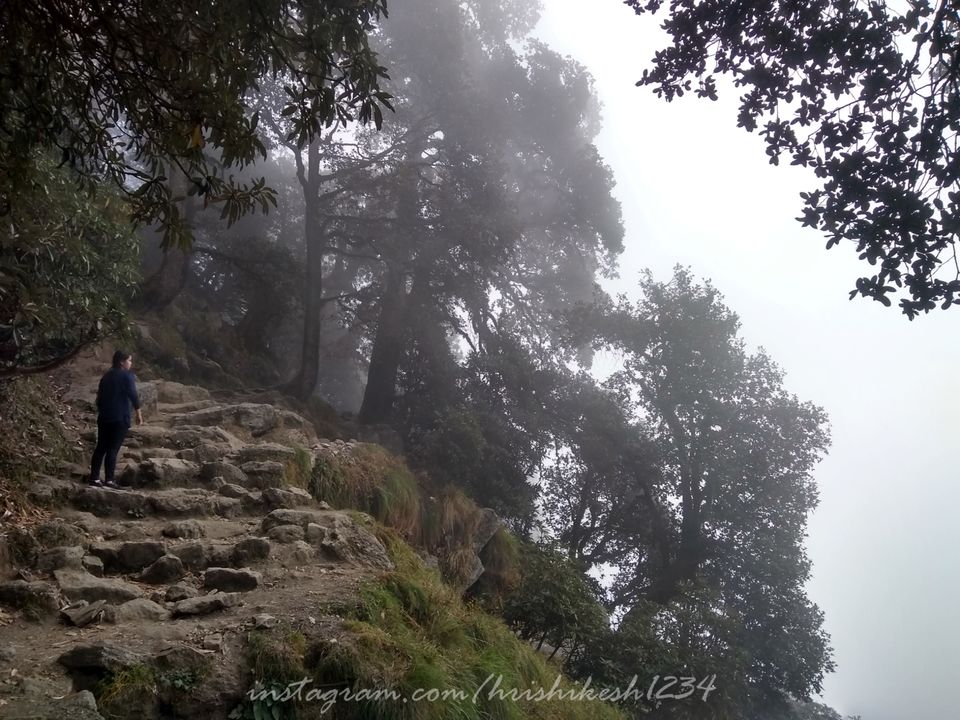 We were in two minds now; should we stay here for the night in a tent or leave back to McLeodganj? The lure to stay for the night was too tempting, they say the mornings are magical at Triund, with the sun setting the mountains on 'fire'. But then we didn't bring with us any clothes either. Reluctantly we decided to head back at 3:30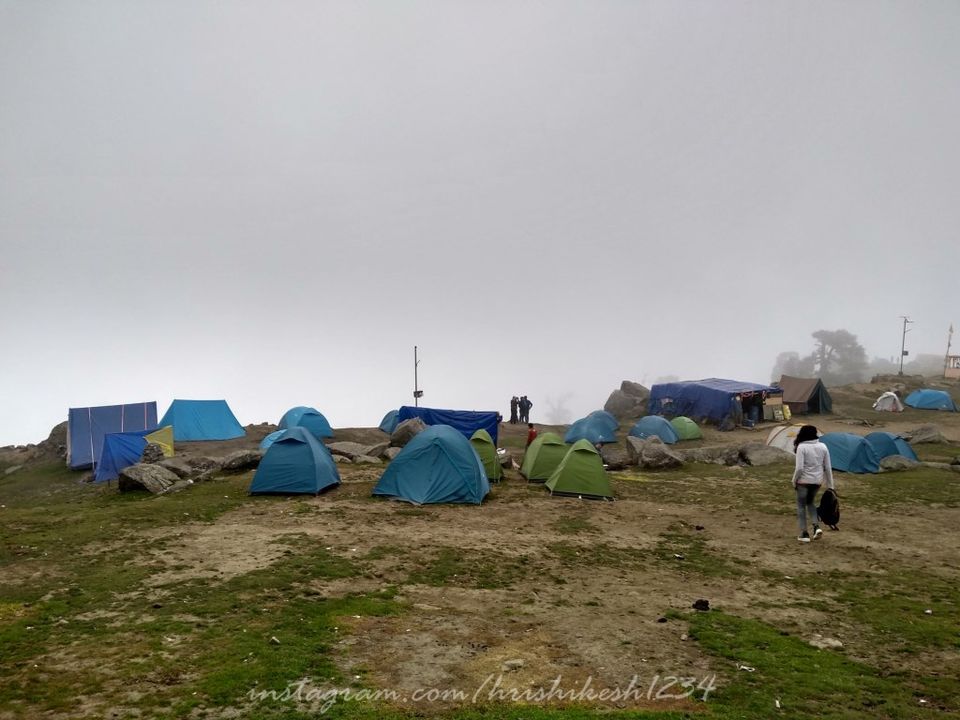 We soon set off back to Gallu Devi temple. Soon we realized most of the people had already either settled down at Triund or went back. There was no one on the trail. It was getting dark as well as foggy. Even the tent-shops had closed. We should have stayed back at Triund top. But we have come too far already and only way was down now. And there are wild animals like bear residing in the forests around. I have to admit I was feeling a bit scared now.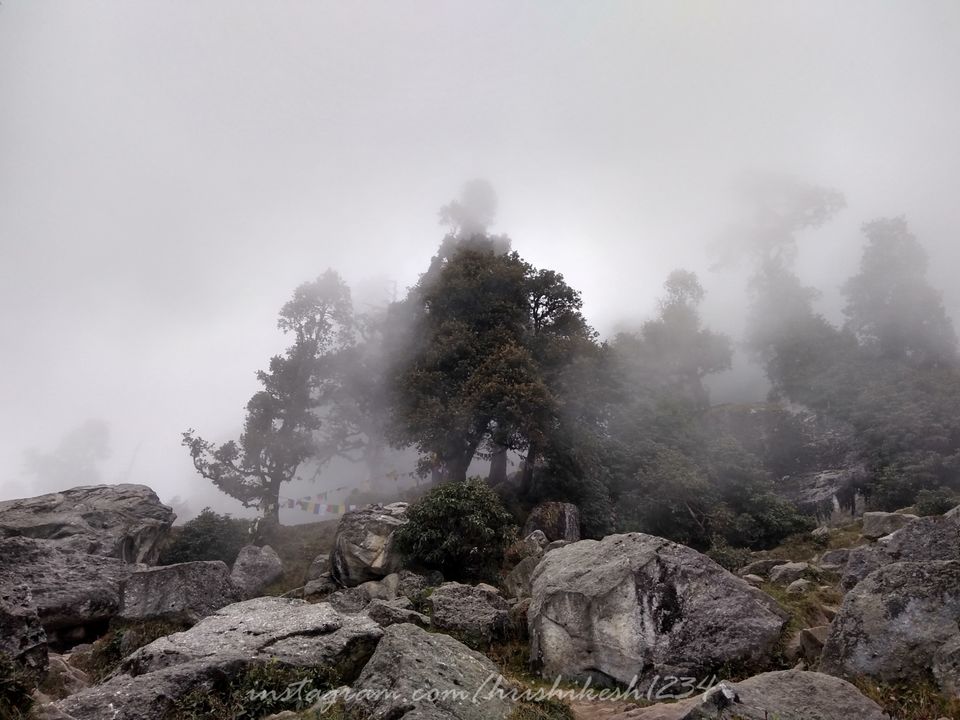 In the morning while coming to our trek we would take the contact# of the cab driver so that he can pick us back in evening if needed. Now there's no network, and even if signal comes we were unable to contact the driver. His phone was switched off. With nervous thoughts on our forehead we increased our pace. McLeodganj was visible now and so our hopes to reach soon. It had gotten dark now and we have finally reached the exit point. A big sigh of relief that was. Our luck turned one step better as we saw 3-4 cabs waiting outside, and one of them would take us back at the same rate we came in the morning. We were exhausted to the core, and wouldn't say anything till we reached McLeodganj.
Triund is a fantastic hike for anyone willing to see Himalayas up close. You don't need any kind of preparation as such; basic fitness, a jacket, and a bottle is all you should carry. If you are planning to come here then plan for an overnight stay. Do remember, however, in weekends and long holidays Triund will be swarming with people. Loud music and alcohol consumption, plus excessive use of plastic has already harmed the ecology.