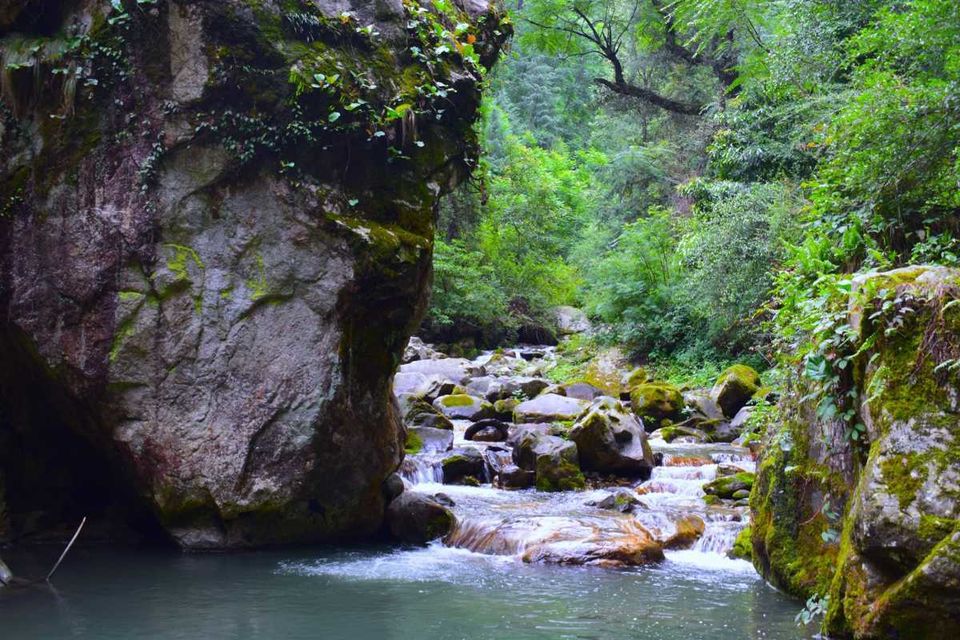 I feel at peace after the trek. Absolutely content. I don't need human interaction and am at ease quietly going about my work. It's the 18th of July at around 3 in the afternoon. I'm sitting on the roof of Nomadic Nest, a hostel in Nasogi (a quaint village near Manali). Part of the roof is shaded with asbestos tins and the floor is covered with worn-out red carpet. The edges are covered with mattresses, with a blanket folded neatly on each of these.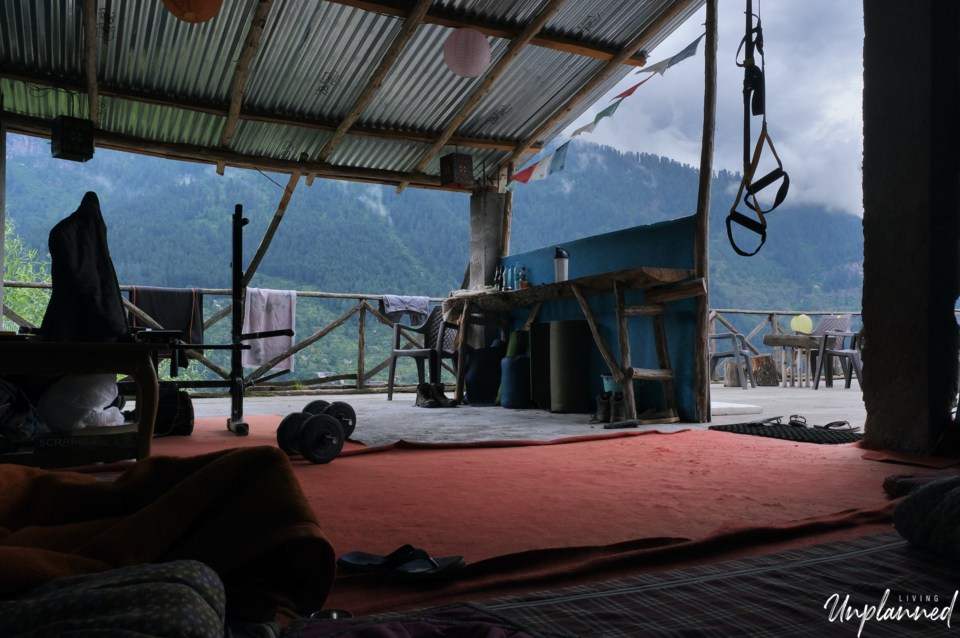 Sharooq, who has been traveling the past 4 months is wrapped in an orange blanket, watching a particularly dramatic film on his phone. It's playing out in his native language and I don't follow the dialogues. On the next mattress Katherina, from Germany, is taking a nap. A half-eaten pear next to her on a low table. And I sit writing this. Occasionally gazing out at the cotton candy clouds of Manali. Sometimes the clouds move and reveal snow peaks in the distance.
It was from here, that four days ago, Katherina, Shrikant and I set out to Panarsa and then to Jwalapur to start out trek to Prashar Lake. It was all very impromptu. About a week ago, I was somewhere in Delhi, hard at work on freelance projects that would pay the bills. A colleague of mine had been floating the idea of a short weekend trip for some time. It was all sketchy, something we would do if neither of us got busy with something else.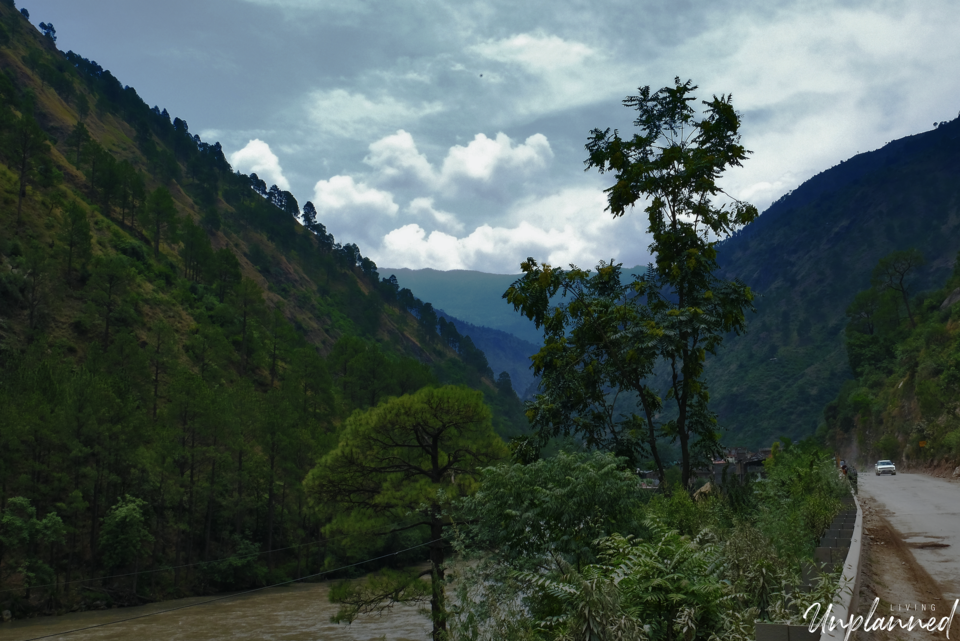 However, she made that one crucial call on the last day, and I, on a whim said, okay, why not. No tickets booked, destination still not decided, we had finally agreed that we leave in 4 hours. To Himachal Pradesh. By the time we were at the busy messy Inter-State-Bus-Terminal, we had picked Jibhi as our destination for the weekend.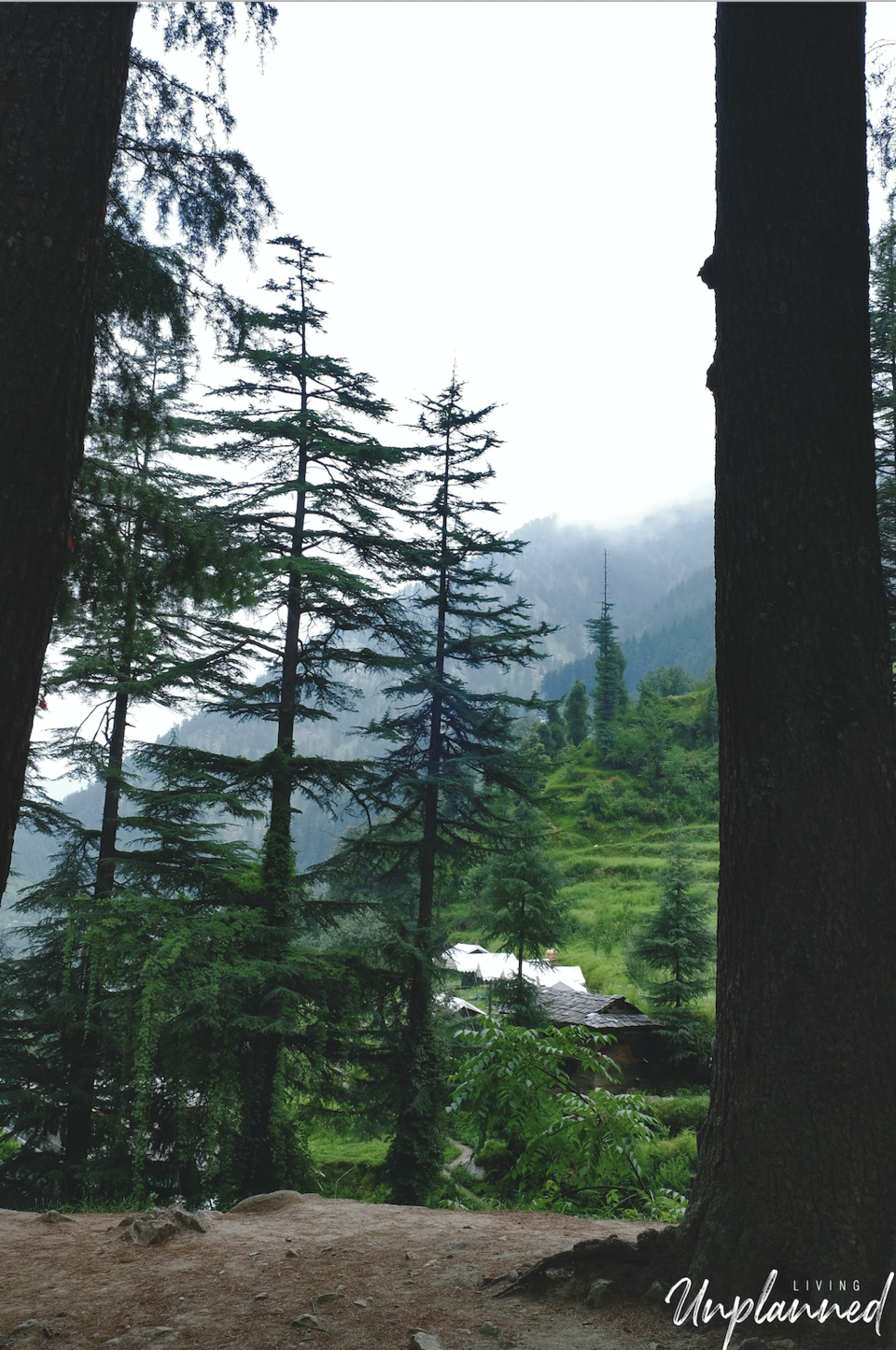 I had been hearing a lot about this village. Life at Jibhi had infested my Instagram feed. It promised to be all about apples and jam, home-cooked food, sitting by the stream and friendly dogs. It seemed non-committal enough. Jibhi is not an obvious destination. It's only an alternative get-away receiving tourist footfall when other popular destinations are over-crowded.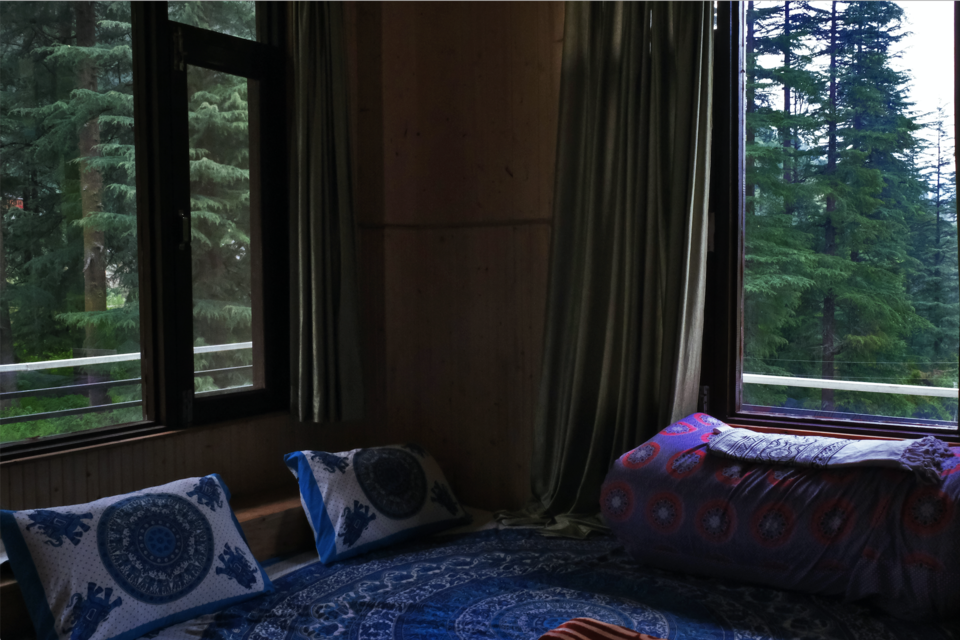 So when Reena and I arrived at Jibhi after a 16-hour-long bus journey, we found what we were looking for. Rains, cool fresh air and a scantily populated Himachali village dotted with wooden-door shops selling items of necessity. The highlight – a handloom machine, big, and rusty, which was carried all the way from Kullu some 26-years ago. Next door to the handloom machine a shop selling traditional Himachali shawls most of which have taken 4-7 days to weave. Right now, in offseason, there are no takers and the shop has to be opened to show the goods on sale.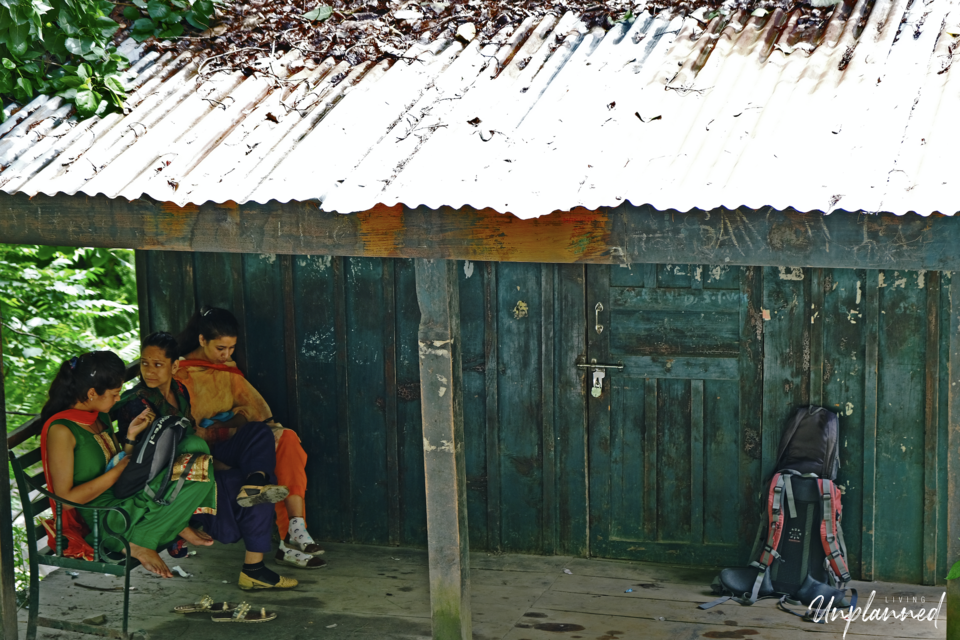 Besides prying into closed shops, we also trek to a hidden away spot between Jibhi and the next village called Ghiyagi. Sometime during fetching us water and extension boards for extra charging points, Janmejay or JJ of My Manali Adventures tells us about Thailand. "It's a perfect spot for swimmers". But why is it called Thailand? Because it looks the part.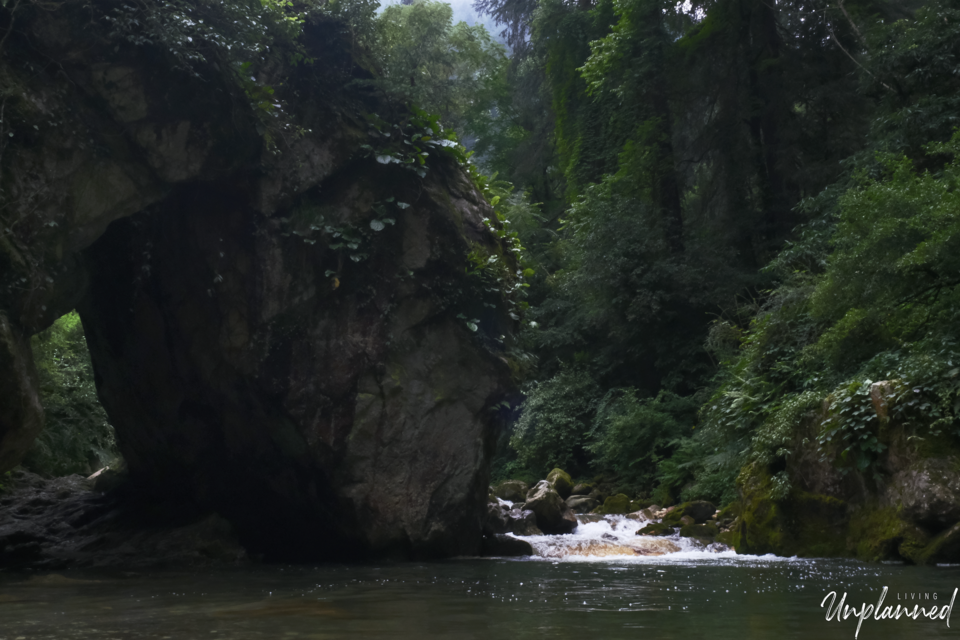 An innocuous mud trail leads us to the stream. From here we show some daring and wade through heavy currents. Reena holding on to the stone, and I to her arm as I cross to the middle where the current seems manageable. And then she lets go on the rock and carefully crosses over holding on to my arm for support. Then we are at the blue lagoon surrounded by big rocks. There's no one around and we call the rock cave our queendom and spend the afternoon being absolutely silly.
But while we were wading in knee-deep water or even enjoying the bonfire later that night, we had no inclination that we would be leaving Jibhi the next day.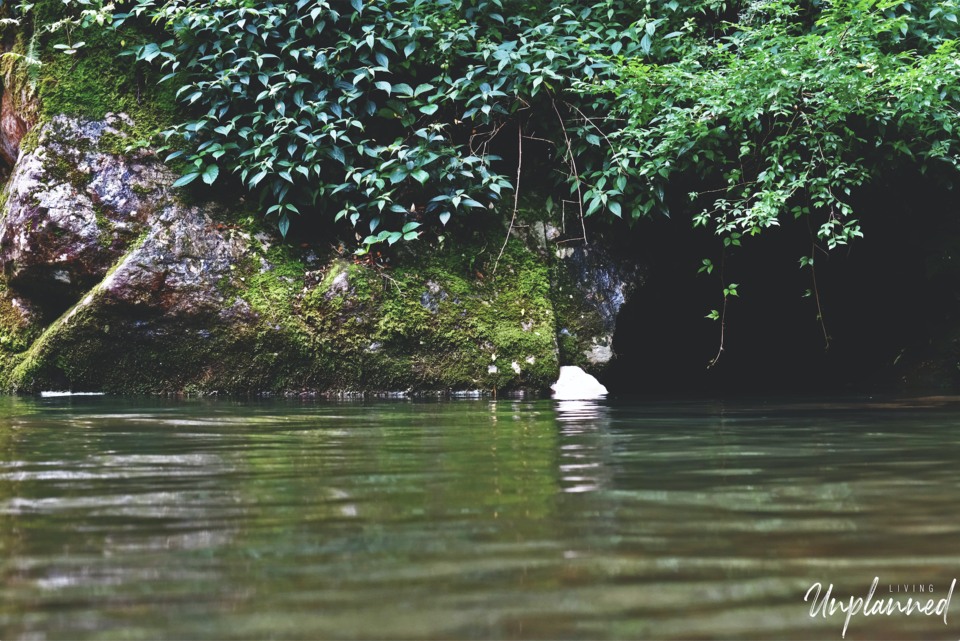 The trek to Prashar Lake was leg three of this unplanned journey. Leg two began with us hitchhiking from Jibhi to Banjar to Kullu. At Banjar we meet Hiralal who calls himself Diamond. His business card reads H.L. Diamond and he works with a local news channel. Fliting about the mountain roads in his red Alto is a daily affair. And today he just happened to stop by at the Banjar bus-stand to drop someone off when Reena pounced on the opportunity. Diamond readily agrees to ferry us to Kullu. He's going there anyway. It's his home town. Later he points out his abode as he turns towards the Kullu bus-stand.
Diamond tells us about the traveling god (devta) of the Himalayas – Sheshnag – who during the monsoons is taken from his residing village to a neighbouring village, where the locals offer prayers and celebrate his presence for 7 days before the devta is taken back to his native temple. Diamond even stops at one such celebrating house to pick up a courier. The house is decked with lights and shiny green tapestries. Children are loitering in the yard and the elders are busy organizing everything. We are invited to join the feast but we must push on – a friend waits in Manali.
The plan to extend this trip from Jibhi to Manali would have never materialized had it not been for Anuj Khurana. The man runs a production house from Manali. It's called 4Play and he claims their den is the center of India's best adventure filmmakers. Khurana from Aligarh left home years ago. He worked sales jobs and odd field gigs before he quit to travel fulltime. He made films on the road for years before landing up at Manali and feeling settled in the hills. I would have called his place in Manali home but it's a den alright.
A corridor stacked with mountain bikes and the boxes that carried them. A huge wooden table houses a rock climbing shoe upturned, probably drying after a wash. It's Saturday so the boys have washed their clothes and it hangs drying on strings surrounding the courtyard. There's Ram Siga, who cooks for the lot. Anuj and Ram Siga are constant members of this household and run long endearing conversations of domesticity and admin issues while the other – interns, trainees, filmmakers, and friends drink and chatter in the next room. Someone leaves, someone arrives every day. It's an ecosystem – a support center for creators and adventure lovers. And home to Roxie, a shy mountain dog who is way too big for everyone besides Khurana.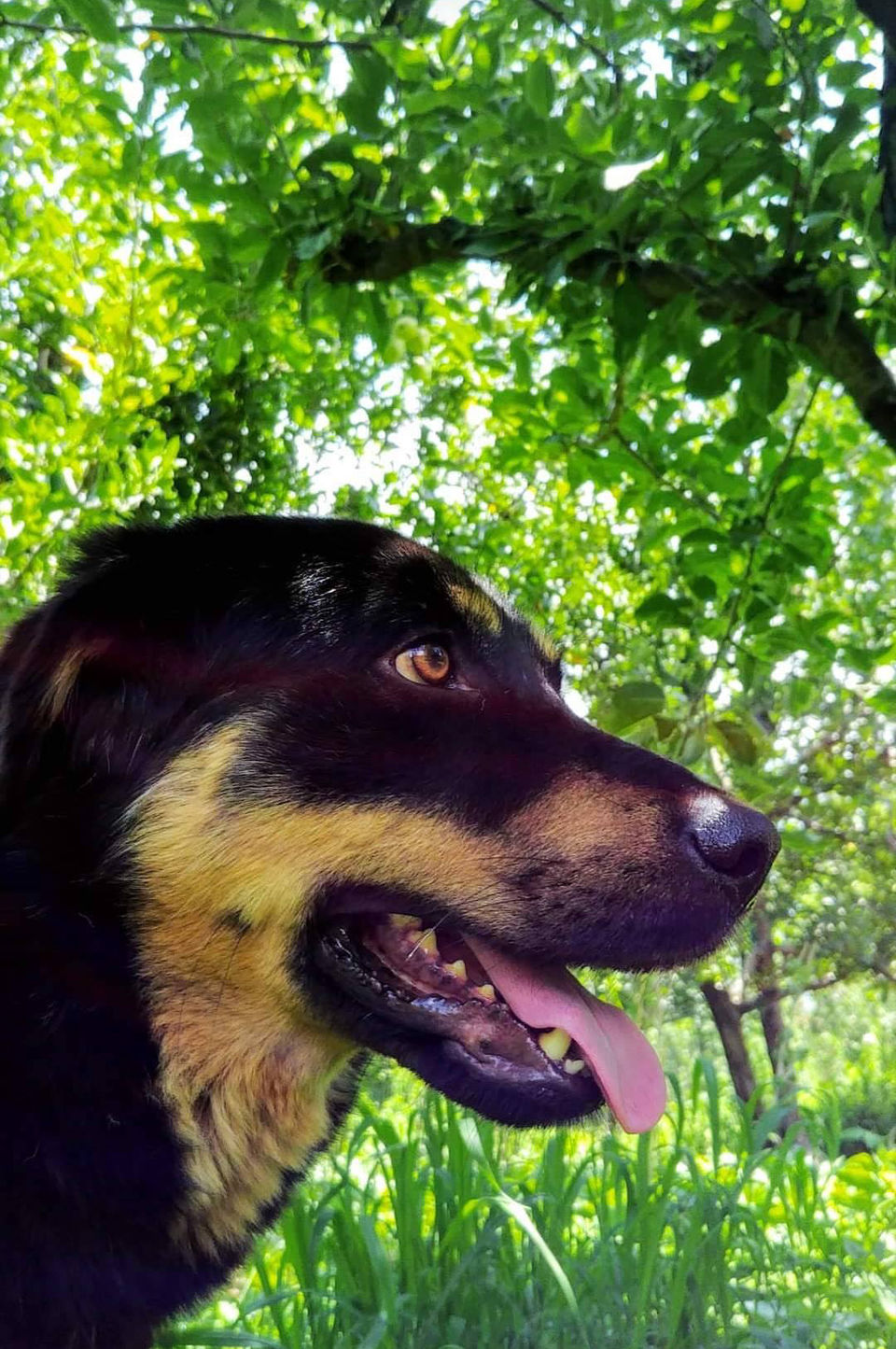 Anuj Khurana offers Reena and me his gracious hospitality and we have a lavish meal of chicken masala and roti. Ram Siga is a good chef.
By 1.30 am we are trotting down the narrow village lane of Nasogi to the friendly hostel in the neighbourhood – Nomadic Nest. Sai – a 21-year-old from Tamil Nadu (he really looks 29 though) – who runs the place is fast asleep but we still manage to find beds.