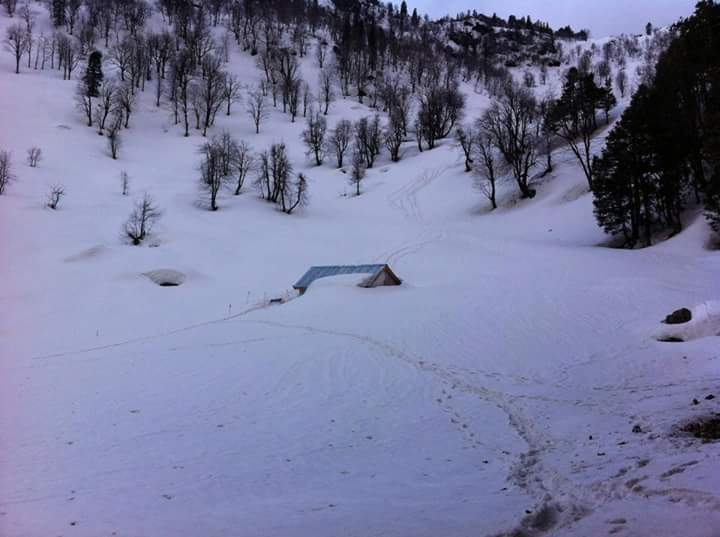 Delhi is chaotically artistic. Photographers, writers, and painters are very commonly found in the city, it is a paradise for me but I somehow tend to feel lost in the crowd. A city so known to me at times makes me feel amiss. I am extremely restive here sometimes and feel the need to go somewhere, when I say 'somewhere' it usually means the mountains, Mountains give me peace and perspective, I am not at all a beach person, and the mountains do the magic for me.
A couple of days back my ex colleague Varun called me to ask if I would want to go to Manali for a few days? I worked with him in a small time advertising firm when I was doing a short stint as a copywriter. Varun was most of the times taciturn and quaint, but conversations with him after smoking a joint were always different, he became much better than Chris Rock or Russel Peters, and he asked me to accompany him to Manali also because we had taken a trip together before, and trekked as well. I did not respond to his question at that moment but I did think about it. Manali was such a cliché, everyone talked about Manali, and there is nothing offbeat about it I said to myself. It was the day after my birthday and I was sitting at my front yard drinking beer and I received a whatsapp message 'Bhaiiiii, check this out.' A sentence too often used in Delhi amongst two guy friends. Varun sent me about ten different images of Manali. I don't know if I was tipsy but I was surely astonished looking at the images of the mountains, they looked majestic. And I could sense that varun too was exasperated with the environment in Delhi.
The bus tickets were booked; we were to travel in a bus named Himachal Volvo. And I was already in bliss; anything, which is named after Himachal makes me go in trance. Himachal Pradesh is a beautiful state after all, it has special powers to hypnotize you and I was prepared to be bewitched once more. It was the 14 th April 2014, I reached Varun's house around 1 p.m. and rang the doorbell. As soon as he opened the door I greeted him 'JAI MANALI BABA.' We had our lunch and left for Rama Krishna Ashram Marg Metro Station in Paharganj, it was about forty minutes away from Varun's house. We boarded the bus and I did not remember when I slept.
As I opened my eyes it was 6 a.m., Varun was still asleep and so were most of the other passengers. I looked outside the window and I smiled looking at the picturesque mountains, the weather slightly gloomy and cold, the lush greenery and the fog smeared in front of us. The conductor yelled grotesquely to greet good morning and informed that the bus will stop for fifteen minutes for tea and passengers to freshen up. As soon as I was out of the bus I felt the freshness of air and I relished this moment, I was breathing deeply and took as much mountain air in my lungs as I could. All of us had tea after the bathroom chores and I saw Varun sitting before an edge having his tea and looking at the mountains, he was quiet and in peace, it was soothing to watch him, after all if anyone has attained peace and tranquility there is nothing else worth fighting for. I smoked a cigarette; there is something piquant about smoking a cigarette with tea, it evokes your senses in a bizarre manner, at least mine for sure! We finished our respective teas and on board we were again, our destination was two hours away and I could not wait to get there. The driver started the bus and I thought that soon the engine would be at full throttle so I put myself to sleep once again and waited for the so called Manali.
The phrase 'Love at first sight' is not used without a reason. I have been in love very intently and at first sight too, but I have never fallen in love so instantly and profoundly. Manali is a magical location which is nestled in the mountains, but to me it is a hidden gem, especially for city dwellers who seek happiness and serenity. At an altitude of somewhere about 2000 meters Manali exudes freshness and a vibe of divinity, after all it is situated near Kullu valley, the valley which is often referred to as the 'Valley of Gods'. When I contemplated the mountains and the surroundings from the bus, I felt quaintly connected with the universe, as if all the gods from the valley permitted me to enter their vicinity and blessed me. Instead of a destination Manali has become a notion interpreted in many ways, some of which are; The drugs and hippie capital of India, a major holiday and drive destination of North India, some strongly boast about the breathtaking natural beauty being the hallmark of this valley, the part of high Himalayan mountains which holds the last snow ranges of the region, a place with thick forests amidst beautiful foliage and flowers and the gastronomical capital of Himachal Pradesh.
We reached the Manali bus stand at 9 30 a.m. and it was already drizzling and windy. Passengers from our and different other buses were impatient to get down and continue with their respective itineraries. I could easily decipher the look on varun's face of contentment when we got down and put our feet on this divine land. Varun caught an auto and negotiated the price to drop us till our guesthouse which costed us 100 rupees. From the Manali bus stand to Old Manali it took us barely fifteen minutes, and our abode which was called Manu Guesthouse was just right after the Old Manali Bridge. The 100 rupees were a bit too much for fifteen minutes of duration but it was almost season time for them so I needn't bother to argue. Old Manali is a small hill station and our guest house was no 'Renaissance New York' but the staff members at the guesthouse were so engrossed in preparing and decorating the rooms as if they worked at Times Square. The season was about to begin so there were travelers checking in and out simultaneously and their luggage was kept near the reception desk. Both of us were starving so we checked in and put our luggage in the room we were allotted without analyzing it. As we walked the street of Old Manali I was enamored, it was a windy morning and we wore our sweatshirts, as much as I love wearing winter clothes and the cold weather, the sight of what I witnessed was more loving.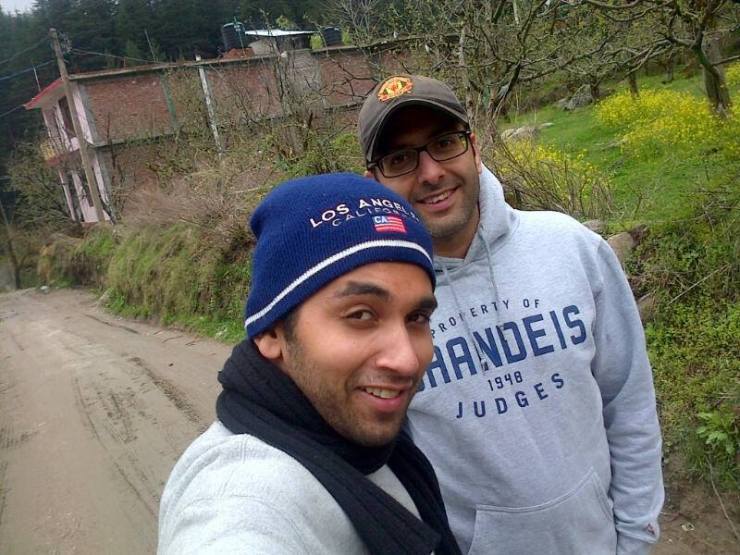 The tiny cafes that smelled of freshly brewed coffee and bakery were alluring and all the cafes had intriguing names, some of which are:
Café 1947
River Music Garden Restaurant & German Bakery
Casa Bella Vista
Dylan's Toasted & Roasted Coffee House
Shesh Besh
The Johnson's Café & Hotel
The Lazy Dog Lounge
Shiva Café
Il Forno
Olive Garden
Red House Café
Lily's Café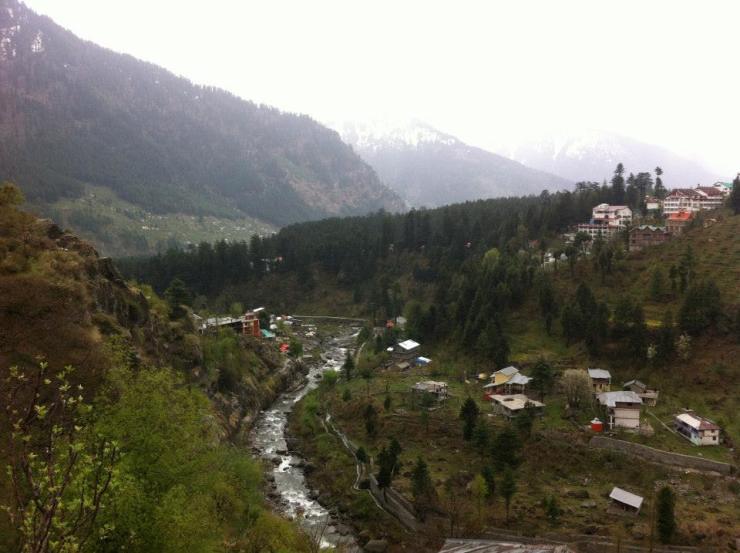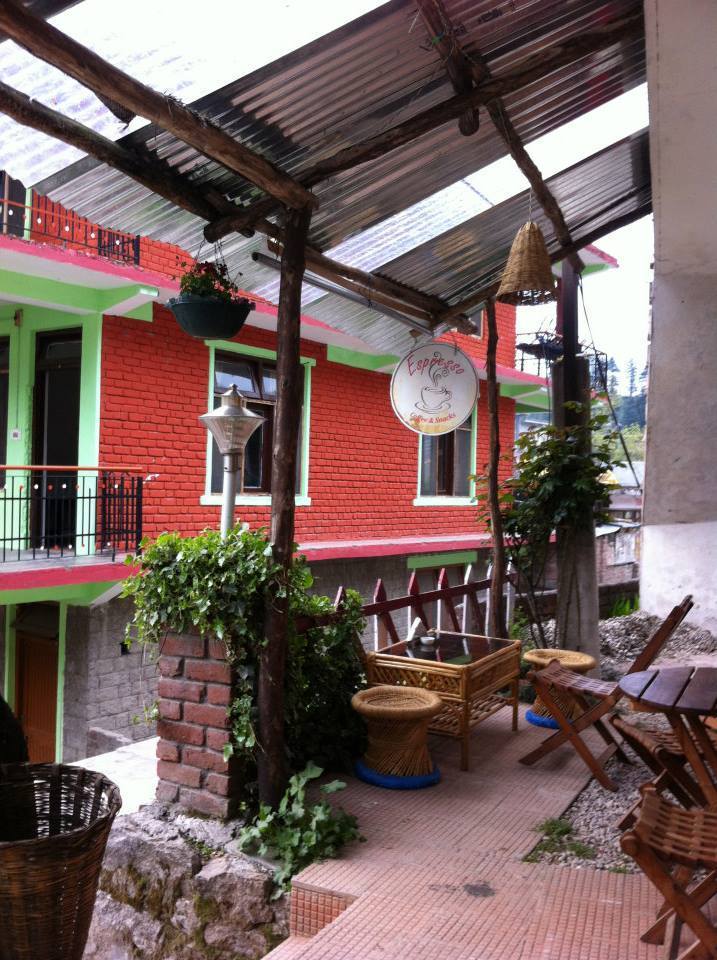 Our aim was to climb up Chanderkhani Pass, a very famous trek which is a relatively easy but with a moderate climb. It is situated at an altitude of 3660 metres, which is roughly about 1660 metres above Manali. The trek is one of the most beautiful treks that introduces the traveller to the remote, hilly cultures of Himachal Pradesh. We were back on the centre of the Old Manali street rambling around and caught a glimpse of this eensy and cosy place called the Shiva Café. The architecture was very Tibetan with a small Buddhist prayer wheel and two dragons facing each other and it had an amazing view from its balcony. We were greeted by a Tibetan waiter who was very warm, there is something about these hilly people, they all know how to smile and be warm. The Incredible India and Hotelier India magazine should give them multiple awards for best hospitality, best service and much more which I can't anticipate. We sat down in the balcony and ordered two pints of Kingfisher beer and a plate of chicken momos with chilli sauce. We sat and stared at the mountains with our beers and just went into a modality of silence. It was peaceful and the momos were a relish with that chilli- sauce and beer. We spoke to each other on a philosophical level on many such topics as to why people are living their lives in a commercial rut and how so many of them attain abundant wealth but have to deal with loneliness, does anything matter more than togetherness and having your loved ones beside you. Our conversations turned into erudite discussions, maybe the mountains gave us wisdom. Mountains have unusual powers. They speak to us if we listen to them carefully and then we can hear them every second in their presence. It was dark so we paid the bill immediately and left from there.
While walking back to our guest house, varun told me 'We better go to the travel companies and ask about how to get to Chanderkhani Pass tomorrow first thing in the morning.
We got up in the morning and it was 11 a.m. Extremely late to start the day, we went down the stairs, a scrawny guy who was sweeping the floor looked at us and greeted Good Morning. We asked him about Chanderkhani Pass and he said 'Bhai Ji, if you don't want to die then please stick to Old Manali and we were nonplussed after listening to his statement. We thought maybe he isn't sure what he is taking about. This guy was from a village nearby called Vashisth which was only 4 kilometres away. He told us to go there and experience the local culture, natural springs and sandstone temples. We had a shower and went for a walk and within no time we were in the middle of a serene forest; an empty walk-through with trimmed, neat and perhaps youthful trees which were enveloped by raw stones and some boulders. I stood in the middle and thought I could live here forever and write, all I need is a tent and my writing material. 'It is much important to be skillful in making a network with yourself rather than other people.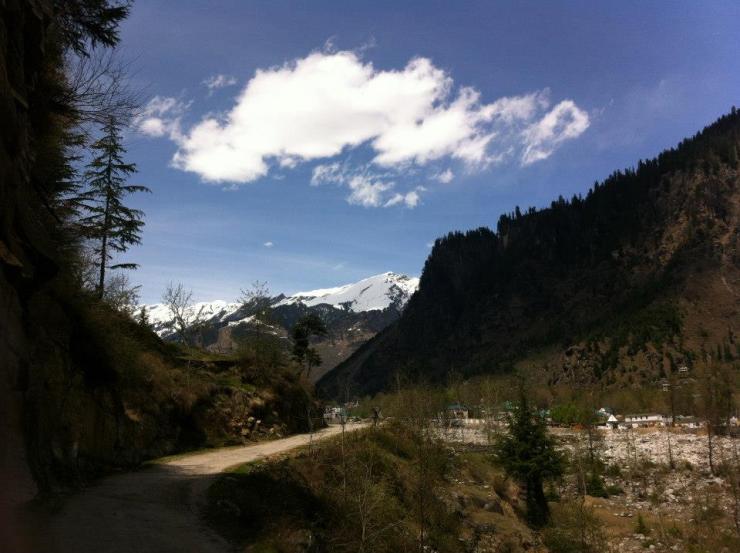 We were back on the main street but this time we had a fixed agenda; To ask about Chanderkhani Pass. As we walked further we came across a shop that was concealed in the corner, it was called 'Apex Adventures and Tours.' We entered the shop and it was covered with a stack of maps, books and an enormous globe, I could fit easily inside that globe for sure. There was a local guy sitting on the table, the conversation started and after five minutes both Varun and I were in a fit of sulks. The guy told us that due to excessive snowfall this year there is no chance that we can go to Chanderkhani Pass.
It was around 8 pm and we went to Drifters café, the café with maximum walk- ins and great hospitality. Nishant, the owner of the café spoke to us for good 20 minutes and after listening to our melancholic tale, he suggested us to go to 'Himalayan Caravan' meet Raj and take his reference.
The next morning, we were really excited, so much that we did not even freshen up and left for Himalayan Caravan. It was just 30 seconds away from our guesthouse. A small and snug place with 4 desktops inside for travelers to use, a LCD screen displaying snowboarding, mountaineering, and skiing videos. Himachal Pradesh trekking map stuck on the wall which was a delight to look at and photos on wall of people from various expeditions. A short and slender man sat on the desk and we greeted him. We told him about our misery of not been able to climb up Chanderkhani pass and he consoled by offering some local flavored tea which rejuvenated us, and very gracefully suggested us to go to Lama Dugh. We questioned him about this trek and he said it is easy, in fact there are 5 other people who are going tomorrow, why don't you join them? The trek would cost you 7000 rupees per person including equipment's, apparel, porters, food and a guide. The cost was out of our budget because we spent most of our money on food in the past 2 days being depressed. But we decided to go. Raj bhai ji told us to come after lunch and meet the others who would trek with us. We met our fellow trekkers and all of them were from different countries. Joseph from U.S.A. Gabriel and Paulo from France, Laura from Finland and Yohannes from Germany. We interacted and got to know each other within no time and that indicated a smooth journey.
18 th April 2014 we all gathered outside Himalayan Caravan and started our trek, we were given a food box which entailed Yak cheese sandwich, 2 boiled eggs, a dairy milk chocolate and a jumpin. This was all protein oriented food for our trek to give us instant energy when we pant and are tired, it was to boost us. We were led by Jeetu, our Trek Leader, just after half an hour we stopped at a boutique hotel to equip ourselves with enough water and we had an 9 th member to our trek. It was Parvati, the brown furred dog with mystical eyes and everyone welcomed her. After an hour I was getting out of breath, because of cigarette smoking and Paulo was behind me and kept whispering 'Take small steps bhaiya'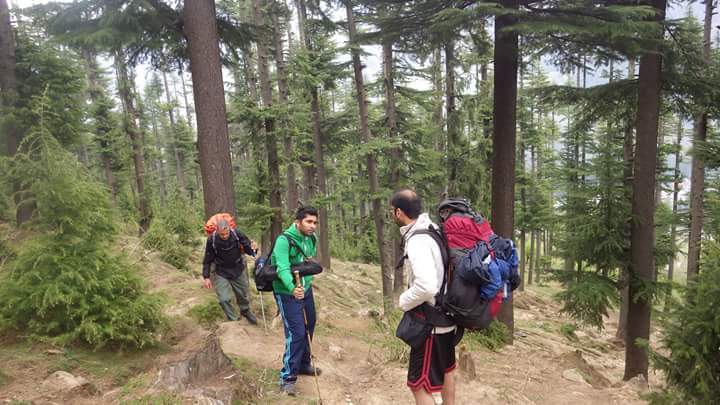 The trek became a little treacherous after the snowfall and I remembered Raj bhaiji saying it is easy. But nevertheless it was beautiful but slippery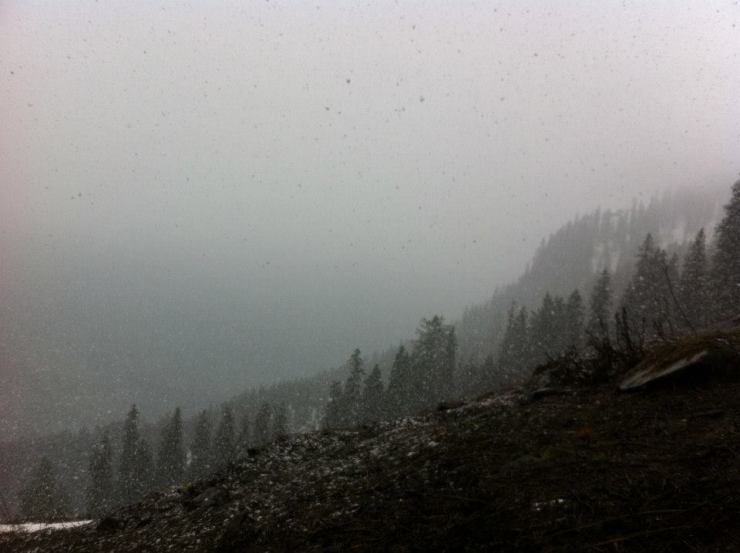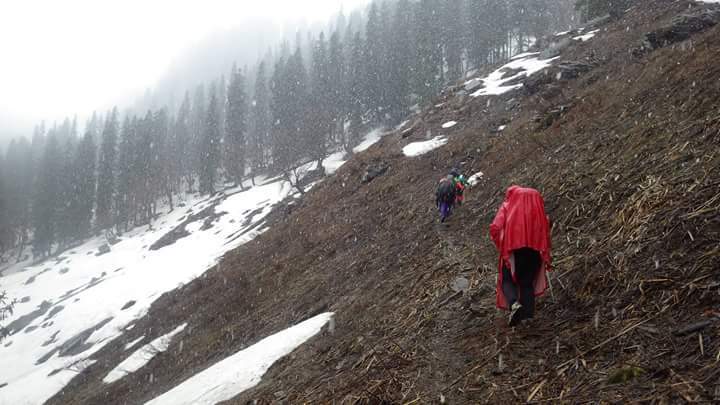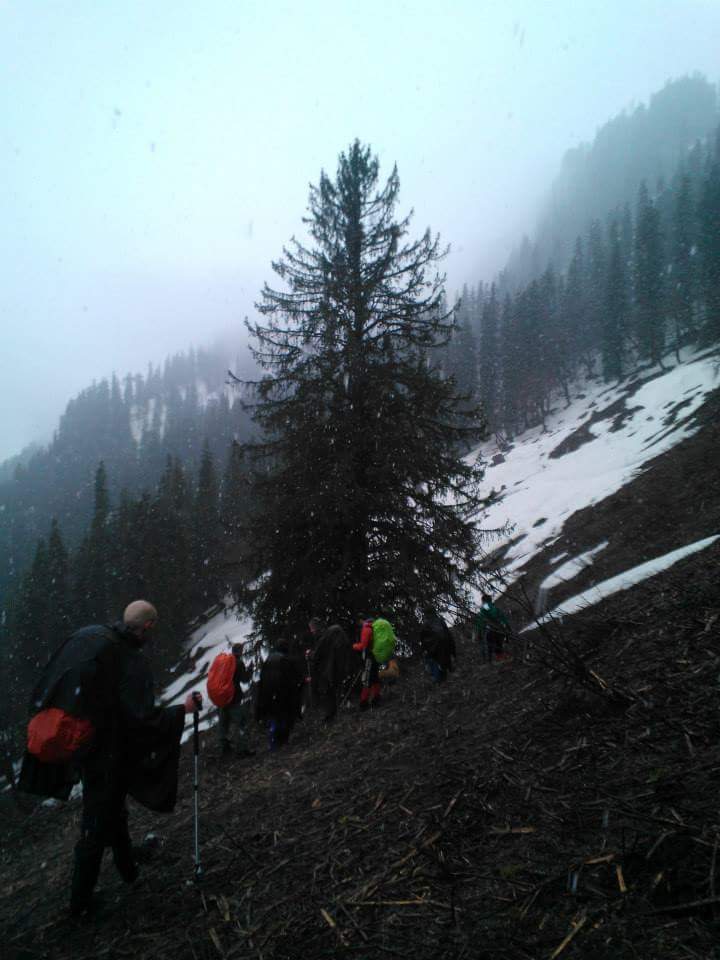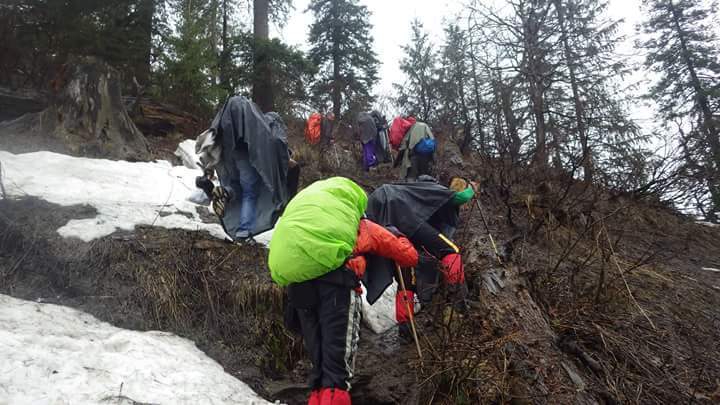 After 5 hours of panting, snowfall, slipperiness we reached the meadows of Lama Dugh with Parvati who helped us the entire trek and saved us from dying.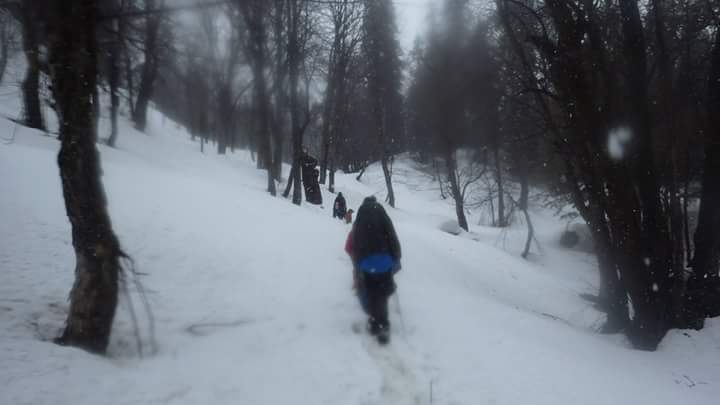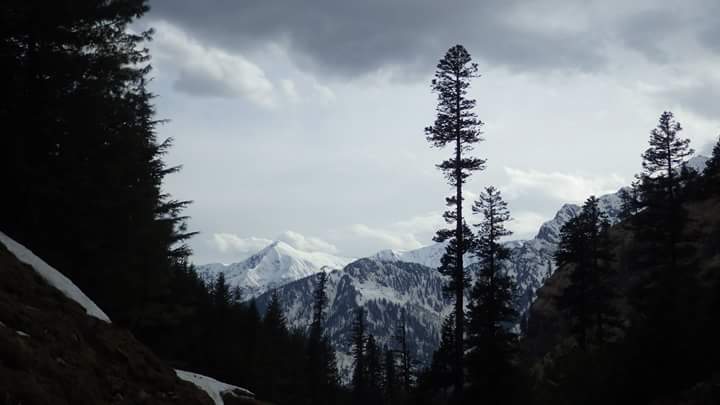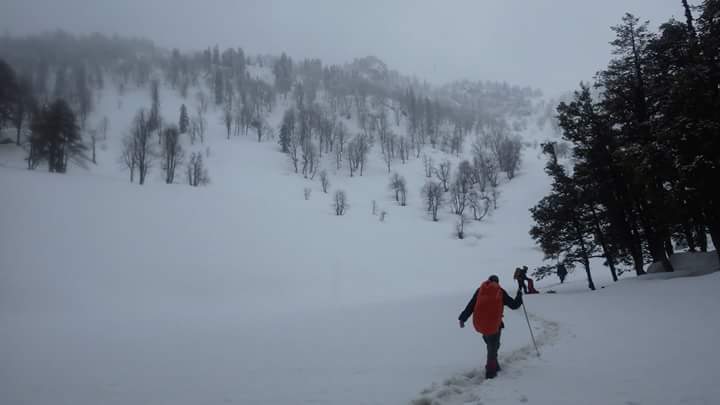 We were finally relieved after seeing our accommodation and named it Warrior Shelter.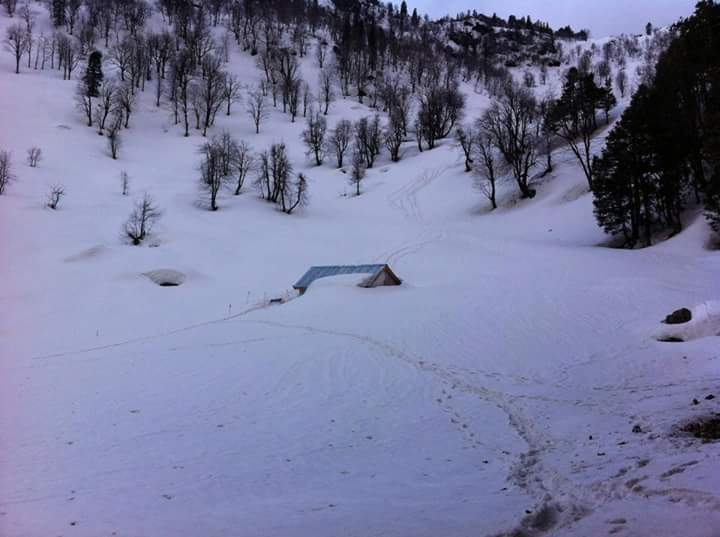 We had chai and lunch, daal and rice. The simplicity in the hills keeps you grounded and wise. It became dark and I had a plan. No one knew I carried a bottle of Black Label to celebrate our trek and my birthday. I opened the bottle and offered everyone. We Indians have whisky with water or coke, so Varun and I put water in our drink and were stopped by Paulo, he said that it is an insult to whisky if you put water in it. Since the weather was below 0 it wasn't a qualm as such to gulp drinks down our throat. We finished our drinks and I did some photography and slept. The next day we planned to trek further up and explore the area.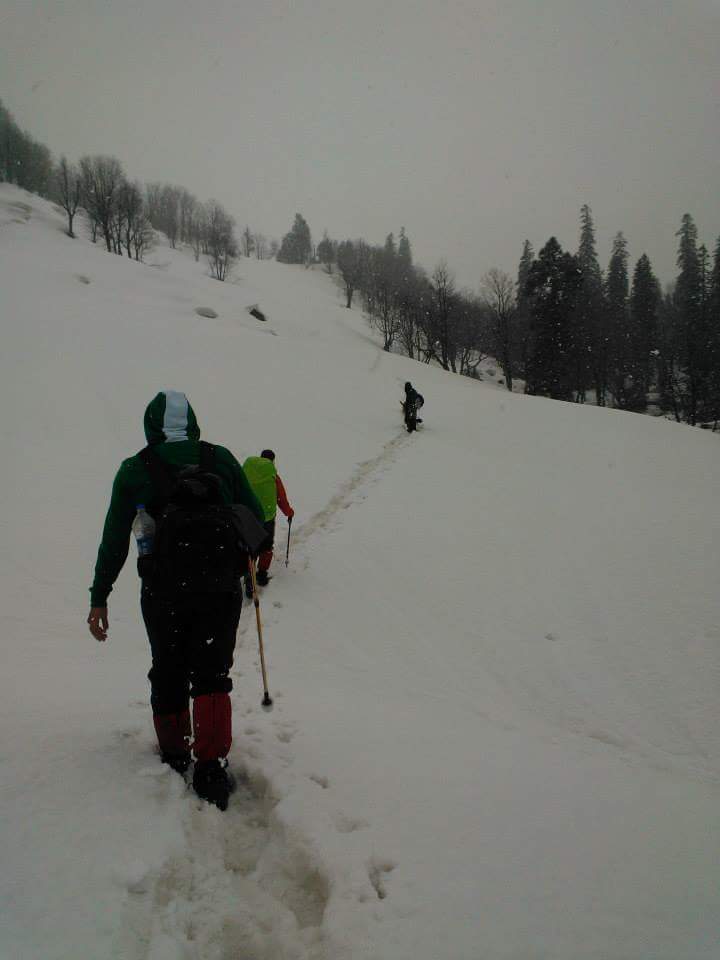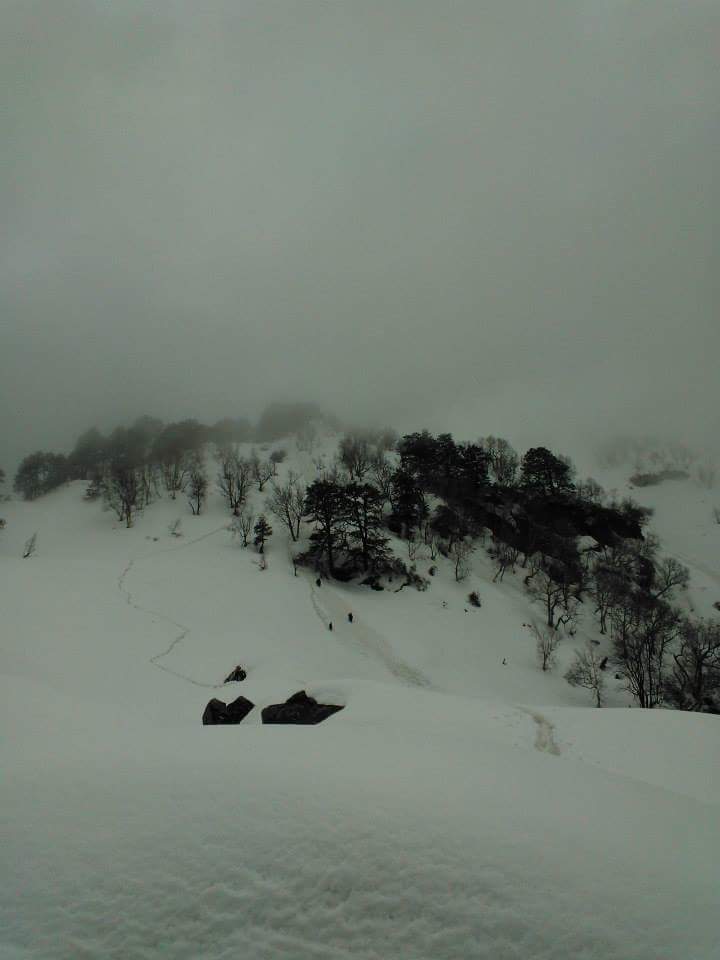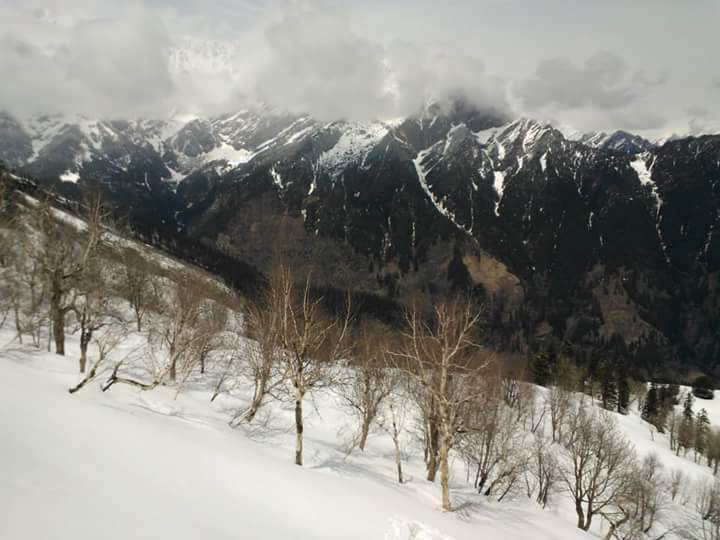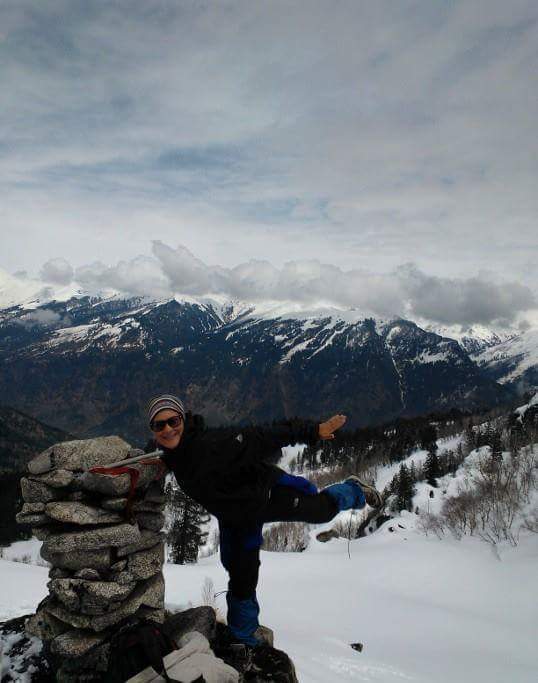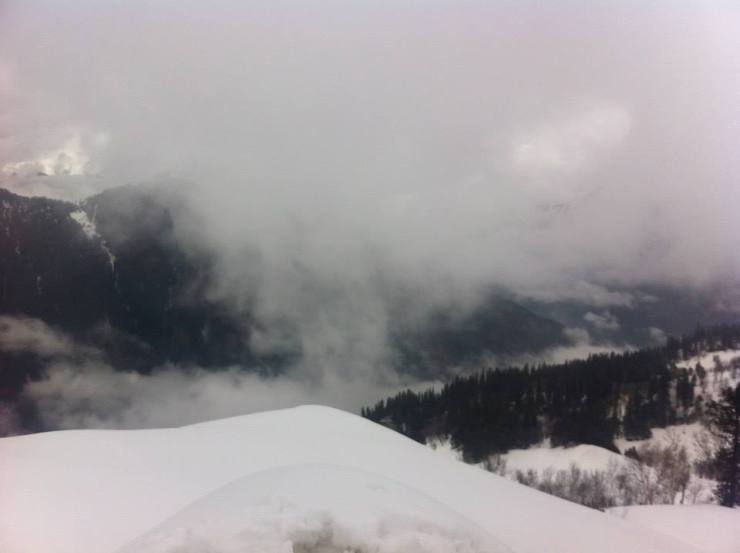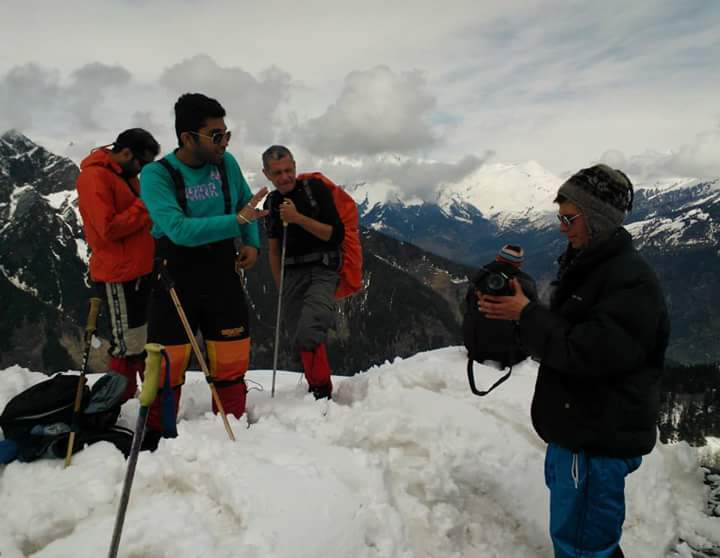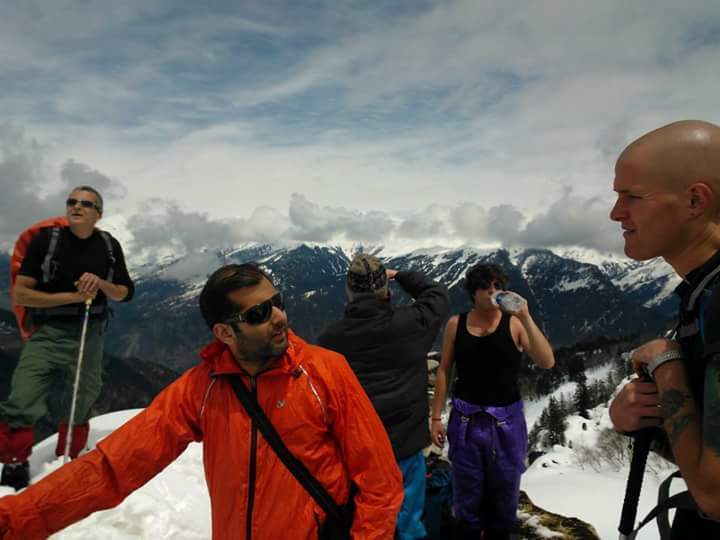 We trekked, slid through the slushy snow, took breaks and became really good friends. This is a trek that I would cherish all my life, and all along we had Parvati who showed us the path and kept us safe.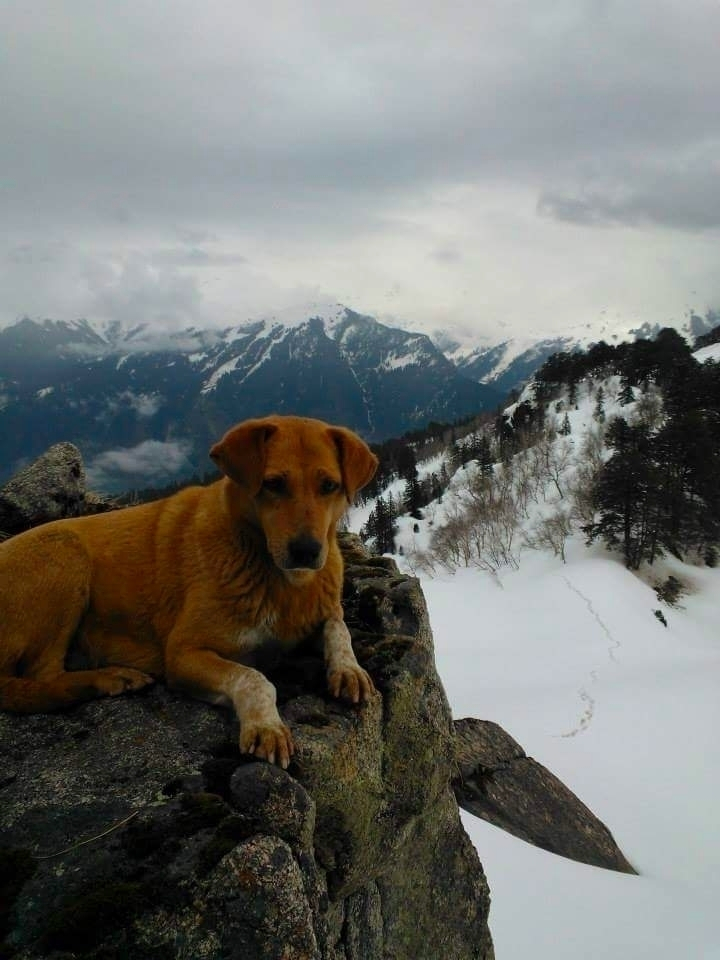 I wrote a poem for her:
Who be more loyal than you

From the start off till the journey

You guide us through

Our trajectory steep and perilous

But you don't leave,
you are a warrior Who is fearless

Damned be those, who call you stray

We eat, sleep and travel together
To have you always by my side is for all I pray

Your company is like none other
From meadows to the snow-capped mountains

This is our life together.
THE LAMA DUGH WARRIORS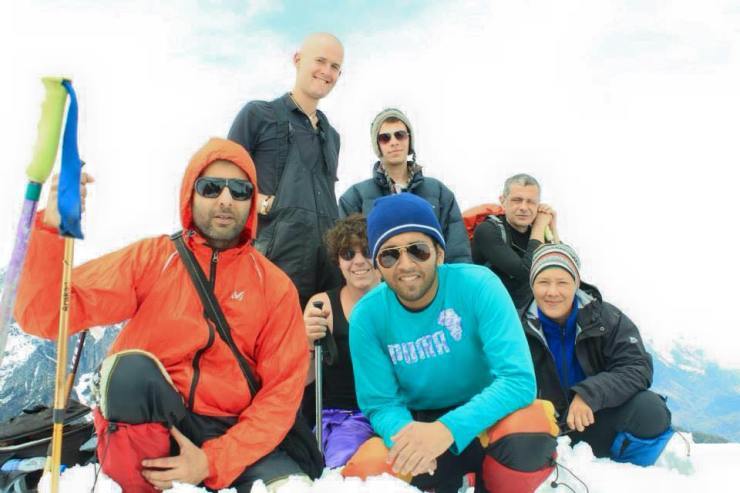 We got back to our empty cemented hut with no electricity but simple food and great company. But we were happy, just as a warrior who finds happiness in an empty shelter with his warrior friends. We collected some wood, lit it with fire and dried our clothes. All of us were worn out so we slept early. The next day we had to go back and leave early.
Going back down to Old Manali.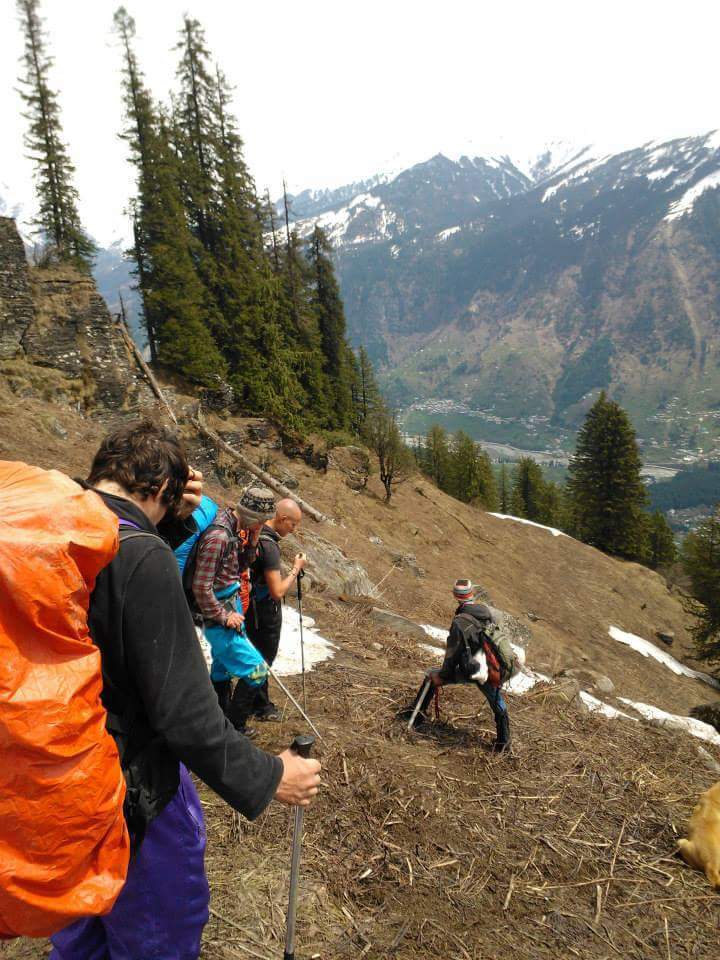 We got back in the evening and met again at night for dinner. We spoke, added each other on Facebook. None of us knew when would we see each other again but we will always remember this trek. We bid goodbyes to each other and left for our respective destinations the next day.
'Planning doesn't work in Adventure trips, all you have to do is decide on a place, pack your bag and book your tickets, the nature takes care of the rest.'