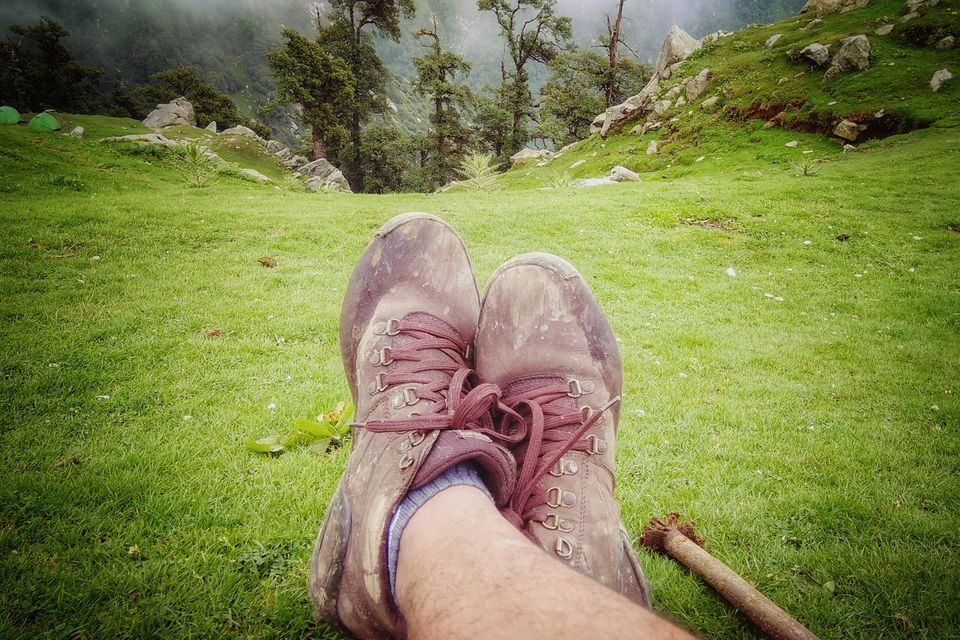 It was 8 in the night and we all 6 chubby peaps were tired and hungry af after 12KM of trekking. We were literally climbing from last 8 hours in the woods. Initially, we admired the scenery, the breeze was soothing and we were having an amazing experience…. but then anxiety started building up slowly in everyone's mind. They don't have toilets throughout the way! Noh...not even at summit! I mean…we belong to a complex sophisticated society (pun & sarcasm intended) …how can we go peeing into woods…that's not an option…. we'd rather trust the capacity of our bladders! How can someone go pee outside? Those were the thoughts echoing in our minds and yet we ascended in the trek of 'Triund'!
Though we were engaged in criticizing the management for providing the basic facilities for such famous spot, we were also enjoying the beautiful and the fresh views of those mesmerizing mountains. Obviously, we were awestruck by the fact that how huge, serene and lovely this place is! And we were happy that at least we are having this experience of a less chaotic, peaceful and unblemished surrounding that we miss in our day-to-day city life.
Anyhow…we were done with the experience and we were happy that we came back safely…but there was a sense of miff among us because of the basic needs being slackly managed there. They could have built roads…may be concrete buildings for cafes…. or rest rooms…probably a resort on the top…. or at least a bathroom to use… Nah…all they did is, use the money of the 'tourists' and gulp it down in their pockets! We hired a driver to drive us back to the base as our muscles were mentally broken down to perform ahead…and consequently, we fired all our questions to him…assuming what would he say…he's a driver! To our surprise, that guy was a scholar and was doing drive as a part time activity, just to raise some funds!
He started with a question… Sir what did you came here for? The answer was unanimous…we came here for having a unique experience of less chaotic, peaceful and serene mountains! He continued, why didn't you go to Shimla… and Manali…if you were looking for mountains and tranquility? And we said…coz those places are more crowed and less peaceful! 'And why you think it is so' he asked. Because, those places are heavily commercialized for tourism and now they are paying for that. Have you heard about recent Water Crisis in Shimla…do you think it was caused by the locals.?
He said, he has worked in between the officials, and they have the potential to grow this for tourist. But do we deserve it.? In-fact they imposed a restriction on the trekkers, so that they cannot spill their garbage in the mountains. The roads are not build…the bathrooms are not there…because that's how trekking should be! To make you experience the walk through real woods…and not some made up smooth drive away so that you can get some gorgeous clicks to post on your facebook. Trekking is more that that…You want to go to the resorts… Lonavala is there for you! People have ruined Vaishno Devi as well in the name of devotion! If you ask us…we make money out of tourism…but that cannot let it happen in the cost of demolishing of this environment. We respect the decision made by the officials to keep some of these places intact and untouched so that when people come here…they can at least say… they have gone to a different place…
As usual, the discussion moved on to politics later…after all we are Indians! But somehow, deep down we understood what he wanted to say. We understood what they like (dislike) about us. Responsible Travelling is a thing…which needs to be iterated endlessly, so that everyone can understand its importance.