As I am new to southern India so always want to catch one or the other place to visit after experiencing the elite and majestic beauty of the northern paradise. Planning to visit this place from long and got an extended weekend to do so that's how this trip came into picture. Hampi is quite approachable from Hyderabad via bus,train or straight on the road, after having a look on all these options finally decided this to be a road trip, hired a car got a diesel one as it will be cost effective and will make the travel expense go low.
Travel Route:

Hyderabad--> Jadchelra--> Mehbubnagar--> Raichur--> Sindhanur--> Gangawat--> Kampli--> Hospet--> Hampi
There are two routes to Hampi from Hyderabad but this one is the most travelled on as its safe as far as night driving is concerned, this entire stretch is a national highway and after Mehbubnagar its actually a one way throughtout so drive carefully keep a speed of around 40-60 as there will be lots of trucks at night coming from the other way. The road conditions are pretty much in shape so no issue in that apart from lots of humps on the road from Sindhanur to Kampli that are helpful though to keep you awake at night rest its smooth. Started at around midnight from Hyderabad and at 5 in the morning we are few kms away from Hospet sleepy tired and then what caught my attention at that hour of the morning its the rising sun, on a road that has cotton plantation on both ends black soil and from the other end a rising sun along with a dusky orange sky was a treat to watch so captured the moment via my lens forever.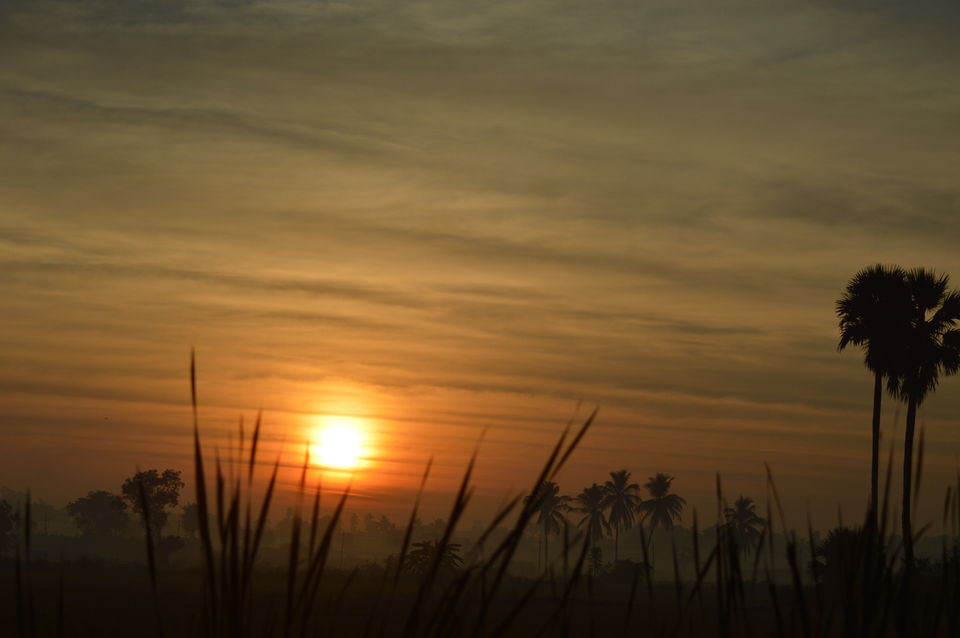 It's 7 in the morning and we reached Hospet as we have kept our stay there 10 kms away from Hampi, rested for some hours and later in the evening head towards Tungabhadra Dam the view is grandiose, though the gates are closed for the flow but still the architecture itself, the serenity that this area has is sound. Soon it become dark and we spend few hours just sitting at the banks of Tungabhadra river, after some lost and found sessions on the village roads we finally reached our Hotel, as its 31st soon the clock stuck 12 and its a new year with some fire workers wishes music from all around the corner. The very next morning we started early for Hampi and the moment you reach to the destination park your car hold a map in your hand and just in front of you are the Hemakunta Group of temples and from that moment its the Hampi fever will start getting on you.

Day 1 @ Hampi:
We decided to start from Hemakunta Group of temple and start following the same road that's heading towards Virupaksha Temple there is an entry fee to this temple there are few architecture in Hampi that require entry tickets rest its all ruins that can be covered while trekking across the village. Now we followed a road that is straight from the Virupaksha's entrance there is a huge chariot later at the end of that road there are two Monolithic Bull, the beauty of Hampi lies in an experience when you just hold a map in your hand and explore the place on your own, get lost on some roads not finding some monuments on the way trying to look for them and so on. Then we saw some travelers shouting from the top of mountain as there was a temple that we can see from ground level at a significant height, we decided to climb to that point the way was not good it has huge sumptuous rocks and its a steep mountain slope that actually challenged our stamina after some serious efforts we are right there the view from the top just caught our attention as the entire village is right in front of our eyes. There we meet a couple and instead of heading down from the same slope they asked us to move towards the other side that has a set of stairs that lead us to a small stream of flowing river, that place is quite with not even a single traveler there we sat there for few hours with our feet into water and it took all our tiredness. After some time we decided to move from this place and to our excitement we lost our way and with in no time we are in middle of no where with no one nearby to ask for a way, after wandering around few kms just like that we found some localities that were very friendly and despite of the language barrier they helped us to find our way to Lotus Mahal and its group of ruins, starting from Lotus Mahal and following the same road towards our starting point i.e. Hemakunta Hills we covered a lot of monuments temples ruins sumptuous architecture, Hazara Rama Temple being my personal favorite, the temple is a perfect example of art culture architecture history that's enough to hold your thoughts the very instance you see it this temple tells the tale of entire Ramayana through pictures engraved on its walls. Soon it start getting dark there and by 5:30 almost all the temples get closed in Hampi and also the dark will prevent you to further appreciate the history that this place holds so plan your way through timely.

Day 2 @ Hampi:
Again we started early in the morning and decided to cover the village further on wheels we grab a cycle from there and after some cress cross riding, being out of practice from a long time we managed to rode it well, this day its all about river side ruins and the most awaited temple Vittala and its famous stone chariot. Moving straight from Virupaksha Temple and then taking a left towards river Tungabhadra and start moving on the same road after passing through some ruins, temples and a deserted area you will reach Vittala, the main attraction of Vittala is the musical Mandapas that has pillars of stones that play the surs(Musical Chords) of music Sa Re Ga Ma Pa and used as an entertainment that time lucky Kings, at the entrance lies this Huge architectural amusement the Stone Chariot. After Vittala we took the road ahead and witnessed few more Mandapas's ruins and then we reached a T point from there we got confused either to go left or right for Anegondi, again after wandering around for some time met a woman she was a local so she just got the word Anegondi and directed us towards left, finally reached the banks of Tungabhadra river from where we took a ferry and reached Anegondi a village just opposite to Hampi you just have to cross the river. Anegondi is basically a land of gods and it has more of a spiritual side to it, its a land of Lord Hanuman and the stories of his birth and journey. Same concept of exploring works here follow the roads and you will not miss anything, there is a story and a charm of each temple that you will see here but Anjanae Hills has an attraction of its own, Hanuman Temple situated at the top of Anjanae Hills that requires us to cover a total of 573 stairs that too on a steep slope which definitely take time and every ounce of stamina in your body but the moment you will reach to the top and the scenic beauty that this place promises you is worth the efforts that you have put on to reach there. We spent around half n hour there taking pictures or just gazing at the wide spread Hampi that's right in front of our eyes. Soon it start getting dark and we decided to move back to Hampi after crossing the river again but this time from some other shore, all the ferries are operational till 5:30 to take you back to Hampi so plan your day accordingly. Finally its sunset and its time to say bye Hampi with experiences memories and stories of the past, the humongous architectural delight, Hampi is not a trip of a day, two or thirty the more you will spent time there the more this place offers you.
PS: Please don't litter and write on walls of the monuments here they are your heritage respect that.