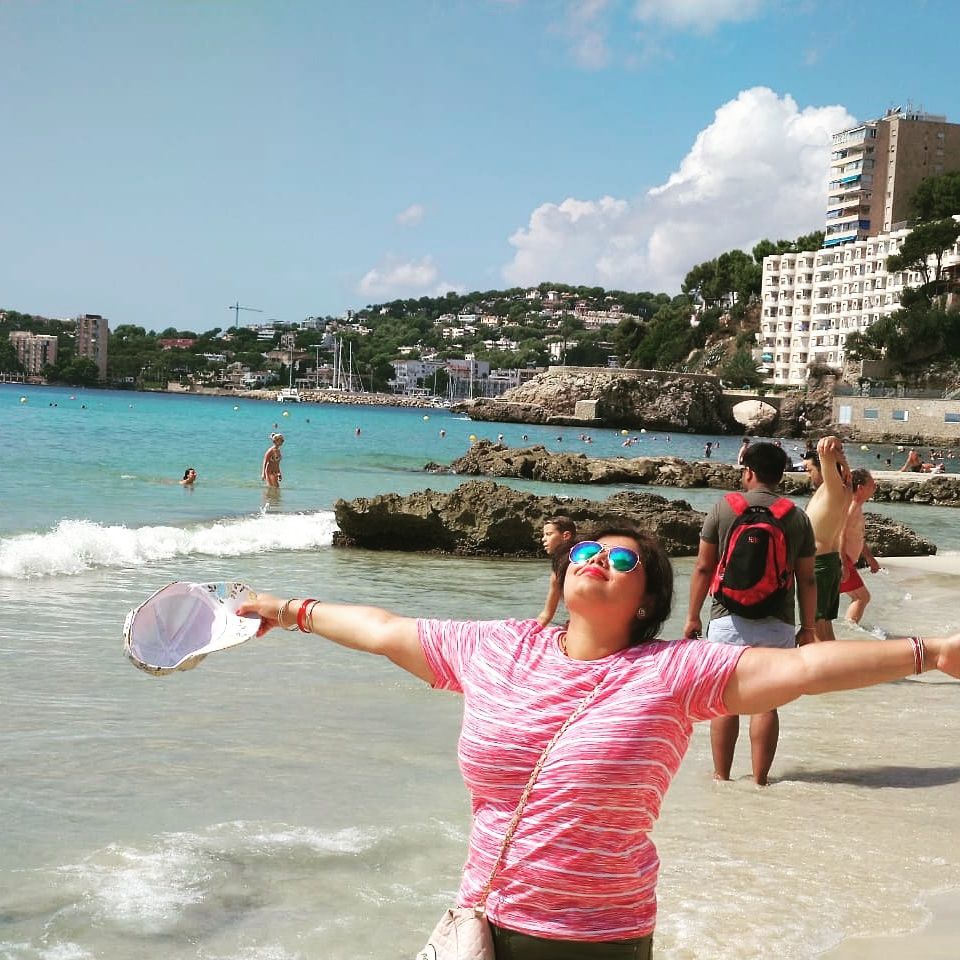 "I look my best when walking freely on the shore with cool breeze rolling my face and blue waters touching my feet". With this awesome feeling which I had few days back, I want to share my best trip till date, Balearic Islands. I planned to covers 2 out of the 4 beautiful islands, Mallorca & Ibiza. September and October being the best season to enjoy the beauty of these islands hence I planned to start my travel on 8th September with my husband. We took flight from Paris and reached Palma airport at 12 noon.
Cala Major Beach- This beach is near to LIS HOTEL with just walking distance of 1.1 km .There are plenty of beautiful resorts close by the beach. It was a bright sunny day so most of the people was taking sun bath there and some were floating in the sea. I just hold my hands in the air watching straight to the blue sky it was amazing combination of blue sky and blue waters and feels the sunshine on my face. The waves of the sea were strong and was pushing me repeatedly on the seashore as it seems that she wanted to play with me.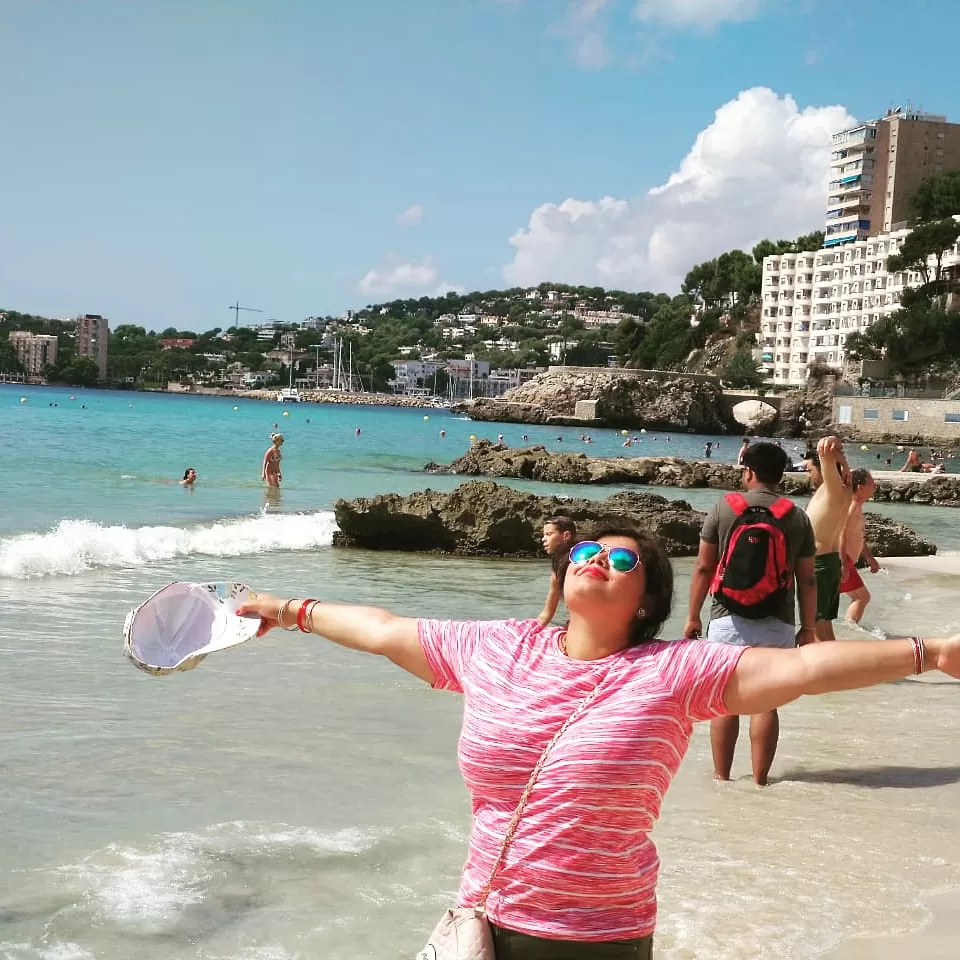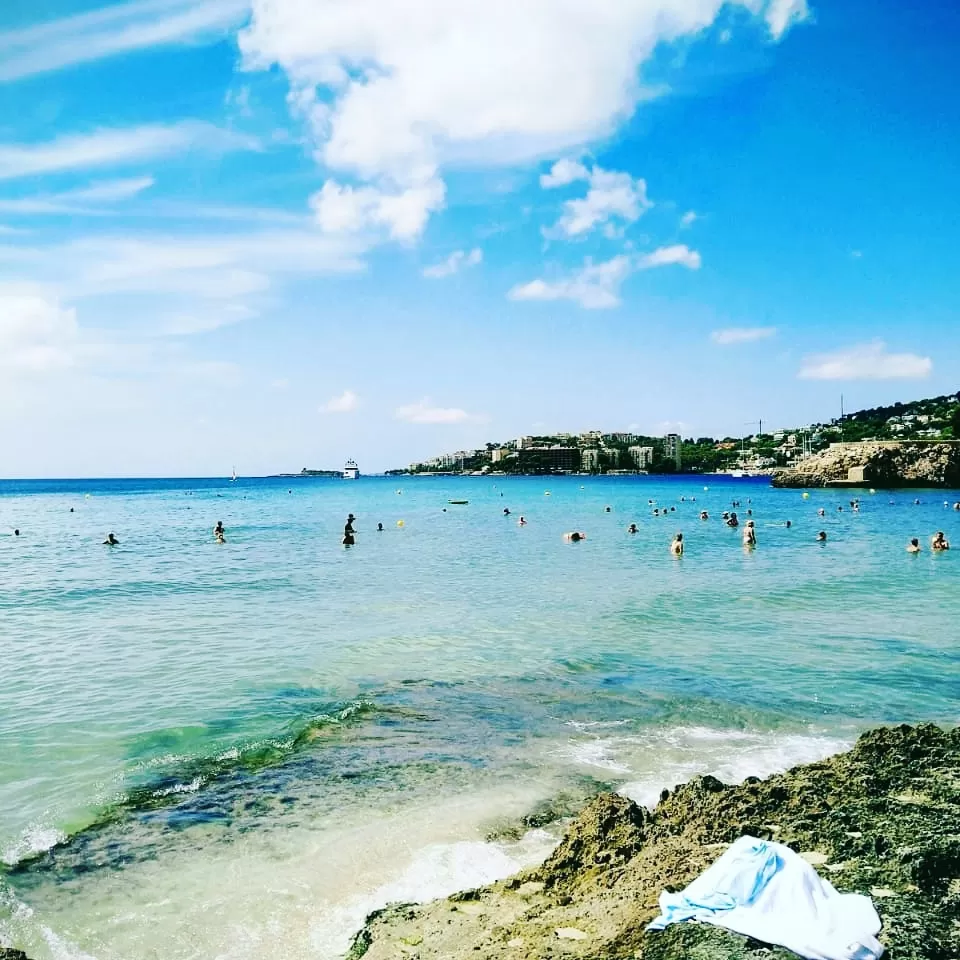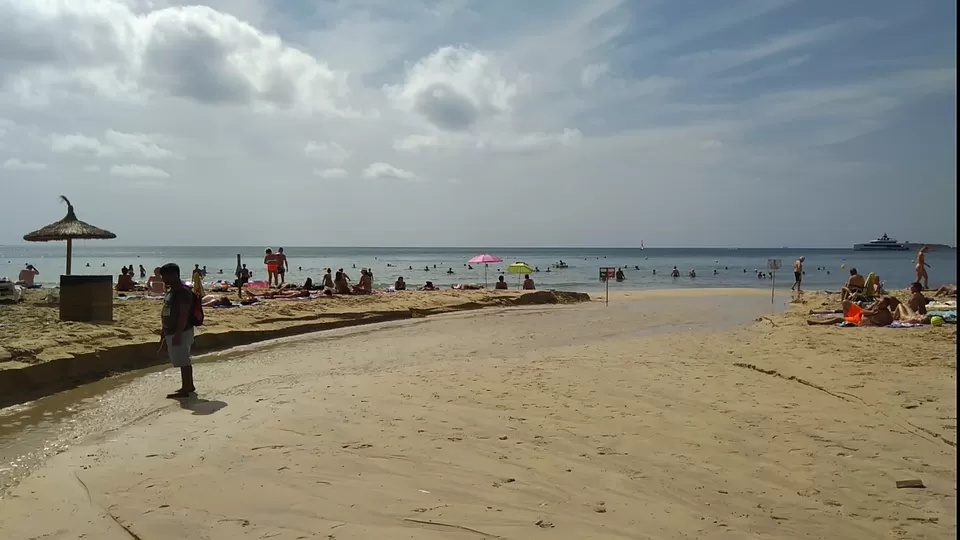 Magaluf – "Wild", "Boisterous" and "Colorful" it can be best described in these 3 words. You can celebrate the whole night in one of more than a hundred bars, clubs and discos. But don't forget to visit the new, modern hotels, where you can often find the best parties.
2) Blue water Beaches:
Palma :-
List of other good beaches at Ibiza:
Cala Salada
Cala Comte
Palaya De Ses Salines
Palaya Den Bassa
3) CRUISE:
We planned our Ibiza trip from Palma by cruise. A trip that you can do with all amenities, thanks to Balearia. It offers various cruise to travel from Palma to Ibiza. We boarded Ceciliya Payne cruise operated by Balearia. Online check-in facility is available you may do this and save some time as you will have to board it early morning at 8:00 am. So we left the hotel early morning at 6,30 am and booked cab who took 5 euros to drop us to Porto PI from where we have to board for cruise. It was amazing view from the ship and we got chance of beautiful sunrise over sea from cruise. Ceciliya Payne is a fastest cruise of Balearia and covers the distance in 2 hrs. Balearia offer a number of routes to Barcelona or Valencia with the freedom of travelling with your own vehicle, and to take everything you need with you like your pets. Forget about luggage limits!!. The return ticket cost us 134 EUR per head. The interior of the cruise is very beautiful. Cruise was running at such high speed that it was difficult to stand on deck but the view was awesome so I spent around 20 minutes there.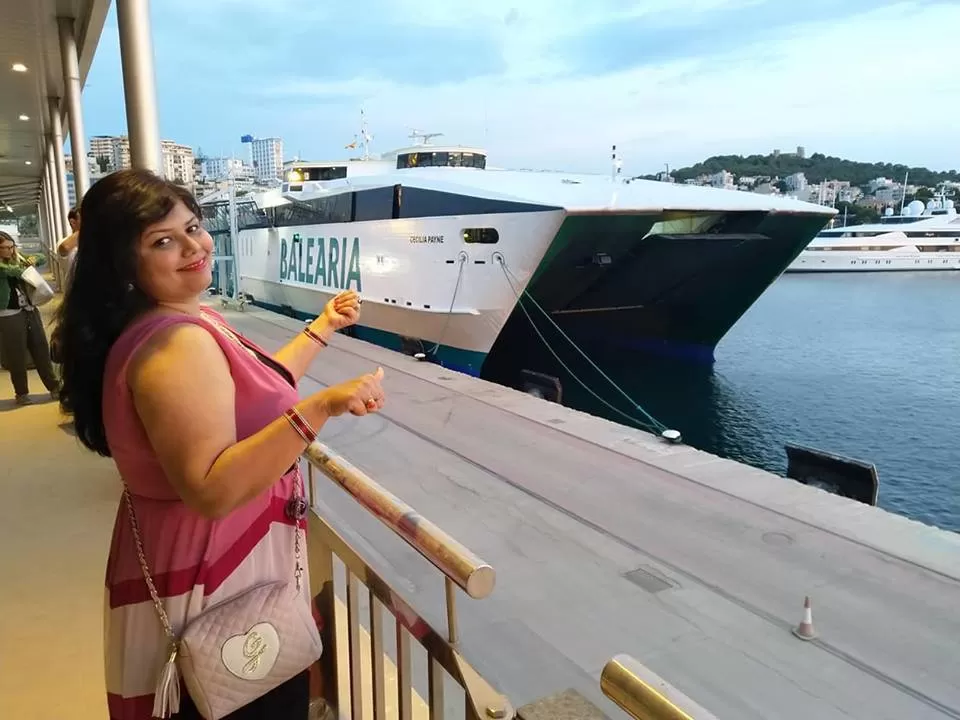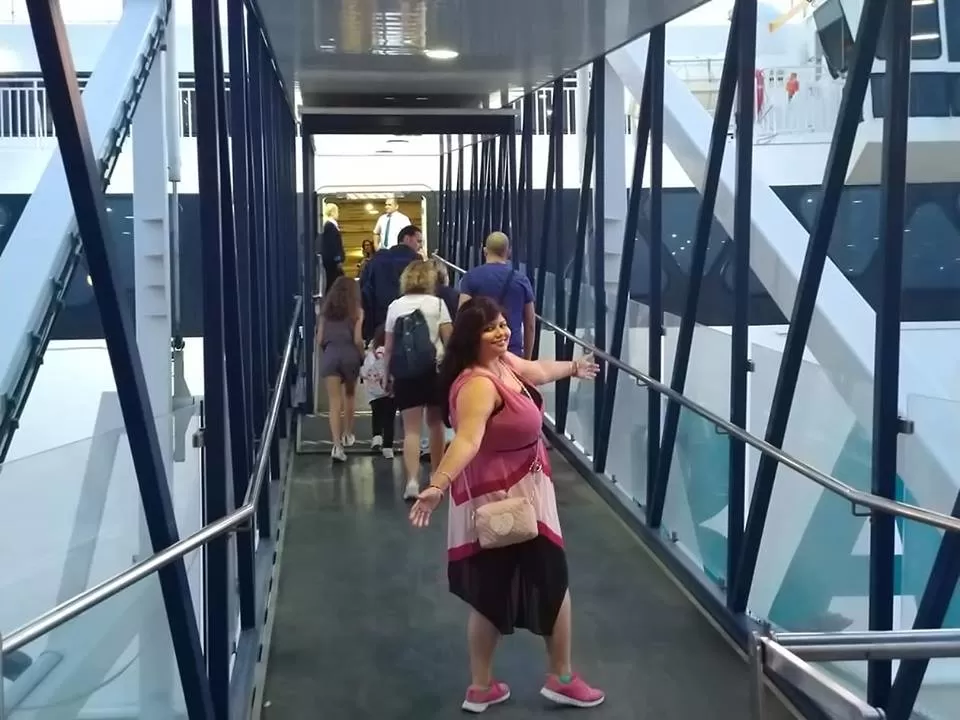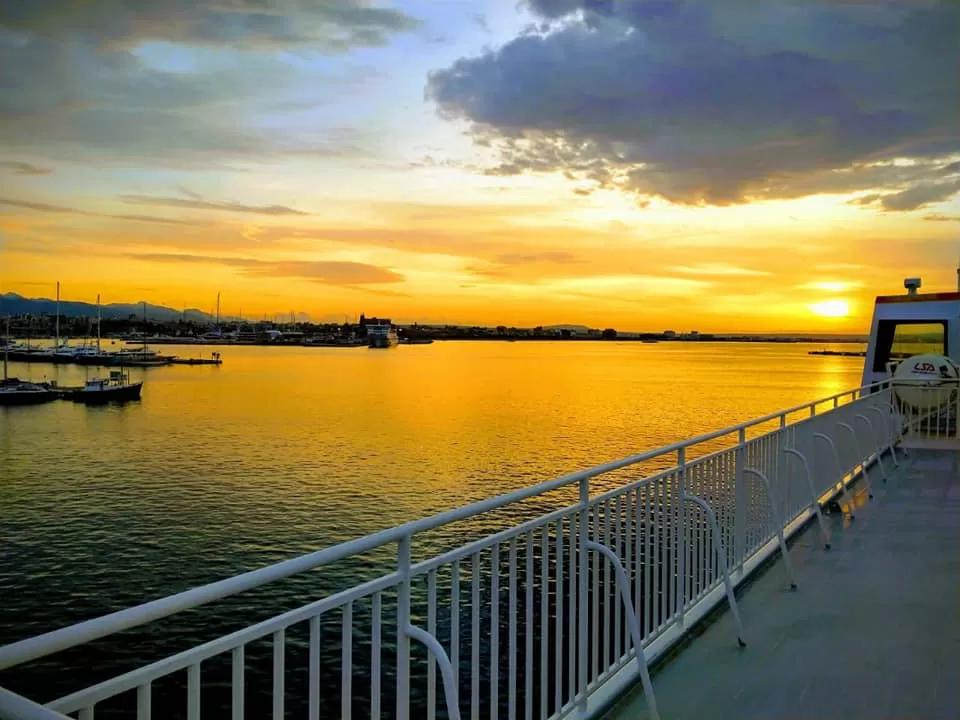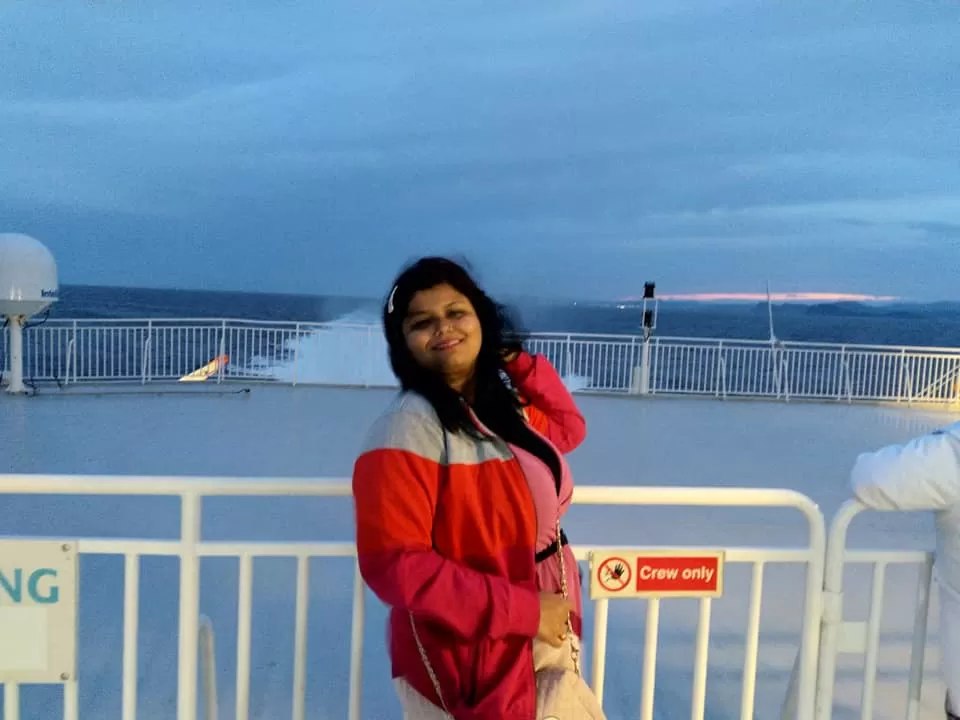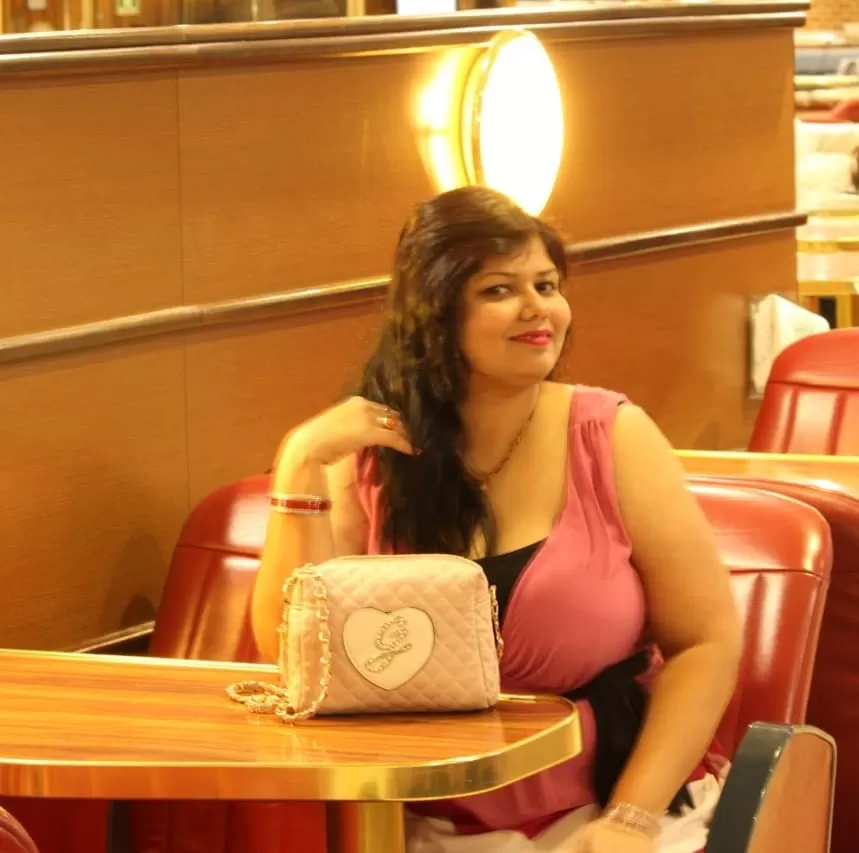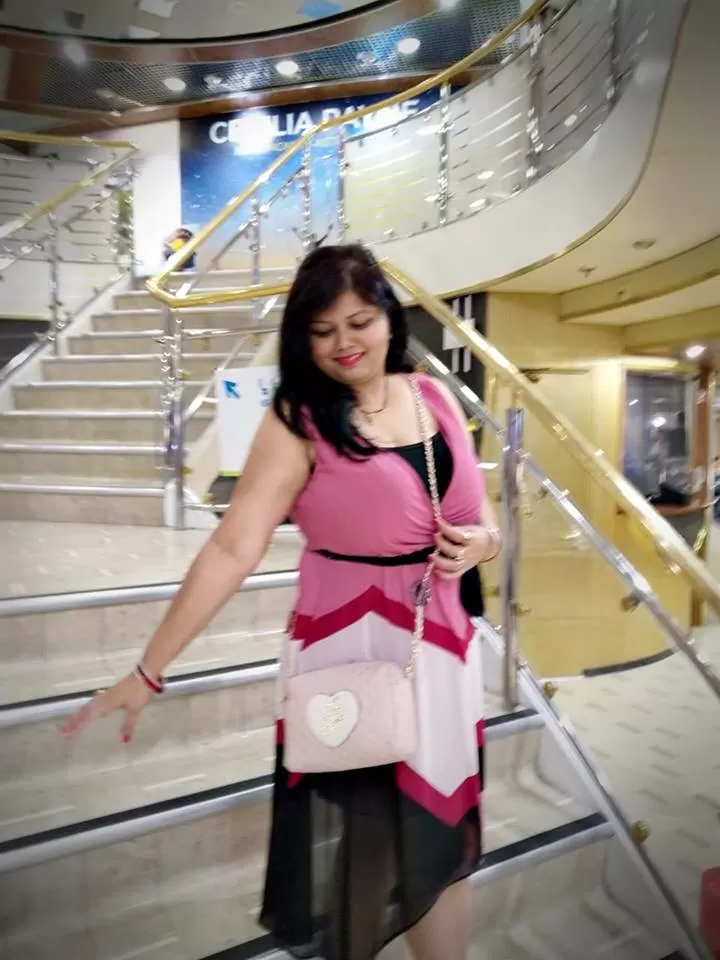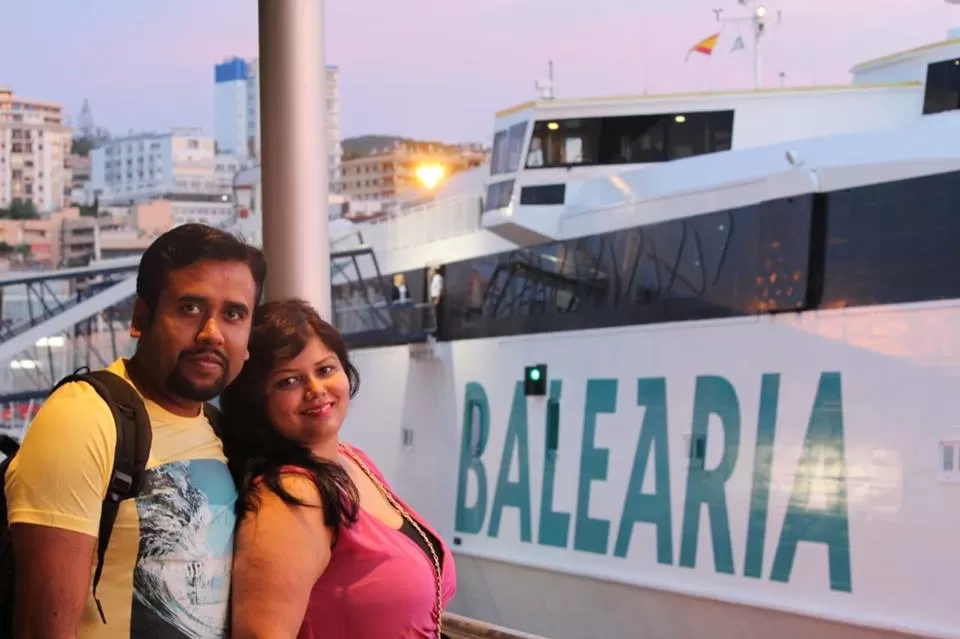 4) Foods (La mejor comida en Espana)
Being a foodaholic, after blue see then next thing in my mind was to try some good food in Palma and Ibiza.
At Ibiza-
After having fun on the beach we were hungry so we thought to opt one of the various beautiful restaurants where we can calm down our appetite. We went to restaurant Can Yucas and ordered chicken BBQ Pizza with thin crust and It was yumm... A very different taste which I didn't tasted in India.
At Palma
In local street you get many resturants where you may go and ease your appetite. We went to Istanbul Kebab restaurant which was near to our hotel, there we ordered Falafal and Pizza Turca En Plato. Both were tasty and quantity of Turca was good. I would like to mention that I ordered pizza also but it was not very good in taste ,may be because the restaurant is specialized in Turca dishes but not in making pizzas ,so if you go there then don't order pizza. Second food corner in Palma for us was Pizzeria where they take instant order or offer take away. Also there was a super market, Eroski, from where we buy some snacks and local beer and we chill out at the terrace of LIS hotel with view of sea.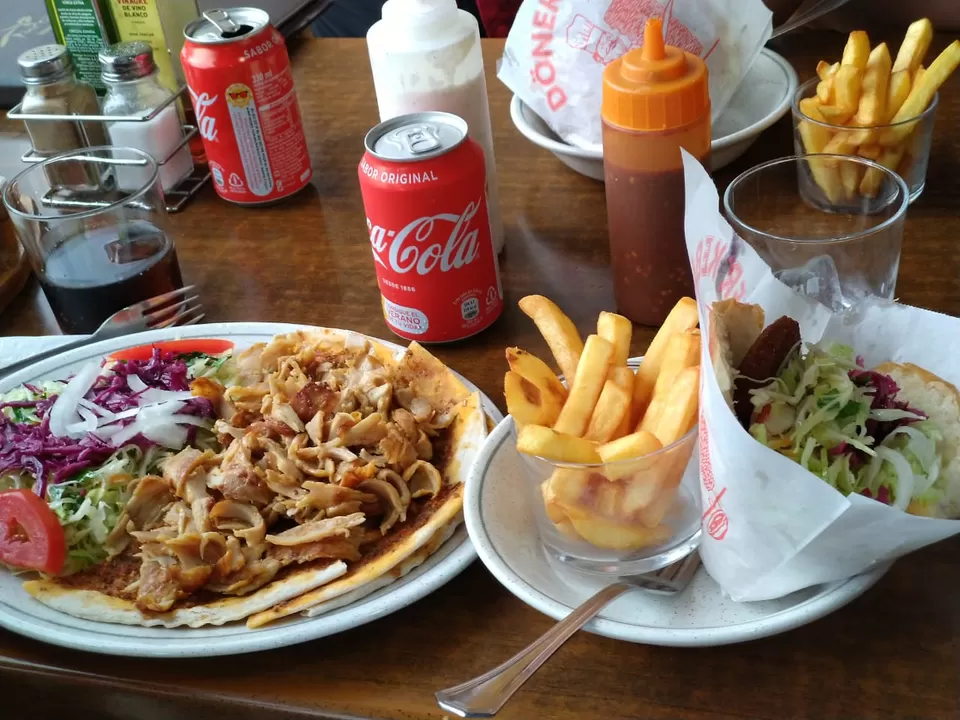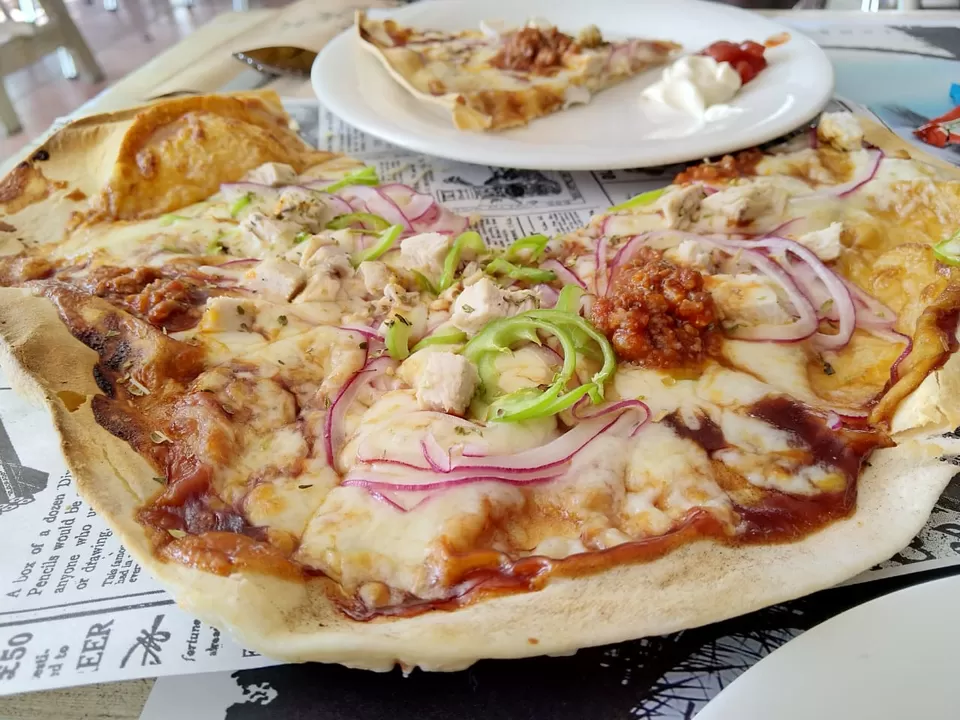 5) Night Life
At Ibiza
The Island of Ibiza, known to many as the White Isle because of its charming whitewashed houses, has some of the best nightlife in Europe, maybe even the world! That's why it has been considered the continent's party capital.
The main towns for night life is Ibiza Town and San Antonio, have a great mix of nightlife, offering anything from relaxing beach clubs, chill-out music, special salsa evenings, cocktail and wine bars and of course some of the biggest super clubs on the planet.
We booked Hotel LIS, Palma de Mallorca. From airport we took bus number 1 and then bus 3 to reach our hotel. There other option too such as cab or shuttle which cost around 25 EUR and 45 EUR respectively so you can opt these if travelling in a group of 4 or 5. For us, bus cost 5 EUR to reach Palma city and later 1.50 EUR to reach hotel. City bus operated by EMT cost 1.50 EUR, for one way trip or you can buy set of 10 card at price of 10 EUR from any station. If you have international driving license, you can rent car or bike from airport or from various shops in city.
My trip to Ibiza was such a divine experience that it is very difficult for me to put all my feelings here, but I will try to summarize my memorable trip to this beautiful island into 5 parts:
1)Exotic Hotel:
Our flight landed in Mallorca and we had our cruise early next morning so we thought to have some hotel near to port. After going through various options, we finalized Hotel LIS Palma, an aparthotel near to sea. For this hotel I would like to specially mention 2 things, first its an exotic hotel having Jacuzzi on roof with warm water and view of beautiful blue ocean. The terrace of the hotel is very exotic, surrounded by green padded sofas and three very romantically designed beds .You just lie down on the bed and just see black sky with twinkling stars. Whether was too good. Beautiful lamp is decorated with the entire terrace. Secondly, we were welcomed by girl named Gintara, who was very joyful and helping in nature. She guided us with various beautiful beach on Mallorca, especially, Platja d'illetes.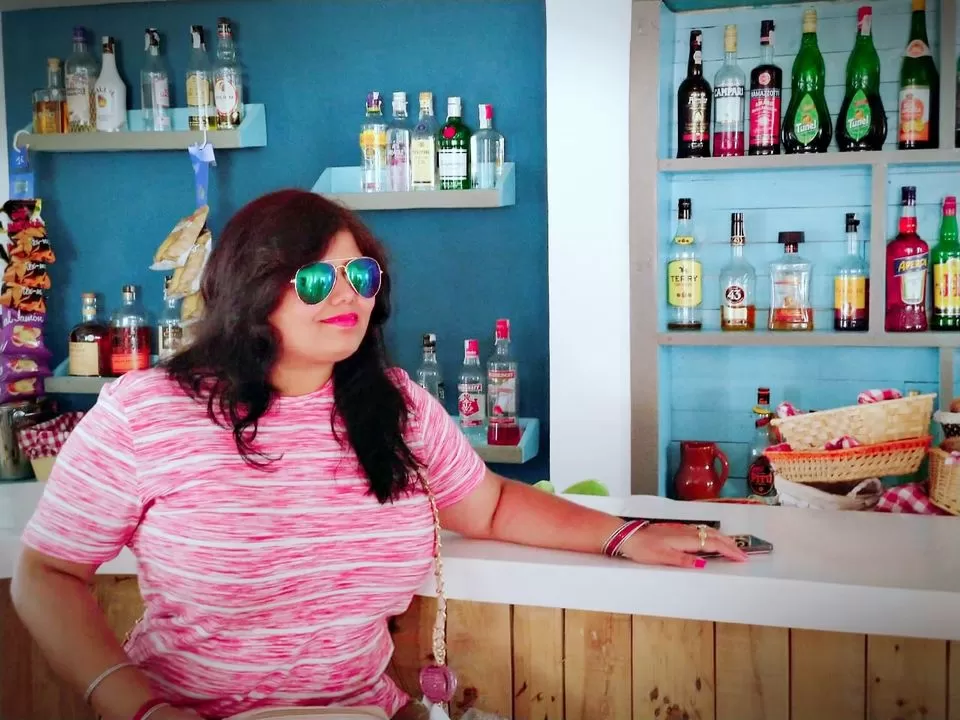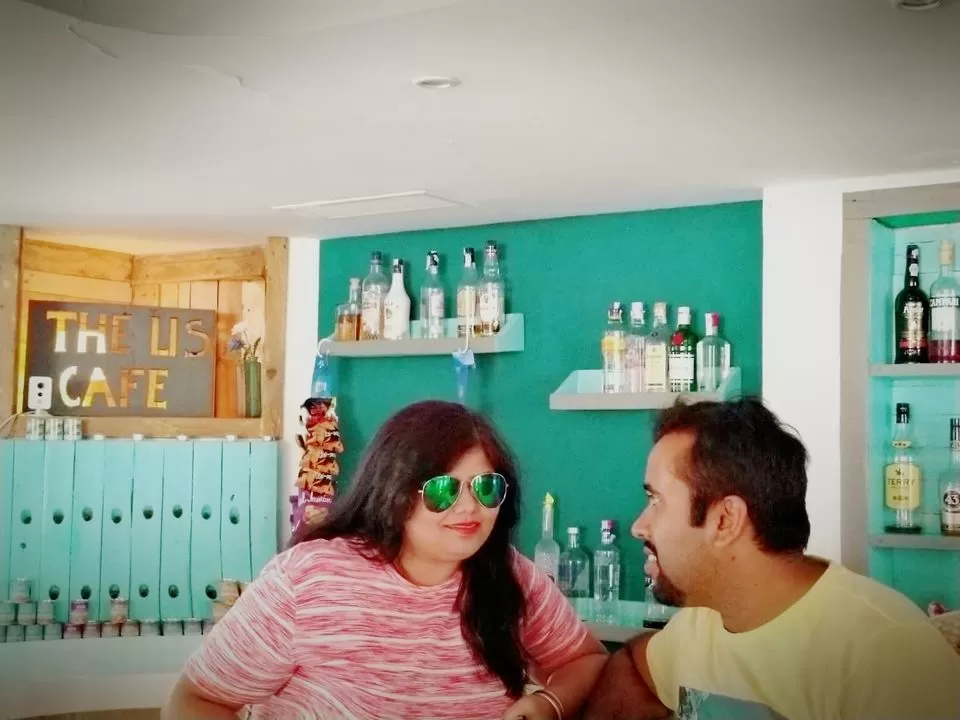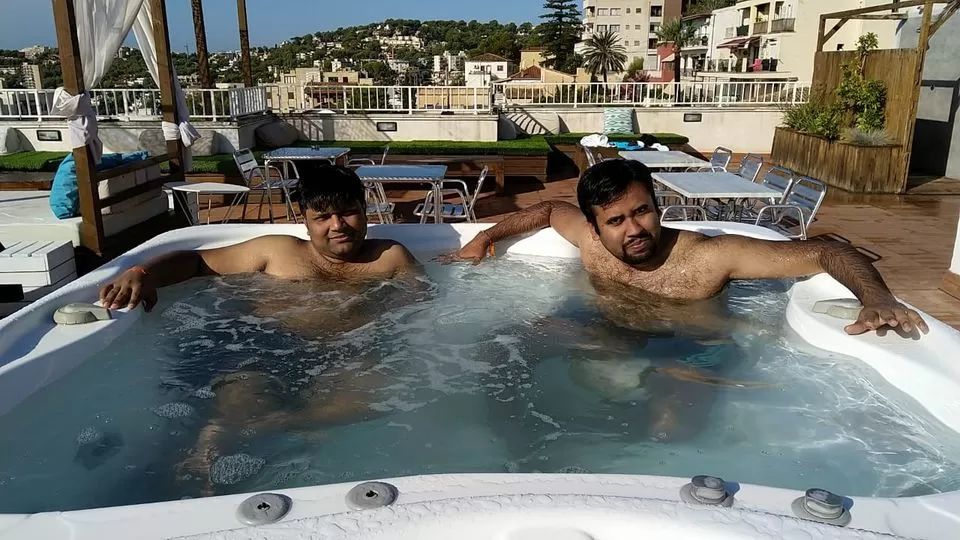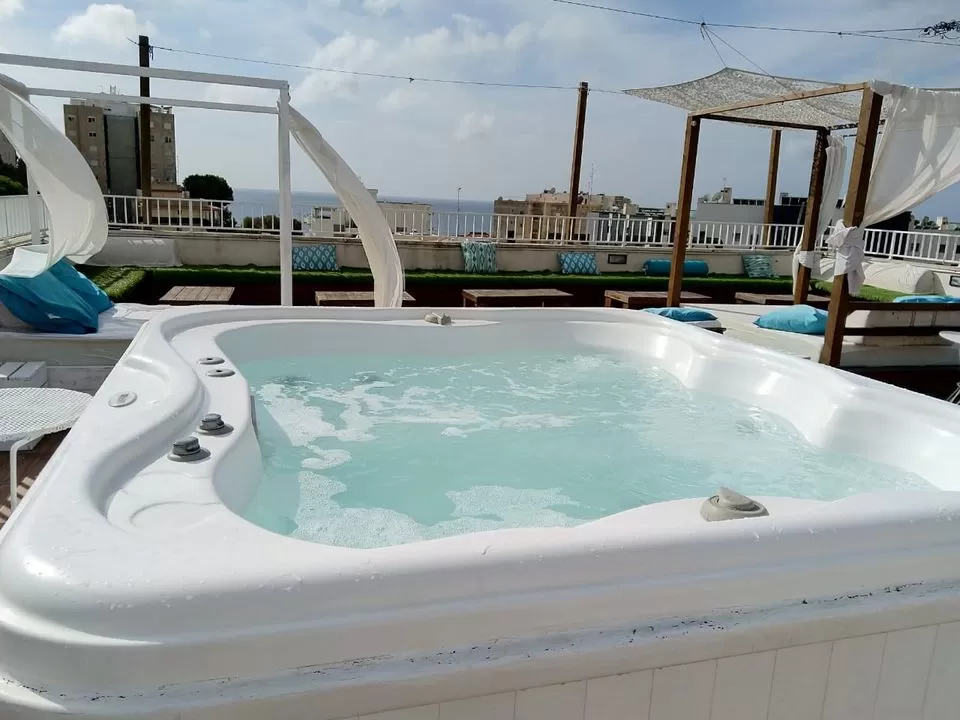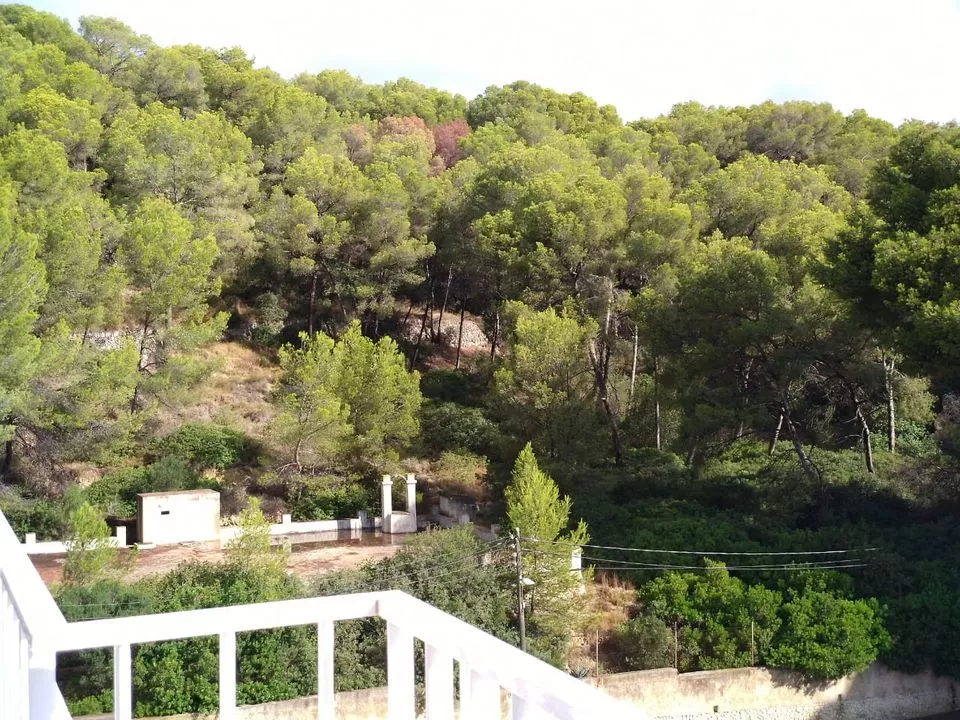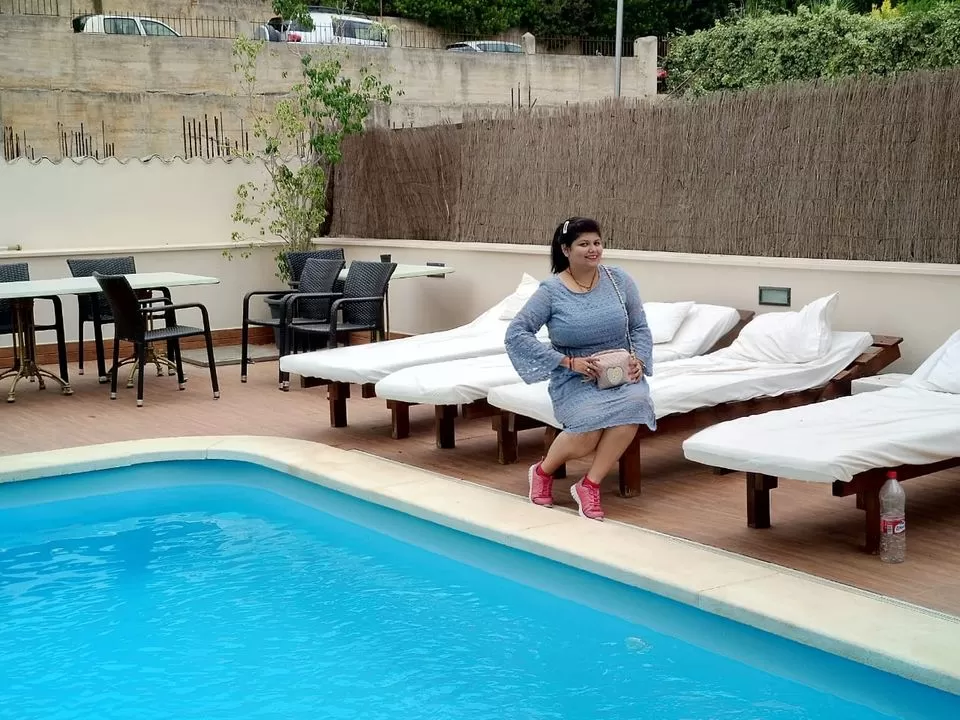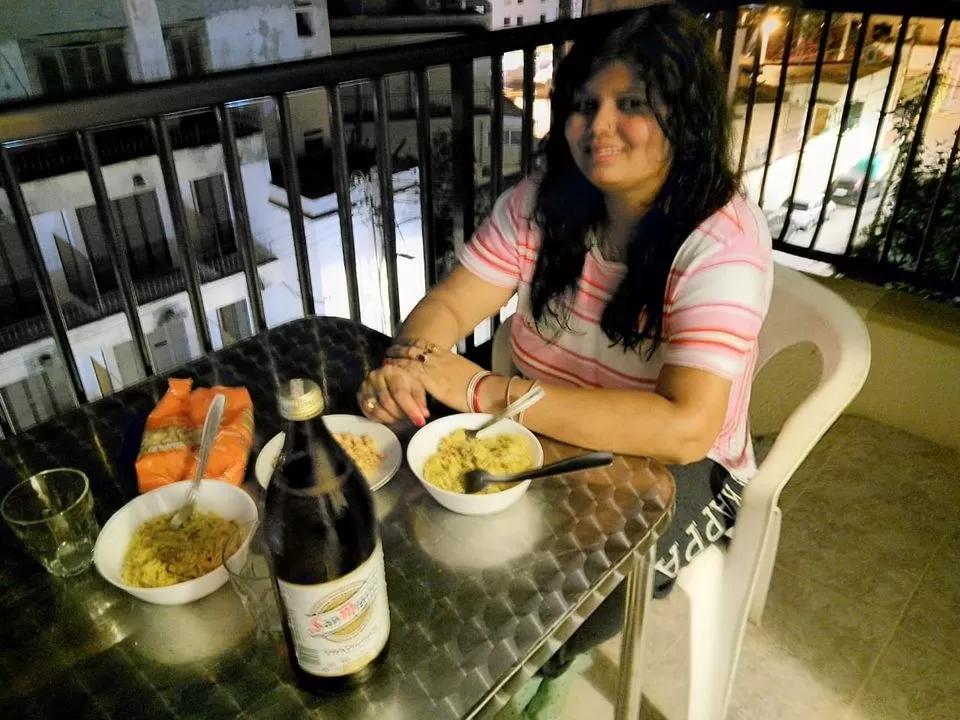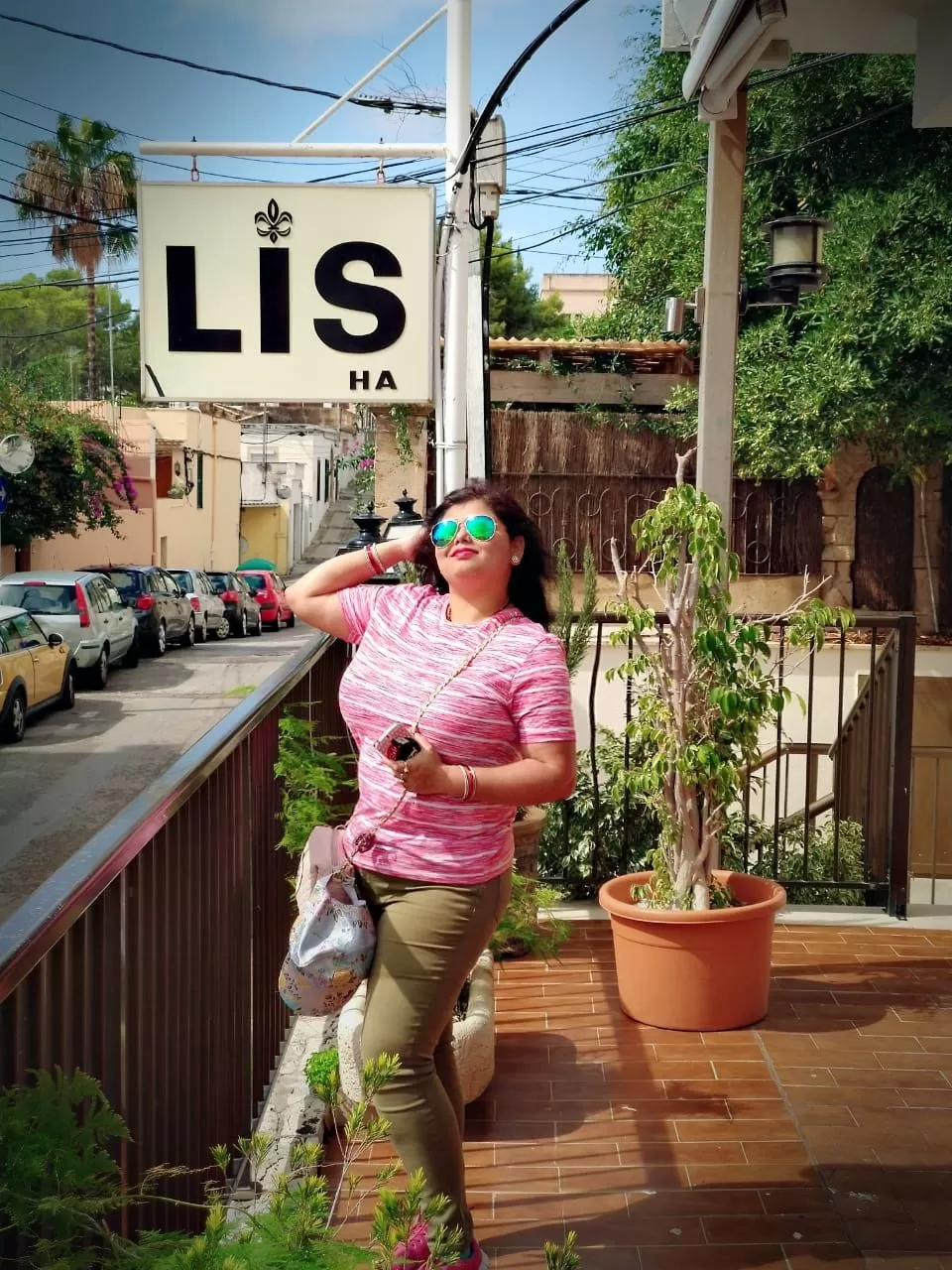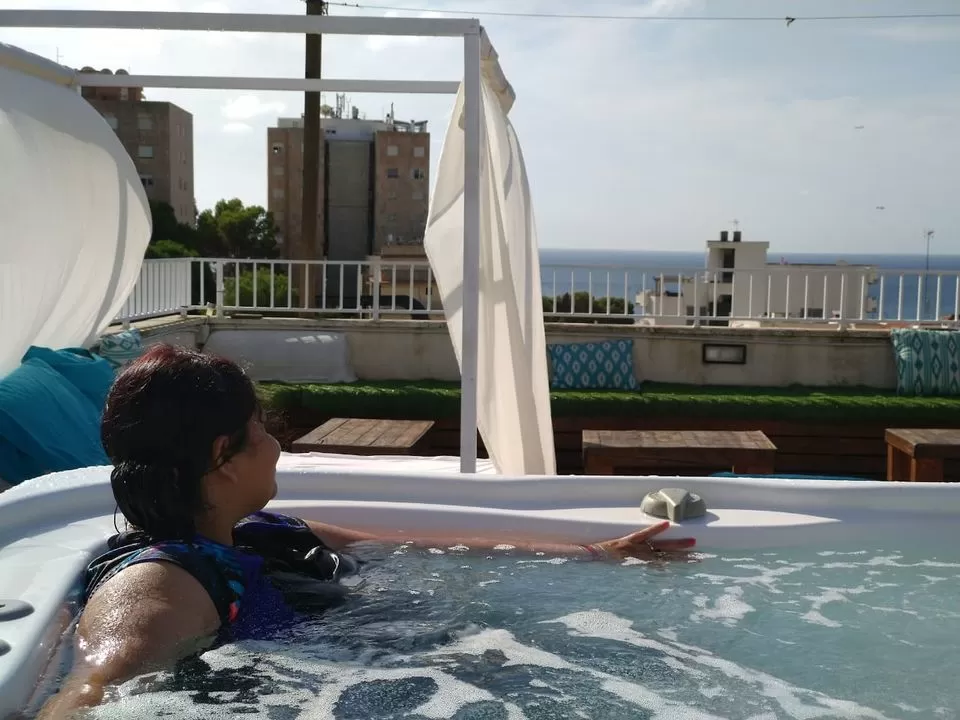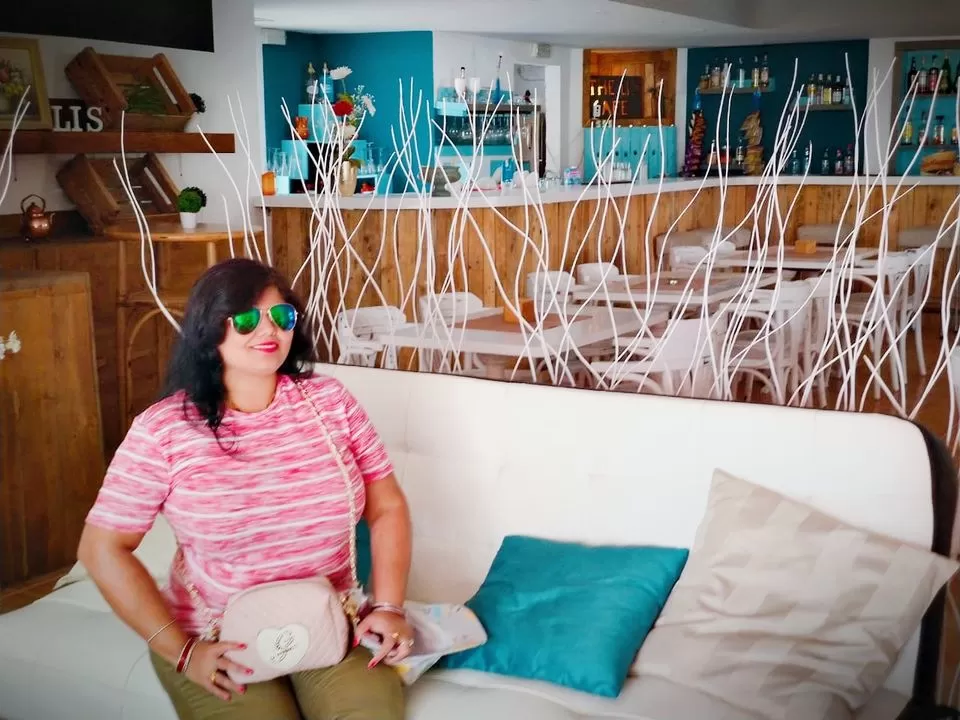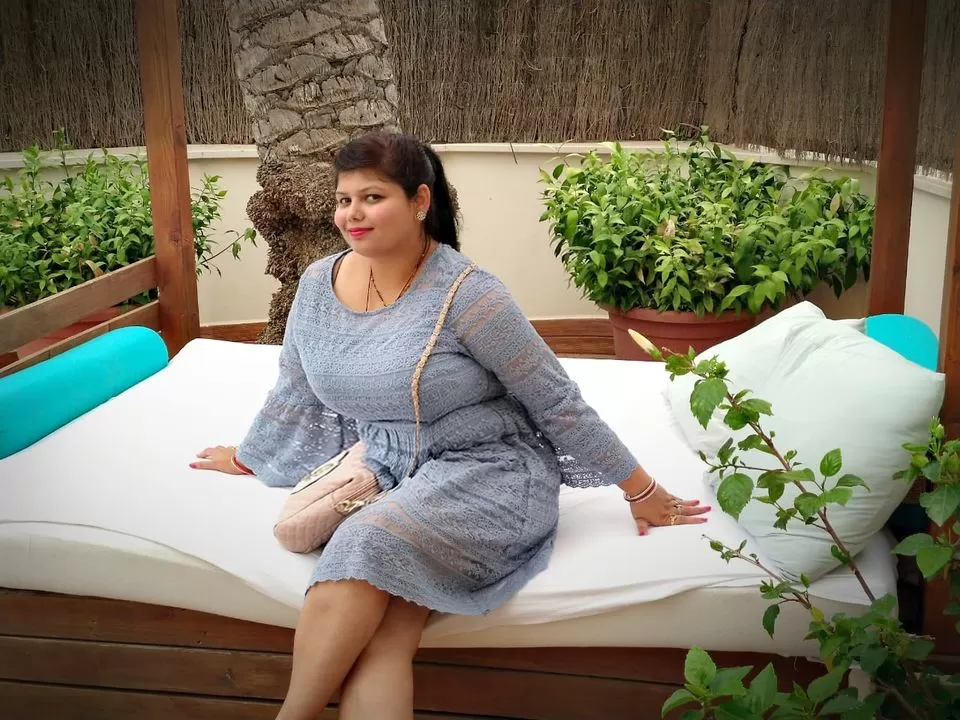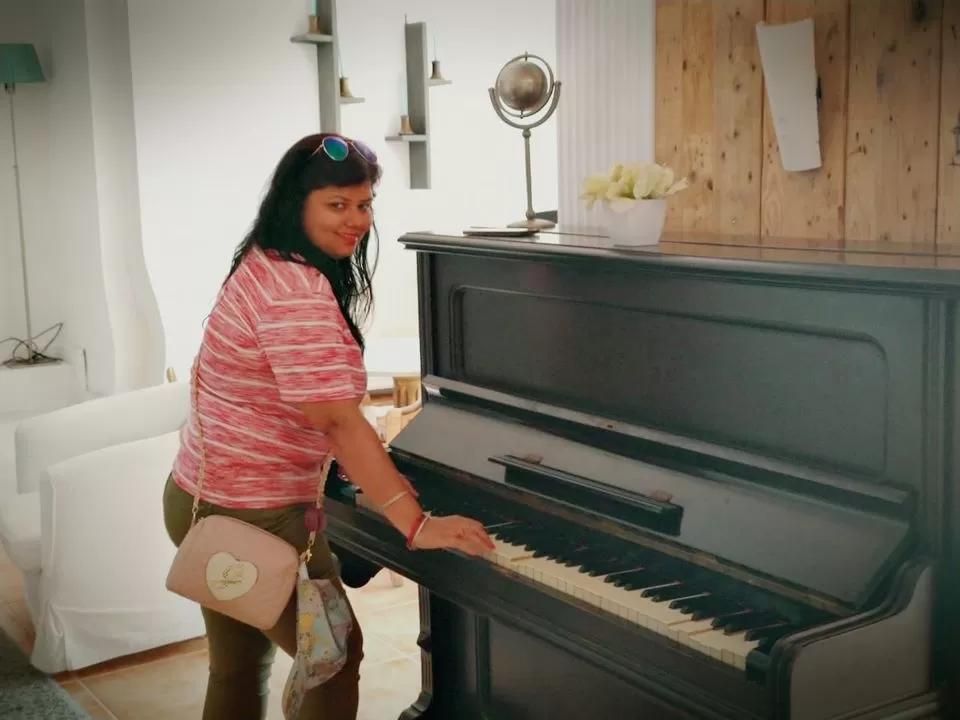 Platja d'illetes:
Location: Cala Contesa, Illetes, Palma De Maiorca-
We left our bags in the hotel and took bus number 3 to reach Platja d'illetes, which was at 2 minutes walk from the last stop of this bus. While walking parallel to beach, I had the romantic glimpse of the beach between the trees, where families were enjoying on the beach. Some of them just relaxing, whereas others playing on the beach. I was so excited that I throw my bags on the sand and ran towards the sea shore and clicked some pose with blue waters. After some beautiful clicks, I can't resist myself from jumping into this blue clear water. I took a dive inside and saw golden tail fish dancing around me and also saw flock of small fishes. Around 8.30 pm there was sunset and as we were into the sea, we saw the rays of sunset just hitting the big rock on sea. That rock turns to bright golden color. We played a lot in the sea with waves and also with fishes. We did snorkeling too. These moments I will never forget in my life.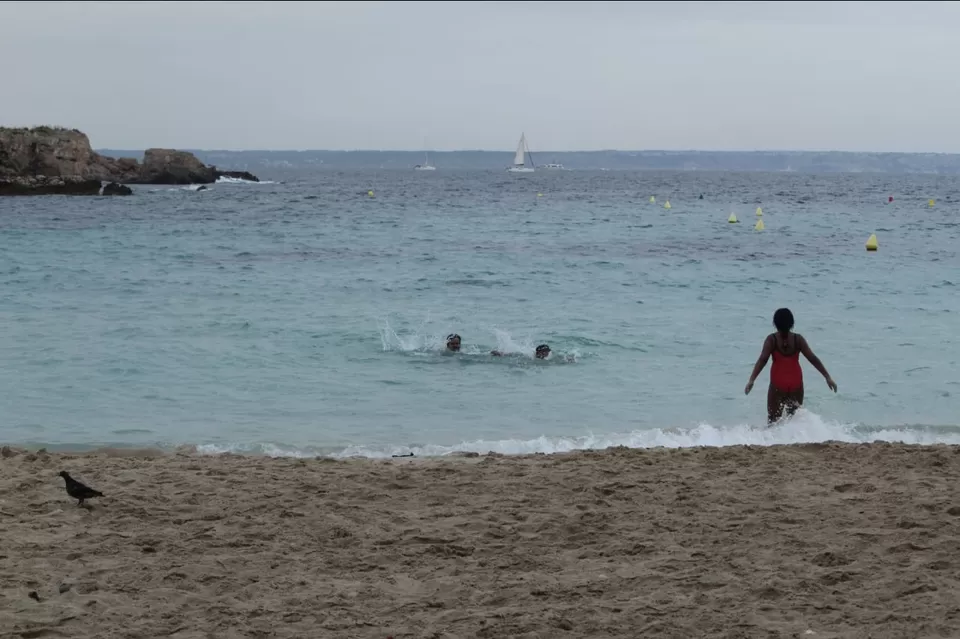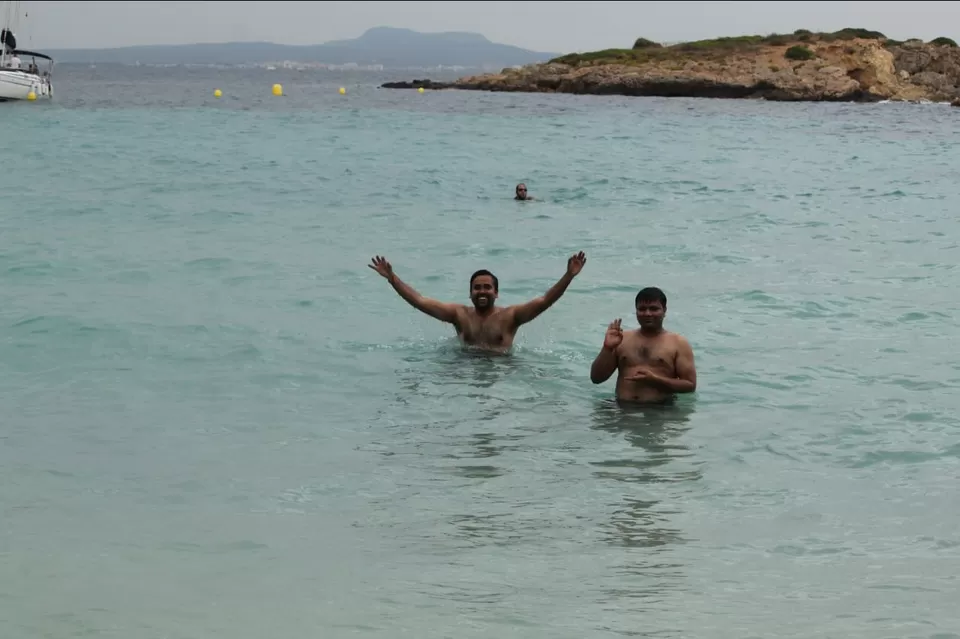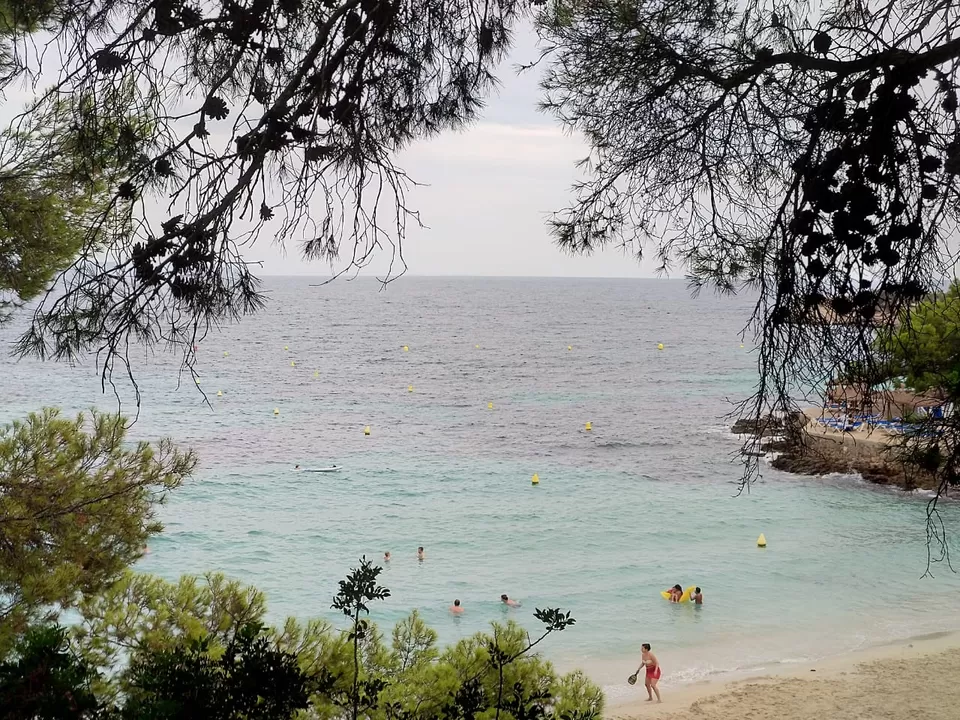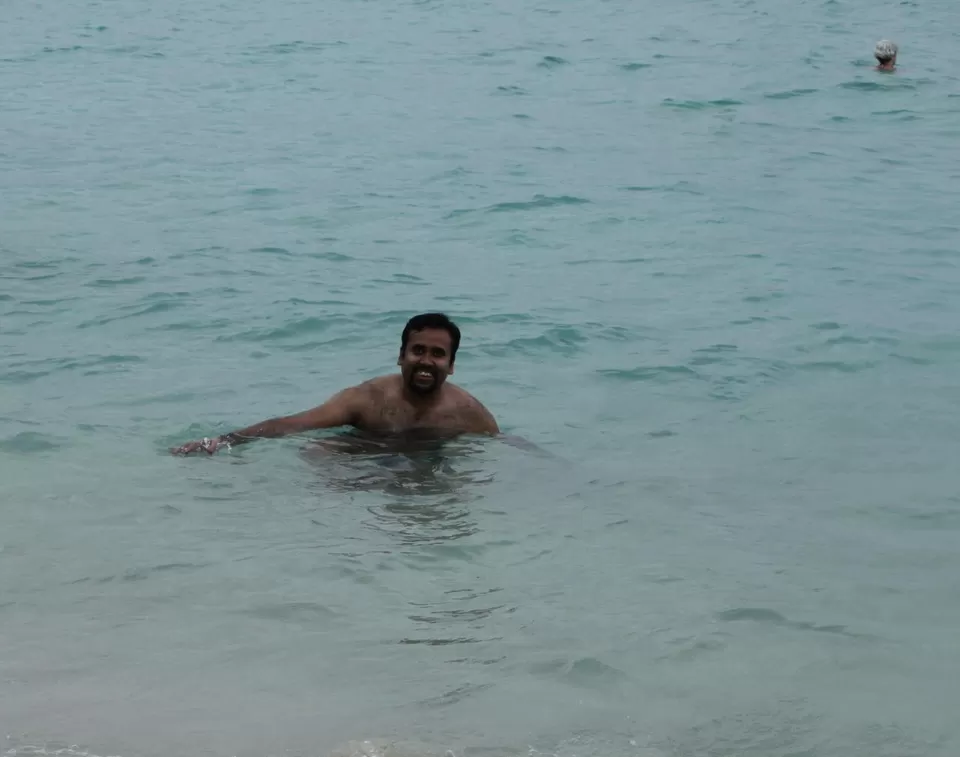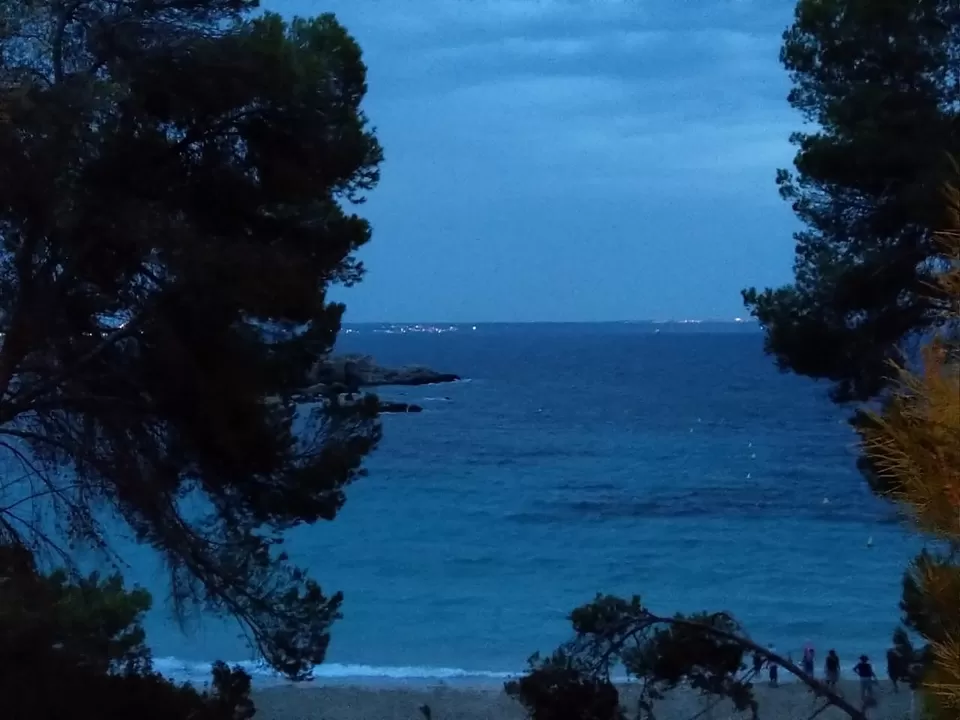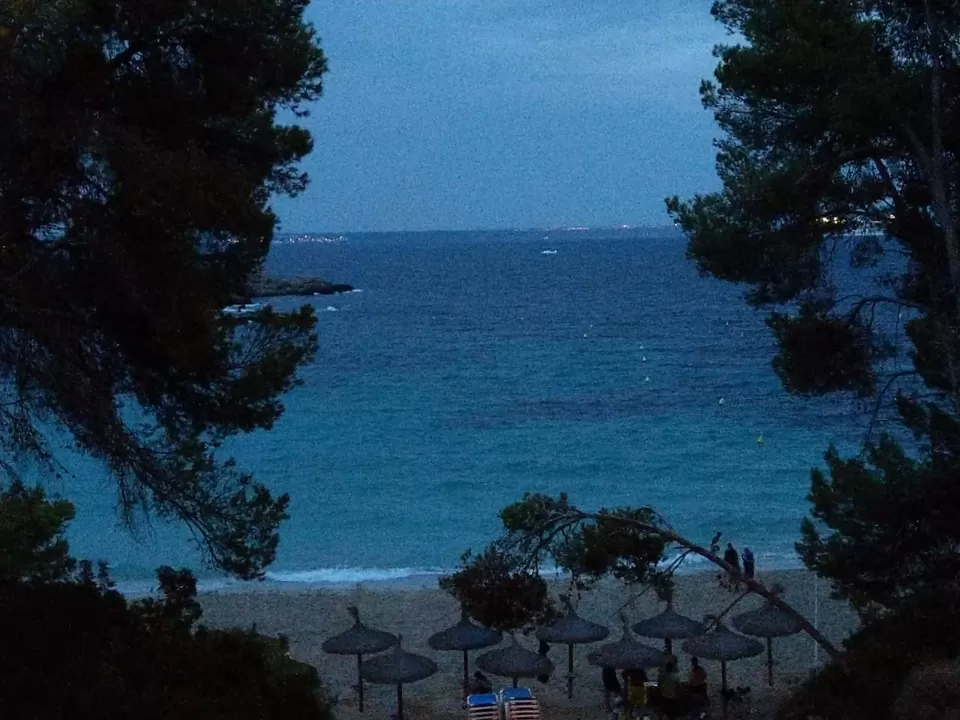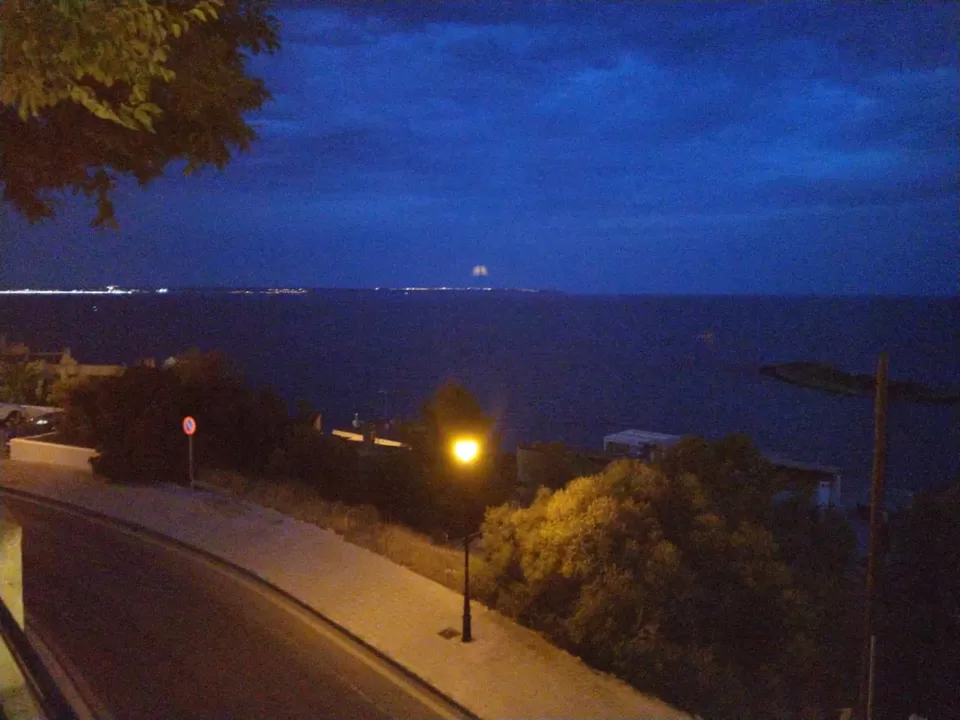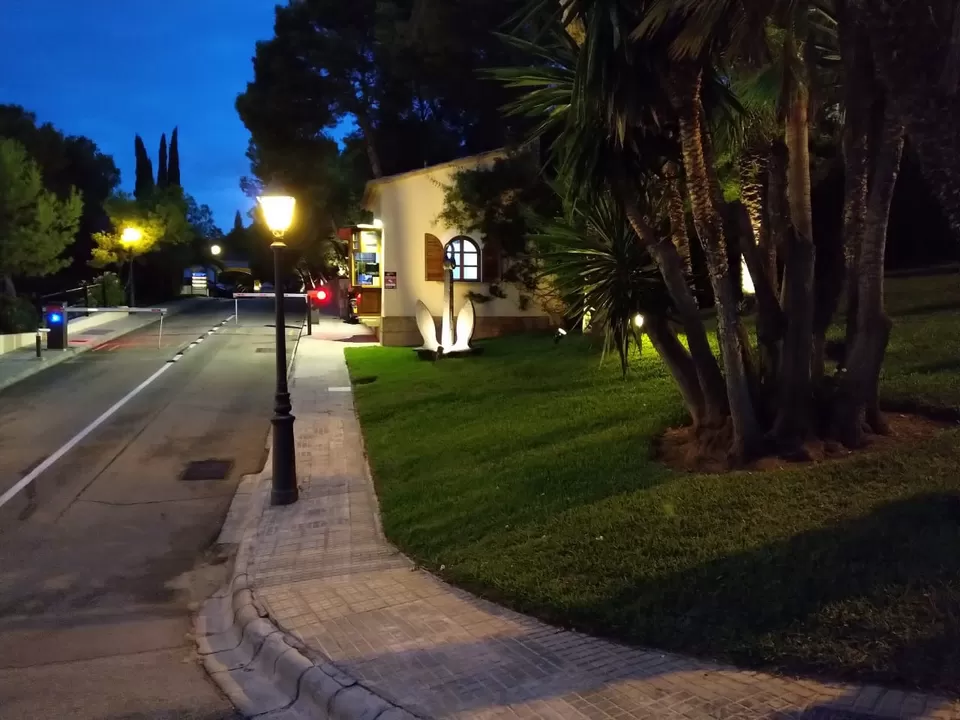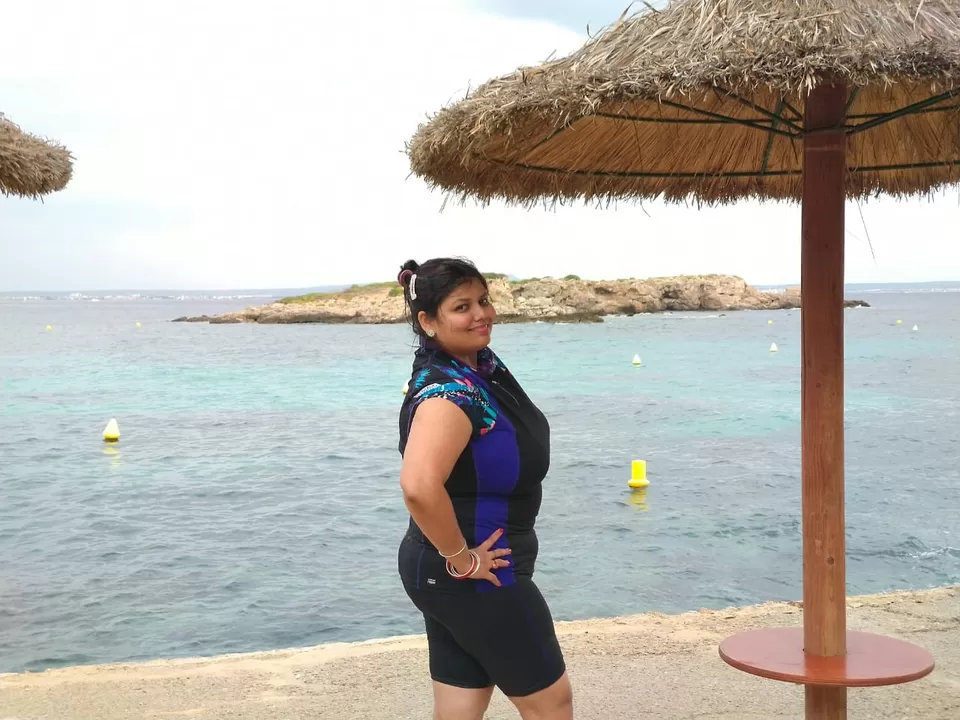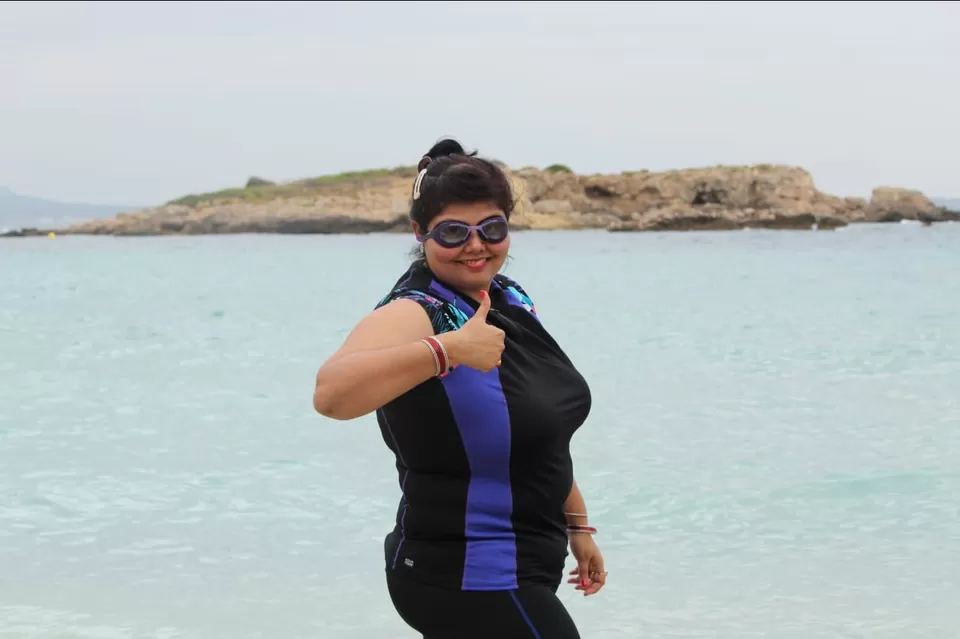 Ibiza- "A Place for Relaxation, rest, and tranquility"
"Zindagi Na Milegi Dobara" ...This phrase came to my mind as soon as I reach the port of Ibiza. Ibiza, the white Isle, a vacation I'll never forget! Here the voice of the sea speaks to the soul. Super excited in the bright sunny day we headed towards the bus stand from where we took Ibiza Port bus shuttle for ibiza town. Its ticket cost 2.5 euro per head. Public transport facility within the city is very good and cheap in 2 euros per head you can travel from one side of the city to the other side of the city easily.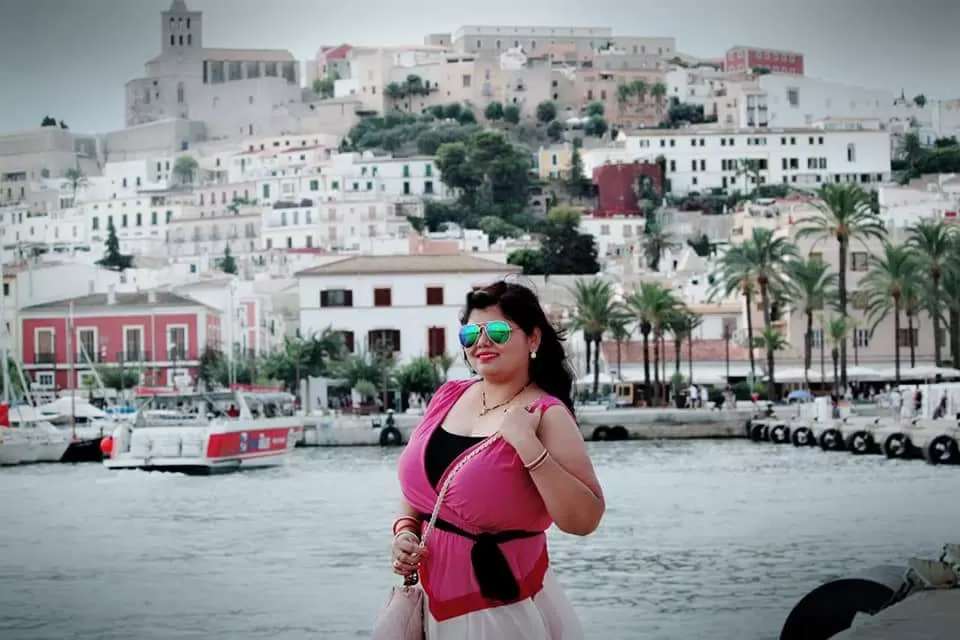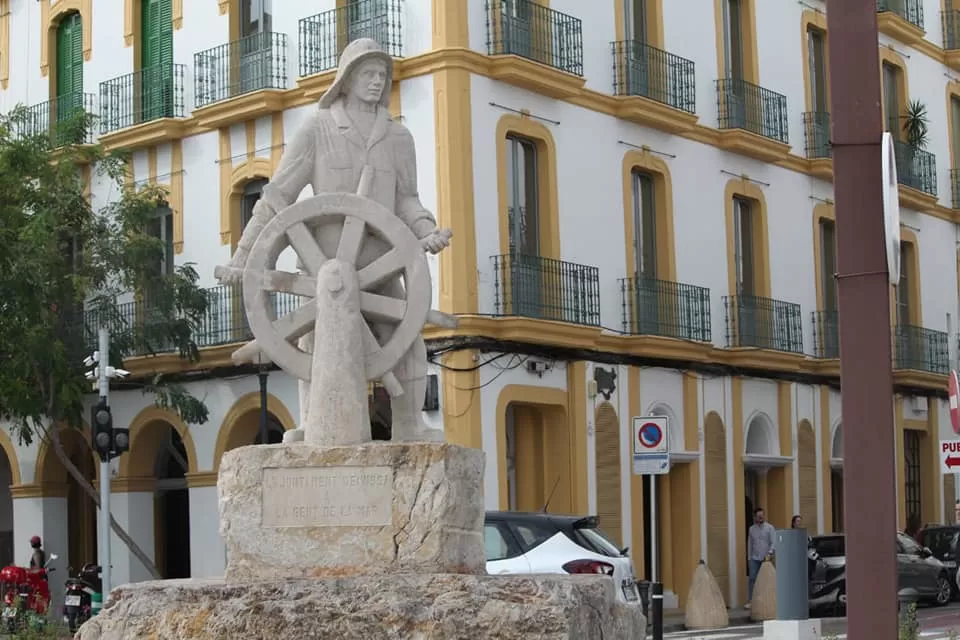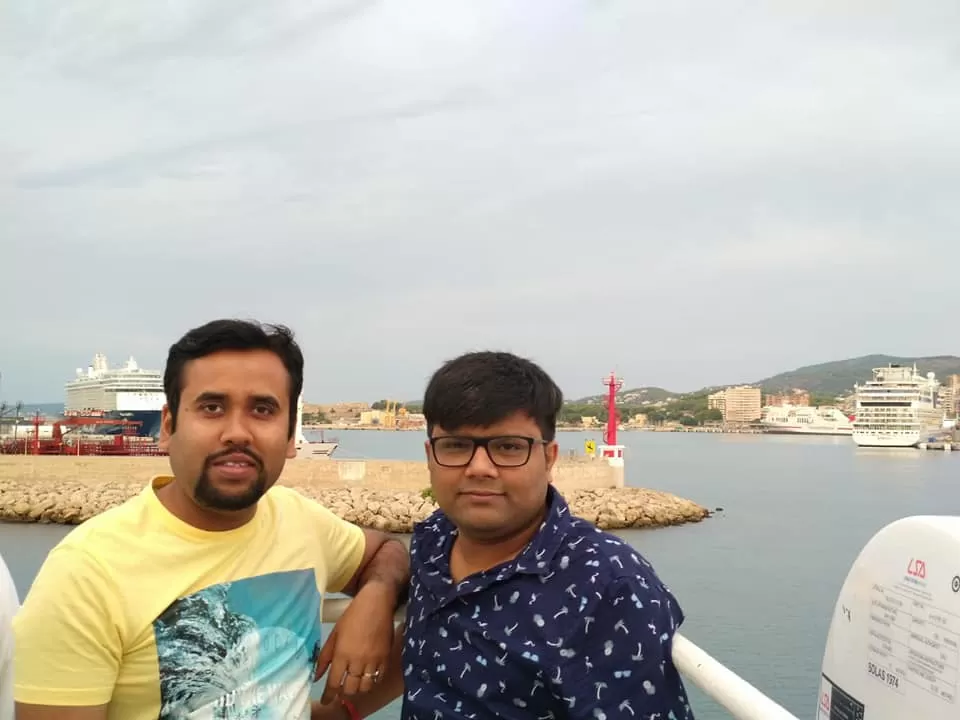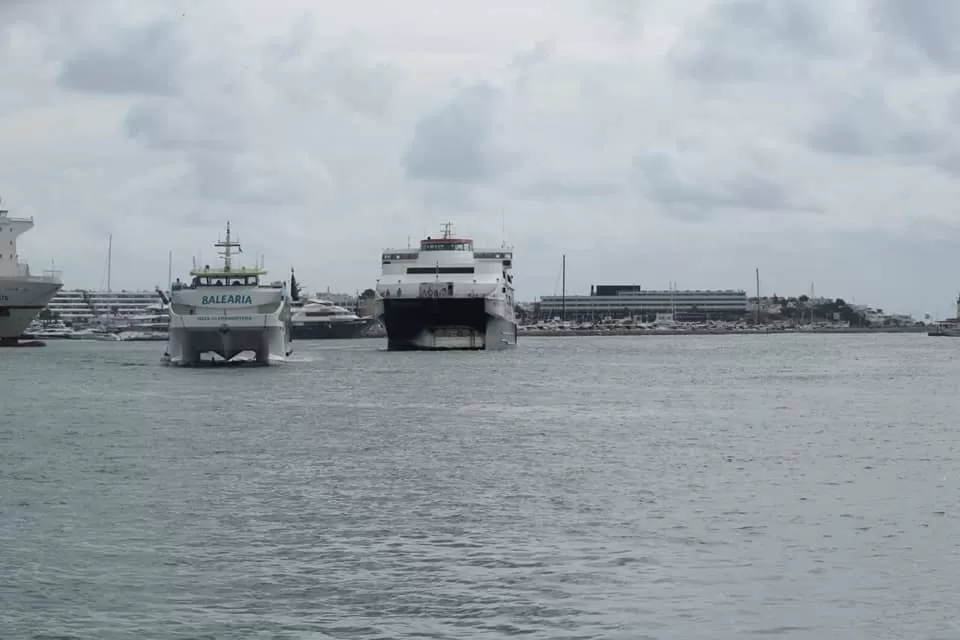 Cala Tarida Beach-
Every beach in Ibiza is beautiful so in my opinion just target to one beach and spend entire day. Trust me, once you dive in to the sea you will not be coming out of it soon. So we decided to go to Cala Tarida Beach. Line 5 bus is available for Cala Tarida from Sant Antonio at the ticket price of 2.90 euros per head. As we reached there I found it to be superb combination of amazing beach, beautiful resorts and food courts. Awesome place with awesome people around I again jump into the blue waters, did snorkeling, diving, swimming. I hold my hand with my husband and walked into the ocean under the sunshine, we can feel the breeze, feel the ocean, feels that our soul being touched by the sea. This is what beach is to me.... "Don't speak, feel sea, be free". By 5 pm we left the beach as we had to board cruise at 8pm from the city Centre.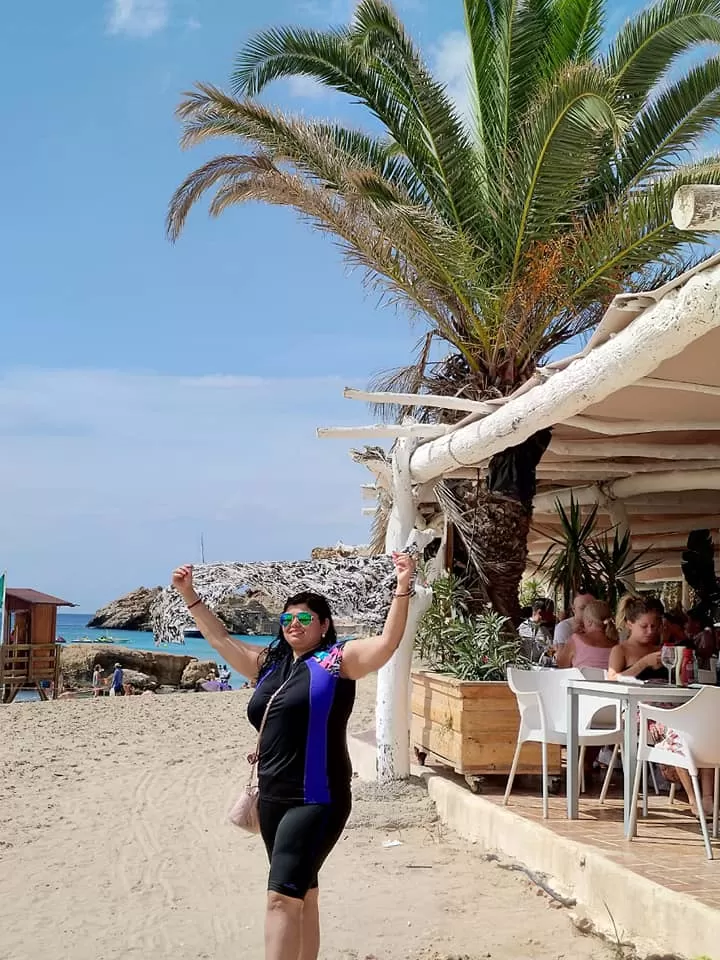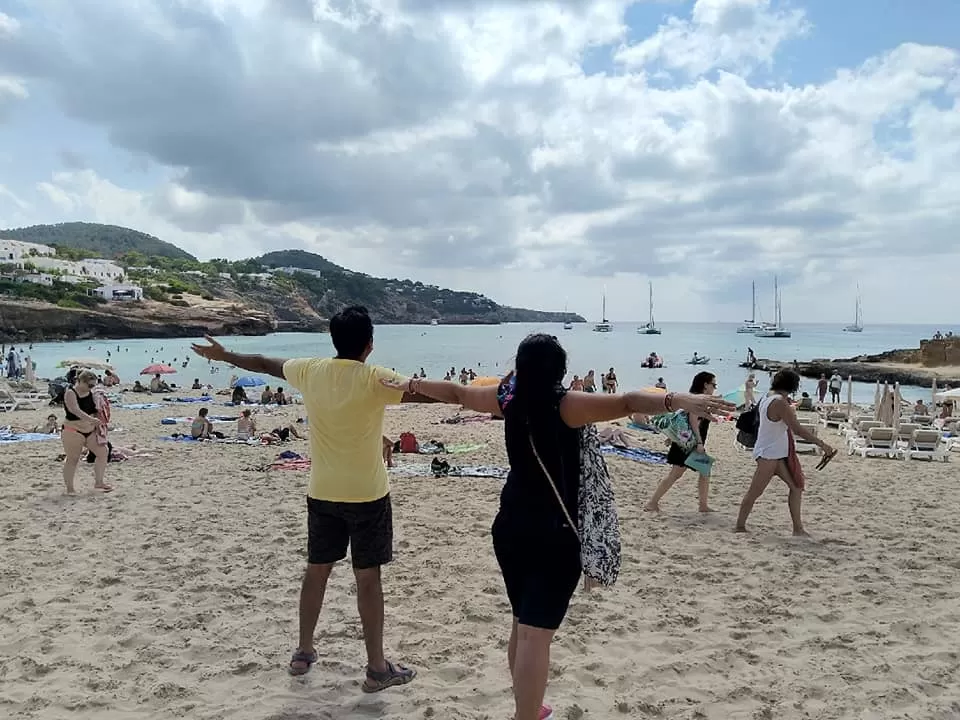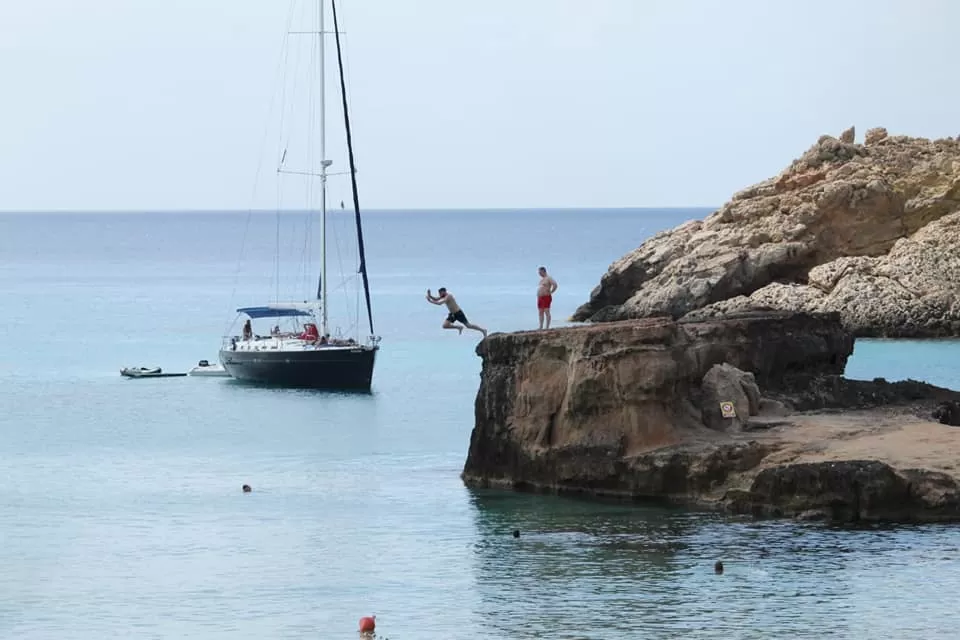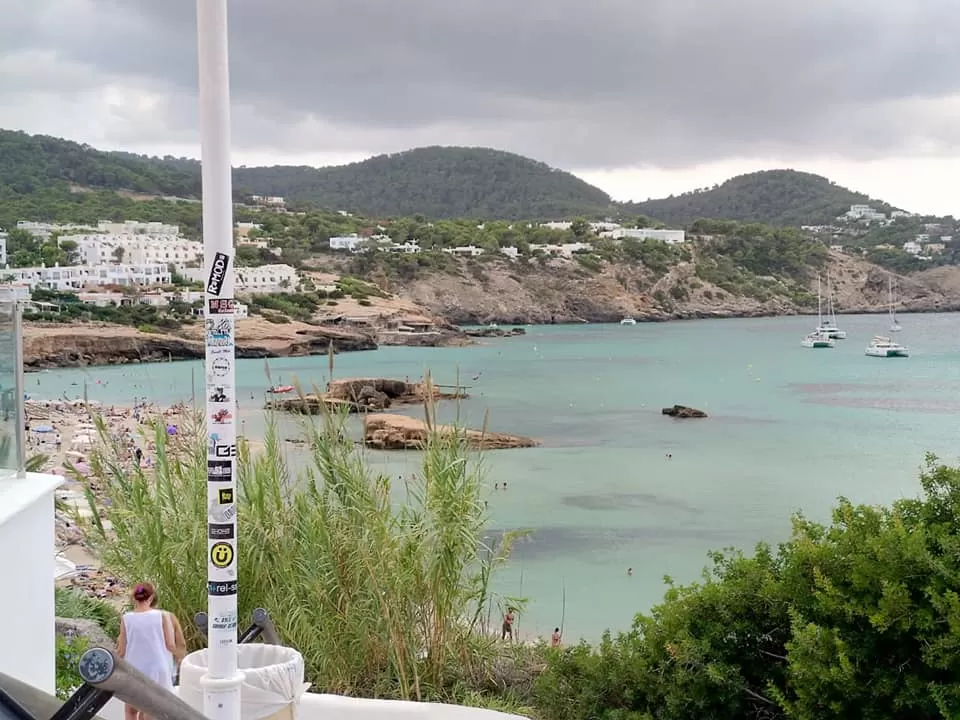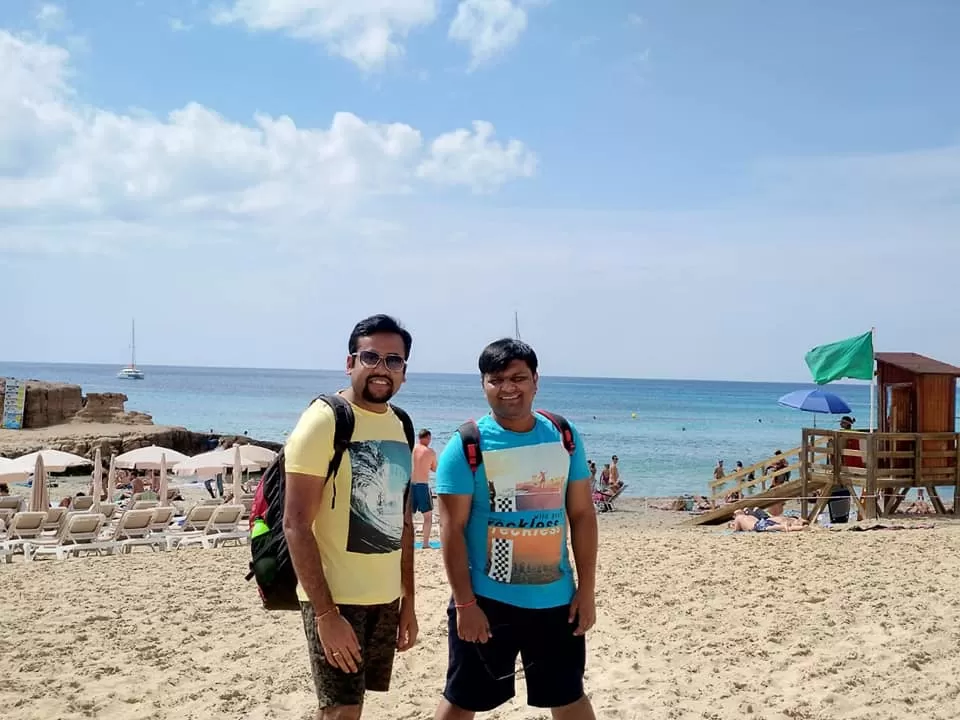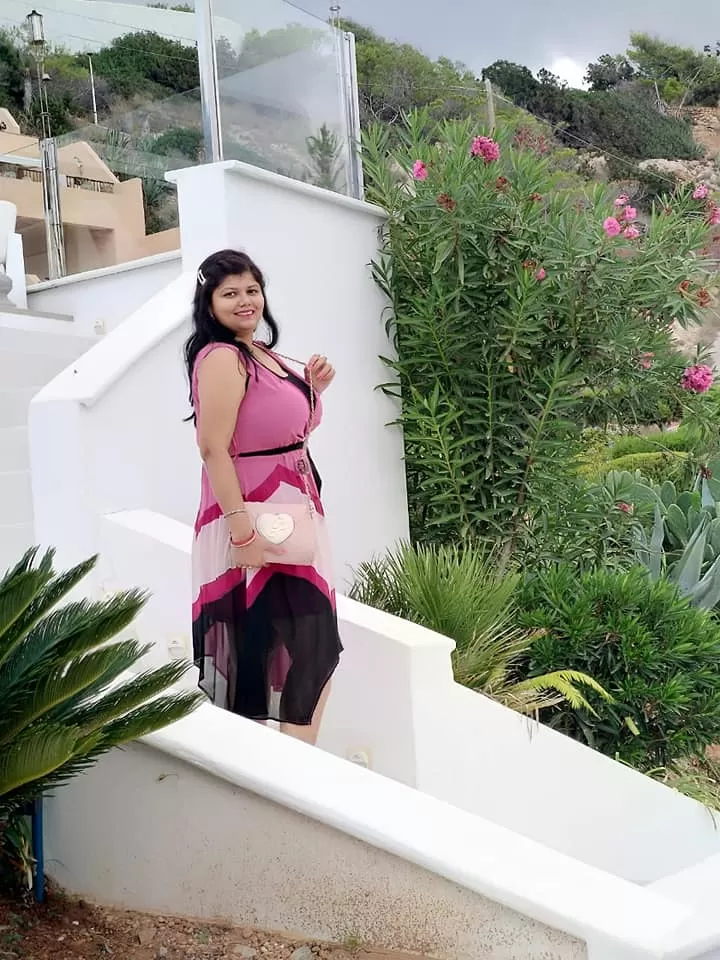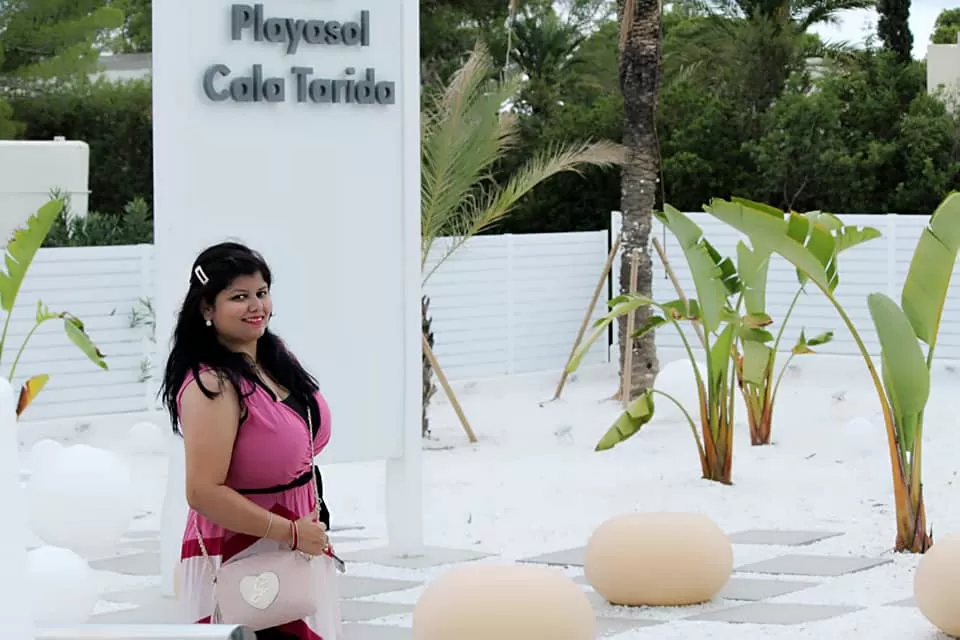 Nikki Beach- Best known for beautiful luxurious Yachts owned by handsome hunk men who tries to impress beautiful girls coming to Nikki beach and sometimes also offer rides on their yachts.
Magaluf Beach- "Wild", "Boisterous" and "Colorful" it can be best described in these 3 words. You can celebrate the whole night in one of more than a hundred bars, clubs and discos. But don't forget to visit the new, modern hotels, where you can often find the best parties. Its best known for Night life... There you find night clubs, concerts, people partying all night and having fun there. If you are staying for night life I would suggest you to have cab for return back to your hotel as frequency of public buses are less at night .
I hope after reading this blog you will make your best trip of your life for Balearic islands. At last, I really recommend you to escape yourself from your hectic work life for few days and come to Balearic island…… Kyunki!!!!! ZINDAGI NA MILEGI DOBARA!!!!