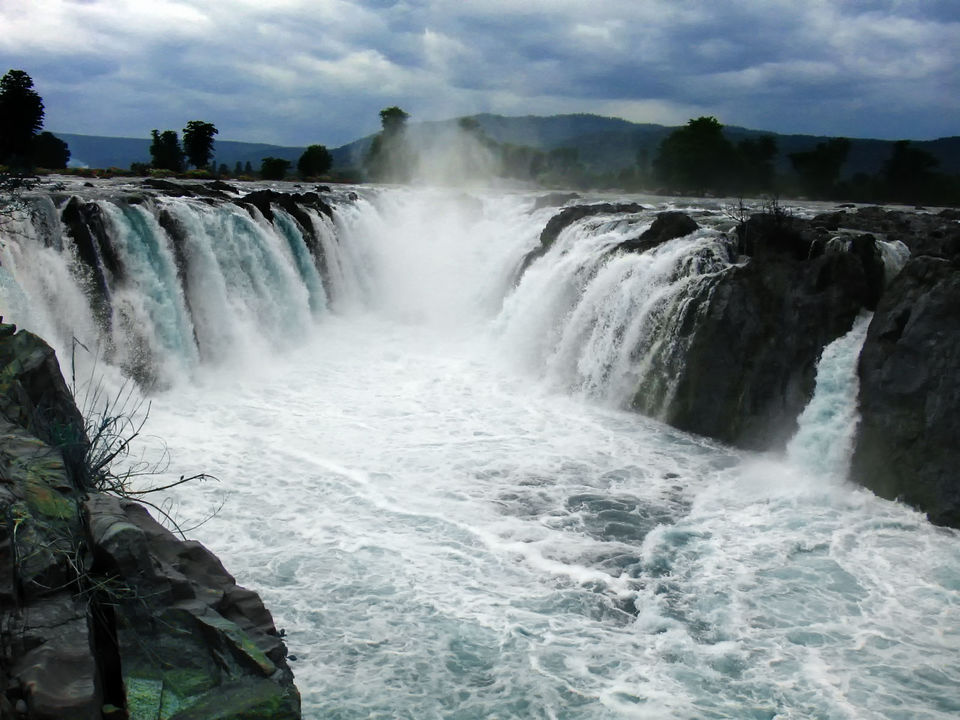 Its July.. and India's most loved season- Monsoon is at its peak! All the waterfalls along the length & breadth of the country are overflowing with water giving us chance to witness these best creations of nature in their breathtaking form.
Lets look at some of the highest waterfalls in India for you to visit this monsoon and experience their grandeur by yourself!

1. Dudhsagar falls, Goa:
This 310 meters high 4 tiered waterfalls is one of the highest waterfalls in India. Literally meaning the 'sea of milk' these waterfalls are located just 60 km from Panaji and 80 km from Belgaum.

2. Seven sisters waterfalls & Nohkalikai waterfalls, Cherrapunji, Meghalaya
At 340 meters, the Nohkalikai waterfall is counted among the highest waterfalls in India. Nohkalikai in local Khasi language translates to 'the jump of Likai'- as this is where a lady named Likai jumped and committed suicide to mourn loss of her baby as per Khasi legends.
Seven sisters waterfalls although shorter in height as compared to the highest waterfalls in India, are no less when it comes to grandeur with which they come gushing down the hills.
Both these waterfalls can easily be accessed from Shillong- the state capital by means of private cars or government sightseeing buses.
3. Jog falls, Karnataka
Also called Geresoppa falls, these are the second highest waterfall in India, located in Shimoga district of Karnataka. What looks like just a couple of thin streams of water in summers turn into beautiful milky white waterfalls during the months of June to September. These falls can easily be visited while doing a trip to coastal Karnataka or Goa.
4. Athirapilly waterfalls, Kerala
These Bahubali- fame waterfalls are just something out of this world! These are the biggest and best known waterfalls in the state of Kerala. In fact, they are one of the highest waterfalls in India. Chalakudy river's turbulent flow cascades down dramatically to form these super gorgeous waterfalls. The best part is these are located just about 55 km from Kochi!

5. Chitrakote waterfalls in Bastar, Chhattisgarh
Aptly called the 'Nigara falls of India' these waterfalls are located about 39 kilometers from Jagdalpur town in southern Chhattisgarh and are counted among the highest waterfalls in India. These are the widest waterfalls in India and are formed by the river Indravati falling 30 meters in deep gorge. When at Chitrakote, dont miss the ancient temple at Narayanpal and adivasi haats in Bastar for some authentic tribal experience.

6. Hogenakkal waterfalls, Tamilnadu
Hogenakkal waterfalls is located at a distance of 46 km from Dharmapuri town & 180 km from Bangaluru. This horse-shoe shaped waterfall is the best known falls in Tamilnadu and is counted among the highest waterfalls in India. These falls are famous for the medicinal baths as well as for the coracle rides- the round shaped boats used in riverine traveling since ancient times in southern India.

7. Dhuandhar waterfalls, Jabalpur, Madhya Pradesh.
Dhuandhar falls- called so due to the misty- smoky effect Narmada river creates after plunging down 30 kilometers after passing through the world famous marble rocks of Bhedaghat. It is one of the highest waterfalls in India.
Once in Dhuandhar, don't forget to take a boat ride to see the marble rocks as well as the very interesting 64- Jogini temple closeby.
8. Vantawng waterfalls, Mizoram
These two tiered waterfalls in the northeastern state of Mizoram are tallest in the state at combined height of 98.75 meters. They are also counted among the highest waterfalls in India. Due to the thick greenery it is surrounded by, these waterfalls can only be viewed from a distance.
Vantawng falls are located at 5 km distance from Thenzawl town and 137 km from the state capital- Aizawl and are great for a one day picnic from there.
9. Shivansamudra falls, Karnataka
What makes Shivansamudra falls in Mandya district of Karnataka so beautiful is the fact that its a segmented waterfall which means its flow is divided and broken into different streams by rocks and ravines. It is also one of the highest waterfalls in India. In monsoon, the Kaveri river which forms these waterfalls flows in its full glory and creates these beautiful waterfalls in India which only need to be seen to be believed! Why wait? They are just 139 km from Bengaluru anyway!
10. Chachai falls, Madhya Pradesh
Chachai falls although rank 23rd among the highest waterfalls in India, can beat most of the waterfalls taller than it due to the immense grace with which it plunges down. It is formed by the Bihad rivercourse and appears like a thin screen of water surrounded by lush greenery in Monsoon. These waterfalls also called Sirmour waterfalls are located some 46 km from Riwa town in Madhya Pradesh and 116 km from Allahabad in Uttar Pradesh.