Being a mountain lover, I usually hop off to the Himalayas whenever I get time! But for a change, last year I chose to explore the South of the country! (Before you get excited thinking about how exactly I managed to do this trip in just 10K, let me tell you that it needed immense planning and lots of help from my friends - who allowed me to crash at their places!)
South India, to say the least, is absolutely breathtaking - with the lush green Western Ghats and numerous hiking trails through them, gorgeous beaches, enchanting ruins, delectable cuisine and much more! Here's the detailed itinerary of my explorations across the Deccan and tips for you to do it too!
Day 1 - Arrival in Chennai and then, the onward journey to Pondicherry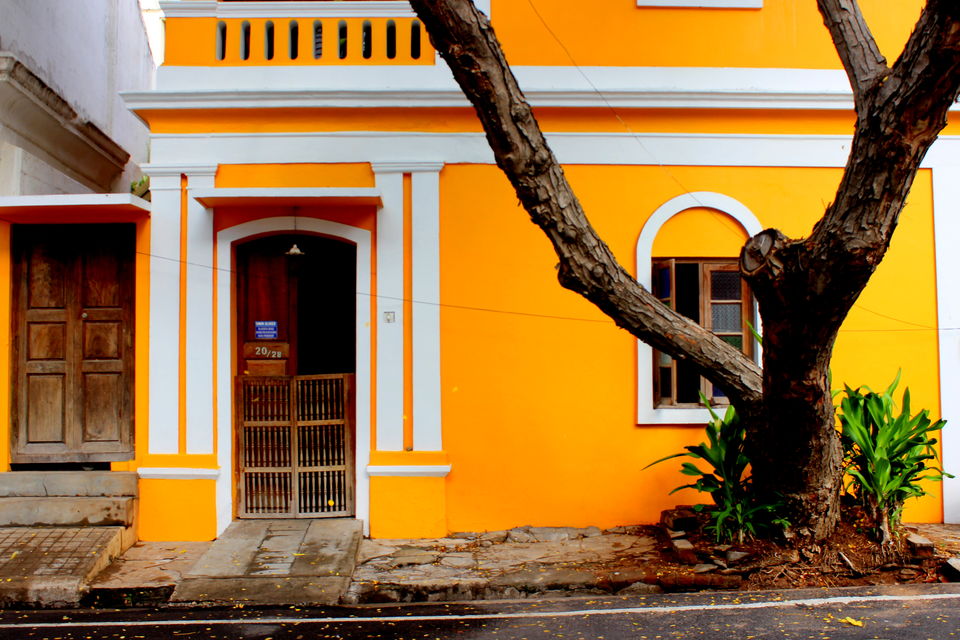 Well, it's needless to say that I took the train from Delhi to Chennai, (a journey of nearly 30 hours) since I was low on budget and couldn't afford the flight fare! I didn't stay in Chennai, but continued my journey to Pondicherry - the little French Town of India!
From Chennai, I took the state bus to Pondy (which took about 3 hours to reach, and 150 INR for tickets). It was a pretty comfortable ride, through the ECR (East Coast Road) and since I love observing people, time flew by the wink of an eye! By the time I reached, it was already evening, and the long journey from Delhi to Pondy has exhausted me much!
I was putting up with a school friend who lives there, but if you're planning a budget trip, you can easily find accommodation for 600 - 800 INR (per night). Also, there are rooms available in Aurobindo Ashram (for just 150 INR) but you need to book them in advance.
Late at night, we did go for a beach walk and had filter coffee from a street side stall (you can't miss coffee when you're there, down South!).
Day 2 - Exploring Pondicherry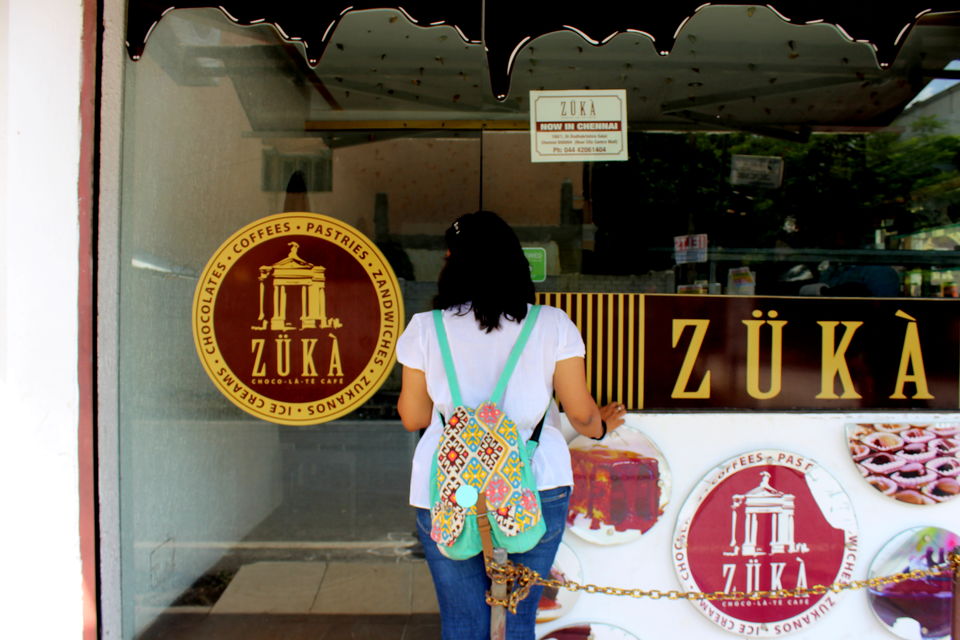 My day started pretty early, as I had a few things to tick off my bucket list. I opted to rent a scooter (that's the best mode of transport in Pondy) and headed towards Auroville - my first destination!
Known to be a cosmopolitan village set up by people from different parts of the world, Auroville has a charm of its own. With ample greenery and boutique cafes welcoming you from the entrance, it would feel like you're in a different world altogether!
I attended an hour's meditation session in Matrimandir and then walked around the place, before heading back to Pondy city! My friend was there, waiting for me to join her for lunch. We went to this really nice wood oven pizza place and then to Zuka, one of the most popular dessert shops!
Once done with lunch, we decided to walk around the 'White Town' (as it is popularly known) which has all the vibrant colored walls - well, honestly, it does look like a place out of a painting!
As the evening was setting in, we walked towards the beach and sat there to gaze at the crimson sky and the fiery-painted horizon - the birds of dusk were returning back home.
For dinner, we went to Villa Shanti (one of the fanciest restaurants in the town) - and it was a treat from my friend!
Thus, my day in Pondy ended with a hell lot of activities!
Day 3 - Exploring Pondicherry and then, taking a bus for Ooty!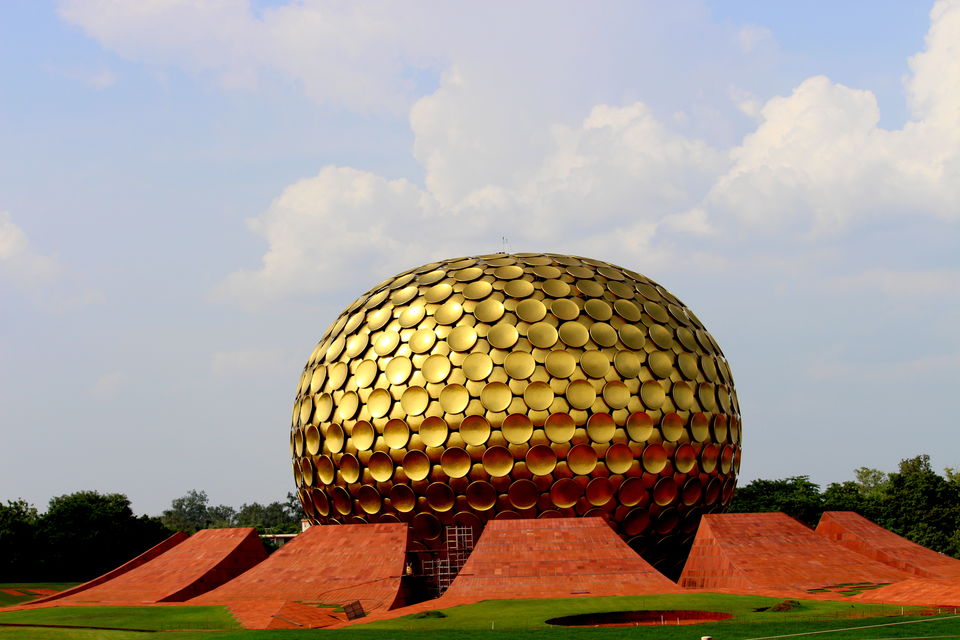 I went to the Aurobindo Ashram in the morning, and then headed off to Paradise Beach! This beach is pretty popular among the foreigners, as they come to surf here - and there are some really nice cafes around this beach. I had an early lunch, and went back to pack my stuff (I mostly wander with a rucksack that has my world in it!)
In the evening, I took the bus for Ooty (which I had booked through RedBus for about 800 INR). It was supposed to be an overnight journey and trust me, it was absolutely safe!
Day 4 - Reaching Ooty and exploring this hill station of South!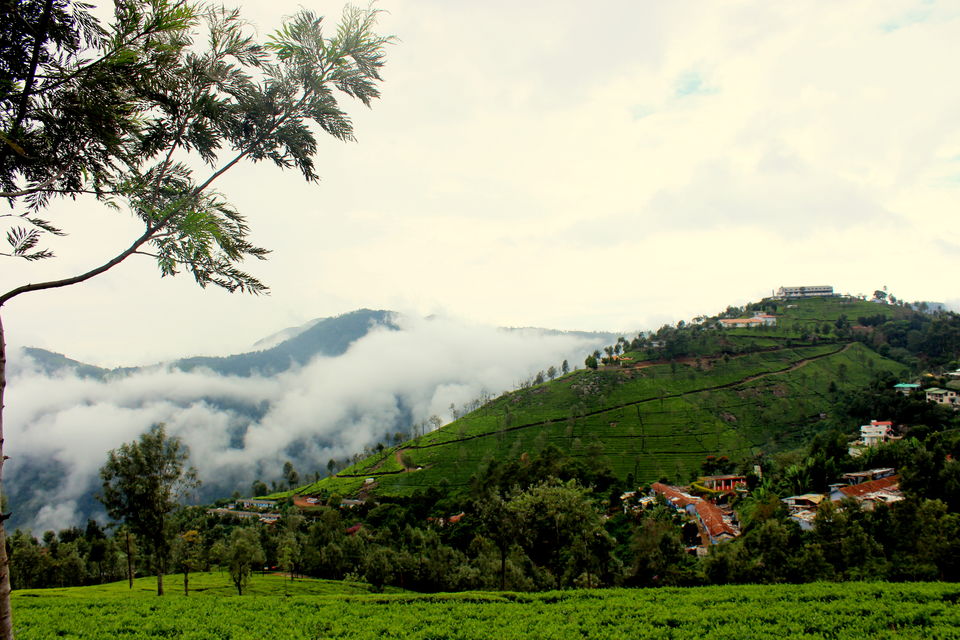 For most of us living in the North, hill stations specifically mean somewhere close to the Himalayas! Thug life, but the hill stations of the South are no less gorgeous!
I reached Ooty early in the morning and I was lucky enough to get an auto from the bus station! I hadn't booked my hotel, but thanks to booking.com - I could easily find a place to stay which was just for 900 INR per night. I headed to the hotel, dropped my luggage, freshened up and ventured out in the same auto!
Living in a place like Delhi, we easily develop the idea of mistrust - but it was only when I started traveling solo, I realized that the world is not that bad!
This person agreed to show me around Ooty for the whole day (literally from 10:30 AM to 6:00 PM) for 1000 INR. I bargained with him and finally, we settled for 700 INR (which was a pretty decent deal)!
We visited some tea gardens, the rose garden, tea museum, some shooting spots where Bollywood movies have been shot etc. Ooty, surprisingly, has very less pollution and the freshness in the air worked like magic! Even after the previous night's bus ride and the whole day's exploration - I wasn't tired!
But most of the shops close down early, and I preferred to head back to my hotel before it got pitch dark!
Day 5 - Day trip to Coonoor and off to Mysore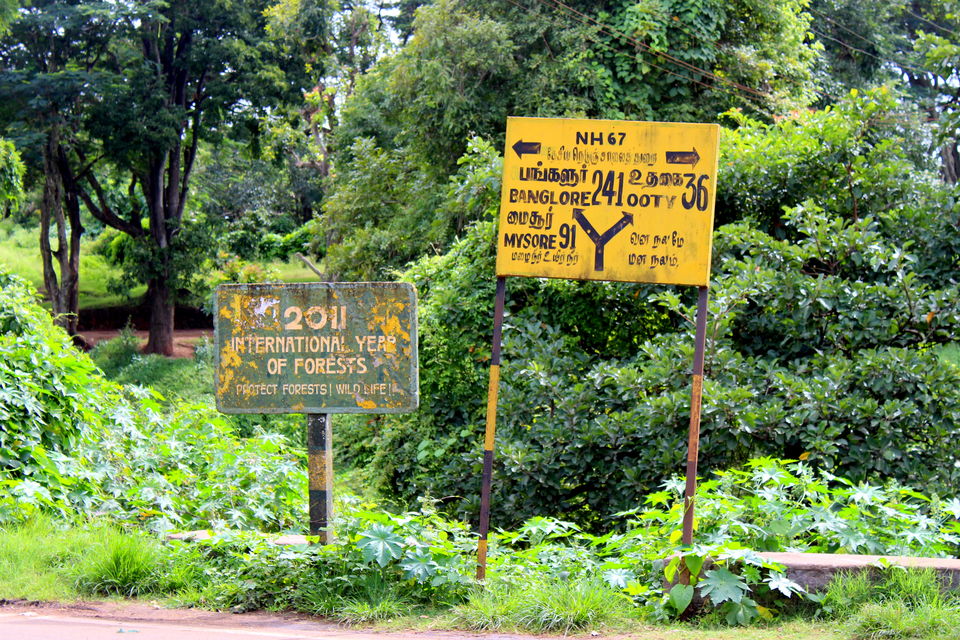 After breakfast, I checked out of the hotel. I had already booked the same autowallah to come and take me to Coonoor - and he agreed to take me there and bring me back to Ooty on time so that I can catch my bus for Mysore! I got to explore some beautiful tea gardens and on the way, we also saw the Ooty to Coonoor - Nilgiri Railways, which is marked under the UNESCO Heritage properties!
Later that day, I returned back to Ooty and took the bus for Mysore. The journey from Ooty to Mysore takes about 3 hours. In Mysore, I had booked Zostel for myself and it was one of the best stays I have ever experienced!
Day 6 - Exploring Mysore for the entire day!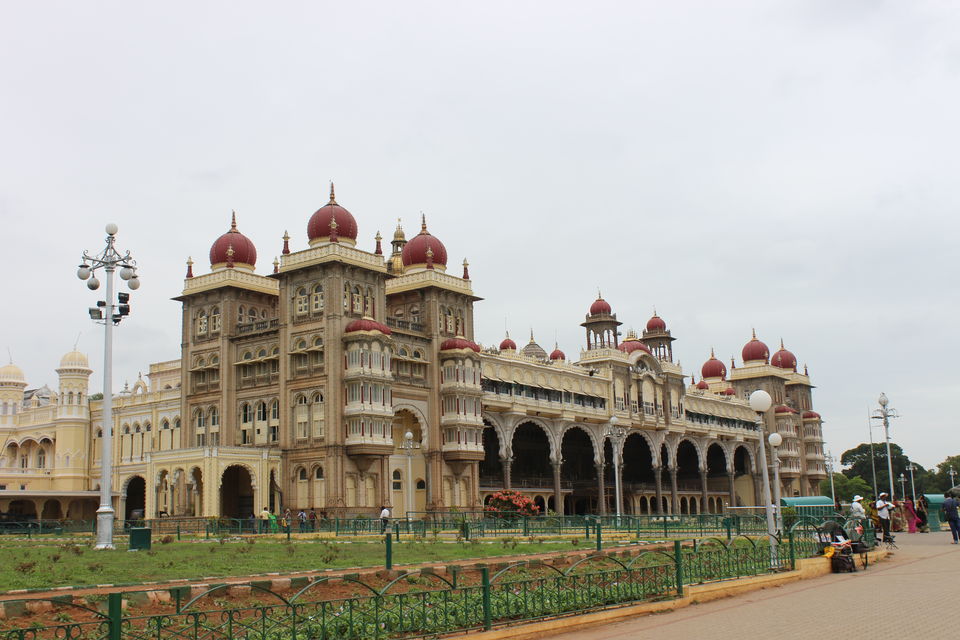 There were a few things that I want to do in Mysore and I started off with the Mysore Palace - one gorgeous place that is! After I finished exploring, I went to the Mysore Zoo, which is one of the biggest in India. For lunch, I went to this amazing biryani place called Hanumamthu (suggested by a friend who once lived in Mysore) and I loved the food!
In the evening, I went to Chamundi Hills, visited the temple and watched the breathtaking views of the city from the top. I returned back to Zostel because there was live music night and people from all over the world who were staying there had gathered to chill and enjoy!
Day 7 - Off to Coorg, and stopping at Kushalnagar on the way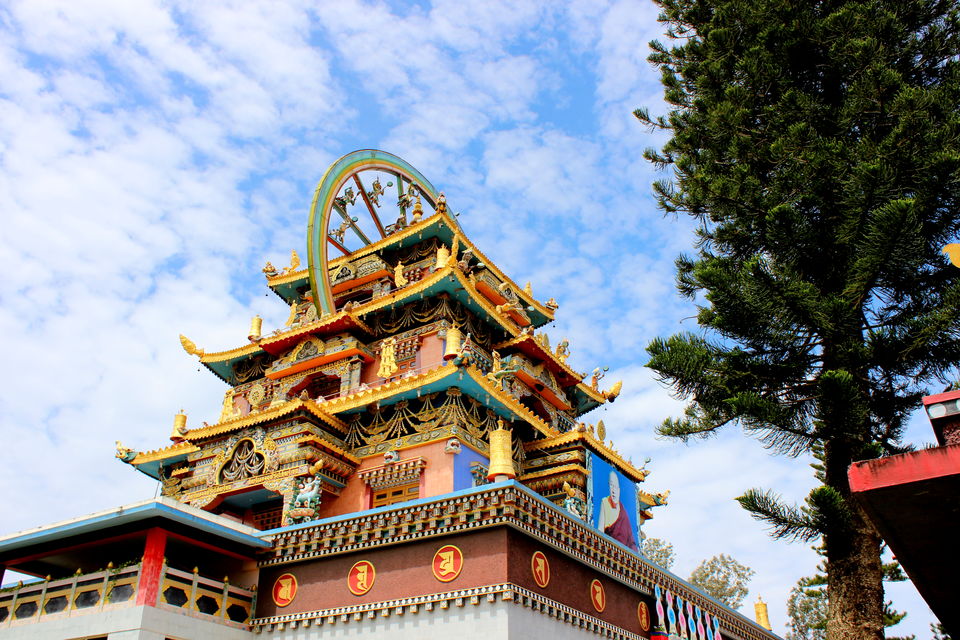 I took the early morning bus the next day and headed off to Coorg. I actually got off midway at Kushalnagar, knowing that it has one of the biggest monasteries in India (I didn't know of that earlier). And it was absolutely right decision that I took. It took me about 2 hours to explore the monastery and I was lucky enough to attend the prayer session, that was going on - where the little monks were also chanting and the music was going on. It created an excellent atmosphere which absolutely rejuvenated my senses.
Later, I hitchhiked from Kushalnagar to Coorg where I had booked another hostel for my stay.
Coorg is famous for its food and local wine, and when I was there, I couldn't afford to miss trying the Pork Curry apart from other delectable items! Coorg Cuisine is surely one restaurant that you must visit if you're in Coorg.
Day 8 - Exploring Dubare Elephant Sanctuary, heading off to Bangalore and then boarding the train for Hampi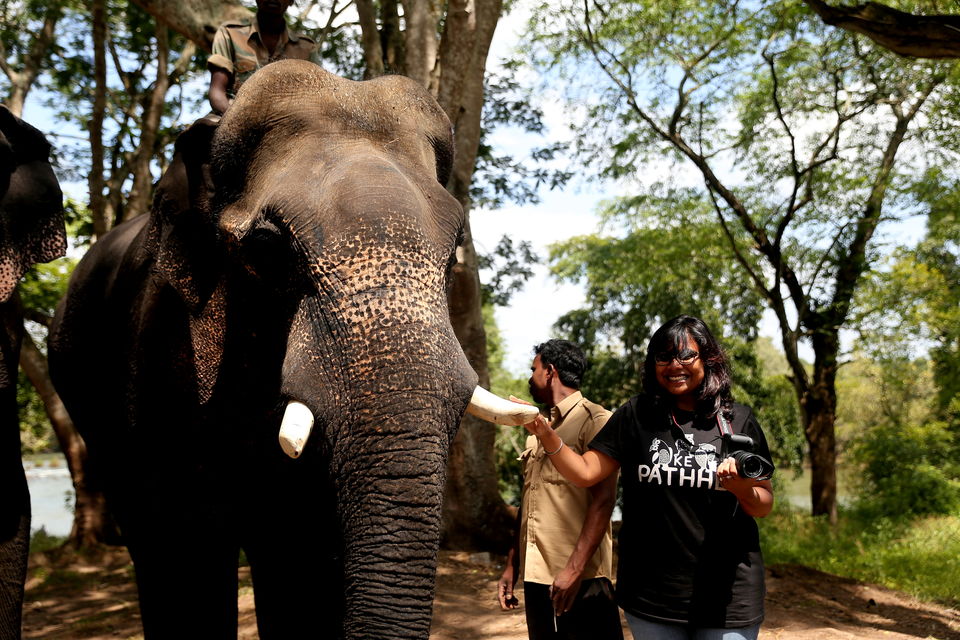 The next morning, I went to see the Abbey falls and later I went to the Elephant Sanctuary in Dubare. There were the gentle giants who were playing in the water and then, I also took them for a walk along with the mahouts (caretakers of the elephants). There was an option for boating as well but I didn't go for it because I had to take the bus for Bangalore that day itself and then the train for Hampi.
One can take a bus from Bangalore to Hampi as well but since I was traveling a lot in the bus for the last couple of days, I wanted to relax, have a good sleep and absolutely regain my senses before I reached the ancient town!
Day 9 - Soaking in the beauty of the ruins in Hampi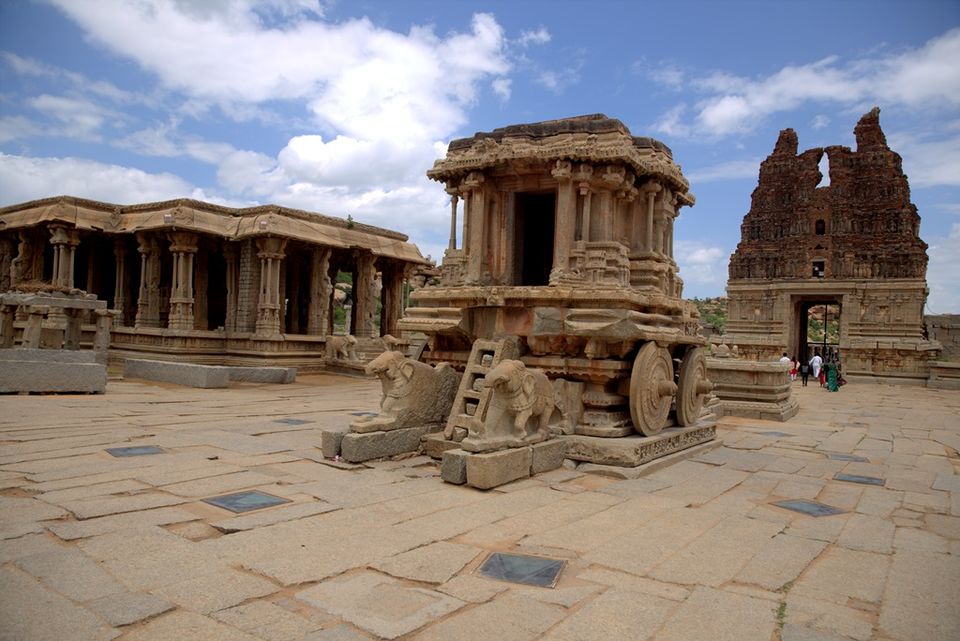 Let me tell you the truth - no matter how much somebody tells you about the beauty of Hampi, you can never understand how it really is until you are there! Located on the banks of the Tungabhadra, the ruins of Hampi, especially the Virupaksha temple are absolutely gorgeous.
As I walked down the ancient trails, exploring the ruins and soaking in the beauty and old world charm, I was mesmerized to see how these places never became as popular as the North Indian monuments, yet they are no less gorgeous.
I also went to explore Sanapur, which is on the other side of the Tungabhadra on a coracle! Of course, when you are there in Hampi, you can't mix the coracle ride!
Sanapur is a much newer settlement, with a huge number of foreigners (mostly Israelis) who have opened cafes and restaurants in the area. So you can totally trust your guts and try out the amazing Israeli cuisine available in Sanapur.
Day 10 - From Hampi to Bangalore
When I headed back to Bangalore from Hampi, I chose to stay back for a day with my friends and get drunk on some brewed beer! Bangalore definitely, has the best breweries in the country (no kidding!).
Day 11 - Off to Gokarna 'coz it's beach time!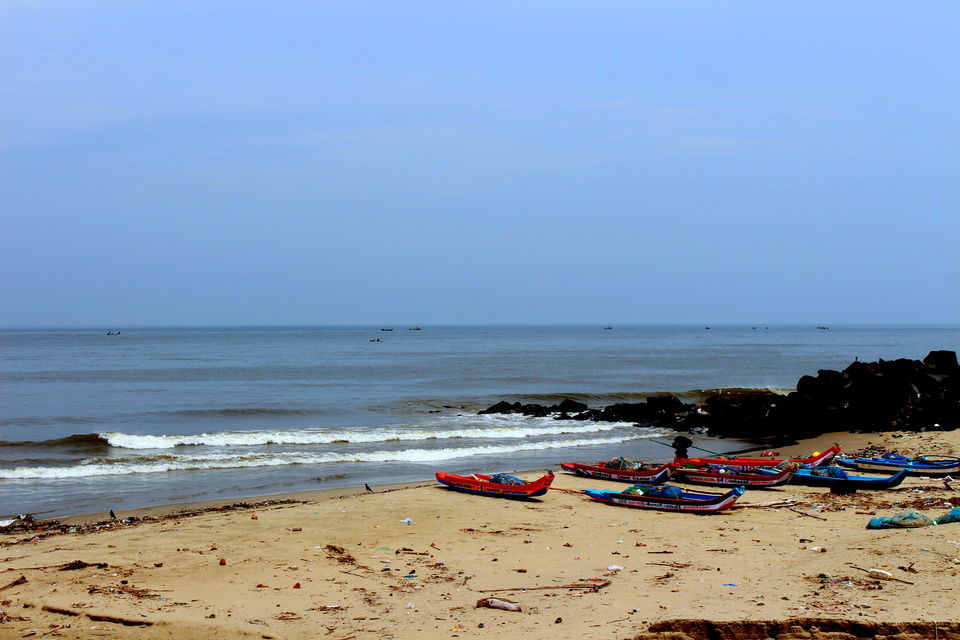 After the tea gardens and the ruins, it was time to go back to the beaches again! Gokarna it was!
Known to be 'A Hippie paradise', people say that this place is what Goa used to be like, a decade back!
Well, I again chose to stay at Zostel in Gokarna, which is pretty close to the beach and there were options for several activities! Since I was there for 3 nights, I couldn't think of a better option!
Day 12 & 13 - Lazing around in Gokarna!
For those couple of days, I was mostly chilling on the beaches or going for occasional hikes along the beaches. I gorged on delicious seafood, met some fun loving people and partied with them!
I also attended the beach yoga sessions that the folks in Zostel had arranged for, and it was too good to be true!
Gokarna definitely is a place where I would like to go back again, possibly with my gang of friends!
Day 14 - Reached Hyderabad - the last leg of my trip!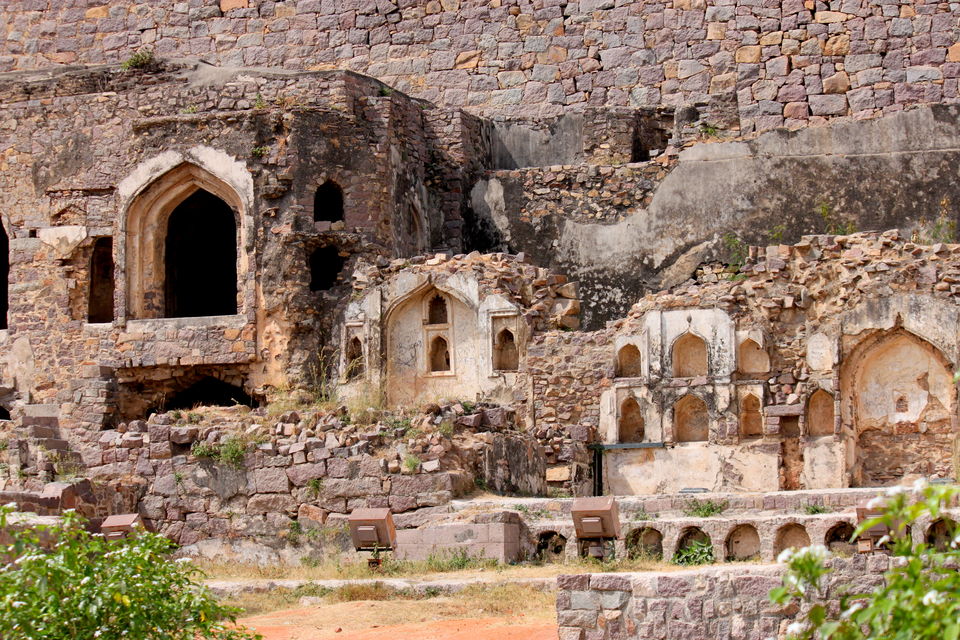 It was a pretty long journey from Gokarna to Hyderabad in bus (took about 14 hours) and I was all set for the last destination! I was pretty tanned by then and most of my clothes were sandy (I was longing to head back home, to be honest!) but the excitement of seeing new things kept me moving!
Wanderlust, I tell you!
Day 15 - Exploring Hyderabad!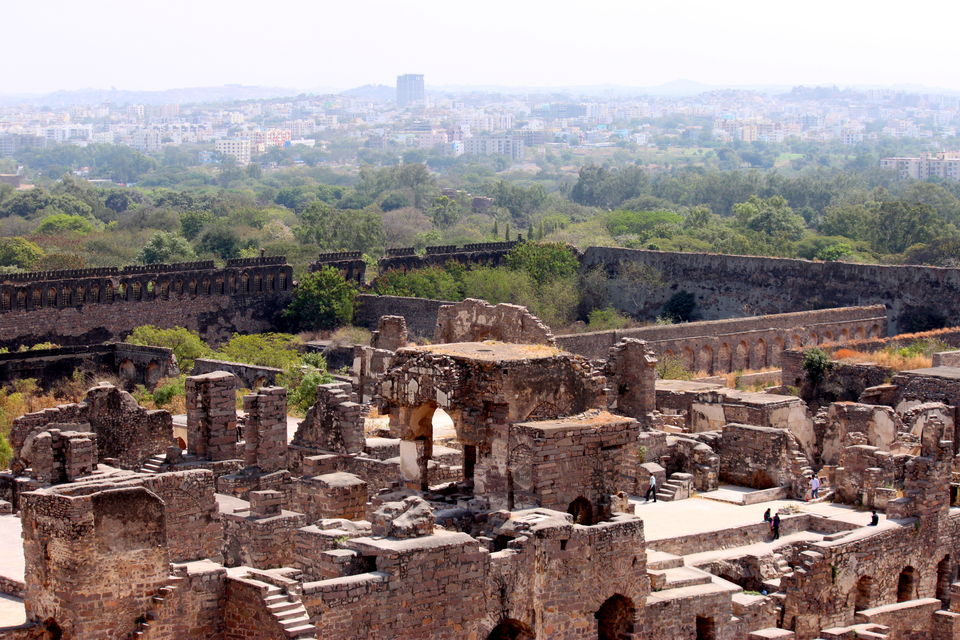 'The city of Nawabs' as it is popularly, Hyderabad is absolutely breathtaking. Although it was pretty crowded (and I had terrible experiences of getting stuck at traffic congestions), I did enjoy my time in Hyderabad.
I visited the Golconda Fort as well as the Charminar (two of the most popular places in the city) and of course, binged at Paradise Biryani which is known to serve the best biryani in India!
Day 16 - Boarding train for Delhi - Journey back home!
As they say, all journeys come to an end! Thus, it was time for me to wrap my backpacking trip in the South, board the train and head back home - hoping to return soon, for something more exciting!
If you've also backpacked around South India and have an interesting story to share, then I'd love to hear back!