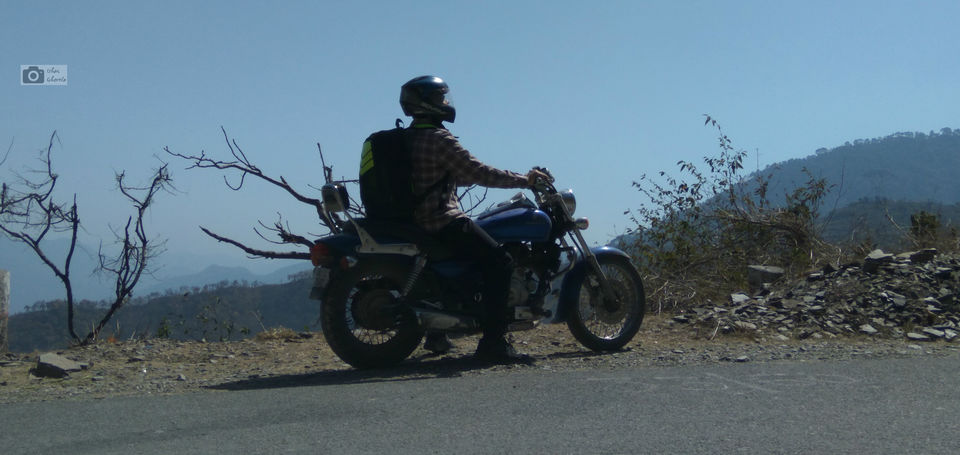 Imagine an aerial view of yourself riding a classic bike on mountains with river on one side and lush green mountains on the other with a slow acoustic happy song in the background ....
CUT
Nothing compares a bike, a helmet and mountain roads. If this also inspires you to go on a bike trip and somehow you are short on time then let me introduce you to Kanatal, a perfect destination to complete your dream of a bike ride in mountains with limited time but unlimited happiness rush. It is a small town in the state of Uttarakhand.
Reaching Rishikesh from Delhi is no challenge unless you delibarately want to make it so. You might think what I am talking about but once you read how we reached Rishikesh, you will be compelled to think twice. It was an impromptu plan on our end but still when we checked online, tickets to rishikesh were available but then we thought let's keep everything raw (because nothing is as much fun as travelling raw) and we didn't book our tickets ( fun begins ). We reached ISBT aorund 9:30 p.m. only to find that all UTC scheduled buses to Rishikesh were full , so we decided to go for UPSRTC but unfortunately due to heavy rush we couldn't board those buses too, extent of rush crossed limits, people were entering the buses through the windows before buses stopped. For a moment we were demotivated but the next moment we came up with another plan. We decided to board the bus to Roorkee from where we planned to board another bus to Rishikesh. Our first bus dropped us 1 km away from Roorkee bus stand. We walked up to it in the middle of the night to board the bus to Rishikesh . We reached Rishikesh around 8 in the morning and we couldn't waste any time because we only had the weekend to complete our trip. We went to a guest house , got freshened up, had our lunch at a restaurant and then finally we rented our motor machines.
This is the moment when the journey starts.
We first navigated using google maps to get out of Rishikesh but soon we started driving without assistance. Once you are on the mountain roads, there are almost straight road with some deadly curves. We left around 2:30 from Rishikesh. We were headed towards Kantal in space and evening in time and both were equally romantic.
Total distance of Kanatal from Rishikesh is 80 Km and we knew we would almost reach there in time. Slowly the sun was coming down and we were enjoying our rides.
Initially it was sunny but once the flow began everything started turning beautiful magically. River on our side started rising in height or I should say the roads started getting closer to the river and away from the mountains in terms of elevation as if they had realised they were in love with the river and not with the moutains, you can't stay away from whom you love or you think you love, anyways, nobody knows.
While all this was going on the most beautiful thing happened. SUNSET. The sun began settling down and it was amazing to view the sunset and its aura while riding a bike. The continuous change of the daylight, waters , roads around us was mesmerising as well as felt like as if it wanted to imply: see, this is life, continuous change is life and you can definitely embrace the changes as you are doing now, it's easy, just look around for the beauty.
With all this it seemed like our quota of experiences was done because it was already dark and we were still 20 kms away from our destination (construction of char dham highway project delayed us on the way). But we accepted our fate smoothly and decided to stay at chamba (20 kms from Kanatal) only, may be we were already satisfied enough with the experiences that we didn't feel bad about not reaching Kanatal.
Chamba is a very small town in state of Uttarakhand which sleeps as early as 8 in the night. It feels like as if is a person who lives in his own world. However philosophy apart, we woke up early in the morning and had 0ur breakfast ( typical mountains travel breakfast : aloo parantha and chai under some amazing #MadhoshParvat ;) ) , got ready to leave because today we had to return the bikes till 4 p.m. but beyond that we had no plans or we left upon chance to make our plans.
We left around 10 a.m. in the morning and reached back at Rishikesh by 2 p.m. while taking few long breaks in between. After reaching Rishikesh we paid a customary visit to Chotiwala restaurant where I personally didn't liked the food much, had our lunch there and finally went on to return our bikes.
Now that we were all free and our bus to Delhi was scheduled at 10 in the night, we decided to roam around which proved to be one of the best idea.
We hopped randomly here and there and then sat on the banks of Ganga. Sitting on the stairs is one thing and going a little further and sitting closely besides the flowing water is altogether different thing. Your loose connection with world and only hear the flowing water and evening prayers going on at a distance from you and this experience has a heeling effect on your soul which you can always enmbrace whether you need it or not.
After spending quite significant time there, now it was time for dinner and then we came across Rajasthan Mishtan Bhandar which happened to be one of the finest dining places I have ever come across during my travel. I had daal baati (a rajasthani dish generally prepared in jaisalmer area) which I only had in my childhood when I used to live in Jaisalmer but I must say if you are going Rishikesh, this place is a must visit, the food quality is amazing, literally just like home and prices are genuine too.