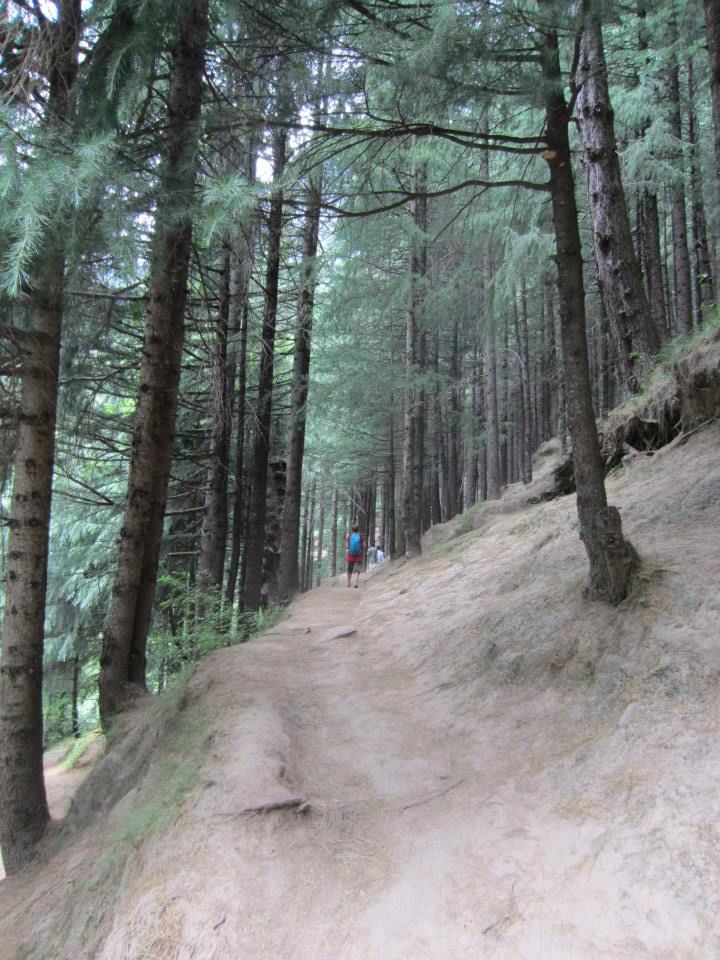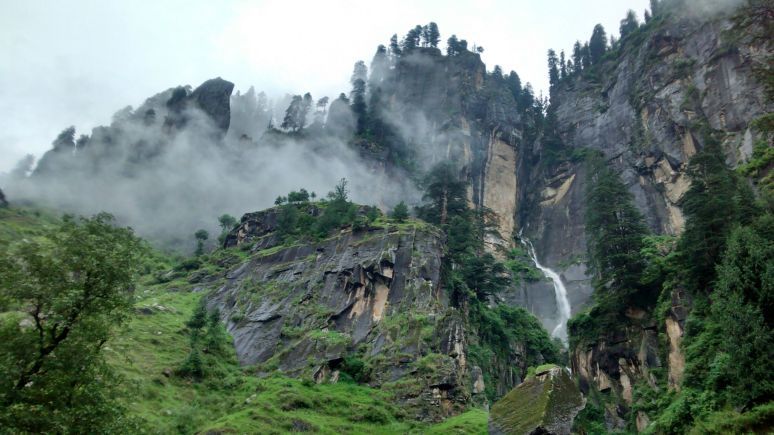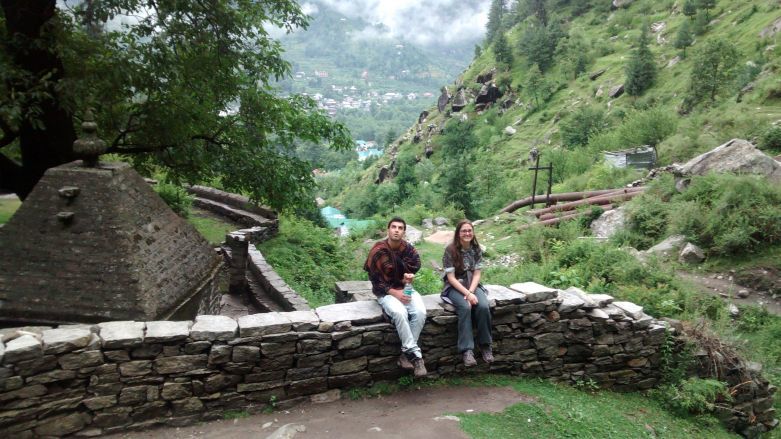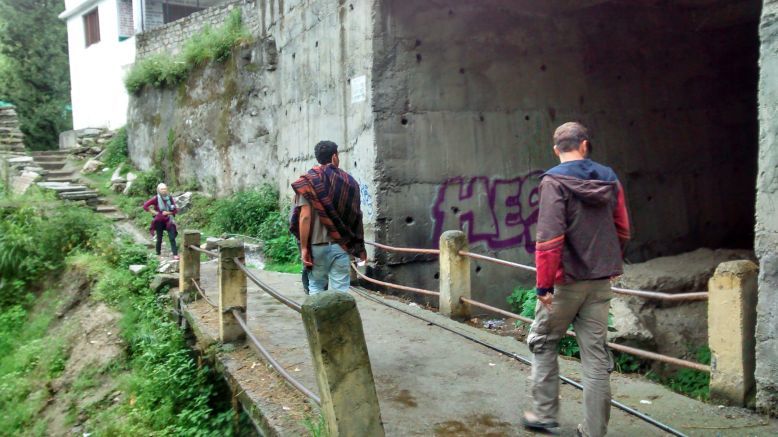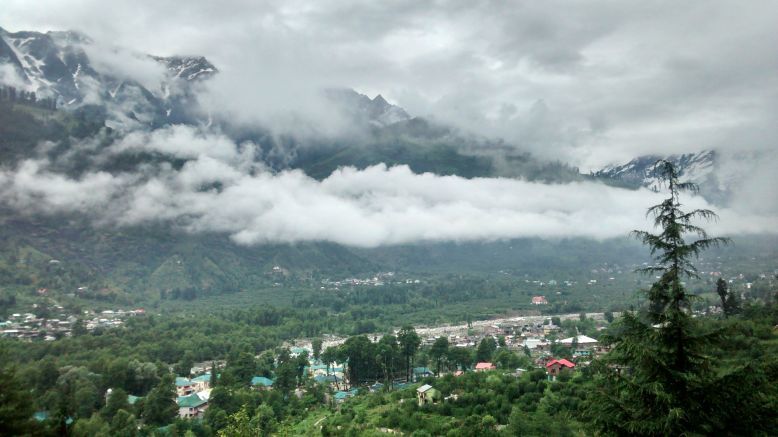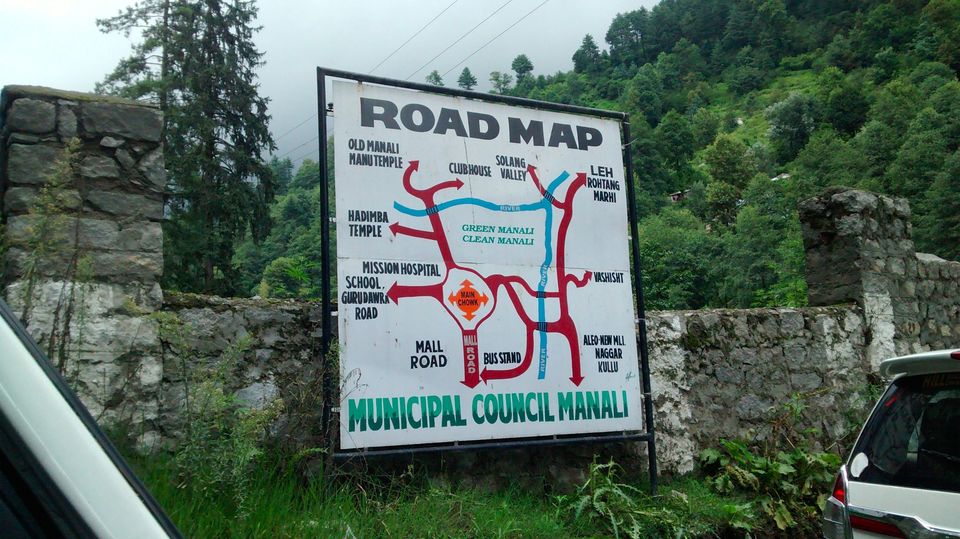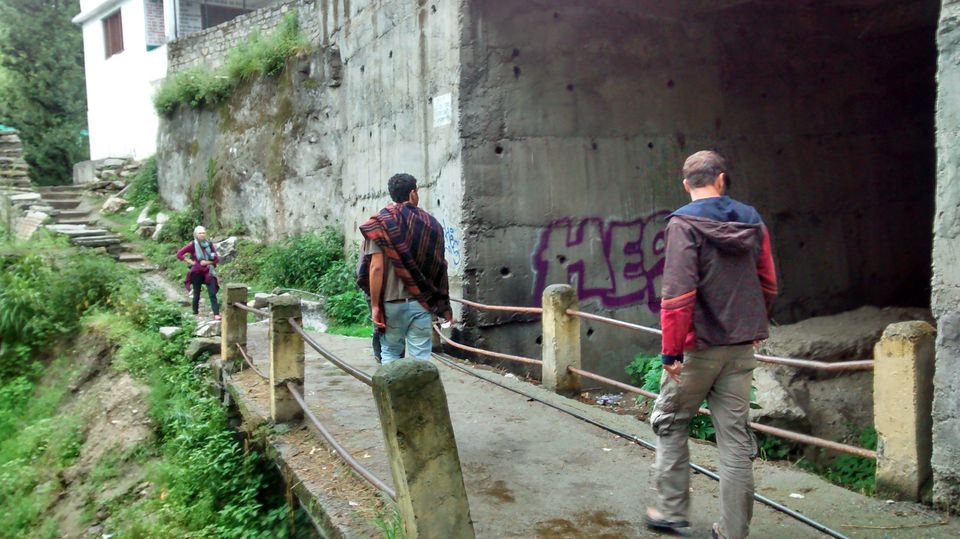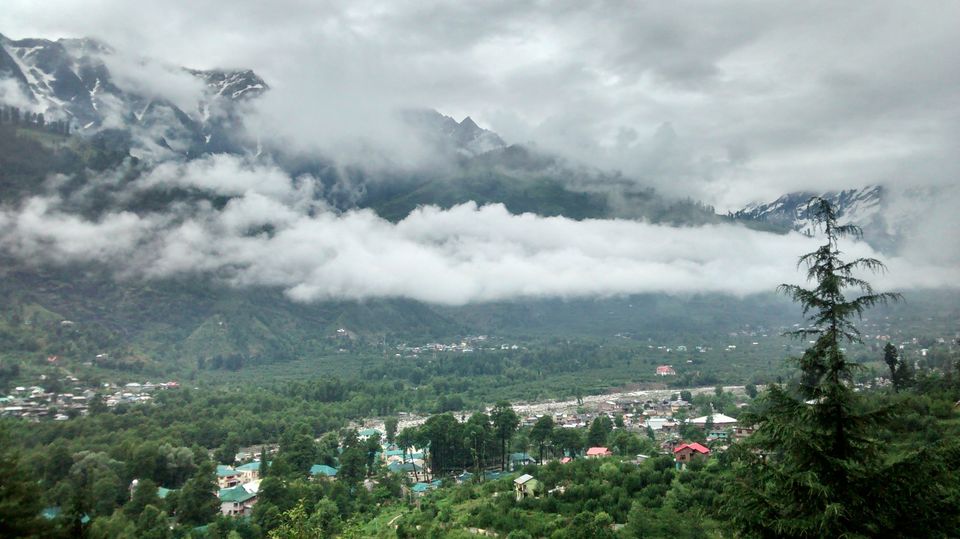 I got the opportunity to visit Vashisht last month. Well, actually I had to make a stopover there since I had missed my bus to Leh. Well, that's another story altogether. So, for the time being, let's just say I had just arrived in New Manali from Delhi and since, it was raining, I needed a place for the night. Since New Manali is probably the most boring hill station I have ever been to, I didn't want to stay there even for one night. So, I called this good friend of mine, Yuri, who was staying in Vashisht. He asked me to come meet him near the Vashisht temple. So, I took a rickshaw from the main rickshaw stand which cost me around 70 Rupees and it dropped me just before the Vashisht Temple. The way to Vashisht is beautiful, by the way, with densely clouded sky, lush green mountains, heavy rains and Beas river flowing ferociously on your left.
If Old Manali is backpackers den, Vashisht is more for those who like quite and peaceful vibes, taking dip into the hot water springs once a while (sometime twice or thrice a while, depends on how stoned you are), jamming and socializing at the main square with fellow travelers. Best thing about Vashisht: No traffic(!) and the food is wayyyyy cheaper and so are the guest houses.
So, I arrived in Vashisht and as I started walking towards the temple where Yuri was standing, waving at me, I head someone calling my name. It was my friend Eve who I knew from Dharamshala! So, it had only been an hour since I arrived in Manali and I had already met 2 people who I knew already! how cool is that! One of perks of being a solo traveler, guys, is that you are never alone
So we all went to this cafe to have some lunch. Yuri had been staying there for a week or so and Eve had arrived just a couple of days before me. I put my stuff at Yuri's and since I was pretty tired from the 14-hour long overnight bus journey, I decided to go to the hot water springs, freshen up a bit and then plan out the rest of the day. So, Yuri and I decided to meet Eve at some cafe where she was sitting with some of her friends in an hour. After we finished our breakfast, we all decided to go to this waterfall which Eve had mentioned earlier.
The way to the waterfall is really nice and quiet once you get past the main square where all the temples and hot water springs are. Walking through narrow alleys with old-fashioned, traditional houses, stepping over cow shit, crossing a dense pine forest, the trail finally opens up to a great, spectacular view with cloudy, misty mountains covered with all shades of green, a stream flowing under a wooden bridge and on our right was the most beautiful waterfall I had ever seen.
So, while we were in complete awe of the beauty and the grandness of view we had just witnessed, it was time to decide whether we wanted to just chill out out of laziness or fear of slipping down the hill since the climb looked really steep and slippery because of the rains OR just continue walking all the way to the top and enjoy the waterfall properly! That's another thing we should remember while traveling: Enjoy the moment to the fullest rather than going back home and crying over your laziness ;)
So after a lot of convincing and cursing and begging, we all decided to hike to the top and I have to admit it; it was one the best decisions I have ever made in my whole life. The climb was steeper than it looked. And the rains had made it more difficult. There are actually 2 ways to climb to the top. The one the left is steeper but shorter while the one on the right is less steep but longer and actually more fun! I hiked 2 times to this waterfall; taking different routes each time and the right one is my favorite out of the two. When you take the right route, you first reach the almost the end of the waterfall; after that it just turns into a small stream. Nothing exciting but sadly, not many people go past that. Do that!!!
So, anyway, we continued walking up. It's a bit tricky to find the way up or maybe we are not that good as trekkers as we think we are but somehow we found the trail that leads you to the waterfall. The trick was to follow the metal barb wire lying on the ground which, I reckon, was laid there to mark the trail but then it wasn't well taken care of. So, you don't really see that, but, yeah, it's there…. somewhere…. The trail would take you through the grassy grounds with stinging bushes which itch like hell if you touch them or THEY touch you (which happens more often, actually), the pine forest, a little bit of rocky surface and continuous blabbering of your trekking partner. So after 30 minutes of walk, you are at level with the "first fall of the water waterfall" *shrugs* and oh my god, the view! :o
So, another 10 minutes walk and we were right under the waterfall and only one word came out of my mouth, "Whoa! Whoa! Whoa!" ( okay, 3 words… but it's actually one word said 3 times.. so technically….) It was huge and loud and mesmerising and LOUD! It just pulls you towards itself. But even with that loud waterfall, the place itself was really quiet. You could just spend your whole day there listening to your inner thoughts, adore the wonders of nature like you were on acid, follow the complete fall of the water from the top of the mountain to the rocks underneath it and how it turns into a million drops and some of them fall on your face and that's when you do something crazy as I did.
Yeah, that's how you enjoy a waterfall, properly ;) Not bragging or anything, but this is one of the coolest things I have ever done in my life. What was it like coming back? Well, you know, walking downhill when it's slippery is really not that fun. Shit happens, people slip. That's it. No details. Use your imagination. Die! .
So, yeah… that's all about my trip to the famously unknown water fall. If you have already been there and for some reason did not find it that impressive, I would say,
This trip was originally published on 'Rookie Travel Diaries'.