Being a Himachali boy I was always attracted towards the natural beauty of the lofty Himalayan peaks, amazing wildlife, exquisite whitewater falls, and soothing feeling. So last summer in the month of July I decided to head towards a beautiful heavenly place Shrikhand Mahadev Yatra/Trek to get away from the city chaos.
Shrikhand Mahadev is known for Lord Shiva and is one of the Five Kailash peaks where devotees go in order to attain salvation. It is also one of the toughest pilgrimages in India. This trek leads you to the Shrikhand Mahadev Peak which holds a religious significance among the Hindus because of the huge "SHIVA LINGAM", which is a 70 feet vertical rock formation that looks like a Shivlinga and is located at an altitude of 16,900ft above the sea level. The whole trek is full of adventure and thrill. This holy destination lies in the Great Himalayan National Park of District Kullu and one also gets a breathtaking view of Parvati Valley from the top of the Peak.
Important things about the Shrikhand Kailash Yatra :
Distance from Shimla: 170km by Car. Best time to go on Yatra: Mid July to the first week of August. Total track distance: 32km. Important things to carry: Water bottles, Glucose energy powder, Warm clothes, Dry fruits, Flashlights, Waterproof raincoats. Duration: Minimum - 4 days, Maximum - 10 days Grade: Difficult and harsh. Pilgrims may also suffer from Altitude sickness so carry medications and first-aid and it is advised to undergo a medical check-up.
The legend behind Shrikhand Kailash Yatra:
According to the Hindu mythology, it is believed that once there was a powerful demon named Bhasmasur. To please Lord Shiva, Bhasmasur performed some very tough austerities for many years. Lord Shiva was pleased with his austerities and told him to ask for a boon. At that time Bhasmasur asked, " Who's ever head I put my right hand on should be burnt into ashes. " Then Lord Shiva said, "Tathastu" and granted him his boon.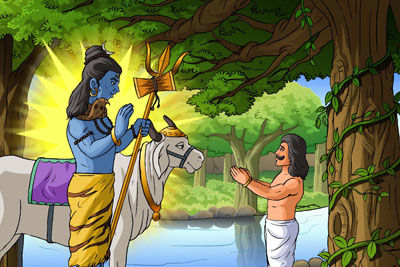 Bhasmasur decided to use these powers on Lord Shiva in order to turn him into ashes and then Lord Shiva rescued himself from a cave named "Devdank" near Nirmand village and appeared on the top of the mountain. Lord Vishnu saw that Lord Shiva was in trouble. Therefore, he came to his rescue. He took the form of a beautiful woman, Mohini. Then Mohini made Bhasmasur dance and made him copy the steps she was doing. She then put her right hand on her own head. As Bhasmasur was copying her dance steps and without thinking, he put his own right hand on his own head. He then turned into ashes. Since then the place where Lord Shiva came to rescue himself is known as Shrikhand Mahadev.
Route of the Trek:
Jaon - Singhad - Brati Nala - Thaachru - Kali top - Kunsha - Bheem Dwar - Parvati bagh - Shrikhand Kailash.
Day 1: Rampur to Singhad.
The Yatra starts from Jaon Village, buses are available from Rampur Bushehr to here. It is a 3km trek from Jaon to Singhad which takes almost 2 hours. As this Yatra is organised by the Himachal Pradesh Government, everyone has to get registered and undergo a routine medical checkup at Singhad. A number of free meals(Bhandara's) are also served here, as well as throughout the Yatra by the members of Shrikhand Mahadev Seva Dal (devotees from different parts of the country).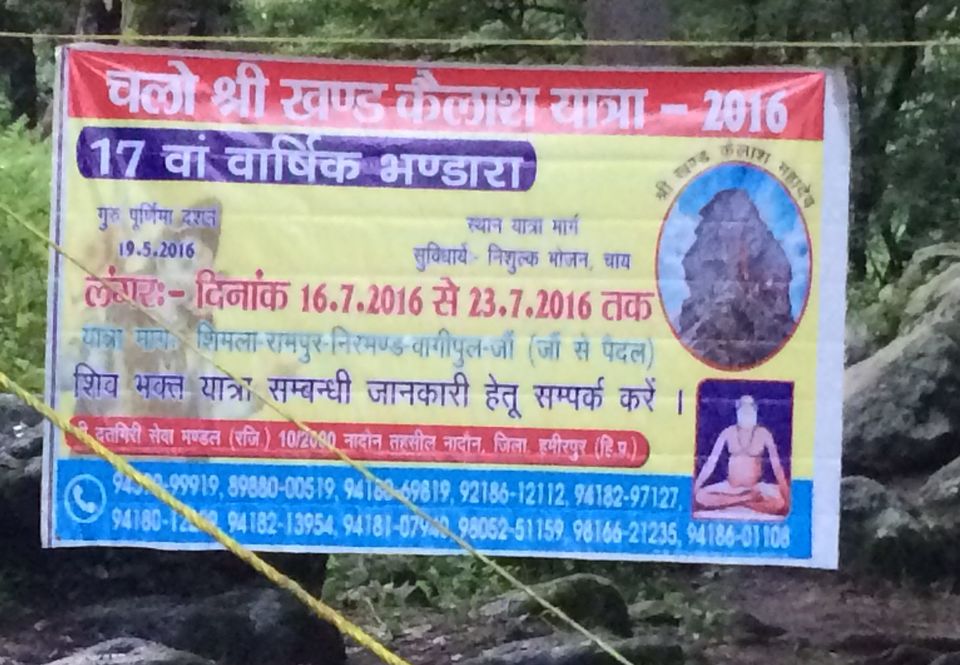 Singhad is the right place to stay at night, as here you can rest and complete all the formalities and get a chance to interact with various devotees who will be returning after having the Darshana of the Shivalinga. As some are able to make it up to there and some return from the between due to some reasons.
Day 2: Singhad to Bheem Dwar.
You should start early today as it will be doing a tiring and long journey After a 3km trek from here, you will reach Brati Nala. It a place where Saints (Saadhus) live and worship Lord Shiva. Next, there is a vertical climb of 9km which takes you from 7,200ft altitude to 13,000ft and ends at Kali top, which is often known as Dandi Dhar. It is believed that every pilgrim has to use a Stick in order to support himself/herself through this steep vertical climb.
Before you reach Kali Top, the trek first take you through Thaachru( 11,000ft), which is 6km from Brati nala. From Thaachru onwards till Kali Ghati you will experience the abundant beauty of nature with an attractive landscape, change in vegetation, lush greenery, wild colourful blossoming flowers and north terrestrial sceneries.
At the Kali top, there is a small temple of Goddess Kali. If the weather is good you can also have the Darshan of the Shrikhand Sheela from here. The panoramic view of the Himalayan Ranges from here is breathtaking. As you are on the high altitude the weather changes in no time and just in seconds the visibility radius changes to even less than 15 meters.
From here it is a 4km trek to Kunsha. It is a smooth track which takes around 3 hours. The surrounded mountains are snow-covered and largely devoid of vegetation, which is restricted to sheltered strips along channels formed by the melting snow.
Bheem Dwar:
From Kunsha our beautiful trek to Bheem Dwar starts with beautiful scenery some camping sites, Dhaba's will come along the way as you reach Bheem Dwar enjoy the amazing views of glaciers and roaring Waterfalls. This place is named after Bheem ( One of the five Pandavas ). As it is believed that Pandavas used to live here during their exile. You can camp here tonight.
Day 3: Bheem Dwar to Shrikhand Mahadev Sheela and back to Bheem Dwar.
From here onwards the climb will be steep and tiring. It's advisable to walk at your own pace and stay with your team. Bheem Dwar is followed by a whitewater fall after which there starts a steep climb which leads you to Parvati Bagh. That steep climb is known as the "Valley of Flowers". It is at an altitude of 13,200ft above sea level.
You will also see a series of waterfalls on your right and glaciers surrounding the valley. Parvati Bagh is the place where Goddess Parvati resided. Moving ahead, on the way you will also see many endangered species of plants and flowers, especially the "Bramhakamals".
It is believed that Nain-Sarovar Lake that the source of water here is due to be the tears of Goddess Parvati. People take a holy dip and carry the sacred water with them and also this lake is eye-shaped.
This place is just above the Parvati Bagh and also the last place where you get water. From here the altitude keeps on increasing rapidly, so keep yourself hydrated. The rest of the trek is almost covered with glaciers, so it a little time-consuming. It will take you almost 4 hours from here.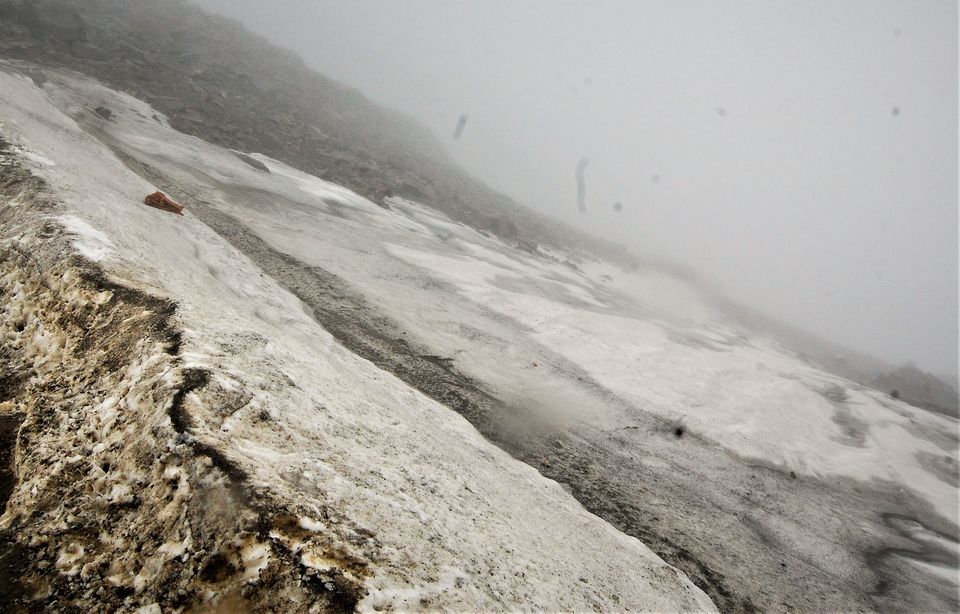 After the steep climb for 3 hours, you will reach Bheem Baiee. These are located at 16,200ft. and are big rocks and stones that are sorted in such a manner that resemble stairs. It is believed that Bheem was constructing these stairs to heaven but he couldn't complete them.
Finally: At the Gateway to Heaven
Within 10-15 minutes, after climbing the Bheem Baiee, you would get a glance of the 70ft tall Shrikhand Mahadev "Sheela" or the "Shivlinga" and after such a long haul with the mother nature, you will realize that your hard work paid off and you would feel you spine tingling in emotions.
You would even get goosebumps as the bird's-eye view of the Parvati valley is fantastic and the views of the surrounding White Snow Peaks are also outstanding. So, after taking the blessings of Lord Shiva its time retrace your steps back towards Bheem Dwar and camp there tonight.
Day 4: Bheem Dwar to Jaon.
Now it's up to you whether you want to spend some more quality time in the lap of mother nature or head back to the base camp. The trek to Kali top from here is little steep, that's why it is time-consuming. After Kali top, you will descend till the Brati Nala and reach Jaon till late in the evening.
Day 5: Back to Home.
Although the whole trek is risky and difficult because of its high altitude, lengthy crossing area and heavy snowfall for the most part of the year. The Shrikhand Mahadev Yatra Trek gives an alpine feeling and experience of a lifetime.
For more information on this trek or for more travel stories connect with me on Facebook, Instagram and twitter.