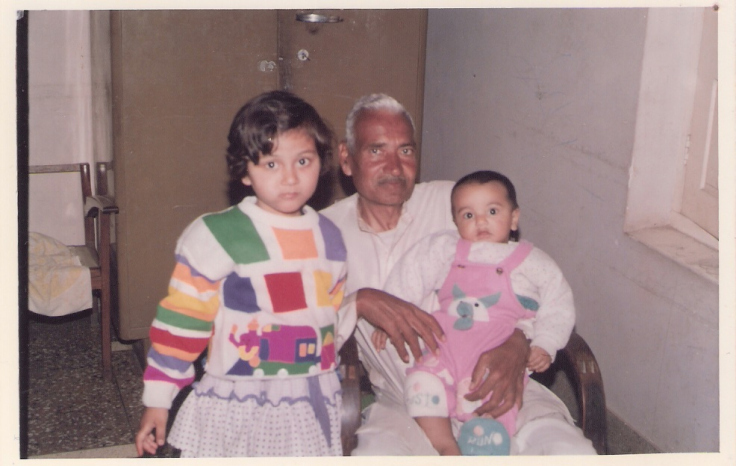 ' Bholi si surat ,ankhon mein masti , door khadi sharmaye .... Aaye haaye'
After the titillating tone, played these words in our very own Udit Narayan's voice on my MP3 player one morning and I was transferred instantly to my below-10 memory zone( yes, I sincerely think we all have that layered and boxed enough)
The song was ringing on the brand new Philips CD player papa had got for the spoiled little brats that life gave him to handle. And being a 90s kid, we definitely couldn't let go of any opportunity of role play on the song (however stupid & far-fetched these sheepish songs might sound today: P). He would always play my orchestrator and I was always the shy coy beautifully scintillating muse (of course!). In this case it was an 'icing on the top moment' for this little munchkin as he got to play his favourite hero (it's no quiz guys, of course,SRK) too. We spent the afternoon whiling away that summer and then came mom screaming to switch off the player and extra devices as there was a voltage fluctuation (If you don't know of this pertinent problem, then you probably aren't a 90s and before generation OR you were since always part of the metros that stand tall today. So my apologies!).
One bang and I was dumped back to where I started from.
The memory zone I hated the most that very moment- PRESENT!
Now I had nothing of as much value as I had then. The precious innocent smile is definitely just one part of the puzzle that is missing. I know Nostalgia and life are the most abused and over -rated words. But believe it or not, I could feel both of them happening to me at one and the same time. I did the only thing I could do then.
Dial in the number of the famous orchestrator - my partner in crime & bigger crimes- my munchkin-turned-monster brother.
He was in worse shape than me right then -struggling hard to come back at life.
But no, I called him up to rig him down in the hollow pit redolent of the crackling laughter,horrendous fights and nonetheless, more power cuts.
He had no choice but to blindly follow.
The next few minutes went by just like I planned - uselessly talking about nothing at all but still managing a laugh and at the end I came up with a strategic decision -'' I'm coming to Mangalore this Rakshabandhan .Hopefully, I won't have to stay at a hotel?''
My ever-stoic brother could just manage a fake yes to boost up my energy levels.
Maybe because he knew his crazy sister will manage just fine while executing upon this impulse.
Few hits at the laptop keyboard and it was planned - 3 days 25 th-28th august in Mangalore
***************Why so serious 'Mangalore'? ************
And just as planned a couple of weeks before, I landed at Mangalore's international airport on the 25 th August knowing no idea what was to hit me. Well, aside from the fact that my sleepyhead brother didn't turn up to pick me, the non -availability of uber/ola, the dark empty roads and the silence on the roads at 9 PM had hit me and taken me by surprise. You see, I'm not playing over-smart here. I know my small-town legacy will make me sound weird but almost a year of living in Mumbai has given me some view into a metro - hustle. Mumbai's hustle being one of a kind. So, the contrast did strike me and upon reaching his flat somewhere near Nandi Gudda, I was surprised to his reaction at my discovery. Upon constant nudging, he could only manage a chuckle and say 'Are you saying this to a person who has lived here for 5+ years? Obviously, I know the contrast is huge'.Satisfied by his reply, I started off with another request - Take me to the town. In lieu of the upcoming festival the next day, he had to comply. Though it was 10:30 and he knew everything would be closed by then, he took me for a ride around the locality and all through I kept wondering at the silent shrug this town was giving me since my arrival. After a few kms to and fro, we were back to a night of nothingness but interesting conversations to the year that had been so far-my changed relationship status, jobs, his job, plans and whatnot. I'm sure that one thought which crossed both our minds while sleeping down that night was - ' Now that we have the quota of discussions over, what will we do for the next 2 days ?'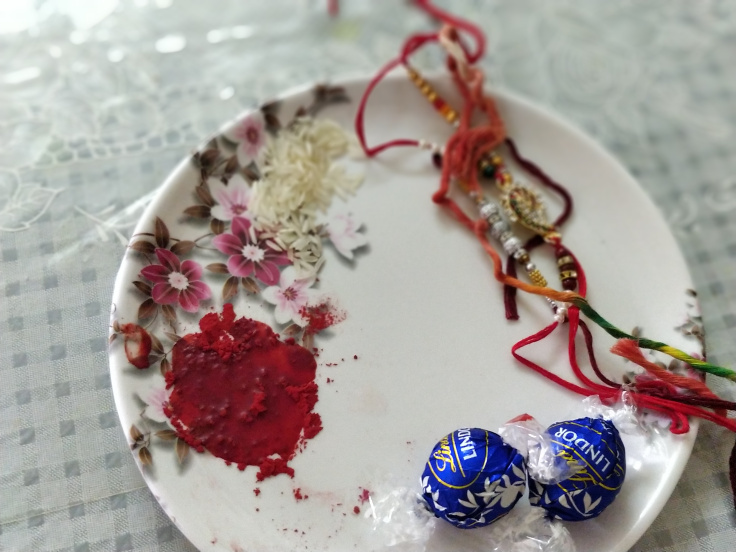 ************All that doesn't glitter is definitely gold ************
There are times and days when you feel happiness oozing out from you all day long for no reason at all. Just the air, the feel and the fact that you are capable of feeling any emotion so strongly make you whirl with joy. The next morning with Rakshabandhan written all over it (with both parties involved present) was one of those days. And along with came gushing through all the memories- not just the happy ones of our times as kids but also ones where we fought like animals, had our share of differences and still somehow had our hearts connected by a strange invisible thread of familial bond. Once the festive rituals of tying Rakhi were complete, we spent our time talking all of that. And surprisingly, even though we did try & maintain a regular touch with each other, THIS seemed liked after ages.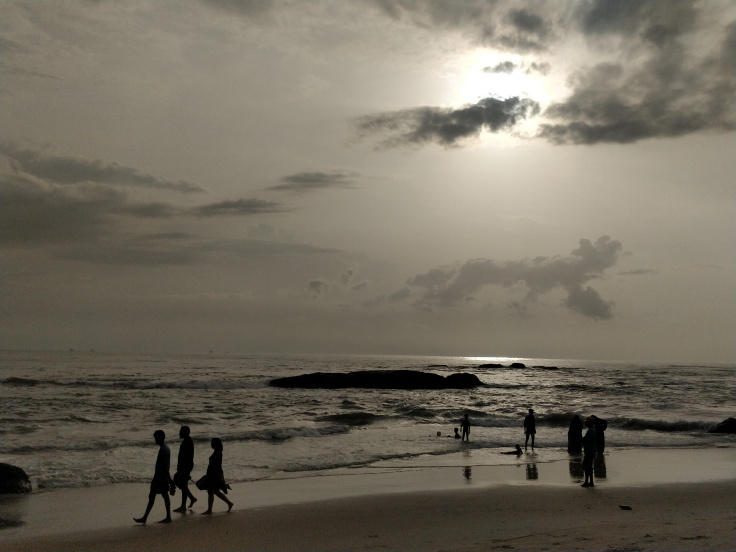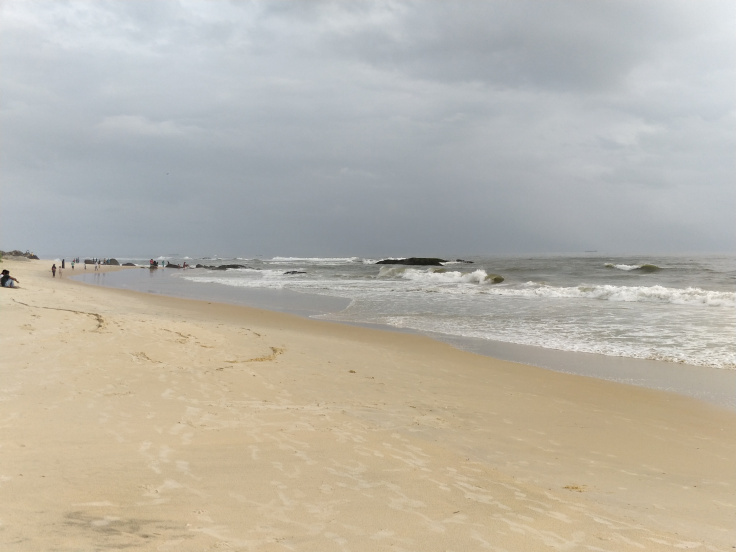 After the seemingly endless chit- chat, we headed out to see some favourite zones of the silent city. Since I had my tour guide along with, the itinerary was pre-decided. We went straight up to Surathkal beach first which is a 17 km drive from Nandi Gudda. I haven't visited many beaches but I have covered some bits of west & east coast - Kolkata, Goa, Mumbai , Bali being a very few places where I had some chance encounter with the sea. So you don't need to trust me but hear me out when I say this, it was one of the finest beaches I have seen so far. The pristine experience of sunset and feeling clear sand beneath your feet that they talk about when describing an isolated beach in Andaman & Nicobar -all came true that day. It wasn't as desolate but the lack of any food stalls around made the purity of sand a possibility and on top of that, the crowd was a select few. The magnificent sun that went down in all the glory that evening reminded me how graceful and relieving getting older can be, lest you take the decisions that you can own up to.
It's strange how nature can derive simplicity in thoughts while we keep camping, meditating,attending life art lectures searching for these simple - back to basic thoughts. Another thought the inspiring red sky made me wonder upon was: it is just as important to sit back and reflect as to keep chasing dreams persistently.
A few rain drops that followed the sunset made it a perfect setting and we both had a ball of time boomeranging, clicking pictures, loving all the nature that surrounded. Oncethe dark was setting in, we decided to pay head to our bleating tummies. Baker's treat was the next on map. So, I don't like cheese as much as my brother, but the cheese fries and garlic bread pizza along with cold coffee made for more than perfect snack meal for the rainy drops trickling on the glass pane beside us. Mangalore was slowly growing upon me and the silent city seemed not so silent in the busy chattering at this seemingly famous café in Hampankatta area.
As if Arnav wanted to prove how happening the city can be, he took me to a brewery nestled in the city center around Lalbagh- Sprindrift. The lounge cum restaurant had a different feel to it - busy yet at the same time classic. Few more conversations followed and we decided to call it a night at 11:00 pm with one last order. I was left with nothing with the wonderment of how beautiful that night looked - the same city which seemed like a junkyard the night before seemed like a perfect place of balance today with elements of serenity, excitement beaded all together so beautifully.
The next morning brought in a wave of lazing around and of course, some shower drops followed within minutes by the scorching sun. Within just 36 hours, I had gotten used to the Mangalorean usual ritual of ' kabhi dhoop , kabhi baarish'. Once the domino's pizza had made way into our stomachs and the sun had risen up the horizon as if it will so strong for another 5 hours, we started off to another beach in this land of beaches -Tannirbhavi beach. However, the rain part of our slogan became active in our way ahead and that's when the raincoats in our bag packs came to our rescue. Drenched in the lush green land around, we reached our destination finally. It was almost as if we had won a battle against the raindrops.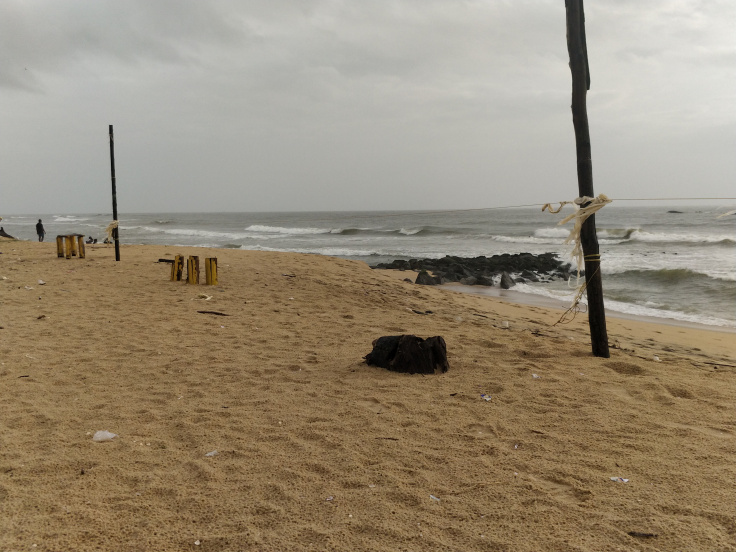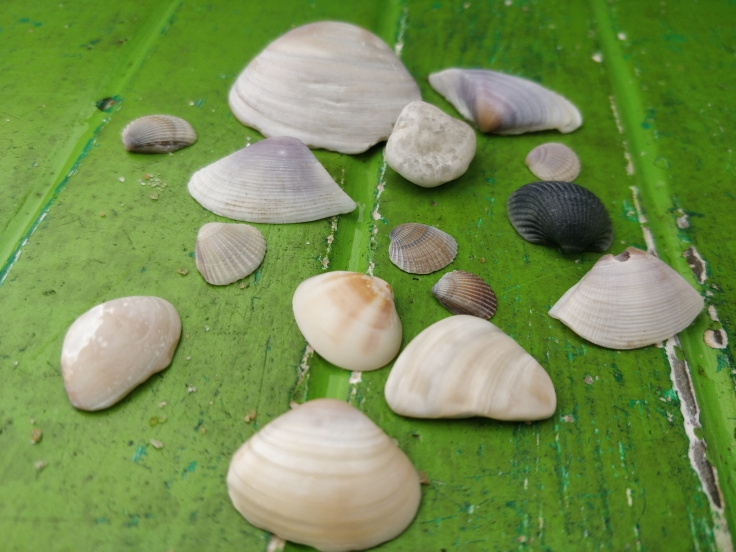 Just when I had thought, there can't be anything better than the serene beach I saw a day before, Tannirbhavi happened. The ferocious waters, the commercial food stalls around, many people around vis-a-vis the slightly desolate experience at Surathkal made for a perfect contrast. The sand was also much coarser than the one on Surathkal. We picked one of the many benches on the beach and then my feet hit something hard. With the heap of raincoat around, it took me a while to realise that this was a harmless shell on the seashore. Beside that was another and then another. This gave us a perfect evening pastime of collecting amazing seashells on the seashore. And then we decided to invite another of our friends to this setting of rushing furious sea at Tannirbhavi and the dark clouds surrounding us- a hot steaming cup of tea and equally hot & satisfying maggi. If someone would have asked me what joy is, I would have probably said: this moment right hereis all joy.
My partner in crime since childhood - my kid brother all grown up making me visit places, Maggi, tea and water all around. What could I have needed more than that?
Well, we figured nothing but can ice-cream at Pabbas can beat the bias-loop we were getting entangled in right then. As if Arnav was a wish genie that day, 25 minutes later we were at Pabbas relishing their best 'Gadbad'. Just like the name, the layered ice-cream definitely did a lot of heavy movement in our mind box. Next, we decided to go visit a temple after ages. This was the GokarnanatheshwaraTemple in Kudroli.
I had no idea why we were there in first place (none of is very religious), so the grandeur and the brilliant architecture we witnessed came as a relief and we knew we were not going to completely ruin this visit. Straight up, we went to the light& water show in what seemed like a still picture of all gods having a conference. Of course lord Shiva being the patron of this temple stood at all corners huge and tall as if to re-emphasise on their Omni-present status. All the ting of cynicism aside, it was a beautiful site. We visited all corners of the temple next and were mesmerised by the sheer beauty of power of faith. All those people who were paying their respects, many of them truly really believed in the power of THE ONE. And I'm no atheist but I'm definitely not a believer (hence the cynicism). So in that moment of reflection and calm, I was able to just rethink on why this faith is just as needed as any other. This serves as an anchor to all of our existence. If we don't have faith in why are we here, why we would still keep existing and will matter to someone, life would probably be a meaningless gliding through. With that note of neutrality, we sat down to discuss how the past few years have panned out for both of us. How despite being connected, we missed out bits of our lives moving at different paces indifferent cities one after another. The divine intervention was finally coming through, it seems. My little brother next recounted his first visit to this temple when he felt all alone in Mangalore in second year and how he felt homesick, in need of calm amidst chaos that living away from home can bring. And in that instance of him sharing his vulnerable side, I felt so connected and disjointed (from that part of his life) at the same moment. It almost felt like a failure of mine as an elder sister. The only lingering thought I had was 'Why wasn't I there for him? Why did he have to feel that way?'
After our sober moments of reflection, we decided to extend our little chat over a cup of tea and went next to ' Chai café'. To be honest, the tea and food were horrible, but the ambience of the place & our own state of mind made it all worthwhile. It felt like we were finally connecting after almost 10 years. I didn't realise how living apart had impacted each of us and we both had the faintest idea of who these two new individuals were. But this visit sure did make us accept the"new" each other with all the warmth in the world.
The next morning was one with a ting of heavy hearts and lots of resurged love & respect between our sister-brother duo. The magic of Rakshabandhan- The day ofcelebration of this unique bond between siblings had worked after all. After my little brother again made me proud with a gift off his own stipend, it was finally time to bid goodbye.
And the entitiesI had to say goodbye to weren't singular. The bike we had ridden upon, the beaches that had made me fall in love with them, the ever-changing weather of this town, the chameleon nature of this seemingly calm town, Raksha( a friend my little brother introduced me to; she hasn't found a mention here so far as the nature of our interaction is up & beyond the scope of this blog and nothing lesser) and of course my little brother - all of them seemed to stand in a huddle to try and hold me back. But a goodbye is not just a bye- but apromise to meet again. On that note, we left Nandi gudda & headed back on bike with a cabin sized suitcase of mine (don't ask me how easy it was - coz it wasn't: P) on the bumpy roads of the beach town.
As we reached and knew it was time, I just felt a wave of strength across my own self - one of a strength of our bond and warmth and I was no more sad to be leaving the dreamy town or my brother. I was happy as it had the promise of meeting yet again & again to create a 100 truckload of memory all over again!
********Thoughts in flight-mode **********
Mangalore - you proved me wrong.
And boy, I haven't been happier with anything that hasn't lived up as per my expectations.
I'm happy you proved me wrong when I thought the first night- we had all our quota of talks over.
I'm happy how you swept me off my feet with your ethereal balance of beauty, calm, excitement& joy all at the same time.
And last but not the least- I'm happy you let me be a part of the dream that you - even though for just 2 days!