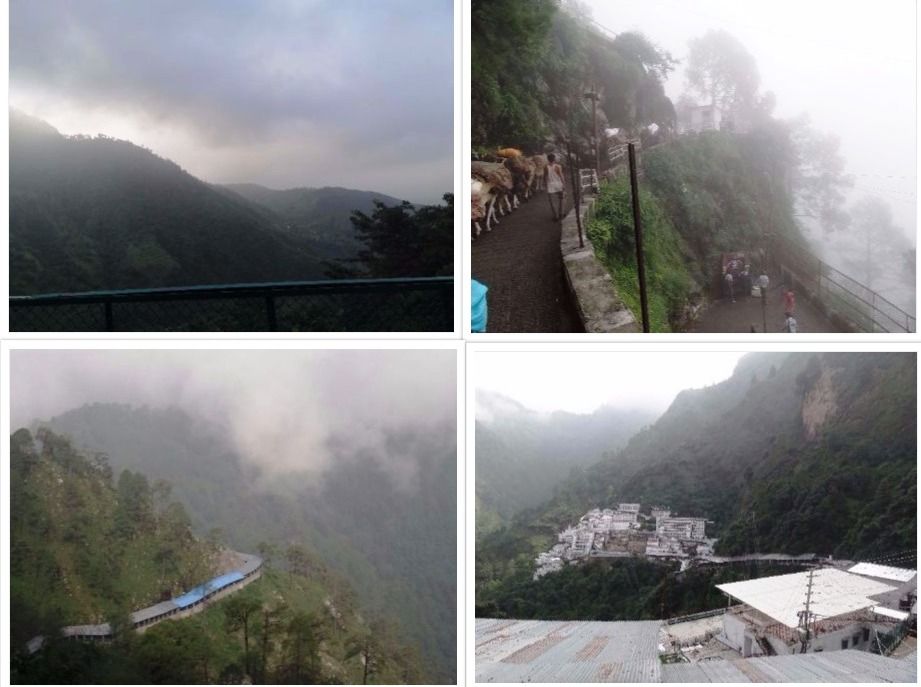 It was indeed a sudden decision to pay a visit to Mata Vaishnav Devi (Goddess Mother) temple situated atop the Trikuta mountains of Katra in the state of Jammu.
Earlier it never crossed my mind that I would pay a visit to this holy place anytime soon, however we Indians hold this belief that Mata Rani calls you whenever the right time comes. It always shows signs of calling someway or the other.
Soon, I found myself taking a flight to Jammu and then heading to Katra and checked in at the hotel.
Next early morning, I left for the shrine. Though the distance from Katra to the temple is Just 12 km but the shrine is a steep uphill climb. Now, you have many options to mount up the hill. Either you can go on foot, hire a horse, fly by helicopter or go by palki. Since I was short of time, I chose to ride on the back of a horse. I started at around 6:30 AM. The guide also walked along with the horse. On my way to the shrine, I encountered pilgrims chanting "Zor Se Bolon ,Jai Mata Di"; and "Saare Bolon, Jai Mata Di"; which naturally evoked a sense of spirituality and divinity in me.
Throughout the journey, you also get to listen to some of the profound preachings as speakers are installed at every 100 mts. making it easier to keep your mind devoted to Spiritualism, Religion and God.
Witnessing those lush greenery of mountains half covered in the fog was an added treat to your eyes.
I reached the holy place by 9:30 AM and followed the queue that led to the three-headed rock formation which represents Goddess Kali, Goddess Laxmi and Goddess Saraswati sitting in the act of meditation. It was a sight to behold and you could feel that innate happiness when your eyes fall on those three rocks of Devis (Goddesses)
It is said that your pilgrimage to Mata Vaishnav Devi is incomplete if you miss out on visiting the Baba Bhairav Temple. Bhairav Ghati is, although, a place of the mythological villain, however, it is considered a holy place because the villain was killed by Mata Vaishno Devi. It is located 5 km above the Vaishnov Devi Temple.
You can also amuse yourself on the way by witnessing monkeys and langurs lingering around the temples and snatching prasad (holy food) from the devotees.
Soon, my journey came to an end as I started descending to Katra and got ready for my next divine destination i.e. Golden Temple in Amritsar, Punjab.
Points to Note:
1. Films like 'PK' and 'Oh My God' has actually portrayed the reality, i.e. Business in the name of God.
2.Shop owners will persuade you to buy Chunari, topi etc. and those things would be offered to Mata Rani and will be returned to you as a blessing. All lies!
3.Beware of auto wallas, they charge Rs. 200-250 for just 1-2 km.
4. Horse riding is not that comfortable, especially if you are returning. People with a back problem and other bone problems should avoid.
5. For a helicopter, you need to book at least 10-15 days in advance.
6. Palki is being carried by four men on their shoulders up to the temple, charging an exorbitant amount of Rs. 4500 one way, but the charging amount sounds fair, though.
7. Along the way, you will find shops, eateries, pharmacies, dispensary, massaging chairs, masseurs, toilets in every 2kms. So don't worry about that.
8. Also, the authority is trying their best to improvise the road conditions every day. Even if it rains, you don't need to worry as almost the entire route is covered with tin shades.