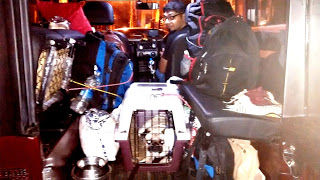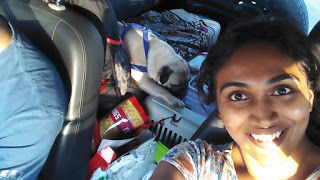 September 6th 2015. Three months after we got married, Azal, Sammy and I set out on our longest drive together. That is exactly a year ago. The Thar was stocked with medicines and food, jerrycans and clothes - almost everything we needed to survive in case of an eventuality. A Whatsapp group was created by HVK and team to guide us along the way. Our first halt was at Azal's house in Vasai / Bassein about 70 km from Mumbai city. The initial three days were exceedingly tiresome as we drove on end for roughly 1000 km, calling it a day only when we couldn't take it any longer. We started at five in the morning and kept going till about eleven in the night for three days straight. It was truly a test of our marriage, of how well we could put up with each other when the ho-hum realities of life crept in. HVK's constant Whatsapp nudges asking for location updates, drove me nuts. I found no joy in this highway race to meet targets, stopping only for fuel - for the body and the vehicle. But there was nothing I could do except wait, wait for brighter times with the promise of the unseen. Sammy stretched herself on the back seat and nibbled on some chew sticks to kill time. She would spring to action whenever we passed by a river reaching out to the horizon, a shepherd herding his flock of sheep or a caravan of camels and vagabonds sauntering to their own beat, oblivious to the cacophony of the road. But for a good part of the trip, Sammy was sleeping like a baby, snorting and snoring without a care in the world.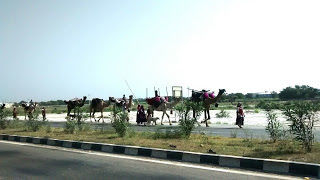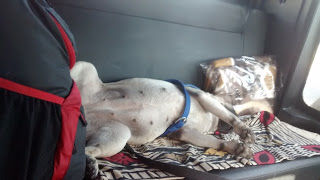 We could not make it to Chittorgarh, our target for the second day. Instead, we took a pit stop at Hotel Ajanta Palace in Ratlam, the city in Madhya Pradesh well-known for its sweet and spicy namkeens. Reaching late worked out in our favor because we had an unwelcome guest with us, neatly tucked in her travel crate, making her seem like nothing more than an extra bag - a bag that would stir and bark when neglected. Azal took her for a walk later so that she could relieve her bowels before getting cozy in bed. The next morning, we bought some Ratlami Sev from one of the shops near the railway station before heading out to the highway. Sammy's stardom first evidenced when we stopped for breakfast that morning. She attracted admirers wherever she went with her large emotive eyes sparkling with awe and her painfully wrinkled face radiating an innocence mankind has long forfeited.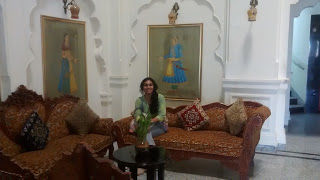 I felt a surge of emotion as we set foot on the shriveled soil of Rajasthan, the dust flying off the roads as a wealth of repressed memories stirred within me. Sammy, being adamant that she would pee only on grass, had a tough time marking the right spot to empty her bladder. The Royal Heritage Hotel in Kishangarh, where we broke for lunch, offered authentic, finger-licking Rajasthani cuisine in traditional serving platters. We drove on, determined to enter Hanumangarh before it got too late. When the roads became so lonesome and frighteningly dark that it gave a sinister innuendo, Sammy turned to me for reassurance. Overcome by a protective instinct, I let her sit on my lap. From that day on, it has been her reserved seat. She simply refuses to sit by herself on the back seat where she has the freedom to move and stretch if she pleases. We were thoroughly drained by the time we reached our shelter for the night, Rajvi Palace Hotel, an architectural delight whispering tales of the royal Rajputs who once called it home. Sammy had the privilege of taking a splash in the royal bath and then, cuddling up to her human companions on the bed that used to be the personal space of regality. From Hanumangarh, we continued our journey towards Amritsar, driving through the remote border villages of Punjab adjoining the neighboring Pakistan. This stretch was relaxed as we could afford to slacken our pace and enjoy the drive through rural India, occasionally breaking for a glass of chai. We had aloo and gobi paratha for breakfast, accompanied by some rich and frothy lassi from one of the roadside dhabas.
It is a shame to leave Amritsar without witnessing the flag lowering ceremony at Wagah border. Azal managed to get VIP seats through a close friend from college, whose father retired as a BSF officer. After checking into Hotel Grand Galaxy at Crystal Chowk, we rushed to the border to watch this extraordinary feat. The ritual is performed daily before sunset, yet hundreds of locals and tourists gather here to watch the show. Songs glorifying the nation and its freedom fighters blared through the loudspeakers fitted on both sides of the massive gate separating the sister countries. We waited patiently on the sun-baked parapet as the soldiers prepared themselves for the drill. And it began. Indian and Pakistani soldiers marched in tandem, displaying perfectly coordinated maneuvers symbolizing the rivalry and one-upmanship that has prevailed between the two nations since independence. At sunset, the iron gates were opened and the flags lowered on either side. The soldiers shook hands and retreated to their respective sides. The flags were folded and the gates were closed again. The air was shaken with nationalist slogans bordering on jingoism. Jai Hind! Alhamdulillah!! And once again it was written in blood that we can never think beyond boundaries if we hold onto our fanatic nationalism.
That night, we visited the gloriously lit Harmandir Sahib or the Golden Temple, the holiest Gurudwara of Sikhism. The temple inside which is installed the Adi Granth or the holy scripture, is located in the center of a holy tank called the Sarovar, believed to contain immortal nectar fed by the Ravi river. The complex is huge with hundreds of devotees all around the place, some taking a dip in the water, some standing in queues, a few sleeping by the side and some others involved in voluntary chores like cleaning the marble floors and washing utensils used for Langar, the distribution of free food to all visitors irrespective of caste, creed or social status. The walls of the temple has memorial plaques narrating anecdotes from the days of the Sikh Gurus, saints and martyrs and vivid accounts of events surrounding the dismal Operation Blue Star. As we sat on the edge of the tank marveling at the reflections in the water, an old Sikh man spoke to us. He said, "Please read the inscriptions and try to understand what happened". We obeyed.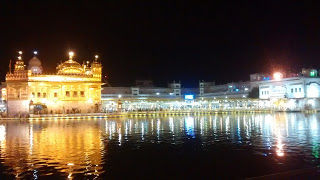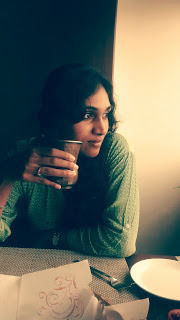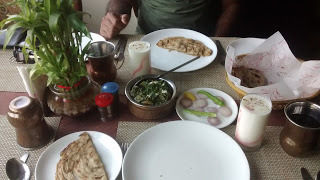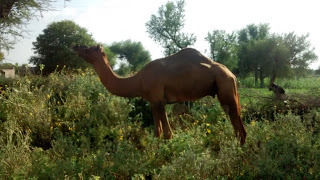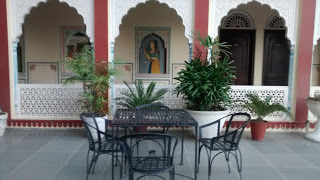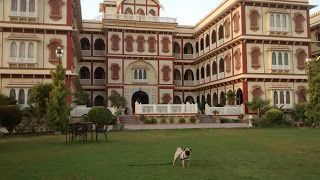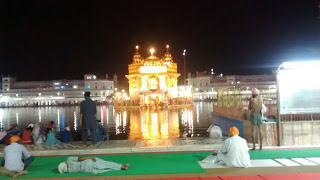 We had dinner at Brother's Amritsari Dhaba, a renowned restaurant which has been dishing out scrumptious Amritsari kulchas and Punjabi thalis for decades. As we got out, a cycle rickshawala offered to drop us to the hotel for a pittance. We were up for the adventure - a bumpy ride through the inside lanes of a heritage city would be fascinating. As the old man pedaled forward, we couldn't help but notice the amount of effort he was putting in to move the cart which was twice as heavy as him. We got off the rickshaw and crossed the road as he cycled along. My husband, upset seeing the old man pushing his limits for a meagre hand-to-mouth existence, opined that cycle rickshaws should be banned. Despite the infirmities of his age, he looked out for customers until late into the night - wished for a load heavier than he could bear just to make ends meet. What would people like him do if their means of living is taken away? One might think that he'd find a better job, one that's not as strenuous as this one. Or perhaps, he would despair over the loss of his income. We don't know. On reaching the hotel, we tipped him generously. Not because we were rich and he was poor on relative monetary terms, but because we wanted to salute the indomitable spirit of a man who would toil till death to earn a respectable living.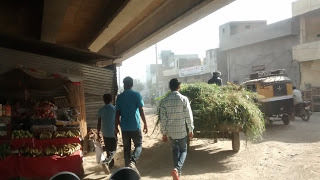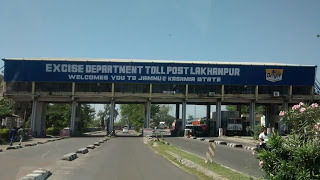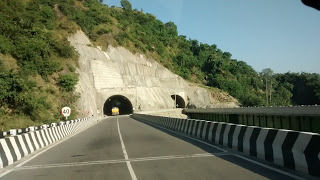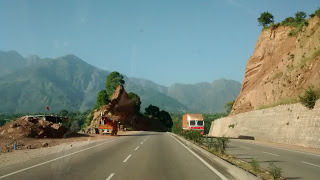 The same day Azal received a call for an interview on the 24th of that month. It became clear that we had little leeway to stray from the route that had been chalked out after much deliberation. The next destination was Patnitop, a picturesque hill station between Jammu and Srinagar. En route, we paid a flying visit to the man whose reference had earned us the privilege of sitting in the front row at the flag lowering ceremony in Wagah. The family extended a warm welcome to the three of us, with an extravagant meal and heartfelt hospitality. It was past three in the afternoon when we left their house at RS Pura, Jammu. Another 130 km to cover before we could rest for the day. Ascending the narrow, winding roads as the darkness of dusk pervaded the hills, we got an inkling of what was yet to come. Impatient to get to the hotel, Azal tried to speed on those tricky roads, escaping narrowly from a side crash. It was a warning to exercise caution. But that did not deter us from getting some Patisa from Kud, a small town on the way which ended where it began.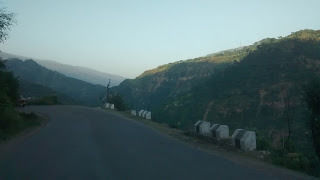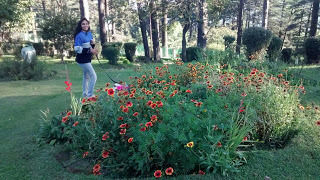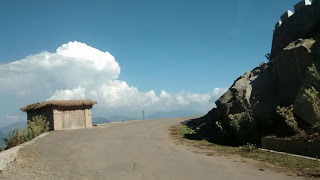 We spent two nights at the government-run JKTDC Alpine, which offered a simple boarding facility surrounded by a lovely garden. In the morning we drove to Nathatop, about 11 km from Patnitop known for its scenic views of the Shivalik range and the Brammah massif of the Kishtwar Himalayas. This was the first real break we took in five days. Touching the pearly white clouds that looked like fluffy cotton balls and posing with little kids scuttling along mountain trails, the physical strain of literally living out of a jeep began to dissipate. The emotional strain induced by a tumult of destructible emotions which had overshadowed our recent conversations, gave way to a lightheadedness that eased our tired minds. Azal was amused by the sight of majestic Himalayan mastiffs with an abundance of fur on them to offer protection from the cold. Going ahead, we arrived at the beautiful Sanasar valley, named after the lakes Sana and Sar around which touristic activities like paragliding have developed. As we parked the jeep, a group of young men started to swarm around us. Each one tried to convince us to pick his horse over the others. Eventually, we settled for a white mare and a brown stallion that carried us to the tourist spots around the valley - the Sanasar lake and golf course, a 400 year old Nag Shankh Pal temple at an altitude of 2897 metres, and a private orchard of apples, pears and walnuts belonging to one of the families living up the mountains. Sammy got a picture, perched up on horseback. We had lunch with the villagers, sitting on coir cots laid out in the courtyard of a house painted blue and green, and decorated with paper craft. The rest of the day was spent in leisure. We needed to make an early start the next day to get to Srinagar in time.