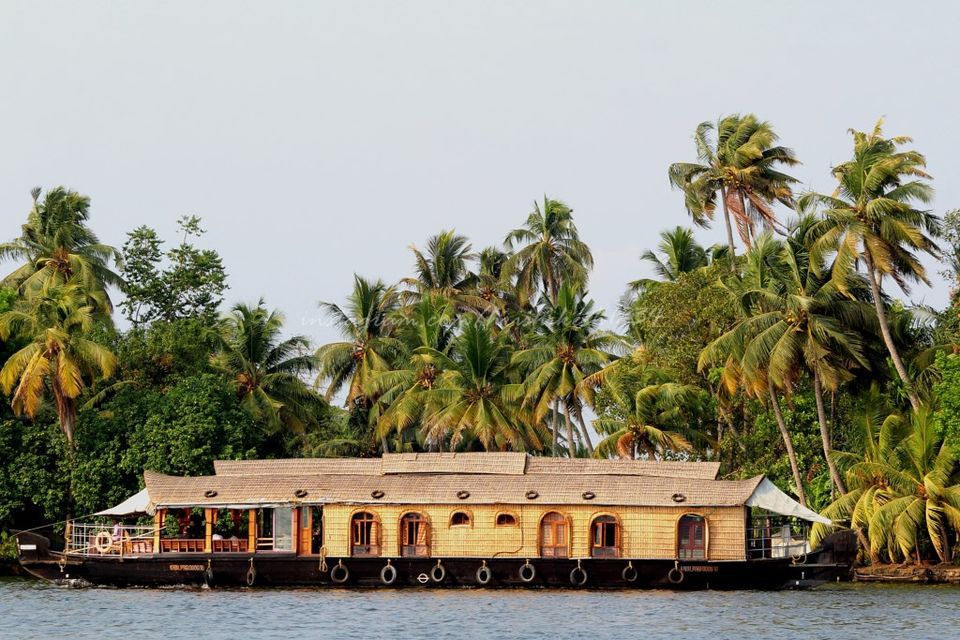 Surrounded by lush greenery and famous for its backwaters Alleppey (or Alappuzha as it is known locally) is a perfect getaway if you're slogging your bums off 5 days a week, 9-5. And that's how I decided to make a 2nd trip to this "Eastern Venice" towards the end of March.
March is not the best month to travel. In the south the forests in the hills turns dry making it difficult to trek and risk of wild fire. Whereas, if you head to the beaches then its all humid and sweaty. I reluctantly decided to head to Alleppey most of the trekking routes were banned temporarily due to the chances of forest fire.
Now this is why I love Kerala and Keralites (or Mallus, as they are fondly called) so much. We were approached by an auto, he checked where we wanted to go, got confused a bit with the description of the address, and when he realized the place dropped us there at the same rate that he would charge otherwise normally. In between I didn't feel a drop of fear, which may not be the same in other cities.
Allapuzha Beach
We had booked our stay in our ever-favorite Zostel. The omni-presence of a Zostel in now most cities is a saving grace for most backpackers like me. The only problem was we reached way way too early, and on expected lines there was no one; all asleep obviously. Clueless on what to do we went to upstairs where there were hammocks to rest. Something I wanted to do as I couldn't sleep all night. But that wouldn't be, as the continuous buzz of mosquitoes coupled with the extremely humid weather ensured I just sat there gazing at the invisible sea. Ok, sorry, I forgot to mention Zostel Kochi is situated right in front of the Alleppey beach. Cool, eh?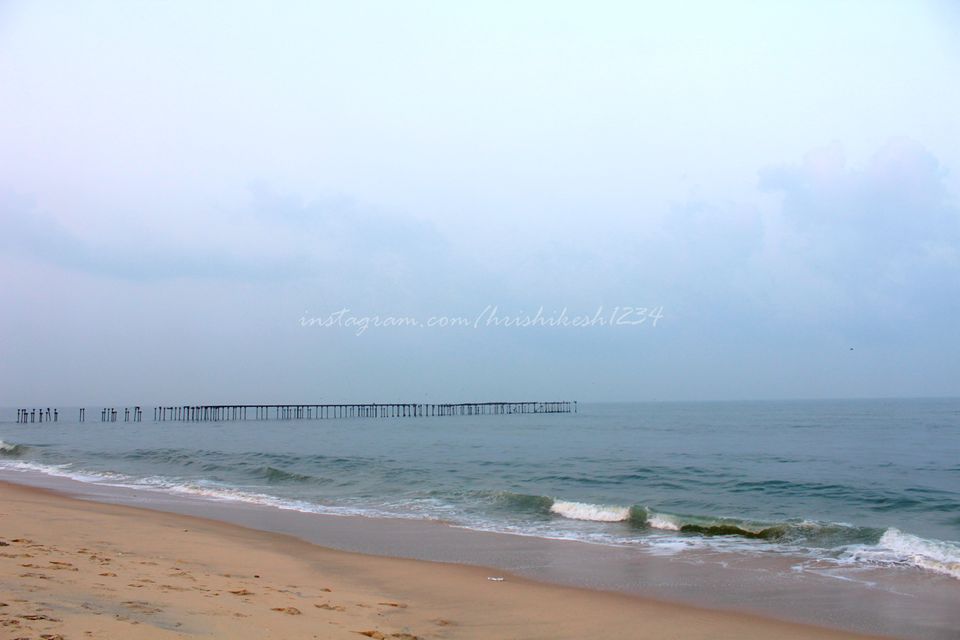 How to Reach Alleppey
Reaching Alleppey is quite easy from Bengaluru. Its just 2.5-3 hours ride from Kochi. Else, hop in on a bus to Trivandrum and get down at Alleppey. I, however, realized there are buses to Alleppey from Mysuru, as both KSRTC and Kerala SRTC operate luxurious buses. On a hot Friday evening we boarded a bus that goes to Trivandrum. This one would go via Bandipur Tiger Reserve. Couldn't sleep the whole night due to an uncomfortable 'reclining' seat (my luck). We reached Alleppey at around 4 am, pitch black around. Clueless on how to reach our hostel we just stood there under a street light for some options.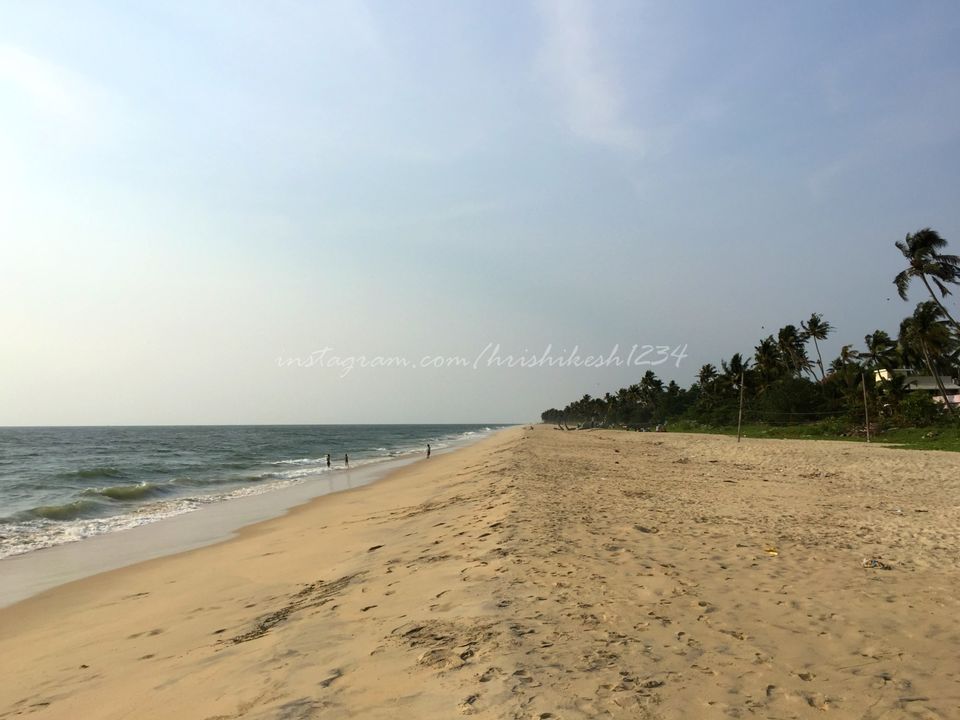 The best part of the beach is that its clean and not much frequented by tourists, which means a lot of foreign travelers would be sunbathing. Ok, its 8 am, we have been wandering on the beach for the last 2 hours now. Our friendly hosts at Zostel have woken up by now. Too bad we will get our beds in the dorm only by 11 am. Took shower in the common washroom and headed out for some needed breakfast.
It dawned and we decided to take a morning stroll on the beach. The cool sand and the warm water was a perfect start to the day. Well, the beach was still pretty clean compared to other "leading" beaches of the country. Much clean in fact. And if you're into photography then a old, broken pier can definitely give you some good Instagram worthy shots, especially during sunset. I don't remember, but I think I took more than 100 pics of just the pier! This apart you'll find hundreds of white-yellow crab doing about their business, until the sea water comes and sweeps them away. Try grabbing one of them and they will run for cover, under the hole dug in the sand.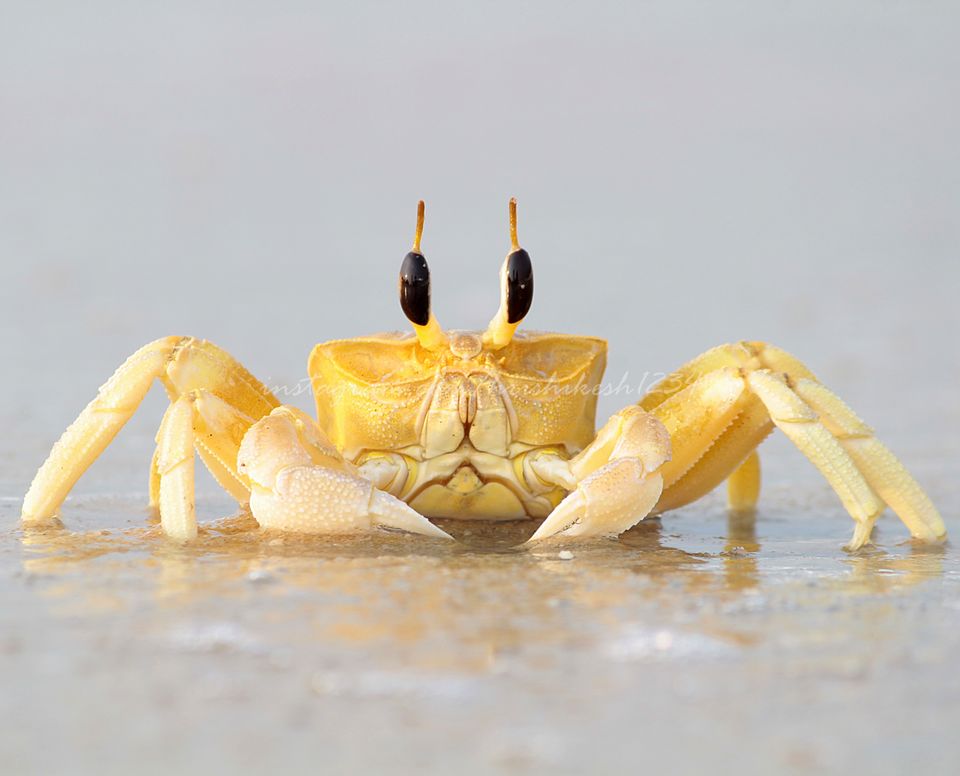 Well, not a lot of eating options or joint are there on the beach shore. You'll find couple of open air restaurants to the right of Zostel, and they serve amazing food. With a lot of time to kill we just sat at Cafe Catamaran with the soft breeze crashing on our face. Our beds were ready by the time we went back to Zostel. We didn't have any plan sort of formalized, I just dived onto my bunker for some couple of hours of sleep. After some good rest decided to enjoy the evening in the backwaters of Kerala. Your travel diary is incomplete without the mention of the Alleppey backwaters.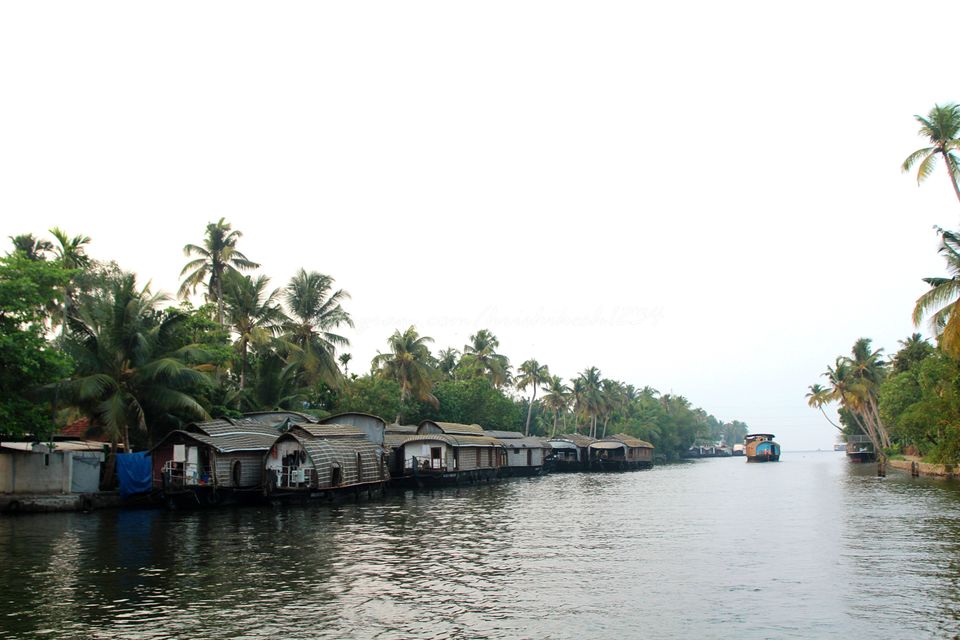 I think Kerala has the most honest auto-drivers. I never felt over-charged to wherever I went, considering the travel distance of course. Anyways, we went to a place call YMC to get a boat. Since it was a Friday, and there were less tourists we were able to negotiate well. For 3 hours our boat-ride would cost us Rs. 1500, and the entire "shikara" to us. Once the boat drives out of the stinky canal you slowly start seeing the beauty of Gods Own Country. Filled with lagoons, house-boats, and coconut trees this is the kind of picture perfect relaxation we all yearn for.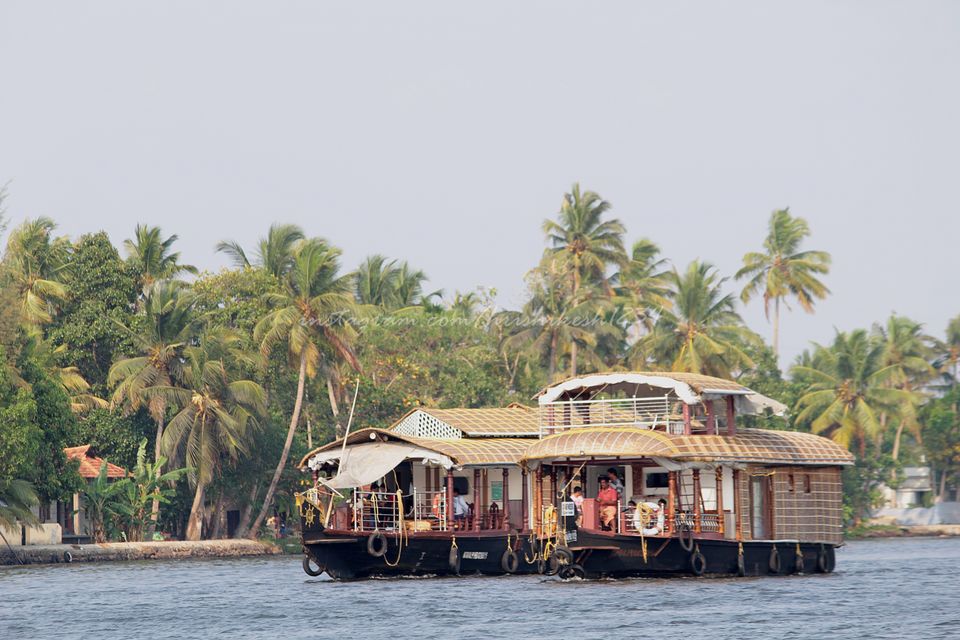 The breakfast that we had at 9 am had already made way for lunch now. At 4 pm our boat driver stopped at a small restaurant that lies "on the way". We were craving for some nice, spicy fish. Ordered for a traditional Kerala banana leaf meal along with some fish gravy and fresh prawns tandoori. Lip smacking food.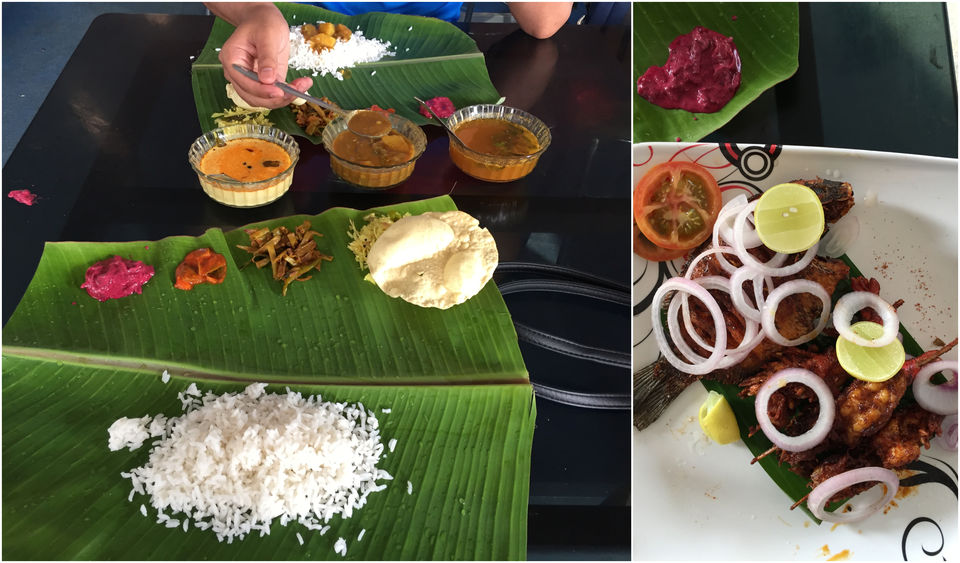 Back on our boat and we soon enter the vast lake. Damn, this water body is MASSIVE. We were cruising under a azure sky and above a vast clear water. Just sitting on the tip of the boat and panorama in front is sure to make your heart and mind in peace. This is where words fall short and being there in the moment speaks louder.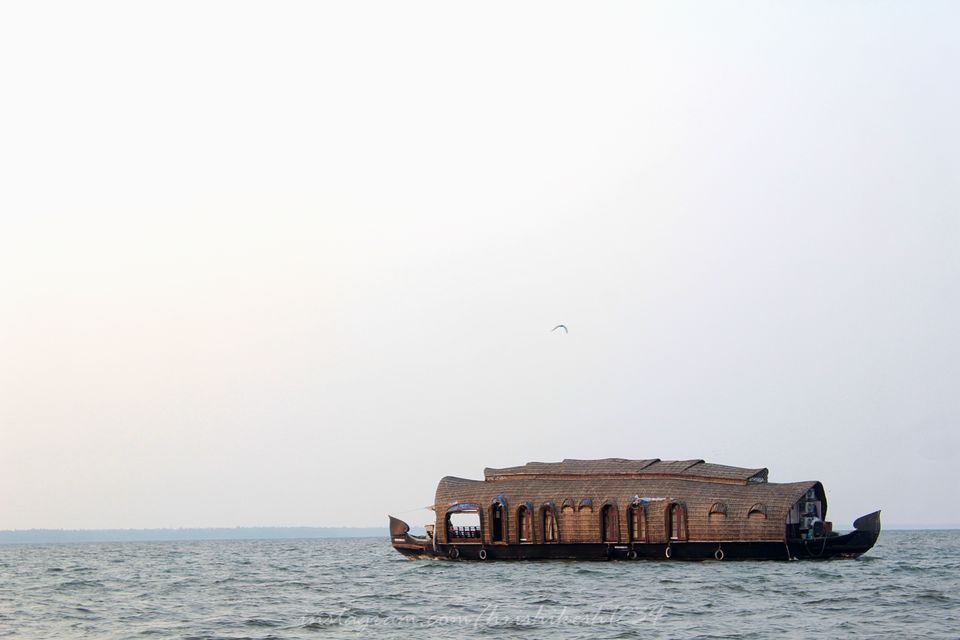 By 5 pm shikaras and the house-boats start stationing themselves for the day. Ours was slowly making its way to our origin. By 6 pm we are back to landmass, after a fulfilling experience. Paid a tip to our driver for his humbleness and professionalism. Took an auto back to our hostel, and most of the aisles were blocked. Just then I realized today is Good Friday and a lot of people are in churches and streets. Our evening was spent in the same cafe where we had breakfast, on some nice seafish & pasta. Later in the night we just sat on the soft sand, with the waves of the ocean drowning our toes.
A Day of Doing Nothing and Beach Football
We had to vacate our beds by 10 am, and our return bus to Bengaluru was at 8 pm. With an entire day to us we tried to explore places to see. Ultimately we thought lets spend the day by keeping ourselves lazying around. We went to yet another cafe/restaurant, just next to Cafe Catamaran. This one was completely empty and we entered at a time when they haven't even started their own day. We told the friendly lady that we had enormous amount of time to us, and that she could prepare what she thought would be the best for us, for lunch. She gave a smiling nod and went downstairs to prepare our meal. In the meantime we sat there on the mattress and kept ourselves busy staring at the vast ocean. I also fell asleep for about 30 mins I think.
The lady came exactly after 2 hours, and nope, we didn't complain for the delay, et al. The typical Kerala rice with mango fish curry, fish fry, and spicy fish gravy, with a bhindi sabji. That has to be one of the tastiest meals I've ever had (yes, I know I've said it a lot of times). That mango fish curry was a killer.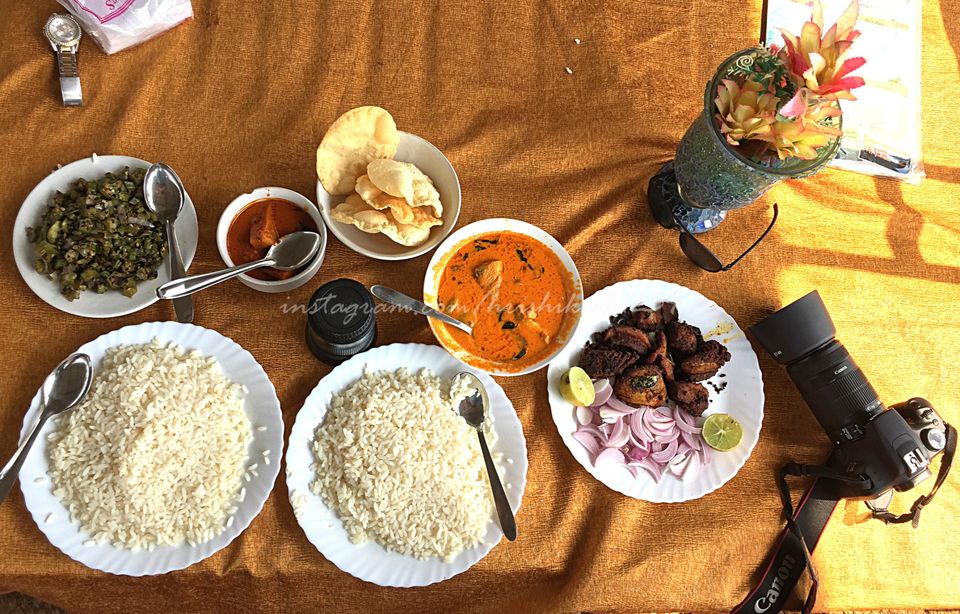 After a burp-full of lunch we went inside Zostel and lay in the open corridor for a while, before the guys at Zostel decided for a game of beach football. That was an instant yes to the invitation. While the locals watch us in awe, we displayed one of the most hilarious game of football that they may have ever witnessed. With occasional falls and suddenly the ball coming to a stop or turn on sand it sure made for an interesting game otherwise. Nevertheless, we did manage to pull in some amused crowd to our horror display. All this with the setting sun behind us.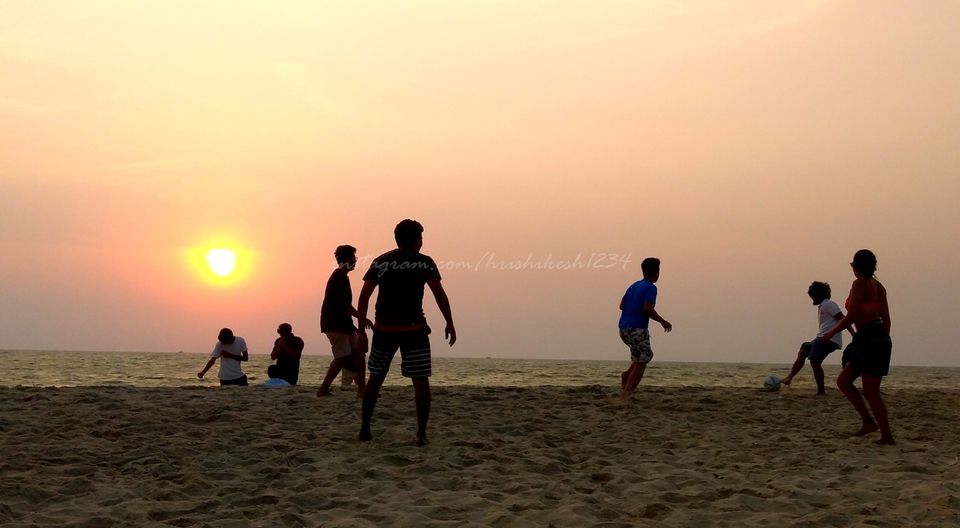 By the time we wrapped up it was time for us to bid goodbye to this paradise as well. A quick shower and we took an auto to our designated pick-up point of our bus. But not before we picked up some banana and jackfruit chips. Another must thing to buy if in Kerala.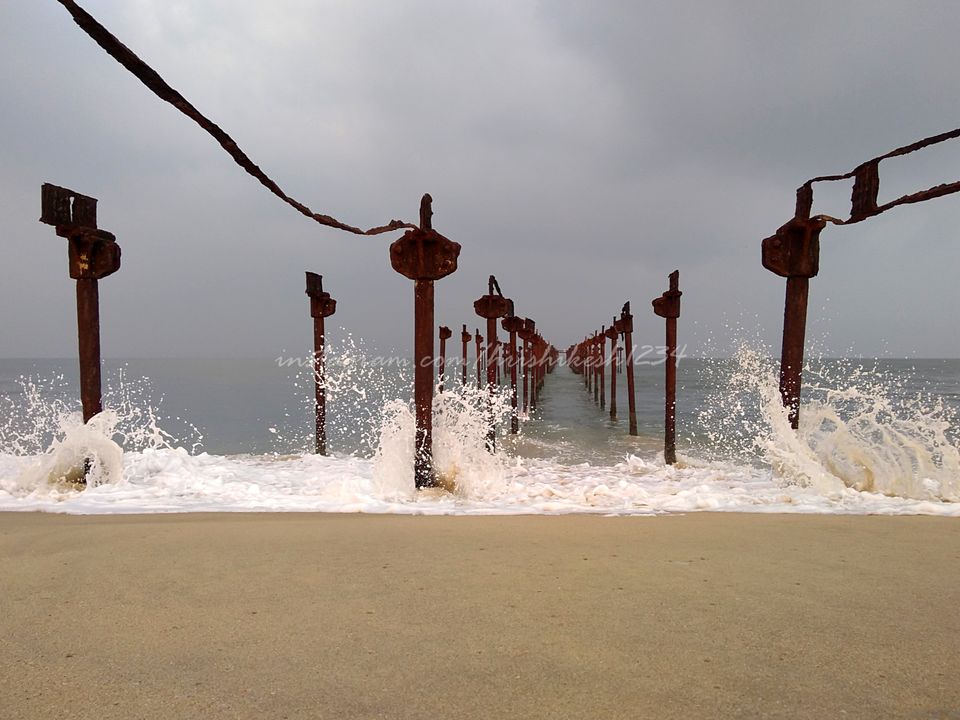 If you can then also pay a visit to the Kumarokam backwaters which is considered the prettiest in all the backwaters, but is a little at distance. Else, you may also rent a 2-wheeler and go to Marari beach. Or like us just pick one spot and detox. Kerala always allures me with its vast oceans or the hill stations dripping with floating clouds. And the proximity to Bengaluru and Chennai makes for an ideal weekend plan. So much to explore in this Gods Own Country...