Sitting in the gullies of Zanskar valley, The Chadar is one of the most picturesque and astounding trails on this planet. A 100 kilometer walk on a frozen river that has every ingredient to hold the audience spellbound; a trail that is a perfect mix of contentment and despair, calm and rage. I am glad to have had an experience that is surely accompanying me to my deathbed.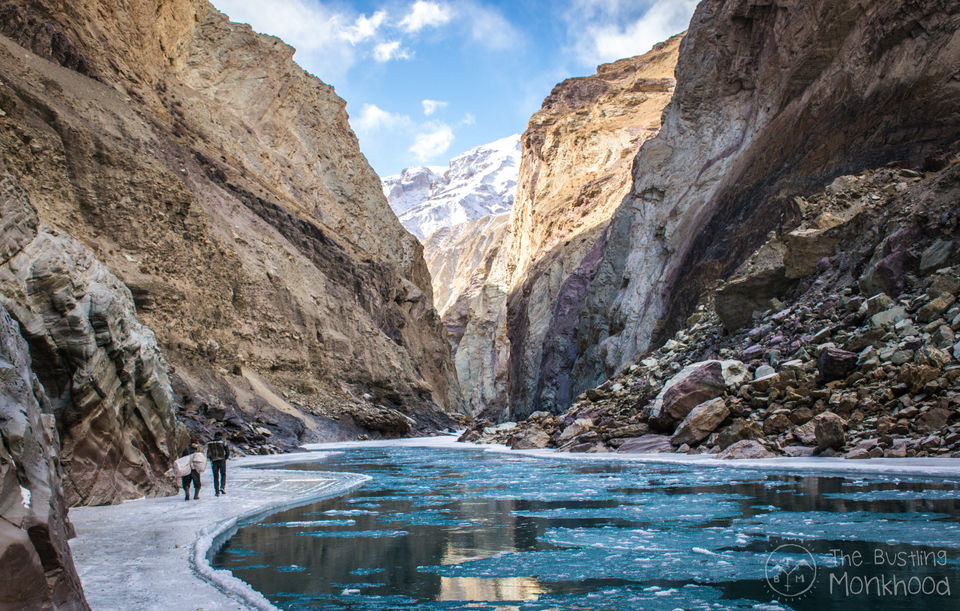 The Idea:
With all the mental persecution that has been bugging me ever since I stepped on the corporate crap, there came a time when I decided to scrap off the displeasing energies and start taking the adventure therapy a bit more solemnly. NOW, who of all the vagabonds has not heard about CHADAR: The big daddy of all footslogs in India!
Chadar had been on my wish list from the last two years, ever since I started backpacking in Northern India. But, despite of gathering all the necessary info about the trek, I was still giving myself flabby excuses for not setting off, until one day when I finally woke up with a thoroughly different vibe. It was like a Monk nudged me in my sleep, telling me not to waste another day before clinching my slot for the trek. With insufficient funds in my account and a half sleepy head, I called an old idiotic friend to borrow some chips. Strangely, he obliged me and I obliged the good Old Monk. I was now just a month away from what is going to become the most galvanizing journey of my life.
The Mindset:
Preparing to tackle something that we cannot beat is a devil of a job. We cannot conquer the Chadar, let's at least be gracious enough to embrace it. Now, there must be few fellow expeditionists for whom Chadar might have been a cakewalk. Trust me fellas, you've got some lucky butts there. Mental preparedness is the foremost precondition one cannot afford to compromise, not considering the physical debility but because of the fact that a marginal rise in temperatures can rip off our expressway over the spouting Zanskar; not many have an eye for this kind of exploit. Thereupon, it becomes psychologically necessary to be cognizant of the fact that, one hikes the Chadar for the remarkable adventure that it is and not merely for stockpiling upload worthy photographs.
Trek Essentials:
Ever since I booked the trek, the idea of pursuing -30° Celsius had been freaking me out and I certainly knew that I am not the most experienced person for such situations. The best action I could think of was to take Delhi's winter chill head-on. Cold water baths, not relying on too many layers of clothes and sleeping off in ultra-light and hardly cold resistant blankets were a few practices I followed. Consequently, I did all my bookings in Leh, before the start of trek, in non-heated rooms. These hacks actually work! Now, for a trek this mighty, you do not want to miss out on essential equipment or commodities or anything that makes your life easier. Making a check list of your own would be swell, then you can keep surfing through columns on the internet and keep updating that check list accordingly. However, make sure you leave behind all those fancy, trivial accessories. You do not want to punish yourself with a two-ton rucksack, something that might ruin your experience.
Here's a link to my own check list, hope it helps a few.
https://drive.google.com/open?id=0BzJxX_J6lfEtSGJDVi1FV0ctQ3M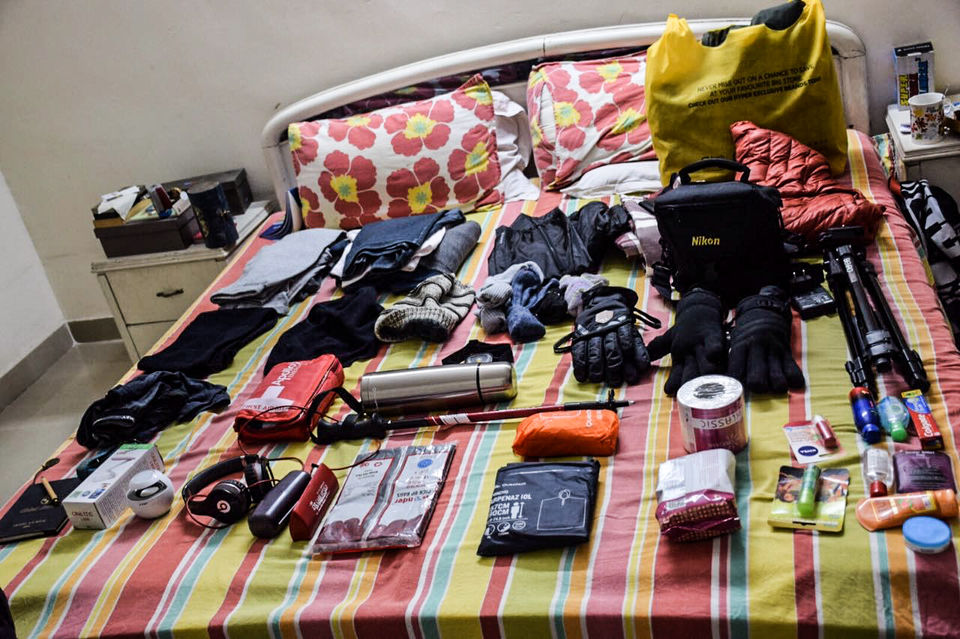 With almost every arrangement made and those tickling trepidations in my stomach, it was finally time for blasting off to the cold desert. My first biggie without a single acquaintance, and I could sense that it's gonna be huge!
Day Minus Two & Minus One: Get old with the cold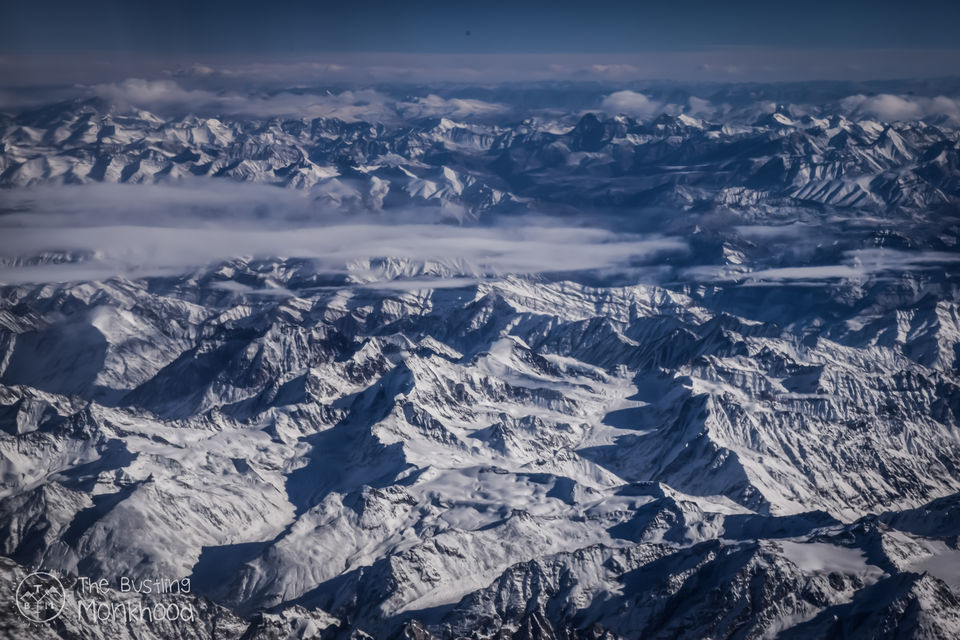 The airline crew had announced that the temperature outside was -10° Celsius, and I began anticipating an explosion of cold on my face as soon as the flight doors are open. Strangely, when that happened, I was in utter awe of how fresh and pleasant the atmosphere was. Soon, I hired a taxi to Warila Guest House, where I took some time to cool off, capture some photographs and acclimatize. Then what followed was the strenuous night, and my dear friends;
"do not go gentle into that good night. Rage, Rage, against the dying of the day",
Michael Caine's voice kept reverberating in my head, as it got impossible to sleep in a non-heated room. :-P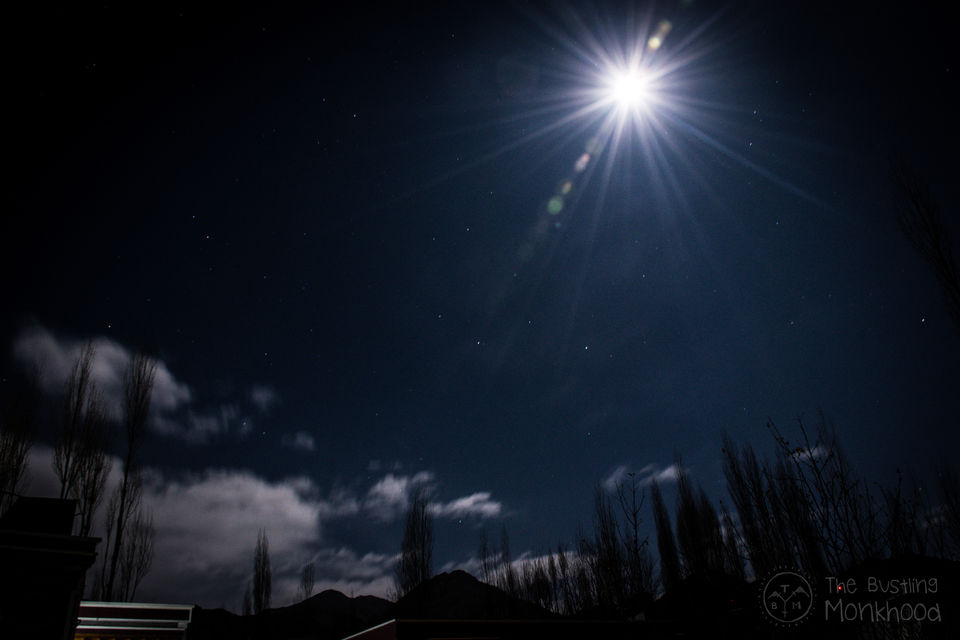 Meanwhile, I forgot to mention that I had been lucky enough to find some good company for my stay in Leh before I got my show on the road for Chadar. Thanks to facebook! Having plans to arrive in Leh a couple of days in advance and knowing that sightseeing in Ladakh can be one helluva costly affair for someone like me, I thought it would be swell to find someone to share my overhead expenses with. However, Areeb Bhai, you were so much more than just that!
For me, it's always amazing to know a co-traveler whom I find more restless than I, and Areeb Ahmad is one of those few. Owing to this, we both somehow managed to make the next couple of days possible, despite of some harsh weather forecasts. After utilizing our first day for acclimatization and a night with no sleep, we booked a taxi and kicked off our jaunt to Tangste via the mighty Khardung La and picturesque Nubra Valley.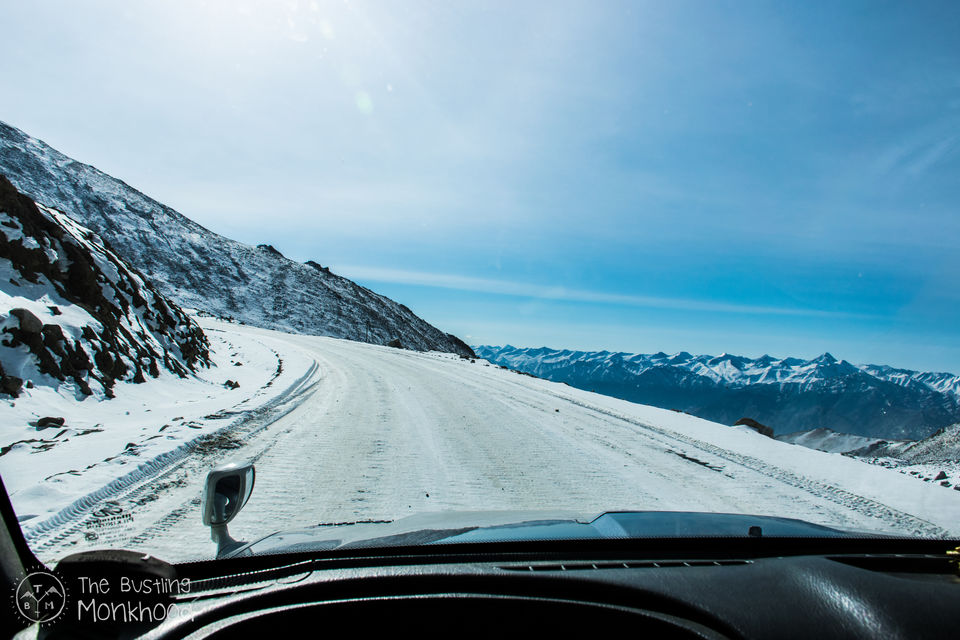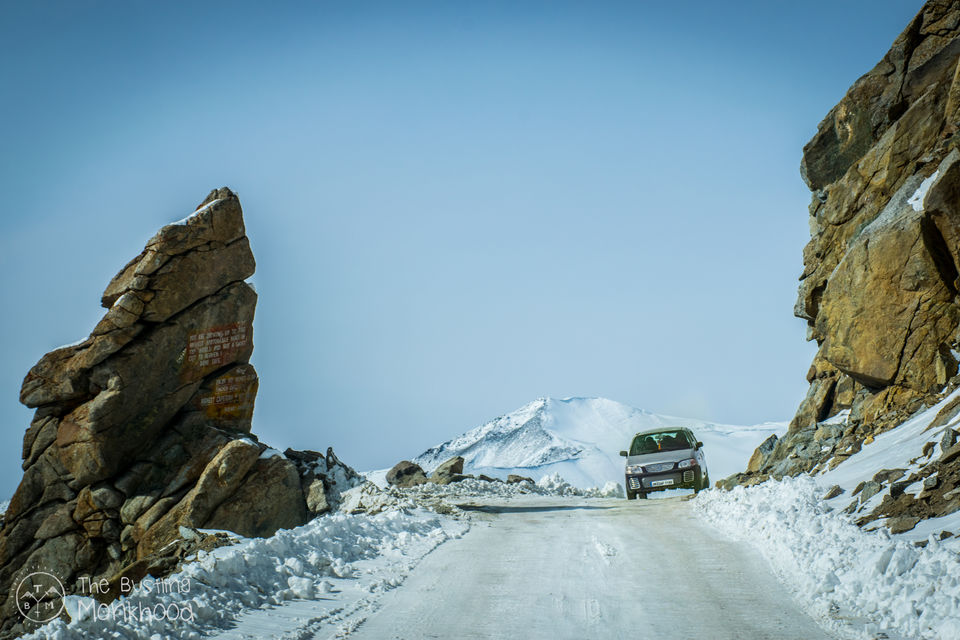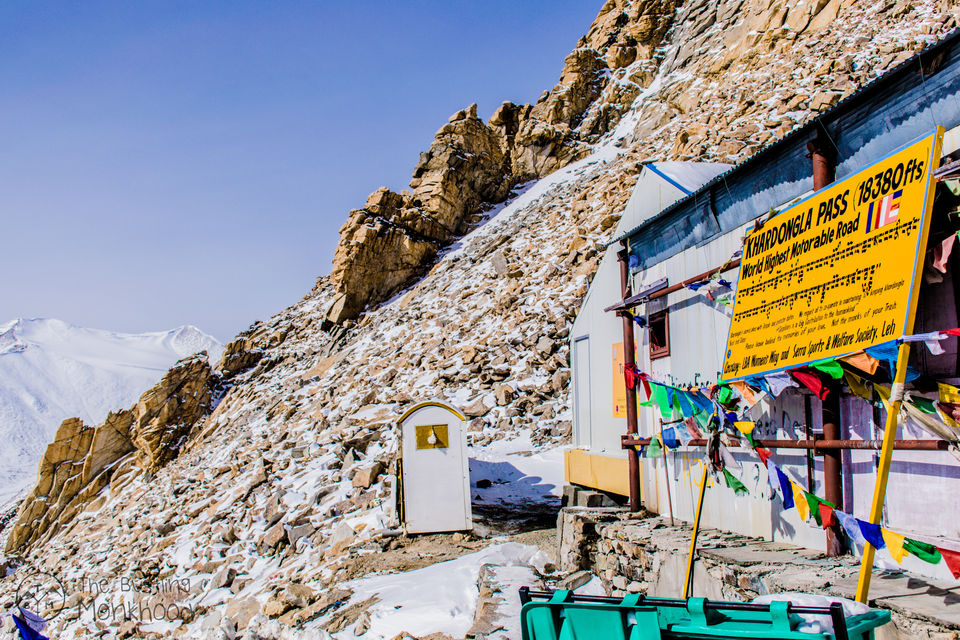 Khardund La, as cold as my ex's heart, as inhospitable as Donald Trump, was not more than a five minute affair. It was reincarnating to get back in our heated Mahindra Scorpio, away from the bone crushing cold and making our way to the serene Nubra, where we made small pit stops at Diskit Monastery and Hundar. Rest of the day was spent on the road, clicking photographs, until finally we reached Tangste at around 7 p.m. and checked into Changla Guest house, the most beautiful home stay cum tuition center in the world, to spend the night.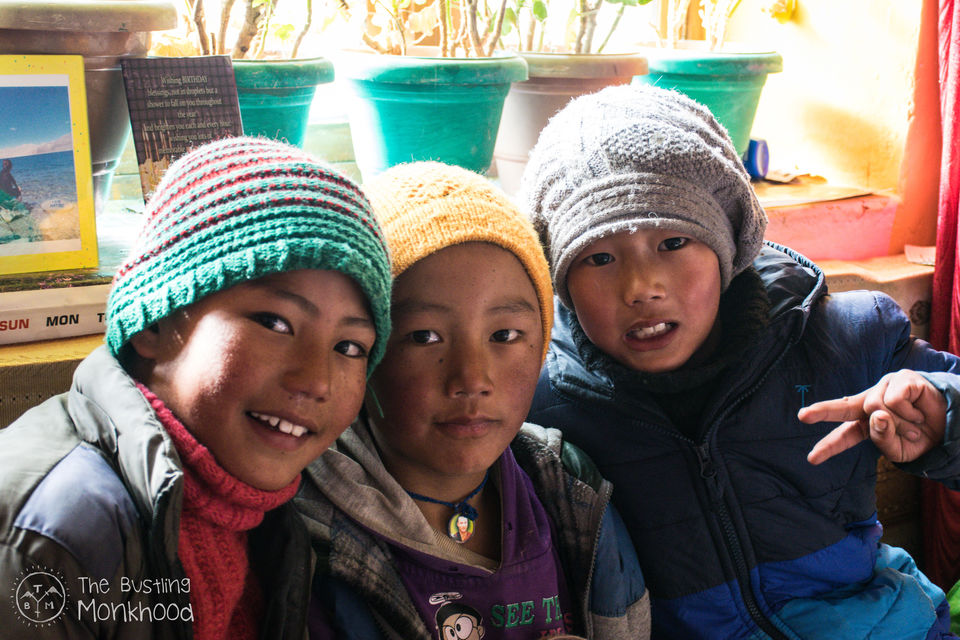 The next day, Sunday the 15th was the day when I meet my TEAM for Chadar. Even though I could hardly wait for it, Areeb and I had some scores to settle before that; the winter Pangong. Postponing our breakfast and leaving our luggage back at the guest house in Tangste, we started for seeing the lake, which was about a 40 kms drive.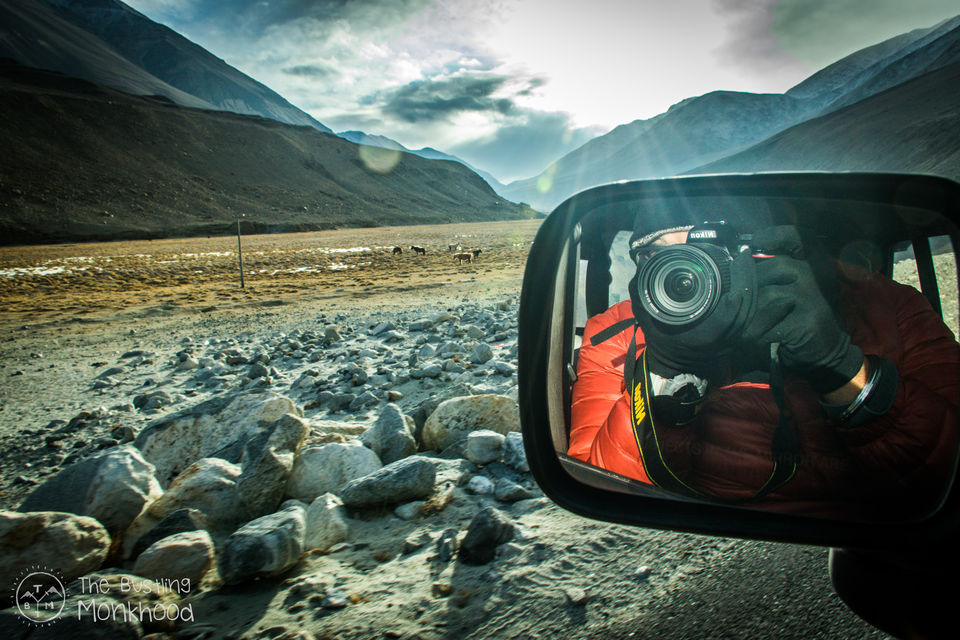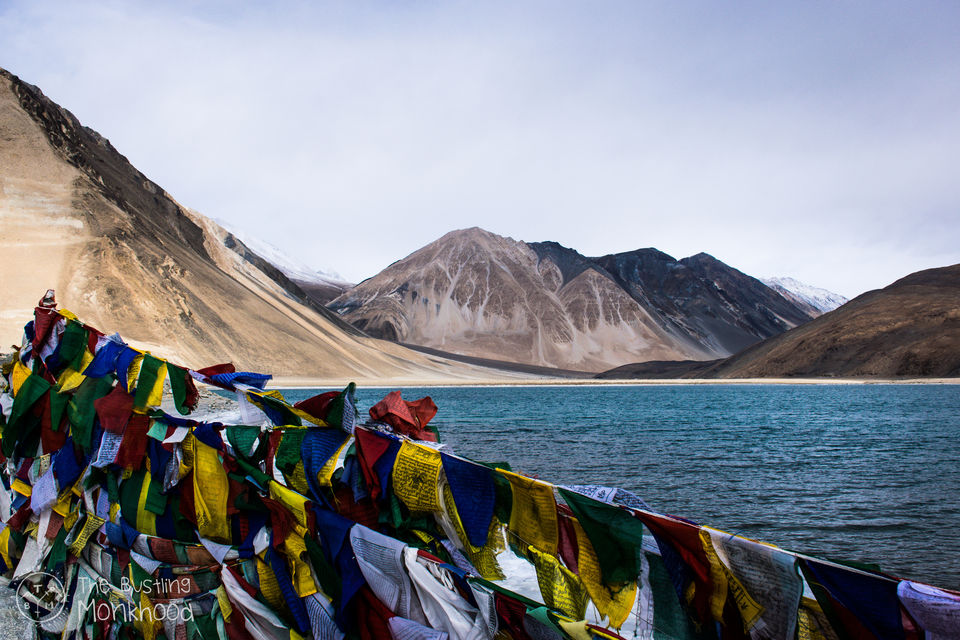 The Winter Pangong, no wonder it was stunning, had atmospheric elements that were not any better than those at Khardung La and The Winds of Winter made it even more strenuous, we were soon forced to leave. A mum yet screeching cry by nature!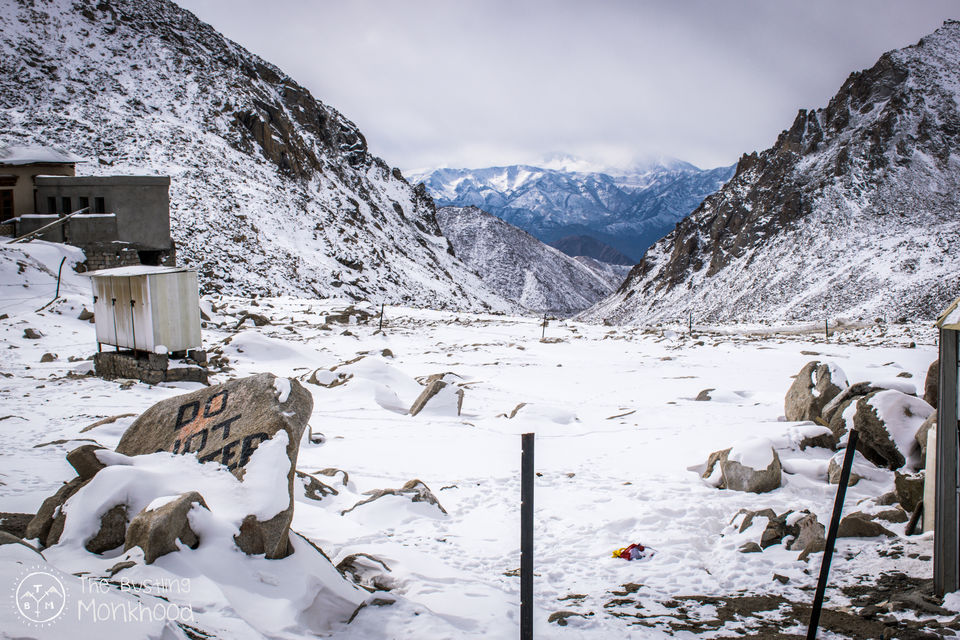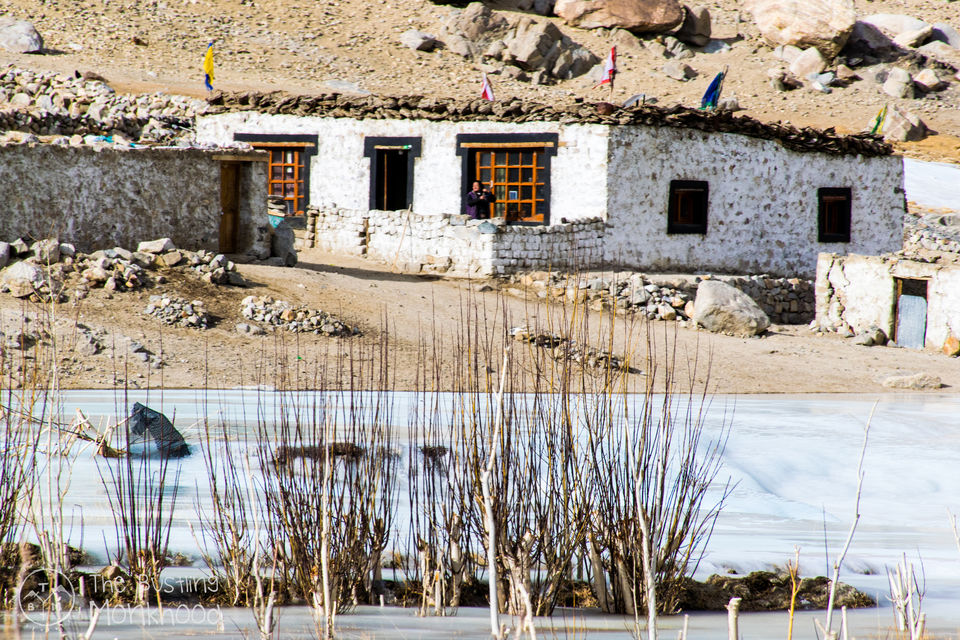 Thereafter, we made the way back to our forsaken luggage and an appetizing breakfast. Now is the time to head back to Leh and meet the Men. Men with whom I was about to shape the most fascinating story of my not-so-fascinating life.
Chadar Bandits, Day Zero & Day One: The rise and the fall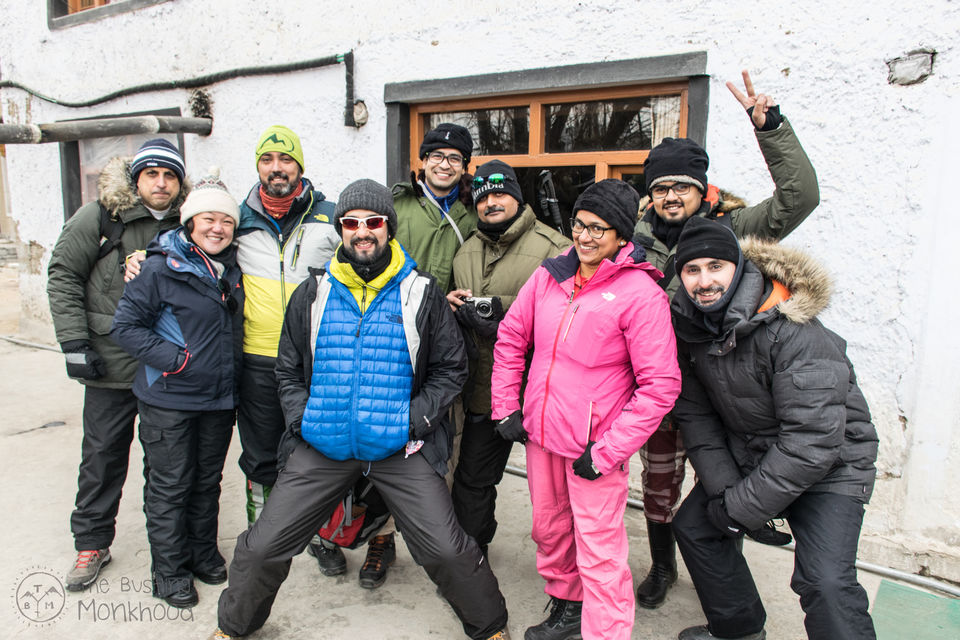 My team, The Chadar Bandits, was a group of seven cheerful men and two amazing ladies, all elder to me. I can never forget how flamboyantly Sawanjit Singh exclaimed to me when I first bumped into him, 'Kid, we might appear old to you, BUT we all are young at heart.' No doubting that Paaji! After formally meeting everyone and brief planning about the basic dos and don'ts, we settled down at Shanti Guest House, not having a clue of what the next few days have in store for us. Thankfully, we had our Group Leader, 'General' Sohrab Singh, who came with the experience of last year's Chadar.
Day One began with a heavy breakfast and a long wait for the lanky Force Traveler that was to carry us to the hop off point, somewhere between Chilling & Shingra.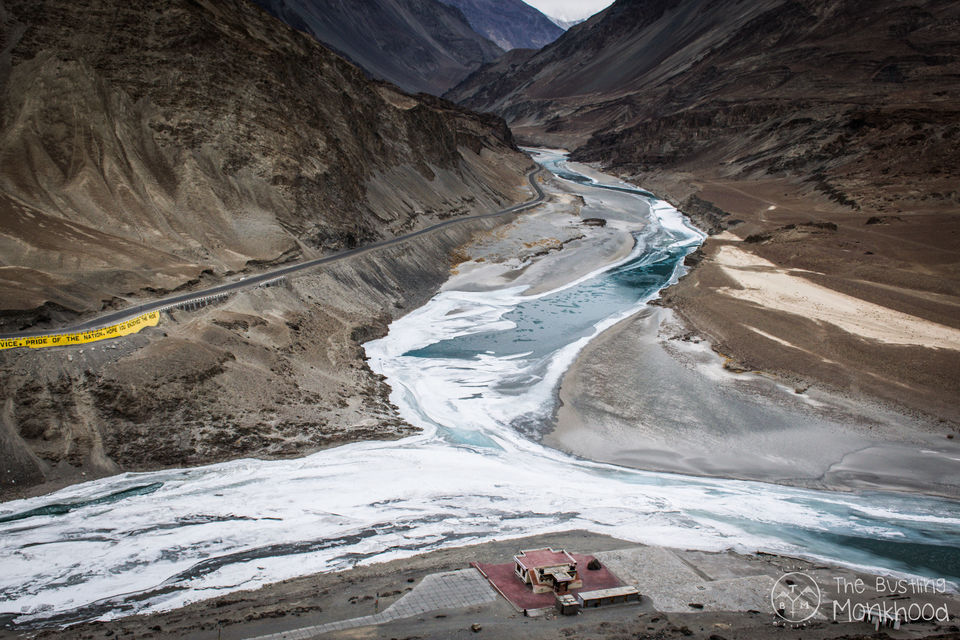 It was a dusty, giant four hour ride before we finally disembarked and hit the ground. We were delighted! Now, it was a three hour walk for us to the camps and believe me, not many of us realized how thin the ice that we walk on is.
Being just half an hour into the trek, I heard a scream from close behind, somebody calling for help. I turned back to find Gaurav Arora buried chest deep in a critically punctured Chadar and within a flash I started bolting back for what I thought would be some help. On reaching the mishap spot, trying to hand him my hiking pole to help him get out, I realized that I was a bit too far from his hands' reach. Impulsively, I stepped on weak ice and the very next moment, I was down in the Zanskar and calling for help. Thanks to the rest of my team mates, who scrutinized a wise way to pull us out.
Here's the deal, when something like this happens with you in -15° Celsius, it does not take a minute for the water in your clothes to freeze into small, heavy chunks of ice. I was stupefied to recollect that I still need to walk more than a couple of hours in these heavy clothes to make it to the camp site, and that I merely have one pair of thermals and not-so-cold-resistant jacket + lower in the name of spare clothes. Somehow we reached our camps in Shingra Koma, I changed to the limited supplies that I had, and spent the night in fear that I simply cannot afford to get drenched in the remaining eight days.
Day Two & Day Three: I learn to walk
The following day was what everyone calls the most tiring day on Chadar, all because of the long walk. I, however, have the opinion that more that the walk, it is the getting out of the sleeping bag that is the hardest thing to do today. This being done, we braced up for a long, 10 hour walk up to Tibb cave.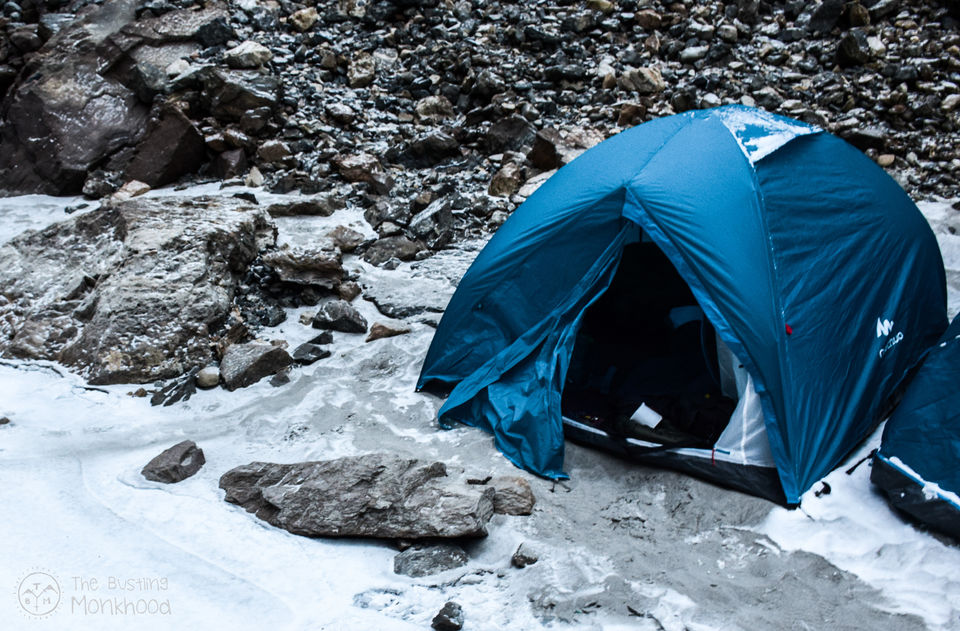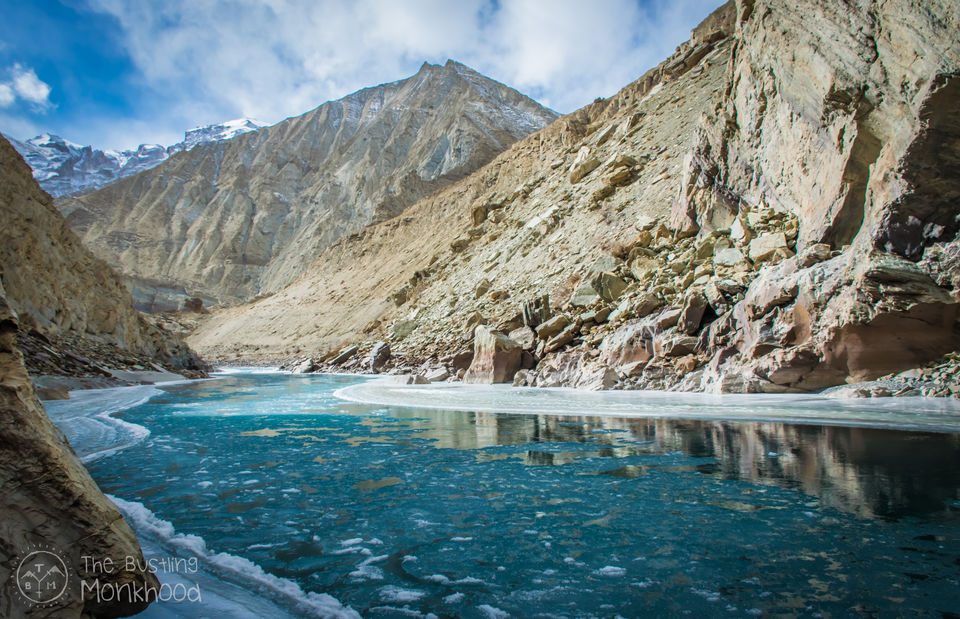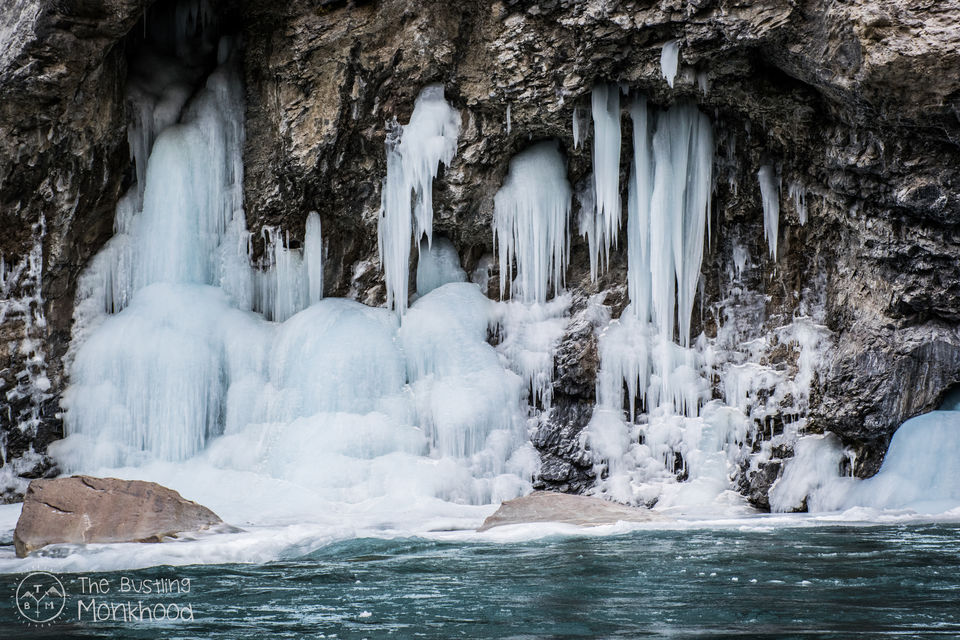 Tibb is not the conventional day 2 camping site on Chadar, as most of the hikers only go up to Naerak for which they need not expedite to this extent so as to reach Tibb on the second day. We, on the other hand, had plans to go up to Lingshed which is a day's walk beyond Naerak. But, instead of planning two days more than the others who go up to Naerak, we just had one and this forced us to cover all the extra ground on day 2. Regrettably, we could not make it to Tibb by dusk and had to camp somewhere with an hour's walk remaining till our desirable destination. I, somehow, was glad to have survived the day without getting soaked in water.
Day 3 was another long walk up to Naerak, end of road for most of the hikers. After innumerable crashes, I had somehow managed to keep my bones intact. And, even though I began to feel comfortable with walking in such terrains, there was not a single day that I finished without slipping on the adamantine ice.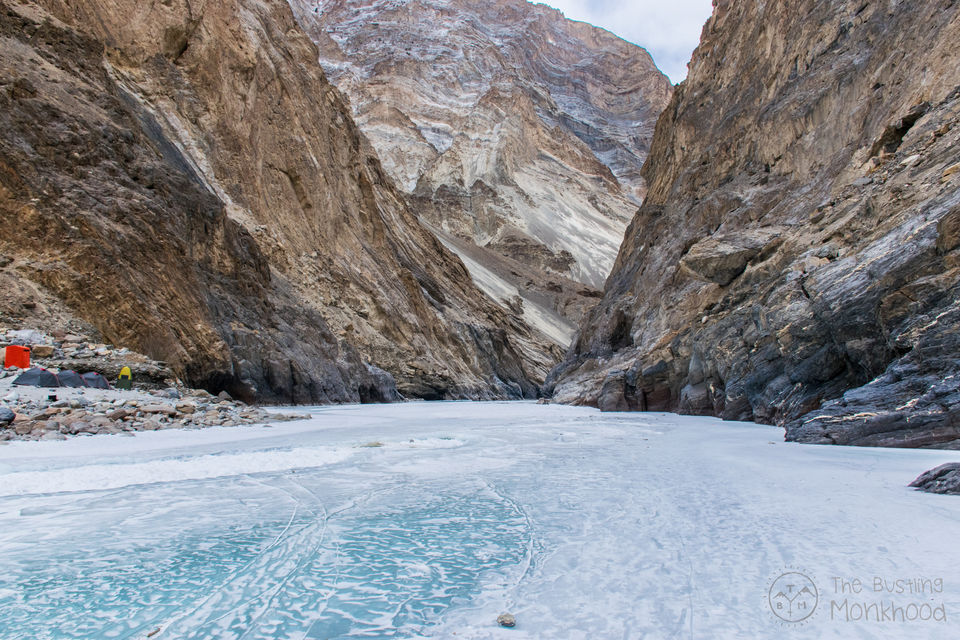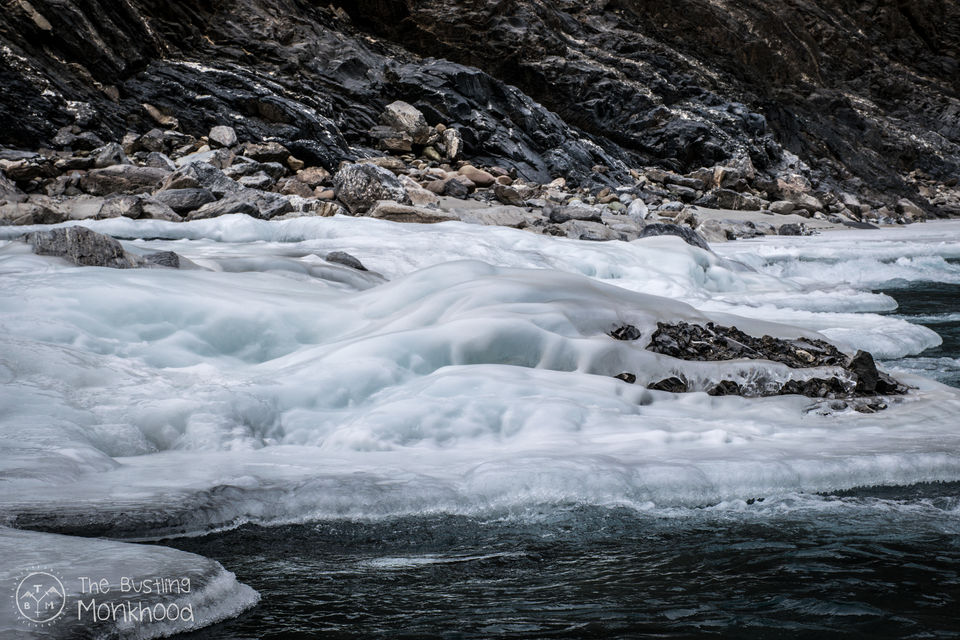 Anyhow, on reaching our camp site, we were informed that Chadar beyond Naerak is non-existent at a few locations and even the Zanskaris are finding it difficult to cross over. Therefore, it was advised to abandon our plan of going up to Lingshed. We decided to take individual calls and it was four of us who fancied going ahead. Now, the idea was to reach the precarious spot that everyone had been talking about, take another call, and even if a single one amongst the four of us backs out, we all back out. With this thought, and so many others, we called it a night
Day Four & Day Five: The Epiphany
After an uplifting send off from the rest of our team, the four of us set foot on the Chadar for one last leap. Today's itinerary included about a 3km walk on the Chadar, an hour's break for lunch before diverting from the Zanskar to climb along one of its tributaries for some 7 kms. Forty five minutes into the day's walk, we reached the hyped sector where the Chadar hardly forms and by merely looking at the whole setting, we could easily grasp that this is a periodic weak spot on the trek.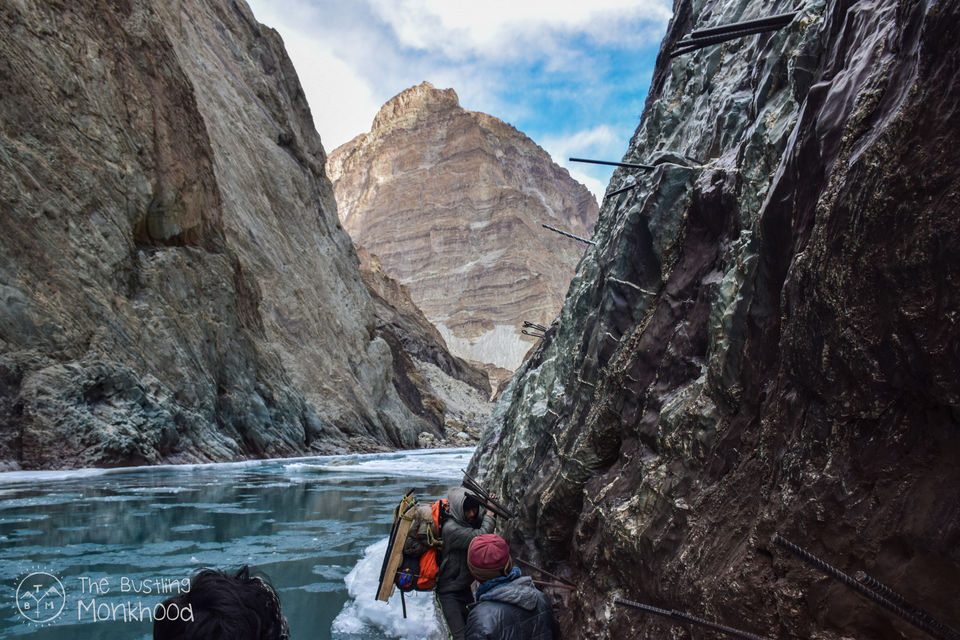 Locals have drilled holes in the upright rocks, which hold on to half meter long iron rods. So, if the Chadar is weak or does not exist, one has to climb these rods, hold on to another row of rods 7-8 feet above these ones, and then cross over. Luckily, we had enough ice on the sides of the rock to rest our toes on. All we needed to do was hold the underlying rods one after the other, make sure we had firm toe grips and proceed carefully; not such a difficult call to take after all.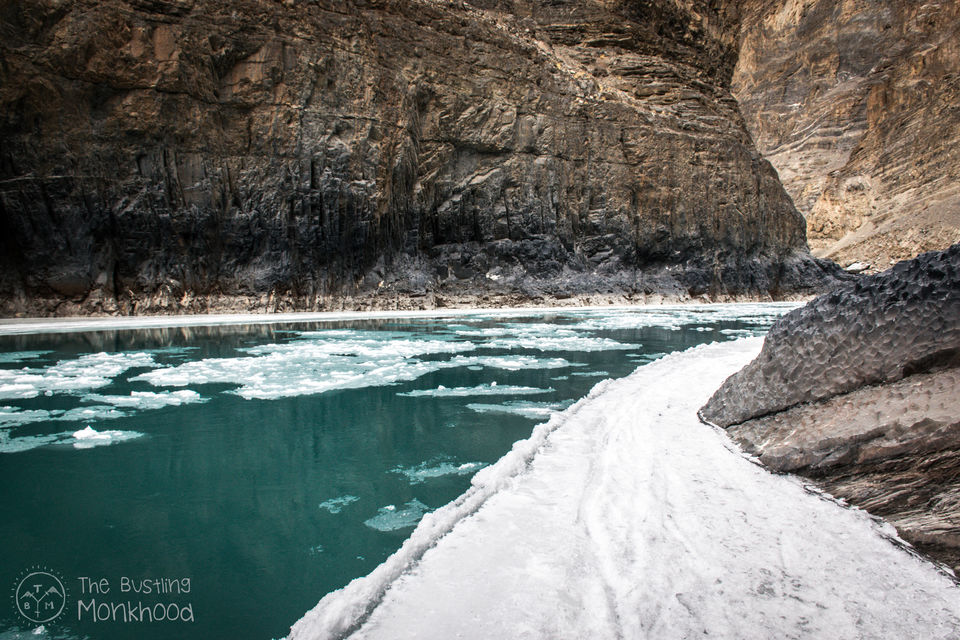 Now, the deal with this trek is, the further you go, the more it gets to you. After a brief layoff for lunch, we parted ways from the Zanskar and what followed was 7 kms of purest bliss. Something so sensational that my eyes still refuse to believe, something that I can never put in proper words. This hike up to Lingshed Gompa left me captivated beyond vision and somehow I knew, this is the closest I can get to know what beauty actually is.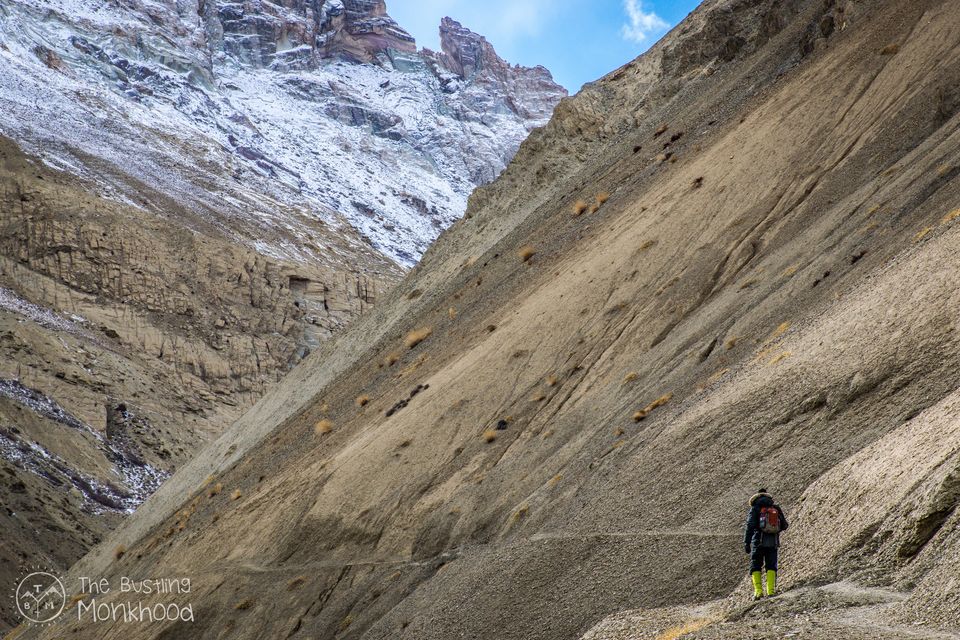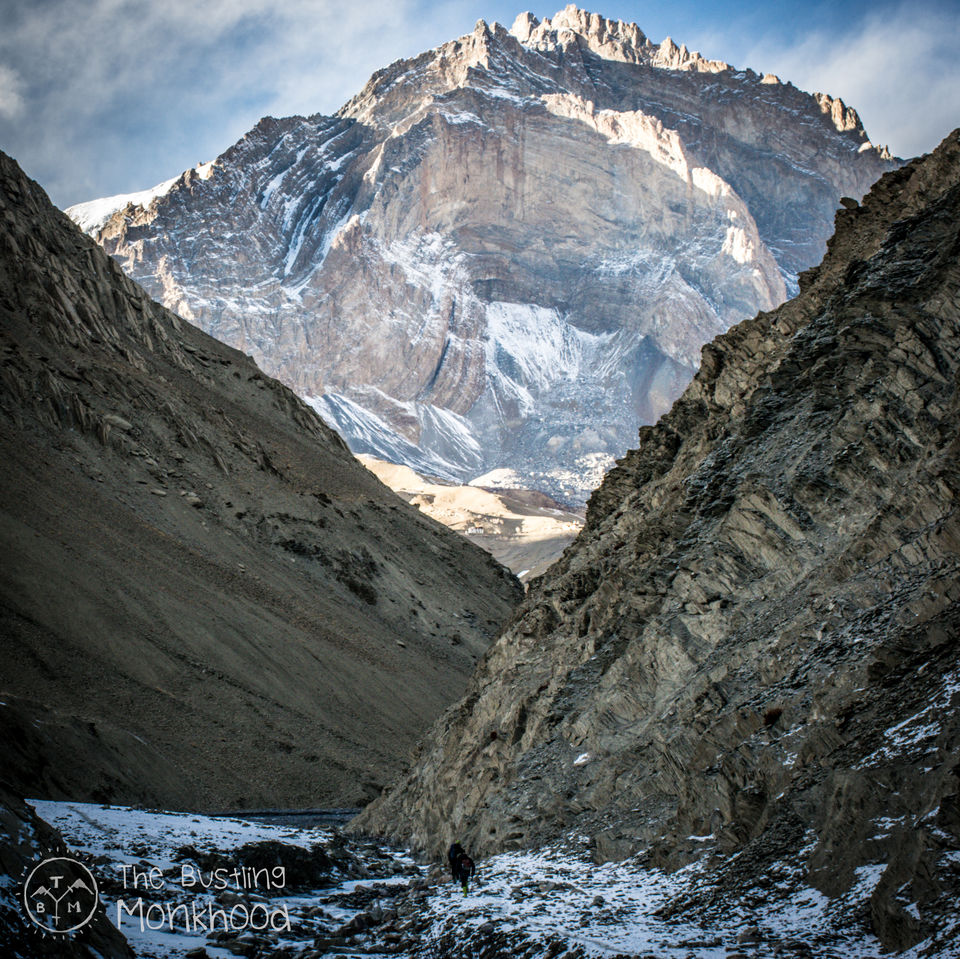 Lingshed, to my surprise, was a fairly inhabited village with a massive monastery, and a blessed satellite phone. Soon after dropping off my luggage at our cozy home stay and a hot cup of tea, I dashed to the top of the village where the satellite phone was; knew that my mom would be worried. She literally was, until I told her that I am doing great and will reach home in another 5 days. Happy to have conveyed this to her, I returned back to our hideout for the soundest sleep of my journey on Chadar.
The next day began with an early morning hike to Lingshed Gompa, the monastery, where we spent about an hour clicking photographs, talking to Monks and absorbing the hard-to-behold elegance of the place. Here are a few snaps from the village.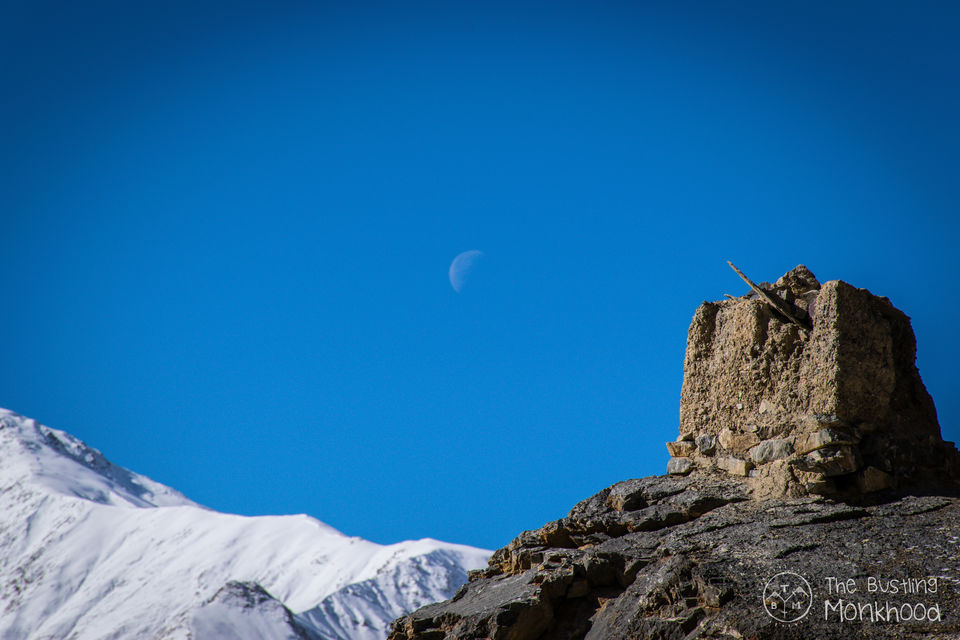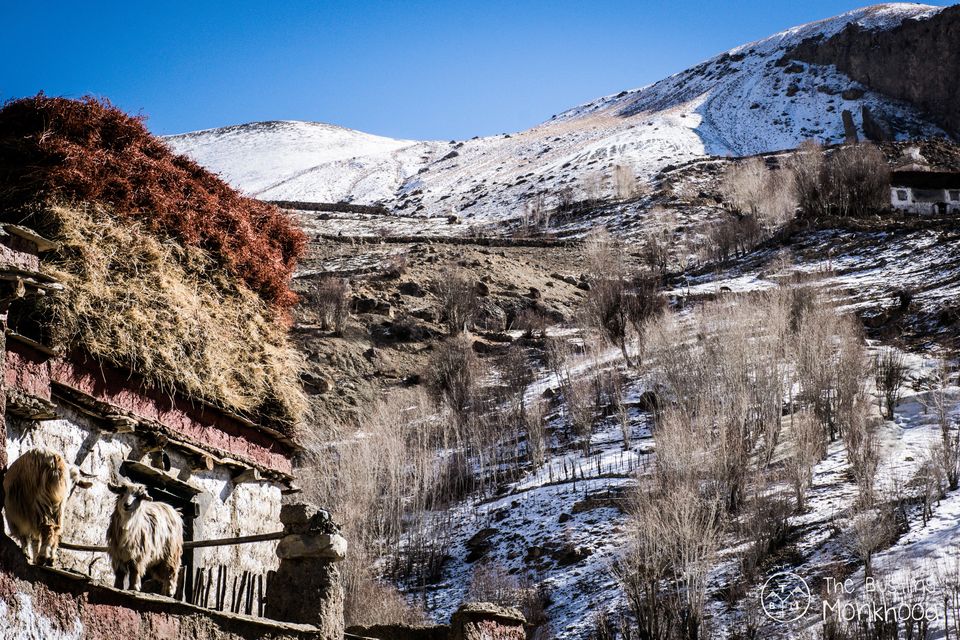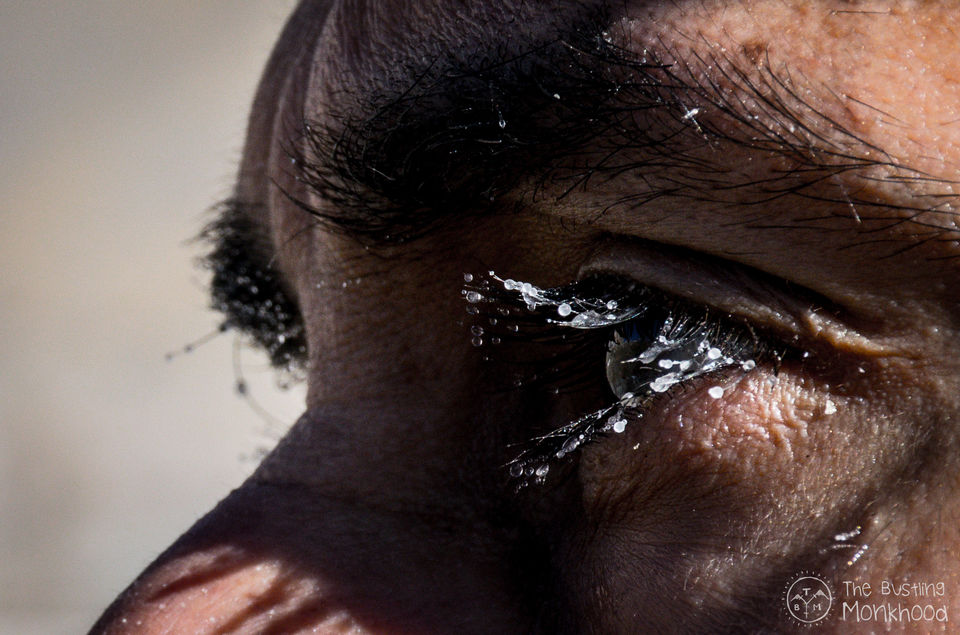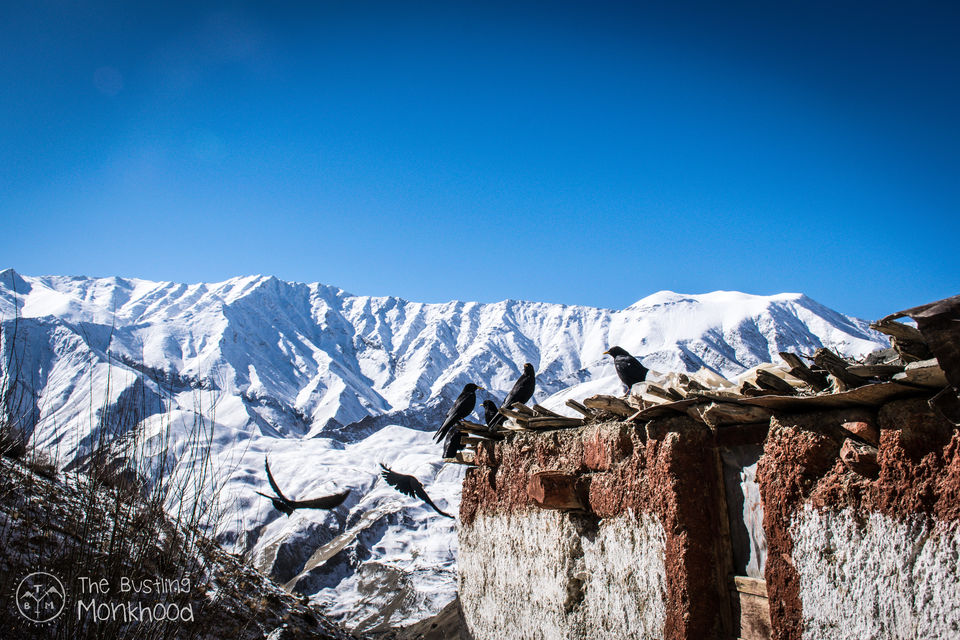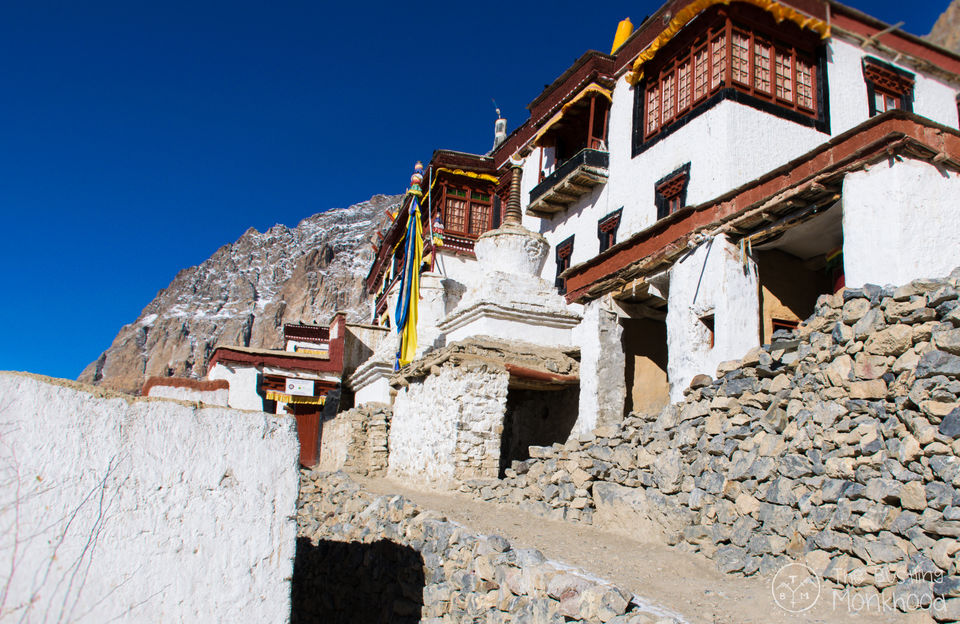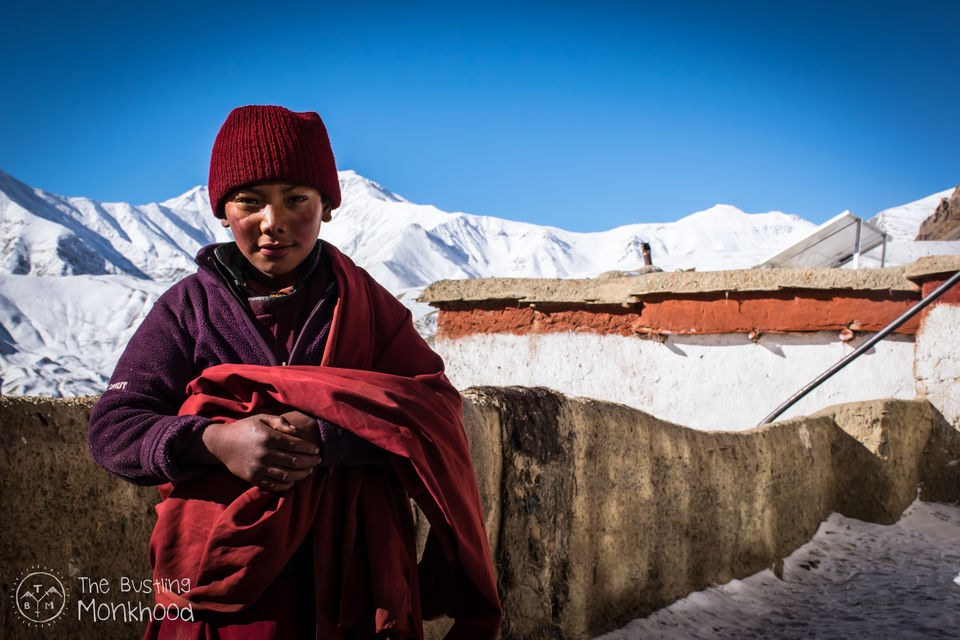 The Monastery was the cutoff point of our expedition. Henceforth, every step was a step back home and we were ecstatic with our accomplishment; no one did imagine what this day had in store for us.
On the way back to Naerak, it was a bit perplexing to see not even a single group making way to Lingshed. After a quick lunch, we proceeded to the same, bottle neck juncture where they say the Chadar doesn't form. And boy, we could sense the chaos straightaway. Unlike the previous day, when we had some Chadar to hold on to, today we had nothing what so ever. People from the other side were screaming and swearing and we could hardly see anything because of the meandering river; it was just the noises. We instantly started warming up and preparing to climb those iron rods. In order to prevent our hands from slipping, all of this needed to done without the gloves on, like arm wrestling with frost bite.
Grabbing the first couple of the iron rods, one after the other, was enough to suck the sensation out of my hands and I knew that I still need to keep them functional. To make it worse, there came a place where I had to monkey-swing myself to rest my feet on the next rod, and honestly, I could feel my heart beat from the naval to the jaws.
This adventure lasted for about 15 minutes, after which we were advised to dig our paralyzed hands into our armpits to bring them back to life. No one knew that the trouble was far from over. Soon, it was visible to us that the Chadar was crumbling all over the place; huge icebergs being washed off with the river. Above knee high water and sharp chunks of ice entering the gum boots, made it impossible to walk at a controlled pace.
Continuing to move as fast as we could and not paying much heed to how critical the scenario is, we walked into a situation where all our positivity sank to a new low. In front of our eyes, the mighty Zanskar took with it a big-big portion of our highway to home. The four of us, along with three Ladakhi crew members, were stuck in a position where we had no clue how to cross a 20mtr patch of dousing deep Zanskar; and it was about to get totally dark. Somehow, we worked out three options to choose from. 1) We stop bothering about keeping our luggage dry, swim through those 20mts, and hope that we then find a firm Chadar up to Naerak. 2) We go back to Lingshed, do an alternate, 3 day route to Naerak, which traverses through a wild life sanctuary that is home to snow leopards and God knows what else. 3) We run back and find a place, where the Chadar is firm enough for us to cross over to the other side of Zanskar, and then try to make our own way back to Naerak from that other side. The challenge here was, we needed to cross the river twice.
Unanimously, we decided to go for the last option and thanks to God, despite of such a bad Chadar day, we were soon able to get to a section where it was possible to cross over. It was all dark by the time we completed the U-turn. We were now running for our lives. I had stopped inspiriting myself that the trouble for the day was over, I knew something was still coming at us; and there it was. With yet another stretch of no Chadar over the Zanskar, we stood there, looking at a 15mts vertical rock to climb and this time, there was no turning back. There were no proper ropes that could hold our weights, and in the sole desire of getting done with the endless day, I chose to be the first one to go. Once the rock was climbed (somehow), Kunga, our guide, escorted me to a safe place to sit, which was a good 100mts ahead of the rock. He then went back to get the rest of my team.
Sitting there all by myself, gazing up at the spectacular sky, I thought of the last phone call I made to my Mother from Lingshed, and how glad she was to know that I will be back in 5 days; how she was always mad at me for not being expressively affectionate like my sister. I thought of my ill Grand Father; how much pride he takes in the little that I do and the loads of expectations that he has. I did not know whether I'll be able to make it back. And even if I make it back, I did not know that my Grand Father would have passed away by the time I write all this. Never had I thought so deeply about existence.
It was the sight of my Group Leader, Sohrab Singh that pulled me back to normalcy and after a small exchange about how to keep positive, me marched ahead. Soon, we were overjoyed to see light coming from a small hut on the mountain, we knew we were in Naerak. We still needed to cross the river, but after all that we had done, this one turned out to be easy.
It had been the longest evening of our lives, and we finally returned to our worried team mates, who went berserk on seeing us safe. They had become family by then, and I was happy to see them too.
Day Six, Day Seven & Day Eight: Best TEAM ever
After a warm day 5, there was evident panic in a few other groups. Some probably summoned the Indian Army for an airlift; choppers could be seen flying all throughout day 6. The Bandits, however, had their own cool way of going about the whole dilemma. And for me, the concluding three days of the trek were like a picnic with the coolest people in the world.
Considering all that went down in the preceding week, I knew I had lived the experience that I came here for. Even more! But surprisingly, towards the end, I lost the desire of going back home this early. I wanted to stay a little longer.
This journey will always be emotionally significant to me, a touch above all the others. A journey that I shall embrace forever; most of it because of the new friends I made. Thank you guys, for being a part of this one, and for being such amazing hosts at The Grand Dragon. Fray Gill, Paaji, I am not forgetting that mid-night conversation ever in my life.
Cheers to all!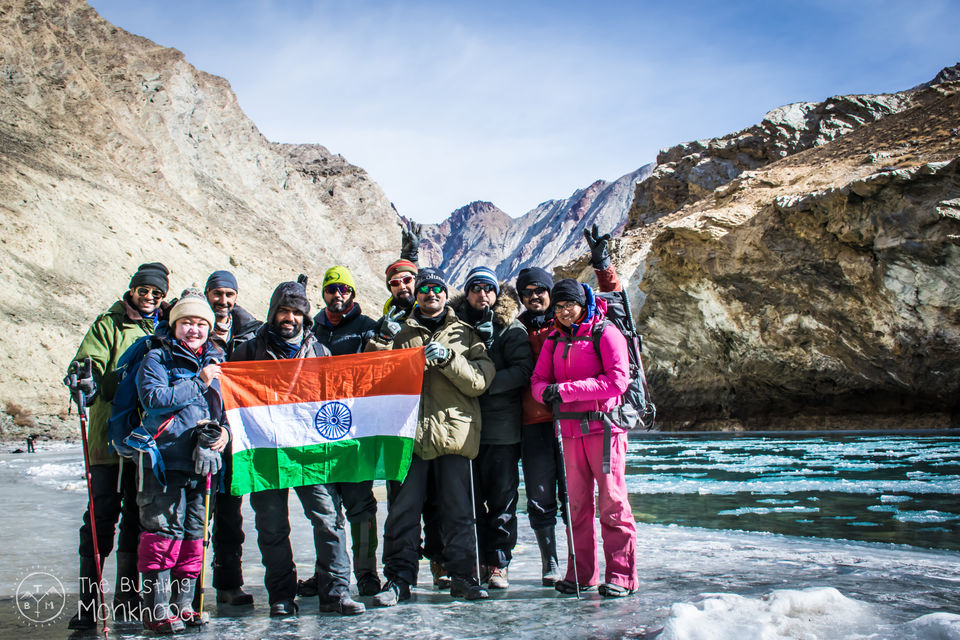 See you on the turf next year! ;)
X————————————————————————————————X
Contact me here:
Facebook : https://www.facebook.com/kshitiz11
Instagram : https://www.instagram.com/kshitizsingh11/
This post was originally published on The Bustling Monkhood.