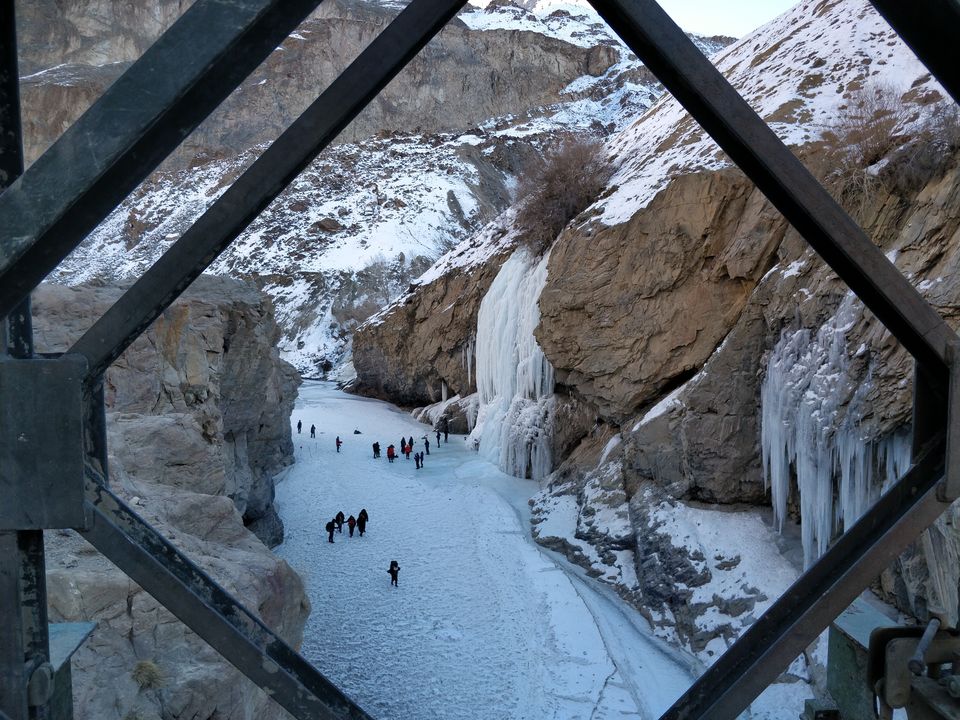 Zanskar Valley is part of kargil District of Jammu & Kashmir. Zanskar region in general is unexplored and draws very few tourists compared to its cousins like Ladakh and Kashmir.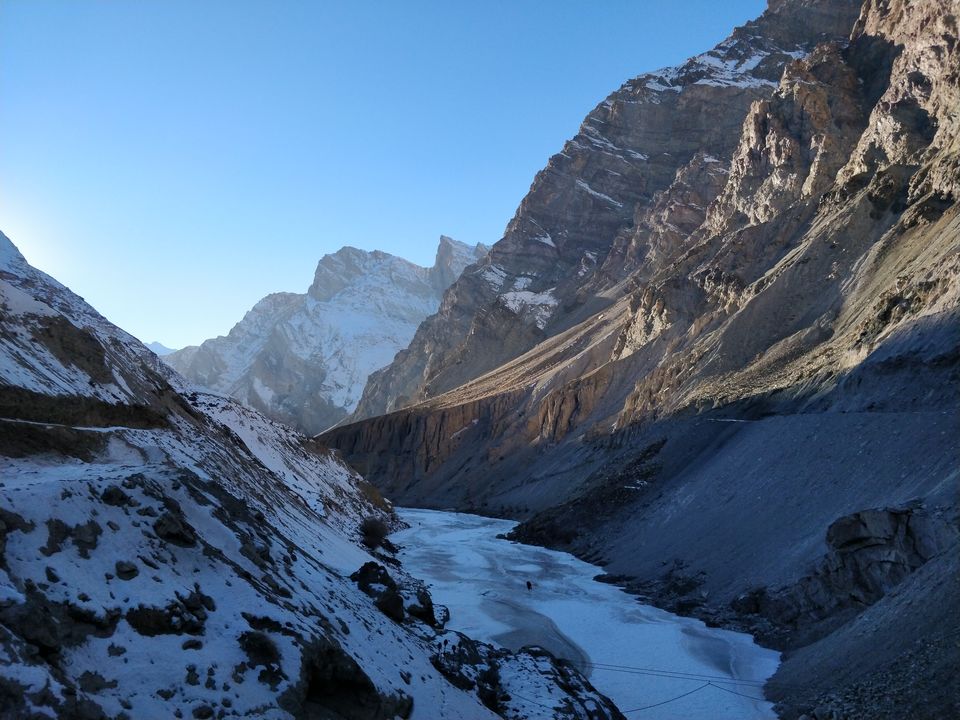 Zanskar range is not easily accessible due to the narrow gorges. The valley itself is so tightly packed that there are no roads in most of the region. Most of the villages do not have access to basic amenities like roads and connectivity as well.
Zanskar can easily be touted as one of the most remote areas in India.
Though Zanskar has no roads, no connectivity and no Infrastructure but still life thrives there and all thanks to one most important source that nature provides to everyone out there.
THE RIVER.
Zanskar River is one of the major tributaries of river Indus. It is the life source of every human in that region.
Now, In Summers there is only one way to reach Zanskar and that is through Kargil- Padum Road which is Basically 2N/3D journey from nearest source town which is called LEH.
Even though you can reach PADUM, Most of the Zanskar Valley remains inaccessible due to no road connectivity.
But the biggest twist in the story comes during the winters. As soon as the weather gets colder and colder, the Zanskar river turns in to road of ice. The road which acts as a boon to the whole Zanskar valley. The Whole valley gets connected to each other and that also gives birth to the one of the world's most famous trek called as
THE CHADAR TREK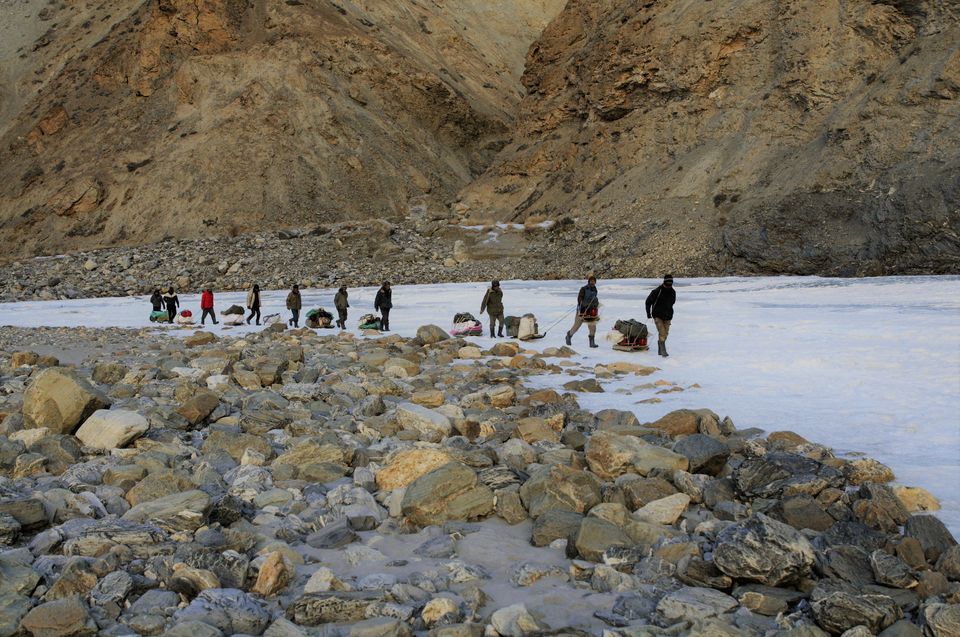 It's strange to think that the whole Himalayan region gets disconnected with the world due to snow and extreme temperatures whereas for Zanskar its opposite. The extreme temperatures bring life and joy to this valley and everything gets going again and that's the beauty of CHADAR TREK.
CHADAR is the ancient route for villagers and locals to reach the villages. Its the most fastest and most accessible route for them to reach home. Its the nature that gives us everything and that's exactly what you can see here.
THE JOURNEY TO CHADAR
CHADAR TREK is once in lifetime opportunity to see life in the wild. The life which can't be seen elsewhere. The world which used to exist years back. Its a journey back to the age where existence was the ultimate goal.
Life is still around the river, The comfort takes the backseat, people still live in the caves, nomadic Lifestyle, hunt for your food, survive the extreme temperatures as low as -35 C and even in all this people help each other in daily routines.
THE TREK
Delhi to Leh flight is indeed a scenic one. Views change so frequently that the feeling of changing landscapes gives you a lasting feeling.
Land at Leh Airport and Whoooosh Welcome to the new extreme world. From 15 C to -15 C and all this in 90 Minutes of flying.
A sudden change in altitude and climate can be hard for your body to digest. At first, you may not feel the change, but slowly and steadily you may feel the toll on your body.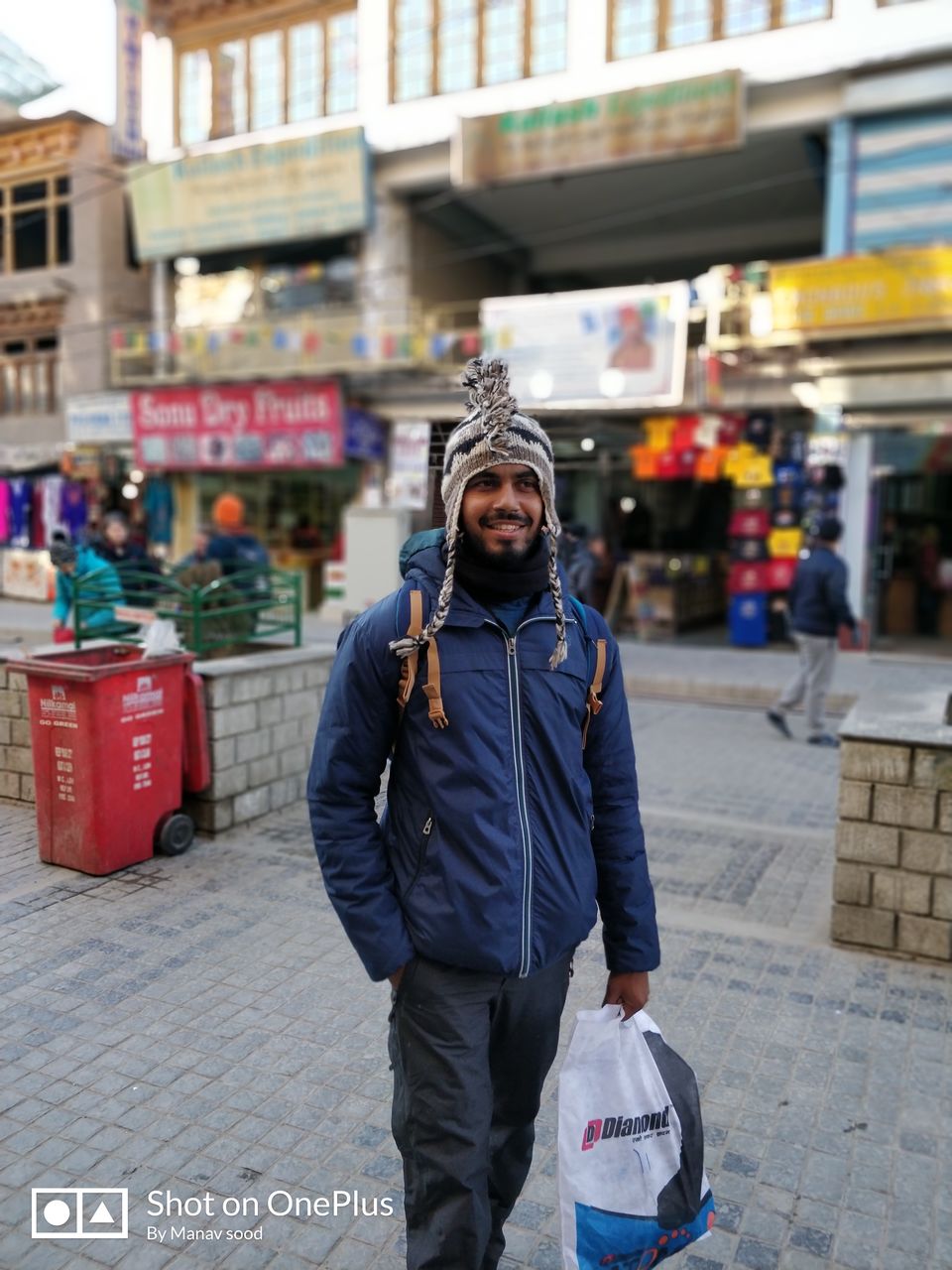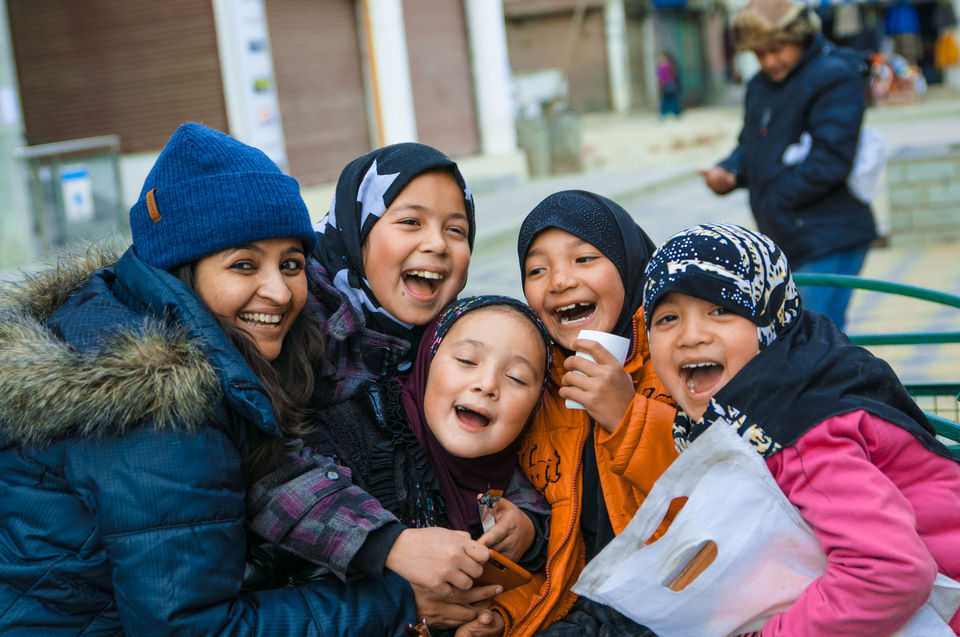 ACCLIMATIZATION TIP :
Drink lot of water and stay hydrated. Avoid sleeping for first few hours after landing
JOURNEY TOWARDS ZANSKAR
After proper acclimatization and rest, it was finally time for us to leave for the adventure we all were waiting for.
DAY 1
LEH TO CHILLING.
Chilling is the last village which is connected by the road on our journey towards Zanskar. The changing landscape will keep you stoked. The confluence of river Indus and Zanskar is great sight to see.
Altogether this 4-5 hour road-trip is also an adventure in itself. There are no roads and deep gorges which can be scary at times if you are witnessing them for the first time. The deserted mountains of Zanskar and the first ray of sunlight makes a great combination.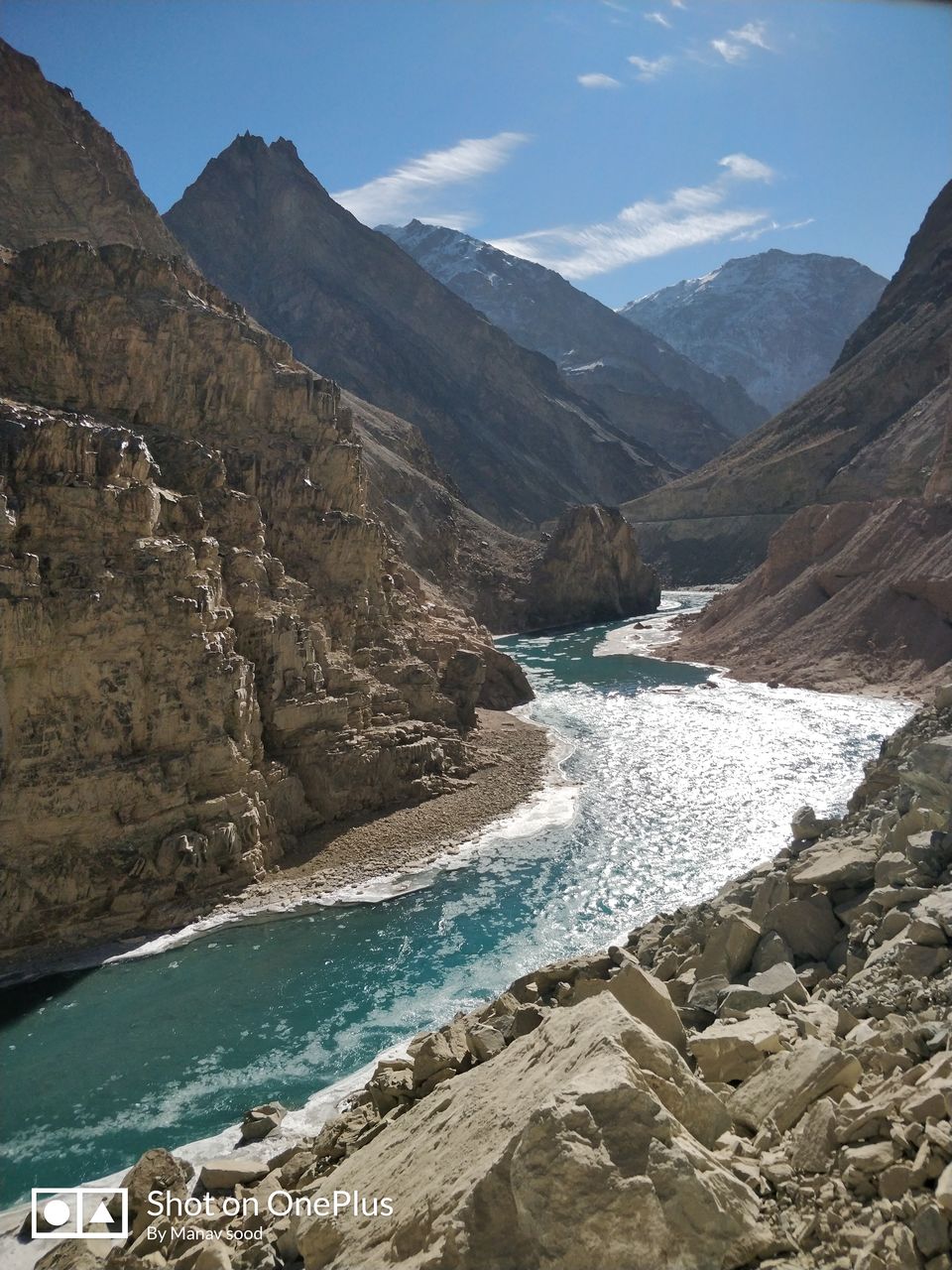 CHILLING TO BAKU-LA CAMPING SITE
After we kept our foot on the Mother of Zanskar - THE CHADAR we became the part of historic route of Zanskar.
Imagine how would it feel like if i tell you that you have been walking the wrong way all your life and now you have to learn how to walk again in a different way, after all those years?
Yes, you have to do penguin walk on Chadar to avoid the slippery surface which at times can break bones.
So after toddling for sometime we finally reached our first camping site for the night at BAKULA CAVE.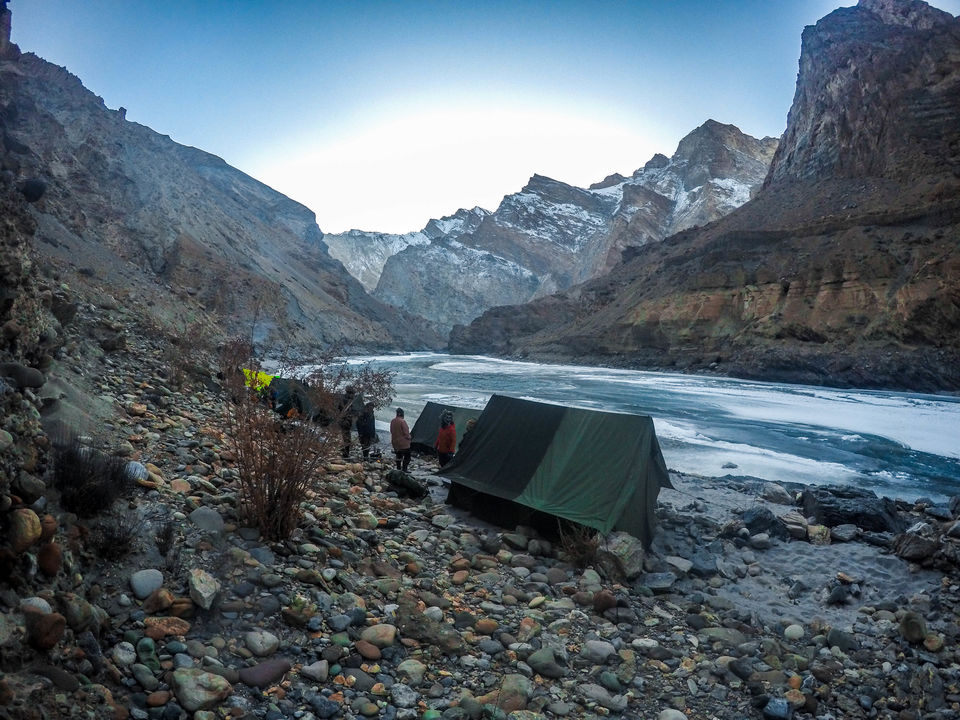 DAY 2
BAKULA TO HOTTONG ( 7 Kms )
Well, walk up-to Bakula was just a teaser. The Actual journey started the next day.
We slept well for the night and sleeping bags were quite comfortable all thanks to GYPSYSOULS our organizer for the trek.
Hottong is 7-8kms walk from Bakula but a scenic one. From morning itself, you can feel the vibe of being on Chadar. Icy-Cold winds blowing at your face and you are cutting through all of them step by step to reach your destination.
As sun rises you can see the peaks of Zanskar changing its colour. Sunlight adds a golden shade to the mountains and that is a sight not to be missed.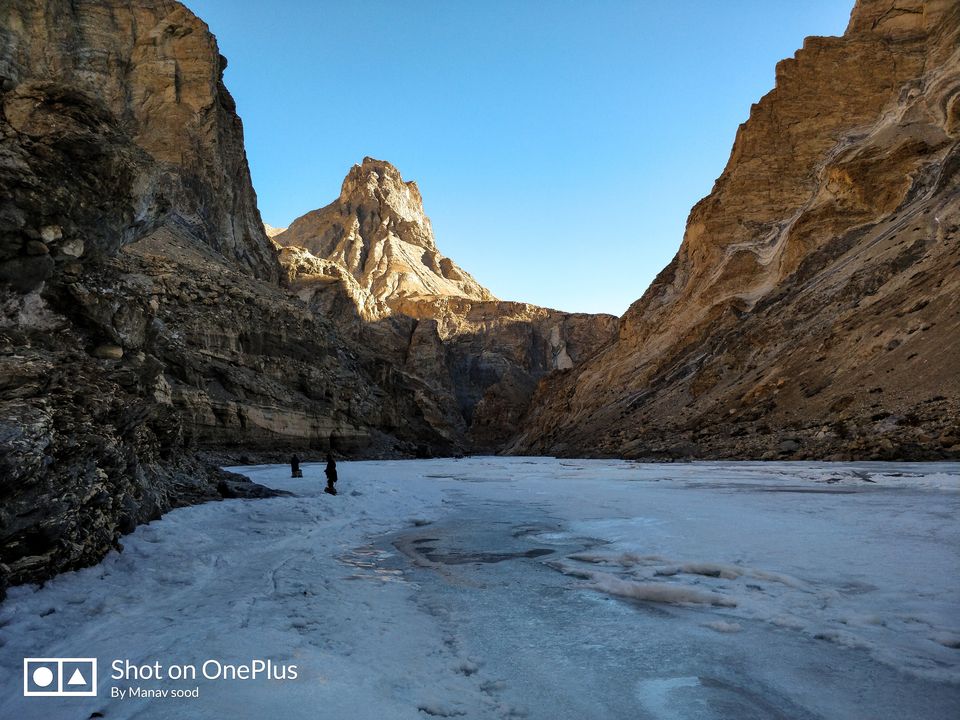 After our round of chit chatting, photography, tea breaks and smoke sessions we finally reached the camping site at Hottong by 2 PM.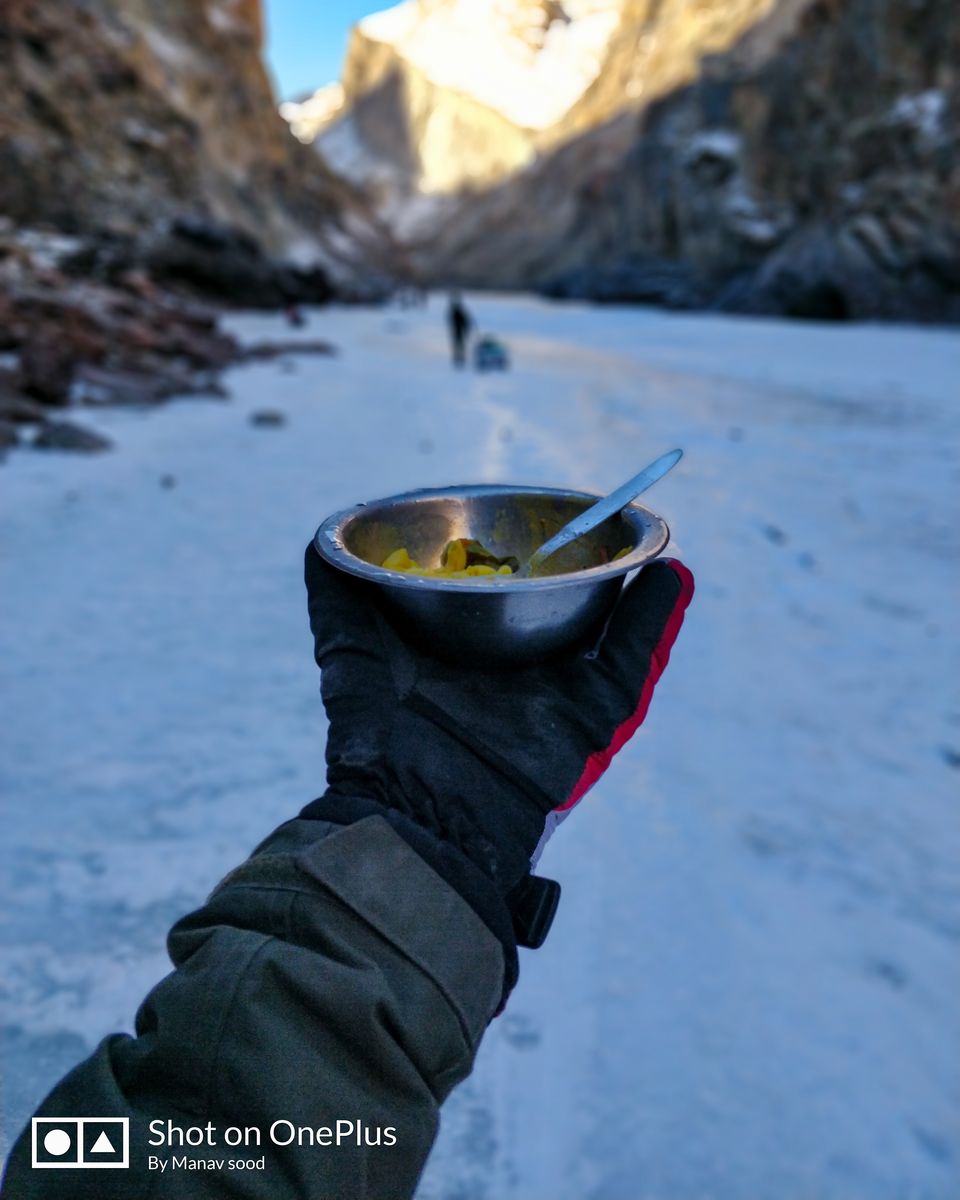 Its time that we soak in some sun and dry some of our wet clothes. Evenings were mostly spent around bonfire listening to local Zanskari songs from the porters and other crew members.
The day comes to beautiful end with some conversations, star gazing and how can i forget the most important thing THE OLD MONK.
DAY 3
HOTTONG TO YOKMA-DO (9-10kms)
So Hottong had a beautiful and comfortable ending and we were heading to the YOKMA-DO camping site, generally considered one of the coldest of all the camps.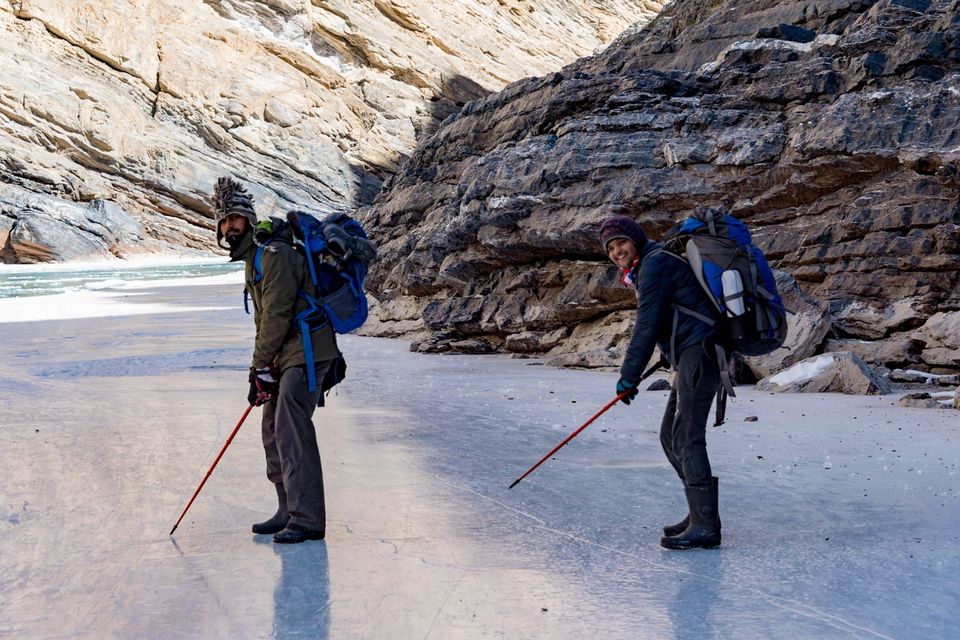 The day started well but we were in for a good long walk and adventure as well. The Chadar started showing its colors. At places, it was as thick as 10 fts and then there are places where you put your feet down and you start hearing the crackling voice and you can feel you can down anytime.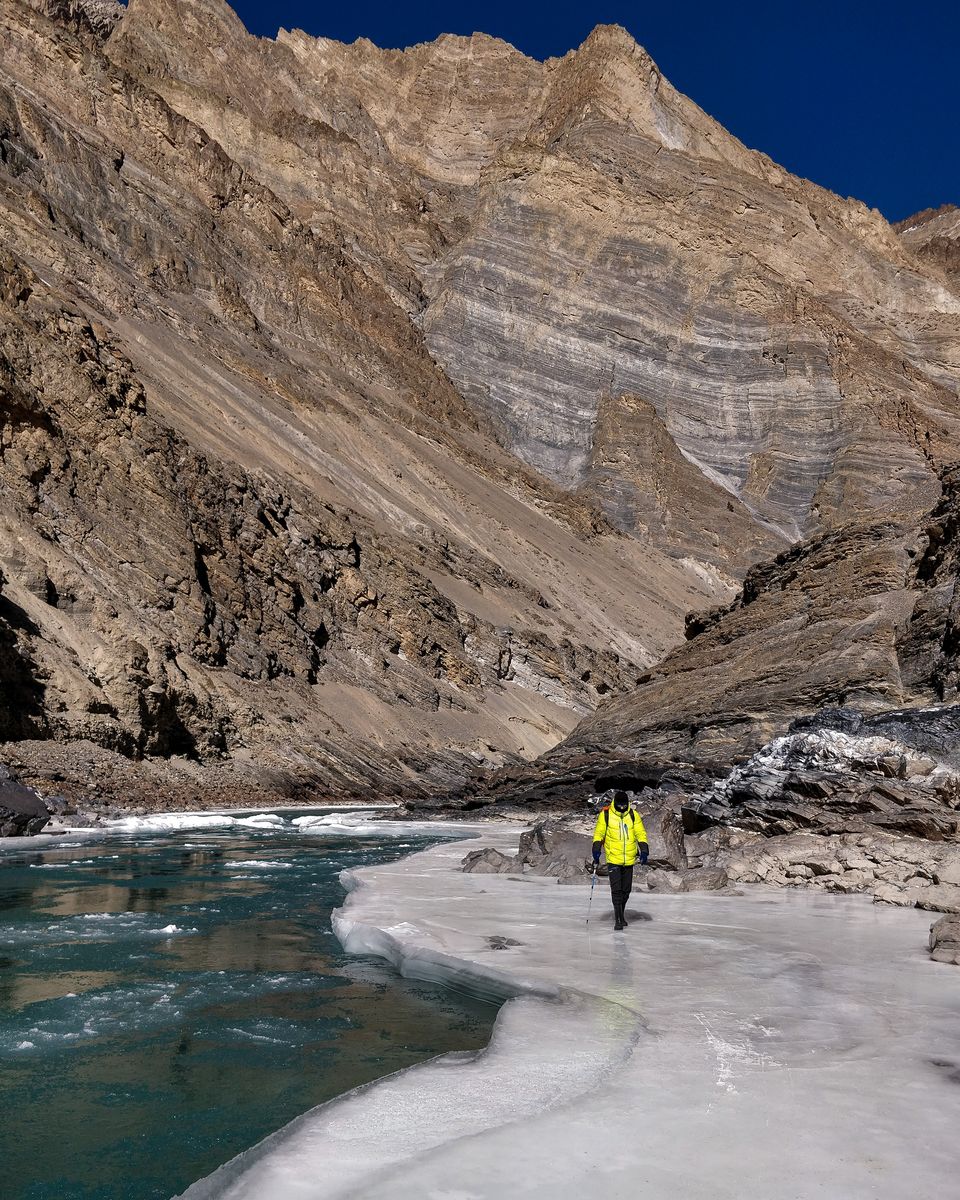 Altogether, we crossed it in quite a great manner after falling once or twice. Oh man, it really hurts sometime when you fall but its all worth.
Finally made to YOKMA-DO camping site. And we were in for a great night.
After some sight seeing, exploration around the camp,wood hunting and alot more we had a great evening. The sky was clear and No moon night was also near which calls for night for
ASTRO-PHOTOGRAPHY.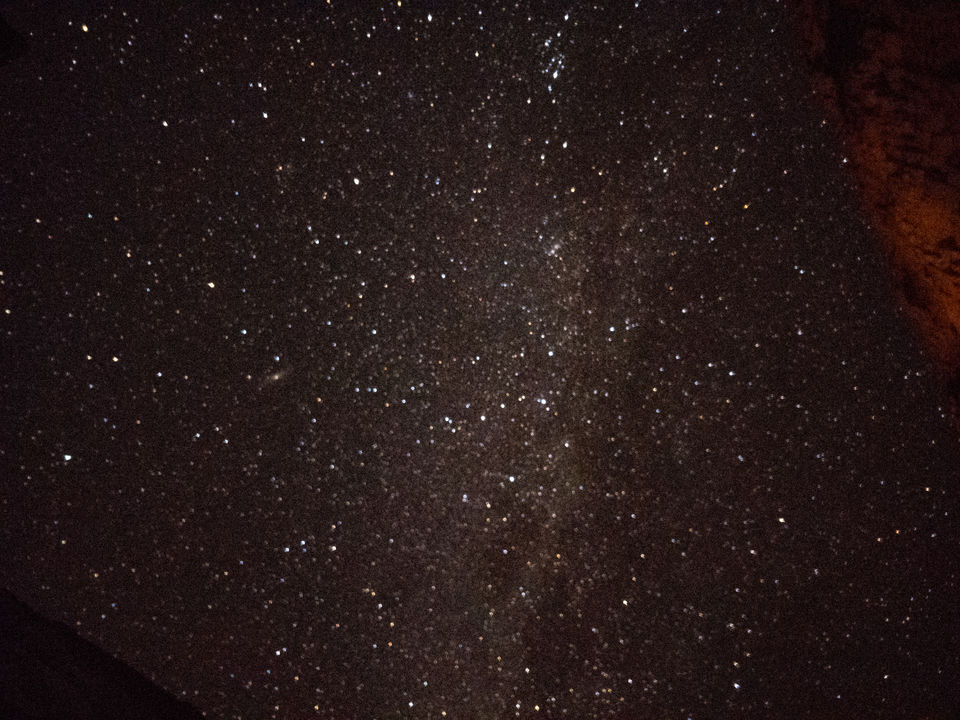 We tried capturing the sky for long. The night was dark and we were camping at site which was a meeting point of three smaller valleys in Zanskar itself.
So we did all we could with our Cameras and Equipment and rushed to the camps for night.
An hour later in to camps, we could feel the raging winds. It was raging loud and i thought our camp would just fly off. Temperature dropped and to make things worse i had this big stone underneath my sleeping bag. This stone got freezing cold and i lost my sleep. Didn't sleep for the whole night and came out of the camp at 5 AM. It was -29 C and cold AF.
DAY 4
YOKMA-DO to NEYRAK CAMPING SITE (5-6 KM )
YOKMA DO was one hell of a night for me but never mind it was an adventure which i came for. So i really cherish it.
But the night took toll on my body and on the way to Neyrak i was drained for some reason. There were small different patches which should have been captured in the camera but i didn't had energy to unpack my camera bag again.
Reached NEYRAK Camping site by 1 PM. Soaked in some sun and then left for the last voyage which we all came for THE FROZEN WATERFALL AT NEYRAK.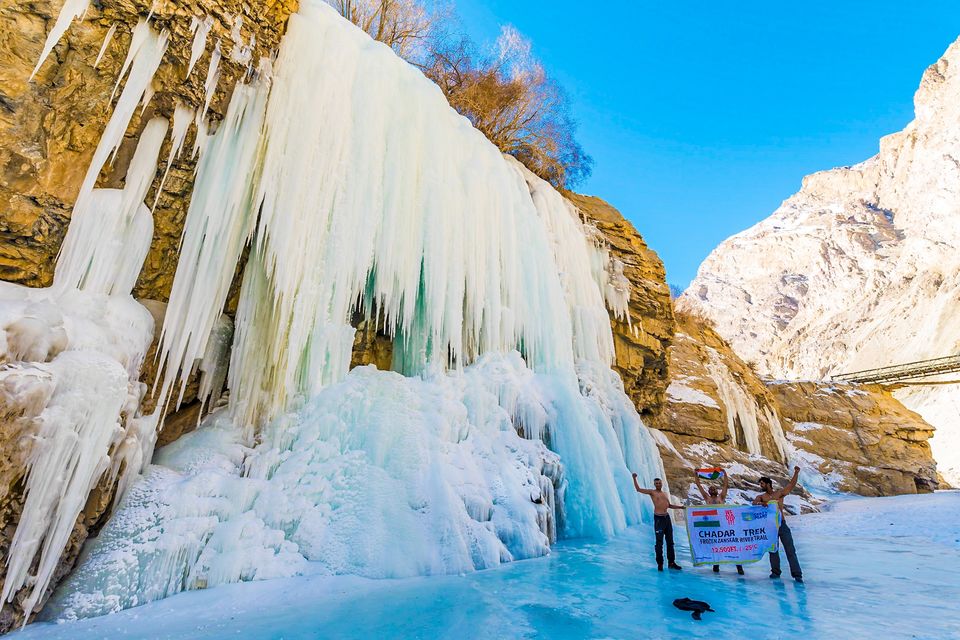 That waterfall was so mesmerizing that all my enthusiasm was back for sometime and some of us even removed all our clothes and started posing for the ultimate shot.
UPPER NEYRAK VILLAGE (4-5 Km)
Pumped with all the energy and motivation we started our ascend towards Neyrak village considered to the remotest village not only in India but globally. The trail to the village is super steep and full of snow. It has no connectivity, no access to the roads and is disconnected from the world for good 8-9 months in a year. Only way of communication is a Satellite phone through which you can call anywhere in India. Fuck, that was luxury.
Anyways we didn't wanted to contact home because we were so lost in that magical world.
As a traveler and backpacker i have traveled extensively but i haven't seen something like this before. The world was different there. When we reached people came out of the houses and welcomed us. Probably, they were too excited to see new humans because we were among the first batches to trek on chadar for that season.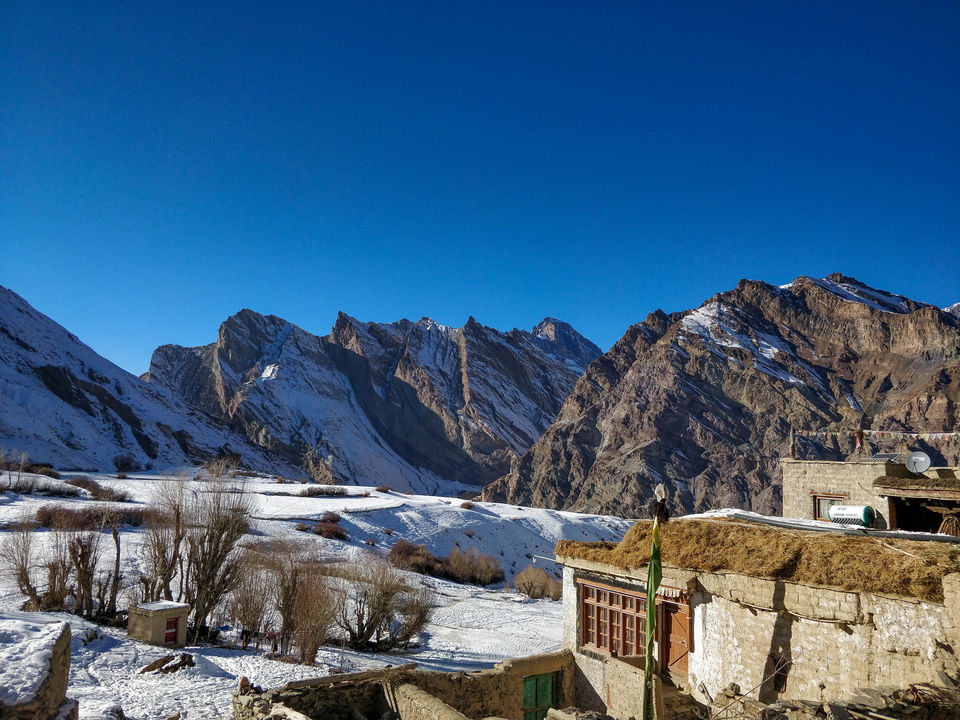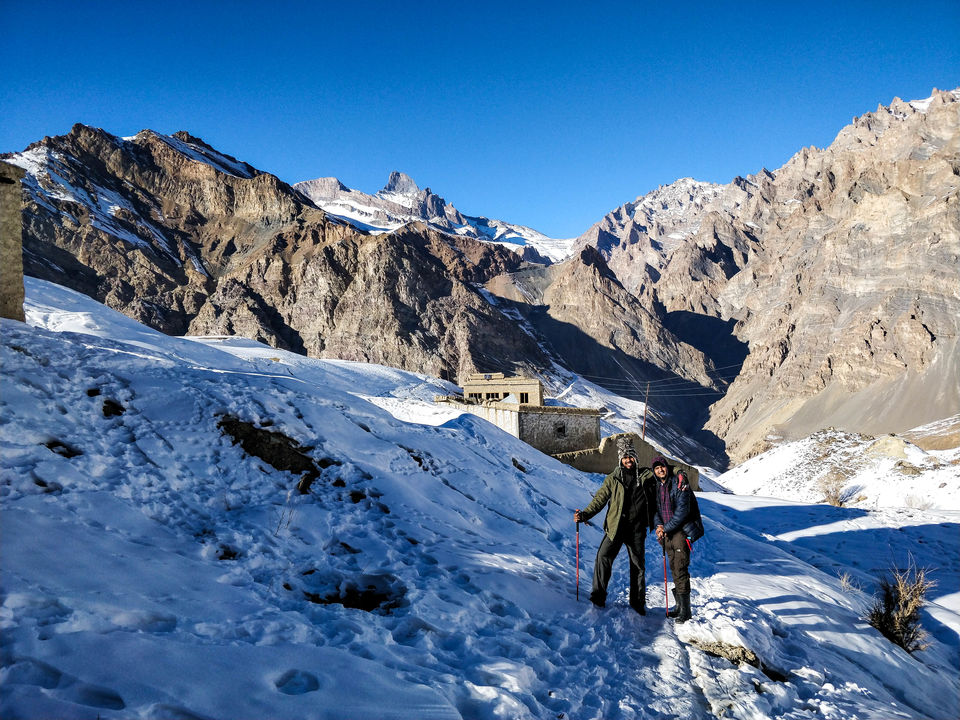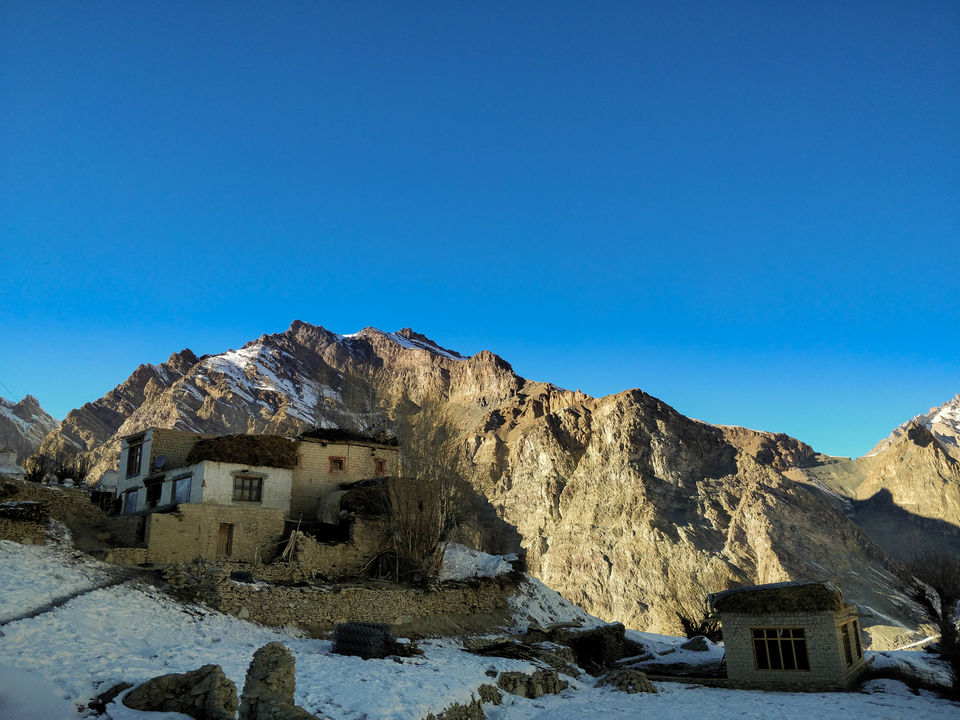 Though Neyrak is not the highest village in the world, but indeed it is highest in the region. The world seems to end there. There are no peaks in the vicinity that are higher then that village. The whole world around it looks below and its beautiful with its culture and small houses.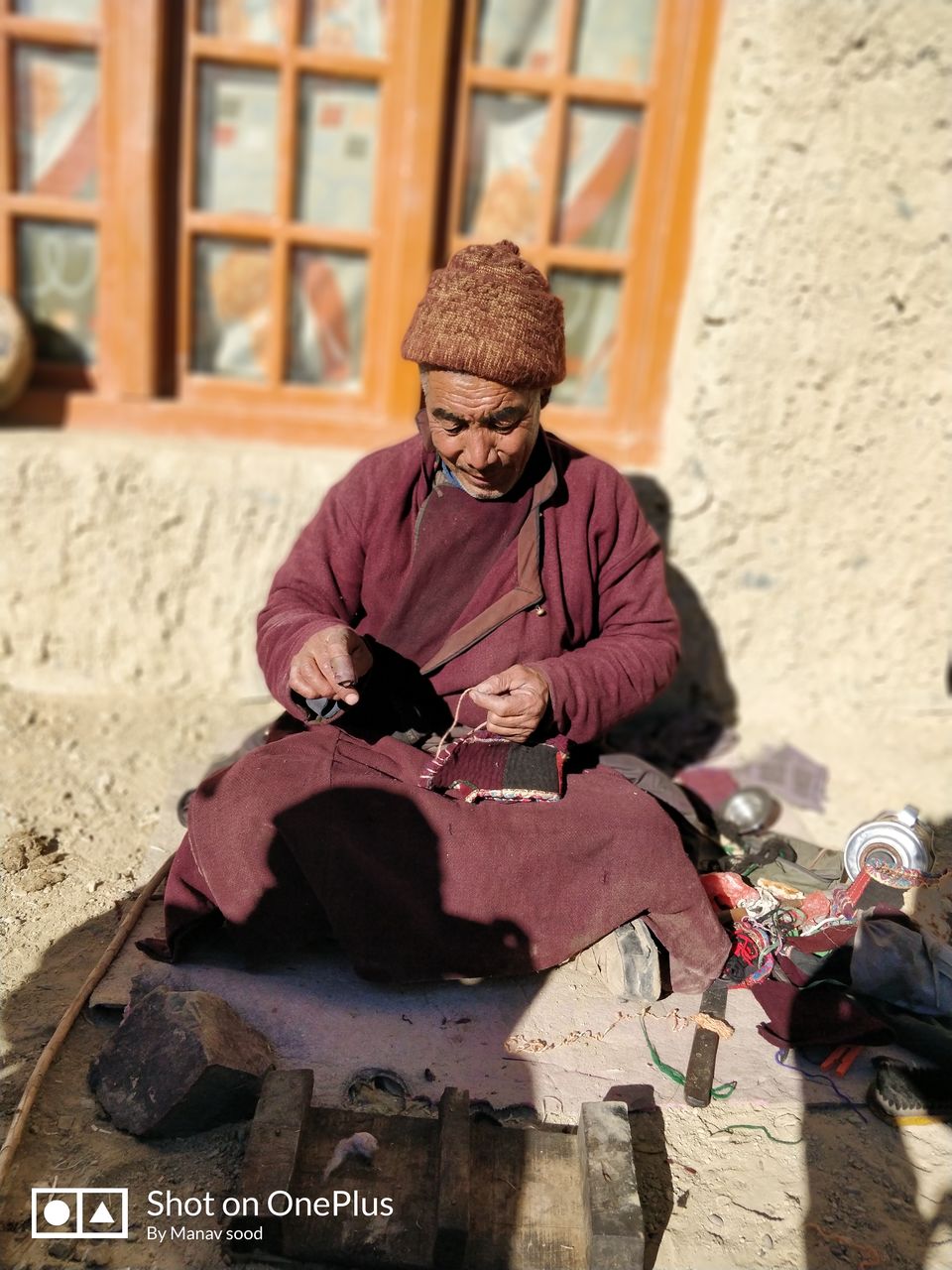 After staying in there for sometime we headed back to camping site for the night. In the night sky was clear and i got a chance to see and capture a shooting star.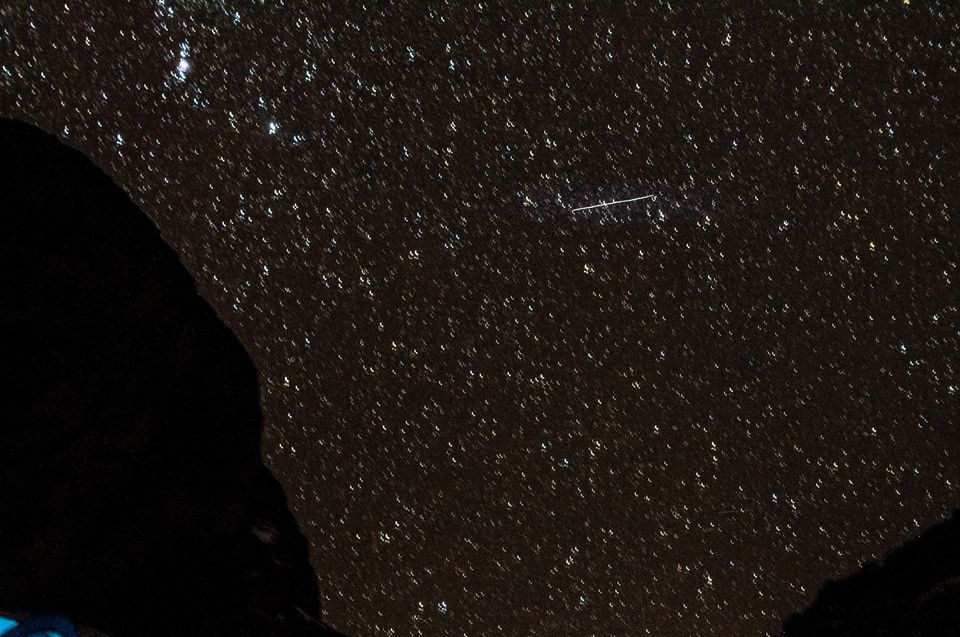 DAY 5
NEYRAK TO TIBB (10-12 Km)
The day started on a slow note as our journey was ending and now we were heading back through the same route. The camping site was far and the silly mistake which i did a day before (REMOVING TOP LAYERS) was showing its colors.
By the end of the day i was drained and i still had to cover more then half of the journey way back. I was carrying my backpack on my back and there was no relief from the medicines i was taking.
The day for me ended at 8PM as i was knocked down due to high fever.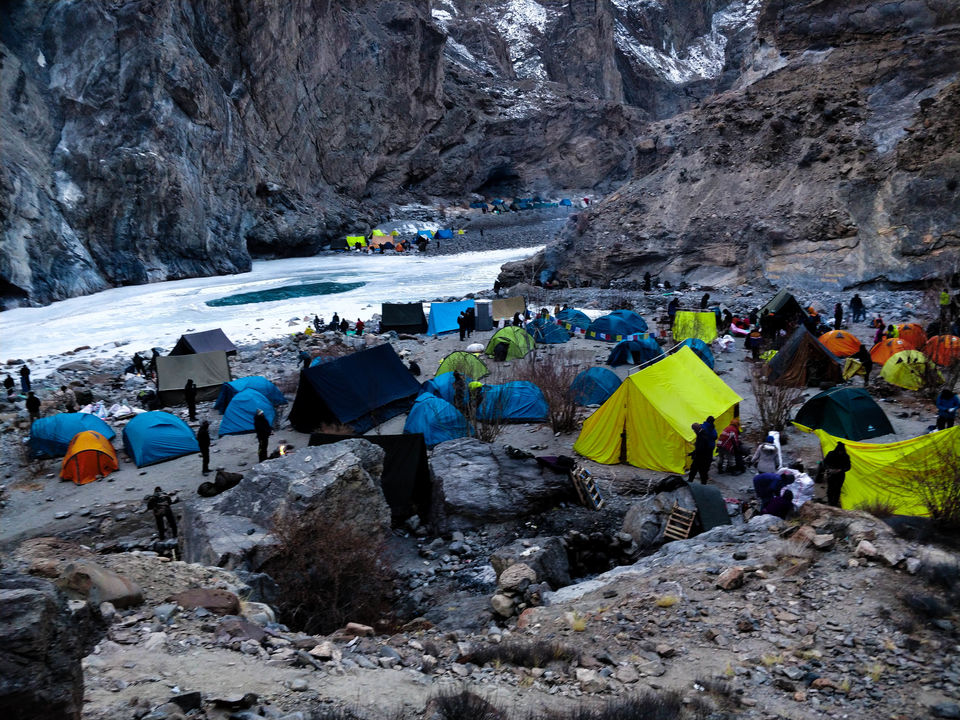 DAY 6
TIBB TO BAKULA (12-14 km)
I feel this was longest day we had on the trek. Maybe, because i was too exhausted and low on energy.
The terrain became difficult anf chadar was broken. We couldn't walk because it was totally broken at places and one mistake could lead us to big disaster.
Which left us with no choice but to vertically climb the mountains and cut through the portion where chadar was not formed properly.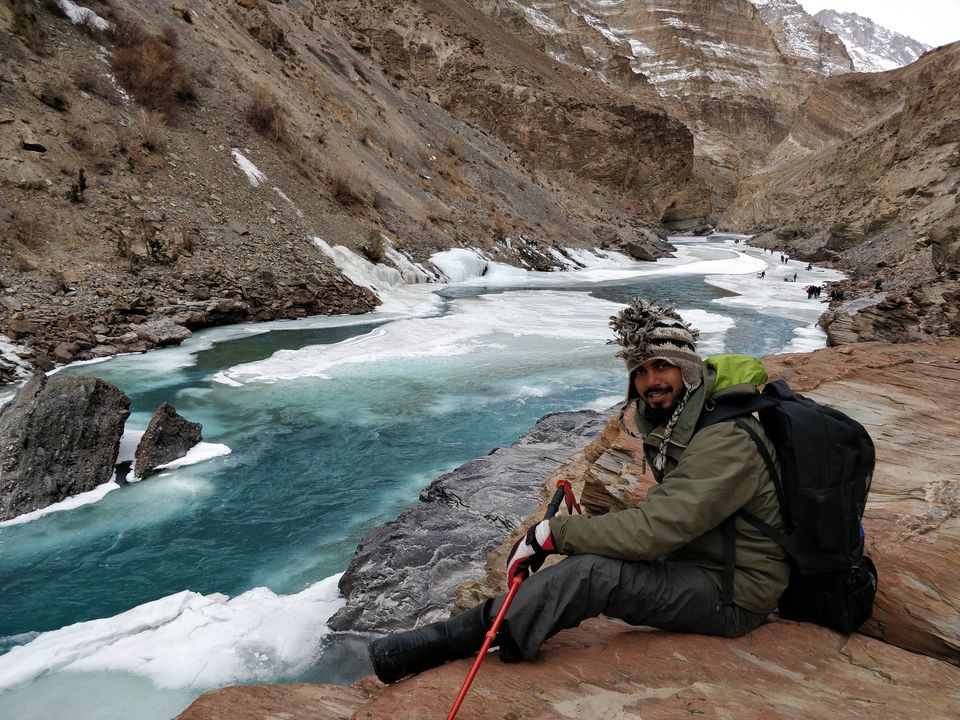 On top of it i was not feeling well at all and i felt like quitting. Our trek leader Mr Newang was also not well and we both were accompanying each other. I was still carrying my 15-17 Kg backpack with me and it was taking toll on me like anything. I thought of quitting 100 times but didn't wanted too because the whole journey was an experience like never before and i didn't wanted to end it on a bad note.
I took my share of naps and even slept on stones for Half an hour or more but finally made it to BAKULA CAVE for the night.
As soon as i reached i crashed inside the tent and i was high on fever again. I was boiling and lost my consciousness.
I was not even in a state to worry about anything or scared for anything because i badly wanted to complete it.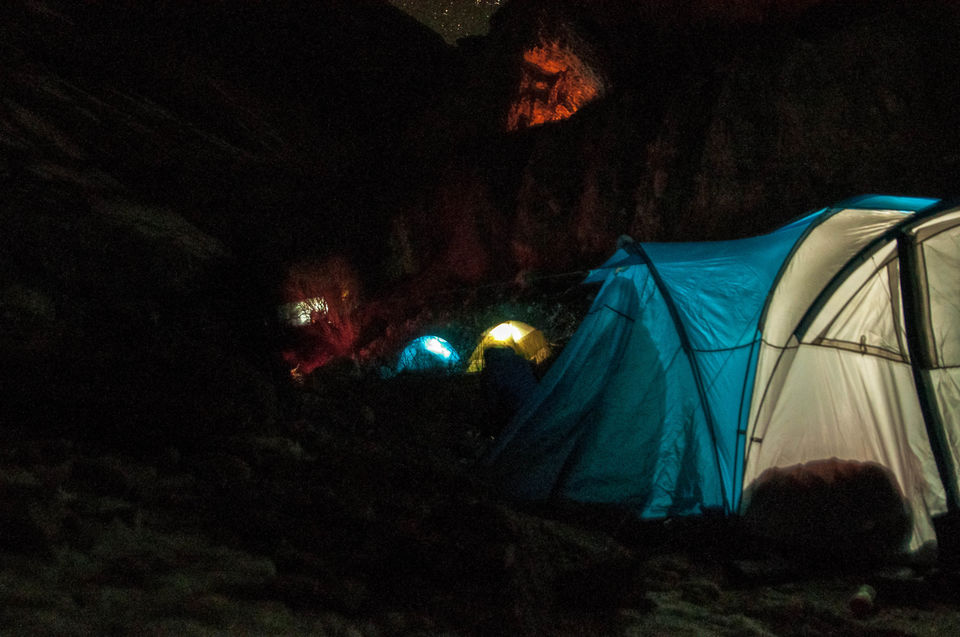 DAY 7
BAKULA TO ROAD- HEAD POINT.
After walking for an hour i finally made it to the end. The journey back to Leh was again a scenic one with lot of adventures and memories and thankfully at last i got a comfortable bed to sleep and recover.
It was an amazing experience which had its own up and downs and i will cherish the memories, those people for lifetime.
Our trek was organised by Gypsysouls which is an ace agency for all your adventure needs.

Please follow them on Facebook and Instagram

Facebook : https://www.facebook.com/groups/1753294224945593/

Please like and share : https://www.facebook.com/Gypsysouls-1223479701102646/

Instagram : @wanderwithmanav         @gypsysouls2121