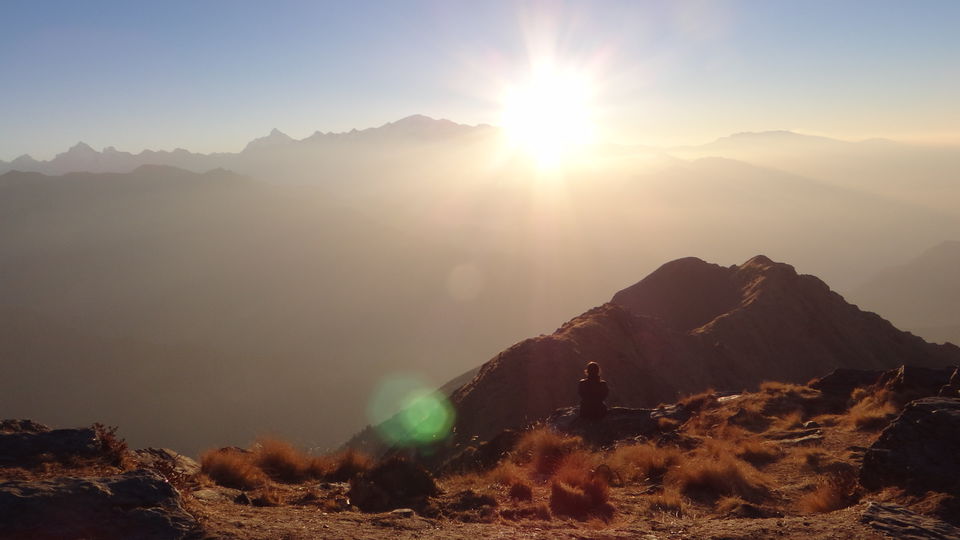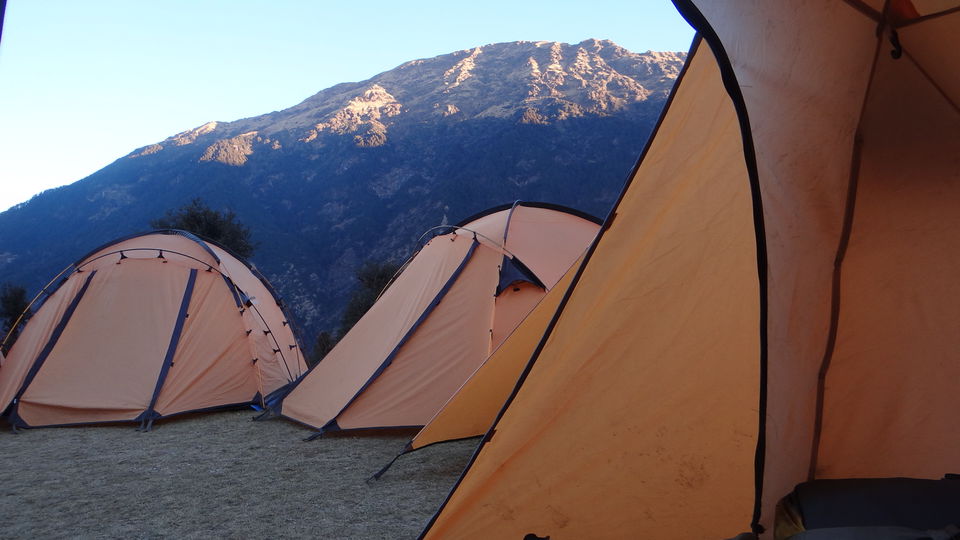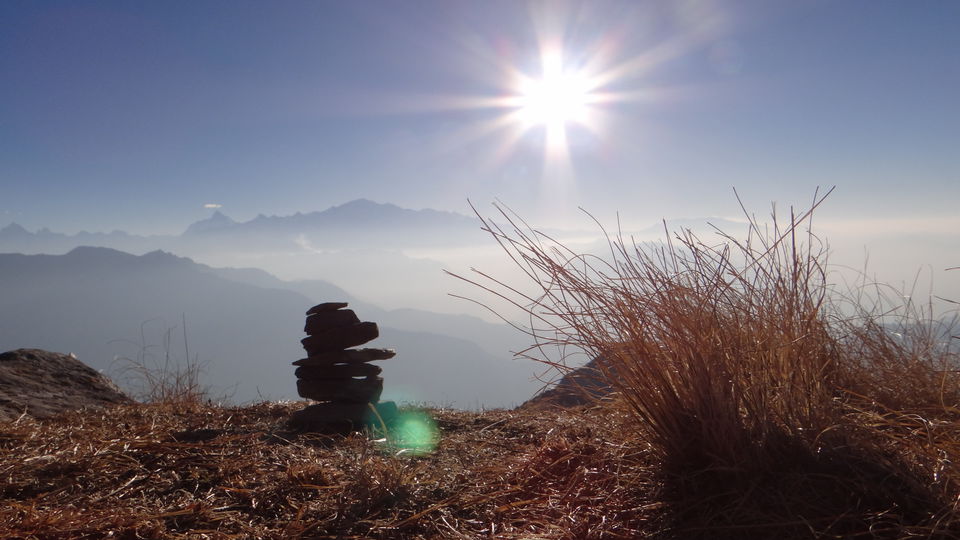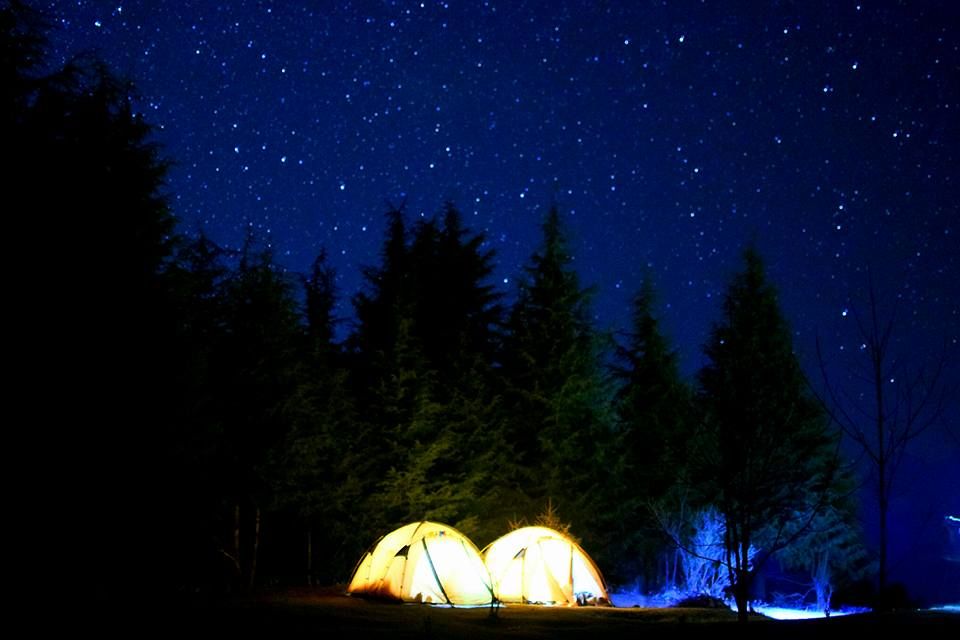 After a lot of deliberation and failed plans, I finally decided to go solo this time. I knew it had to happen someday and then why not today. Always crazy for treks, I decided to choose Indiahikes for my adventure. It was October and I was browsing through all these snow covered pictures of Himalayas unable to decide which one to pick. My heart was set on chadar trek but I knew I had to start from something easier. Most of the treks were full by that time, so keeping in mind the dates and duration and difficulty level, I chose Deorital-Chandrashila trek. I booked my tickets to Delhi and I was all set.
Now, I was eagerly waiting for December to come but before that there was a long list of things to be done. The ground coordinator kept sending us mails regarding the things required for the trek and how to get fit for the same.
I never got up before 9 and now I was jogging at 6:30 in the morning. The excitement was building up. And just like that the day had arrived.
I travelled to delhi > Haridwar (nanda devi express) > Sari (taxi).
Day 1 (19th dec – deorital base camp)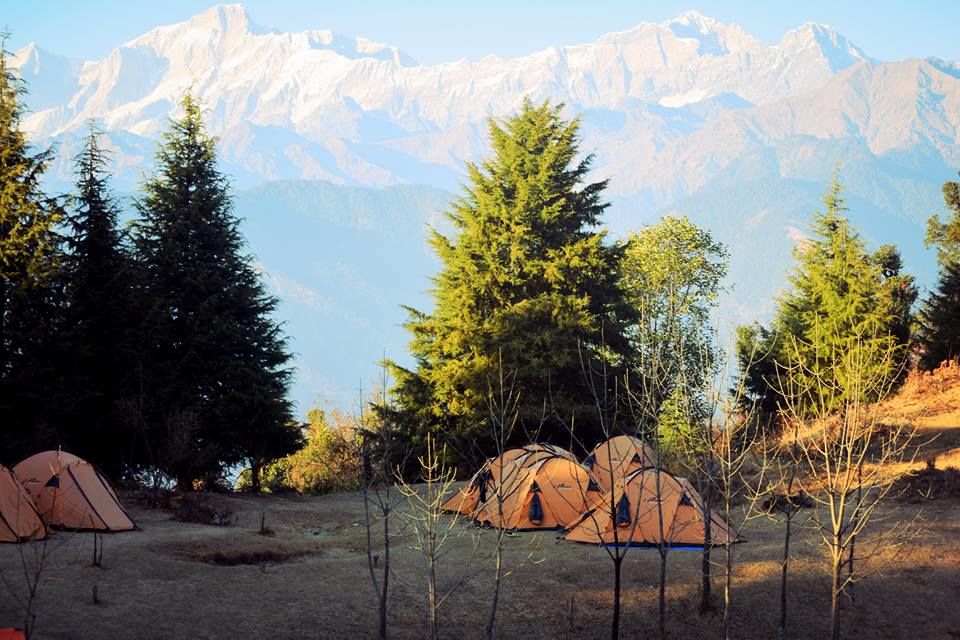 From Sari village I needed to catch up with my batch as I reached a day late. After quick snacks and health check-up (done by IH team to check if you're fit for the trek) I started for Deorital base camp. We took a short-cut that was 2.3 kms from sari. Took me around 2 hours. You can find a few shops on top to get food in case you're planning to camp by yourself. After a short walk from there I could see our campsite beside the lake. Yellow tents lined up with a beautiful snowcapped Chaukhamba peak in the background. I was introduced to my group and assigned a tent. I was mesmerized by the beauty surrounding me and couldn't believe that I was finally here.
The entire group was so warm and welcoming. Soon it was dark everywhere and we could see a clear sky brimming with stars. Everyone was trying to recall their school textbooks and recognize the constellations. We could see a white patch in the sky and that was our very own "Milky way" galaxy. It was phenomenal to see so many stars at once. Few were lucky enough to spot some shooting stars too. Post dinner we were clicking pictures of the star studded sky and lit up tents. I had seen all these pictures on Instagram but while watching people capture it, I realized it wasn't an easy task. I slept early as I was exhausted after the journey.
Blissfully cuddled up in a sleeping bag, I was all warm and cozy when to my horror I realized that I needed to use the washroom. Imagine getting out of the tents in pitch dark and dead silent night. All alone at 12 in the midnight, shivering I gathered up the courage to walk into the woods and do my "business".
Day 2 (20th dec- Rohini Bugyal)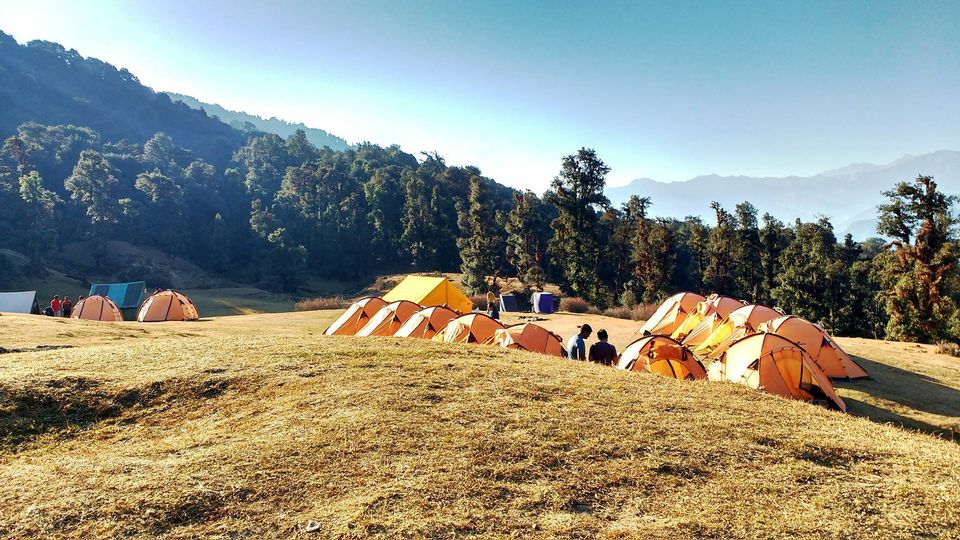 Brushing teeth in the chilled morning, not an easy feat. After hot ginger tea and breakfast, we had a quick demo of how to roll up our sleeping bags. An hour later everyone was set with their tents made properly, lunch packed and backpacks trying to stand straight. We were heading to rohini bugyal today for our second base camp. Bugyal means "meadows". We were supposed to cover 8 kms that day to reach our campsite. Going through a magical trail, that kept transforming from thick forest to a mesmerizing clearing filled with rhodendron trees. We could hear birds chirping and as we ascended we could see the tiny houses of Sari village. The view was breathtaking and there at the top of the mountain with the view of Chaukhamba on one side and Chandrashila on the other we had our lunch. After an hour long break we were set to move further ahead. The woods kept changing density and the path ascended and descended at regular intervals. Overall it wasn't difficult to walk. Everybody had finished their water bottles by now and were hopefully looking for a water source. We filled our bottles from a fresh water stream which was purified by natural sedimentation process. Further ahead we saw a huge clearing and we could see the grasslands and pitched on top were our tents. That was the site to behold. We were served Tang as we reached. After dumping my bag in the tent, I went around to just gape at the magnanimous mountains and the vast greenery around me. Watching pine trees lined up like a Christmas fest and sun playing peek-a-boo with the mountains. It's one of the most beautiful campsite of this trek. Late at night the sky was filled with millions of stars. We went to a nearby hilltop and lied down. Just staring at the stars and playing old hindi songs in the background. Utter bliss. I wanted to just lock that moment deep inside. I didn't want to leave but the cold made it difficult after a while and I went to the comfort of my sleeping bag waiting for another day of adventures.
Day 3 (Chopta):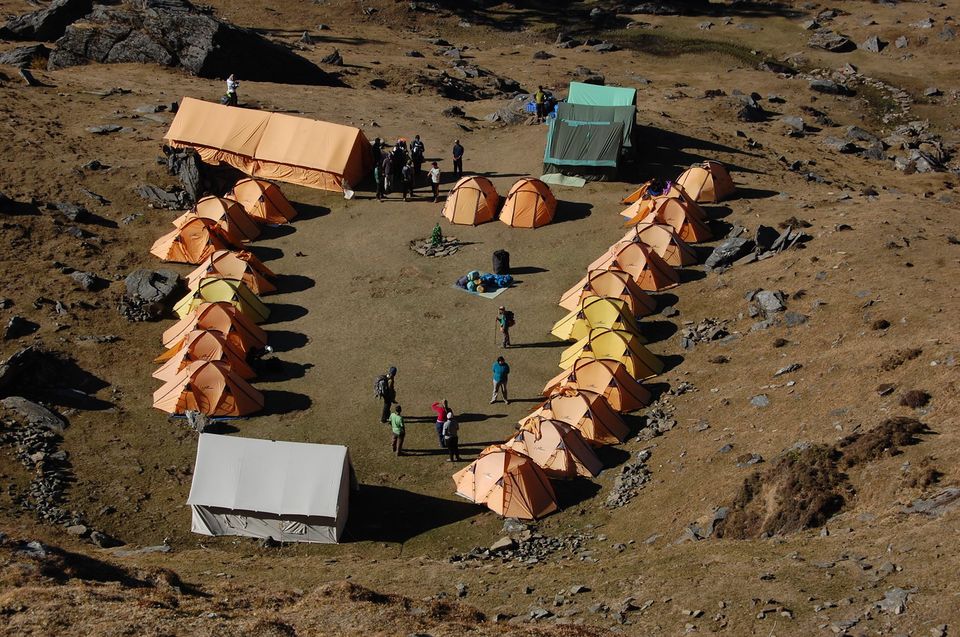 Quick breakfast, packed lunch and medical check, we were set to leave this beautiful place. Our next stop was chopta which was 6 kms away. The trail was told be easier. It had minor ascends and descends and well-marked trail. We had our lunch somewhere in the middle of the forest. While walking we could see the skeletons of animals. This particular one was placed atop this stump. After around 4 km we came across a waterfall. Everybody got busy clicking pictures as it was such an ethereal place. We filled our water-bottles. There was this huge rock over there where our trek leads were sitting. We thought of giving it a try ourselves and climbed up. The trick is to find the right cracks and get a grip. If you don't find a grip, don't risk going up. After spending an hour there we were ready to move. After sometime the forest ended and we met the main road. We could see the roadsides filled with litter and everyone started filling up their eco bags. We were given these eco bags by IH people to fill them up with litter in order to keep mountains clean.
This is where I finally got my phone signals and I called up my mom to tell her that I am okay.
Finally we reached Chopta. Our final campsite. Time was running so fast. To our surprise they had a Christmas tree set up in the campsite. I just laid there in my tent. Half in and half out. We were so exhausted from all the walking. The sunlight felt so good. I took out my camera and went around to click a few pictures. It was so serene and peaceful. At night there were wolves howling. We were really scared as the sound kept coming closer and closer. Going to washroom at that time felt heroic. We had to get up early around 3 to catch the sunrise up on the chandrashila peak. We saw the pictures taken by a trekker from previous batch and we were all pumped up with excitement.
Day 4 (Chandrashila Peak) : 12'083 ft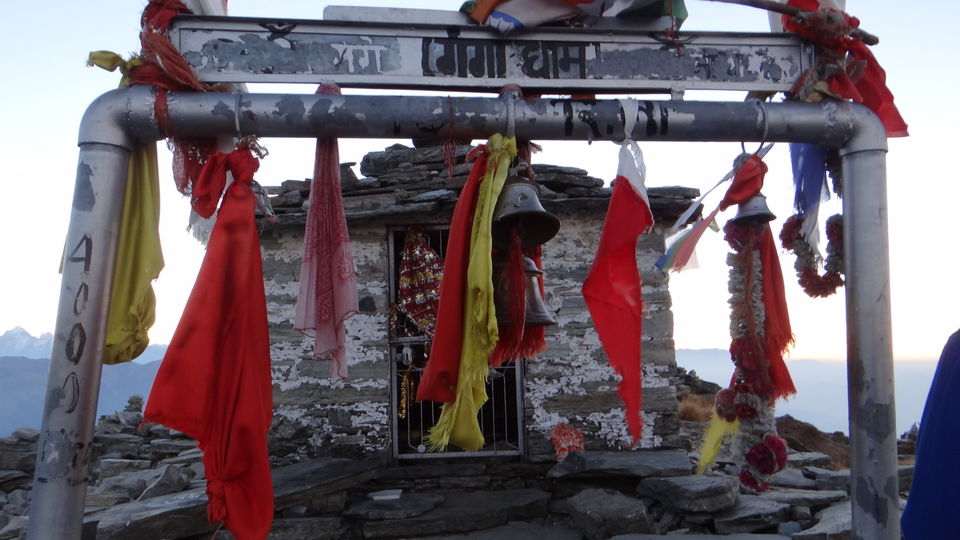 This was the D day. We were finally going to climb the summit. We were going to witness and be part of the most beautiful sunrise. We got up around 3 in the morning and in an hour everybody was ready to leave. We had our headlamps worn, our jacket donned and trek poles in our hands. We left in pitch dark. Everyone following the person in front. We entered the Temple entrance. After which you have well-constructed concrete stairs to reach up to Tungnath temple. We could see the shining village lights on our left and twinkling stars in the sky. It was so surreal. And we just kept walking into the silence. From the darkness towards the light. The promise of seeing the most beautiful site was keeping us motivated. Our trek leads were encouraging and they never left our side. We were our best by far. After sometime the headlights need not be switched on. Entire path was lit up by the moonlight. Around 6 we were at Tungnath temple. The highest Shiva temple in the world. We decided to stop there while coming back. From here the trail gets difficult. Ascend is steep and path is rocky. It's comparatively difficult and you start losing your breath. But then you see beyond that mountain there is this sky painted with all sorts of colors. Orange, pink, red all mixed up to create a mesmerizing painting.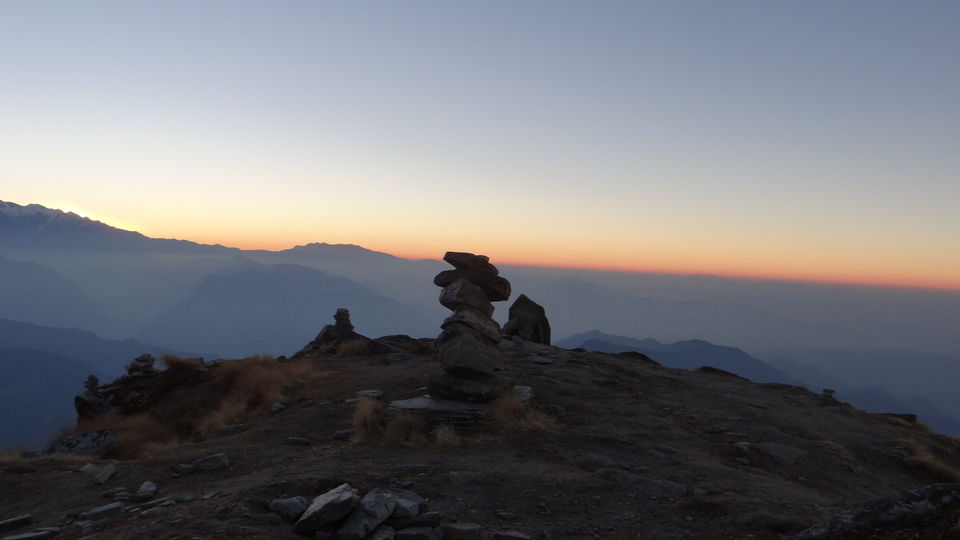 Lending each other a helping hand and with words of encouragement passed we finally made it to the top. And Oh ! what a feeling it was to be there. I was at the summit. Seeing a temple at this altitude was amazing. The view was worth the efforts. I found a spot for myself to welcome the sun. And just sat there looking at the myriad colors of the sky before sunrise.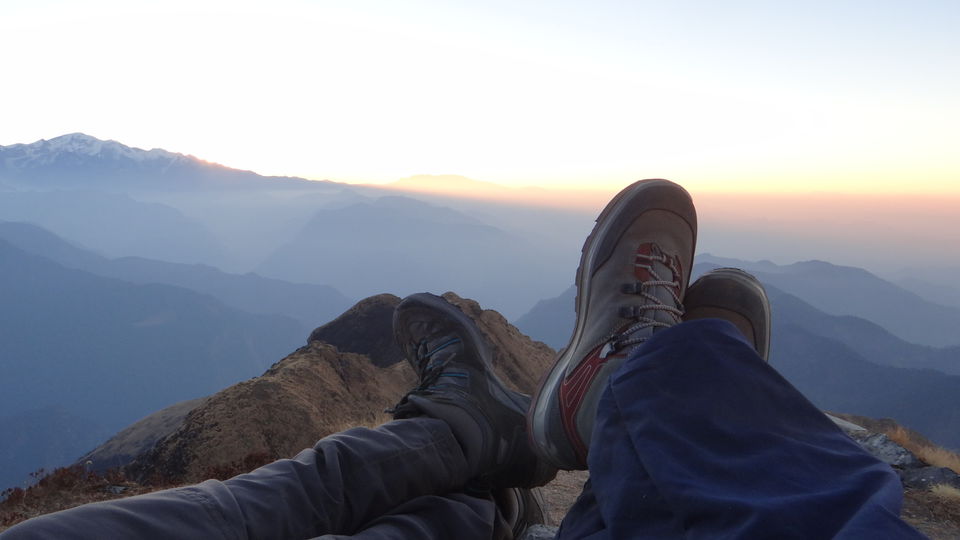 There it was !!! The indescribable sunrise. Our fatigue was gone and we were all energized. We kept trying to capture it all. To take a piece of it with us. But I don't pictures can do justice to what we saw. You have to be there to not just see the sunrise but to feel it, to experience it.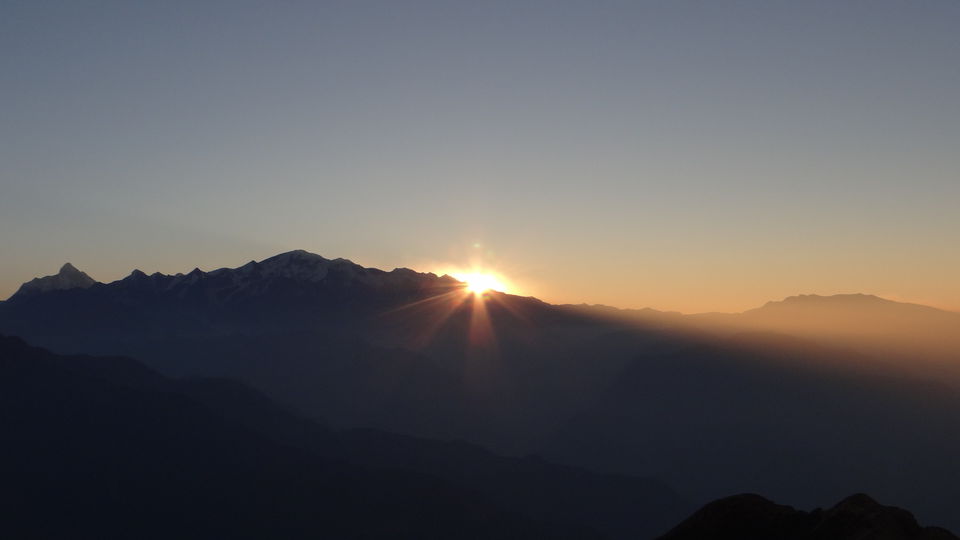 I brought back lots of memories, pictures, experience and friends.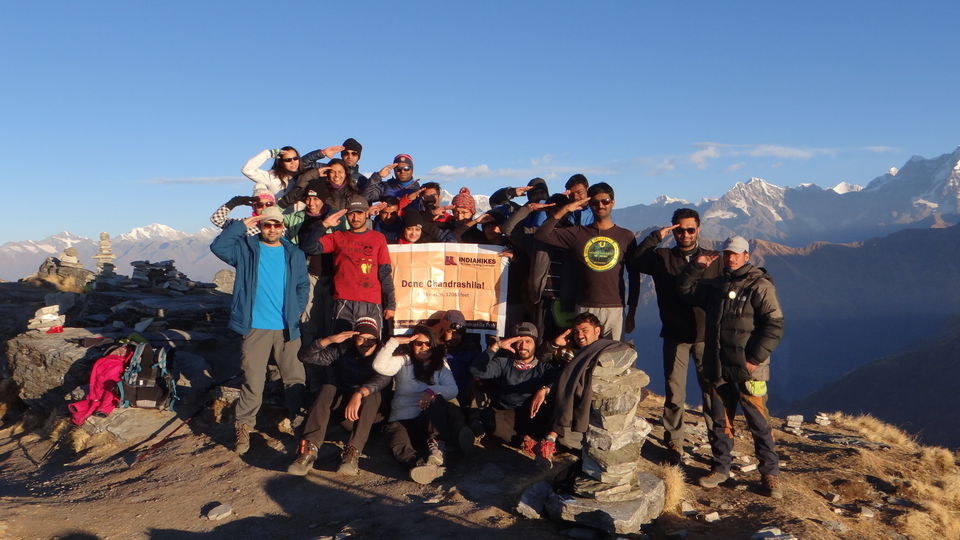 Pic credit varies as I picked them from the pictures shared by my trek group. Thanks ! everyone for such amazing clicks :)