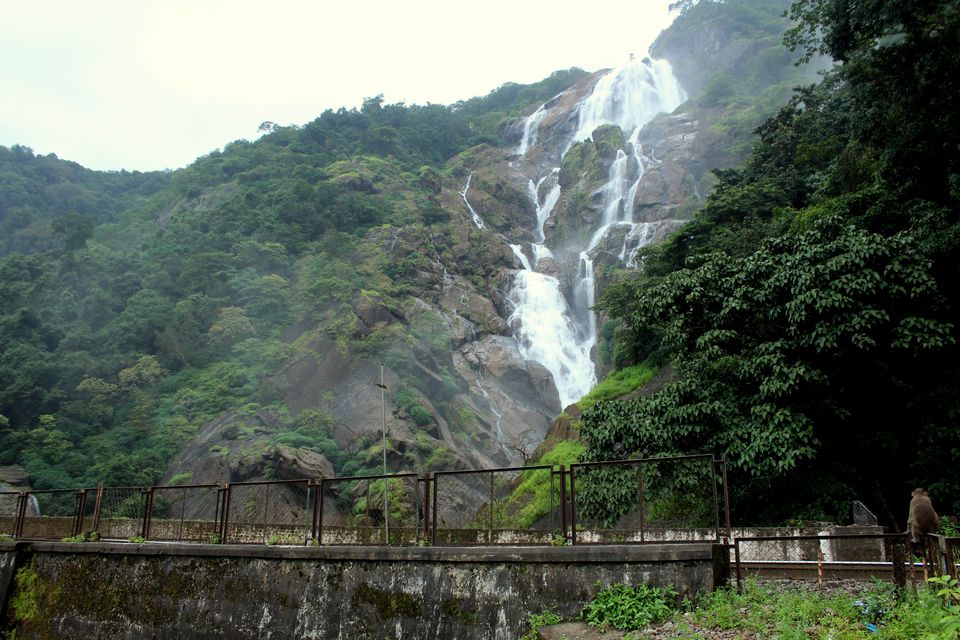 If you've watched the SRK-Deepika Padukone starrer Chennai Express you simply cannot miss the spot where SRK gets down from the train with Deepika, right in front of a majestic waterfall. Ever thought which waterfall is that, and where's it located? Yep, that's the majestic Dudhsagar Waterfalls, and is located right on the Karnataka-Goa border, technically in Goa. So this forms the backdrop of my next adventure this September.
Dudhsagar falls literally means a Sea of Milk. This gorgeous, mammoth of a waterfall is technically India's 4th highest waterfall and is situated within the Bhagwan Mahaveer Sanctuary, nestled in the Western Ghats. This majestic beauty can be accessed either from Castle Rock (Karnataka) or Kulem (Goa). The Karnataka govt. has banned the trek from Castle Rock side at the moment.
This was on my to-do list ever since I came to know about it. But due to a ban by the railways visiting this splendor was a tricky one. Fortunately, I came across some wonderful like minded folks through Nitish (my trek-mate) doing one such trek to this waterfall. Needless to say, without a second thought I was in for this mystic adventure.
Day 0: The Hustle-Bustle, and the Never Ending Wait
So here I'm, yet again travelling from Mysuru to Bengaluru for a weekend sojourn. My pickup was at Jalahalli cross, and I reached there via metro at 9:45 pm. Problem is the bus that we had booked would show up not before 11 pm, coming all the way from Silk Board, via KR Puram and Hebbal. I had all the time to kill, sitting on the staircase of the metro station.
The bus came soon enough by around 11:30 pm, and once aboard met 33 like minded mates. We were running quite late, and were expected to reach Kulem by around 10 am. It was a long bus ride to Kulem, and good nights sleep was important.
Day 1: One Step at a Time
We reached Dharwad at around 7 in the morn. Checked in at a restaurant to freshen up and for some breakfast. We had to brush up, use the loo, and then breakfast, so quite naturally it took us some time to hit the road. On the move and we soon entered the ghats section. We were slowed down further as a truck had overturned ahead. Driving through some perilous, twisting roads the never ending sight of green canopy all around was an delightful sight.
We are terribly late now. We reached the Goa border at around 12, where we parked our bus and unloaded our rucksacks, sleeping bags, and tents. Two vehicles were arranged which would transport us to the Kulem rail station from where the trek starts. You'll also find people there who'll take you to Dudhsagar on bikes. We loaded ourselves with whatever necessary we needed to survive; water bottles, apples, bananas, biscuits, cakes, juice etc.
Ok, its a terribly hot day today. We had hoped for some rain but none of it would be there on us. The coastal areas can be terribly humid for trekking. Already perspiring, we started off with our trek at 1 pm. The total distance is around 12 km to Dudhsagar and takes around 5-6 hours on foot to reach. First few kms will be on the railway track, followed by a walk through the forest of Bhagwan Mahaveer Wildlife Sanctuary, have lunch, and then again reconnect on the railway track to reach Dudhsagar. This trek is by no means a bed of roses; this one involves walk on railway tracks, walking on stones laid on the tracks, human poop-hopping on the tracks, and some stream crossing with or without your shoes. Dudhsagar, here we come!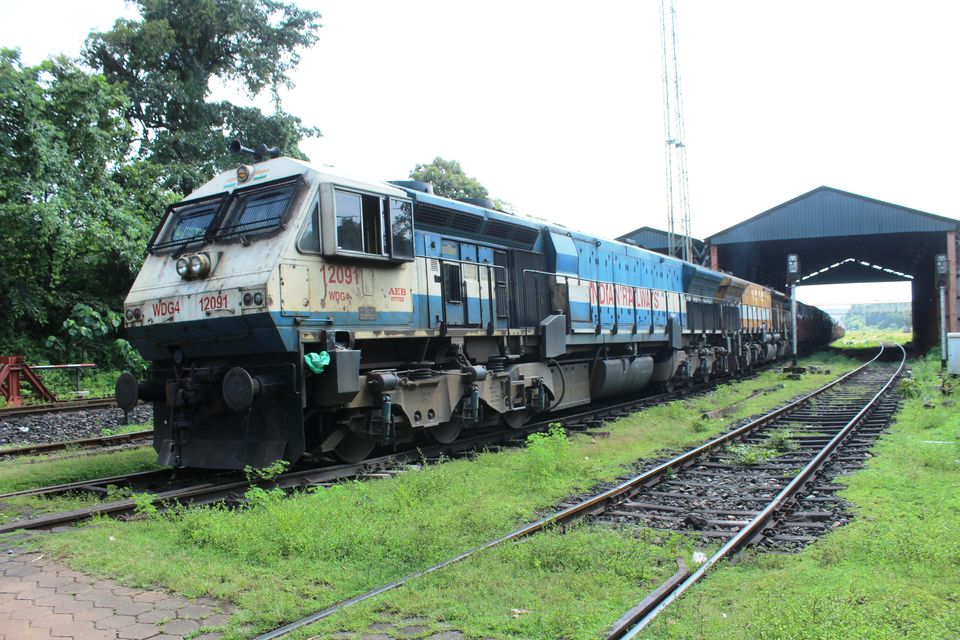 The railway track put up by the Indian Railways in the Western Ghats is nothing less than a work of engineering marvel. It was a daunting task undertaken by the Railways, and you can't appreciate enough once you visit this section. The section from Kulem to Castle Rock is called Braganza ghats, and consists of 5 stations; Kulem, Sonalium, Caranzol, Dudhsagar, and Castle Rock. The Braganza ghats consists of all the elements you can ask for; tropical forests, monkeys howling from the top of trees, the enchanting Bhagwan Mahaveer Sanctuary section, around 12+ tunnels, some rickety yet vintage stations from the Portuguese era, and of course the Dudhsagar falls itself.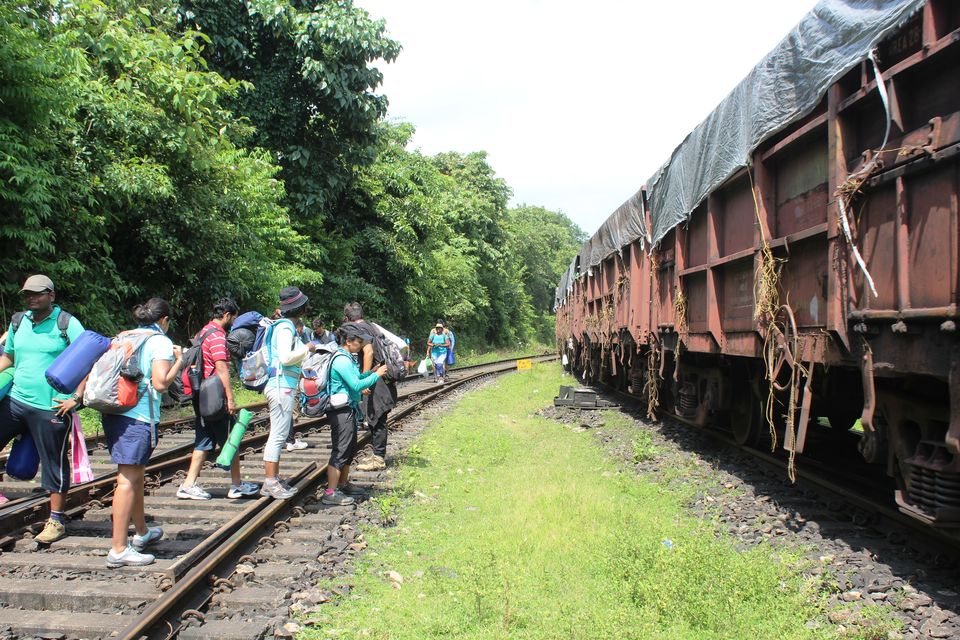 I'm pretty sure most of us must have walked on a railway track. But let me assure you walking on the same here, inside a forest, in the Western Ghats is an unique experience. We were the only souls who were on foot to the falls, rest all were making their way on 2-wheeler. To say the least we were sweltering in the humid conditions, but fortunate enough to have trees all around for coverage from the sun. You also have to keep a close eye (and ear) to incoming trains. The track was quite dirty and was littered with plastics and paper cups thrown from trains. So much for Swacch Bharat!
Almost 4 kms onto our trail, and we had to take a diversion to our left; we now trek through the Bhagwan Mahaveer Wildlife Sanctuary. A beautiful, idyllic forest the Park is home to Bengal Tigers, Leopards, Macaque, Monkeys, Deer, vivid snakes among others. The walk through the forest was a welcoming one, as walking on a railway track and pointy stones can be a painful one for the feet. Just like any other trek in the Western Ghats you find numerous water streams on the trail where you can refill your bottle. There was no ascent or descent on the trail, but the distance plus the humid climate can make things grueling. A walk through the lush green jungle on both flanks was a refreshing one. Also, there were no leeches on the trail despite it being a tropical rain-forest, surprising for sure.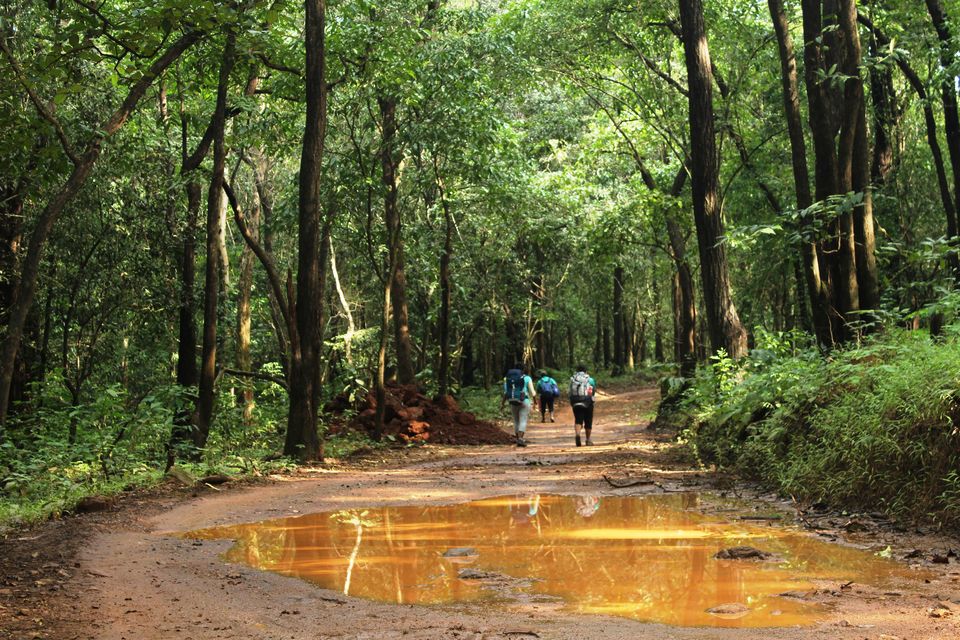 Just before we were about to reached Sonalium village for our lunch we were stopped on our path by a big stream, big enough for the water to seep into our shoes. We had 2 choices with us; cross the stream like man vs wild, without removing your shoes, and not giving a damn to slushy shoes, or act smart and cross the stream barefoot. Most of us chose the later!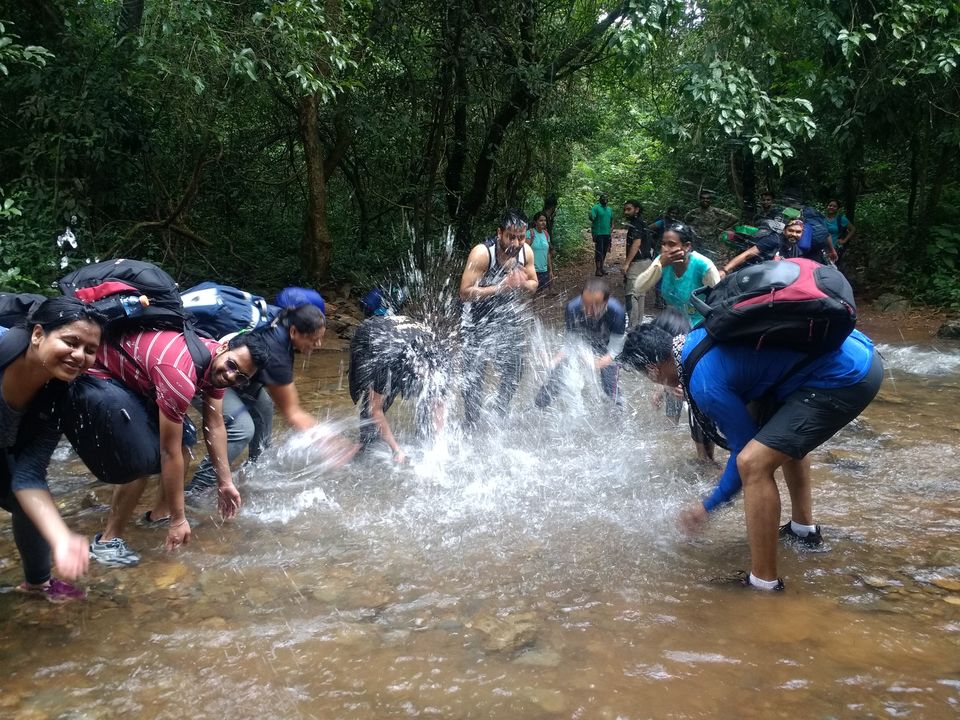 No later we reached a Sonalium village (of around 5-6 houses) for our much needed lunch break. Yes, we reached here by around 3 pm. A simple meal of hot rice, sambar, pickle, and papad can be such a welcome treat, this you realize after a good day of trekking.
By around 4:30 pm we were back on our trail. It was getting dark. I was worried we will not reach the viewpoint on time, and we may encounter animals and snakes once its dark. Couple it up with rainfall (if) and walking on a railway track with incoming trains. Prashant, rightly so asked us to push ourselves and hurry up to not miss out on the viewpoint. Post lunch we were walking with more confidence and energy. We crossed the Sonalium railway station on our way and the rail staff inside were staring at us, wondering why we are on the track at this time, though didn't say anything. The Sonalium station was infact a station for namesake; it didn't have any platform to alight or board, the houses looked like shanty. People who take the loco or goods train to Dudhsagar falls have to alight at Sonalium and walk the rest of the way to the falls.
Right after crossing the Sonalium station we encountered our first tunnel on the track. Our joys knew no bound. I mean what more can you ask for. Walking through a tunnel can be a pulsating but scary one. The tunnels have been carved through big rocks and mountains, without affecting the nearby geology. Talk about some engineering marvel, all respect to Indian Railways. While inside a railway tunnel always ensure to have your torches on, keep an eye on the track, and try to cross it asap. It can be suffocating inside a tunnel due to less air, and a rail passing through can also make it dangerous. But I have to say its not everyday that you get to walk through a tunnel, perched inside a dense ghat section. This is what adventures are made of!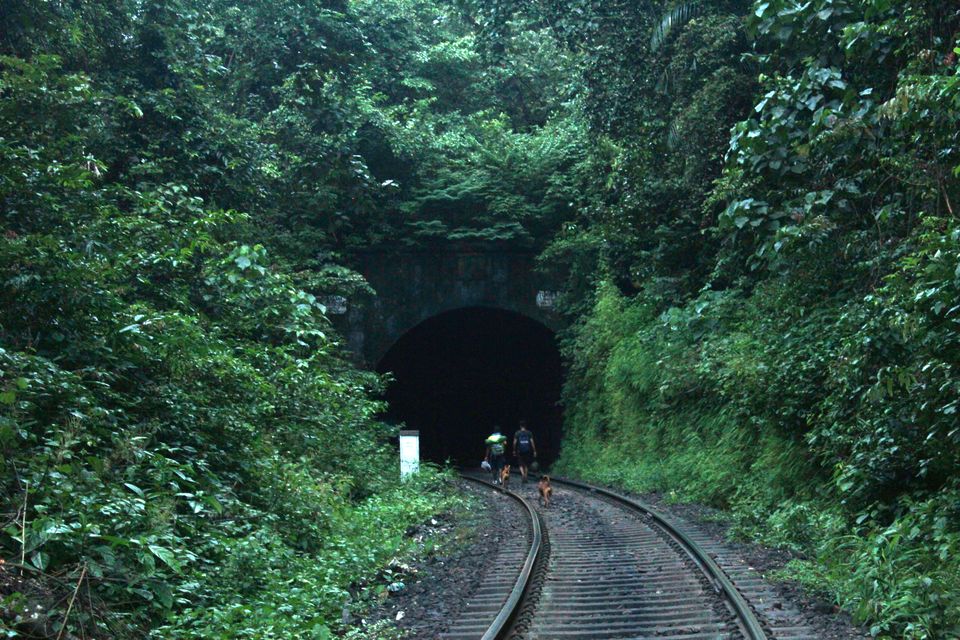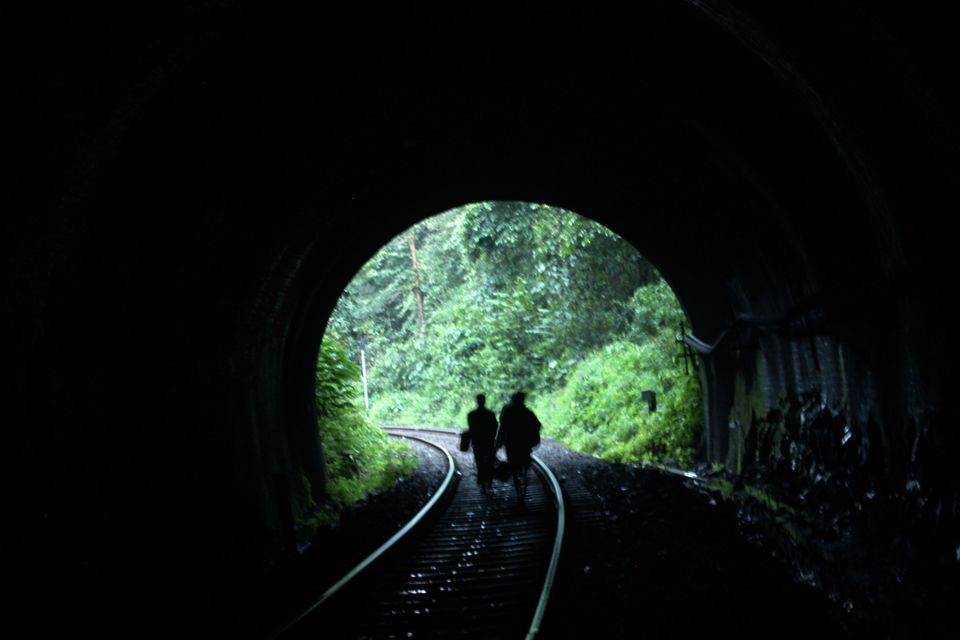 It was almost 6:15 pm and we could see traces of the Dudhsagar falls, not clearly though; something that we were dreaming of for such a long time. At around 6:30 pm we reached our first viewpoint;
a clear, uninterrupted first look at the breathtaking Dudhsagar falls, flowing in all its glory and might.
It literally looked like a waterfall made of milk! We all screamed with joy at the sight of this marvel, like a kid being surprised with an ice-cream! Some countless pics and we moved on. This section has a U-shape bend; that means the goods train that crossed us 5 mins back will now be visible from this viewpoint after 5 mins in front of Dudhsagar falls. An absolute delight for a photographer to capture a moving train with the falls in the backdrop. Not so for me or Rajat, due to low light. We had to cross yet another 3 tunnels before we reached our destination. We hurried up, and reached Dudhsagar falls by around 7:30 pm. Needless to say it was pitch dark, but the waterfall was glowing with the sound making us feel the wonders of nature. Sadly, we wouldn't get any get views or pictures today, and will have to wait till dawn.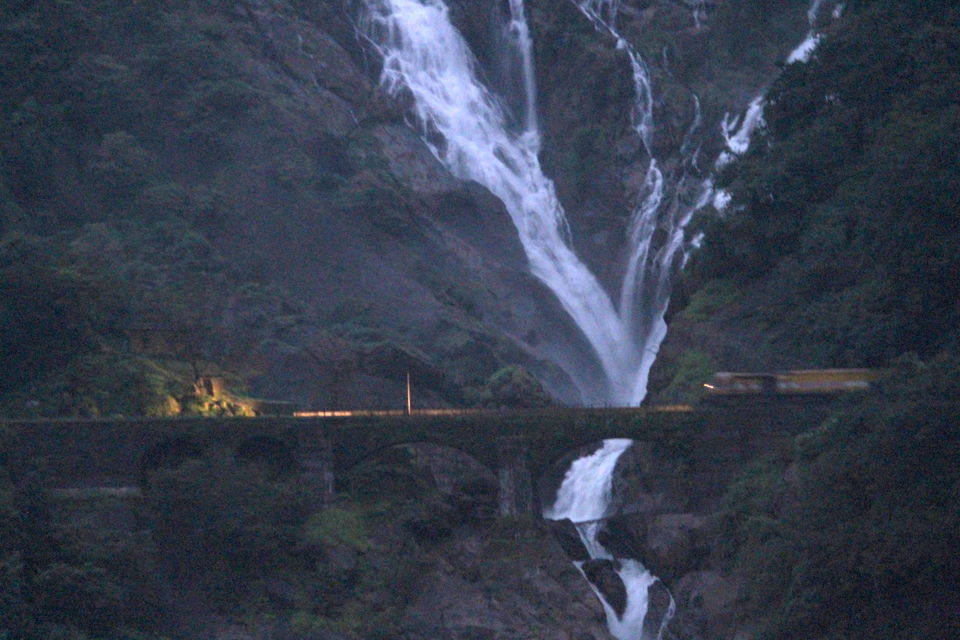 We set up our campsites quite away from the falls. Tents were setup, tent-mates allocated and we are all set for a rocking night. There were no stars, which means it may rain at night. Around 7 guys quickly went back to Sonalium village to get the dinner. We have just reached the campsite and were exhausted beyond words, and here are these guys who again had to go back around 4 kms to fetch our dinner arrangements. Kudos to them for their painstaking efforts.
While all the organizers were away to get food, Anuj decided to huddle everyone and interact. We circled up and played around 2 games. With the only sound of the fiery waterfall in the backdrop we were all chuckling and having a good time under an open sky. The guys were back soon with the food that we've been patiently waiting for. It seems they encountered a cobra while on their way back, with its hood spread. Quite clearly, it felt threatened and a close escape for the lads.the group. PC Rajat
Its bad manners to keep hot piping food waiting for its takers. Keeping that in mind we lined up for some steaming rice, flavorful sambar, potato sabji, and pickle and papad to top it up. Hogged as if there's no tomorrow, before we put up the bonfire. The bonfire idea really cracked me up coz it was already quite warm and humid :D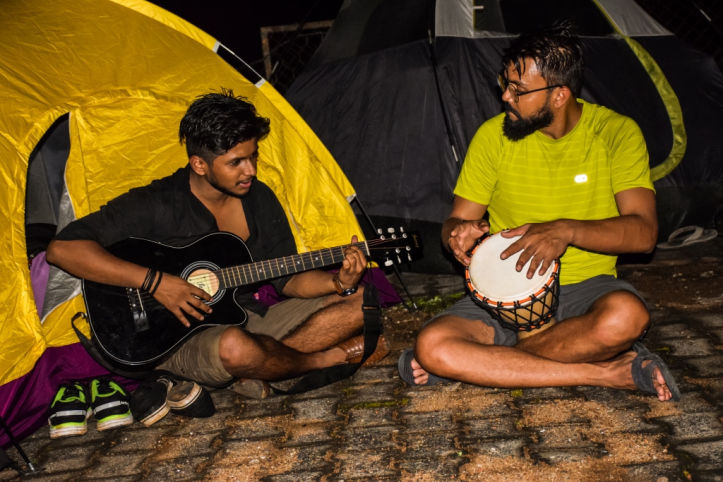 Some moments beside the bonfire before we decided to call it a day. Half of the junta decided to sleep outside rather than being confined in a tent. All of us wanted to get a nice, cold shower as we were all sticky and it was uncomfortable to sleep. Fair enough, we did put up against it, hoping it won't be very warm inside the tent. Me and Rajat were sharing a tent.
Day 2: The Kind of Morning You Crave for Everyday
I was up by around 6 am, thanks to Nitish. I was excited to get a clear view of the falls today. However, the moment I popped out my head I saw a rush of people right in front of the falls, on the bridge. I was literally shocked to see so many people early morning! There were easily more than 100 people, awed at the wonder flowing right in front of them. We realized most of them had come from Mumbai or Pune, and either taken a passenger train or a goods train, and got down at Sonalium or Castle Rock, or reached Kulem at around 2 am and walked on the railway track from thereon. We didn't waste our time either and quickly jumped out with our cameras to capture this giant before we head out.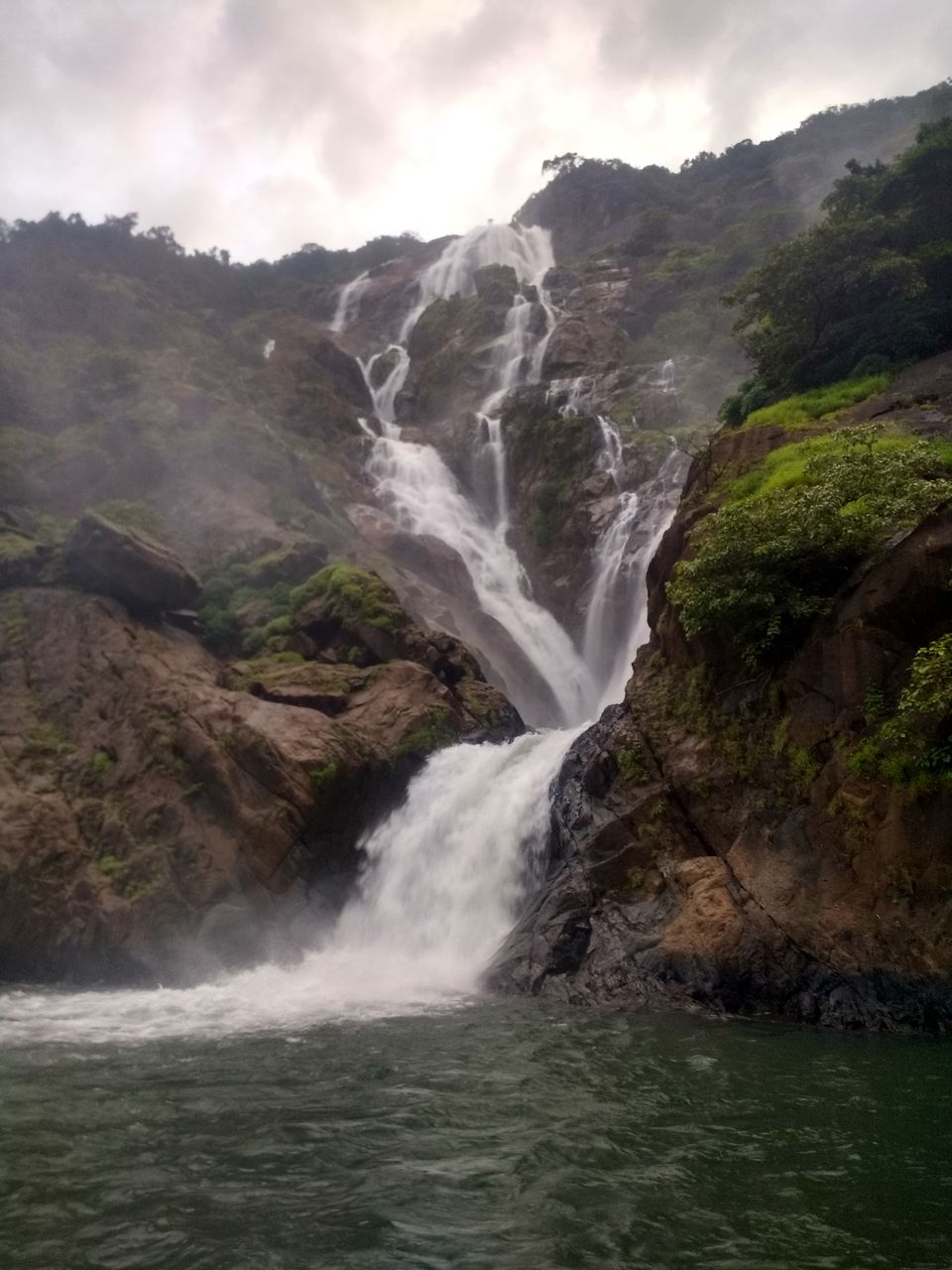 Standing on the bridge, right in front of the Dudhsagar waterfalls, and you imagine all the efforts, pain, and sweat was worth the sight you have in front. Its a huge, 4-tier falls, gorging its way through the National Park, making you feel so tiny in front of nature. India has so many such wonders spread across, and Dudhsagar falls is right on top of the list.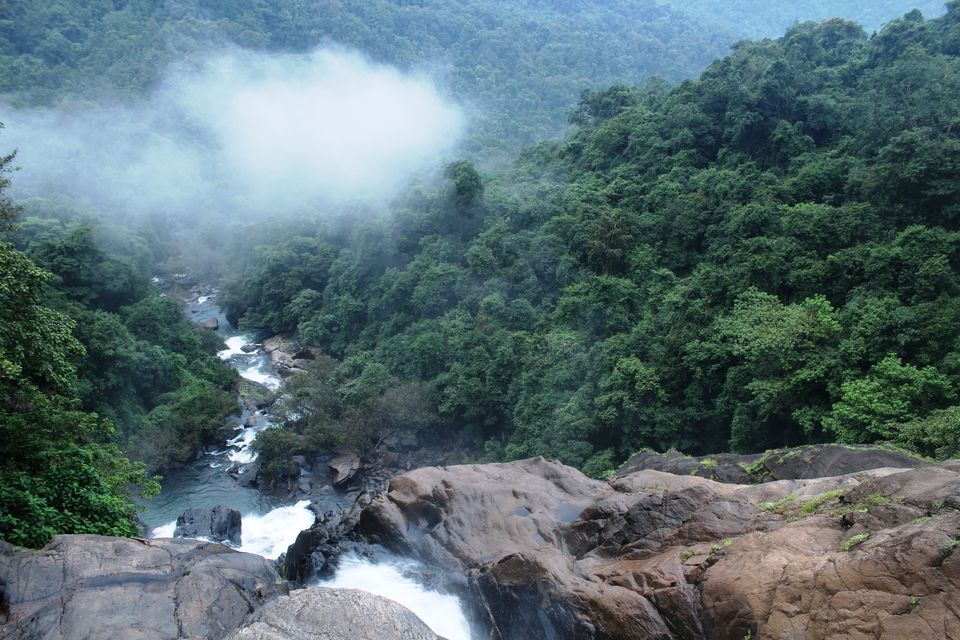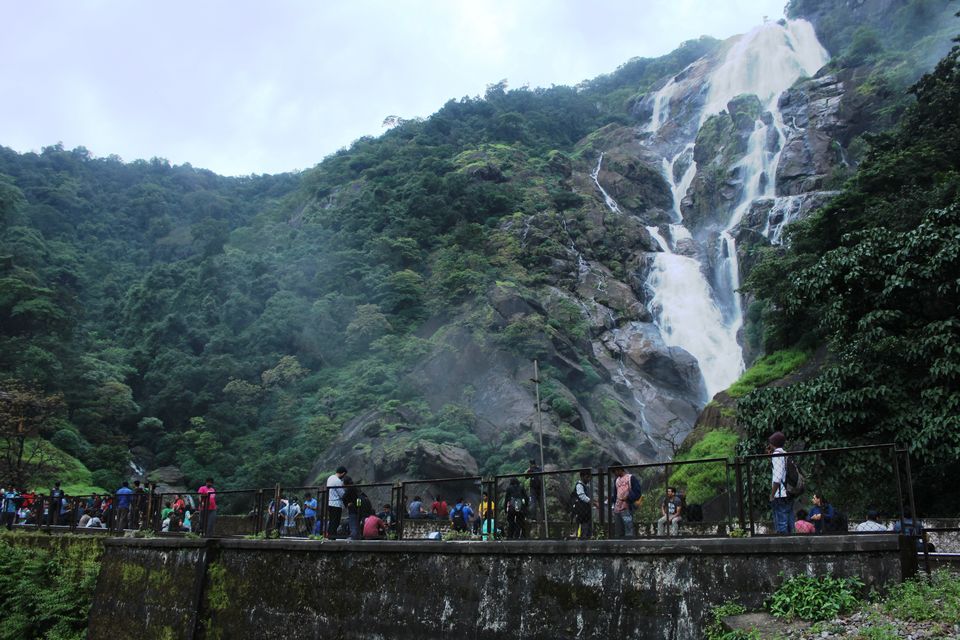 The place was swarming with visitors early morning. Me and Rajat saw a small passage that takes you underneath the bridge. We sneaked in before few more followed our trail. From here you get a delicious view of the falls from the bottom. WARNING, don't even think of getting into the pool that forms from the waterfall; you'll drift away sooner than you or anyone will realize, down in the ghats.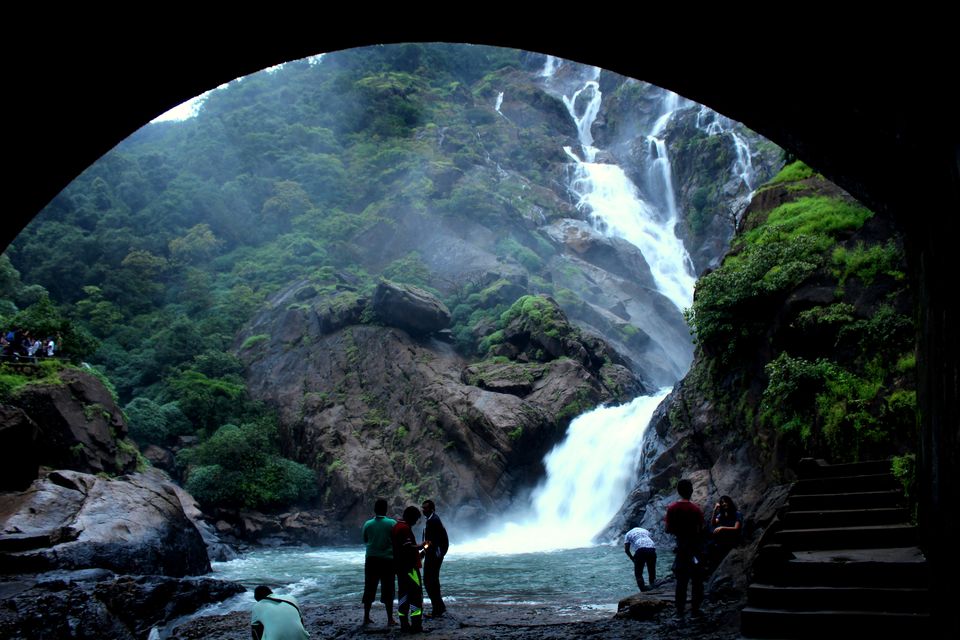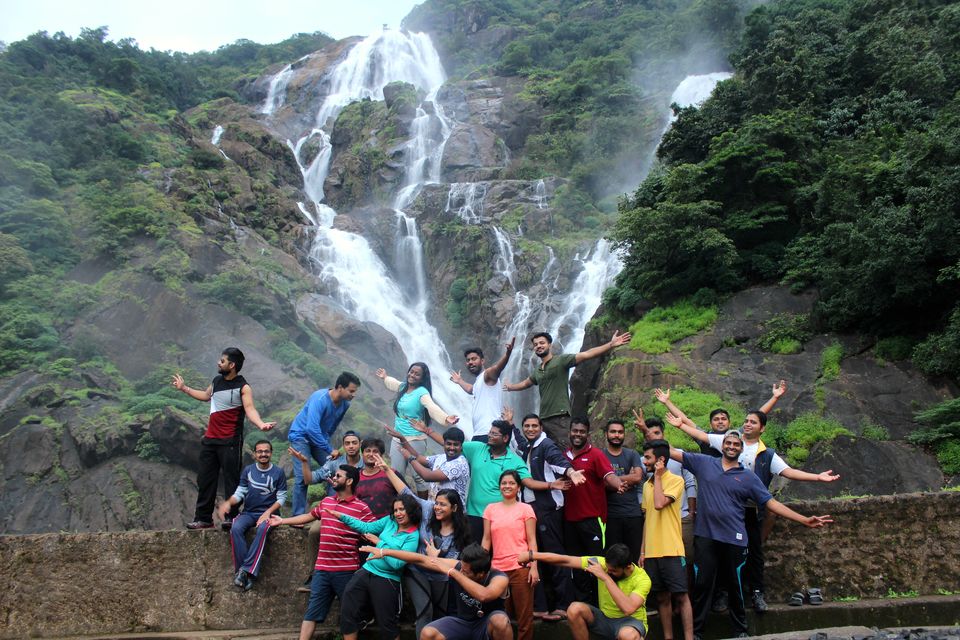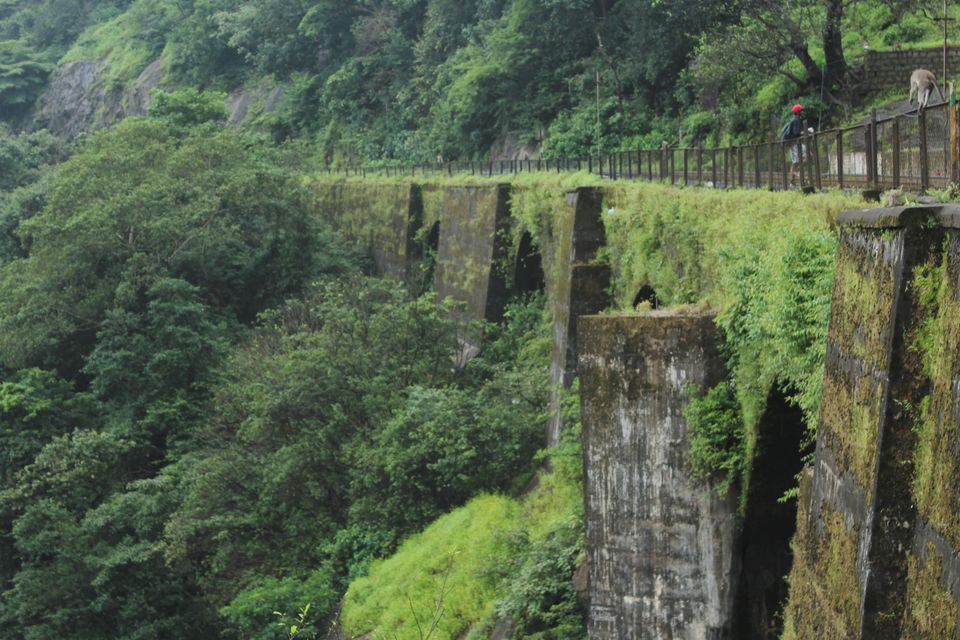 We decided to head back by 8 am, so as reach Kulem on time. But before that we need to take good dip in the river. So after crossing around 3 tunnels take a right, and traverse your way through the slippery slopes of the jungle to reach the river where you can wash up.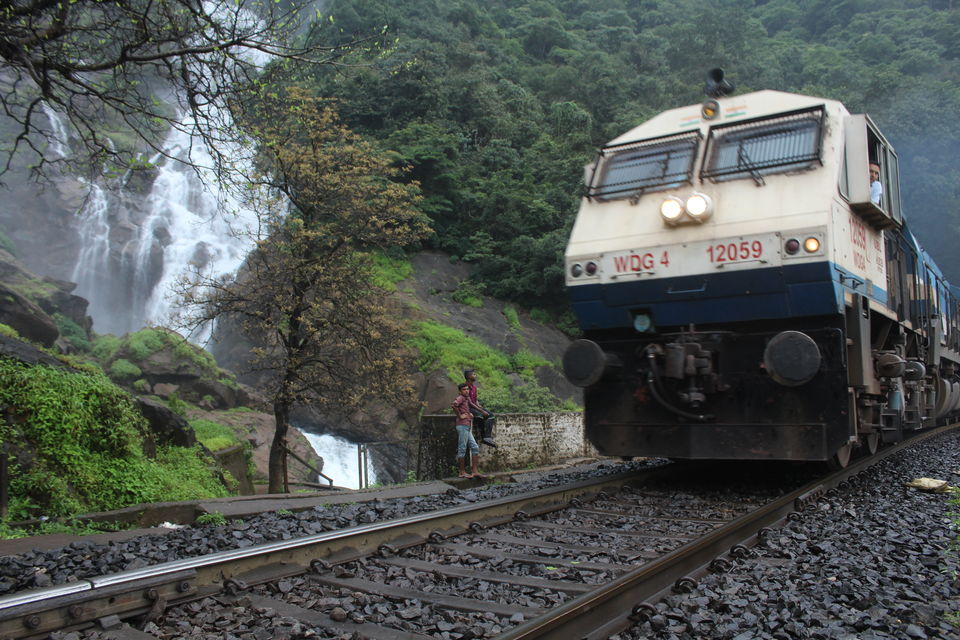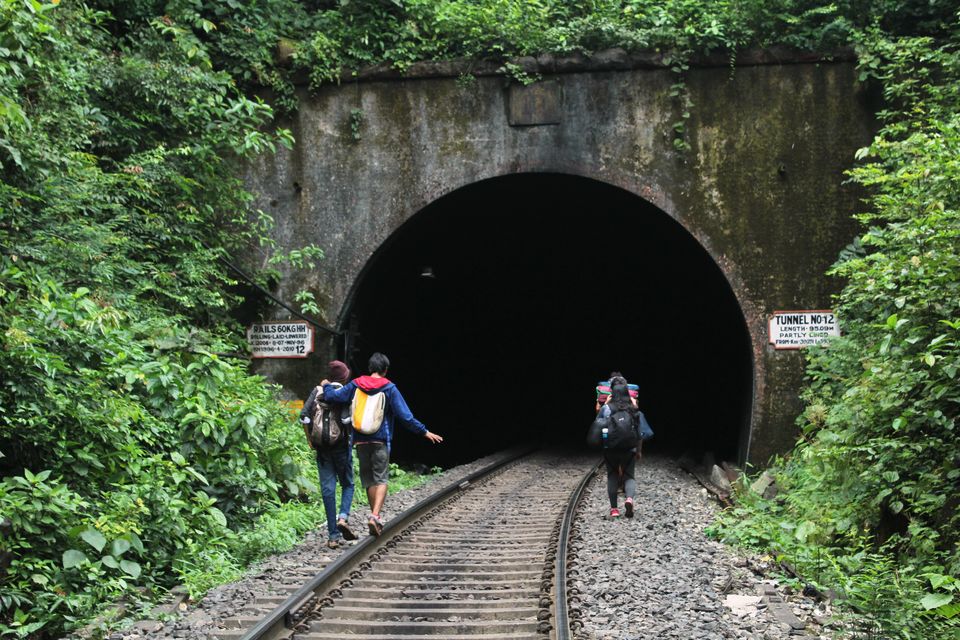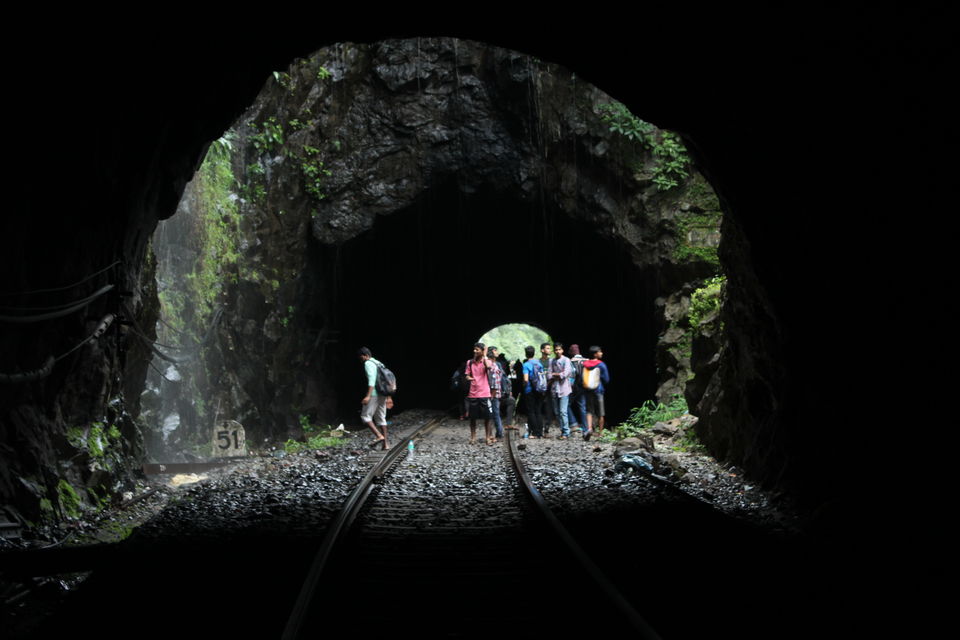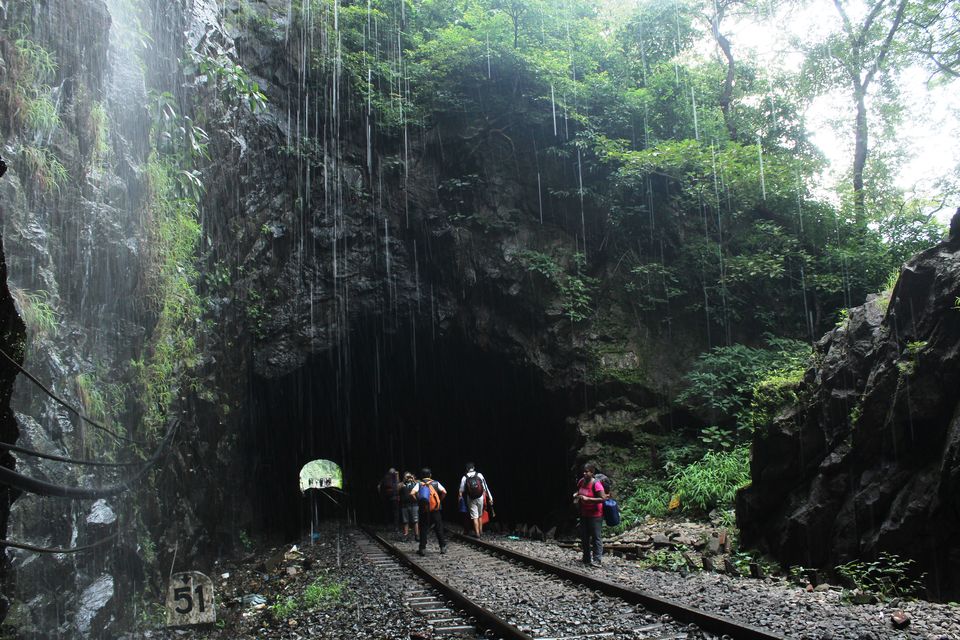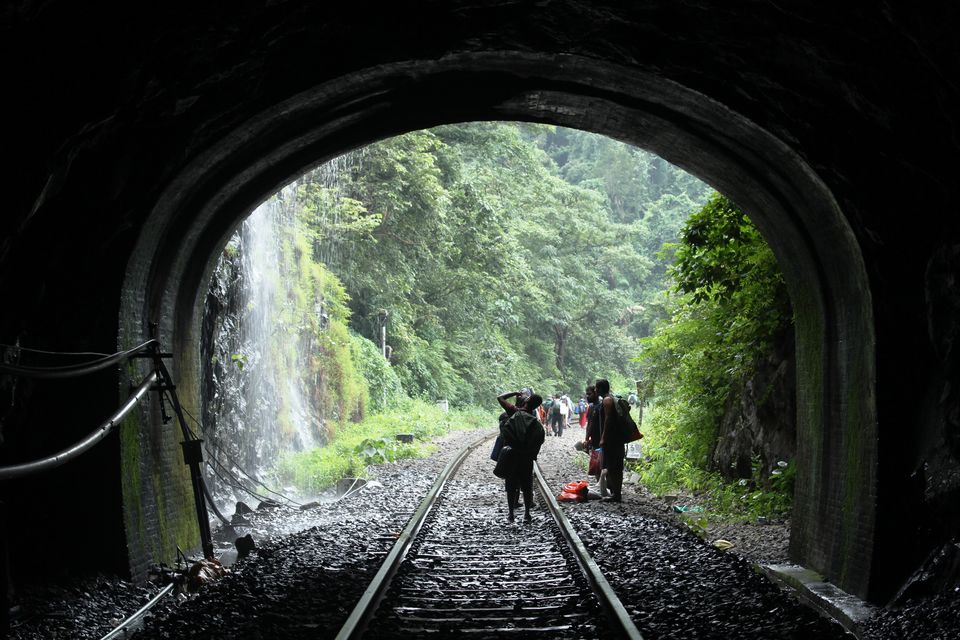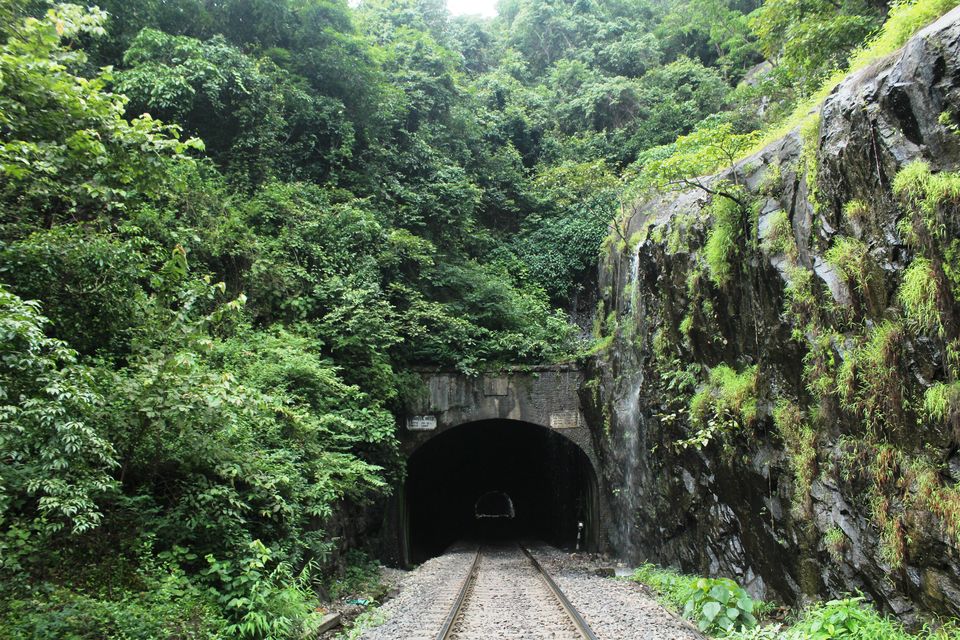 It's monsoon and the river is in full flow. Losing your step and falling on your bums is quite easy here. We just lost it seeing a river flow amidst a jungle! Kept our bags aside, changed our clothes and walked into some nice, cold flowing water. Damn it felt incredible, all our exhaustion swept away with the water. We played in the water for more than an hour, without getting swept away or drowning! During off season you can also walk till the point where the railway bridge in front of Dudhsagar is right above you. But during monsoon its off limits due to more volume of water flowing in the river.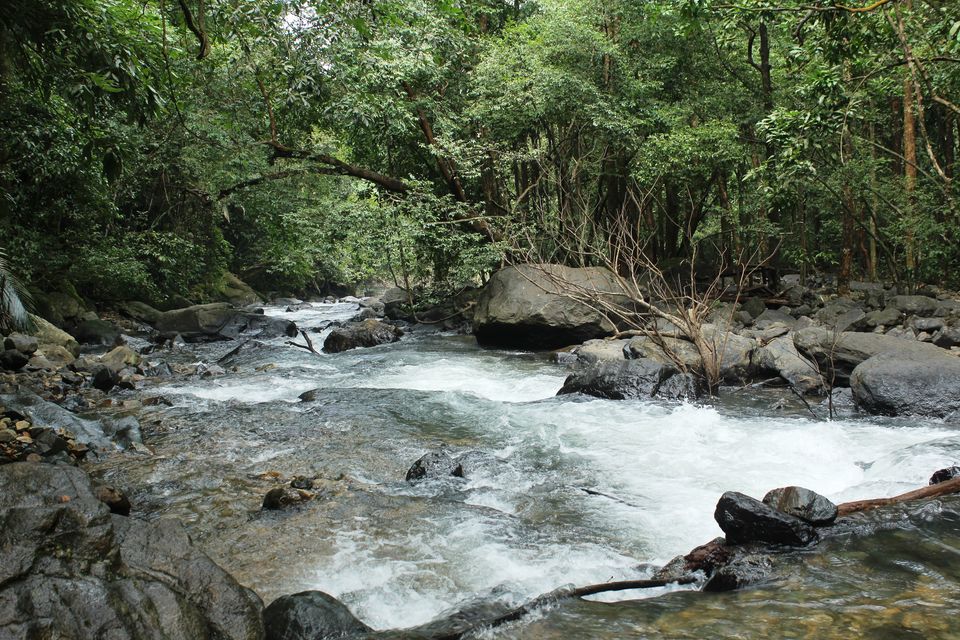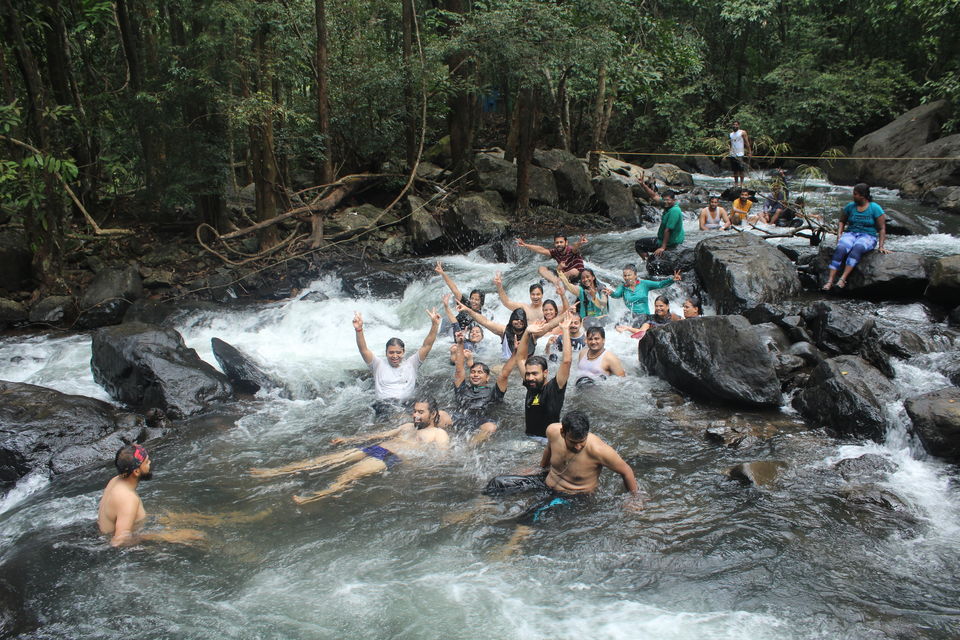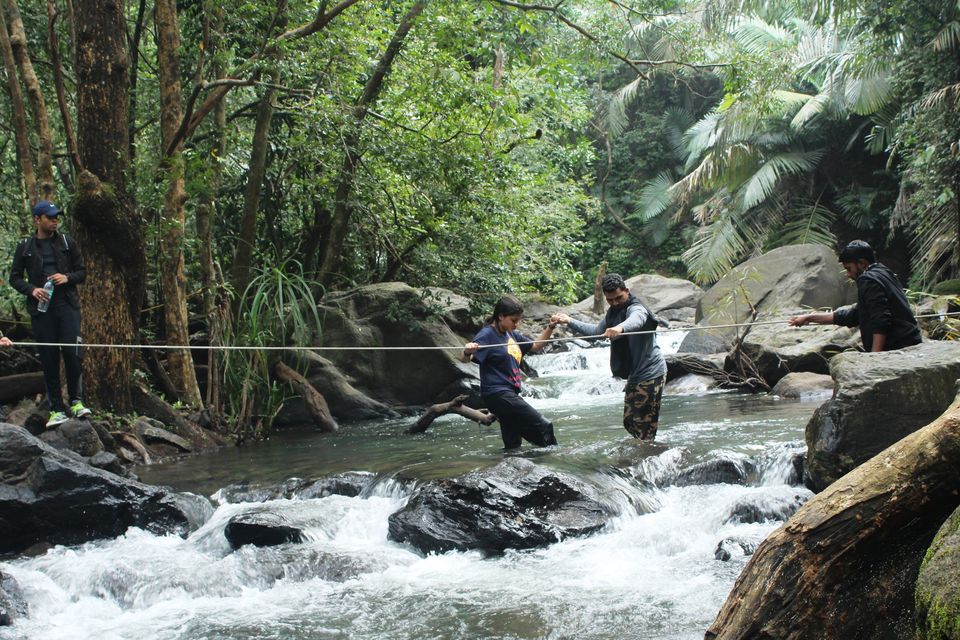 As much as we wanted to stay there we had to come out and go on with our onward journey. Back in our trekking attire and a bit of stair climbing we reached the watchtower from where you get a grand view of the Dudhsagar waterfalls (not as grand though that we got from our first viewpoint yesterday). The 4WD and the 2-wheelers bring all their visitors till this point only.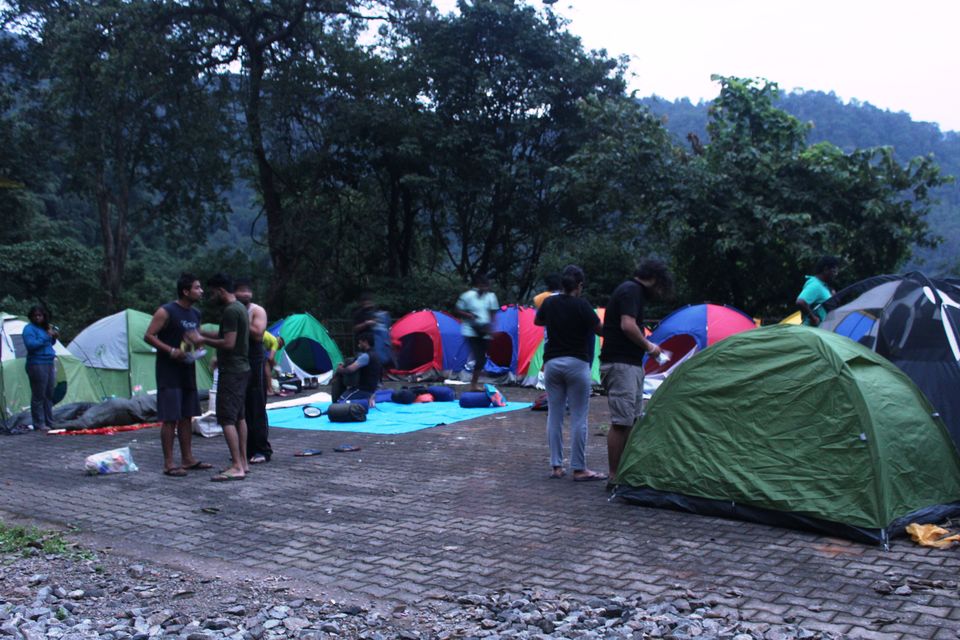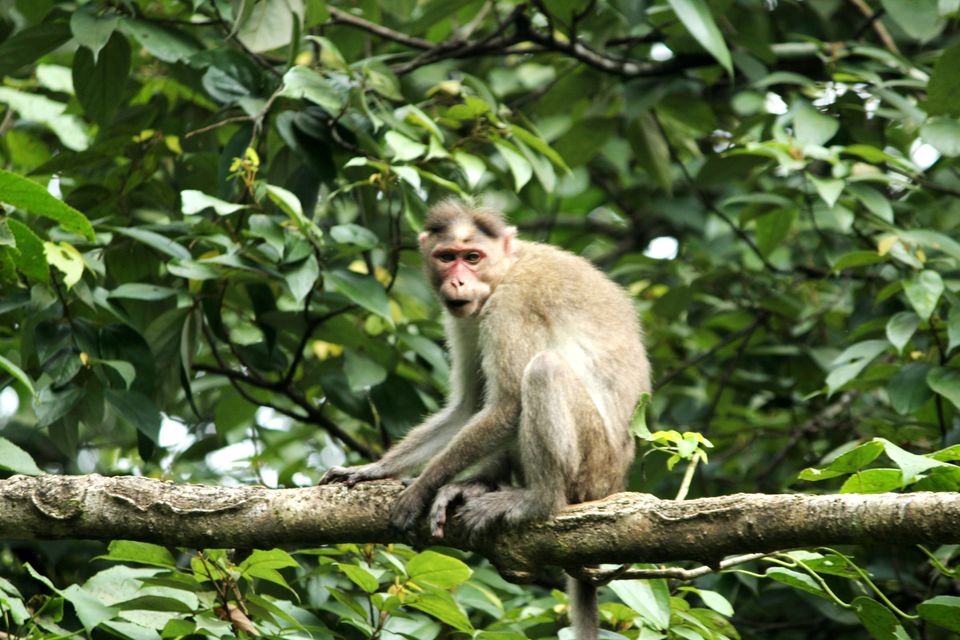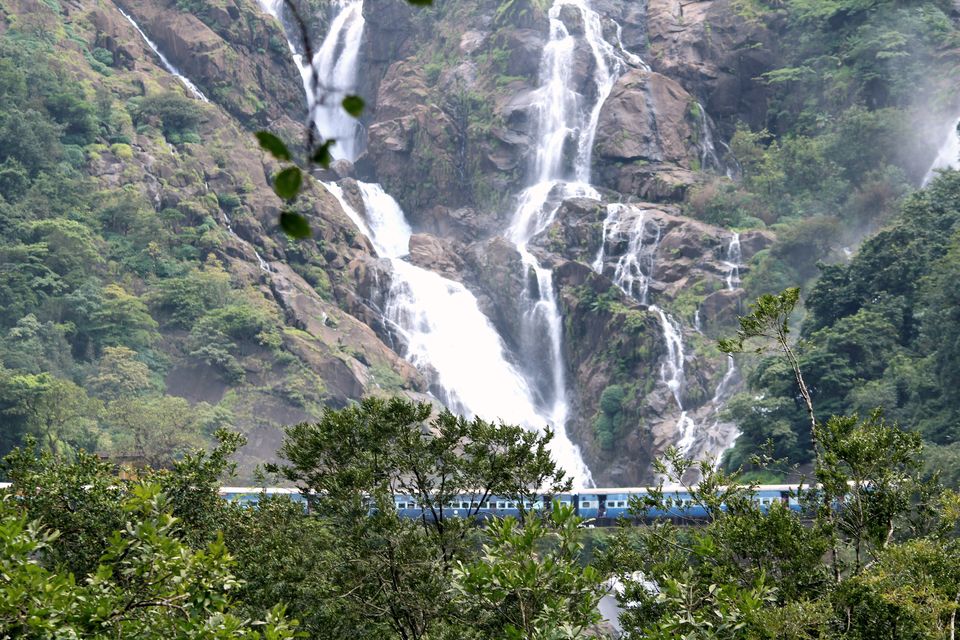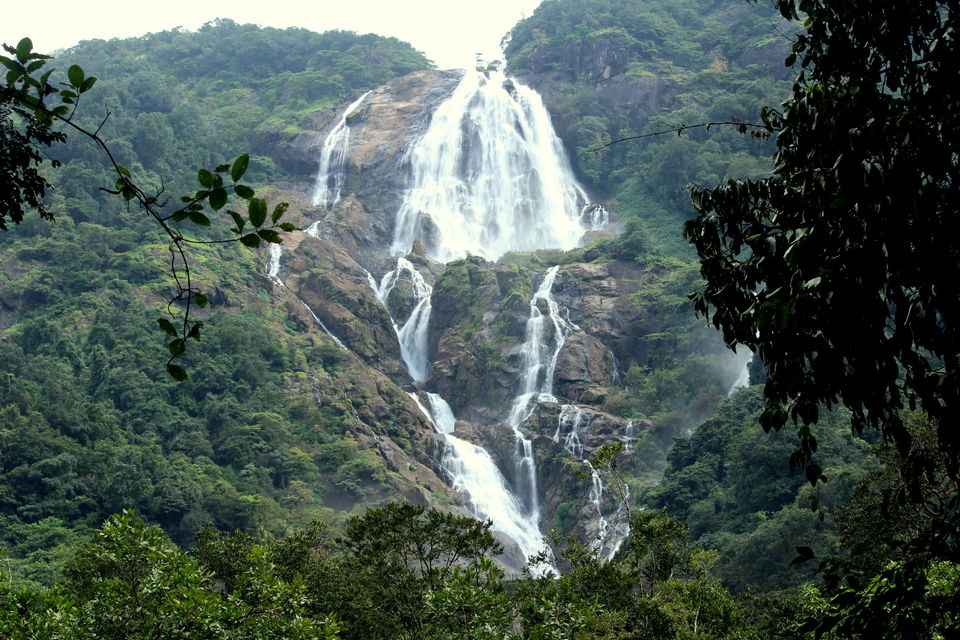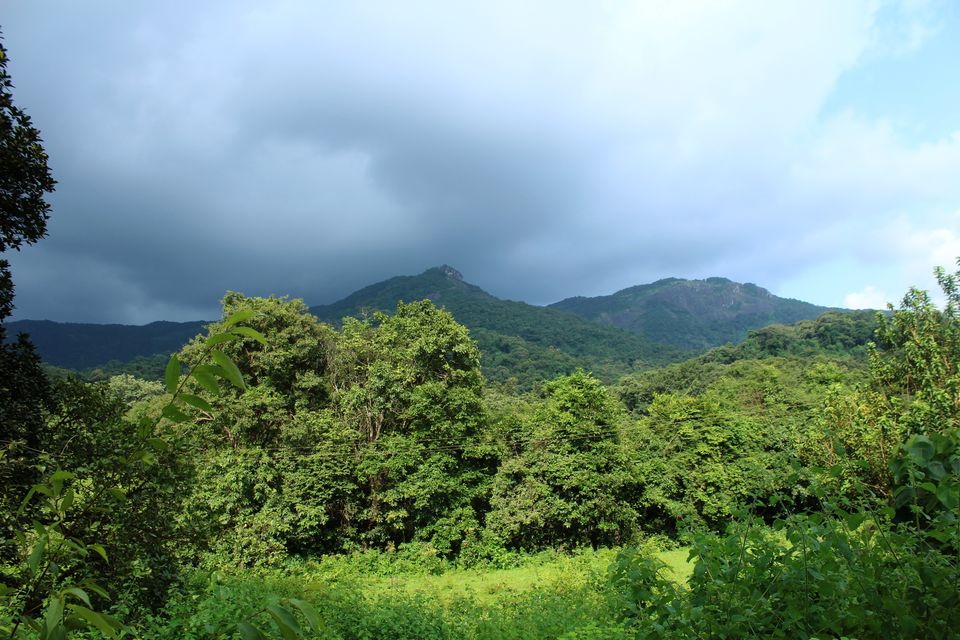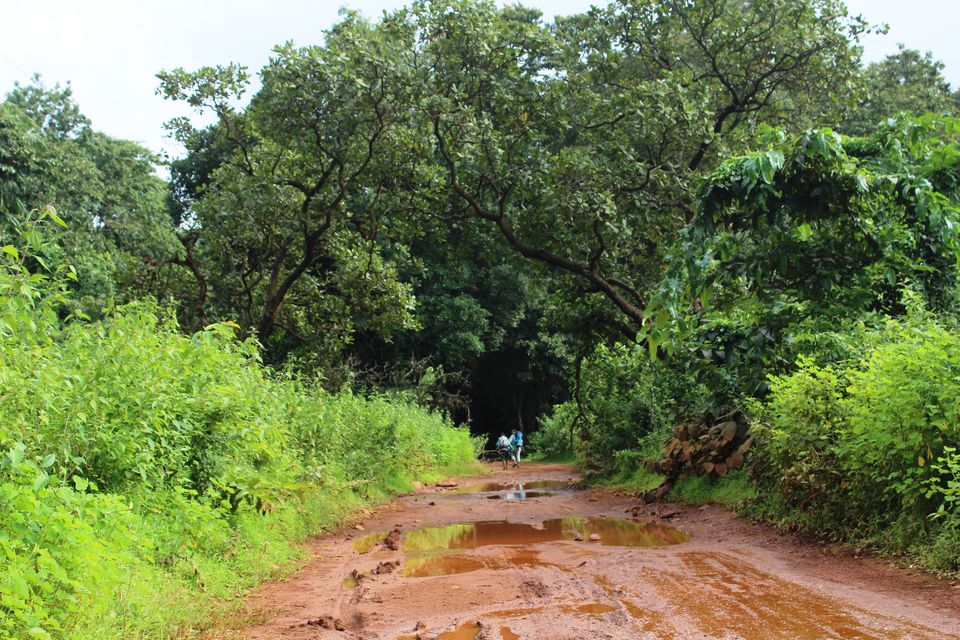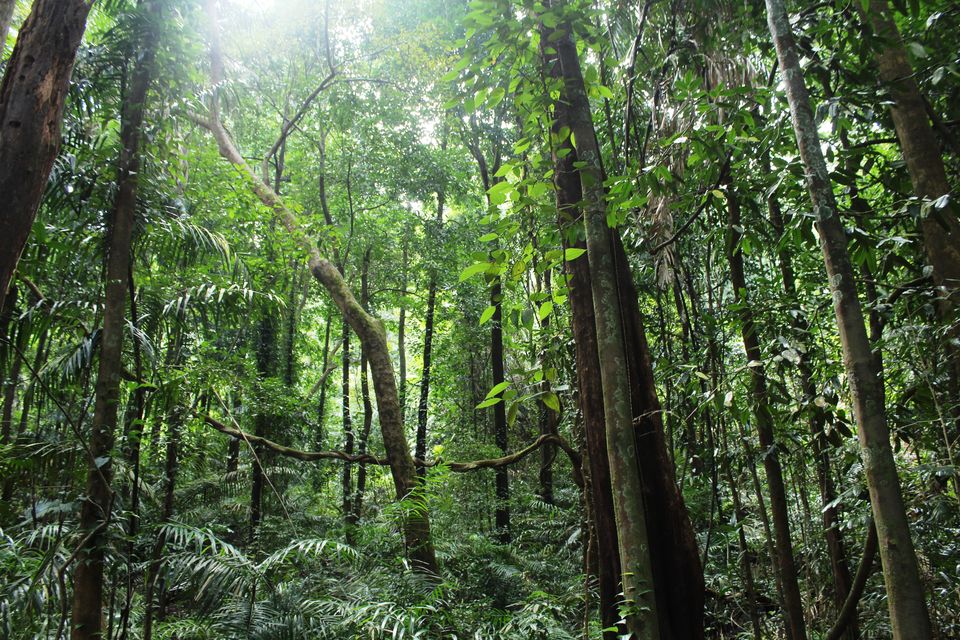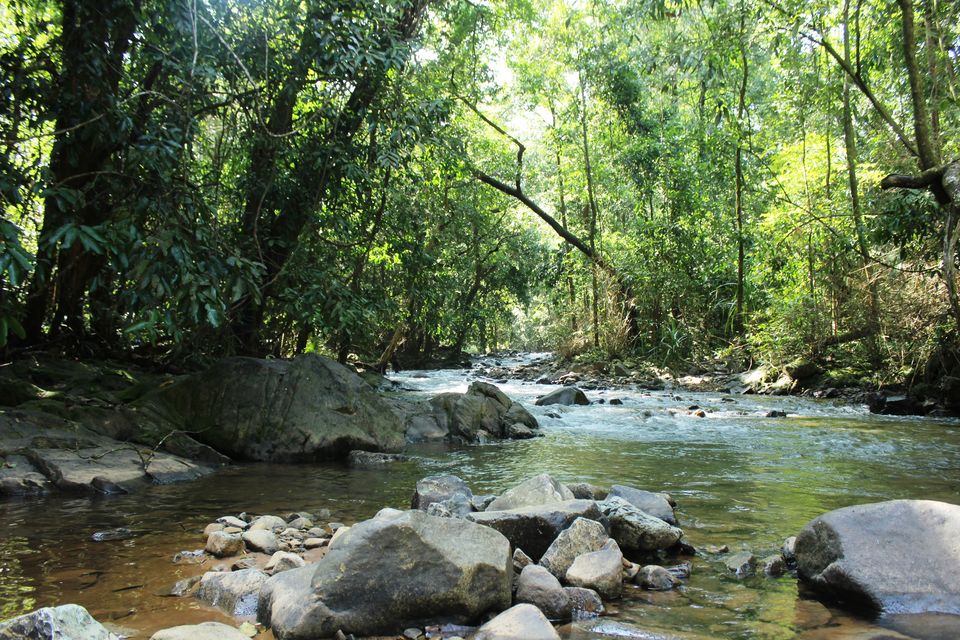 We reached Sonalium in about 2 hours for some much needed breakfast. In comes poha and tea. We stuffed our mouth as much as we could, for it was delicious. Sat there, lazed around as we didn't want to rush out on a sunny day. But today was a Sunday, and you can see lot of tourists behind 2-wheelers making a beeline to Dudhsagar. I also misplaced my camera bag which had my lens and phone behind, only for a good local Samaritan to retrieve it and hand it over to me, else I would've had to go back 2-3 kms searching for it. For the rest of the journey till Kulem there was nothing exceptional that happened; we traced our way back on the railway track, keeping an eye on the track to dodge human poop and oncoming trains. We reached Kulem at around 1:30 pm, much to everyone's exhaustion and delight. We just dropped our bags and sat down on the side of the road.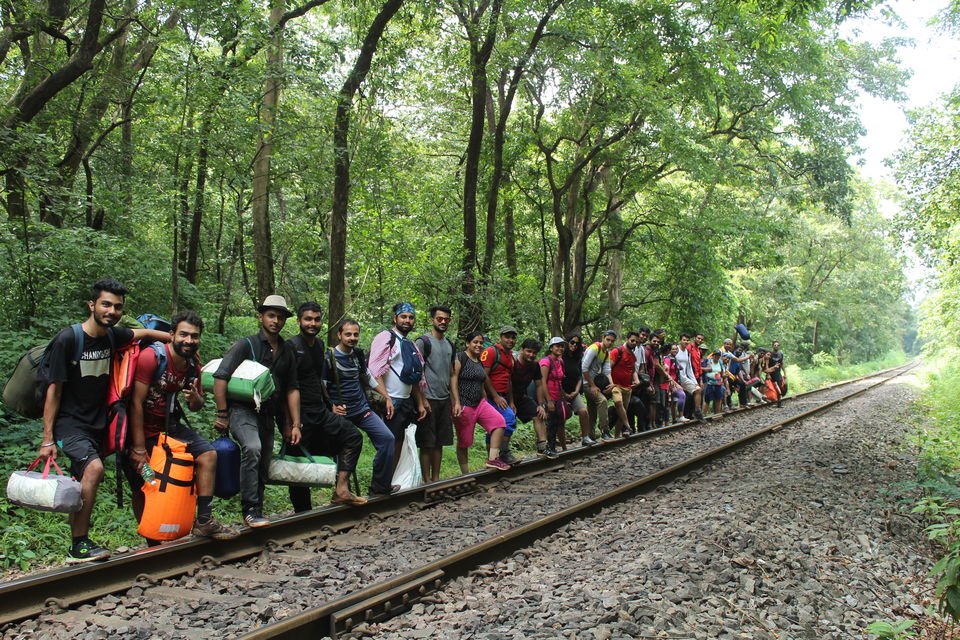 We reached our bus no later. Few of us went to the nearby resort to freshen up, others just waited there, breathing in the greenery before we head back to concrete jungles.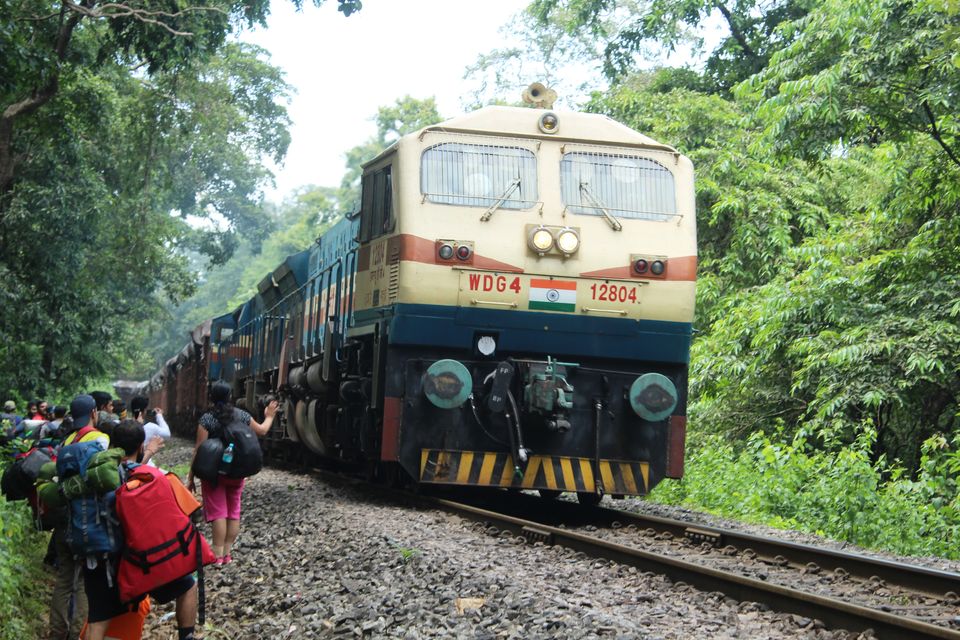 We started back on our return journey to Bengaluru once all the trekking stuff was loaded in the bus. We reached a restaurant for a much needed lunch break at around 4 pm. Our table just went ballistic on fish fry, fish curry, chicken items, roti, rice. Boy did it feel good! The return journey is a long one, and since we had enough time to us we played Antakshari in the bus. The battle of the 'singers' turned crazy; people were screaming out songs never heard, songs of Dhinchaak Pooja and "Bol Na Aunty Aau kya" were dished out! It was pouring outside, much to my grumpy face as it didn't during the trek.
We opened our eyes to a Bengaluru awash with night full of rain. It was drizzling by morning, getting us delayed. I got down at Silk Board at around 7 am, to carry on with my onward journey to Mysuru, bidding everyone adieu for a wonderful bag of memoirs.
The Dudhsagar waterfall trek is made up of both fairy-tales and adventures; walking on railway treks, dodging curious monkeys, scary yet blood rushing moments inside a tunnel, trains crossing you with almost near-death moments, deep-green forests, and a jaw dropping view of the Dudhsagar falls. I had a long standing wish fulfilled with this trek.
My sincere gratitude to the entire group for this rare and grand event. Boy, did we have a gala time! Thanks to Rajat as well for the incredible snaps he took of the entire journey (our official photographer of the event). You can follow Rajat's work here.
Note:
Where? On the border of Goa Karnataka, Western Ghats
Difficulty: Easy, no ascent or descent
Expenses: Rs. 4500 approx
What to carry? A rucksack, trekking shoes (don't take sports shoes), torchlight (MUST), floaters, 2 shorts/pants, 3 shirts, raincoats, poncho, camera, sunglass, cap, quick-dry towel, snacks and munchies, power-bank.
Any other info?
1. The trek from Karnataka side is banned. RPF will not allow you to go beyond Castle Rock on foot. Goa govt, has however, not banned it neither anyone stopped us.
2. It takes around 5-6 hours to reach from Kulem. So start early. Try to reach Dudhsagar by max 5 pm if camping there.
3. Lot of goods train and loco keep traversing this section. You may try to board at Sonalium if the loco driver agrees.
4. Please do not litter. Be a responsible trekker, and keep all the plastics with you and dispose them only in a dustbin.
5. DO NOT even think about getting into the pool that is formed from the Dudhsagar waterfalls near the bridge, no matter how tempting it looks.
6. While on foot, always ensure to go towards the mountain side when a train is approaching. Don't worry, the trains in the ghats section go slowly, you'll have enough time to cross to a safe side.
7. While inside a tunnel try to cross asap, and with a torchlight. Advisable is to not get inside the tunnel if a train is approaching.
8. Remember, you won't find any shop or tea stall near Dudhsagar, so carry all your necessities with you or buy them in Kulem.
9. And, don't forget to brag around once you're back from this amazing experience ;)