The times demand that we not settle for climbing ordinary mountains; we must hoist ourselves up and climb extraordinary ones. – David Gergren
This year has been legendary so far to quench the thirst of my eyes. In last two months, I had completed three International trips: a not-so luxurious but lot of activities based trip to Dubai- The city of Skyscrapers, a fascinating snow-filled trip to Bhutan- The city of Happiness and a toilsome and knee-jerking trekking trip to Nepal – The gateway to heaven. I'll start with the last one. Not only because everything is fresh in my mind as it's just got over, but also because this one demanded maximum effort both physically and mentally. Yeah… it's trek to Everest Base Camp(EBC) and Kala Pathar.. an altitude of 18,600 feet !
EBC is in each trekker's To-Do-List and so was mine. But I had planned to go for EBC after 2-3 more high altitude treks. But they say, "You don't decide, but the mountain calls for you". And the mountain echoed… the best one in the lot this time.. I got an offer I couldn't refuse. I just grabbed the opportunity and started my preparation. I knew this wasn't going to be an easy one and I needed to work on my fitness. But I had only a week time after my convocation. That too I slept like a child. Now there is just three days left for the journey to start. Everything is settled, except one: fitness. I hadn't started my fitness preparation till then. It was 7PM. I thought "Now or Never";I put on my running shoes and went out. Started with a 2.5km running stretch, by third day it was 3.2km. Something is better than nothing. I packed my backpack making sure not to miss any essentials. I was going by road to Kathmandu. Puri to Howrah and then to Raxaul. After crossing the border at Raxaul-Birganj and then by bus to Kathmandu. Seems hectic, huh !! When you've budget constraints, you need to set your priorities clear: Comfort or Experience.
Kathmandu by Road:
Howrah to Raxaul : Train No 13043 :Howrah - Raxaul Express
Raxaul to Kathmandu : By Bus
PS: Best option is to catch a flight from Delhi
This time I was doing the trek with XLANC(An adventure club by XLRI students), not Indiahikes. So I was bit skeptical about it. Rahul was our ground coordinator. We were four members from XIMB: Swayam, Shaz, Barsha and Myself. We were given accommodation at Alobal1000 hostel. The atmosphere was very lively and happening at this hostel.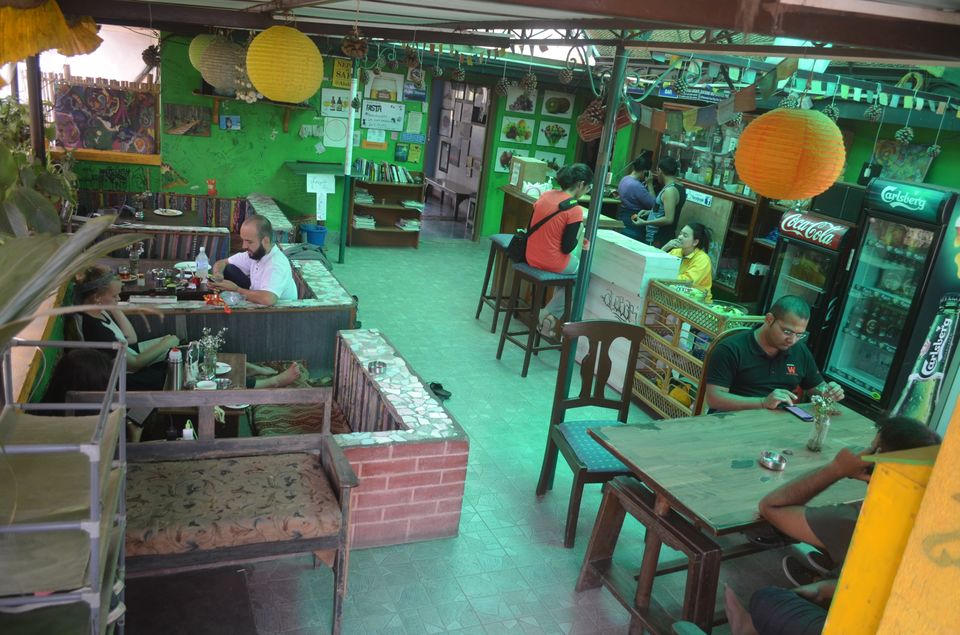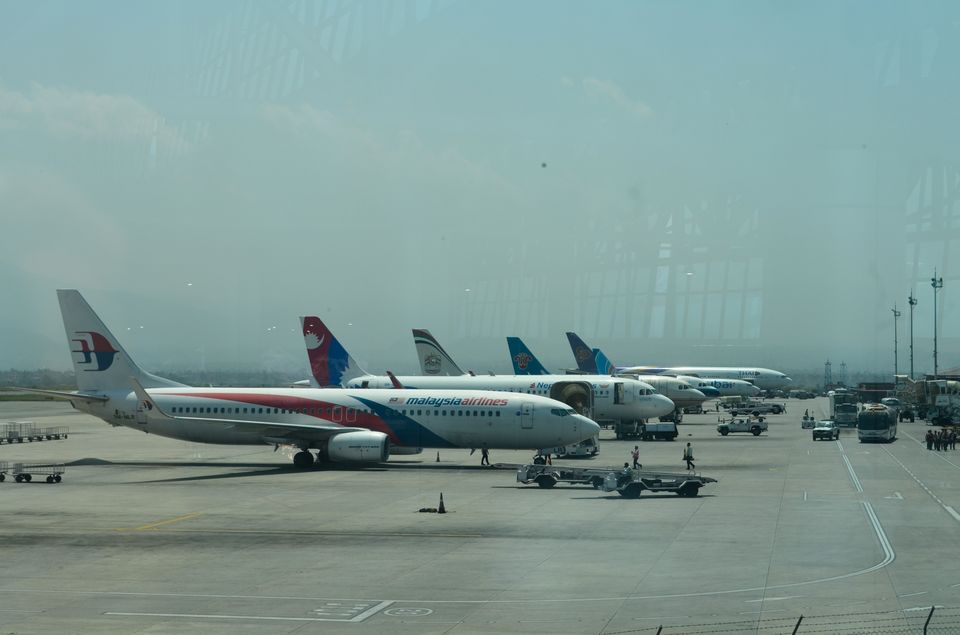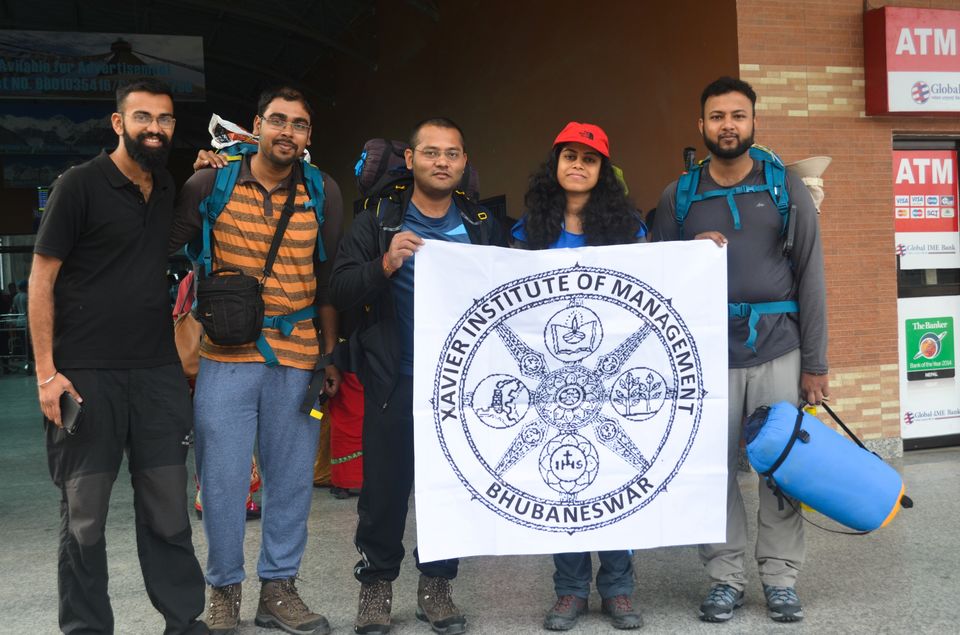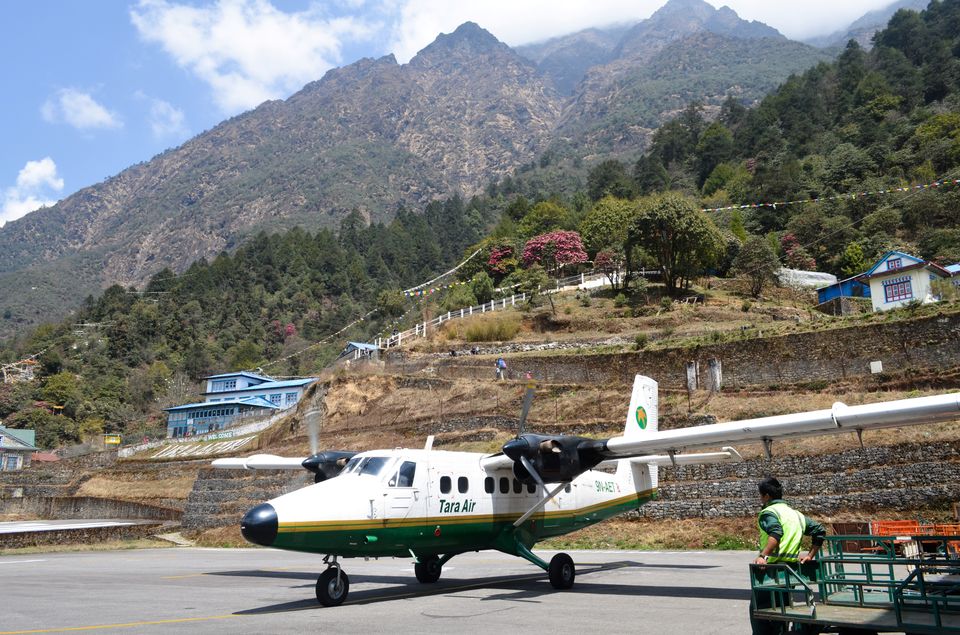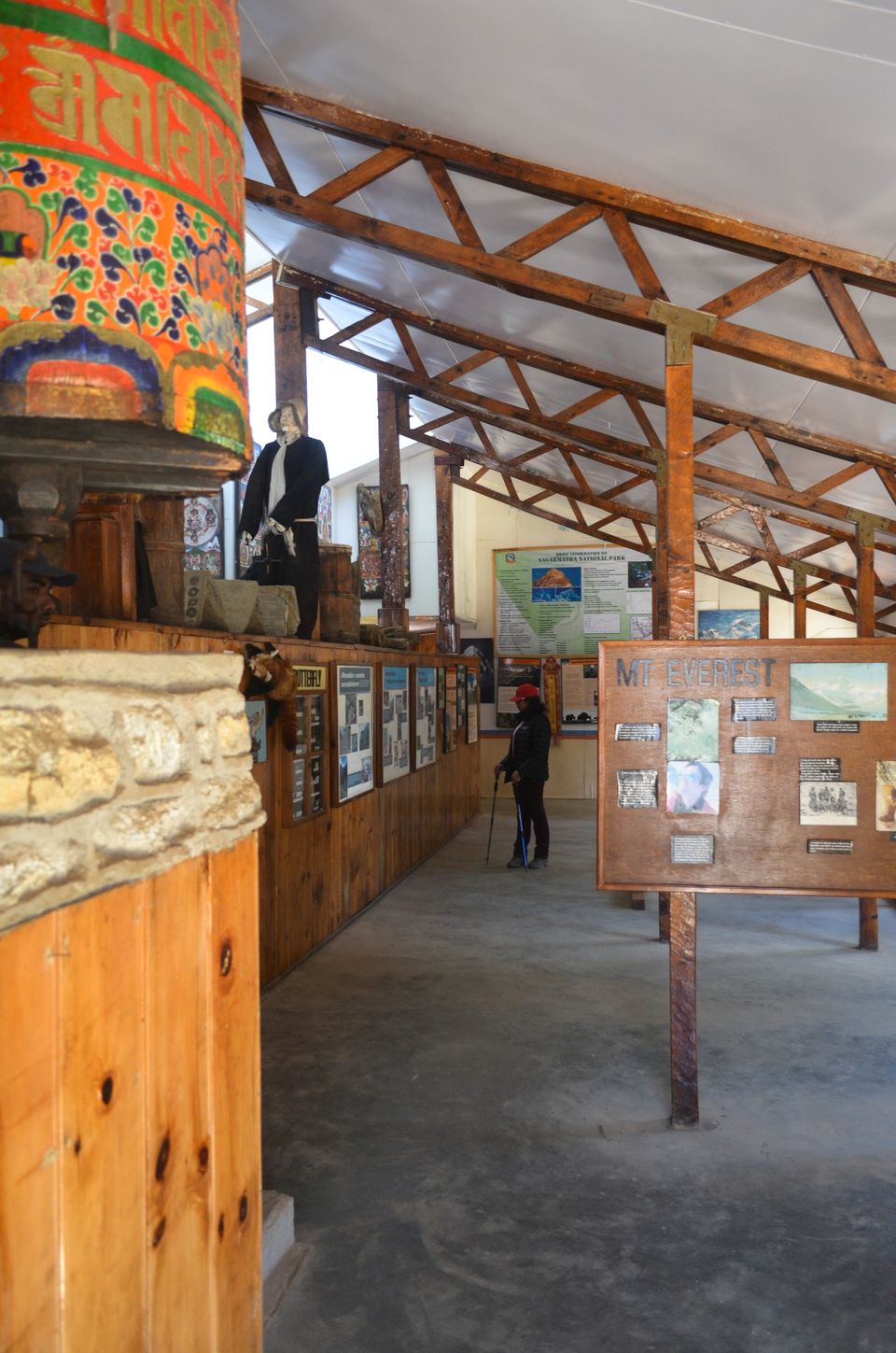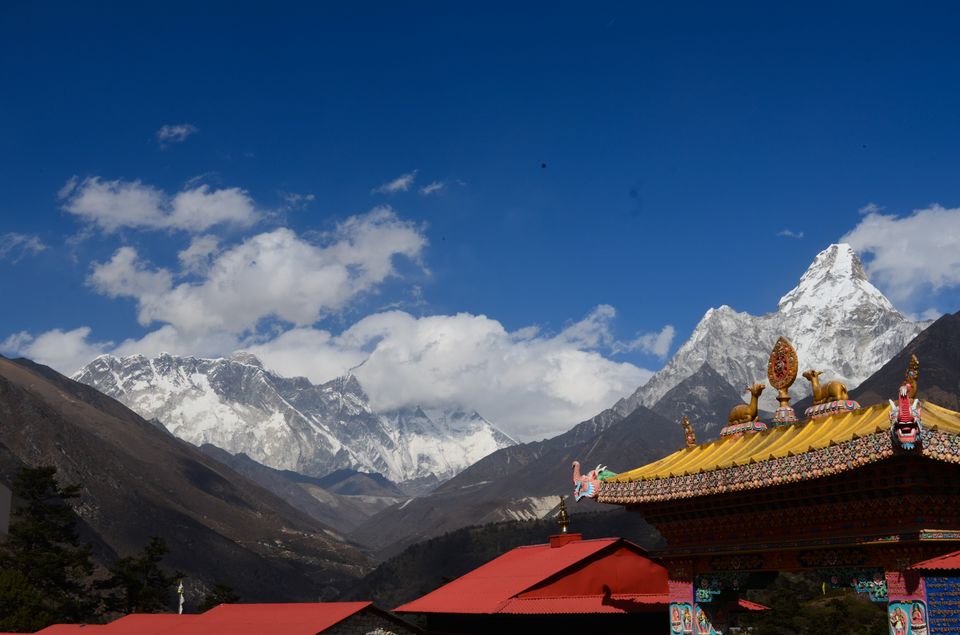 Rahul briefed us about the trek and other essentials like porter, insurance, lodging, route , amenities etc. As I had prior high altitude trekking experience, I was selected as the Group Leader. We packed our backpack and went for a sound sleep. Here goes the itinerary.
Day 01: Arrival in Kathmandu (1,350m/4,428ft) : before 3 pm
Day 02: Fly to Lukla, trek to Phakding (2,651m/8,700ft): 40 minutes flight, 3 hours trek
Day 03: Phakding to Namche Bazaar (3,438m/11,280 ft): 5 hours
Day 04: Acclimatization Day/Rest Day - Namche Bazaar
Day 05: Namche Bazaar to Tengboche (3,870m/12,694ft): 5 hours
Day 06: Tengboche to Dingboche (4,360 m/14,300 ft): 5 hours
Day 07: Acclimatization Day/Rest Day - Dingboche
Day 08: Dingboche to Lobuche (4940 m/16,207 ft): 5hours
Day 09: Lobuche to Gorak Shep (5170 m/16,961ft), visit Everest Base Camp (5364 m/17,594 ft): 6 hours
Day 10: Gorak Shep to Kala Patthar (5,545m/18,192ft) to Dingboche (4,360 m/14,300 ft) 6 hours
Day 11: Dingboche to Namche Bazaar (3,440m/11,280 ft): 6 hours
Day 12: Namche Bazaar to Lukla (2,800m/9,186ft): 6 hours
Day 13: Fly to Kathmandu in morning. Sightseeing (Buffer Day)
Day 14: Kathmandu: Sightseeing (Buffer Day). Possible Bungee Jumping (3rd highest in the world)
Day 15: Go back to India
Next day, we had a flight to catch to Lukhla which is one of the most dangerous and unpredictable airport in the world.
We checked-in to Kathmandu domestic airport, but after waiting for around 2 hrs, we got to know that it had started raining at Lukhla. All flights to Lukhla got cancelled that day. We waited till 3PM, but after no positive reply from airlines, we returned to Alobar. The same thing continued for next two days also: though sometime for weather, sometime for airlines' irresponsibility. Most of the airlines to Lukhla are pvt. owned and they gives priority to foreigners(other than Indian) to get high value for ticket. They can do anything.. I mean anything. Sita Air was the worst airlines, seemed like a family run business :p On third day, we boarded the bus four times which was supposed to take us near the flight and got off due to sudden change in weather at Luklha. After three days of continuous cancellation, we didn't have any buffer day left, on top of that we had one day short. Shaz backed out and went for Annapurna Base camp trek. But somewhere in my mind, it was still EBC. I wanted to give one last try, but we would have to make for this one day short as others had scheduled international flight to catch. I made myself clear, "Let's split (as getting a single early flight for all was difficult and after noon the weather was keep on changing at Lukhla) and move to Lukhla in whatever way (1+1+1 or 2+1 or 1+2) possible. But whoever will reach there, there is no backing out. He/She'll have to complete the trek or at least try his/her best." Rest agreed on the plan. Next day, we splited and tried to get early flight to Lukhla. This was the fourth day. It's Now or Never situation. Luckily, there was a vacancy for three and we all got in same flight. But we weren't that lucky , were we ? There was some technical issue(hydraulic leak) in the flight and it got delayed. Finally Tara Air moved us to another plane and it took off. Finally, we were all in air, on our way to Lukhla. The flight landed at Lukhla after 45 mins and we all knew EBC was happening: this year and this time only. Nothing could come between us and EBC now. The journey to Lukhla seemed way more difficult than journey to EBC!
We had our lunch at Lukhla and got introduced to our guide Lakhpa. As we were already three days behind our schedule, so we got clubbed with the next batch who were from IIM-A. There were four of them: Sidharth, Nikhil, Preet & Pallavi. We waited for them. After around 3 hours, they finally landed at Lukhla. We started for Phakding once everyone was done with lunch.
Lukhla to Phakding (3 hour / 8700 ft):
We started around 3:30 PM from Lukhla. At the check-post, we entered our details and the belongings details and hit the road.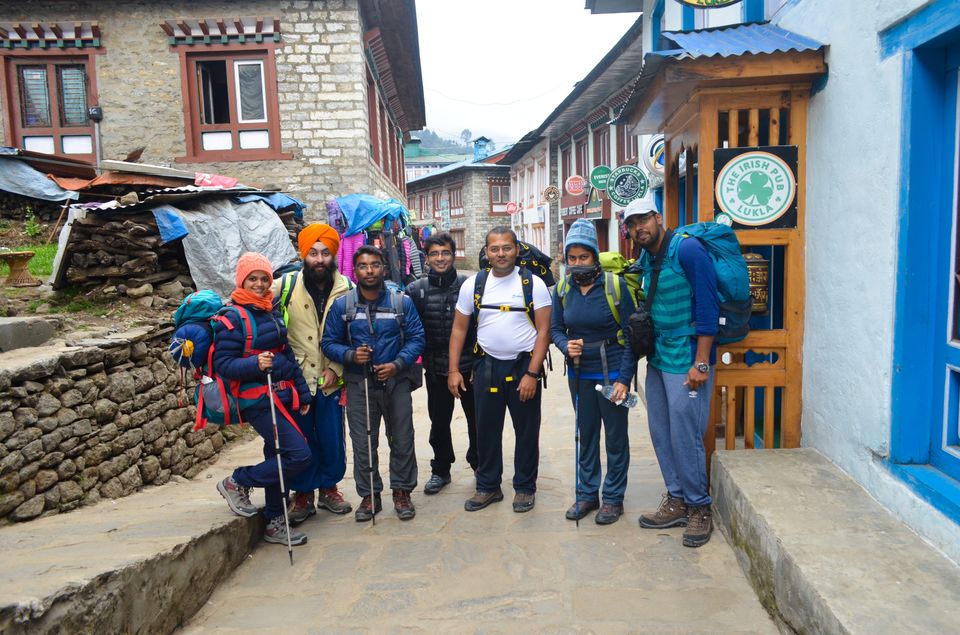 The route was scenic and passed through a couple of villages; little bit of descend but easy going. Most of us were first time trekkers, so we were moving slow n steady. On the way, there were a few hanging bridges.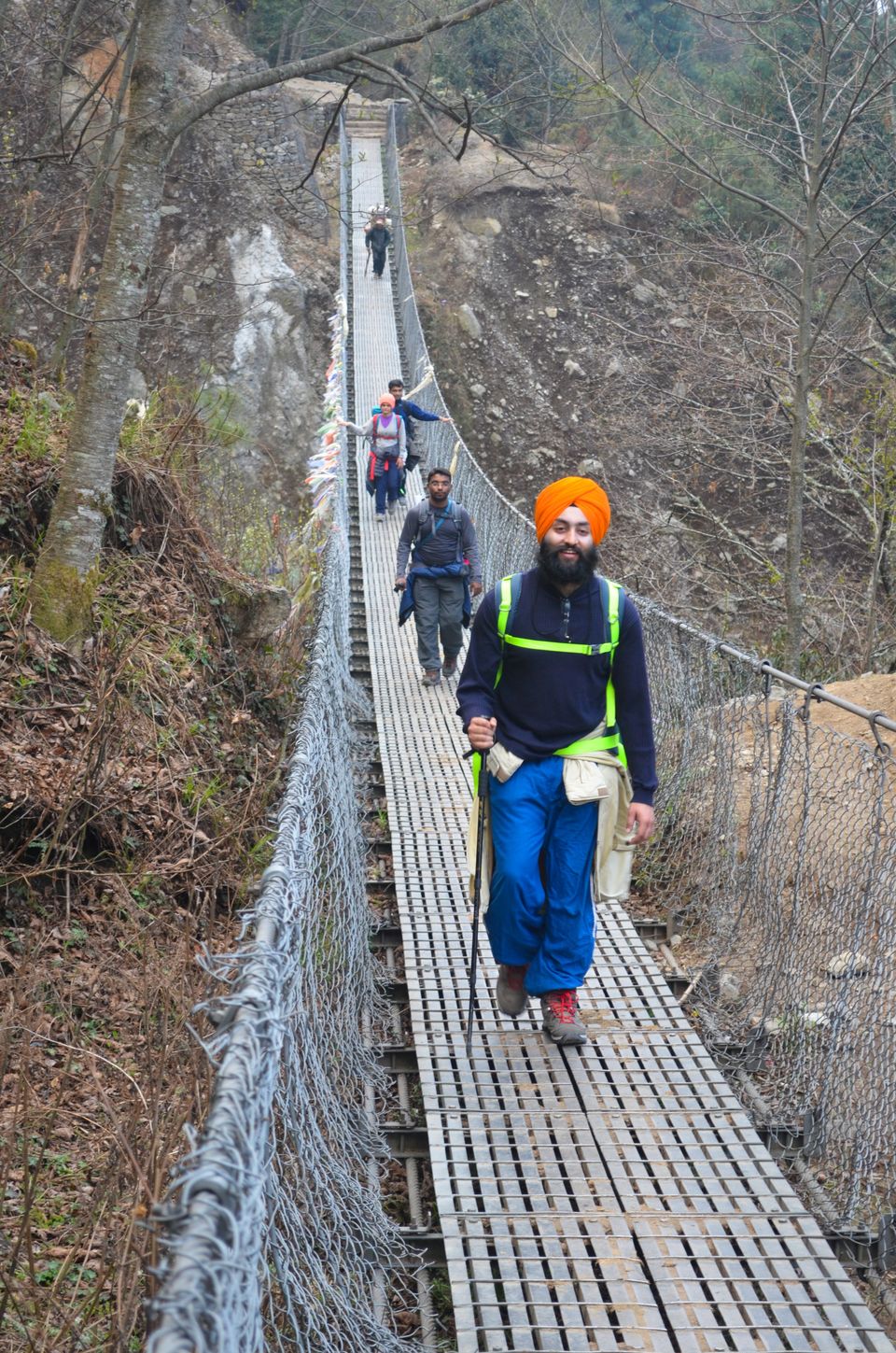 One could see the tired, fatigued but accomplished souls returning to Lukhla on the way. It seemed like a very commercialized and structured route. There were coffee shops and refreshment corners throughout the route. And it was full of lodges, restaurants and tea-houses; mostly made up of wood. We reached Phakding before it was too dark around 6:40 PM.
After a short rest, we had our dinner – Sherpa Soup and went to our room. The water was freezing cold. One had to think thrice before even washing his/her face :p It was too early to sleep and to our surprise the other group had brought cards :D Sid taught us a new game that 6 can play at a time and the time just flew away.
Next morning, we had breakfast – Bread toast with Omelet and set out for Namche Bazaar.
Phakding to Naamche Bazaar (6 hour / 11,280 ft):
This was the toughest of all with ascend and steep climb most of the route. We started around 7:45 AM. There was a hanging bridge just at the start. After little bit of up and down and passing through a few villages, we reached the 2nd check-post.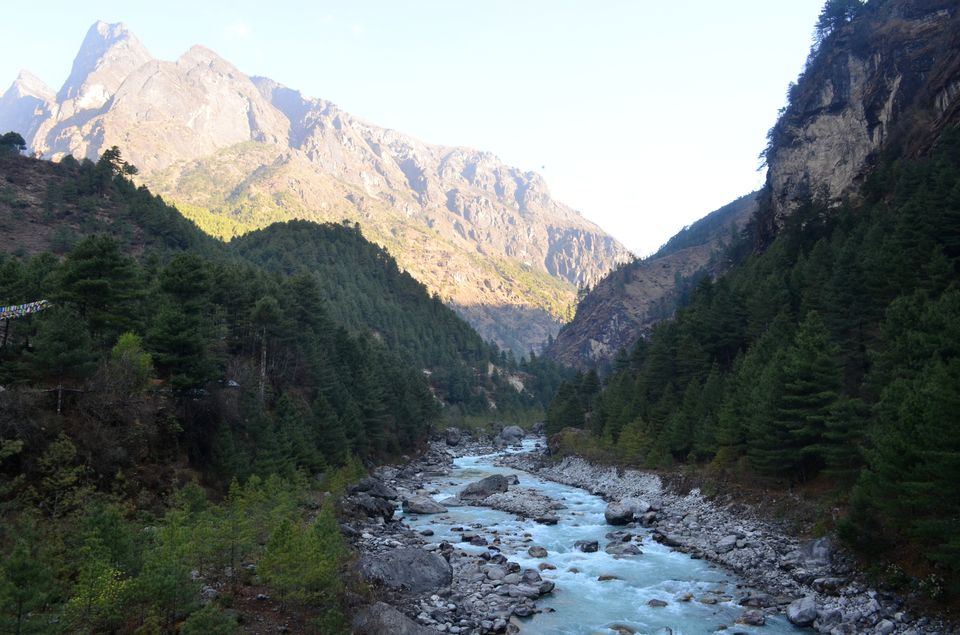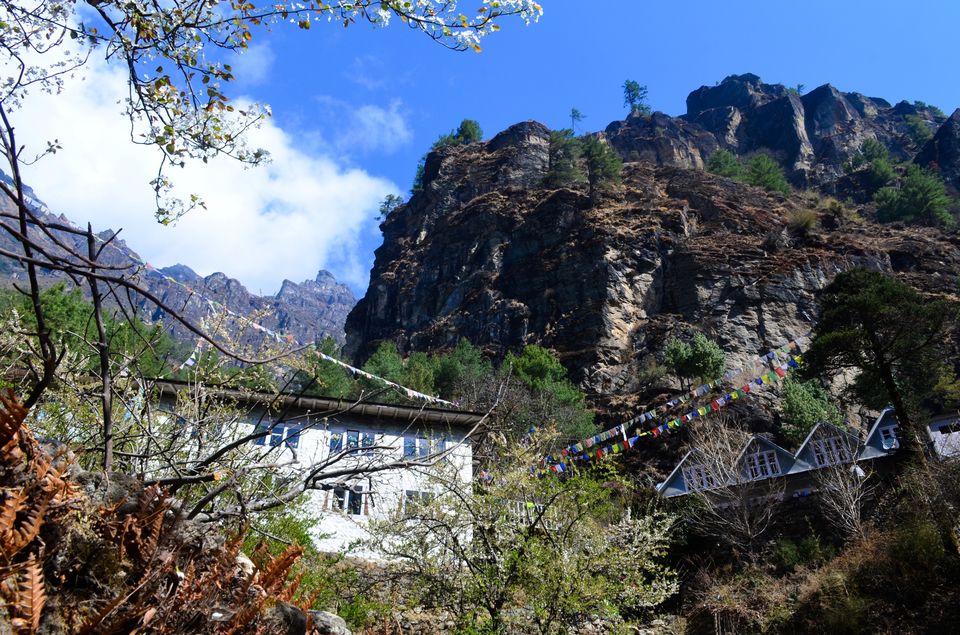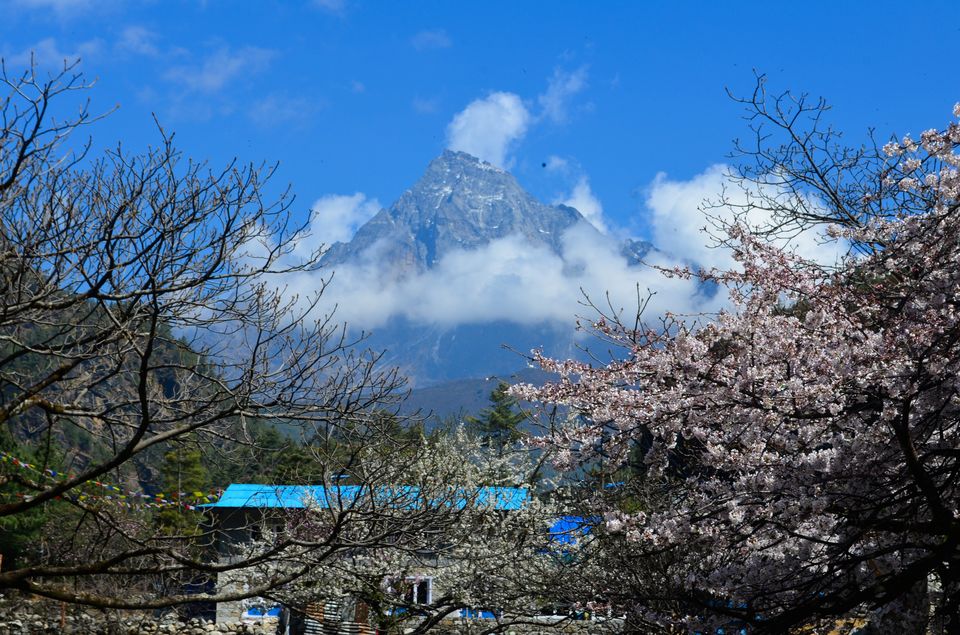 The first timers were having a tough time, but they were keeping pace with. To ease the load, a few decided to go for porter from Namche. Porter normally charges 1500 NC/day (avg load 25 kg), but the higher you will go, the higher will be the charges : NC 2000/day from Naamche. So I told the guide to call a porter from down there Lukhla on base charge and he will get some extra for coming up till Naamche. This way, there will be some saving for those who were opting for porter. At around 12 noon, we reached our lunch point.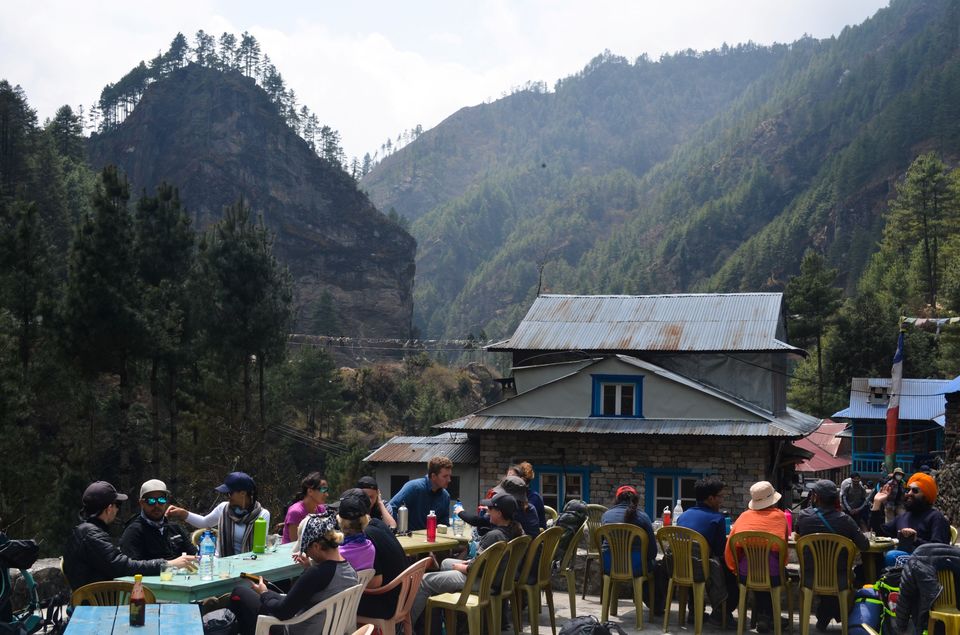 The place was so refreshing and awesome for a break: at one side glimpse of gigantic mountains and just below a stream with crystal clear bluish water flowing through lush greenery. After lunch, we moved by the side of stream for some distance.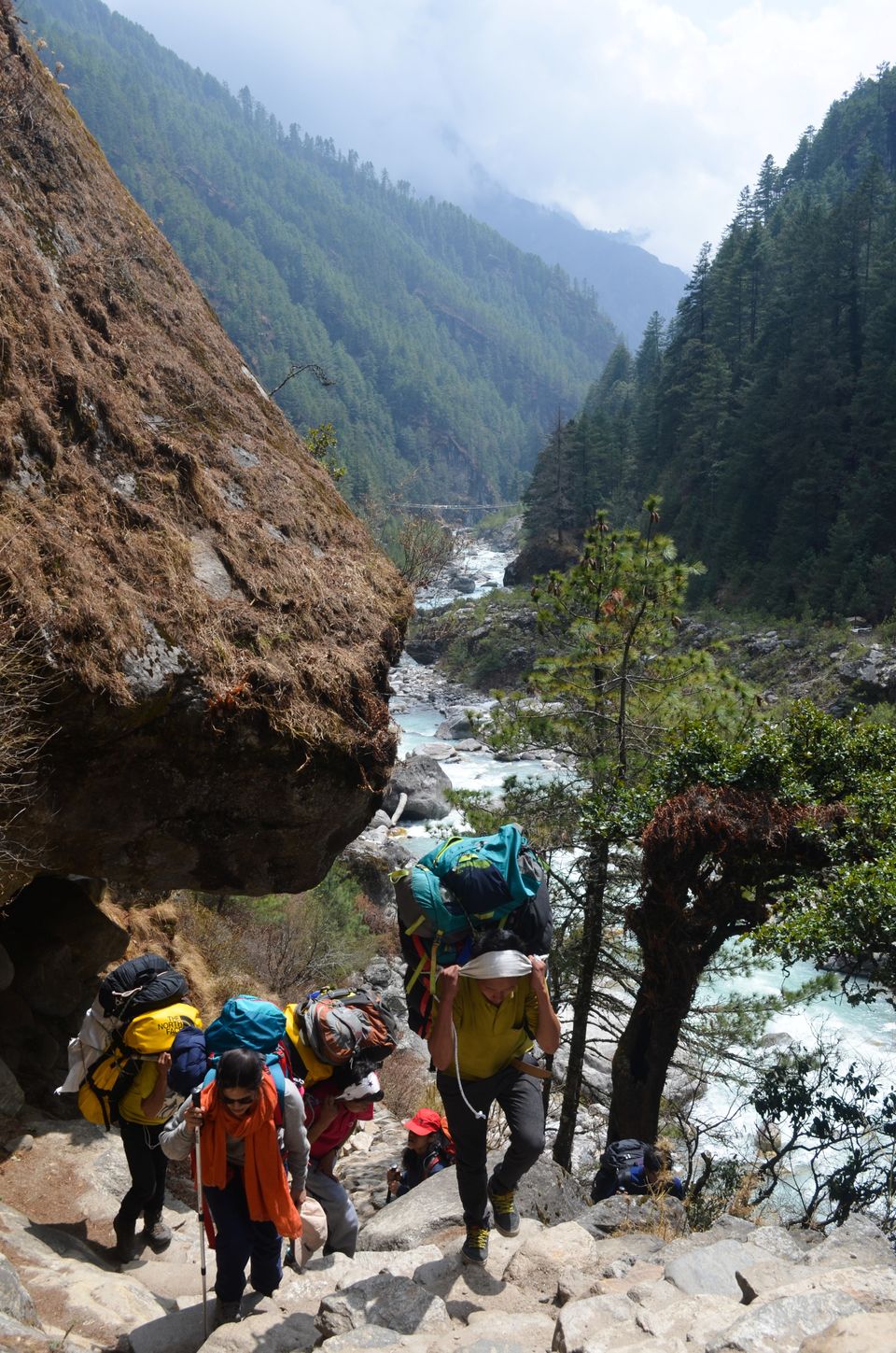 We didn't know that we yet had to face the steepest climb until we reached this point.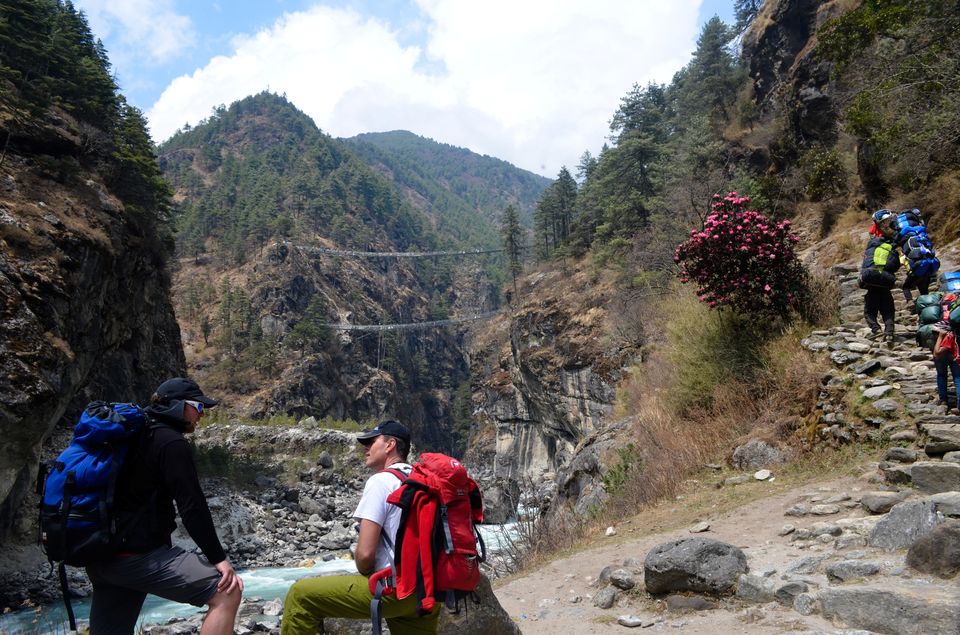 Just the sight of hanging bridge up above is enough to get the fear a grip over your mind. We took a quick halt, gathered our energy and went for it. And after crossing the bridge, we were told that it's just the start, another 3 hr of steep climb is up ahead. A few were on the verge of breaking, but they pulled themselves up and gave their best. The picturesque scenic sight was more than enough to reenergize and to motivate. After that steep ascend, there came a rest point where one could get the glimpse of Mt Everest for the first time. But we didn't get any as that day it was cloudy. We came across 3rd Check post after around 2 hour and finally reached Naamche around 6 PM. Yeah… too slow :( but this is bound to happen when someone starts trekking career with EBC ! If it'd have been that easy, everyone would have been doing. What I mean is though it wasn't that difficult, it wasn't that easy either. After such a toilsome episode, when we reached hotel, the rooms weren't good and on top of that the owner was at his worst behavior. After much deliberation and a phone-call session of 1 hr with XLanc members, finally we shifted to another hotel: Hotel Komal, a good stay. Too much of cost cutting had been done by XLanc for which we had to pay the price: in both physically and mentally. We had our dinner with a cup of black tea and went to sleep.
Next day was an acclimatization day. We went to nearby Everest view point and clicked some pictures. Here we got the first glance of Everest:The mighty. One can see a couple of peaks from there: Lhotse, Ama Dablam, Peak 38, Nuptse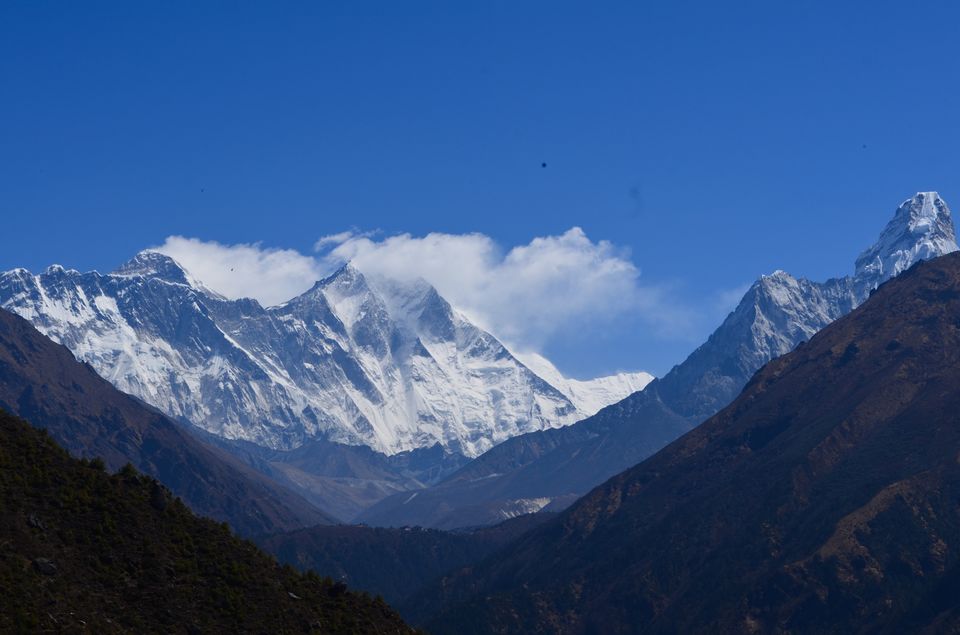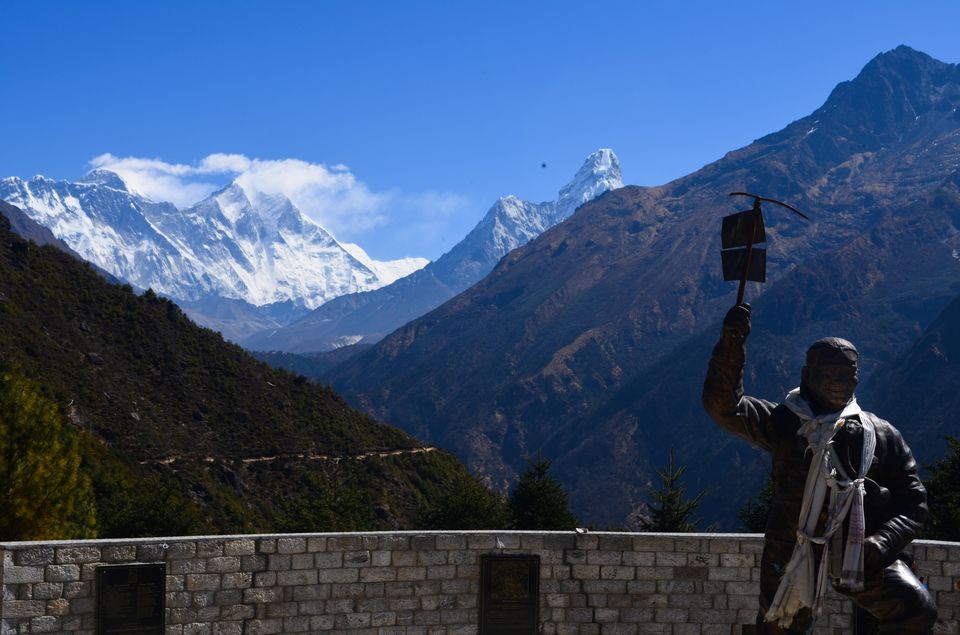 There was a museum there depicting the history of Everest trek and its flora and fauna. Then we climbed up a small ascend for a better view, spent some time there and came down.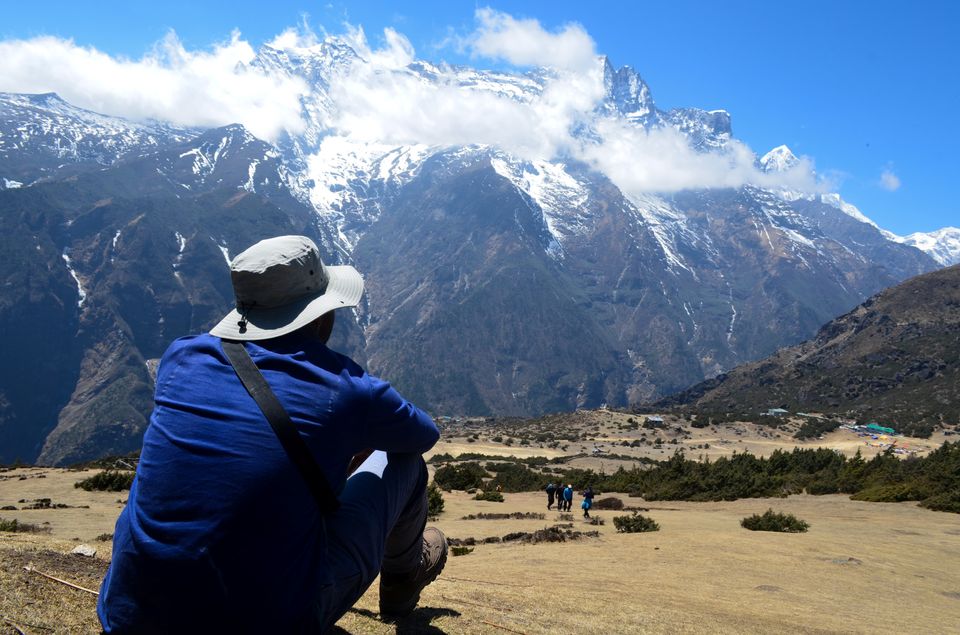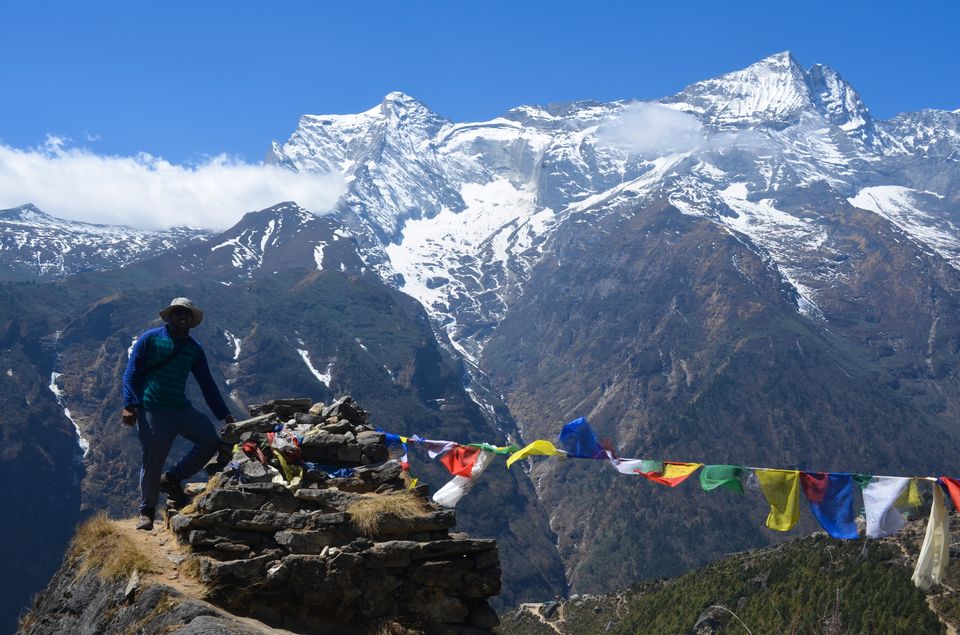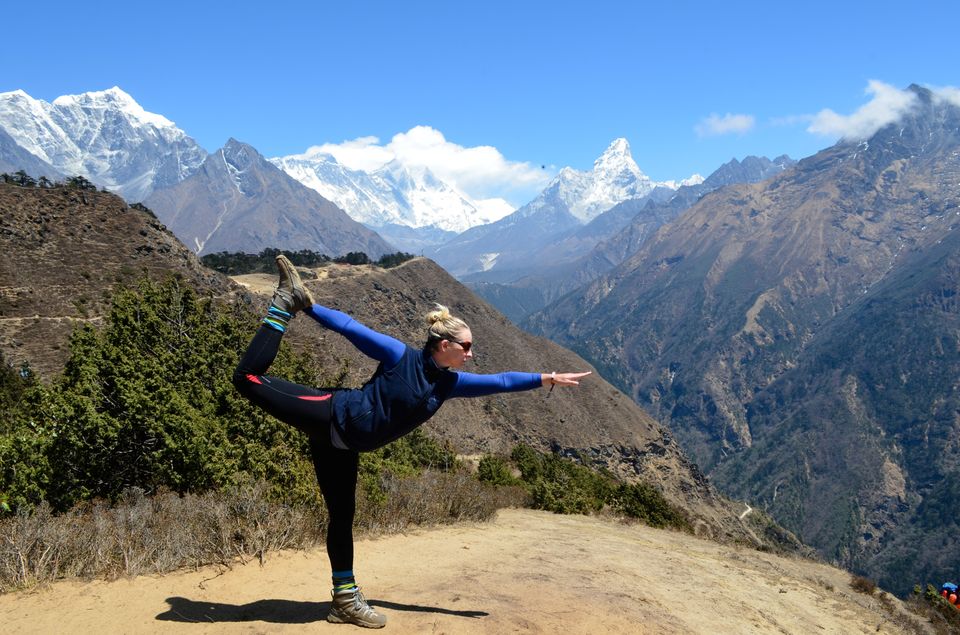 We had our lunch and took a short rest( but No Sleep in daytime). In the evening, we explored nearby market area.
Pubs, Cafes, bakeries: one can find everything up there; just that your wallet will get lighter bit faster there. Tengboche was our next stop on route.
Namche to Tengboche (6 hour / 12,694 ft):
The initial trail was an easy one : concrete road and mostly flat. There were a few 'Chortans' on the way.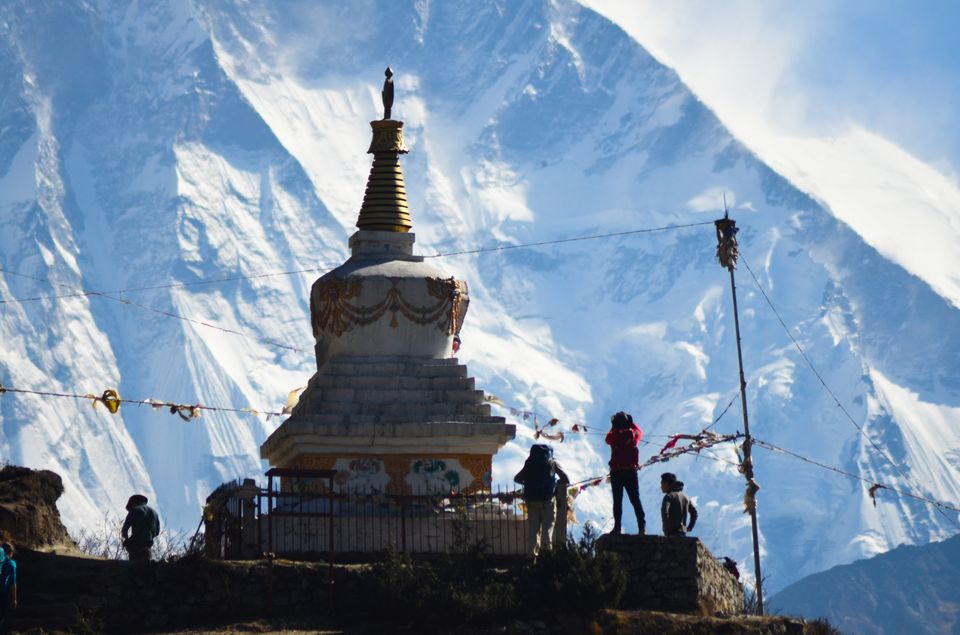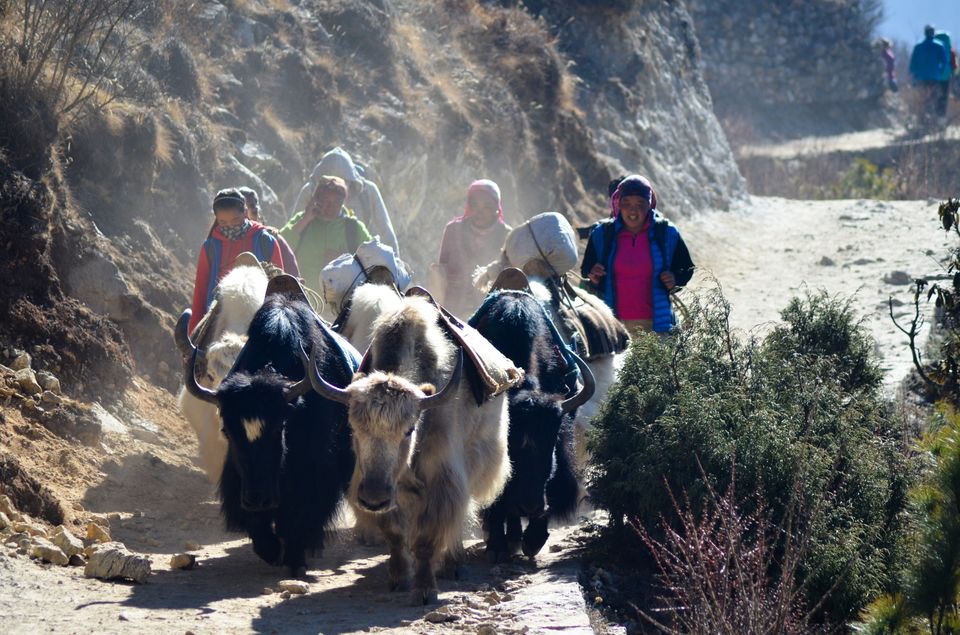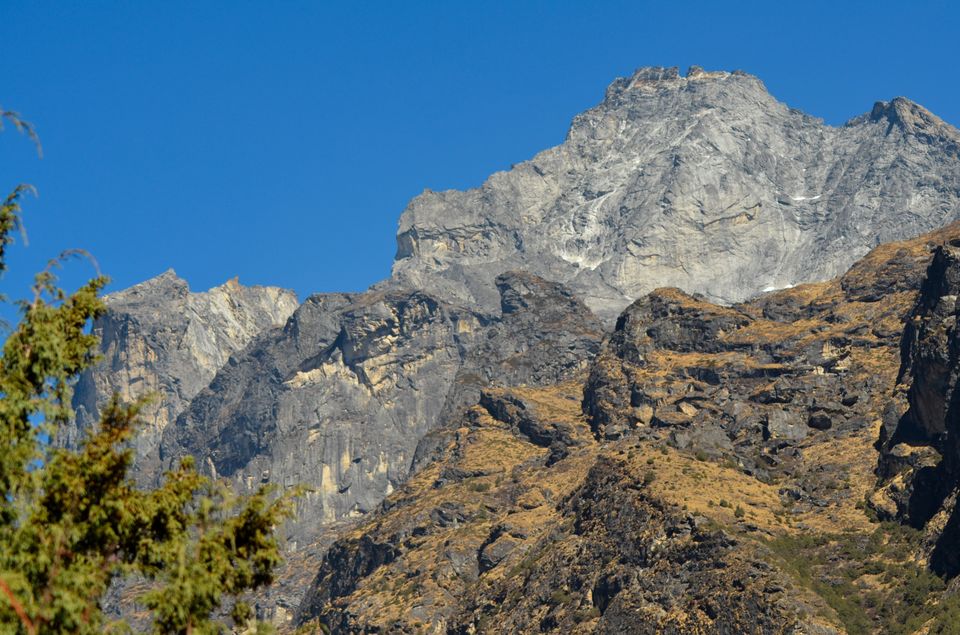 After crossing AmaDablam restaurant, there came a split : one leading to Tengboche and the other to Gokyo route.
Then there was a descend till the bridge and a sharp ascend from there. We were supposed to have lunch at Tengboche, but as were moving bit slow so it was already noon at the the bridge.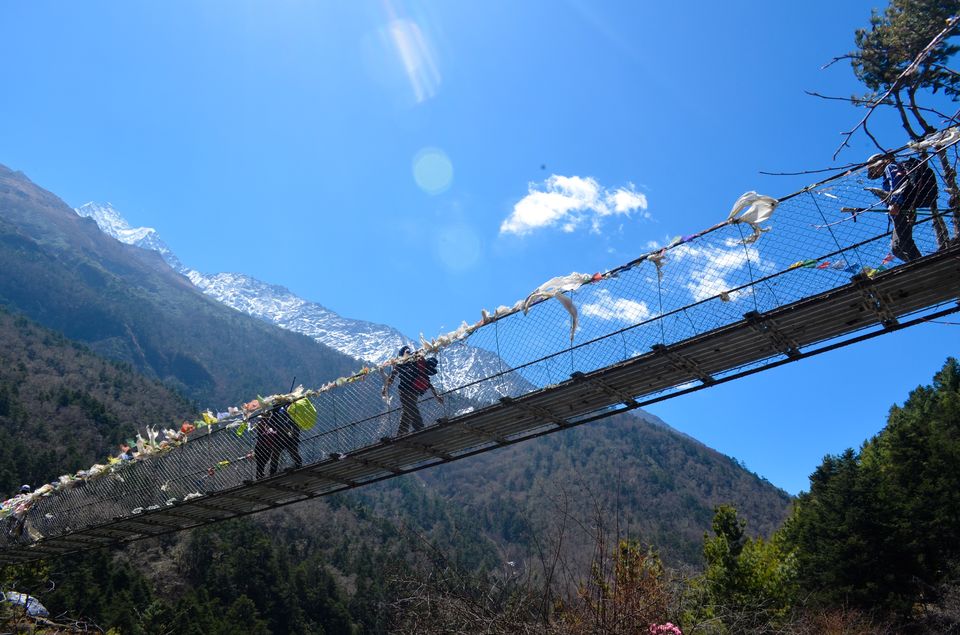 We had our lunch there : Egg Fried Rice and moved ahead. There came the 4th and last check-post. The next stretch was bit tricky and steep. On top of that, the scorching heat of sun adding icing on top. There wasn't any water-source till Tengboche except one which was just around 15 mins before Tengboche. The journey was like walk 20-30 steps, find a tree(some shade), catch your breath and move ahead. At around 2:40 PM, I reached Tengboche and the group being little behind. The view up there was marvelous. The sight did away with all the pain. I clicked some pics till other members reached there.
We stayed at Trekkers' Lodge just by the side of the monastery. After a short break, we paid a visit to the monastery. The atmosphere was awesome in there : peace, calm and serene.
We watched the sunset till the last ray of sun vanished up in the sky. I got some good clicks also.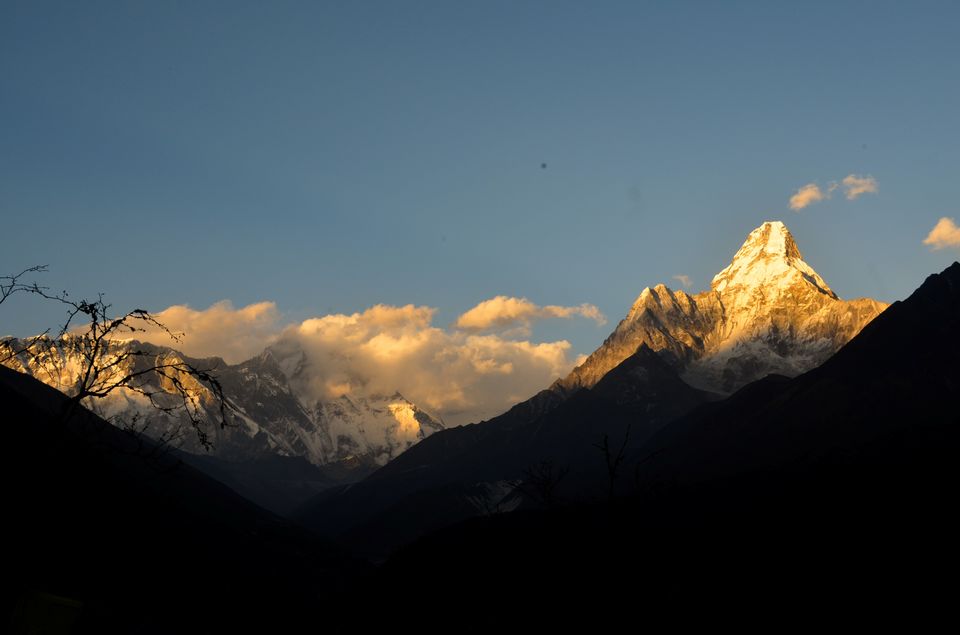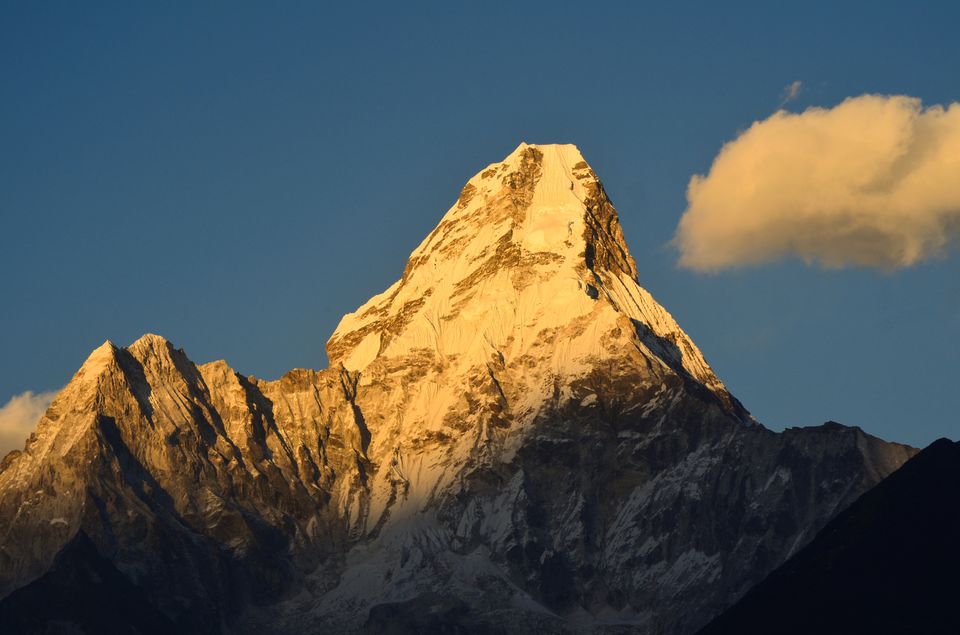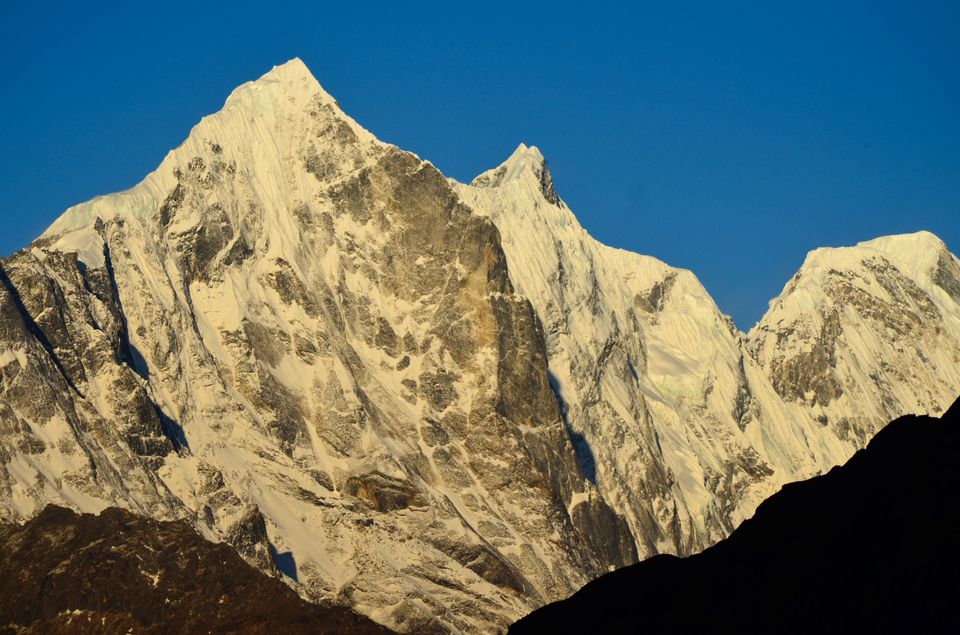 In the evening, the temperature was below 0 deg C. Everyone piled up in the dining room where there was a heater. After we had our dinner, the other four had this plan of campfire, but the old way i.e. lighting fire by cracking stone to stone :D They had also brought FireStone that makes it easy to spark. But the weather was hostile, windy and cold. The tissues were getting wet too quick, even deo-spray didn't help. After an hour of trial, finally we decided to go for the match-stick and the fire was on. It was bliss to get some heat in those freezing zero degree and cold wind. After absorbing some of the heat, I clicked some photos and we went to bed.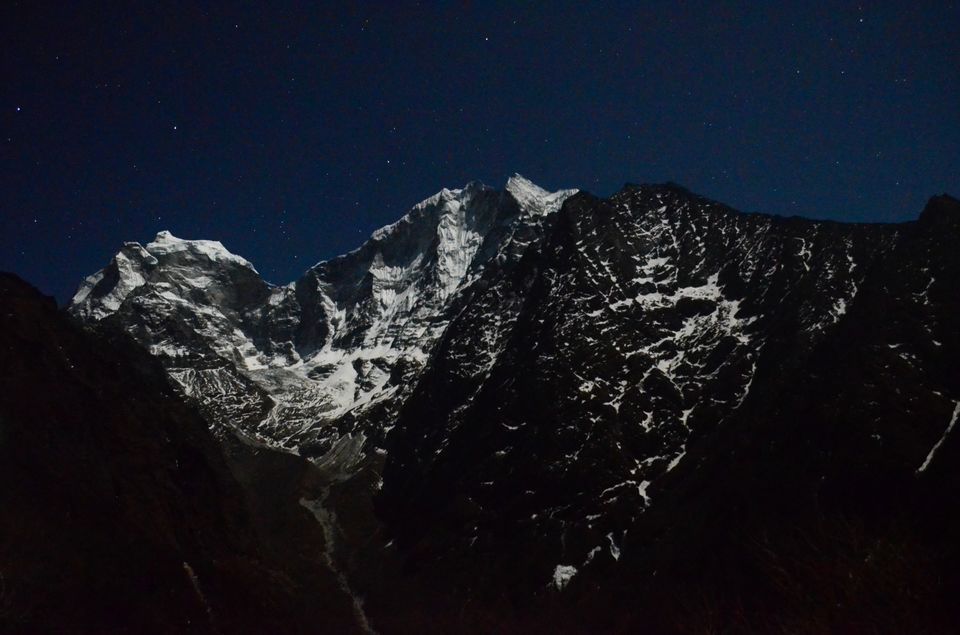 Next day, we were scheduled to leave for Dingboche, our next stop.
This already has been a very long post. I'll pen down the rest in my next post. Stay tuned and keep travelling....
Click here to move to My Flickr Album
The post was originally posted at Tektriphy. Follow for recent updates.
Frequent Searches Leading To This Page:-
The Dream of Every Trekker In Nepal, indian himalayas trek, himalaya trekking for beginners, gangotri glacier trek, best time for himalayan trekking