I was planning to visit mathura and vrindavan since i heard its the best place to celebrate holi. It was 2017 and the holi was on Monday, I have planned in such a way that it should be a budget trip. So we planned to travel in train one way and in flights the other way. As holi was on monday, we thought of exploring Agra on Sunday morning and to reach Mathura on Sunday evening.
Initially we were 7 but a week before 2 of them dropped. Now we are just 5 (Me, Sujeet, Anand, LavaKumar and Srikanth). A day before the trip i called everyone and informed them to get up early and to be on time at the station as the train will leave early in the morning. I called srikanth, but his phone he lifted the phone and said will call you in an hour. After an hour i tried calling him and his phone was not reachable, after few minutes it was switched off. I've put the message about the train details and exact time to his phone, in fb, in skype, whatsapp but there's no response.
I got up at 5:00 AM and called everyone to wakeup and be on time to the station and asked others to call srikanth as i couldn't reach him. As this was trip with my college friends i asked in my group if anyone has alternate no of Srikanth. One of our friend Srihari replied that srikanth will call you but he denied to give his alternate no.
I have given up the hope on Srikanth and started from my home to railway station. We all met each other at Secunderabad railwaystation, when the train is about to come then came the call from srikanth saying that he is still at his home won't be coming for the trip.
We boarded the Telangana Express from Secunderabad on Saturday morning, the train was crowded even the people without reservation got inside the reserved compartments and occupying seats.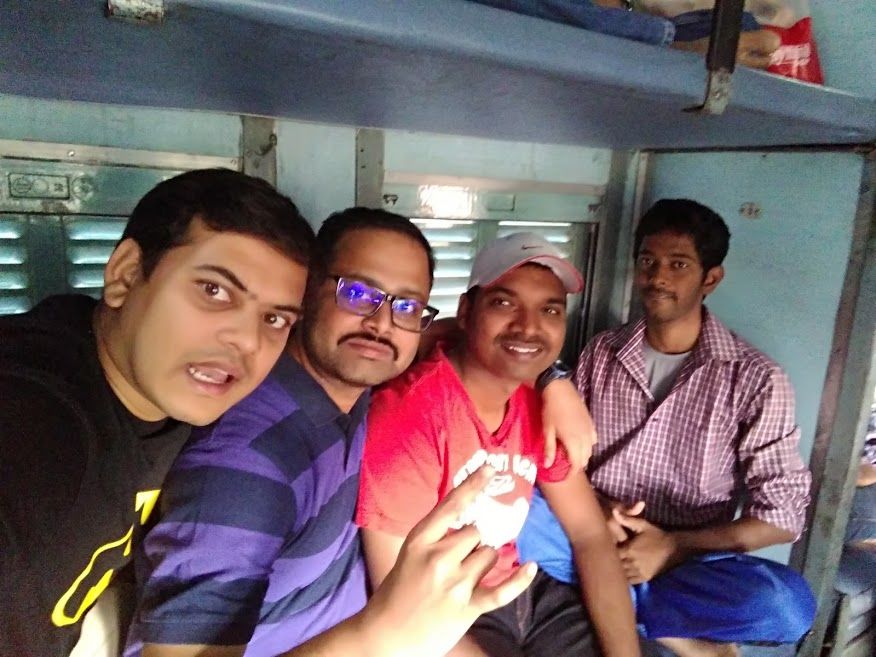 We packed our food from our home as our full day journey will be in train. In the night, at 9:00 PM we reached Bhopal and the train was full with the passengers without their reservation sitting almost everywhere. We all got upper seats and we slept comfortably when ever we were sleepy in the whole day journey. In the mid night it was so cold and with that temperature i couldn't get sleep and when i woke up and saw the whole compartment was full with everyone sleeping on the way and I saw my friend sujeet who is sitting wearing all the socks, shirts on him as he forgot to bring the blanket and was saying how could you guys sleep in this cool temperature.
We reached Agra at 6:00 AM, we thought of going to TajMahal for the sunrise but by the time we decide, the sun has already raised. So we hired a taxi and headed for the hotel (We took hotel just for 2hrs to freshup). Then our first stop was Balaji Temple and then to the Agra fort.
In the middle we booked a bus to Mathura which will start in the evening with some travels who shows us the places in Mathura and Vrindavan and drop us back at Mathura for 250/-. After booking, we got to know that, he cheated us and took more cost from us than others. So be careful with these guys.
We reached Agra fort at 9:15 AM and took the entrance tickets at Amar Singh Gate. Agra fort is the second place in the agra which comes to the travellers after Taj Mahal. It has a long history beginning with its construction in 1080 AD.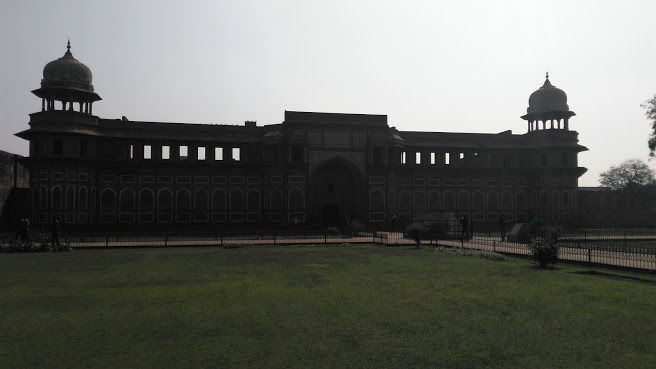 The remains you can see today are actually from 1573 AD when Akbar, the emperor at the time, had the fort rebuilt in red sandstone. Later, Akbar's grandson, Shah Jahan, the one who had the famous TajMahal built, added structures inside made of white marble to match the Taj Mahal.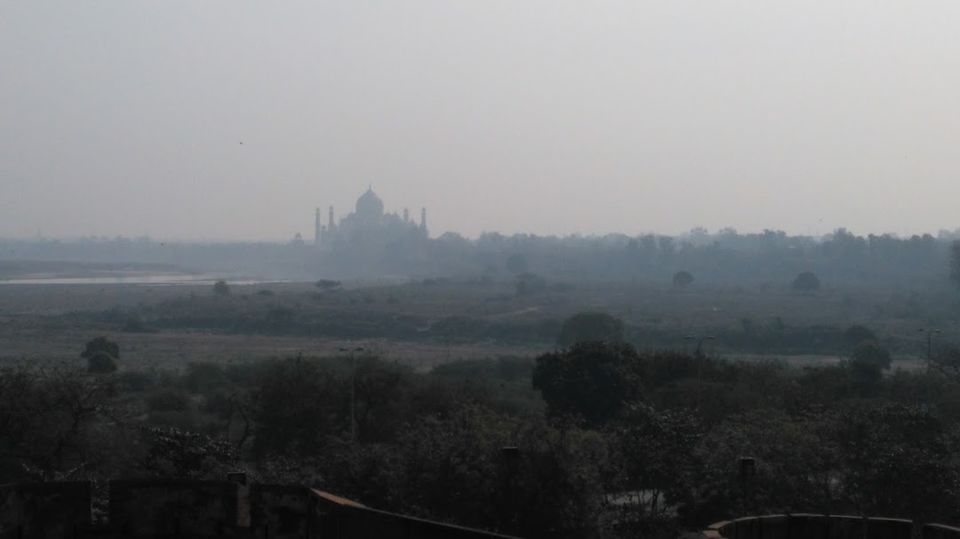 It took almost 3hrs to explore the Agra fort and we came out at around 12:00 PM in the noon, and it was so busy with the people.
Now our taxi driver took us to the shop where we bought jacket and shoes. Agra is famous for 2 things one is Peta(sweet) and the other is Leather. By the way be careful with these guys and they will try to cheat you as you are new to place and all. Try to bargain and check 2-3 shops if you are buying anything.
Now our stop was one of the seven wonders of the world Taj Mahal. We reached there by 1:15 PM there was heavy rush and as it was sunday it was so busy with the tourists. Here again people will try to trap you by saying they'll skip the queue and make you enter inside without any hassles for 500 per person each. Actually the cost is just 40 INR and the queue doesn't take more than 15-20min. One more important thing is you should not walk near the Tajmahal with shoes, you either have to walk on bear foot or you have to walk with shoe covers which you can buy at the entrace for just 5- 10/- INR.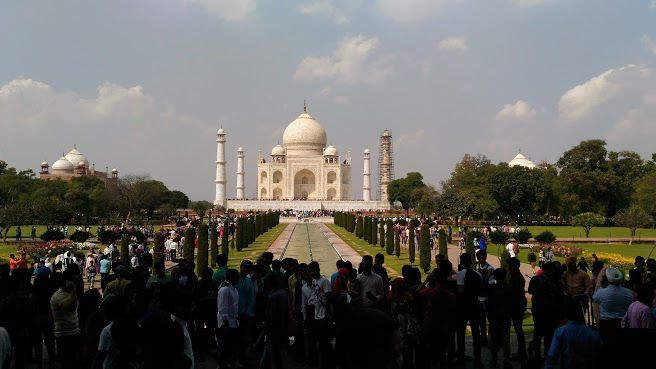 There was a long queue to go inside, some people were thinking that we need to take separate ticket to go inside the Tajmahal but there's no separate ticket for that. We took some pictures, had fun and met few people and spent some good time at the place.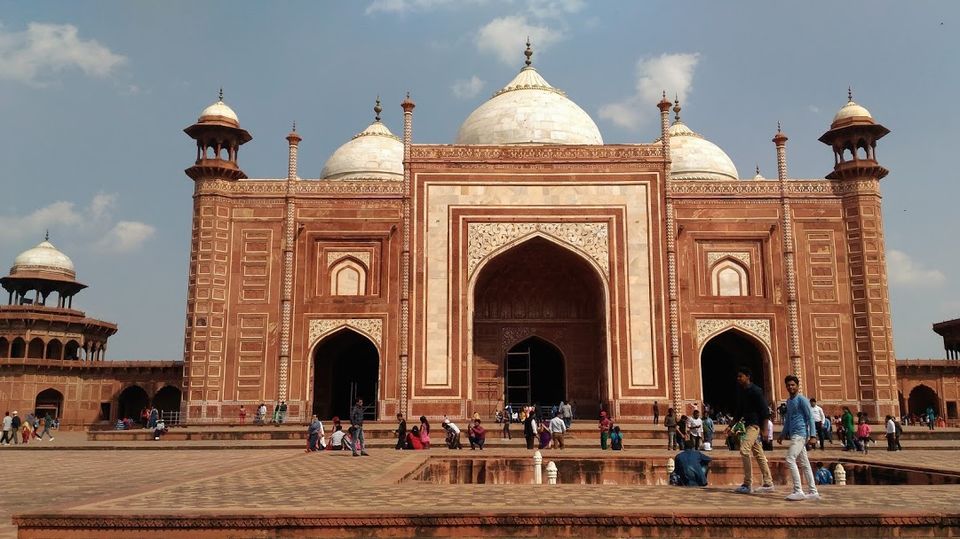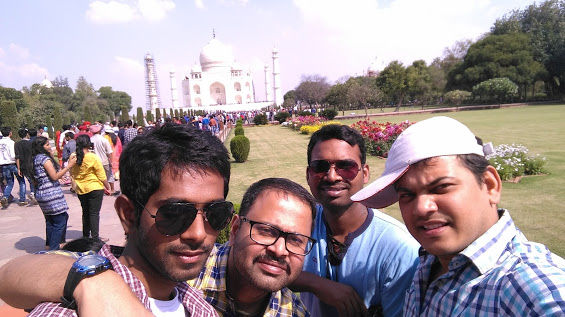 By the time we came out, it was 4:00 PM and we were hungry as didn't had our lunch. We started to the point where the bus to Mathura will start and had our lunch there and bought some sweet (Peta) try to bargain. Your bargaining skill will make the prices cut by half. We were busy in buying these sweets and other shopping and missed the bus. So we again had to board the other bus which will go to Delhi after the visit of Mathura & Vrindavan at 6:00 PM. I'll will share you the details of what we did in Mathura and Vrindavan and where did we go on the big day of Holi in the next blog.