Ramshehar is a small town located 20 kilometres away from Nalagarh, in Himachal Pradesh. It is a spiritual place like its own name. The weather here is very pleasant, not too hot not too cold. A beautiful place to visit in the summer. There are hills all around, which is beautiful for viewers to see. There is a lot of places to roam here like Ramshehar Fort, temples, Park, Behli Bagh camping, etc.
Ramshehar Heritage Fort Resort is 2.5 km from the Ramshehar bus stand on Swarghat road. It is a heritage gateway that lies at the height of 3900ft above sea level on a hill. It has a massive structure that specifies both Mughal and Indian style.
Raja Ram Chand (1522 -1568) built originally named Ramgarh Fort, now days known as Ramshehar Heritage Fort Resort. It has a set of structures that are built in the Mughal style but elements of Hindu and British architecture are very apparent. Raja Ram Chand was a great architect. He is also responsible for constructing the town of Ramshehar.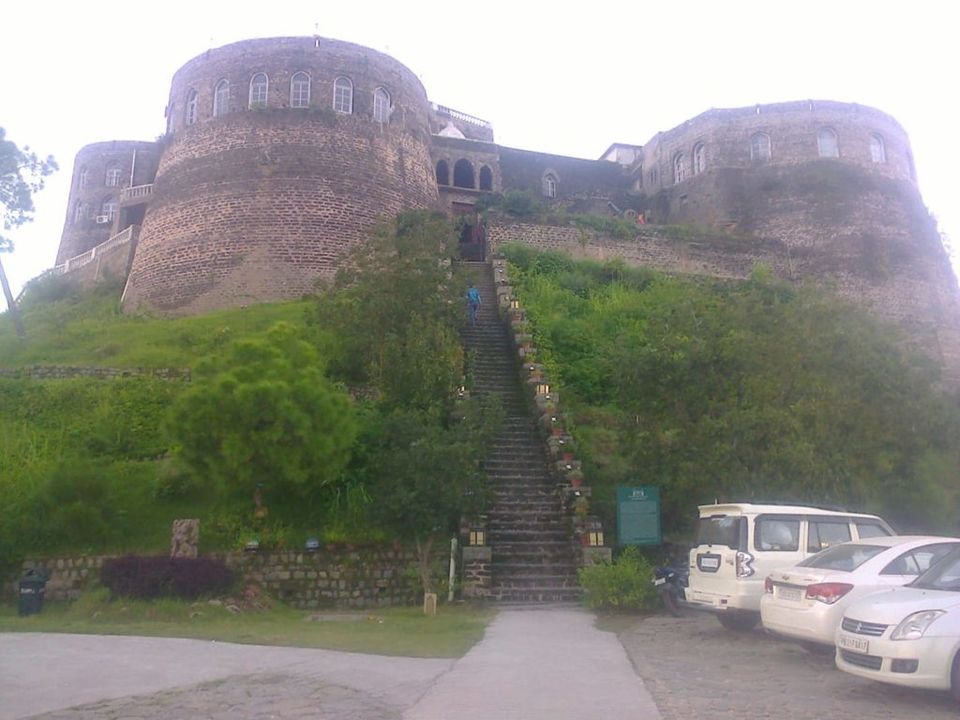 Photo by: Shailja Verma
Nalagarh was the capital of the kingdom of Hindu, which was founded by Raja Ajai Chand in 1100 AD. It was ruled by the Chandela kings Rajput's.
Ramshehar Fort
Raja Ram Chand 1522/1568 Built the Ramshehar Fort in the year 1540, which is the major tourist attraction in Ramshehar.
Currently, the Fort is under renovation, under the leadership of Mr Praveen Bansal Chairman in Abhimanyu groups. After the renovation of the fort, it looks like a Heritage Resort. A large number of tourists come here to see the beauty of Fort and mountains. The view from Fort is breathtaking. Recreational facilities including Raja's Mahal, swimming pool, lawn area, children's play area, etc. Recommended for gateway seekers looking for Heritage style stay experience. This place is influenced by Mughal, British, Hindu culture.
The beauty of Fort makes it an ideal wedding destination for pre-wedding shoots, movie shooting, photography, and other activities that are also done here. If you want to experience Mughal's royalty then do visit this magnificent Heritage Resort Fort. This Fort is the pride of Rajput Chandela, with all the amenities provided by the management and staff members.
It has a restaurant because, for a beautiful visit, your stomach needs energy too. So this spot provides you with delicious good and excellent service at reasonable prices. If you are looking to extend your stay then you get accommodation as well, for your pleasant stay.
Behli Bagh camping
There is a beautiful place for camping for tourists. The Bagh consist of thousands of mango trees. Jungle camping hosts luxurious tents, green valley. A mini-golf course, swimming pool, adventure sports are done on this camping at a reasonable price.
Temple's
Radha Krishna temple ( Thakur Dwara ) This temple is about 100 years old. There are Many old idols in this temple and worship is done here daily by priests. Every year Janmashtami and Radhastmi are celebrated with full of joy. Every festival's Shivratri, Janmashtami, Diwali, Holi, etc. are celebrated with great pomp here. The tableaux are extracted. Ramshehar is such a place where temples, gurudwara, mosques like Shiv mandir, Kali Mata Mandir, Bhadbhaag Singh Gurudwara, Dhur Dargah Lakh Data Peer, Mosque, Gurukul. The temple's here make this place more sacred.
People are very sweet and helpful there. I am impressed with the youth.
Nav Yuvak Mandal is a group of youth who always involved in every social work like Social events, national days celebration, sports days, cultural event and other function
Well, no trip is complete without food, so tourism of this beautiful place provides you with various cuisines like North Indian, Chinese food, and south Indian food. This is a beautiful town in Solan district that is known for its hospitality, a trip one must opt for.