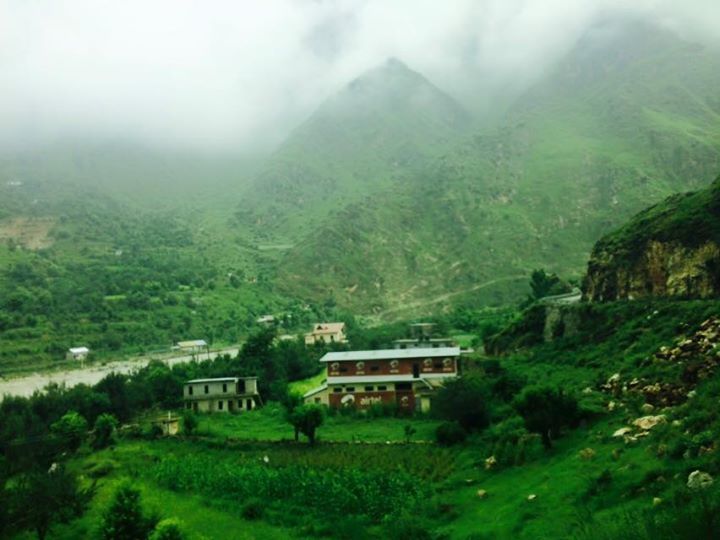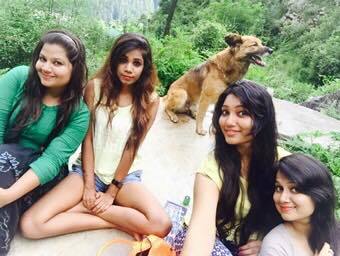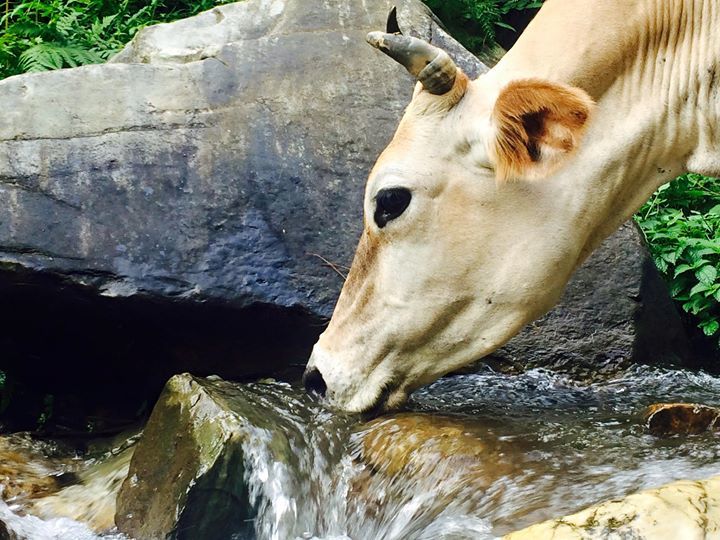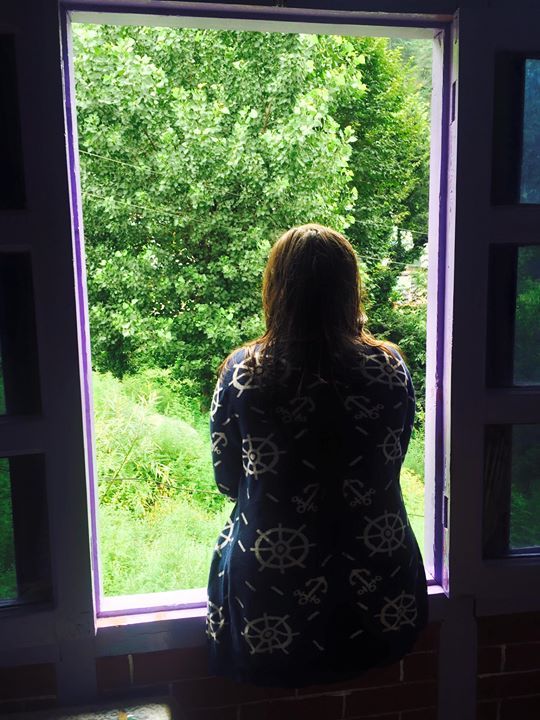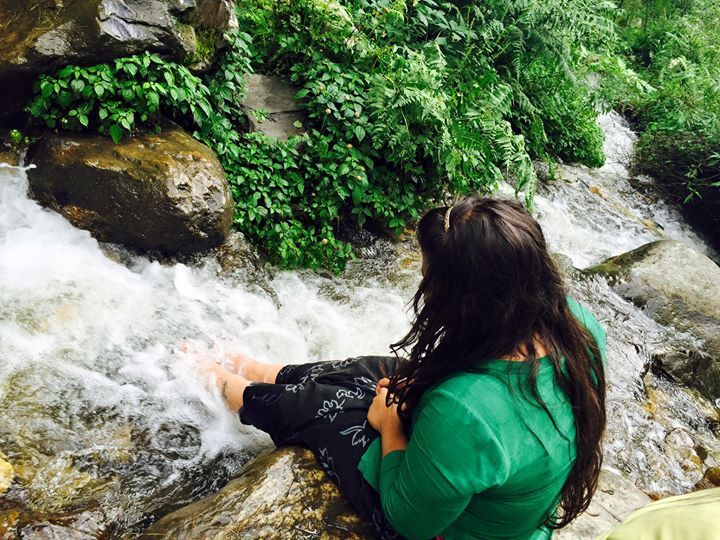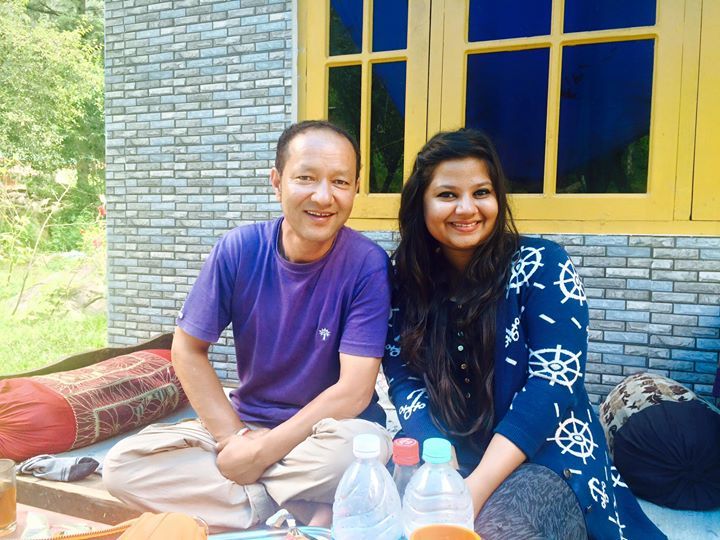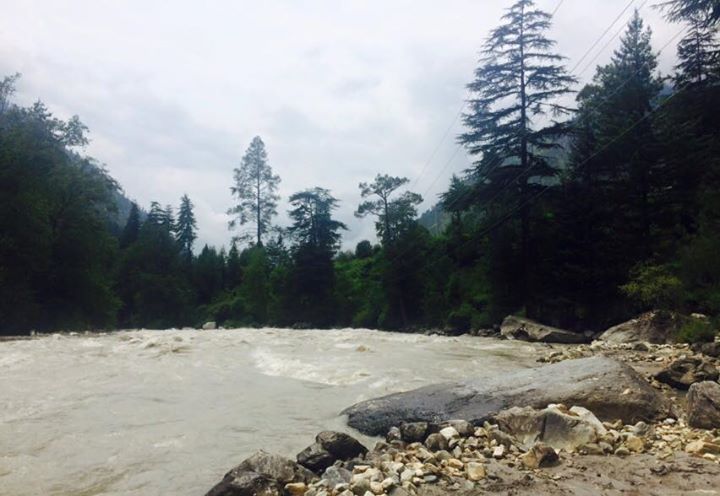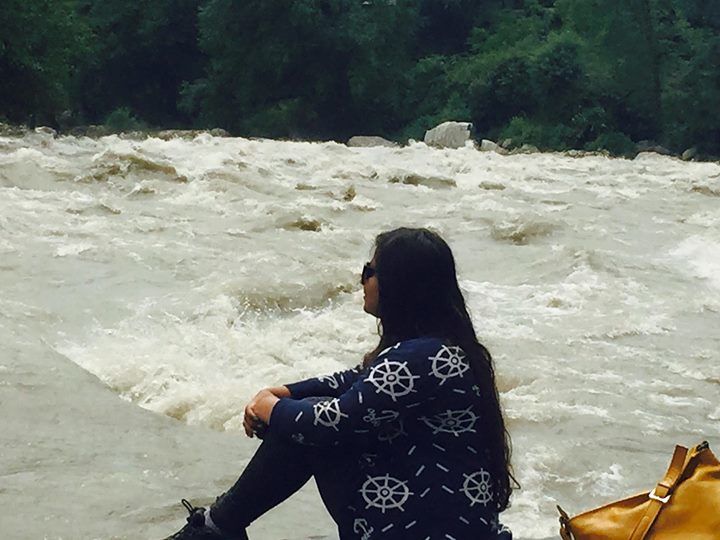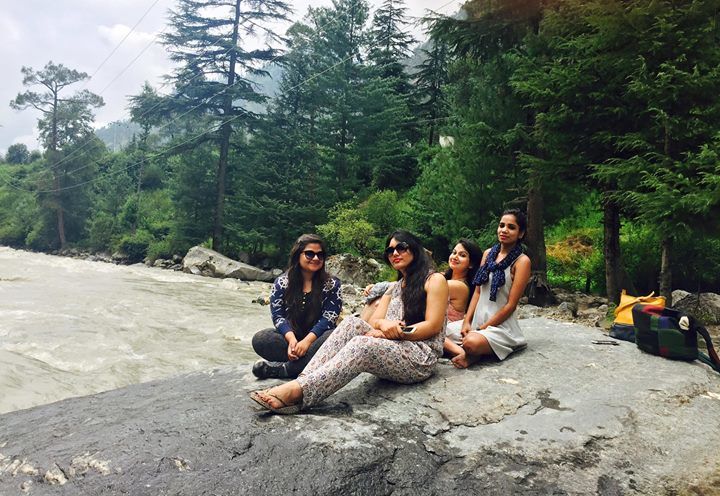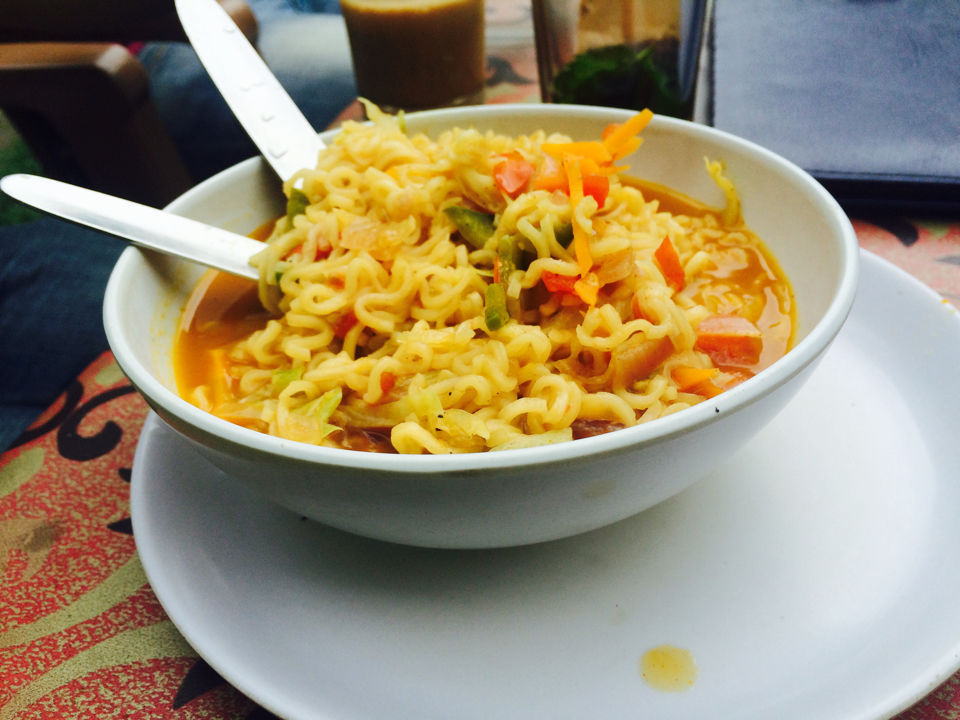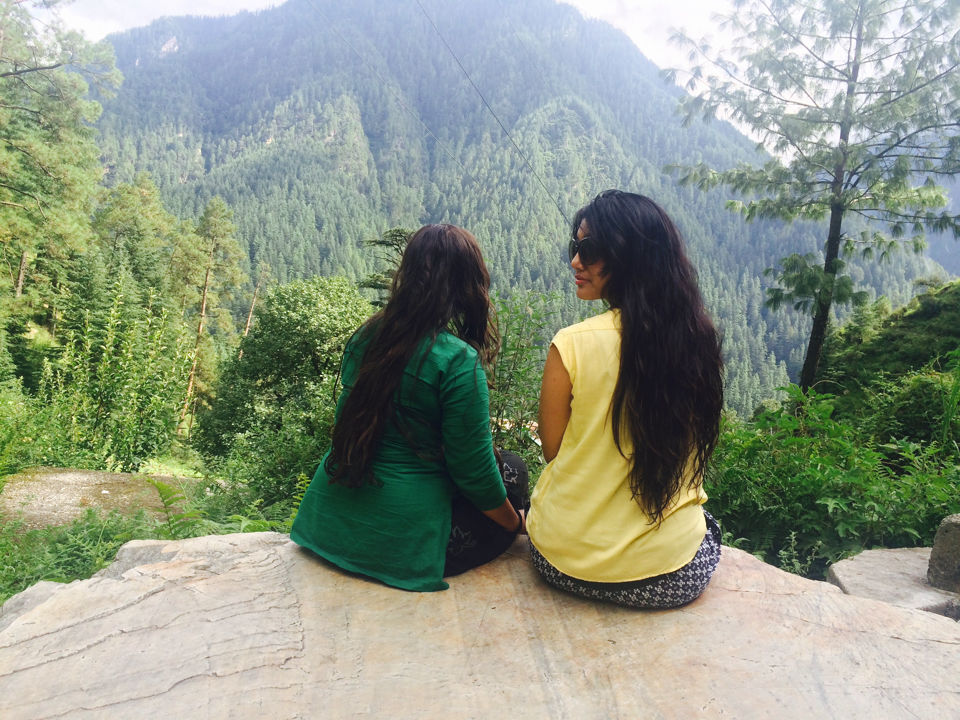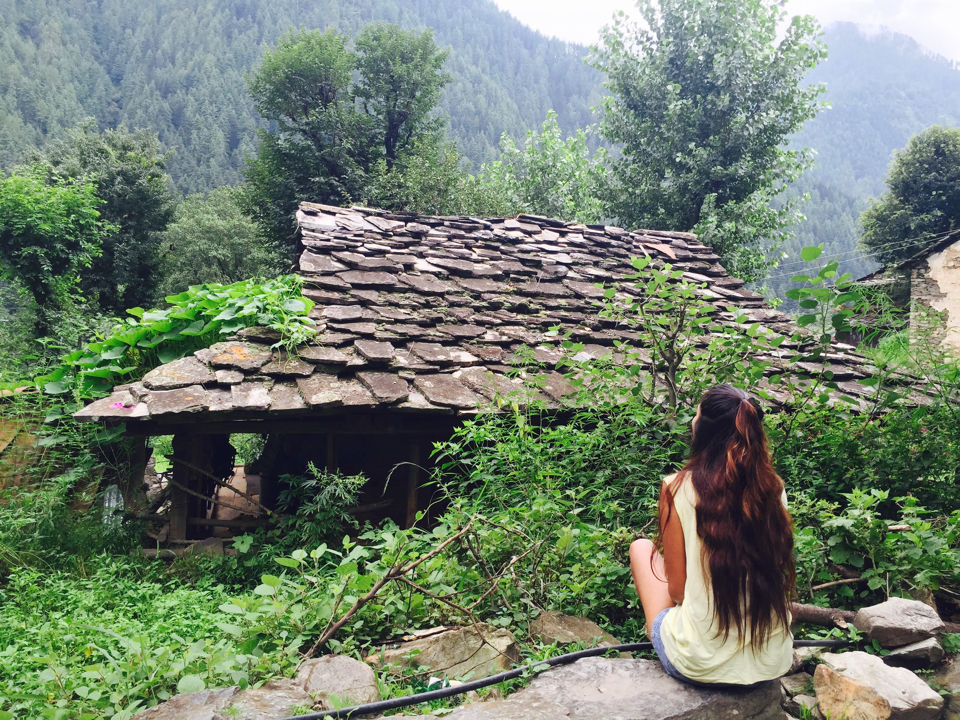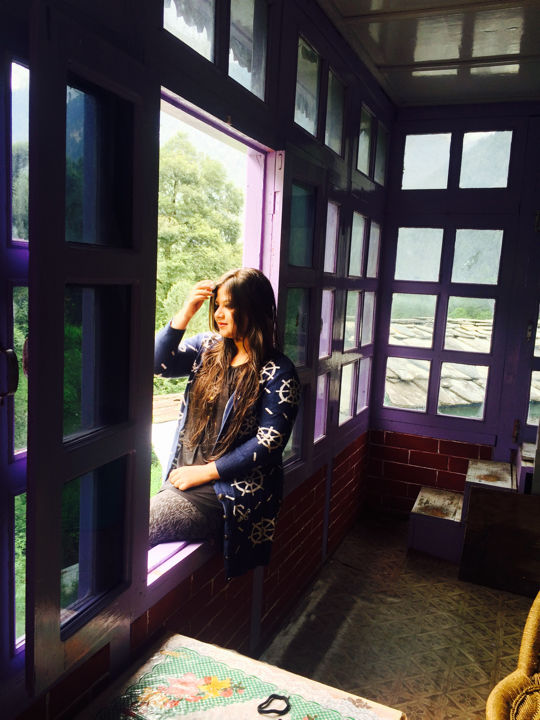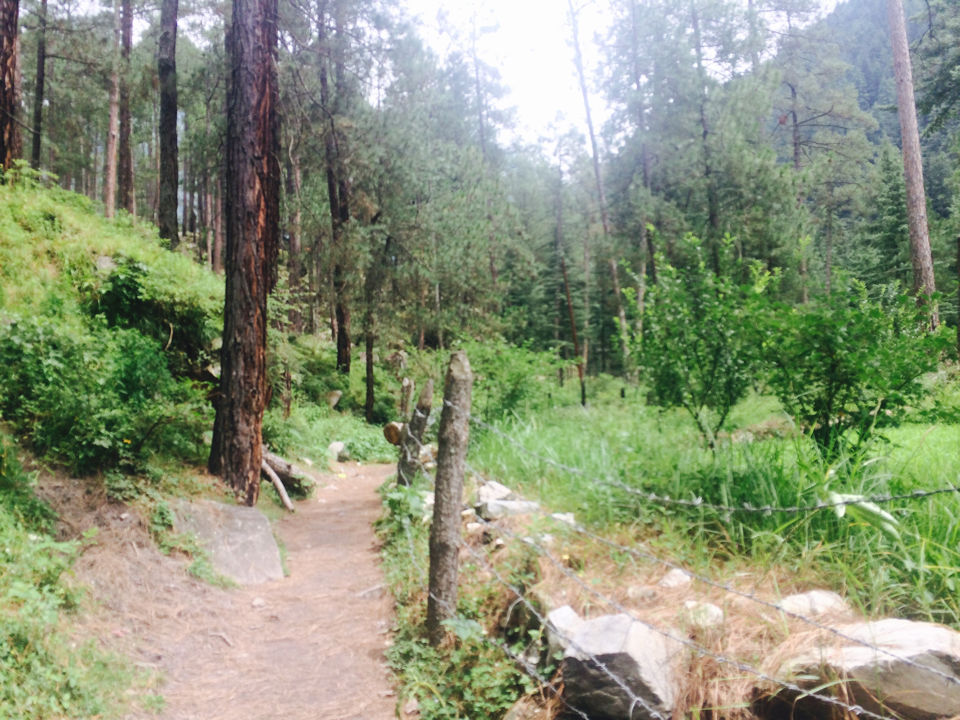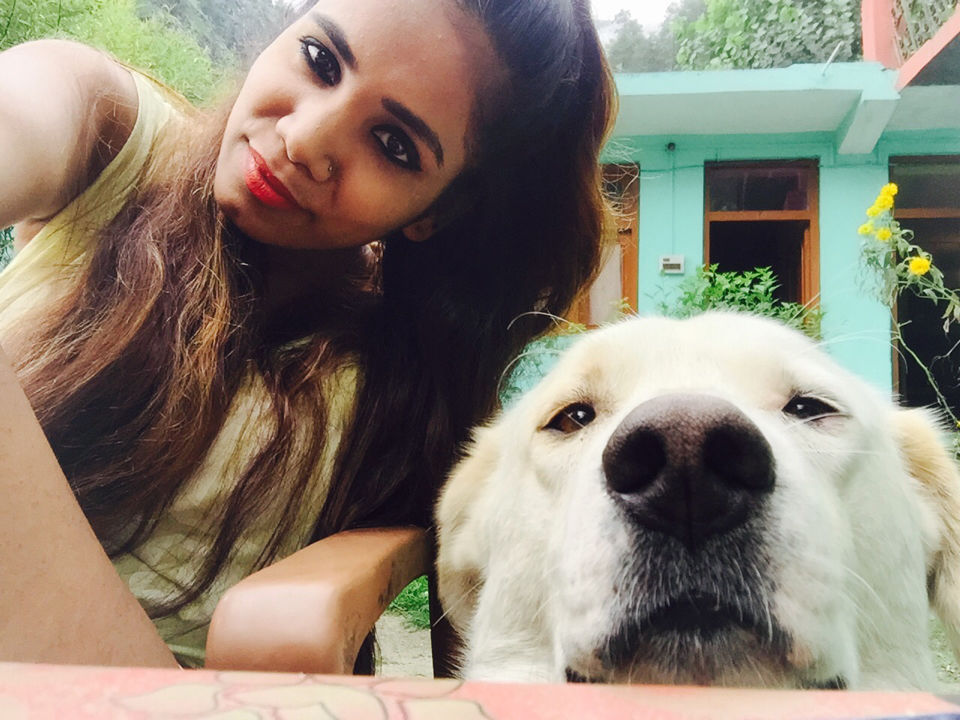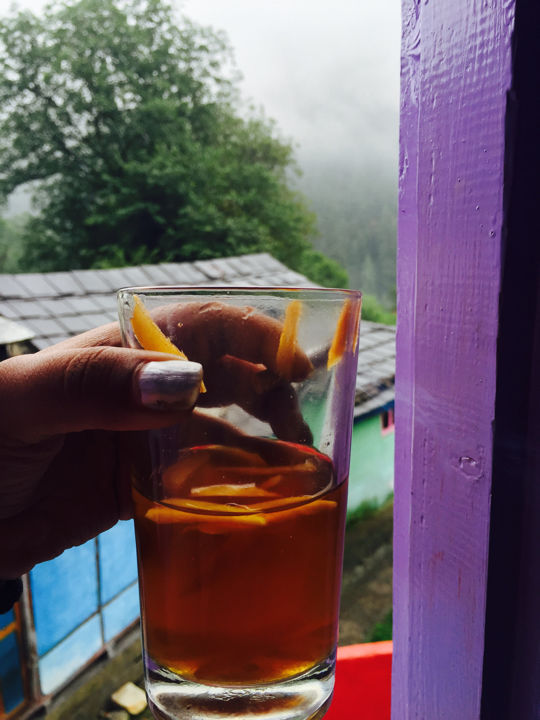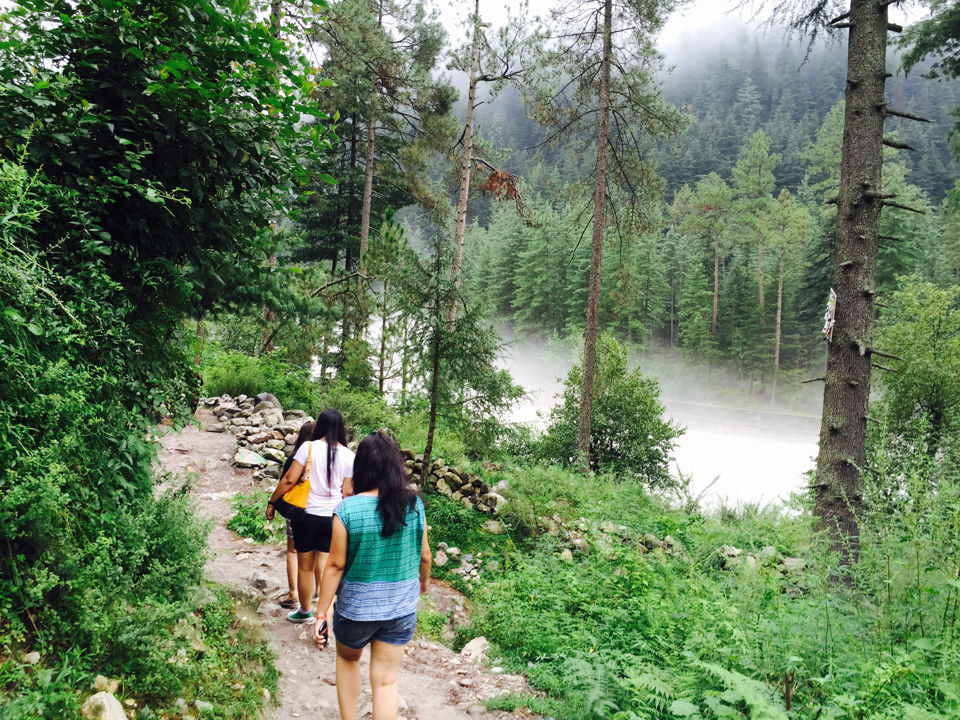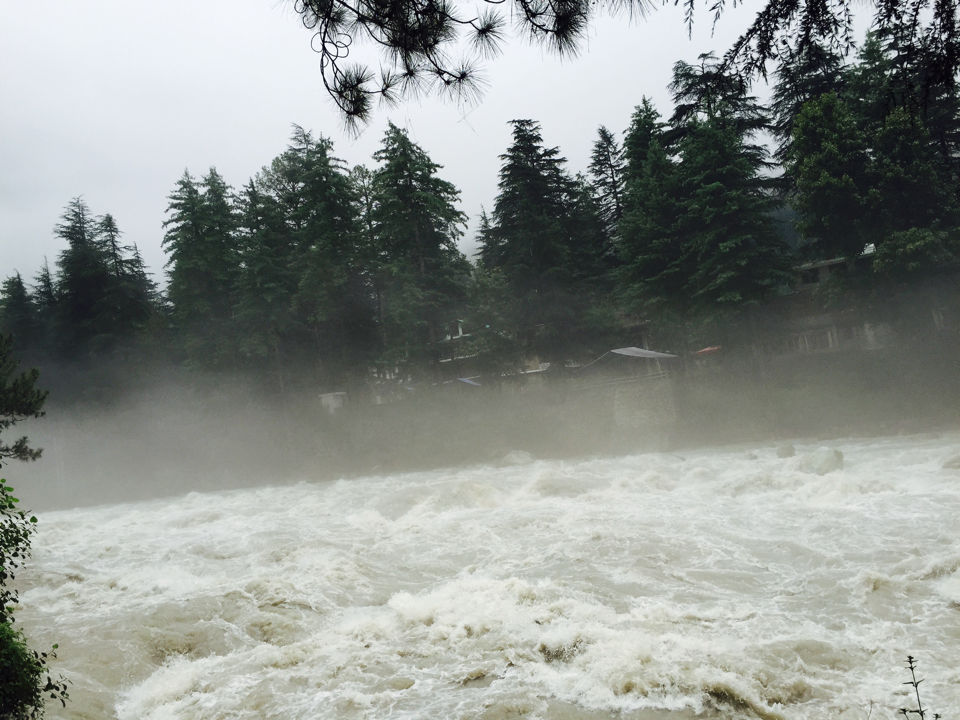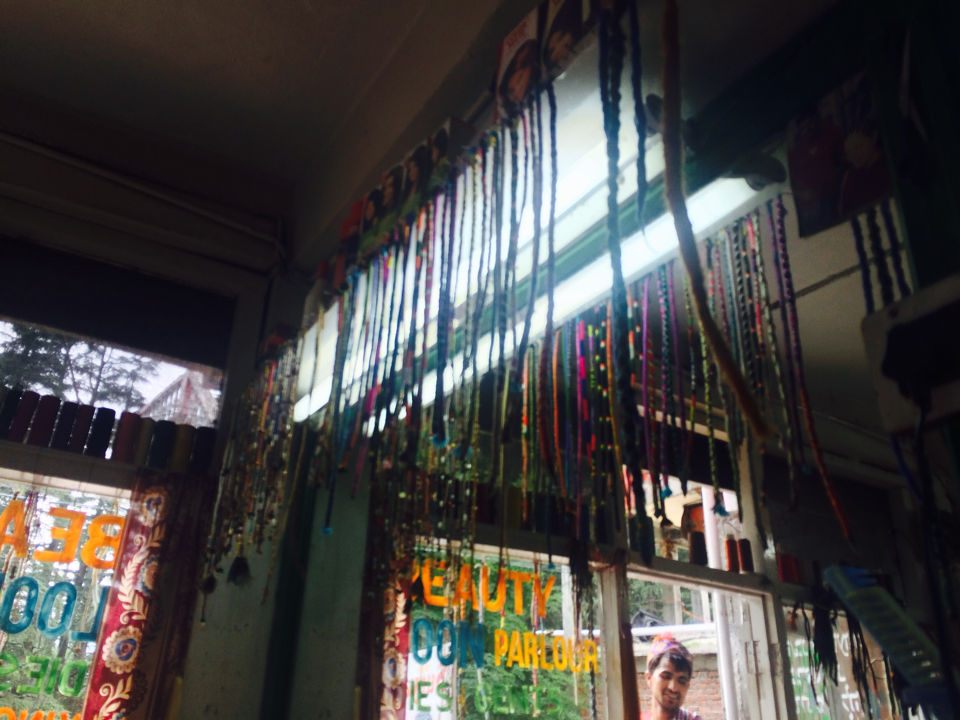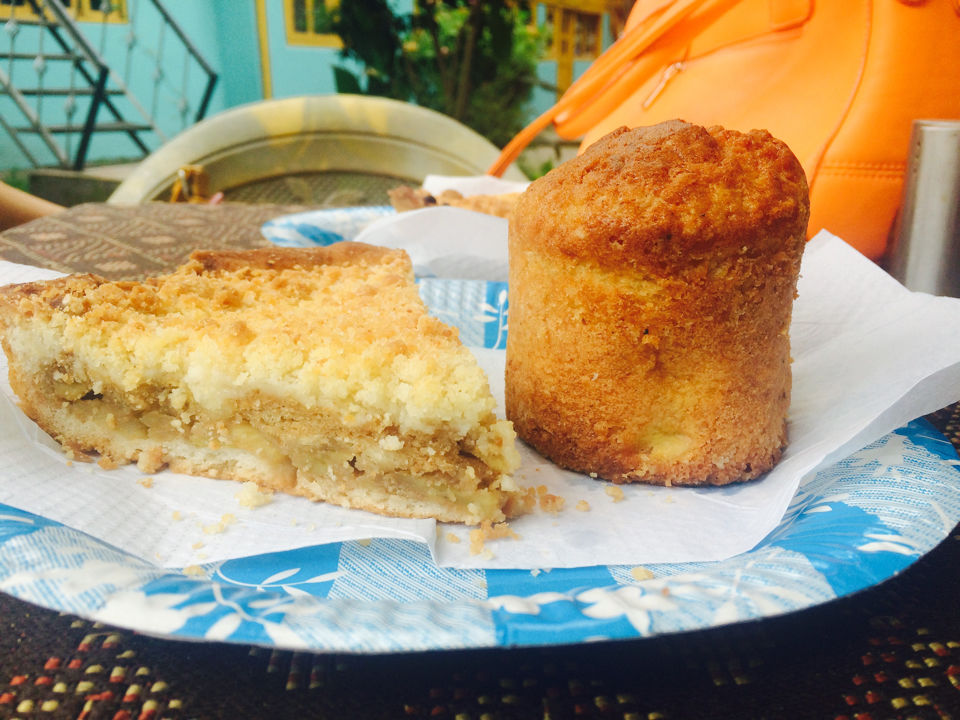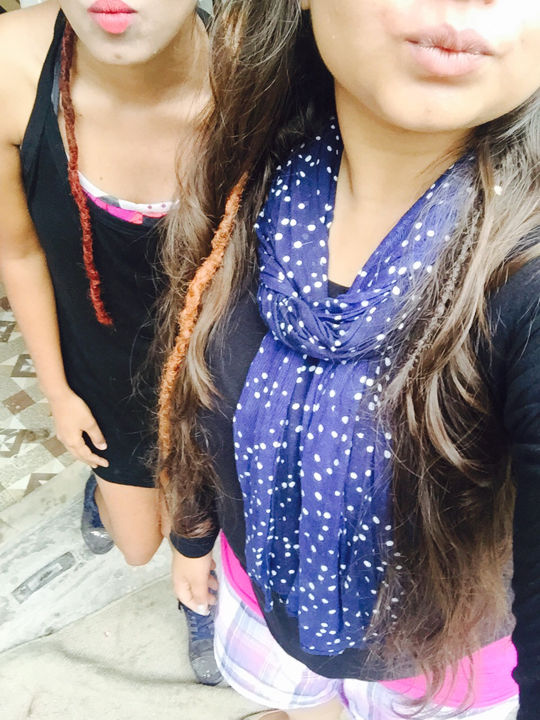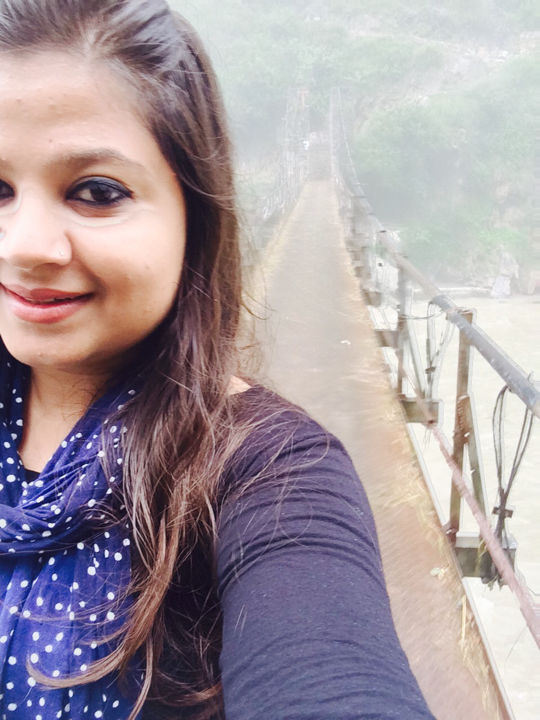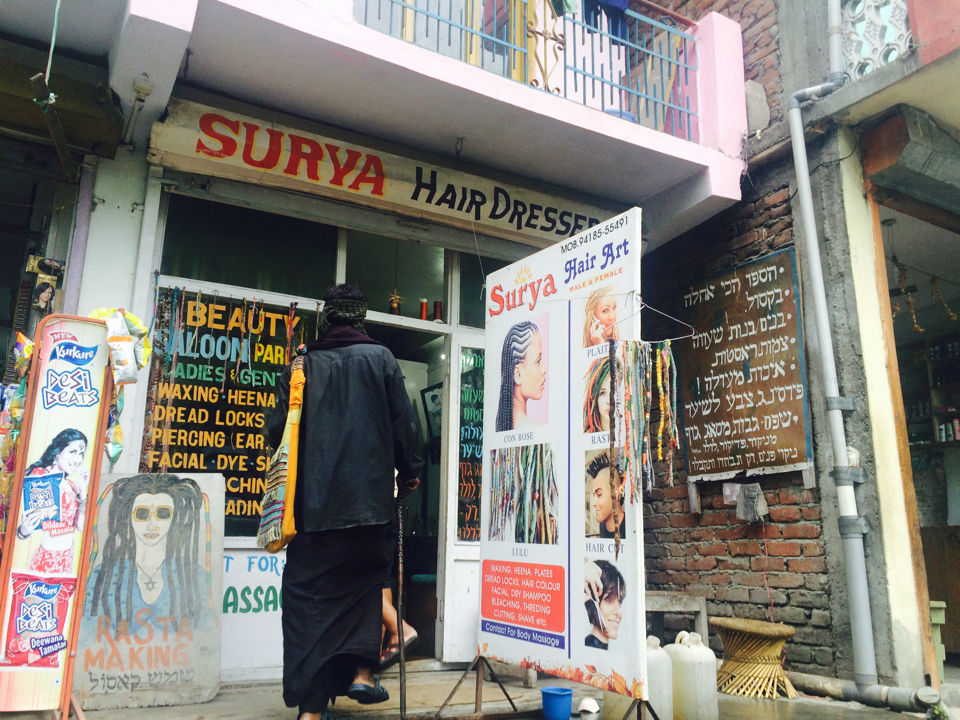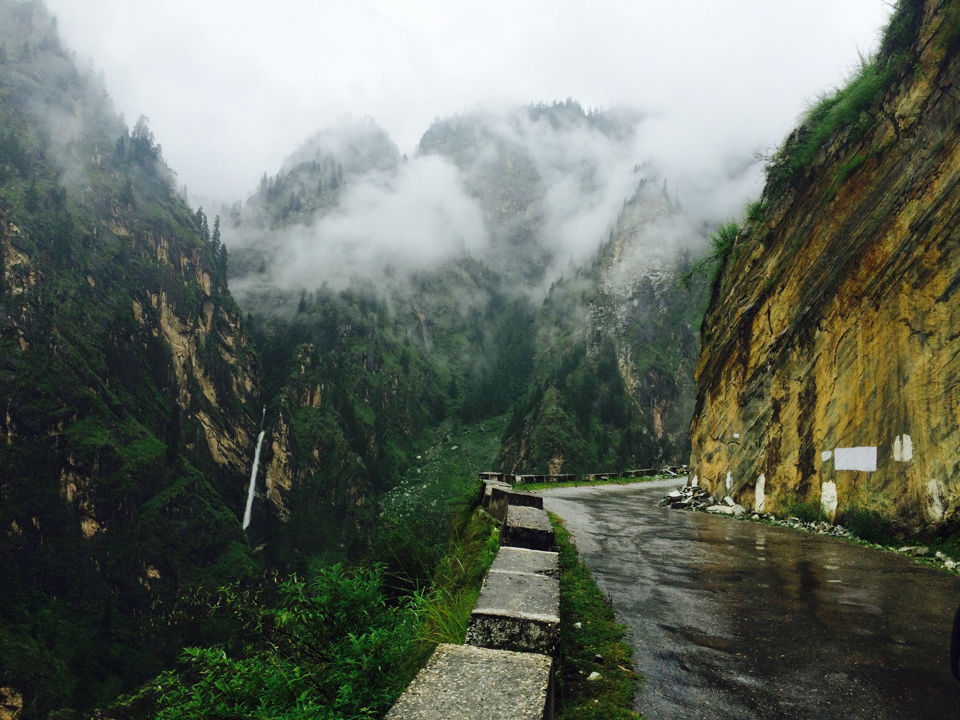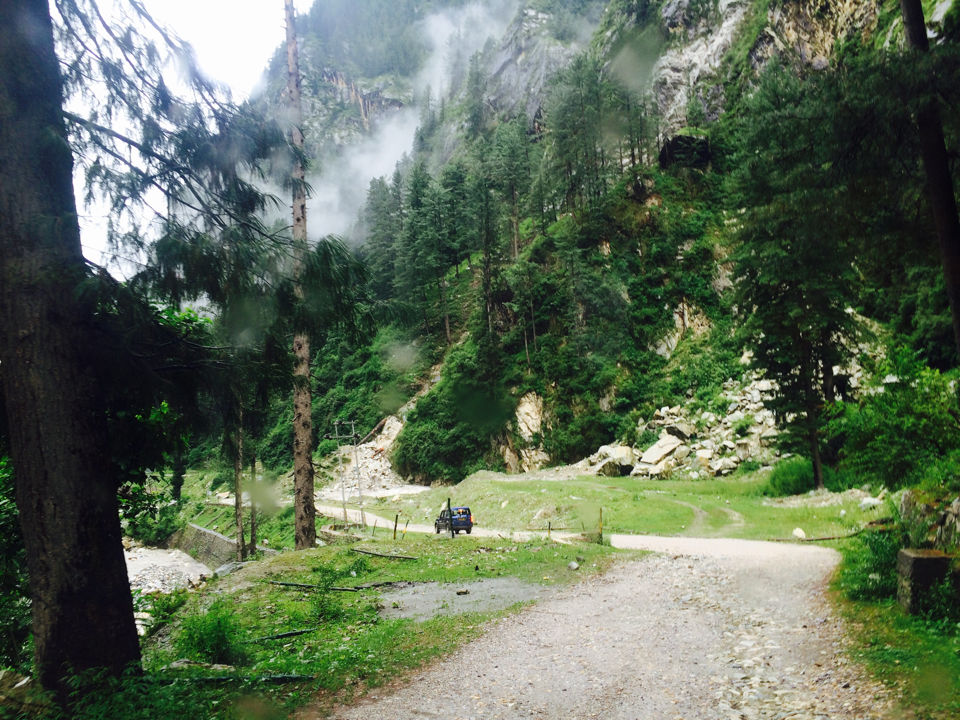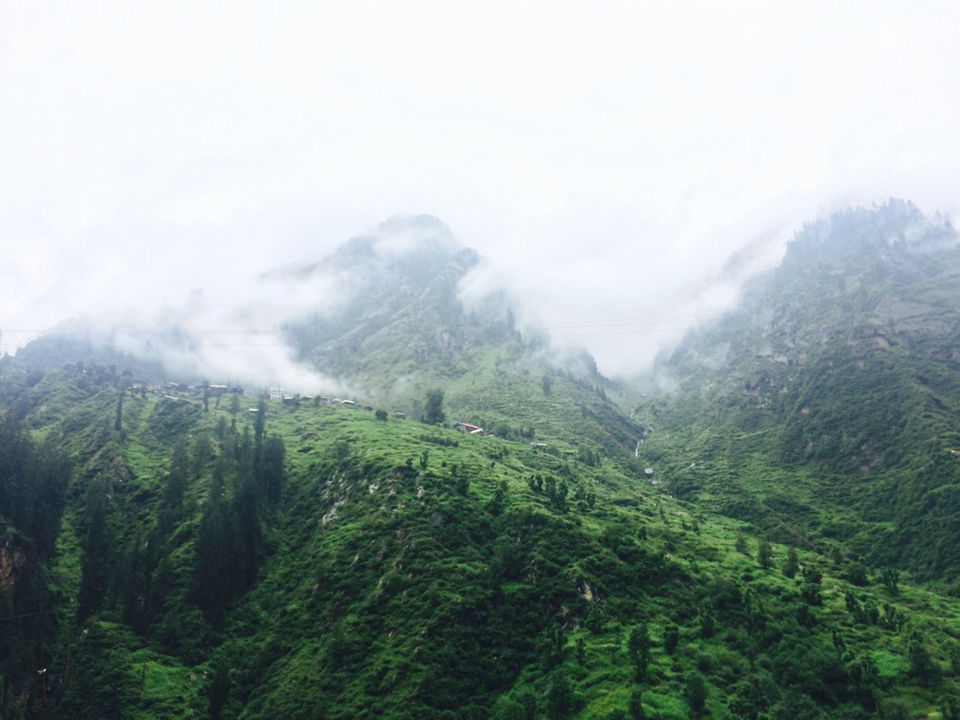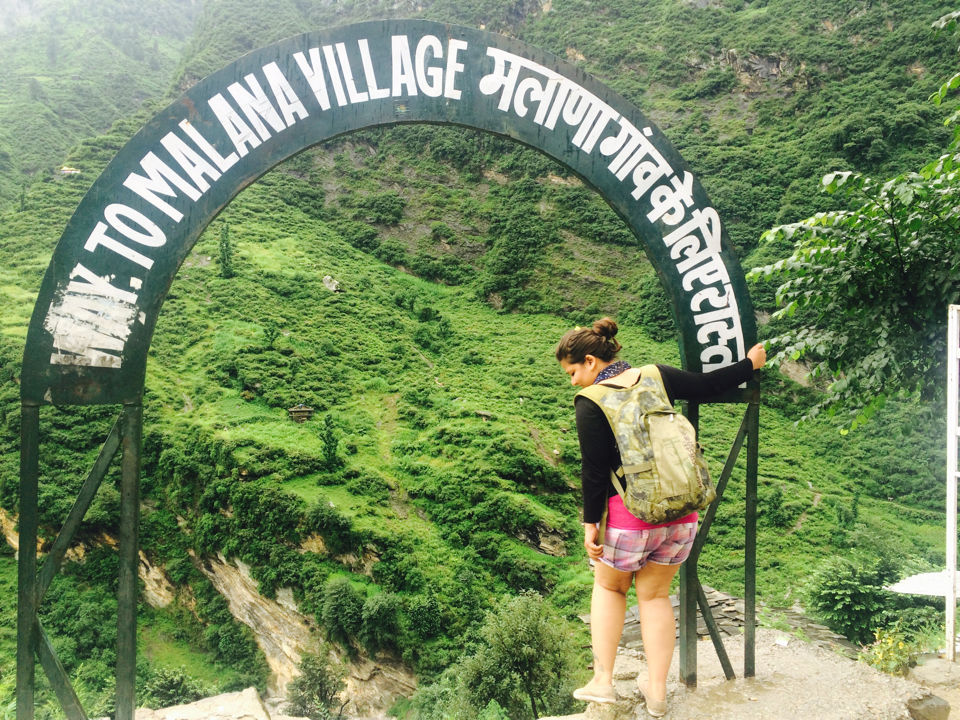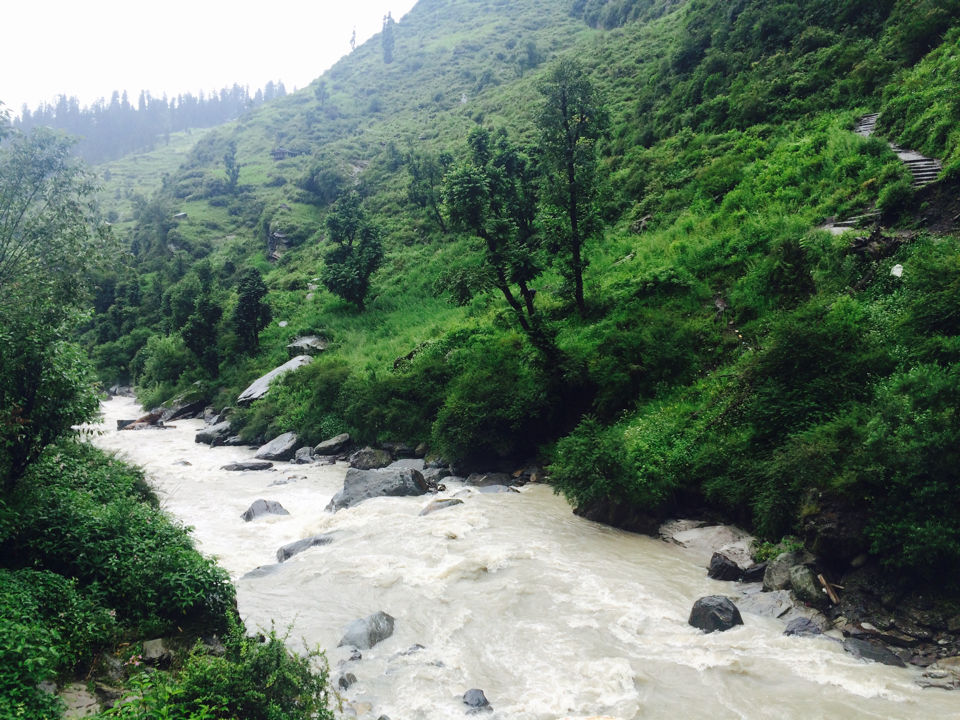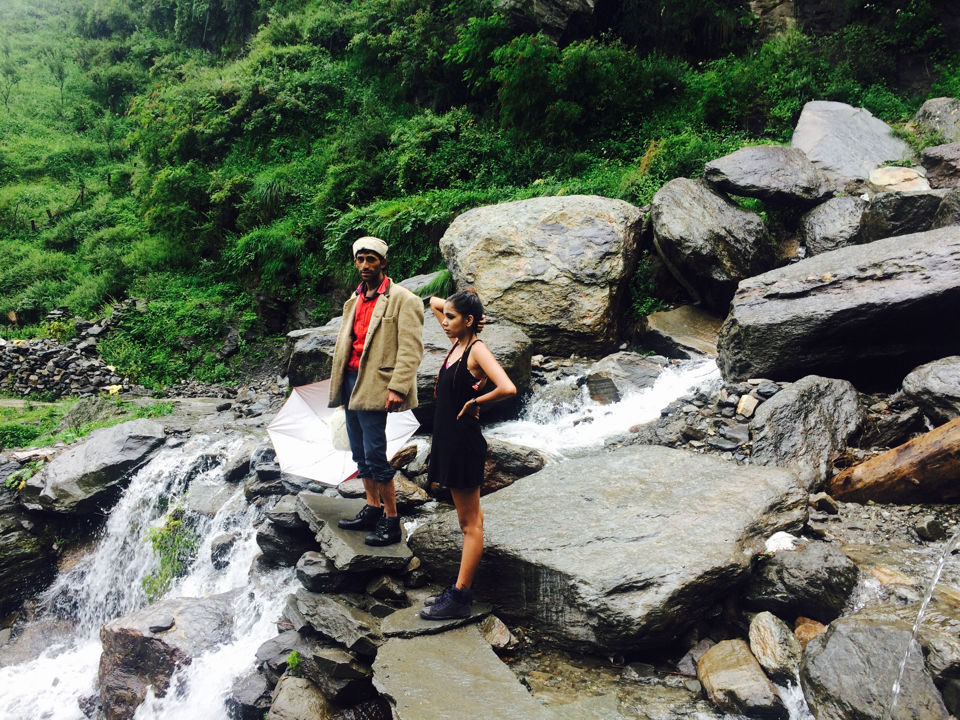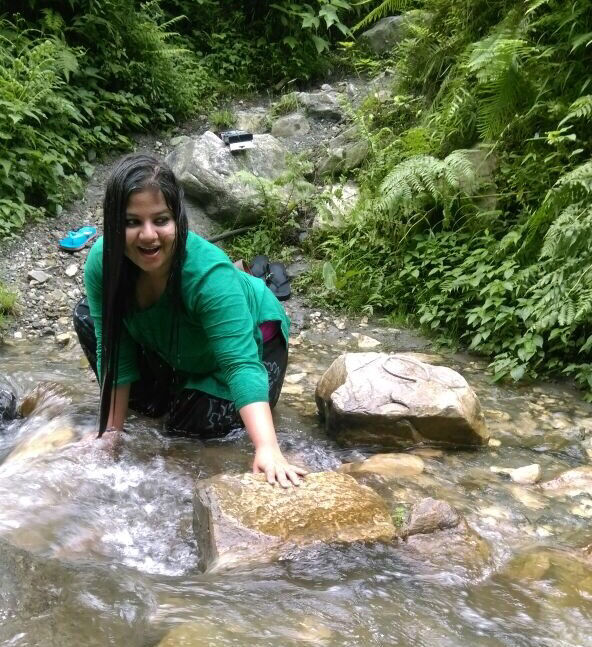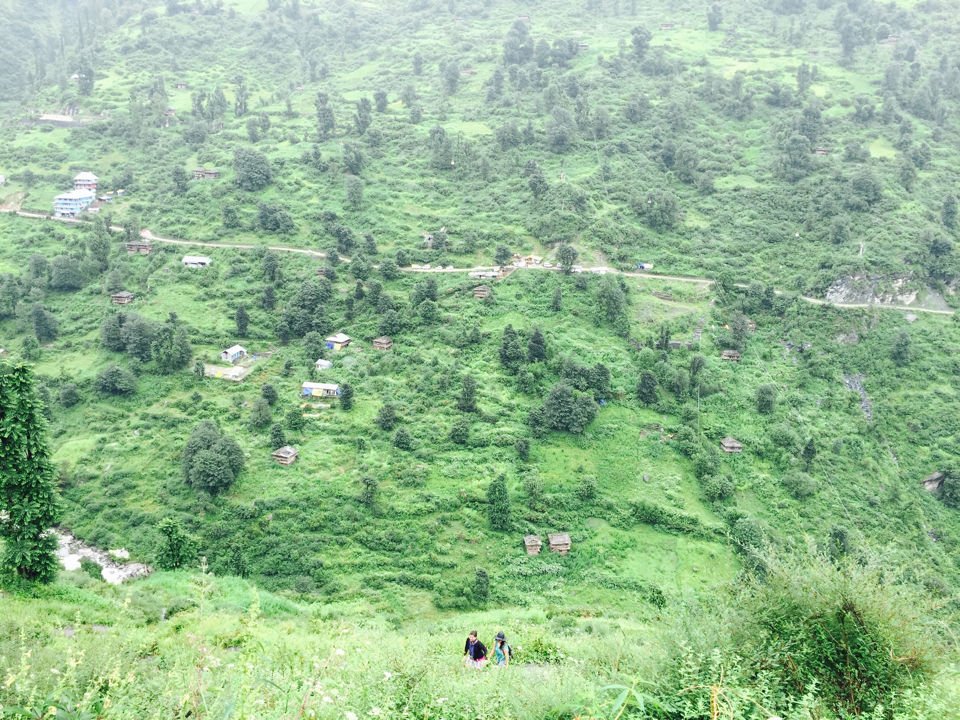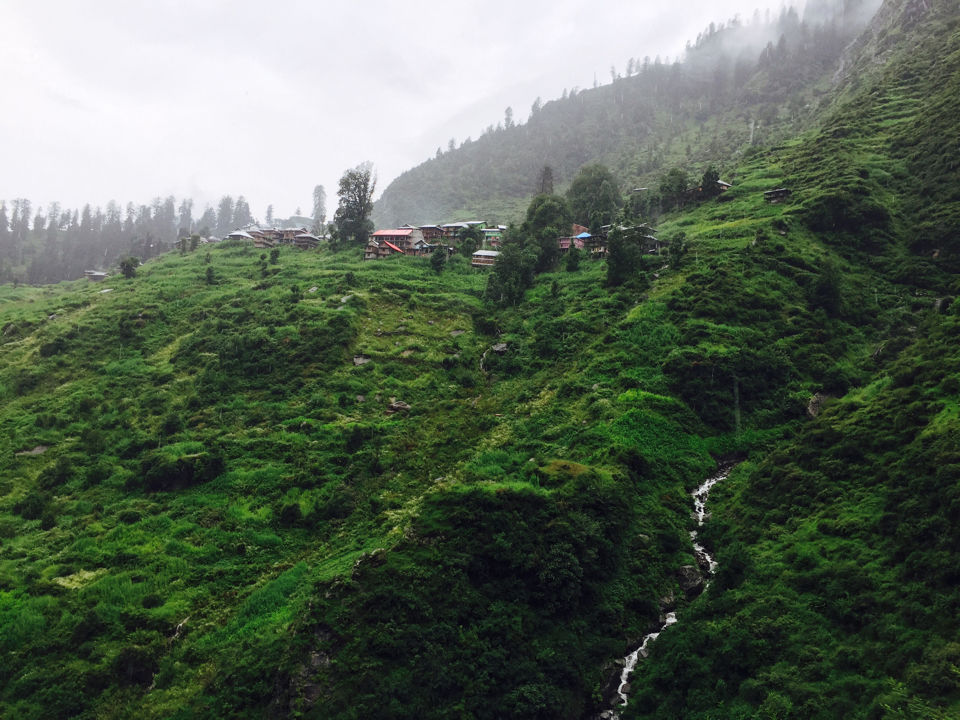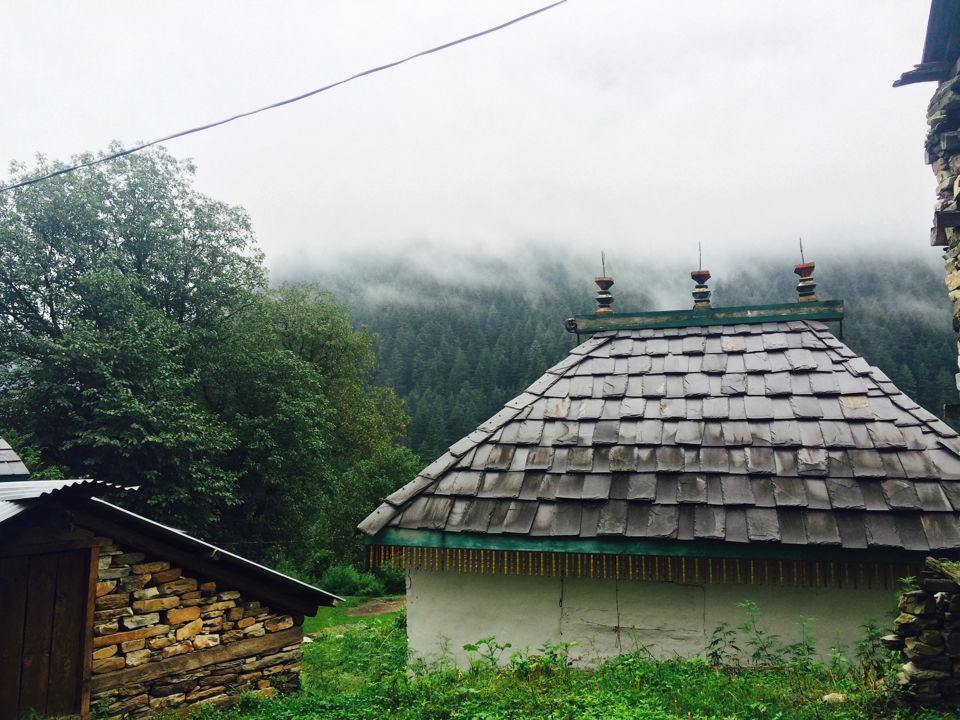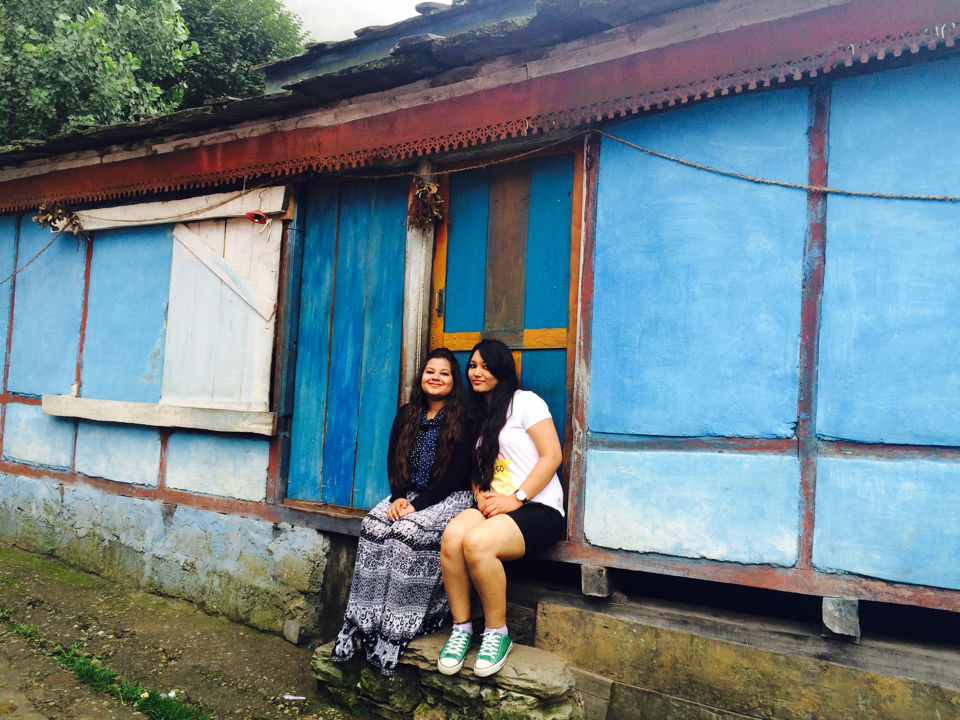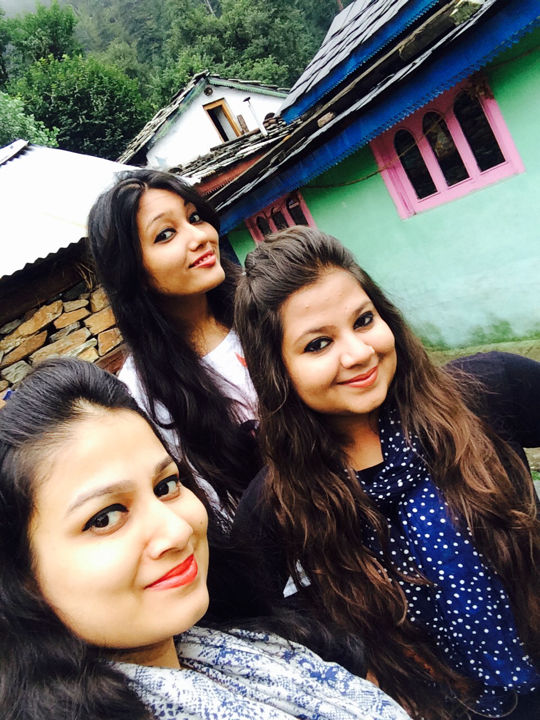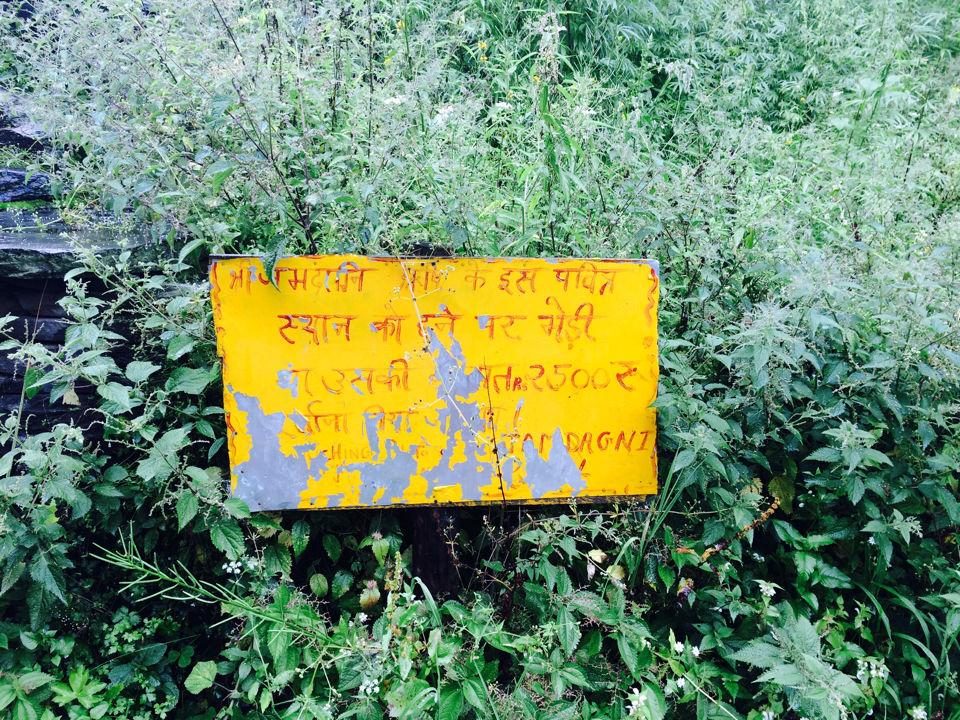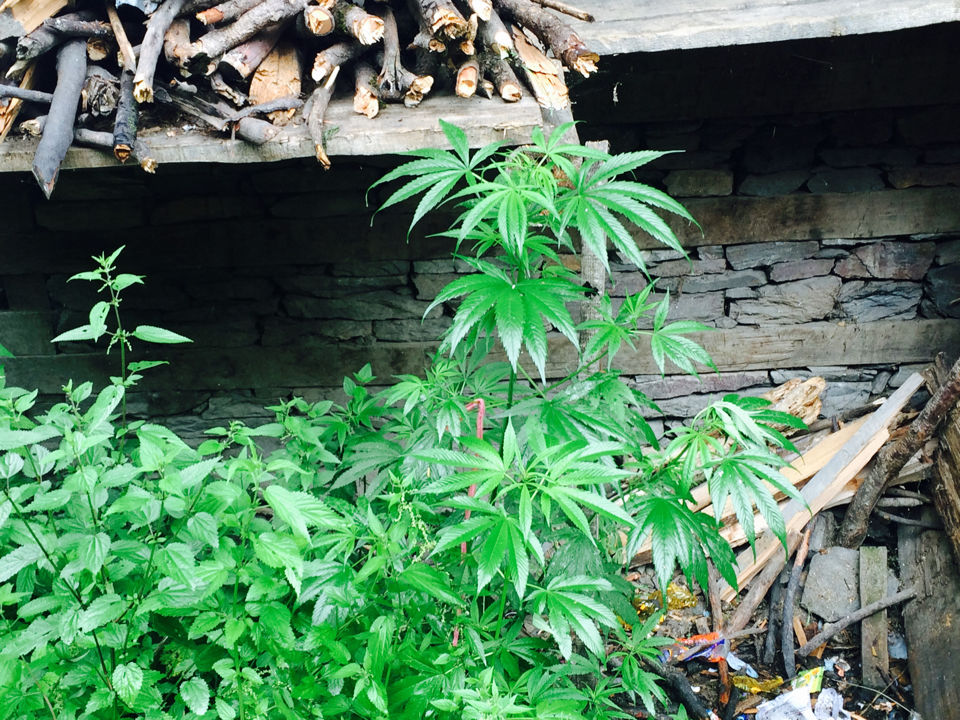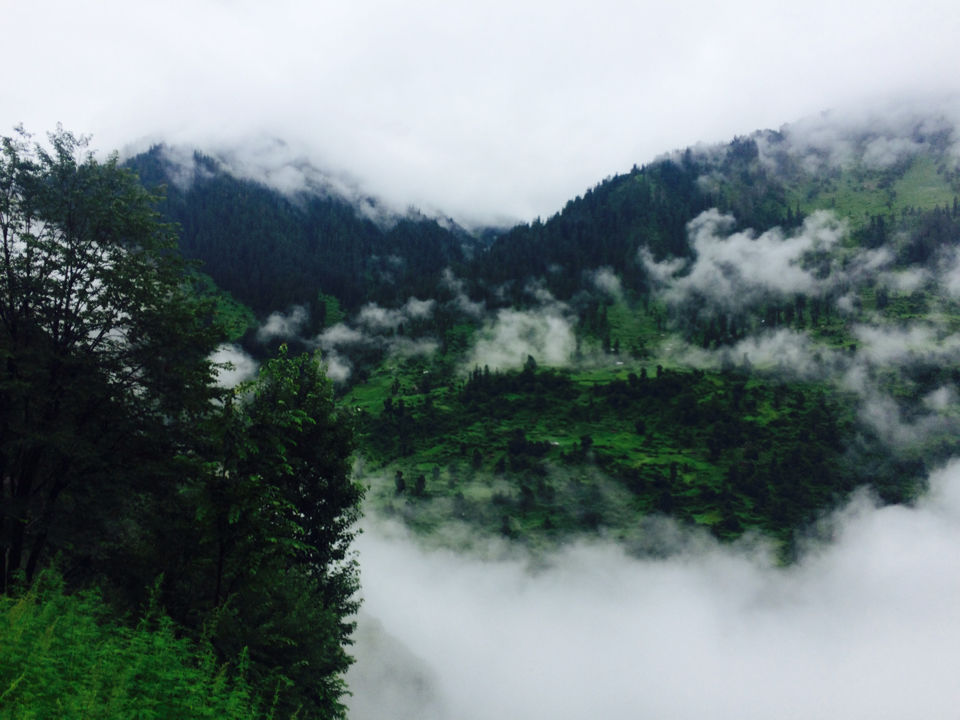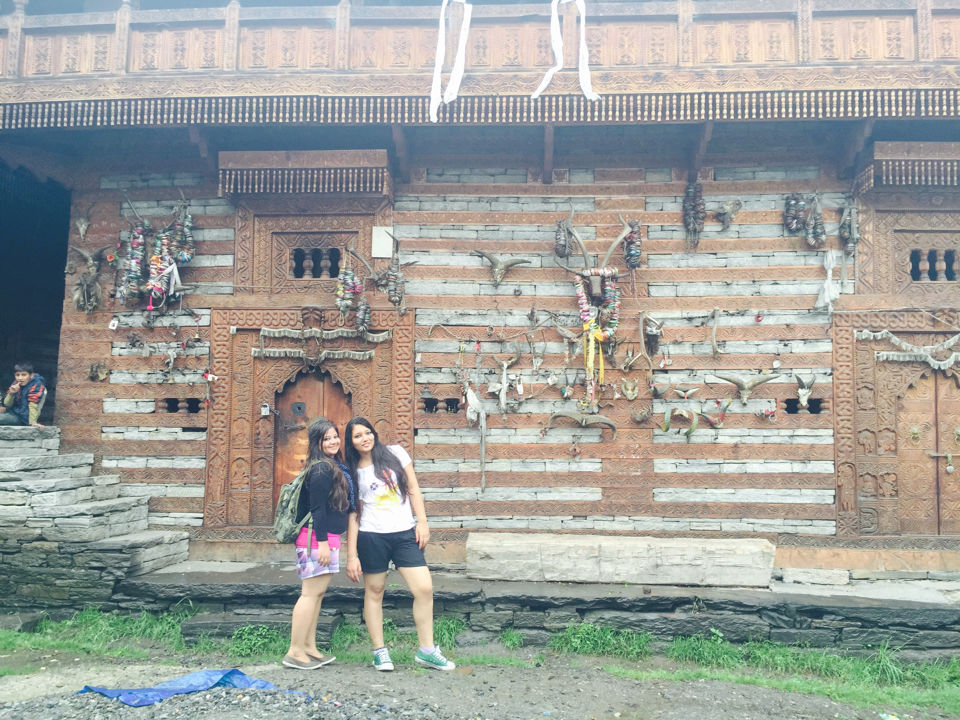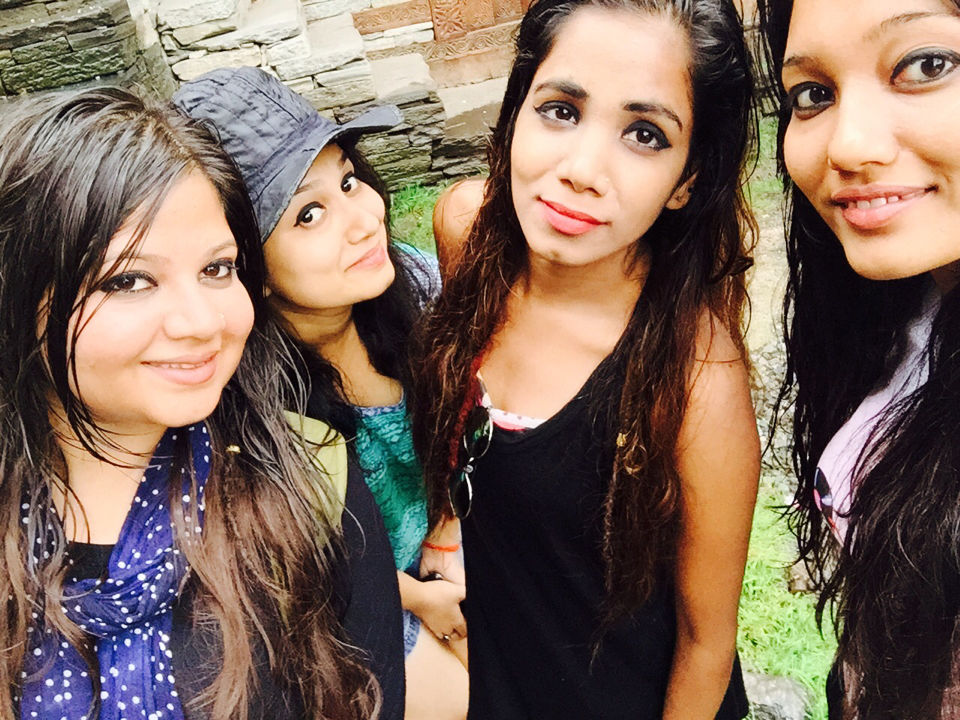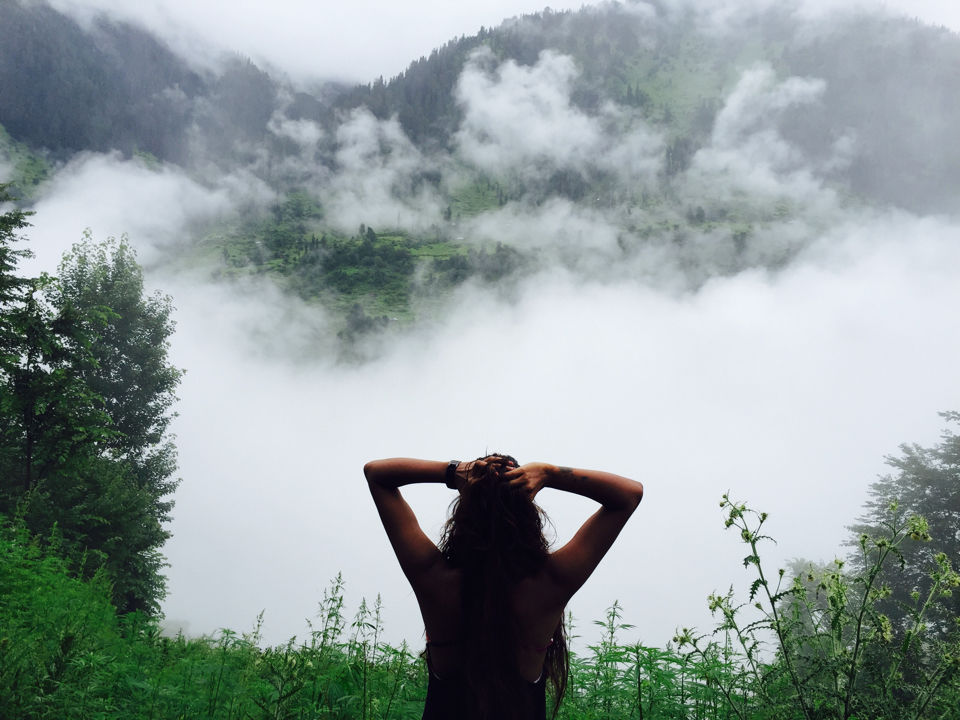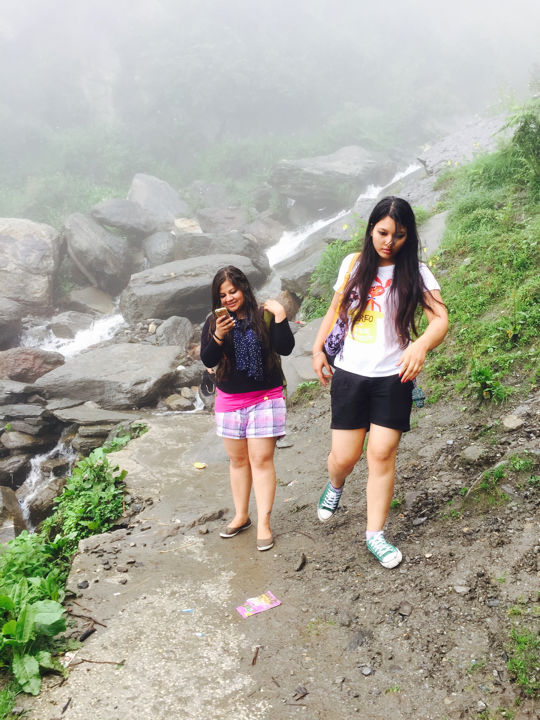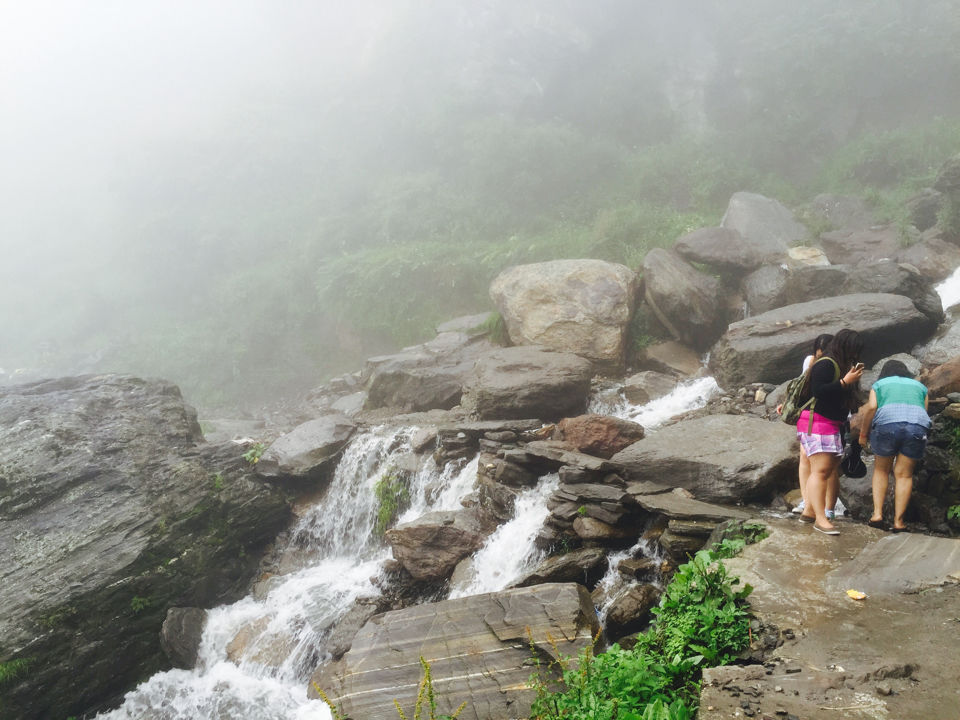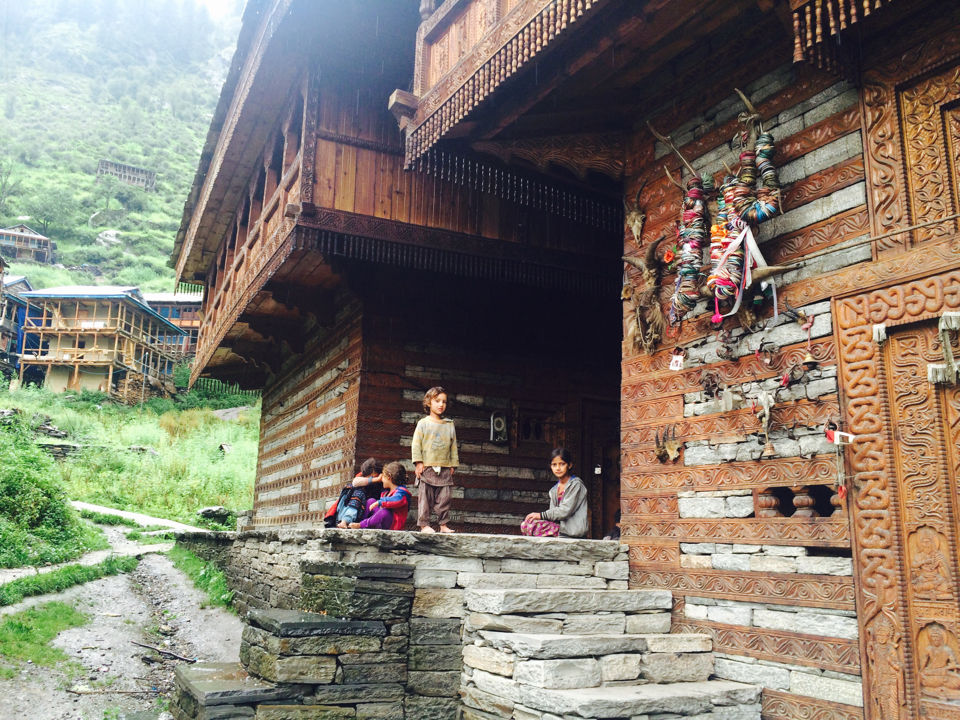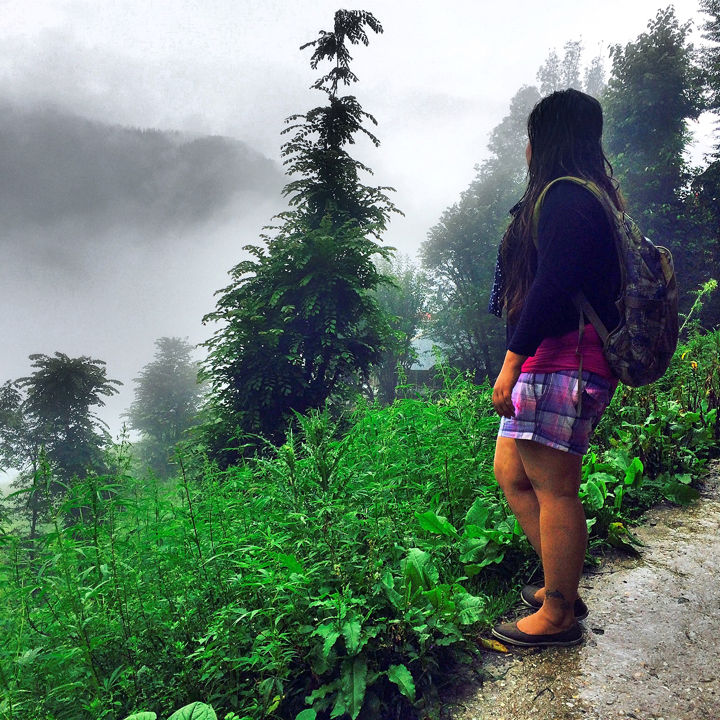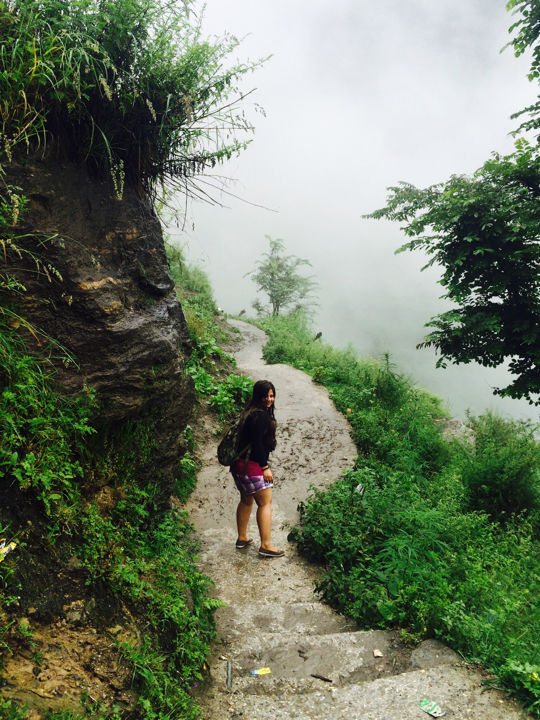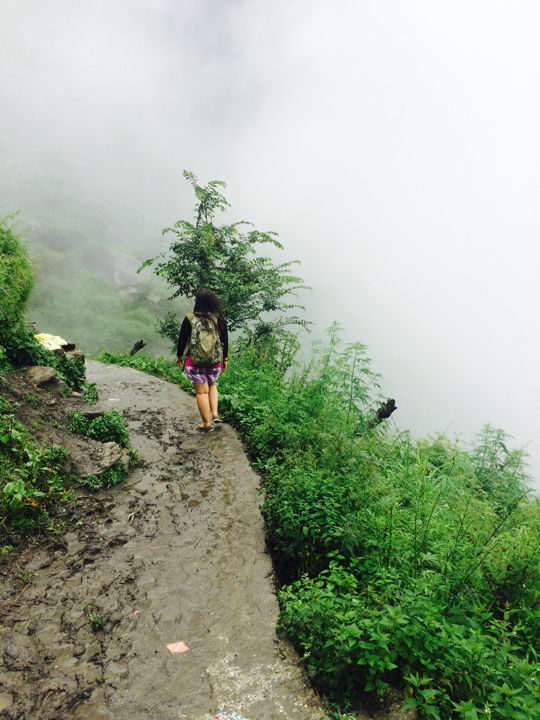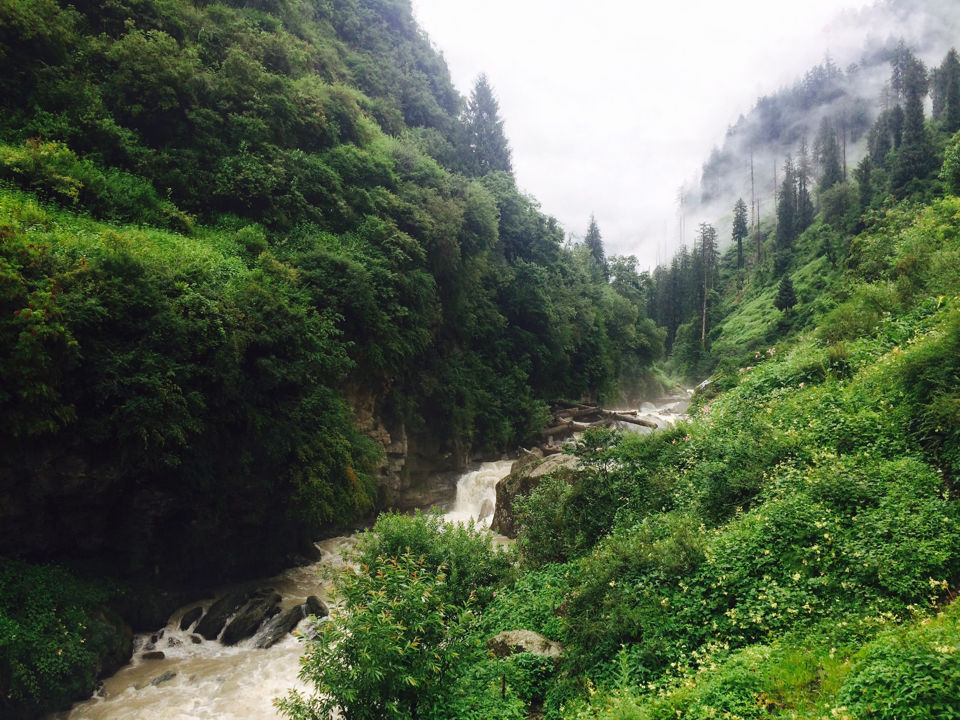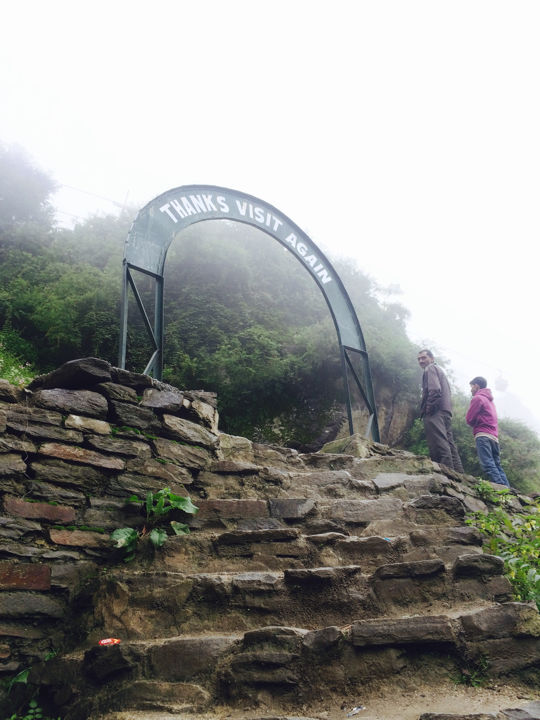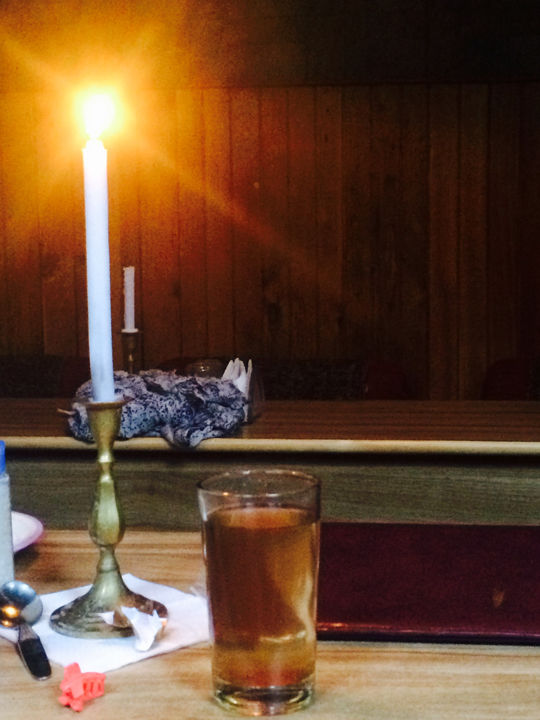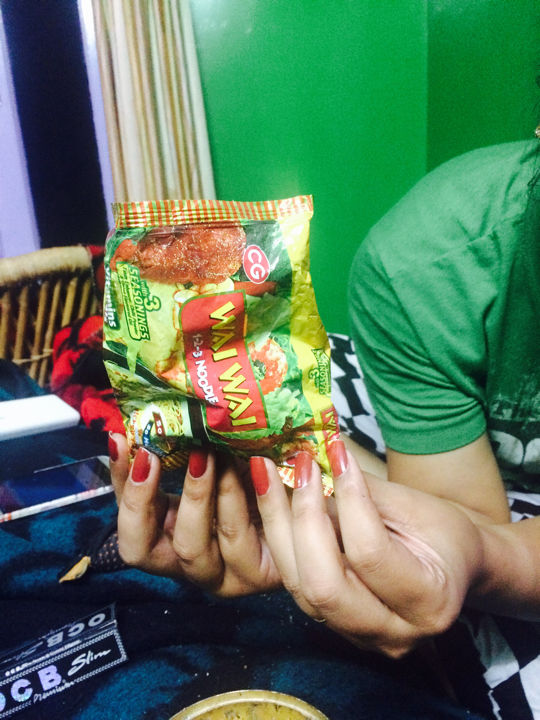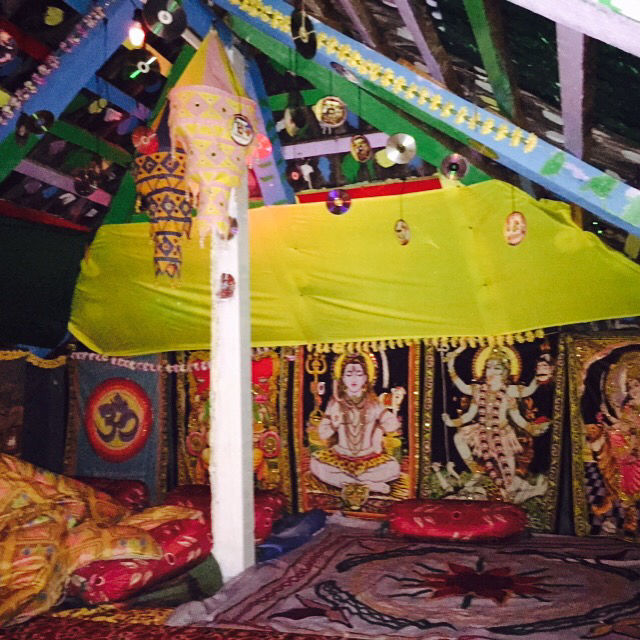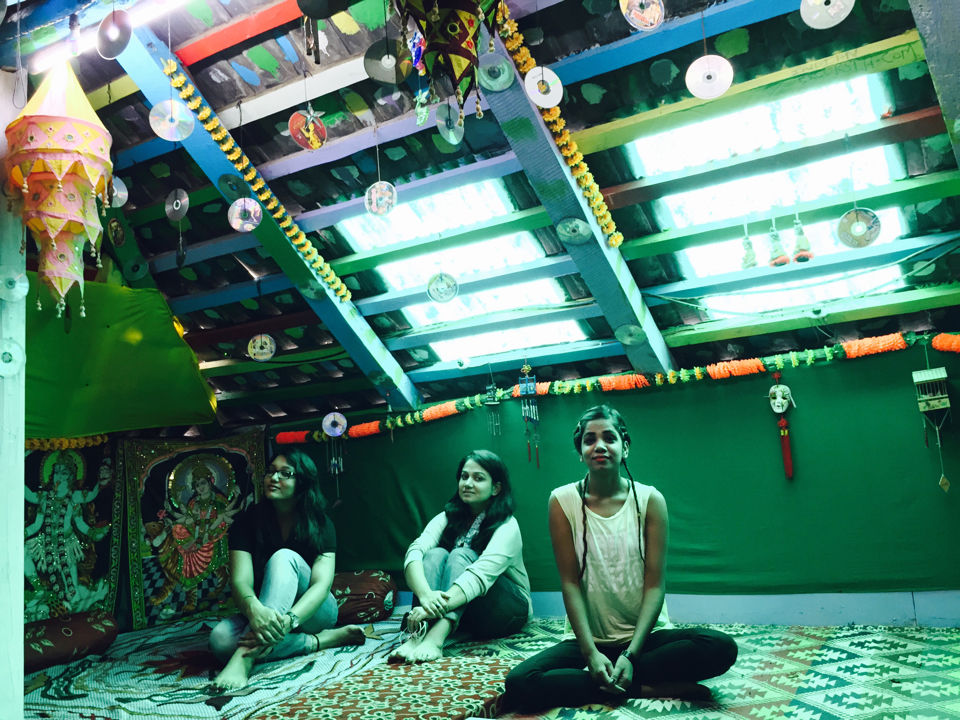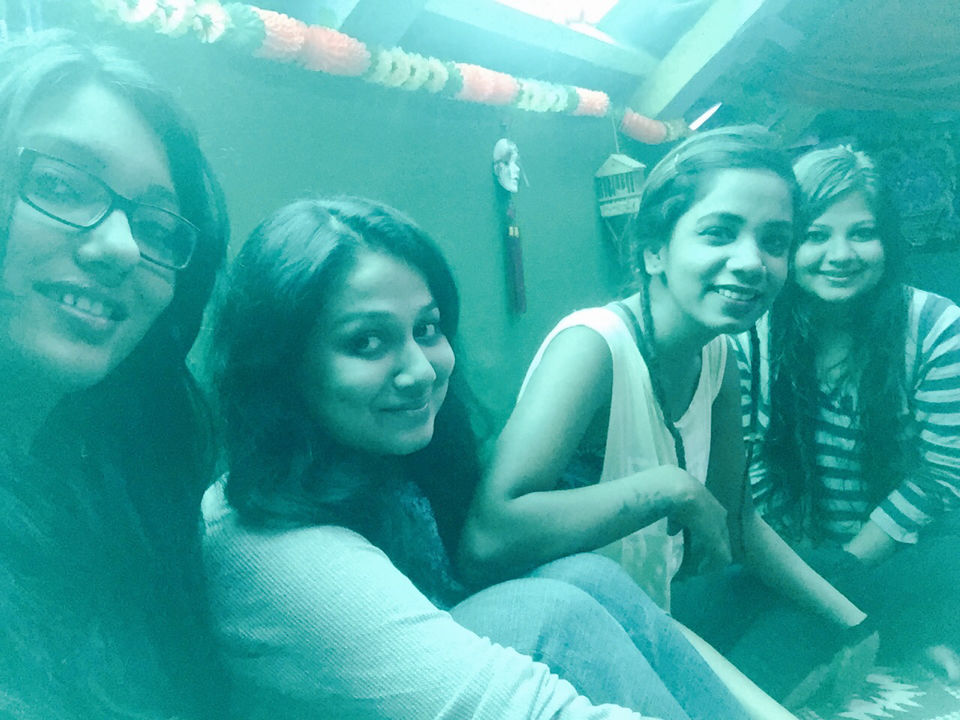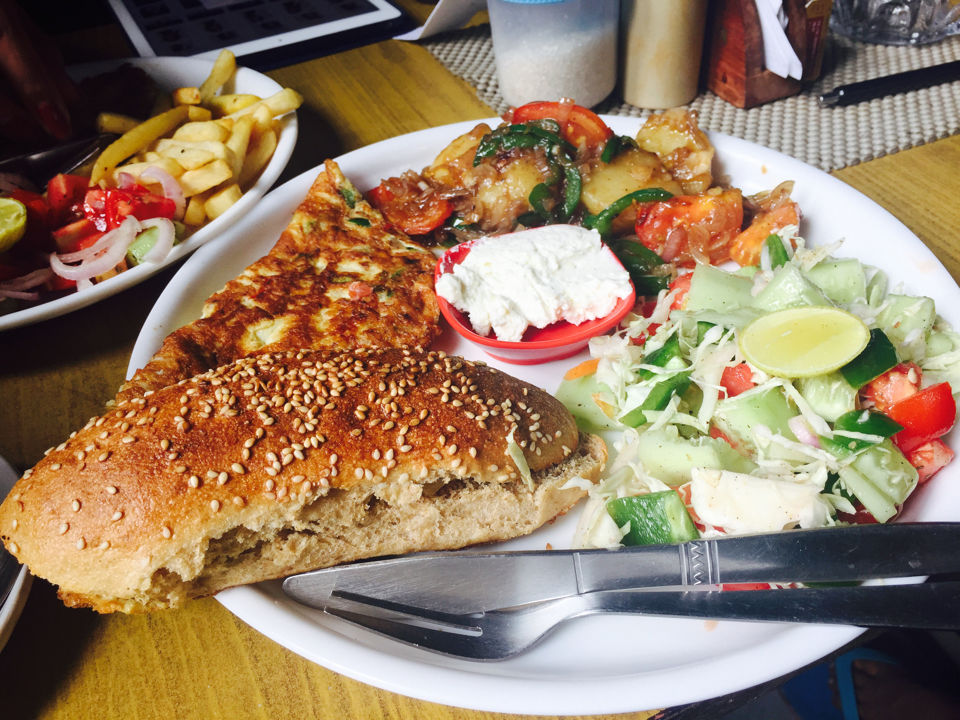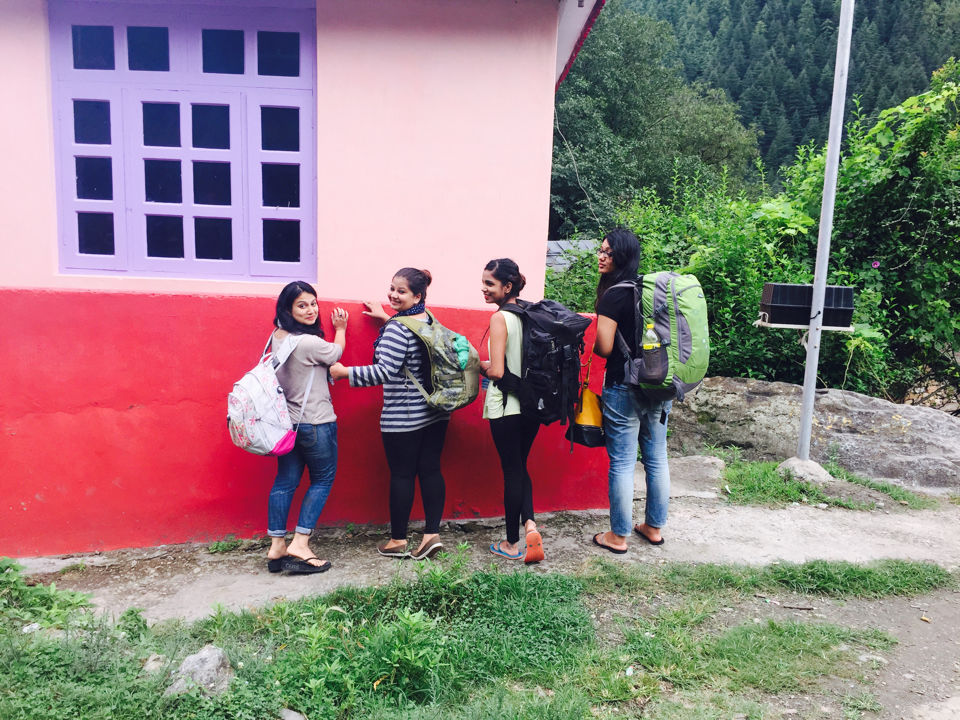 An all Girl's trip cum reunion with my friend from boarding school after 15 long years ! :)
Four young travelettes ready to explore the beauty of Himachal Pradesh !
Well, my very dear friend from boarding school and I decided to reunite after 15 long years and nothing better than plan a girl's trip for this special reunion. One of my cousins and her friend also joined us at the last moment so that made us four. Since my friend stays at Chandigarh so she booked the tickets to Bhuntar from there itself. So boarded Kalka shatabdi from New Delhi Railway Station to Chd and finally met my childhood pal Deepika, it felt like we left boarding school yesterday only, didnt realise that in between were 15 long years that just flew! We scrolled down the sectors of Chandigarh, packed dinner and boarded the bus to Bhuntar at around 12am. My cousins boarded the bus from Delhi and they had to join us directly at Bhuntar the next morning.
Us girls.. we had so much to talk about, irrespective of the fact that we were meeting after 15 long years, it was magical ! Every little memory was held intact in our brains, those stupid crushes, those bad thursday lunches, those early morning hobby classes, assembly in the interval, those annual function dance performances, those midnight horror tales and we kept jabbering until we realised it was 4am...we realised that come what may, time doesn't make you forget good memories or change things. :)
DAY 1- CHALAL-Rasol
When we opened our eyes, the bus had stopped 12 kms ahead of Mandi for a tea break at around 6:30 am, it was pouring, the clouds had hugged the lush green mountains and the temperature dropped down to 16-17 degrees. The view was amazing. We got fresh, lit one, had our morning teas and proceeded further. At 7:30, we reached Bhuntar bus stand, it was drizzling so we had to find a decent food joint to sit and wait for the other two to reach. By the time they reached we had rolled our first joint and another round of tea ! :) 
We boarded the himachal roadways and left for Kasol at 9 in the morning and reached by 10:30, that one and a half hour journey was mesmerising, to my left was the majestic Parvati River bordered by velvet green deodars backed up with green mountains and to my right you'd find various shades of 'green' Hemp crops in all the houses. The spread aroma all the way gives you the first Himachal high :) ! We had booked Mullah's Cottage in Chalal for our stay, so Mullah Ji, a very kind and friendly person picked us from Kasol and accompanied us to his cottage. It was a 30 mins trek from Kasol, crossing the bridge connecting the way to Rasol, we walked down to his beautiful cottage. It felt like we just entered heaven. Himachal has varied shades of beauty and every place has its own charm. Chalal is a beautiful village across the Parvati River. Our cottage had two rooms with a beautiful view, a lobby having another amazing view and the most extraordinary thing was the roof top converted into a Psychedelic Attic, Mullah Ji is very creative I must say, well I don't need to say much about it, the pictures will talk ! :)
We were welcomed with fresh green apples from the orchids, juice, and we also did some Malana CREAM tasting ! ;) Without wasting any time, we changed and left for Shiva Garden Cafe to have some breakfast, which was a two mins walk away from our cottage, do try their nutella pancakes, they are delicious. One hour flew in eating and rolling and merry making ! :) All charged up, we randomly decided to leave for the trek to Rasol. It was a moderate trek, but since it had been raining for the past two days, the path became wet, muddy and slippery, but we were careful and cautious enough. One very cute thing about trekking in Himachal is that their local friendly dogs help and follow you all the way while trekking. :) When we stop, they stop, when we move, they move, and when we click, they pose ! haha :) On the way, we discovered a hidden river side and a beautiful waterfall, we stopped, admired the nature, played with the river stream, clicked pictures, rolled some, had some more girl fun and proceeded back to the cottage since it had gotten dark and it wasn't safe for us to proceed further. We got back to the cottage by 7, had a tea break and then sat and chit chatted at the Shiva Garden Cafe till dinner and then dozed off for the day.
DAY 2- RE-EXPLORING KASOL
Ok, we had to cover Tosh for the day, but due to unpredicatable rains, the weather didn't allow us to visit Tosh. So we made some modifications and decided to explore 'The Mini Israel of India'. We left from Chalal at around 11pm after having breakfast and stopped at the River Side, rolled a few, enjoyed the nature high and proceeded further to Kasol.
The good or bad thing about women travelling solo or in a group is that either people or other travellers try to initiate a forced converstion with you or become over-friendly with you or the locals genuinely try to help you, so today was the day when we experienced a bit of everything. A male solo traveller tried to initiate a conversation with us at Shiva Garden Cafe, and since then he had been following us and he claimed that he had been backpacking for the last 10 days and that he had covered major areas of Leh all by himself. To prove himself right he started showing video clips of his mountain treks and then we believed that he wasn't fooling around ! But he became way too over friendly, he asked about our plans and wanted to join us, we tried to say NO to him in the best possible way, but he still insisted and even waited for us for hours at Kasol, doing nothing but following and tracking us the whole day.
Okay while he was waiting for us, me and my girls first went to SURYA Hair Art, for some Rasta Making, two of us including me got some pretty cool dreadlocks done, the one with the extensions was for 15O bucks and the one with only your hair was for just 100 bucks ! The owner of the salon has been practising this art for the past 15 years, and i think he is doing pretty well. The salon was packed so we had to wait for like 2-3 hours for our turn, there were Israelis all around getting dreadlocks.
You know when you travel places you meet new people and tend to learn new things about that place or learn about the local culture, or make good memories at that place, well Rasta Making was my experience. When i last visited Kasol, i stayed in Kasol itself at Arvind bhaiya's homestay, so i had to meet him, he is one gem of a person. Its not just with him, the people from Kasol are genuinely kind, caring and are a very good host. After getting free from the salon we scrolled down the roads for some sovenier shopping and finally sat down at Moon Dance Cafe. This cafe has a little bakery counter which has a variety of cakes and cookies. If you have a sweet tooth then you must stop at this place and try the following without any fail-  Banana Muffin, Chocolate Brakets, Apple Strudel, Apple Crumble, Chocolate Truffle Cake, Coconut Cookies.
Nature's most beautiful view, holy smoke, these yummy cakes and Mint Tea had beautified my evening. It was an amazing day and i wanted thoses moments to freeze. We left for Chalal before it got darker, trekked for half an hour to the cottage, got fresh and took some rest. After a while we went to Fusion Cafe for dinner, we were high and hungry ! We ordered a variety of food- dal makhani, veg fried rice, nutella pancakes and they were too too delicious. We repeated the fried rice, it felt like it came from God's own kitchen :) Good food made us fall into deep deep deep sleep, and ofcourse we dozed off on time because the next day was a big day.
 DAY 3- MALANA TREK
We woke up at 6 and the view from window was mesmerising...clouds kissing green carpet mountains, the sweet rhythms of Parvati River flowing across the valley, soft and calm breeze, birds chirping and singing the morning song... Everything was so natural and green.  I would love to wake up to this view everyday. :) I was the first one to get ready and had a lot of time to do some photography to capture mother nature's beauty before leaving for Malana. Malana is an extraordinary and ancient village in the State of HP. Try to start all the treks early in the morning, it saves you a lot of time, lot of money and ofcourse it gets safer and convenient for a female traveller to come back on time, if it's just a day hike. 
If there are advantages of travelling free or with girls, then there are disadvantages attached as well. We spend so much of time in getting ready, bathing, doing makeup, and a girl's 15 minutes are only dedicated to her eye or lip makeup especially if the wing goes wrong ! :P The girls had literally wasted time in dressing up and clicking selfies, well i don't include myself because i was the first to get ready ! :P After all the photography and best selfie selections we finally headed towards Kasol. It took us half an hour to reach Kasol taxi service point, we had already enquired about the taxi service from Kasol to Malana (till the motorable road), the taxi charges from 1000 to 2000 from Kasol to Malana, to and fro, depending on the number of people and the car availability. We grabbed some very tasty breakfast from Cafe Moon Dance, packed some banana muffins and booked a cab for 1500, to and fro, first three hours free, after that Rs. 100 per extra hour. Our Cab Driver, Mr. Prem was a good person unlike the cab drivers in NCR. He had a good collection of punjabi songs and hiphop, but we asked to especially play some "old is gold" bollywood tracks. We started from Kasol at around 12:30 pm and reached Jari in another 30 mins, from Jari there is a road that diverts to the Malana Village, the board on the right will indicate it. We entered Malana and continued our journey for another 1 hour. The distance from Jari to Malana (last motorable road) is breathtakingly beautiful, i have captured fractions and the video will speak for itself, it was so beautiful that i'm short of words to describe the beauty of nature. Prem offered us some 'Chillam', my cousin availed the opportunity ;) and we offered him some Malana Cream. We were having a good time but as we were proceeding towards Malana Village, it had started to drizzle and all i could see were clouds embracing the road, we couldn't see the mountains, they were barely visible, we thought it would get difficult in trekking, but we continued. After an hour or so, we reached the point where the Trek to Malana begins. 
OK now my main challenge begins, well without any hesitation, i would like to tell you about my self. I'm a 5 ft., 25 year old woman with a 68 kg body weight ! I don't consider myself fit for any trek, I'll have to do a lot of hard work before going for adventurous challenges like these, but still i didn't give up and didn't feel bad about myself. And lately i haven't been following a proper diet and i might have smoked a lot in the last few months, which had worsened my metabolism rate, but i still didn't give up and accepted the challenge.
Malana trek is very moderate , but for a starter like me, it was a challenge and i took the challenge and succeeded. So, all 4 of us started at 2:30 in the afternoon. The first fifteen minutes were relaxing because we were stepping down the mountain, but when we reached the bridge, we realised that, then was the point from where we had to climb up another mounTain and reach Malana Village. It takes 30 to 60 minutes to reach Malana village depending on the stamina from person to person, but if you are fat but willing like me, you will complete it in like 45 minutes. The trek is covered and bordered with huge green deodar trees. As we climbed further, we could see beautiful views of the valley and the Malana dam. Due to my unhealthy lifestyle and low metabolism rate, i had to stop and take frequent breaks to regain my breath. There were a lot of moments when i just wanted to give up and sit there and wait for my co- travelettes to complete the trek and come back, but then i had challenged myself that i had to do it. So, i continued. It was a beautiful walk with fresh breeze gushing around our face, encouraging us to carry on and not give up. Enroute we encountered a marijuana trader, he didn't talk at all, he just showed us the 'Malana Cream' and was holding the dark green ball in his hands and trying to lure us so that we buy it. It was so creamy, soft and the purest of what i've had till date, but we refused and he left. During the hike, we came across many villagers from Malana, beautiful vibrant young kids, but the elders were a little rude to us, considering the fact that the residents of Malana didn't like to have any connections with the world and that they thought they are superior than human, even we did not pay any heed to it, we kept walking, they tried to demotivate us and asked us not to visit the village, but we still continued. We could see a beautiful waterfall enroute the village, but when we came a little closer, we realised that the waterfall is the only way to cross and reach the other side. But very bravely all four of us held each other's hands and slowly crossed the waterfall, the water was flowing so strong, but we managed to cross it. Due to the hike, i was panting out of breath and needed water, i drank the stream water flowing across and sprinkled some on my face and trust me i had the best water in my life, it felt like it came from God's own personal pond, it was so fresh, sweet and chilled. I wish i could take it home, it was like God had rewarded me with water after looking at my hard work. :P The rain had stopped for a while, the sun rays glimmered from the sky, we had reached Malana Village at around 3pm. Unlike other places in Himachal Pradesh, we were not given a warm welcome and the villagers looked at us with suspicion and made us feel like we are some terrorists planning to loot the village. As we proceeded further towards the Jamblu Temple, a lot of villagers started gathering and started giving us weird looks, but we didn't pay much attention. Another strange thing was that there were no tourists in Malana those days, we were the only 4 girls ! We came across the Jamblu Temple, its walls had an attention sign which stated that the visitors must stick to the prescribed paths and not to touch any of the walls, houses or people there. If this does occur, visitors are expected to pay a forfeit sum of Rs. 2500/-. And that was some serious business, we were continuously being told by the villagers not to touch anything in the village. No wonder its an isolated village, the Malanis do not want to connect and adapt to the current society norms as they think that they are the real children of God and that they stand higher than the humans !
Talking about the Jamblu Temple, it is beautiful, it felt like i have entered into some chapter of a history book from the indus valley civilization times, every thing was so historic and ancient about Malana. It was beautifully built and is dedicated to the God of Malani people, Jamblu Rishi. You will find beautiful combination of bangles and faces of the deer with horns hanging on the walls. I could feel a different vibe altogether, it was something extraordinary and unusual, it felt like you're in the past, revisiting the days when God actually lived on Earth. That feeling gave us a different high altogether. We have generally seen the size of an average Hemp leaf but when you actually get the pleasure to see Malana Cream, you might forget all other shades of green that you've come across. One leaf was the size of an adult human's hand, it was shining and velvety with light shades of green and looked gorgeous. This is what i experienced with my bare eyes, imagine had i touched it, i would have been able to define its beauty a little more properly. I took a selfie with the Malana Cream and the temple deserved a panorama click. There were beautiful little kids playing inside the temple, they looked so gorgeous and had bright smiles on their faces, the only Malani people who smiled back if we smiled. We asked a villager standing nearby to click a picture of the four of us with the temple in the background but that villager tried his best to convince us that he didn't know how to use the phone and made illogical excuses to refuse it. We understood that he didn't want to have any sort of contact with us, so we stopped the conversation there itself. We were hungry so we decided to go to some cafe, but a local told us that we had to do a 500m hike ahead, as we were too tired and were disappointed by the unwelcome response of the malanis, we decided to trek back.
We bid our goodbyes to the beautiful village that was happy and content in its own isolation even without owning the worldly materialistic pleasures unlike us, who come running to the mountains to find peace and calm. Today was a day of realisations for me, i realised that if i can cover a trek of one hour with extra flesh in my body, what if i were fit and healthy, i could seriously do wonders man ! ;) I had a serious relaisation that i need to work on my body and soul and that I didn't need a guy to travel with and that being a woman is the best thing that has happened to me, i felt independent and free. This trek brought a lot of mental and spiritual realisations in me.
We came back to the starting point in just 30 minutes, sat in our cab and headed back to Kasol. It was one hell of an experience, i was high on life at that time, the scenic view, the woods, the heavenly roads, the beautiful river, the trek and ofcourse the hemp ;), everything made sense that time. It was one of my most memorable days. We reached Kasol by 6pm. Due to rains and trek, we were exhausted so decided to take a halt at Evergreen Cafe and ordered a lot of food. The order included Red sauce Pasta with fries, Chicken Schnitzel with mushroom sauce and butter naan and my favourite Cinnamon Tea. We rolled and ate and rolled and ate and rolled and ate and didn't even realise when the clock struck 8 ! We almost forgot that we had to trek back to Chalal all by ourselves in the DARK !
This was another crazy risky experience ! Four GIRLS, wearing shorts, going towards the river side, it was pitch dark all around, with NO guy !
To cover- 30 mins narrow road hike in the dark !
As we started moving, the most dangerous and thrilling part was to cross that shaky bridge, it was hell scary ! We realised that we had gotten very late, that we were only girls to perform such stunt at that time and that we were the only one going towards Chalal. We saw people coming towards Kasol but none towards Chalal. Because it was pitch dark, we had switched on the flash lights of our mobile phones, and walked quickly and together. After 10-15 mins, i heard my fourth friend shouting out my name from behind, 'Tanya Di !' I looked back, i couldn't see anything becuase of the dark, and she repeated again with a more louder shrill, i freaked out and looked back and realised that there was a group of 6-8 guys following us and trying to initiate a conversation and one of them tried to touch her back which made her shout. What would a faint hearted girl do in such a situation, shout obviously and freak out some more ! But i didn't do that, we gave those boys a pass and all of us started to move behind them.  My fourth friend was terrified, so i asked her and my cousin to move forward. Like a brave guardian Deepika and I escorted both of them, didn't dare to look back and kept moving fast. Those guys disappeared mid way so we took a breath of relief but didn't dare to stop coz it was risky. We covered almost the entire trek, in 10 mins we would be in the cottage, but we were still scared. While i was the last one walking, i was frequently checking behind if someone's following us, but nothing of that sort happened so i stopped checking. After 5-10 mins, while i was walking i could sense that someone's breathing heavily and could see a person's shadow behind me throught the phone's flash light. I immediately looked back and flashed my phone's light and saw an old man walking right behind me trying to make less noise while walking. I freaked out but didn't shout, i was about to react when he realised that he should apologise else he'll be in trouble so he said, "Sorry" and moved ahead of the four of us. We were too shocked to comment on the situation that time, so we kept quiet and with God's grace and without any drama reached the cottage safe and sound.
The moment we reached the cottage, we realised that what trouble we would have gotten into and that how blessed are we to be alive and safe !
This day had everything, adventure, drama, fun, risk, thrill, beauty, hard work, tension and what not ! But what matters is that we survived !:)
 DAY 4- TIME TO HEAD BACK- KASOL-BHUNTAR-DELHI
Last few moments in Kasol, we made the payments and said our good byes to Mullah ji and his lovely cottage by 12pm, carried some delicious green apples from the orchids of Kasol as a gift from Mullah Ji. He treated us very well and knowing the fact that we were all girls, so he was more caring and concerned. :) We trekked back to Kasol, spent our final few moments at Cafe Moon Dance, enjoyed the nature high with some banana muffins and chocolate brakets and i even bought some for my friends in Delhi. At 3 we left for Bhuntar via the local roadways and reached Bhuntar by 4:45pm. The weather had changed from pleasant to not-so-pleasant. The crowd had increased, more pollution, more vehicles, and we realised that we've left the heaven behind ! :( At around 6 our bus arrived, we booked our buses from Malana Travels, good service, very comfortable seats with a lot of leg room, and it was very reasonable. The bus left from Bhuntar in 15 mins and we headed back to our normal routine lives with lots of memories. Travelling definitely changes you in some or the other way, i became a more positive and health conscious person after my first trekking experience.
Budget- Rs. 5500- 6000 per person for 3 nights and 4 days
Delhi to Chandigarh - Rs. 600 per person Shatabdi
Chandigarh to Bhuntar- Rs. 750-800 or direct bus from Delhi to Bhuntar- Rs. 1200 per person
Bhuntar to Kasol- Kasol to Bhuntar- Rs. 90 (to and fro) local himchal roadways
Chalal Homestay- Rs. 800 per day for a cottage (Includes 2 rooms, one lobby, one attic and one bathroom)
Cab from Kasol to Malana- Rs. 1500 (fixed) (to and fro) 
Food- Rs. 2000 per person including extra snacks for 4 days
Misc. shopping - Rs. 1000 per person ( boys might save this ;) )
Return tickets from Bhuntar to Delhi - Rs. 800 per person (via chandigarh)