I used to consider a 600 km ride a long ride until now. I was quite happy with myself as I completed my 1500 km ride to Kutch within 21 hours. I slept for only 4 hours in 3 days, and again left to come back to Delhi.
I didn't get what I expected in the Rann of Kutch, so the  trip became more about the journey for me.That, because of the interesting things that happened, and the mistakes I made.
The Setup
The evening next to Diwali I started my ride to Kutch. After a 21 hour ride I was in Kutch. Catching only 4 hours of sleep, I was on the road again.
I wanted to get a biking jacket mainly to be protected from the rain and the cold, and to look good.
It never hit me that I could get hit, so didn't care too much about the protectors and armours on the jacket. Most of the good quality jackets available in India were going to be out of my budget, at about 15,000 rupees.
But then I heard of this super-amazing Ladakh 2.0 riding jacket by Biking Brotherhood Gears, which had all the important features like protection from cold, rain, had protective armours and looked extremely handsome, at less than even half the price.
The plan wasn't so, but I also got to crash-test it real soon.
How It Started
The longest rides I did before this were of 330 and 560 kilometres. Those rides were really painful and tiring. I saw posts on Facebook of people doing 1200 km in 24 hours, and my jaw used to drop wondering how they did it.
While my jaw was still dropped on the floor, I decided that I'm going to do the Rann of Kutch (from Delhi).
I braved the 1500 km to Kutch via Udaipur and Ahmedabad quite smoothly in 21 hours, took rest for 4 hours, and now (stupidly enough) I was on my way back home already.
The Accident
Himani who was still in Kutch, and Masha who I dropped at Ahmedabad insisted too much that I stay the night at Ahmedabad, but I felt too inspired.
Soon after leaving Ahmedabad, the sleep angels tried to lock my eye shutters down.
I found a bench outside a closed dhaba, and realised how desperately I needed to take some rest. I found respite in it for a full hour, and woke up when I heard some people walking around me. I feared if I keep slee[ing, it wouldn't take much longer before my stuff gets stolen.
I started again. It was still dark.
100 km from Ahmedabad, near Himmatnagar a car behind me started honking like a a maniac. I started tilting towards left to give him side, but looked like "ain't nobody git time for that!".
Yes, hurriedly he came from my left, and ticked my handle.
Like a rag-doll I went flying in the air. I tried holding on to the air as I flew, and then slid on the ground for a good 15-20 meters. It took a while for  the disoriented me to figure where I was.
I got up barely a step away from an iron pillar on the road divider. I realised how lucky I was to not hit any electrical pole, or the metal barrier or any stone or anything else.
It was completely dark, it took me a good amount of time to find my bike, camp and luggage.
The leg guards of my bike, fog lights, indicators and the silencer were broken. And about myself, just the right sleeve of my protective jacket was ripped.
I pulled myself together, and thanked my stars (which were the only source of light in that gloomy night), and started on the now very noisy and half functional bike.
Scene 2
My jittery bike was still doing the job just fine. But now sleep started to take the toll on me really bad. I stopped a couple of times and took some power naps on the way.
But then 25km before Udaipur sleep got too powerful on me to even allow me to park my bike.
The 'SCRREEEECHHHH' sound opened my eyes, and the next moment I was down on my all four.
And as I was falliing my thought in the milisecond was, "agh my second fall in 5 hours! This time probably its going to be game over for me. Or if I survive, my dad's not going to let me travel again."
Thankfully I wasn't run over by one of the cars behind me after I fell. And also they did a good job avoiding running me over, and continuing to go like I were just a hurdle on the road.
I wanted to get up, but it felt like my bones had left my body, and stuck to the ground. By this time some passersby came and tried to help me up.
I saw my right arm had twisted completely. I slowly untwisted the arm with my left hand, while everybody looked on like I were performing a magic show.
I was then taken to the side of the road. It took 5-6 men to take me to the side. I thought I was going to faint. I asked them if they could get me some water. And an ambulance.
After taking some rest I started walking around. I felt much better, and good to go. I looked at my bike. I could see that the break wire and accelerator wire were broken, and the handle was completely twisted. Arghh!
I sat down with the new friends I made there in this little time. I joked around with them like I knew them since forever, while they managed to smile only sheepishly as they still couldn't gulp the sight of the incident down.
They were very clear with the thought, "bhaiya waise aise accidents mein koi bachta nahi hai" – nobody really makes it out alive from such accidents.
But I have to admit that this high speed action also gave me the thrill of a lifetime.
It is stupidity. I could have died. I nearly died. I wouldn't want to be in that place again.
But if I have to share the feeling from that time, it was scary and amazing to be thrown in the air at 120 km/hr.
*
Other Things
The ambulance arrived.
I was taken to a hospital, which again sent me to the bigger hospital – Maharaja Hospital.
This government hospital took me for a surprise. The hospital was packed with a mad amount of patients, with only one doctor in each department. I thought I'll never be able to get my work done here.
But the doctors did their work with a smile, and so much focus and affection, and the patients calmly waited for their turns. It was lovely to see how systematic it all was. My turn came soon enough.
I spoke with a transport company which would have picked my bike from the accident spot, and delivered it to my mechanic in Delhi.
About myself getting home, being so tired and with a fresh fracture and torn clothes I was in no mood to travel by bus. And no cab driver wanted to drive so far to Delhi.
So I caught a cab to Jaipur the same night, and asked the driver to use his contacts to arrange for a cab to Delhi from there.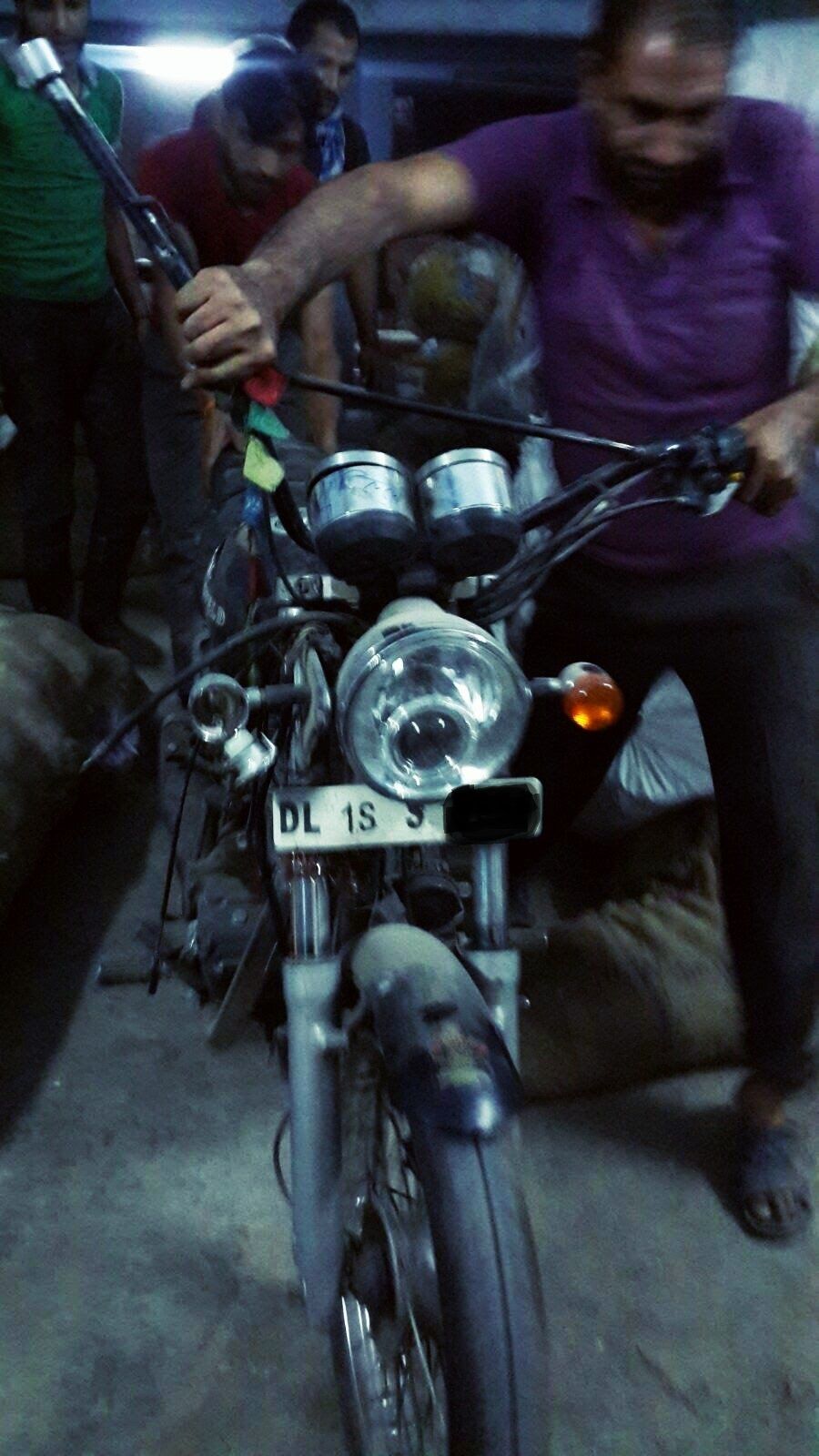 What I Did Wrong 
1. Traveled without keeping myself hydrated
Drink water every 2-3 hours, you must! Keep yourself hydrated, also pop a little somethings to eat. Nuts if possible.
Stopping for water would have also allowed me to take little 2 minute breaks every 2 hours. I did that in the beginning, but later on got too carried away just riding.
2. Didn't Get Enough Sleep
I saw on news today how a car get totally destroyed and all the 4 passengers died on the spot, as the driver dozed off while driving. And I was on a bike.
I could have easily died. But nah, I'm not going to die so easy. I have stories to tell, and you have to learn how to not be a fool like me.
Many people don't realise that it is a real problem in long distance driving. Please take a good full 8 hour sleep the night before the day you have to ride, and a power nap before you actually ride.
Don't start a long ride the day you did trekking, or some other strenuous activity.
What I Did Right
Didn't Panic


Even after I had that accident, I didn't lose my cool. I untwisted my arm myself, asked them to call for an ambulance, asked them to bring my bike to the road side and to bring the key to me.
When I entered the hospital, the doctor looked at me and shouted "oh my god, what happened to you? Come inside quickly!"
I smiled and said, "don't worry, it's just a fracture on my left arm, probably a hairline fracture on my leg and some open wounds on my back."

Kept My Humour

As we all got talking, waiting for the ambulance, somebody told me "bhaiya even as you fell down, your bike did't fall, and kept going for some good 15-20 meters."
To which I said, "yes that's how it is. The knight may die, but the horse wouldn't give up!"
*
One of them asked me, "so where have you been tripping?"
"Around the world in 20 minutes?" I said.


 Wore Protective Gear


Even when my father and my cousins back home made fun of me wearing the riding jacket, the knee guards and gloves, I kept reminding them and myself that it is for my safety. (They say I look like the Gladiator. And yes I really become the center of attention on the road - in a good way)
And is it turned out, it is what saved my life. My jeans were completely torn, but only the sleeve of my jacket was ripped.
I couldn't stress on this enough how important safety is. Whoever at least rides without the helmet only appears like a fool to the rest of us, and never cool.
And as the term goes in the riding world, ATGATT – All The Gear All The Time, cause accidents can happen anytime, to anyone. That's why they're called accidents.





Ansar Ahmed, the owner of Biking Brotherhood Gears was busy saving lives in the Chennai flood when he got to know about my accident. Still he called to ask if everything was okay with me. He wished me speedy recovery, and promised to fix my jacket for free, yay! :D
More than anything else, its the gesture and concern, and great customer service that counts.
In case you're wondering, no, I haven't been paid by them to write this for them.
Their riding gears are cheap and reliable. So they've been a lifesaver because of their work, and kept me really happy as a customer, even after the transaction happened. And that's all a customer can ask for.

But does it make complete sense to invest in a 6k something rupees for a jacket? Yes, worth every single penny.
Even if you go for a normal sort of winter jacket, it'll cost you a good 3-4 thousand rupees. But this one is more than just a jacket.
This jacket has a mesh outermost layer, which allows air to pass, and gives a really nice look.
Inside of it, there is a removable waterproof layer, which will allow you to ride or walk in the rain, without letting your clothes get wet. And if the weather is not gloomy, you can remove the layer and keep it aside.
And then the third – thermal layer, which would keep you sweating even in the freezing weather of Ladakh. Thus the name, Ladakh 2.0.
The jacket is heavy duty, without being heavy weight, and of course loaded withprotective armours, which saved my life.
I wear this jacket on my treks too because of its protective qualities, and also wouldn't mind walking into my favourite bar with this, as it gives me a real badass look.





My 2 Cents For Long Road Trips

Break The Trip Down

Yes, Gujarat is far away from Delhi. But I've already lost the battle if I let it bog me down.
But we know the simple solution to solving any complex problem is in to breaking it down.
Mark important places on the way, and take stops and give yourself the opportunity to enjoy the different places on the way and to talk with locals.
I followed Delhi – Jaipur – Chittorgarh – Udaipur – Ahmedabad – Bhuj – White Rann of Kutch.
Alternate, shorter route would be Delhi – Jaipur – Ajmer – Mt. Abu – Bhuj – White Rann of Kutch.

Don't Fight Your Sleep For Too Long

One of my prime hobbies is sleeping. You too will feel sleepy in long rides. To keep it at bay, these two tips of mine work big time!
A. Chew a gum. It works like you never imagined.Might not work so well at your study table though.
B. Sing. I'm not such a good singer either. But nobody can hear you here. Practice all those notes. Scream. You can't sleep when you're screaming, right? ;)

But then, resisting sleep is a battle that you will eventually lose.
So when you keep forgetting that you have to sing, you know you don't have any energy left, and then your best bet is to find respite in the nearest restaurant/dhaba that you find.
Do NOT drive again if you're still sleepy.
Power Tip: Drink coffee, and take a power nap of 30 minutes. When you wake up, you'll be re-energised like you were never tired.

I'm still recovering from the fracture. The plaster will be on for another month, and I couldn't ride for another two months.
But apart from this, I don't mind the accident so much. It has been a lesson for me, the whole trip.
There's a right way to do something, and there's a wrong. I like to do both. After this incident I traveled to Gujarat again. By train and buses this time.

If you agree or don't agree with any of the mentioned things, or have any tips for long rides feel free to share it with us. Travel safe, and all the best. :)