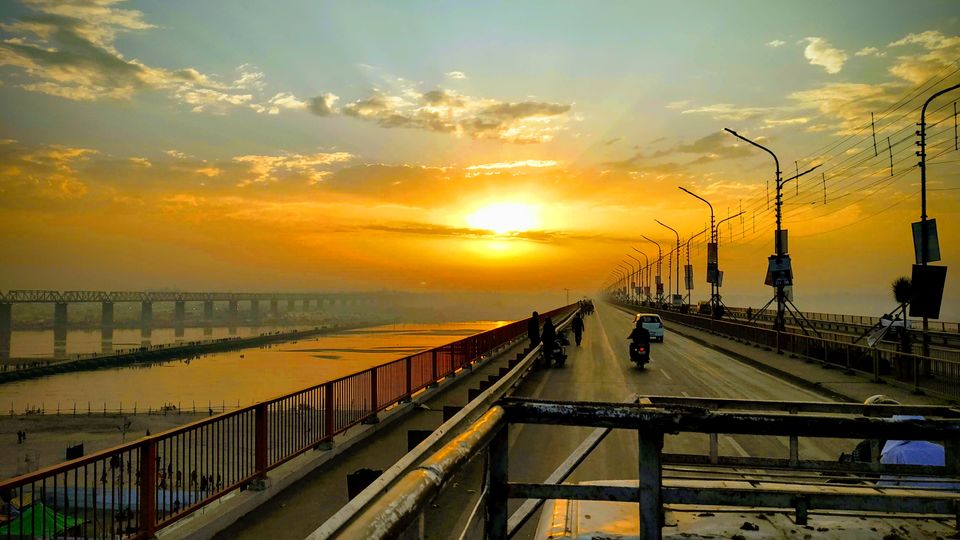 We had booked a train to Prayagraj from Anand Vihar terminal, Delhi on 17-feb. There are many trains from Delhi to Prayagraj and since we were going there during Kumbh, some special trains were also running. There was heavy rush in the train as there were lots of people who didn't got their tickets confirmed. We booked our tickets a month prior to the trip, still we got RAC and just had a seat to sit the whole night(also because we adjusted 8 more people on our 3 RAC seats).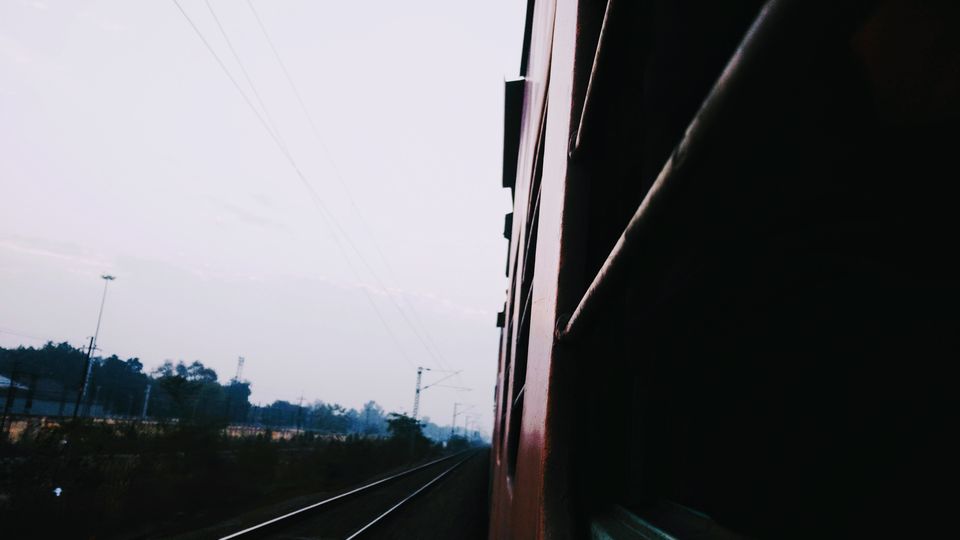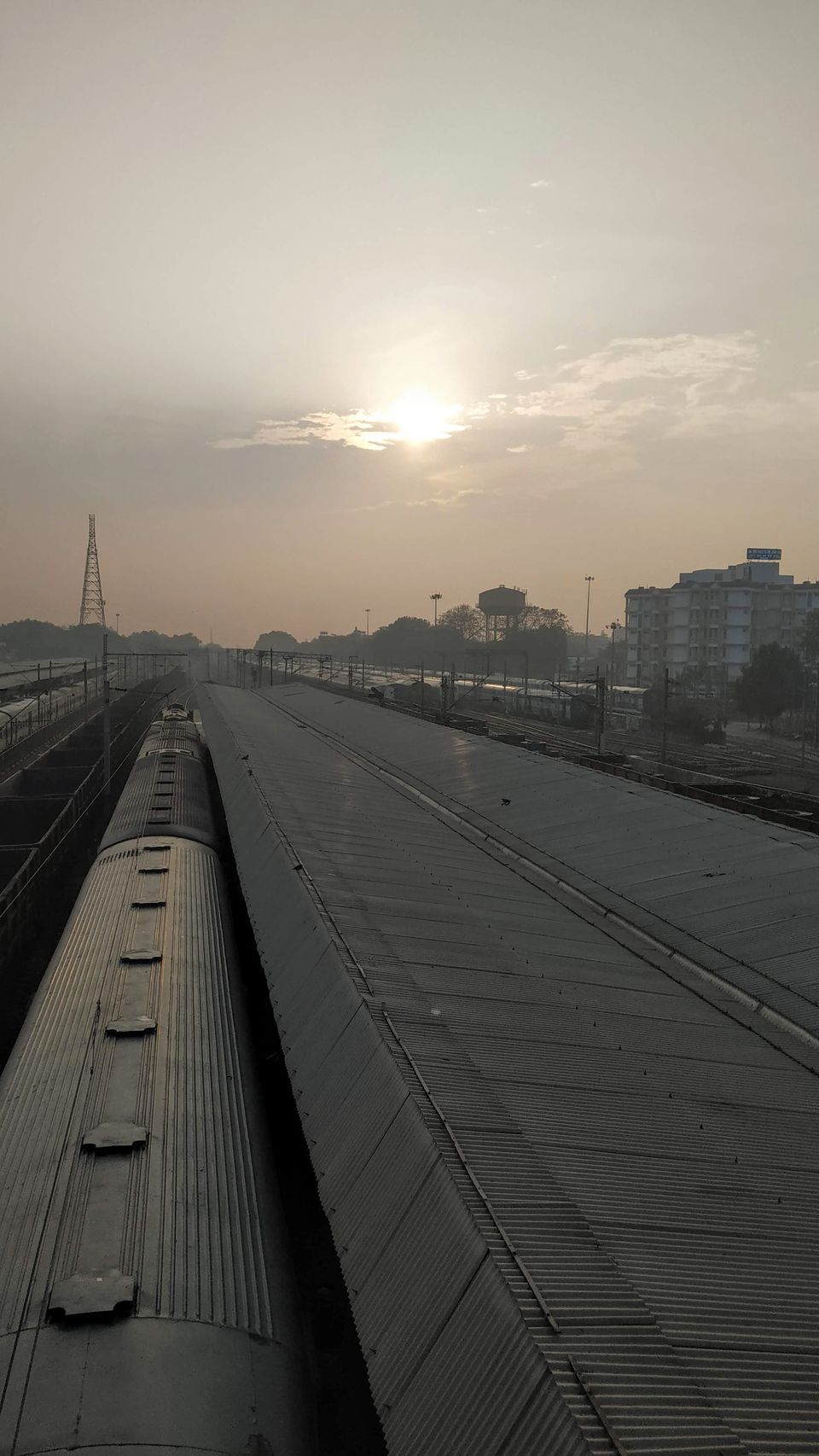 Our train was about an hour late when we reached Prayagraj Junction, but a lovely sunrise welcomed us!
We then headed to the nearest bus stand which was about 2 kms from the railway station. We went there and took the Shuttle Bus which dropped us near the Kumbh Mela region.
We headed our way to the Kumbh Mela region which is spread in 32kms and there is no rickshaw available inside the mela region so we had to walk all the day. Our first struggle was to get a room because we didn't booked it earlier. Though government had prepared night shelters but there was no responsibility for luggage there. I walked for almost 2 hours inside the region and outside it to a village but hardly there was any room(Police officers too didn't knew about anything related to rooms or food). The tents inside the region were too far and too costly(1200 rs per person per night). After a lot of struggle we found one and we then went to take bath in the HOLY GANGA!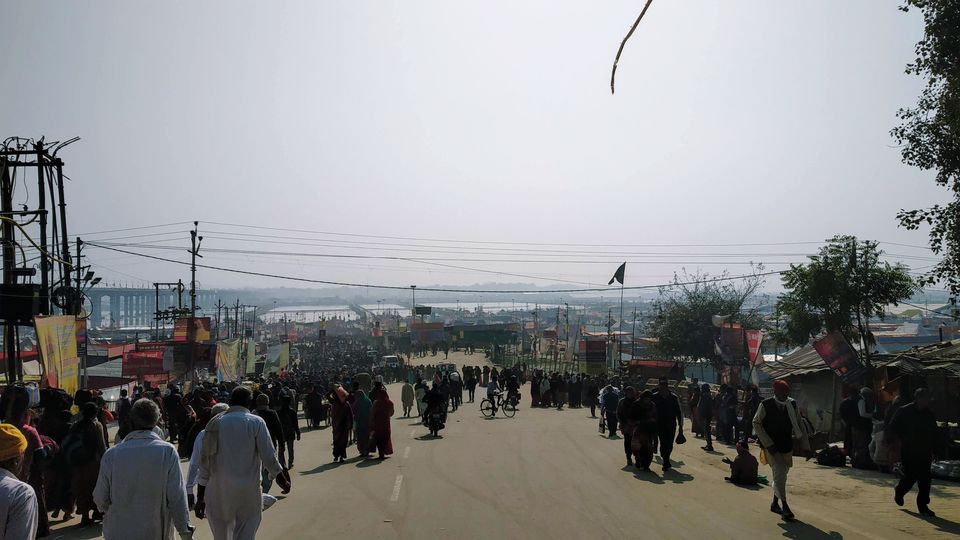 This was the view from the entry gate of Kumbh. We had to walk 2 kms from here to get a boat to reach the SANGAM of the 3 Holy Rivers, Ganga, Yamuna and Saraswati.
We booked a boat for 1200(there were government boats for Rs 60 per person, but they were taking 12 people one time). We were welcomed by the Siberian Gulls. After looking at those birds we weren't tired anymore. People were selling NAMKEENS for the birds (Seriously!). We also bought it and offered to the birds. The birds were eating them without being afraid of the people.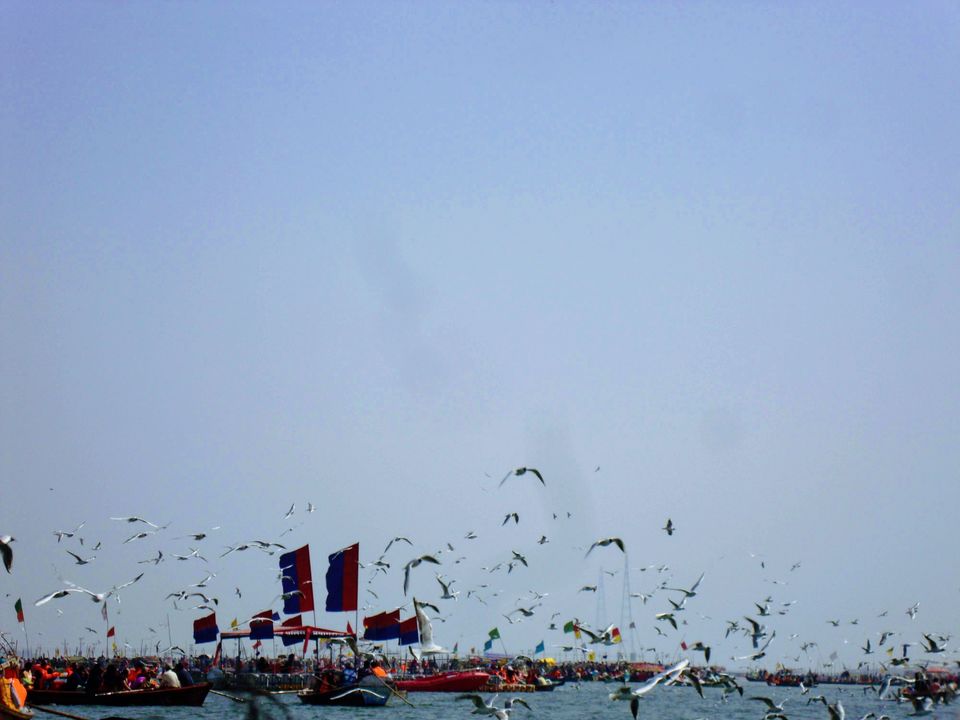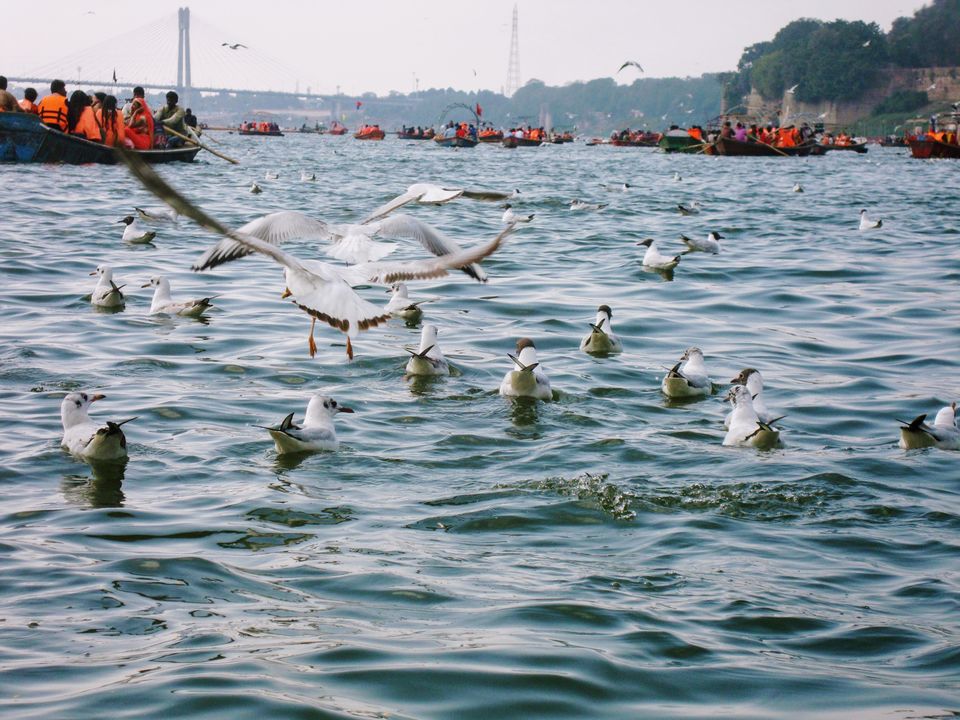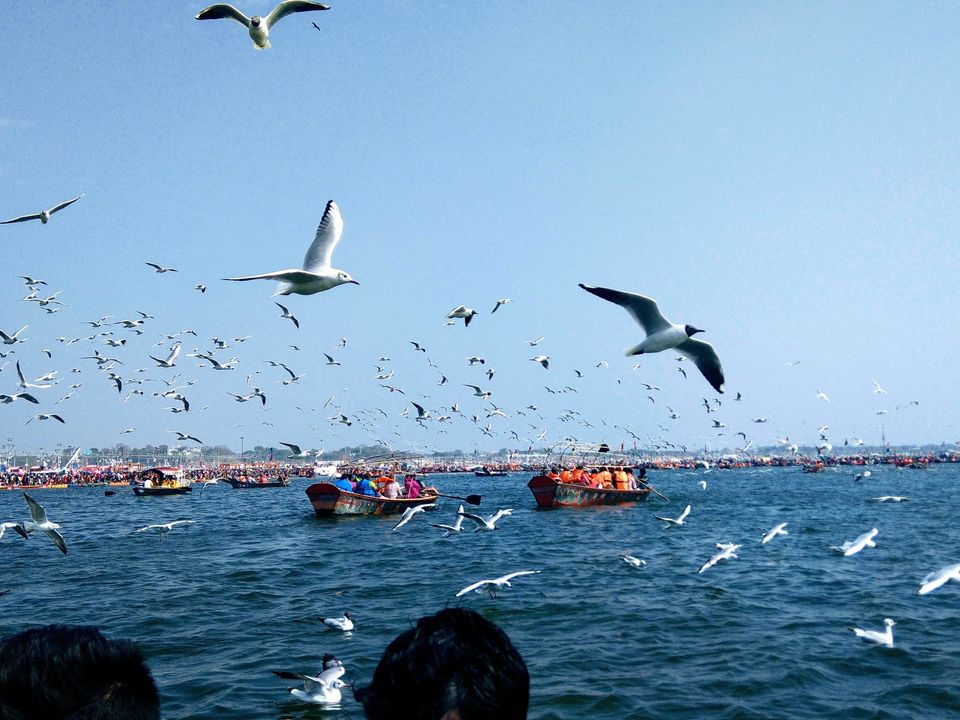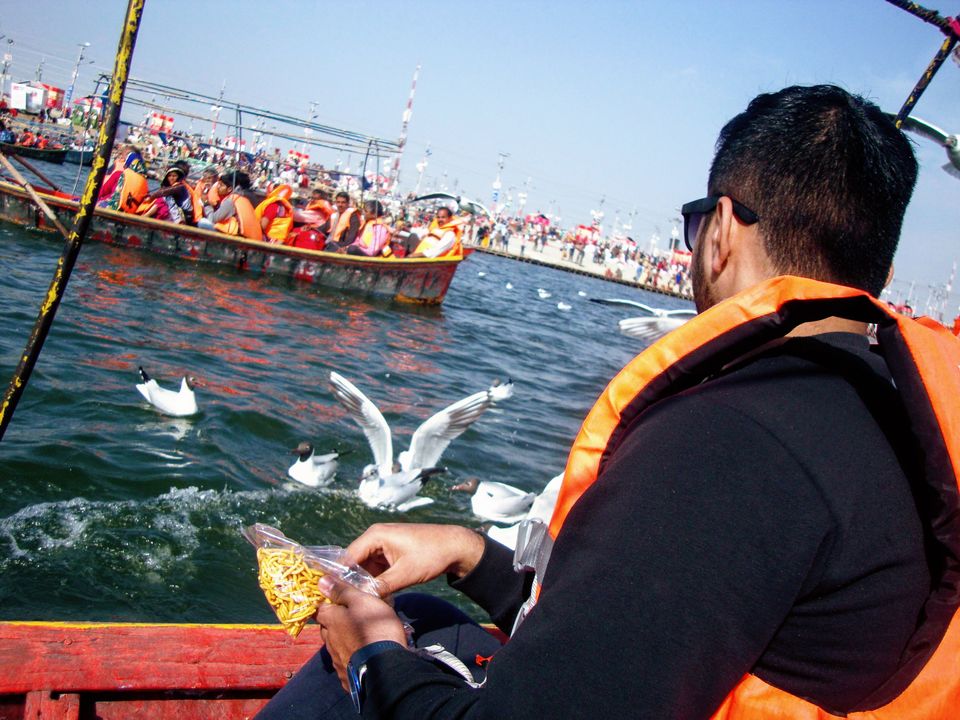 We went to Sangam, the water was as usual too cold, but once you step inside it, it's gonna be too much fun! We bathed for about half an hour before we were called by the guy with the boat.
There were people who were just selling those Namkeens on the boat(Indians search for such occupations too fast you see!).
It was fun spending time in water and then boat with those birds. That guy also showed us that VAT VRIKSH (banyan tree) which is inside the Allahabad Fort(which was closed on the the dates we visited). The Story about that tree is that tree was destroyed by many Rulers and even the English but it again grows at the same place no matter what!
We got off the boat and started looking for a place to eat. There were some stalls inside the Mela region, but the food wasn't good. We spent the day by just eating samosas.
After taking rest, in the evening we went to see the AKHADAS, but the locals told us that almost all the saints had left after the third SHAHI SNAN(that too when we had crossed almost a km long bridge to see them).
We then went to Daraganj, which a small town nearby(2.5 kms) to get something to eat(and there were no rickshaws).
At the end of the day we decided to leave for Banaras the next morning. People were coming there the whole night too, and loudly saying HAR HAR MAHADEV!, GANGA MAYYA KI JAI! and we were sleeping(trying to!).
We thought of taking a train to Banaras the next morning, but there were no rickshaw available. And the ones which were available were asking Rs 200 per person(for 3.5 kms). We went to the main road and saw a Tempo (like Tata ACE) and asked him if he could drop us to the railway station. He asked us where we were going and voila! he was also going to Banaras! We all got on it(crazy!) and he dropped us near the Kashi Vishwanath temple in 2 and a half hours for 600 Rs.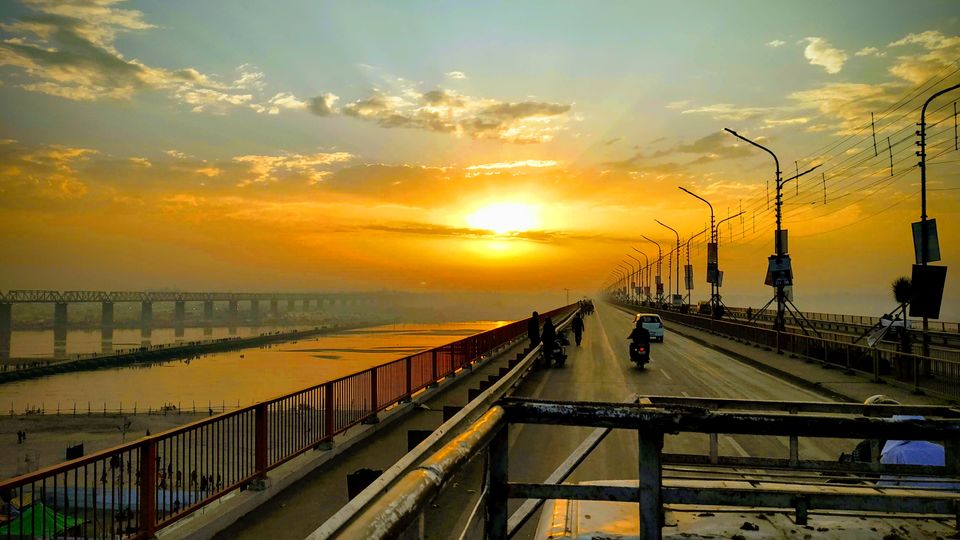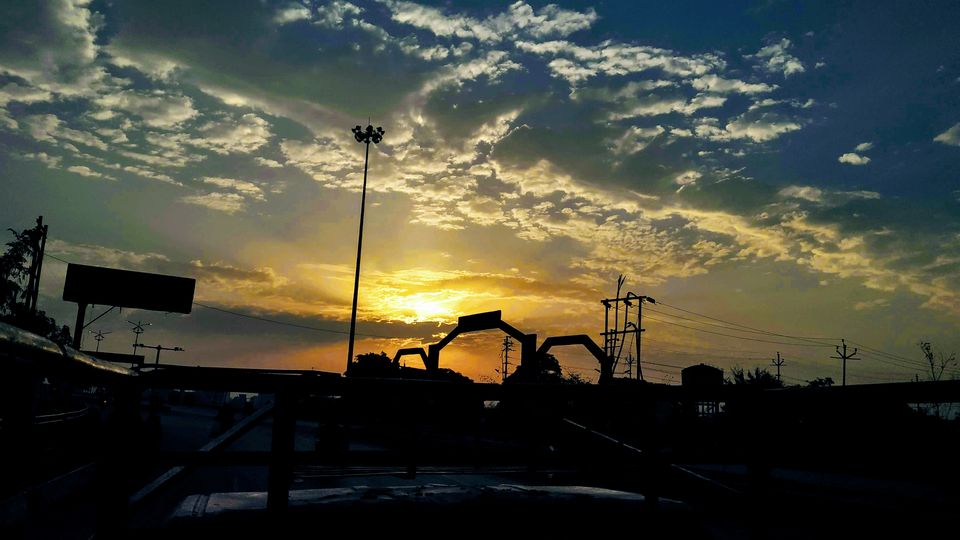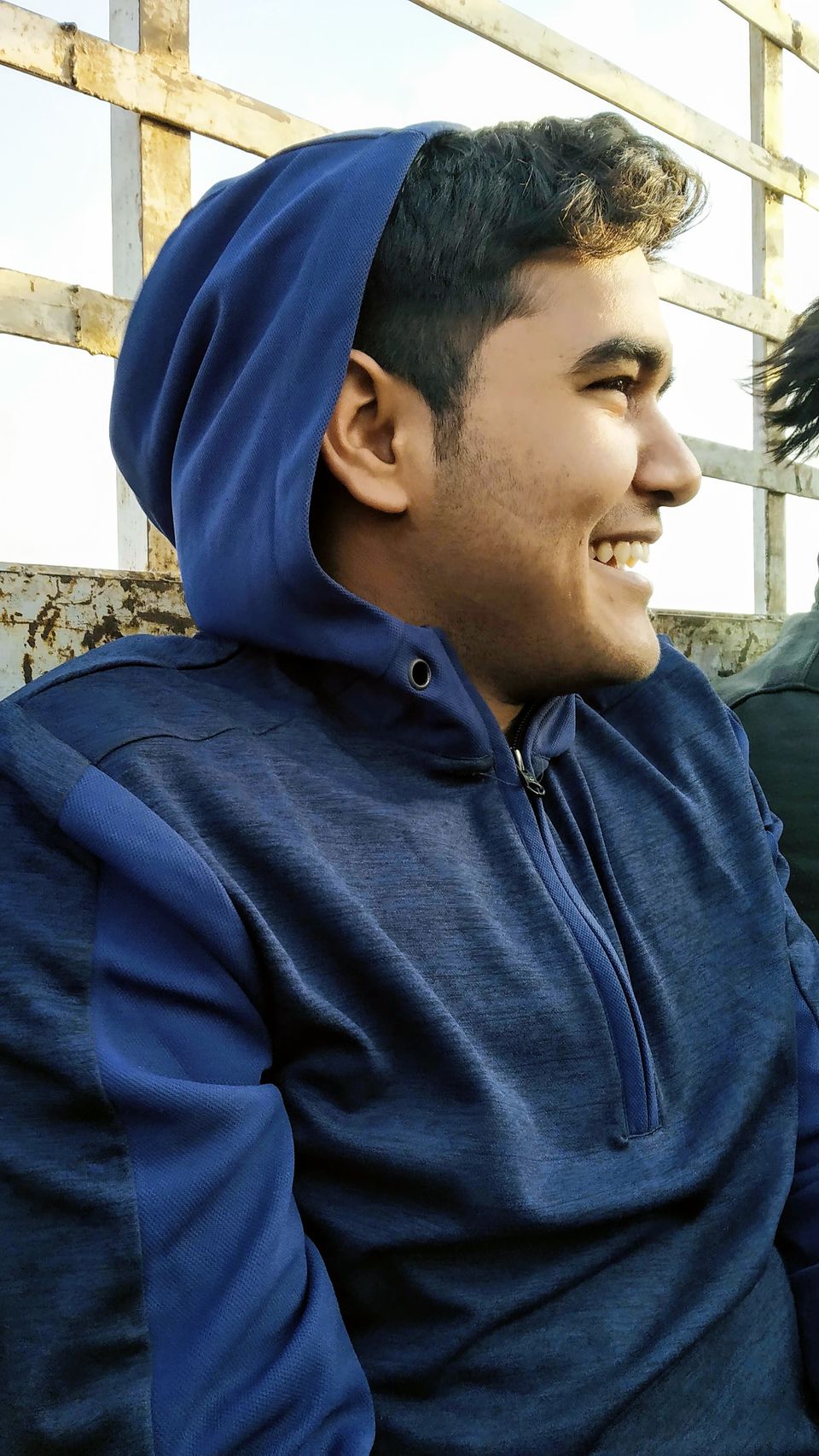 We got off the tempo and went to nearby dharamshala and took a room for 500 Rs. We then went to take bath in Ganga (again!). Taking a boat and going to the other end of the river is preferred at present because there are many sewers that are opening at the ghat which are at the connected end of the city(as per the locals, Modiji have cleaned the Ganga a lot and just 20% of the work is remaining). So we took a boat and went to other end of the river(told the man with the boat that we'll take atleast an hour to bath, so don't disturb!). We went to the other end, took bath and as usual, enjoyed a lot! And came back after an hour. The man took 800 Rs for it.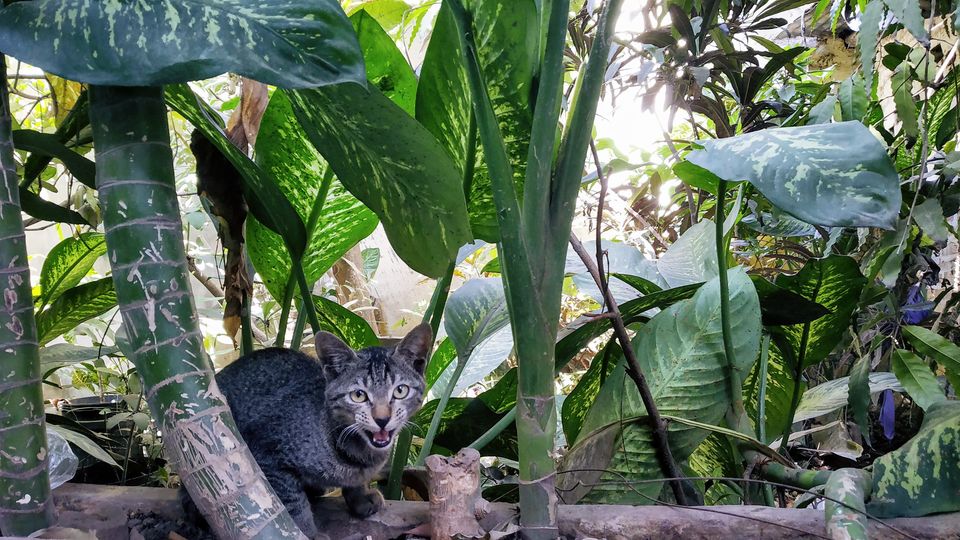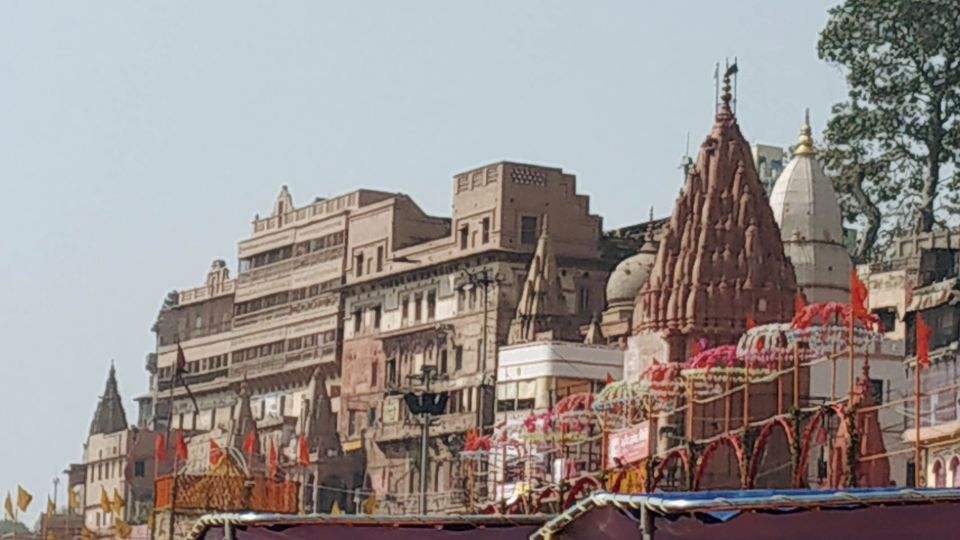 We than went back to the dharamshala and changed clothes. After getting out we went for lunch(first good meal in two days!). Then we went to our first JYOTIRLINGA, Kashi Vishwanath.
Locals said that the queue would be long and you'll have to wait atleast for 4 hours but fortunately we didn't faced long queue and reached inside the main premises within 20 minutes! (Mahadev really wanted us to come there, I believe, because everything was going in favor of that. We had no plans to go to Banaras at first!) The main premises of the Kashi Vishwanath Temple was built by Maharaja Ranjit Singh in pure gold.
We then went to the market for buying Banarasi clothes and got the best at Daulatram Bros(Specailly mentioning it here because the quality is great and the owner is generous. We forgot the prasad at his shop which he couriered us to Delhi). They offered us Banarasi Pan(too good!). We then went to Sankatmochan hanuman mandir and Bhairo baba mandir in the evening which were 4 kms from the Kashi vishwanath temple but on opposite sides. Going to both by rickshaw had cost us 520 Rs.
We came back to our Dharamshala, ate dinner and went to the railway station. We had booked our tickets from Prayagraj Junction but we saw that the train originates at Banduadih terminal which is in Banaras(another reason to go to Banaras).
The only problem we faced in those two days was electricity. There was no electricity supply during the day time in Prayagraj and the load is divided among too many points in the night while in Banaras our Dharamshala didn't offered any electricity socket in the room.
The 2 day trip ended with us being too tired but having some everlasting and beautiful memories, and most importantly, the blessings of devo ke dev MAHADEV!
*Some of my favorite clicks during the journey*