"It doesn't matter where you're going, it's who you have beside you"
This one I'll try to keep short. First of all, let me clarify that 'Kasauli', 'Kasol' & 'Kasauni' are all different and excellent locations. Kasol is at a higher altitude than Kasauli, whereas Kasauni is in Uttarakhand. After the end of SIP and before the trip to Roopkund trek, I had a spare time of 3 days. So another short trip had been added to the list: a self-drive car, four friends and an awesome ride to Kasauli.
"You can always make money, you can't always make memories"
The plan was all set to roll. Tushar, Ankit and I were at Delhi only, the other friend – Chandan flew from Chennai to New Delhi just to make this trip happen. Most of the planning was done by him only. The plan was to take a self-driving car and enjoy the journey 'Dil Chahta hai' style :p After a brief cost analysis, we settled with 'Myles'. Myles takes INR 5000 caution money(Refundable) + Rent of Car (Excluding Petrol). It had no per day KM limit. We went for a Honda Jazz at INR 4400 for 2 days.
We started from Delhi on 2nd June. The early risers – Chandan & Ankit went early and picked up the car and then picked rest of us. The GPS was set on the mobile, the car-speakers were given a bassing start with the latest Punjabi hits and the wheel was all set on its most adventurous journey. Chandan and Ankit were the buoyz behind the wheels. Their first ride in hill area.
On the way, we stopped at Amrik Sukhdev Dhaba, Murthal, Sonipat and served ourselves with mouthwatering buttered paneer paranthes and Alu paranthes and ofcourse the famous Lassi. I went for the Mango Lassi J It was a Dhaba just for namesake, but looking like a 4 star hotel. It had the capacity to serve 500+ persons at a time. It is difficult to even get a seat there most of the time.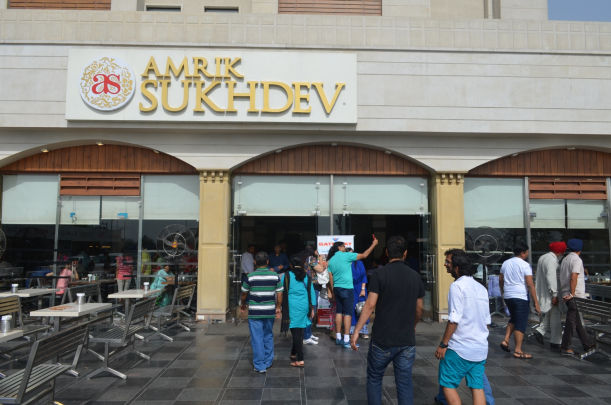 Then the real journey started. We were meeting after a year, there were lot to talk about. To go from Delhi to Kasauli, one need to pass through Haryana, Punjab, Chandigarh and HP. The only problem with self-driving car in interstate travel is the roadtax. We had been instructed to pay the roadtax for Chandigarh and HP. Roadtax for Haryana was already paid. It was difficult to figure out in which state we were in. After asking a few locals, we found out that there was no need to go Chandigarh. We could take a right turn at Zirakpur. A short stint of the route(around 15km) was passing through Punjab before entering HP. We searched online to pay roadtax, but Punjab roadtax site is one of the most complicated site I have ever seen. One need to enter all the districts he is going to pass by to generate the receipt. Then we looked for RTA office to pay offline. But we found none. Just before 500m to Zirakpur, we came across a traffic post. When the traffic police saw the color code of our car no plate, he got that he had got a scapegoat. Leaving the traffic-post, he came running to our vehicle and asked for pollution receipt and roadtax receipt. Obviously, he found none and we had to settle the thing. The funny part was when we asked what to do in rest traffic posts ahead, he asked, "Who is driving?" Then he draw a 'X' on his wrist and told that whoever would ask, just to show that :p
Then after a few mins, we hit HP. There we found the RTA office, just near the border. The path got narrower and riskier. We stopped at Dharampur and had a sumptuous lunch. Then moved ahead to Kasauli via Garkhal. The road was getting steep and extremely narrower. For a first timer, it was really tough to ride in those road, still Sir Saraf managed till we reached Ankit point. At one point, we came across a sudden turn where the road was also very steep. We couldn't detect that turn beforehand and shoot a little ahead. Now in that steep road, breaking and turning was a real tough job. Sir Saraf cleared that with flying colors anyhow.
We had pre-booked at Nature's Stay Cottage, Kasauli which was a little down from Kasauli. We reached there and got freshened up. The rooms were really nice and the view was amazing.
We asked the hotel manager to find a driver as we wanted our time to fully utilized rather than finding route. In the evening, we went on a visit to Sun set point, Kasauli Market(Upper mall and Lower Mall) and Christ Church.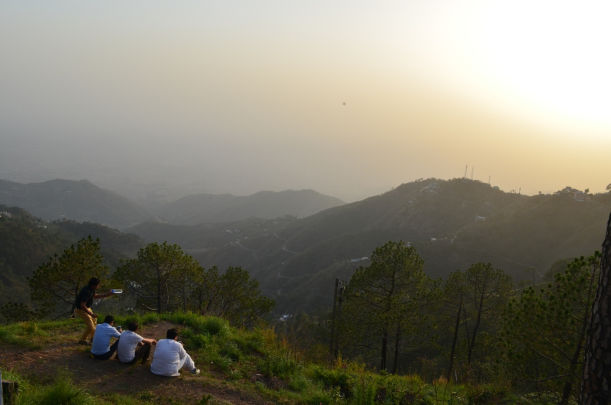 We tried Tibetian momo and returned with a few booze. Under the starry sky, the party started. We could clearly see the light going off one by one at the town below. The weather was perfect, neither too chilled nor hot.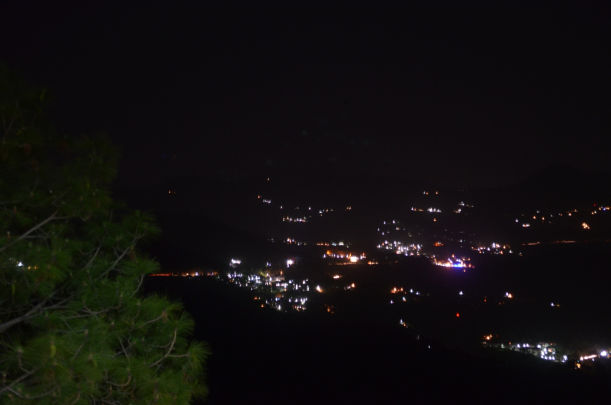 Next morning we woke up and had Cholle-Bhatore as breakfast. Then we had a photoshoot session at its open space.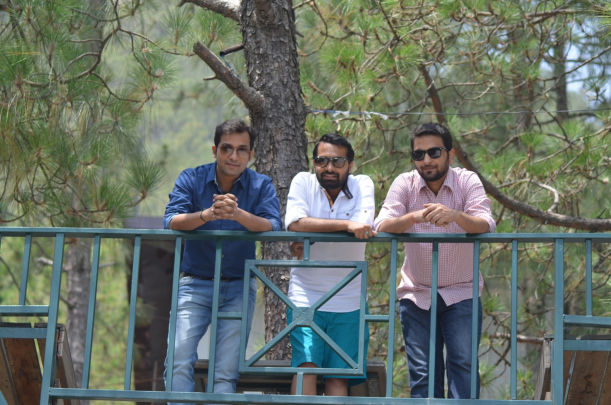 The driver was supposed to arrive at 10AM, but arrived at around 12 noon. We then went for Monkey point- the highest point at Kasauli. On the way, someone told that it was closed due to maintenance that day, but we still decided to pay a visit. After reaching there, we saw this notice of "Close due to maintenance", but after a little inquiry we got to know it would open in 30 mins. So we waited. No electronic gadgets or equipment were allowed inside that. The area was all covered by army personnel.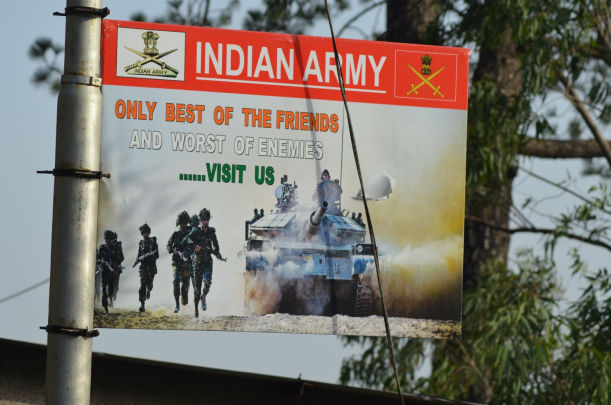 After climbing around 230+ staircases, we reached the top of Monkey point. The view was amazing from the top, but unfortunately I didn't have my camera???? There was a temple of Lord Hanuman there and a helipad. One could clearly see the nearby area from that top.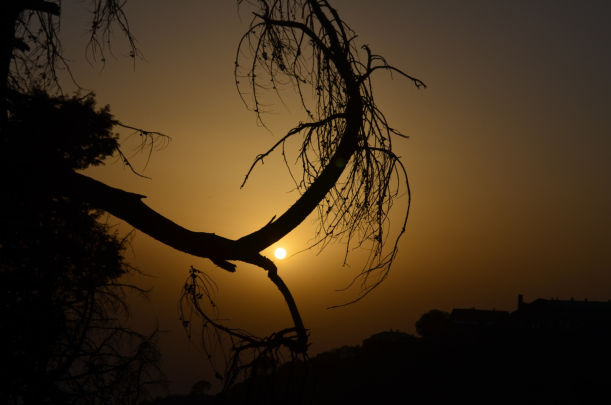 Then we returned directly to Dharampur, there we relieved the driver and Sir Saraf took the charge of the wheel. The return journey was smooth and we arrived at New Delhi around 11 PM. It was hell of a trip: company of friends, heart-throbbing ride, awesome weather and mesmerizing site- everything was perfect.
Tada till the next one…
A few useful Info: (Collected by Chandan)
Travel itinerary
a. Breakfast Stop (7:30 )
Gulshan Dhaba/Amrik Sukhdev Dhaba, Murthal, Sonipat, Haryana 67 kms from Lajpat Nagar
b. Next Stop Lunch (13:30)
NH-22 Dhaba on national Highway 22 , Dharampur, Himachal Pradesh. It's 232 kms from Gulshan Dhaba
c. Next Stop Kasauli (15:00)
Freshen up in the resort and go out to explore Kasauli
d. Check out of Resort by 16:30
Cover some sightseeing places
Get back to resort and start the party
e. Next Day
Have a brunch and check out from Kasauli by 12:00 or 13:00.
f. Drive back to Delhi
Reach Delhi by 20:00 or 21:00
Route Map
• Catch NH-1
• On the way cross Panipat , Karnal and then Kurukshetra
• From Ambala take right and change over to NH-22, the Himalayan express way (we took alternative route through Zirakpur.)
• On the way cross Chandigarh
• At Dharampur change over to Kasauli road
• Go till Garkhal and then turn to Dochi road
• Destination reached
Places to visit in Kasauli
1) Monkey Point – highest point in Kasauli , has a Lord Hanuman Temple
2) Upper mall – 3.5 km walk with different scenic views and old heritage buildings . Goes up to The flag staff house
3) Lower mall- A 3 km walk which goes up to Monkey point Kasauli
4) Anglican Church – A 160 yr church
5) Sunset point
6) Scandal Point & Lovers lane : A few metres ahead of the Sunset point. Place for honeymooners
7) Gilbert Trail – long walk in perfect nature bestowed small katcha path . Not recommended if it is raining
Food Checklist
1) Band – Samosa : Comes in Rs 15 and available in Samosa shops
2) Wines (Plum, Apple , Peach, Sherry, Black grape) available in Gupta Provisional Store or Daily Needs store the Kasauli Bus stand
3) For Non Vegetarians Ham, Bacon, Salami, Sausages are made by The Daily Needs Store , adjoining State Bank of Patiala, Kasauli .
4) Dumplings (Momo's) in the Tibetian market . It's something different than the normal Momo's we get in regular cities
This blog was originally published on 'TEKTRIPHY'