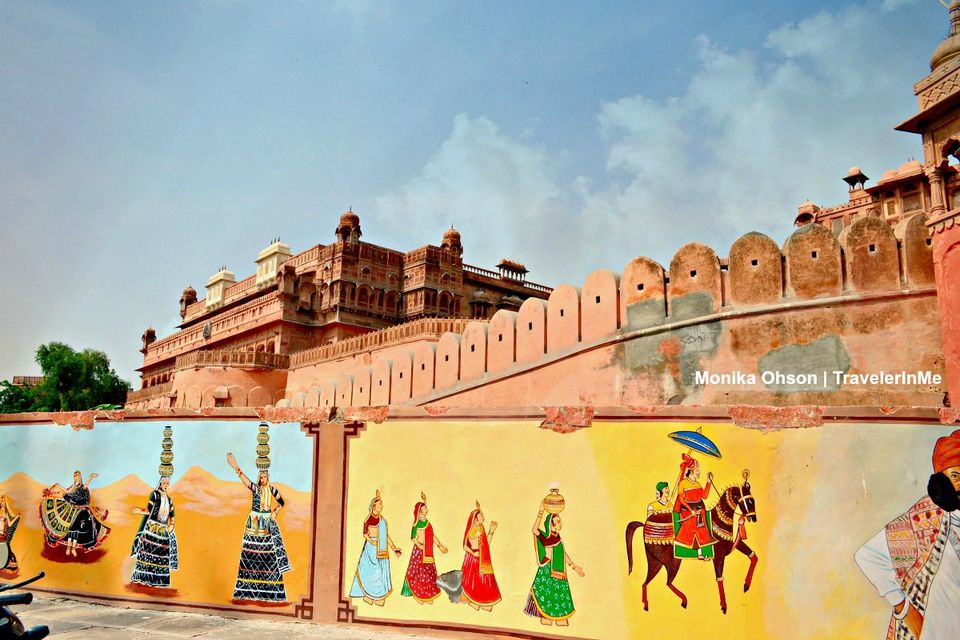 Junagadh fort, made of Dulmera (red sandstone) and marble (including Italian Carrara), was originally named Chintamani and is one of the few forts that is not on a hill. It was built in the 16th century (1589-93) by the sixth ruler of Bikaner, Raja Rai Singh. The city of Bikaner, as we know, has developed around the fort.
Raja Rai Singh was the sixth ruler of Bikaner, and was a suzerain / feudal lord during the Mughal rule in the country. He held a high position in the army of Emperor Akbar & thereafter Jehangir. His successful war exploits won him accolades and rewards such as jageer (land) in Gujarat and Burhanpur. He eventually built Junagadh fort with the large revenue earned from these jageers.
The rulers thereafter, kept adding or beautifying the fort as per their taste making it a cultural architectural amalgamation of Rajput, Gujrati, Mughal & British styles. In fact, the fort is the result of contribution / influence of 16 successive generations of the rulers of Bikaner.
Some prominent occupants of the fort who added to the beauty and architecture of the place; Raja Rai Singh 1571 – 1611, Karan Singh 1631 – 1639, Anup Singh 1669–98, Gaj Singh 1746 – 1787, Surat Singh 1787 – 1828, Dungar Singh 1872 – 1887, Ganga Singh 1887 – 1943
As per historical records even after repeated attacks by enemies the fort has never been captured. Exception being, a day's capture by one of Babur's son, Kamran Mirza. Bikaner was then ruled by Rao Jait Singh.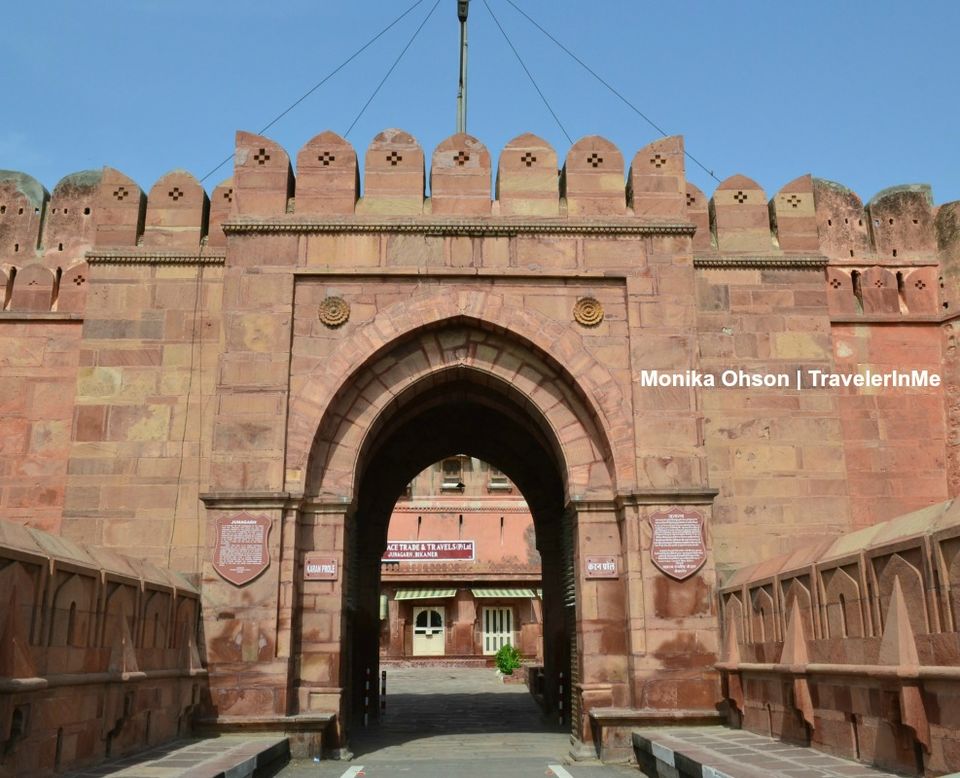 Palaces within the fort complex are Karan Mahal, Anup Mahal, Phool Mahal, Baadal Mahal, Gaj Mandar, Chandra Mahal, Darbar Hall, Dungar Niwas, Vikram Vilas.
The fort is beautiful and a delight for people who love history, architecture and intricate carvings — be it gold vermilion varnished work, use of mirrors, meena kari on mirrors, mosaic of colored glasses, elaborate carpet made in Bikaner jail, niches and panels, marble tiled floor, lattice windows and balconies, beautiful doors and much more….
The fort is extremely well kept and it reflects in many ways. For necessary reasons some of the mahals and rooms are dimly lit and flash photography prohibited.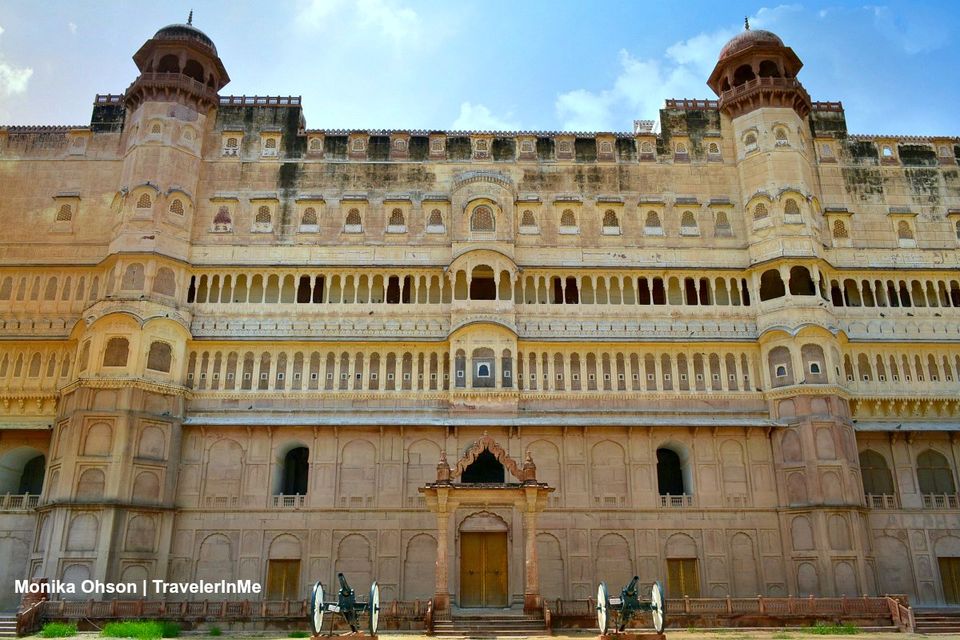 Karan Mahal or the place for Public Audience was conceived by Raja Karan Singh close to end of the 17th century and completed by his son Maharaja Anup Singh. It is the first monument of Bikaner and second oldest in Rajputana. This palace was built to celebrate the victory over Mughal emperor Aurangzeb. The architecture is a mix of Mughal & Rajput styles. The Mughal touch is seen in the stained glass windows, carved stone balconies and wooden columns. The Rajput style can be seen in the use of white marble and stucco design. There is an elegant coronation throne in the courtyard of the mahal. The use of pristine white adds elegance to this mahal!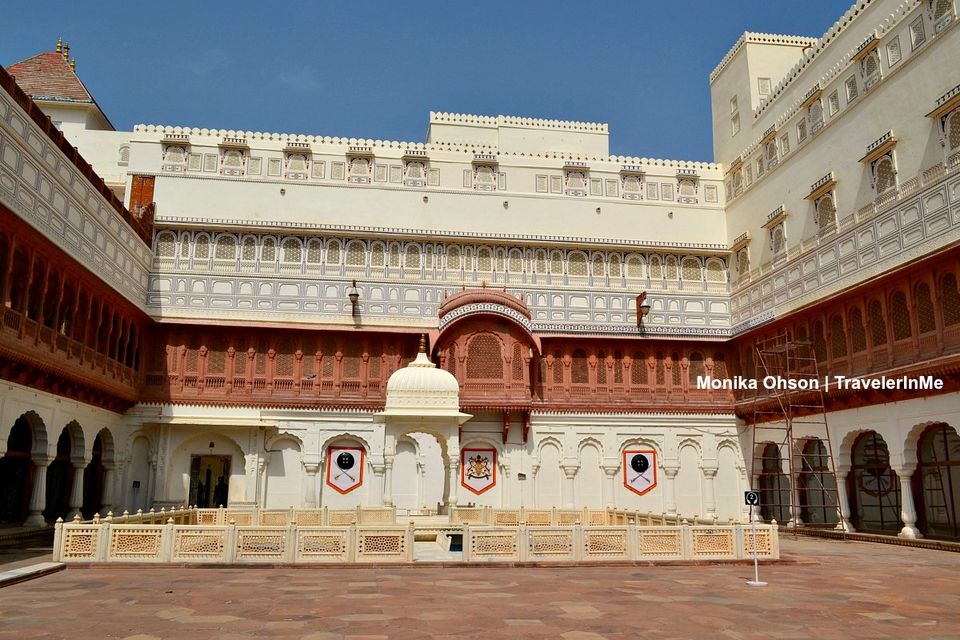 .
.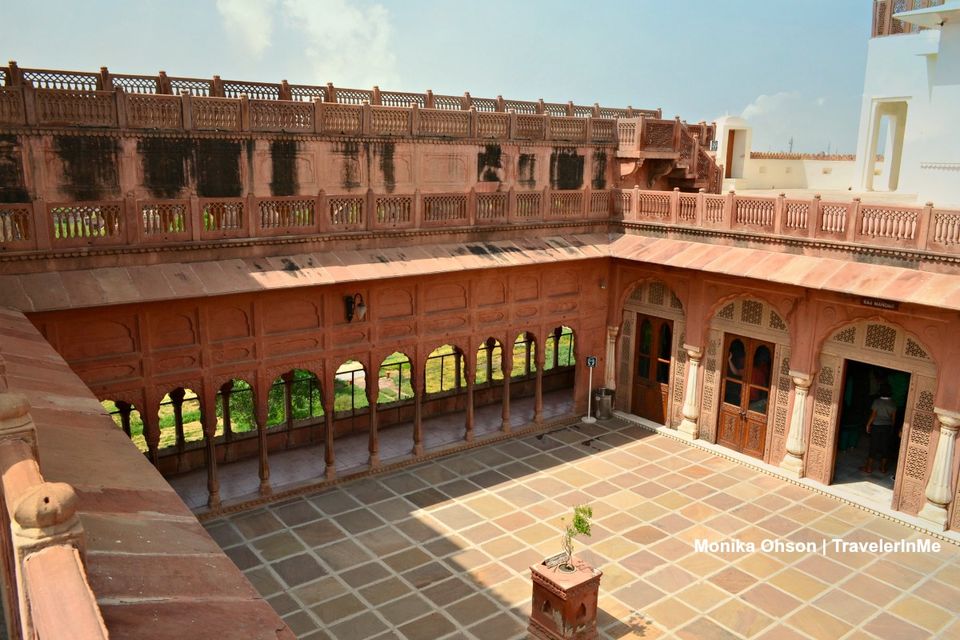 Anup Mahal , a multi storey building majorly functioned as the administrative headquarters. Its opulence can be seen in its ornate wooden ceilings with inlaid mirrors and gold leaf paintings, use of fine Italian tiles, beautiful lattice windows and balconies. The sheer grandeur of this mahal left me bedazzled. One can well imagine what it must have been like in its glorious days! The floor of it's courtyard is made of pretty Italian tiles surrounded by stark white palace rooms with latticed jharokhas. Trust me, they make a very pretty sight!
An artist Ali Raza had show cased three form of art using gold as medium to Raja Karan Singh. The king was so impressed with this new technique that he had Ali add to the decor of Anup Mahal with his artwork and bestowed on him the honor of being the court artist.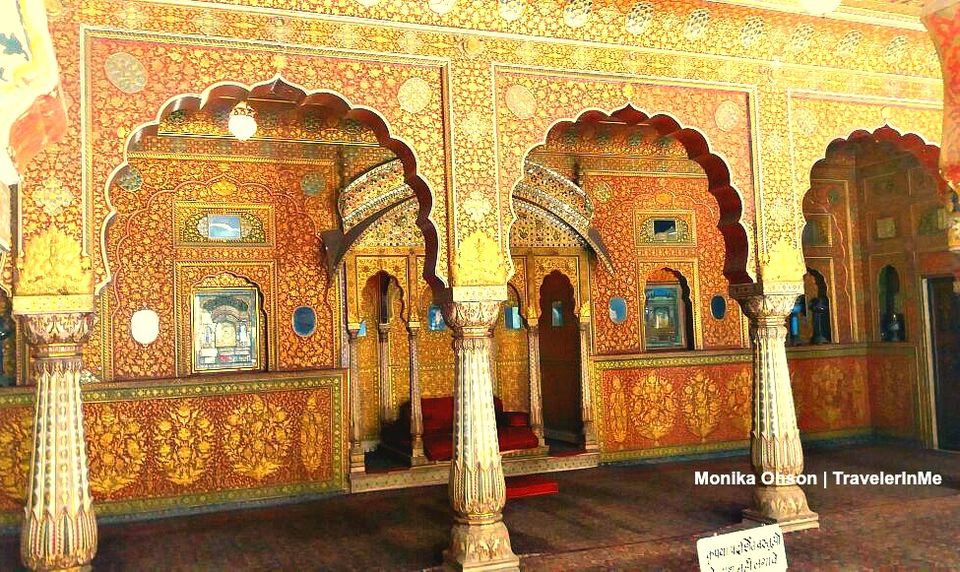 .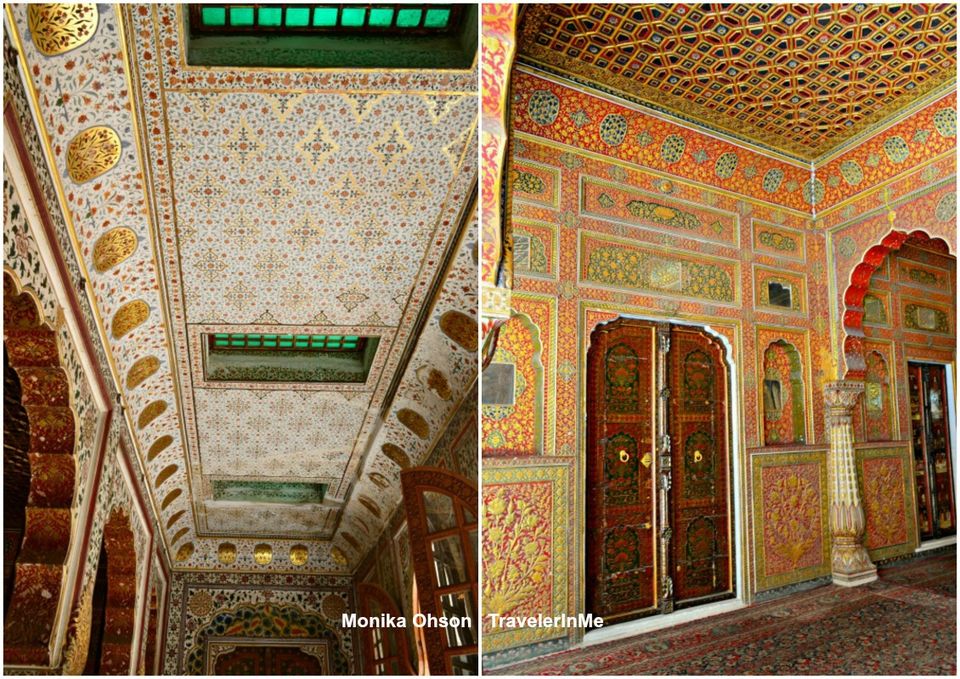 .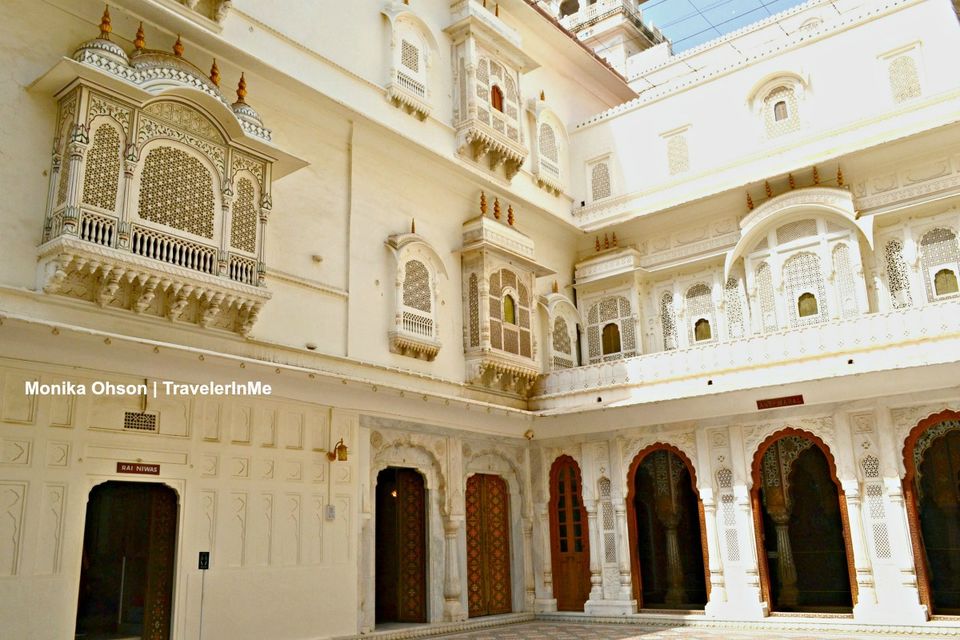 Badal Mahal or literally 'Palace of Clouds' is all blue with white outline clouds. It is part of the Anup Mahal extension. A little to overpowering to my eyes. Its an extension of the Anup Mahal with frescos of Radha Krishna amidst the cushy clouds. Paintings of Shekhawati Dundlod chiefs paying respects to the Maharaja of Bikaner adorning various style of turbans and photos of people standing on nails, wood, swords and saws can also be seen here. It is said that the Maharaja wanted a room like this because it was rare to experience the monsoon here in the desert.
The room above this has a display of bed of weapons used by Jasnathis known for their tantric powers. With this power they were able to walk and dance on fire, swords and spikes unscathed. They are well known for their Agni Nritya or the fire dance.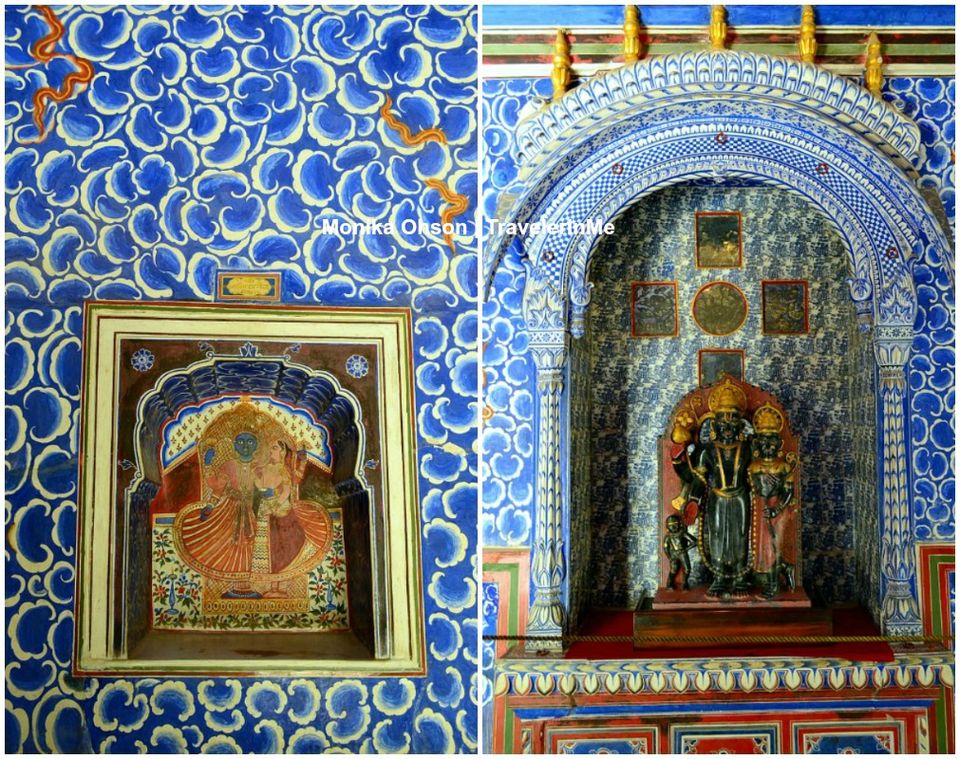 Gaj Mandar was the lavishly made private apartment of Maharaja Gaj Singh and of his two chief queens, Phul Kanwar and Chand Kanwar. The walls are covered with elaborate Mughal niches and panels enclosed by a framework of marble plaster slabs, which are carved into various Mughal open-work floral designs behind which mirrors have been placed.
There is an exquisite jhoola (swing), made of gold and highly embellished, that belongs to Maharaj Gaj Singh.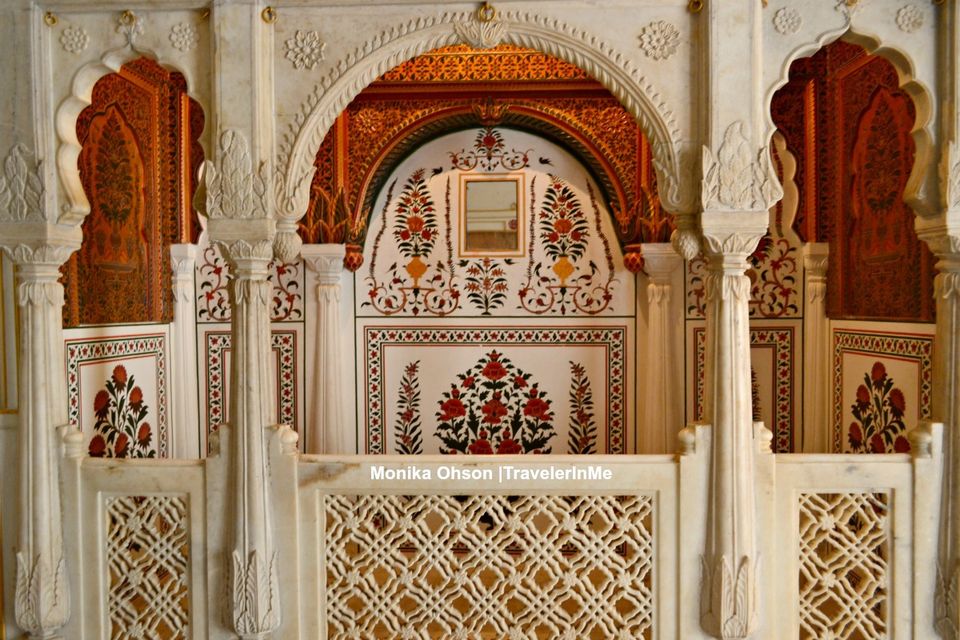 .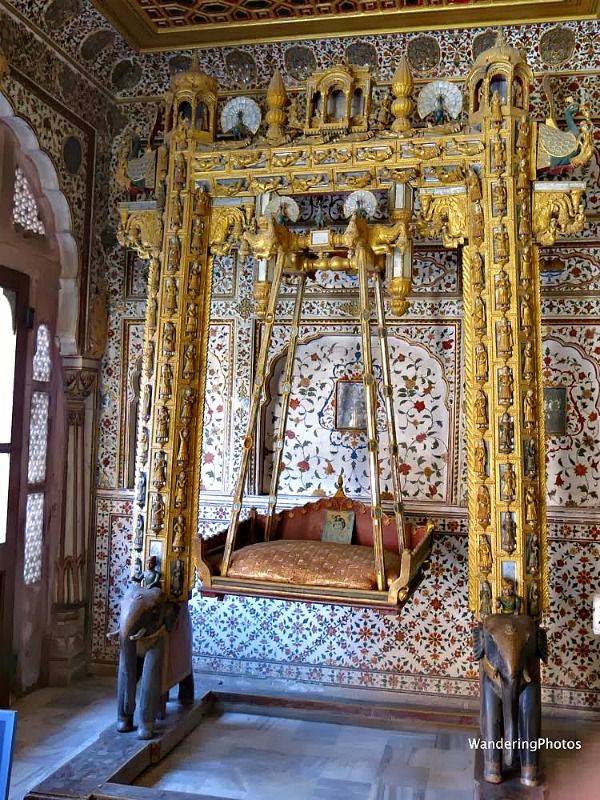 Chandra Mahal , built by Anup Singh and named after Maharani Chand Kanwar, has the most luxurious room in the palace, which houses gold plated deities and paintings inlaid with precious stones. The royal bedroom belonging to the Maharaja has many mirrors strategically placed. This helped him see intruder(s) entering his room, from his bed.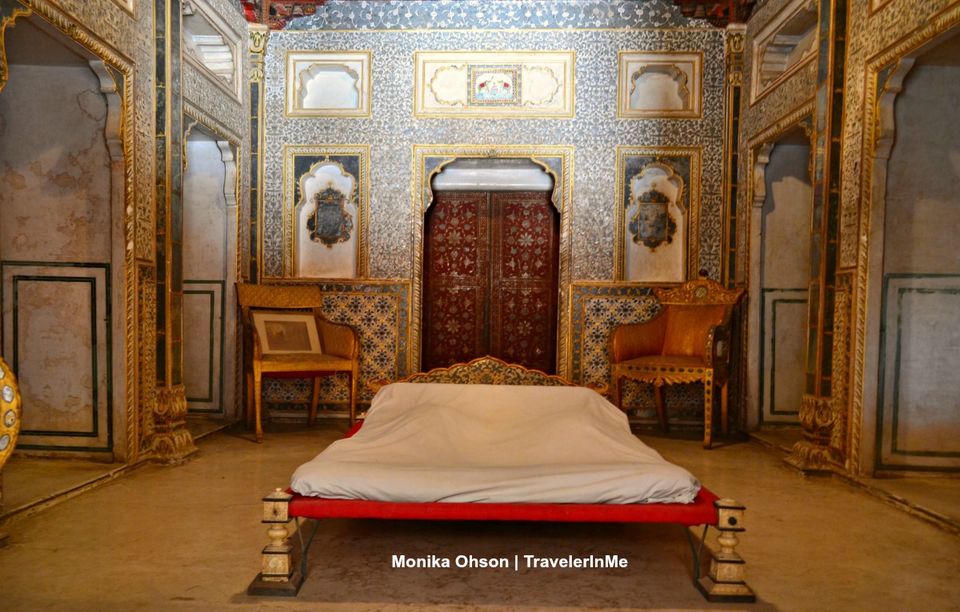 .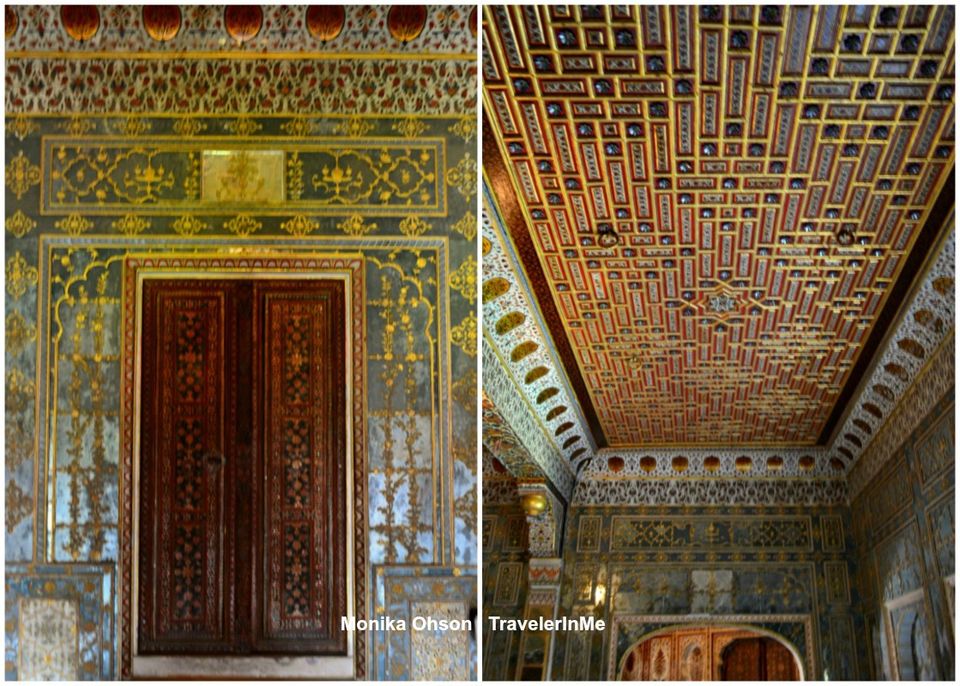 .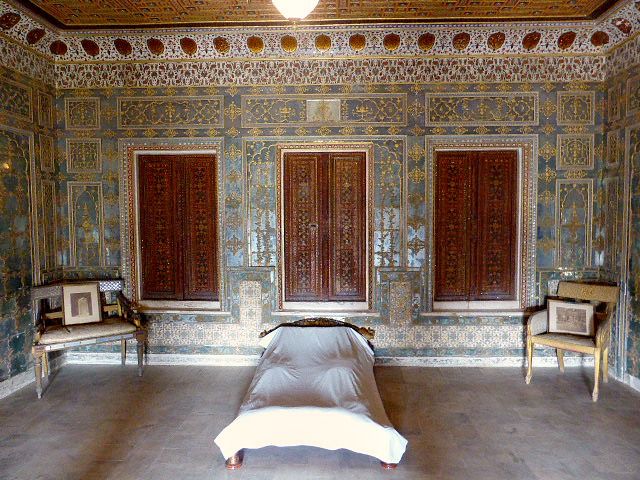 .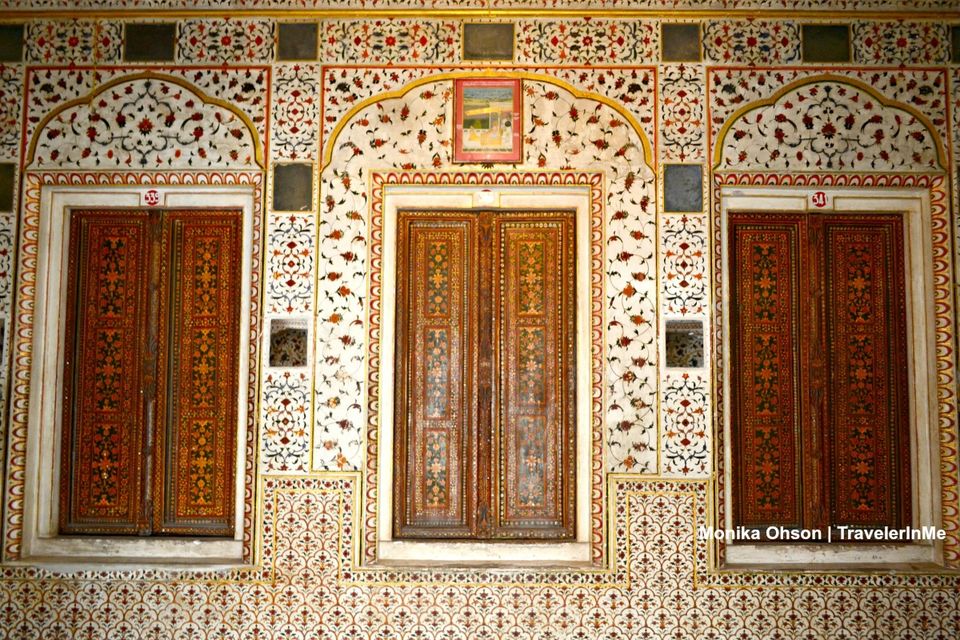 Phool Mahal or Flower Palace is the oldest part of the palace and was built by Maharaja Raja Rai Singh. The motifs that adorn the mahal are of beautiful flowers, rose water sprinklers, vases which was prevalent during Mughal emperor Jehangir's period. One can again see the use of stucco and glass inlay works for interior decoration. The mahal has beautiful doors which is so Rajasthani in essence. The ceiling is decorated with tiles with pretty motifs and panel depicting historical events through paintings.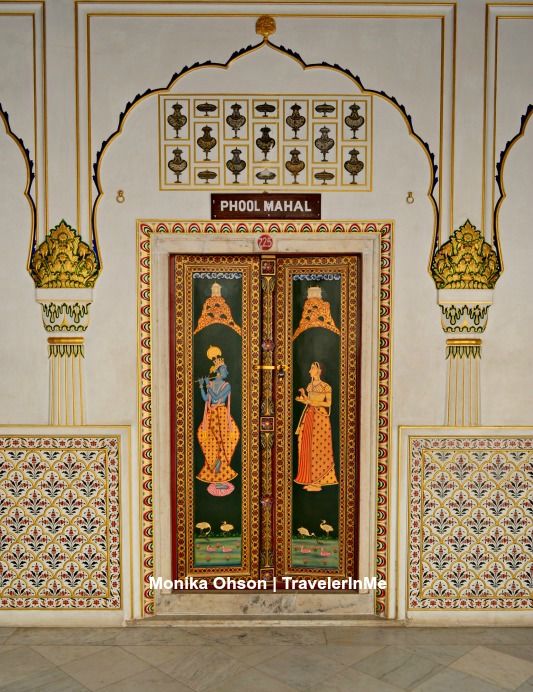 .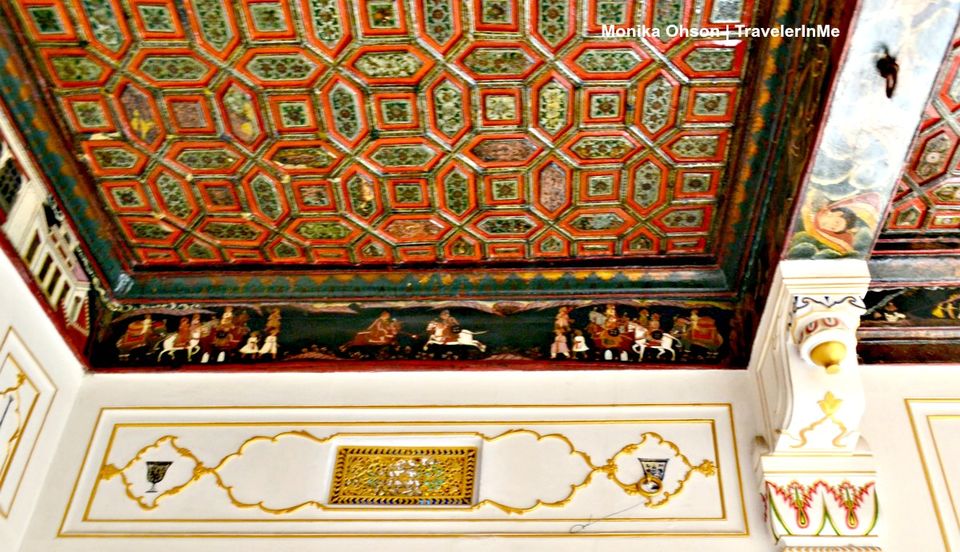 Dungar Niwas is named after Maharaja Dungar Singh who is regarded as the architect of modern Bikaner. The niwas is richly decorated and gilded. The white walls and ceiling are beautified with floral motifs and mirrors placed at regular intervals. The highly decorated jharokhas with use of colorful stained glassed and stones are a sight to behold!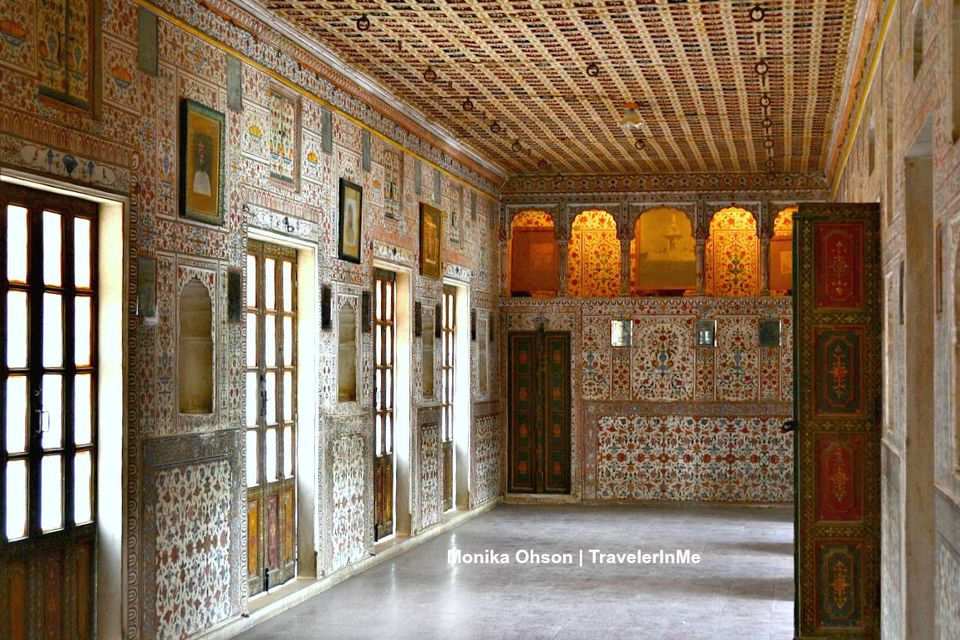 .
.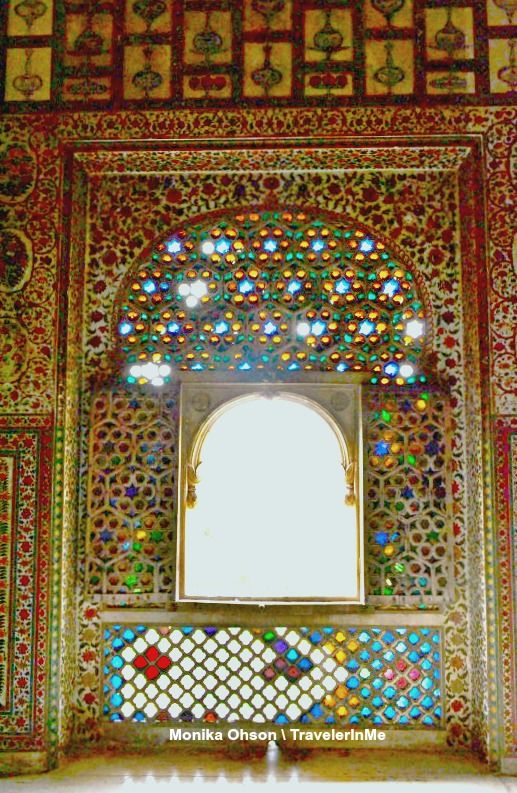 Darbar Hall or the Ganga Singh Hall leaves you admiring the architects and sculptures of those times.It is said that apricot wood sheets were first glued and then the carving was done on them!! The ancient throne made of sandalwood in the hall is said to belong to the kings of Kanauj and one of the treasures in Junagadh Fort. Also known as the Ganga Mahal, it was built in the 20th century by Ganga Singh and houses the Museum. The ceilings are high and ornate. The armory and exhibits are beautifully displayed. But what impressed me were the walls and ceiling!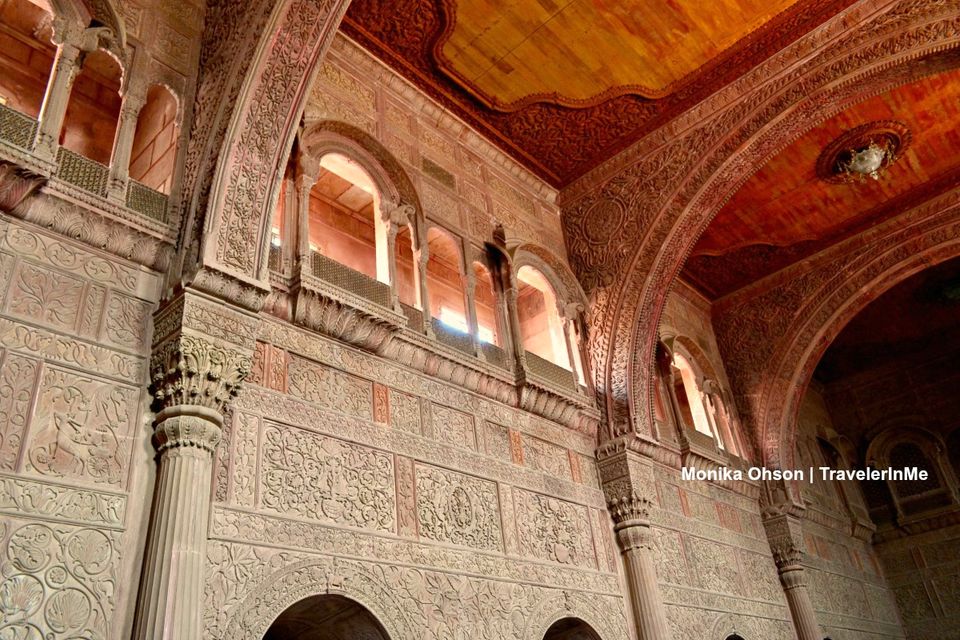 .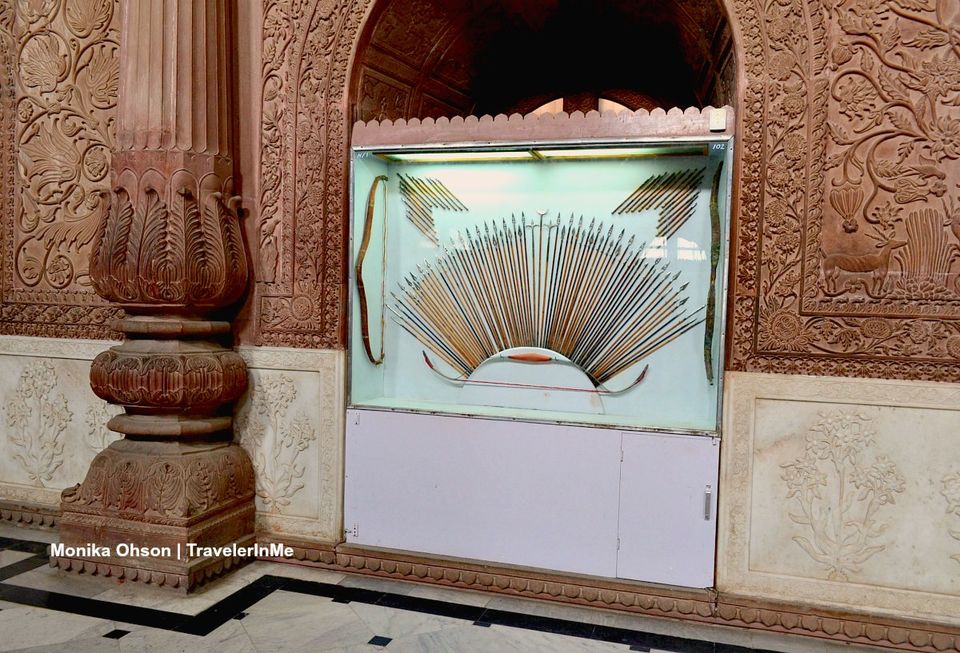 .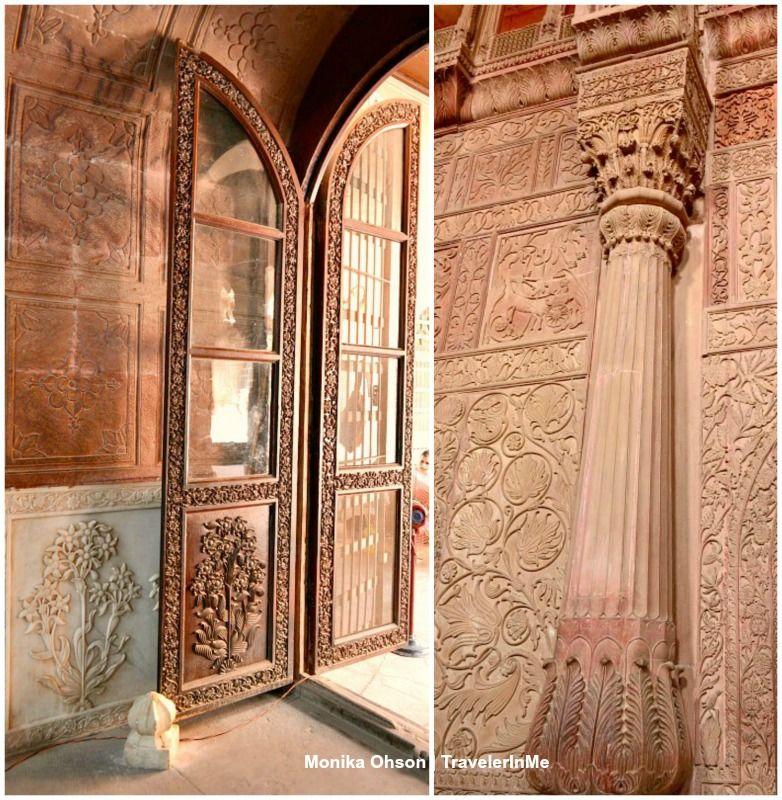 .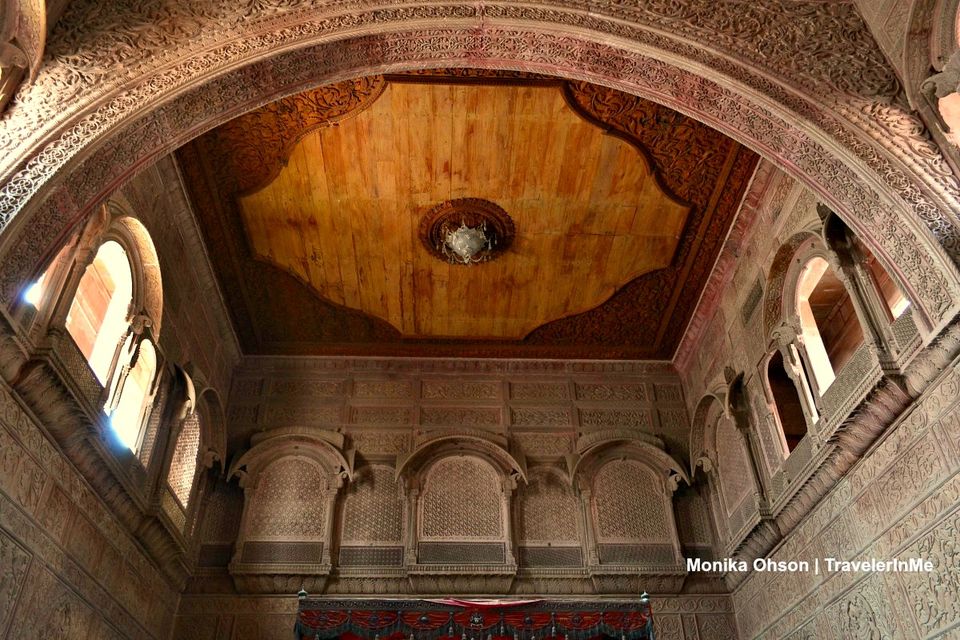 Vikram Vilas is named after King Vikramaditya, who was know for his impeccable sense of justice. It houses war souvenirs, elephant howdah besides a DH-9DE Haviland plane and cannon captured by Maharaja Gaj Singh (displayed in the mahal's courtyard).
Here's an interesting tale behind the plane. As a recognition of Maharaja Ganga Singh's services during the First WW, the British government presented him the remains of two DH-9DE Haviland war planes (shot down) among other souvenirs. In 1980s, Maharaja Karni Singh asked local craftsmen to assemble a single Haviland plane from the decaying parts of two. What we see displayed today is the assembled version.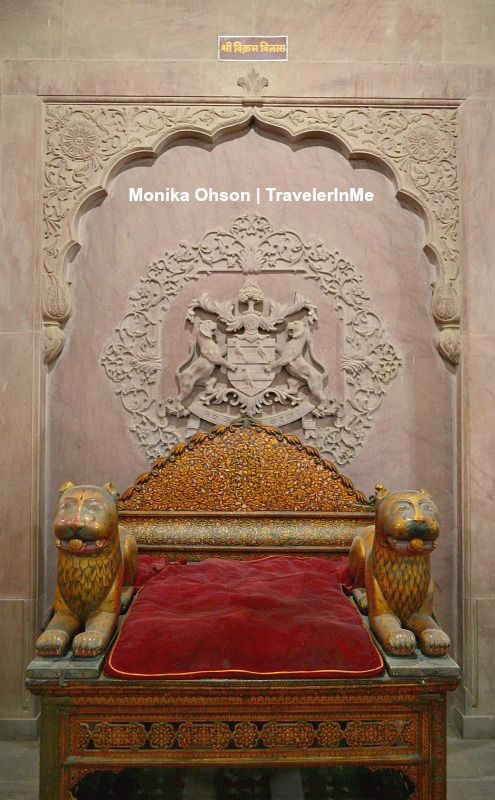 .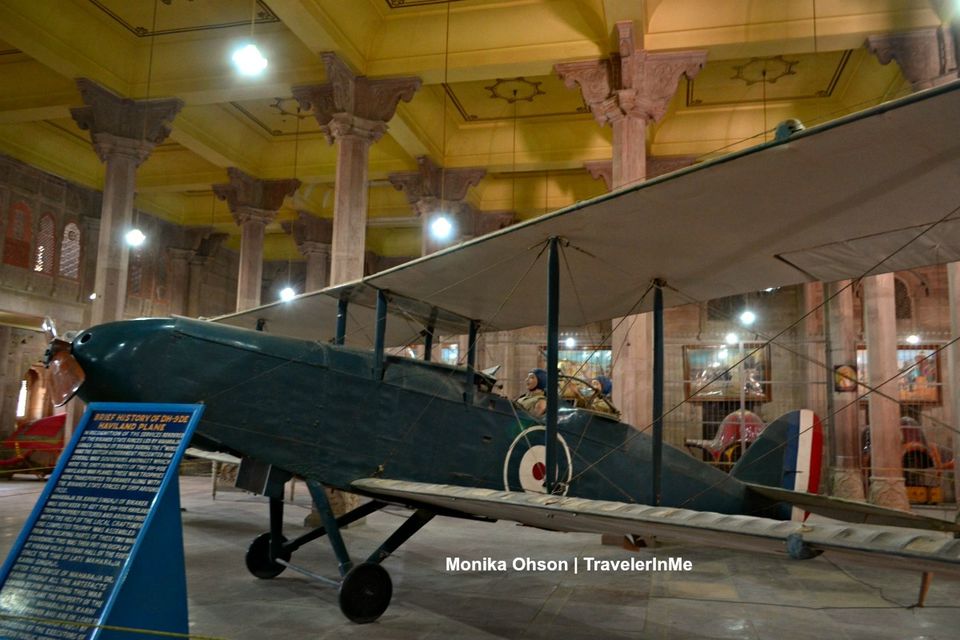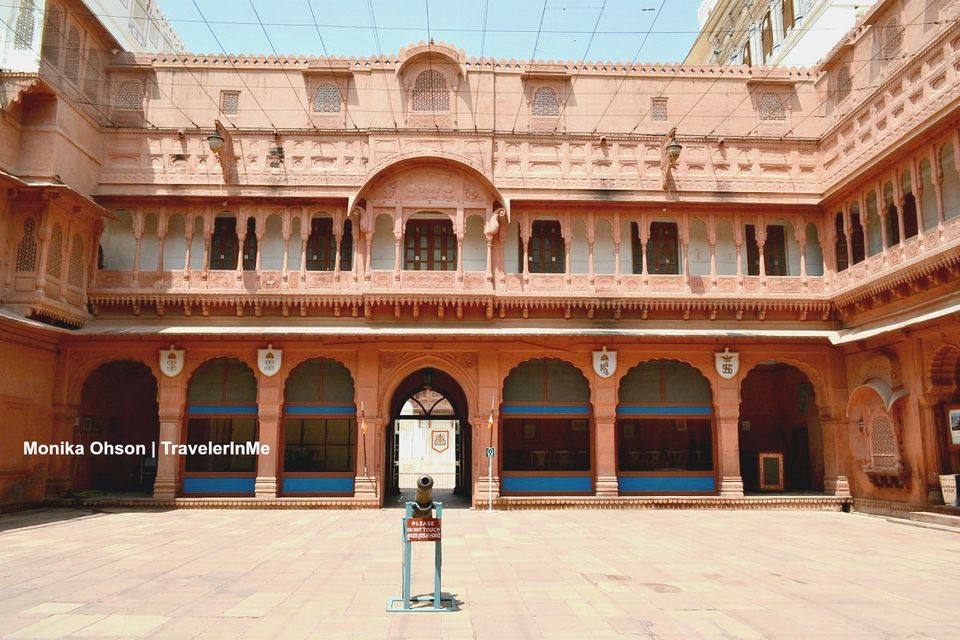 I am still trying to remember how I missed this …… Nevertheless this is a unique jharokha of Sur Mandar is made of blue and white European tiles.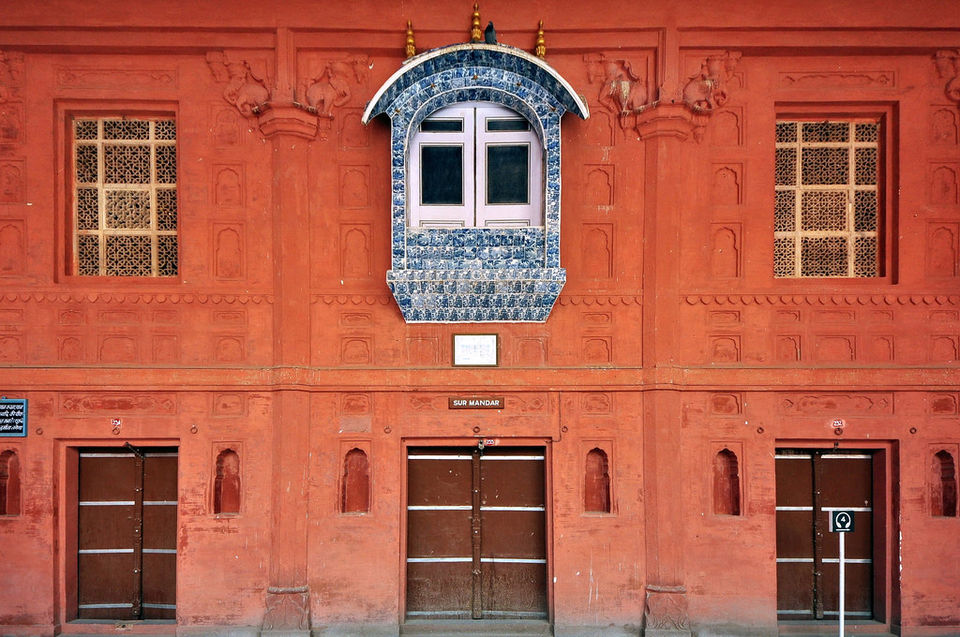 .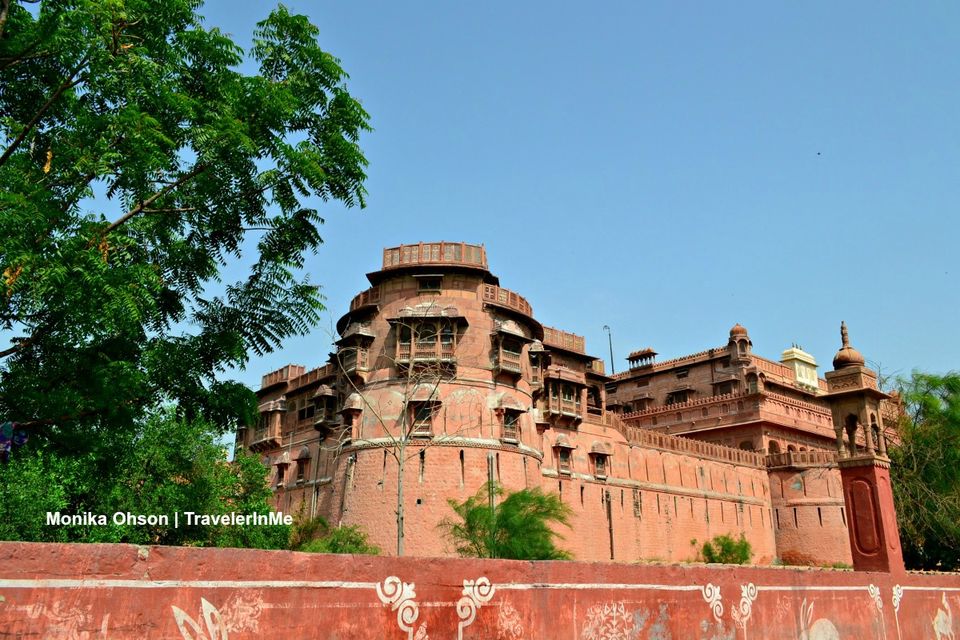 More on Bikaner? Do read the following:
At Home @ Hotel Jaswant Bhawan, Bikaner
Lesser Known: ICAR's National Research Centre on Camel

Deshnoke's Karni Mata (Rat) Temple
Trivia: Who are these rats in Karni Mata Temple?
Trivia: Om Banna & His Miraculous Bullet Bike
.
...and, if you like what you just read, do 'like it' & 'share it'. Also do not forget to 'follow' to remain updated about newer posts!
HAPPY TRAVELLING!
Monika Ohson / TravelerInMe
This was first published in TravelerInMe